eTail Asia
Website: https://etailasia.wbresearch.com
Date: Nov. 17-19, 2020
Location: Singapore
What You'll Get at eTail Asia
Due to the coronavirus pandemic, the annual eTail Asia conference was postponed to November, and extra safety measures will be taken to keep attendees safe such as hand sanitizer stations, chairs spaced one meter apart, and the use of a thermal scanner.
The two-day conference is dedicated to providing guests with an unparalleled learning experience focused on innovation, success stories, and challenges surrounding the eCommerce and digital marketing spheres and geared toward helping you increase your profits.
Bringing together top thought leaders across the technology, retail, and digital marketing sectors, guests will have the opportunity to attend a series of keynotes, discussion groups, and peer-to-peer conversations.
eTail Asia Guest Speakers
At this event, you'll have a chance to meet with the world's most innovative minds in the retail and eCommerce space. Hear and learn from industry-leading professionals like…
Montblanc Global Head of Media & Advertising Maria Graefin von Scheel-Plessen, discussing a case study on how Montblanc used the digital sphere to accelerate transformation and boost growth
Adidas Senior Director of Brand Activation, SEAPAC Liliane Sek, discussing how to tell your business' story and create something that will have a lasting impact
Facebook Director of Digital Natives Dhruv Vohra, discussing how to create a more personal and human experience across moments, channels, and buying strategies
How Much Does eTail Asia Cost?
eTail Asia Conference is on the higher-end of the scale for conferences, comparable to Dreamforce. Depending on the experience you want, and other factors such as your business sector, the price varies.
eTailers & Retailers (Conference only): $1,299
eTailers & Retailers (Conference and Focus Day): $1,499
eTailers & Retailers (Conference with Data & Insights Annual Membership): $2,099
eTailers & Retailers (Conference and Focus Day with Data & Insights Annual Membership): $2,299
Non-Retailers: $2,799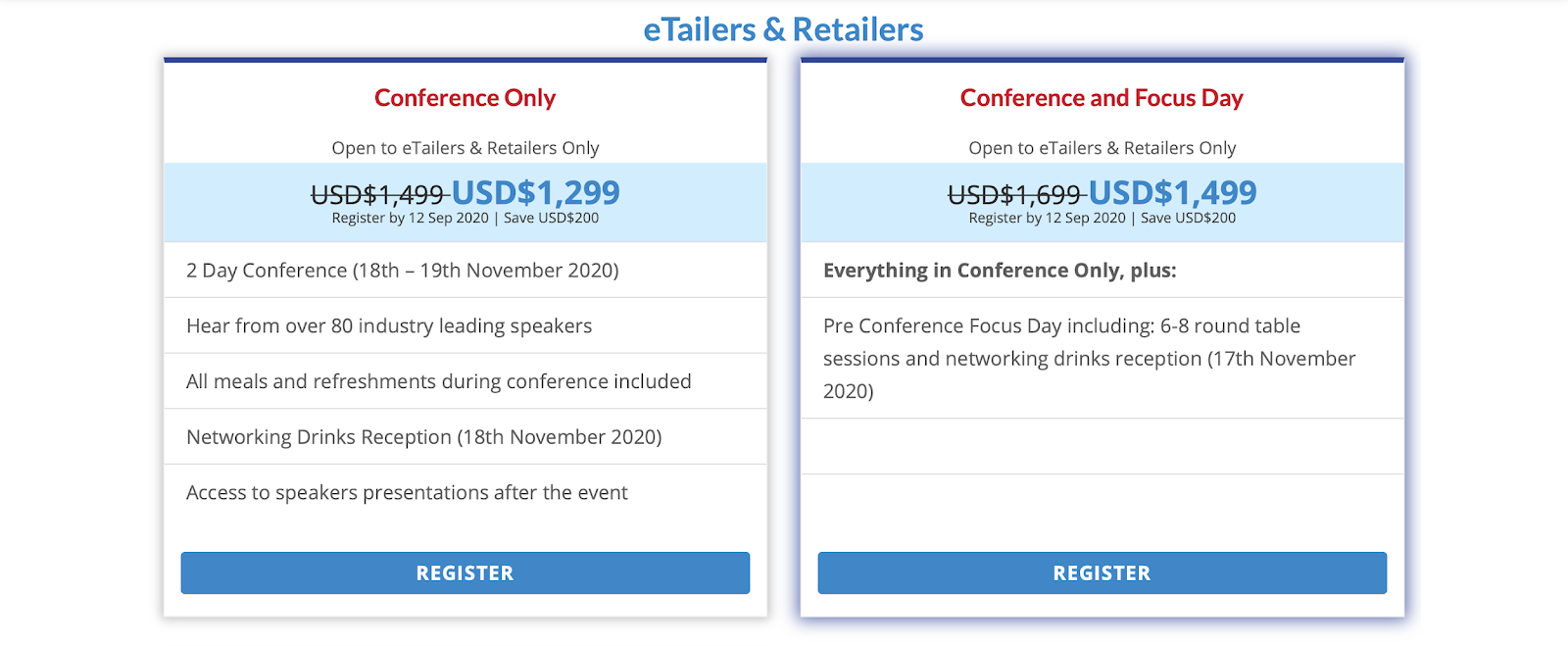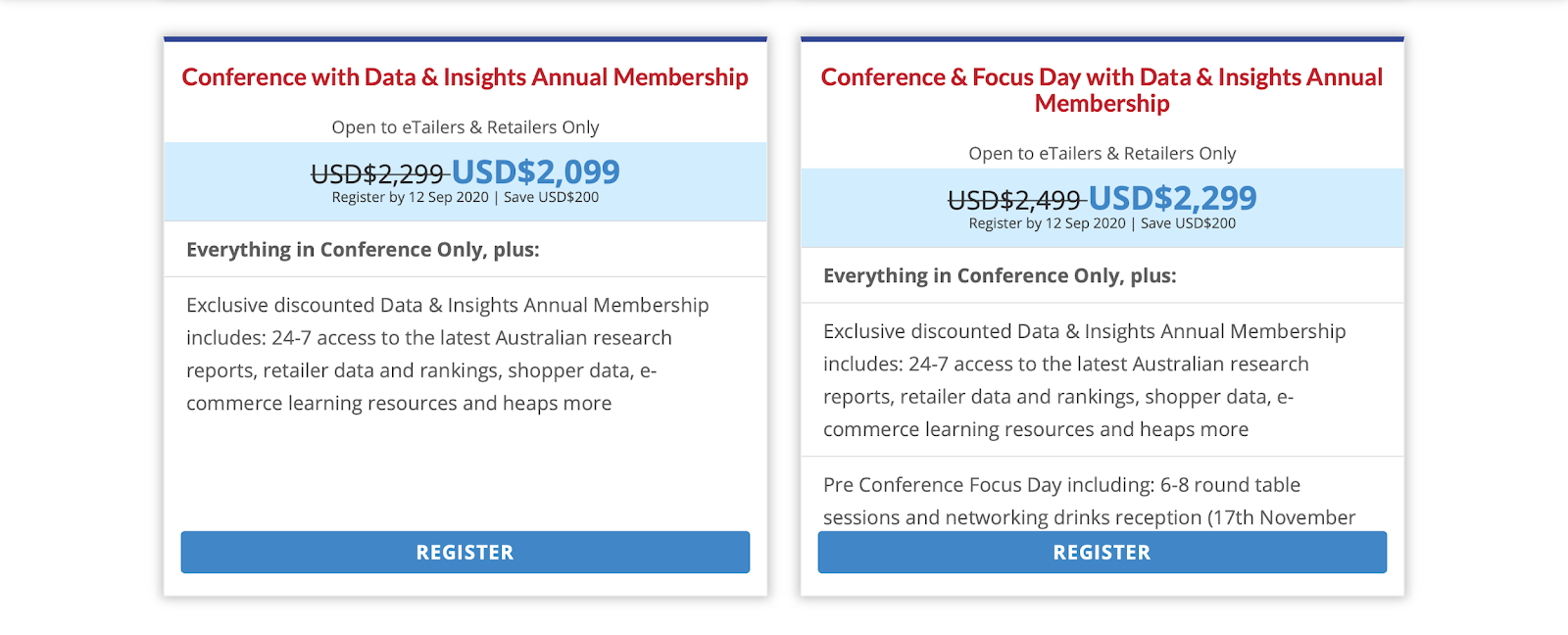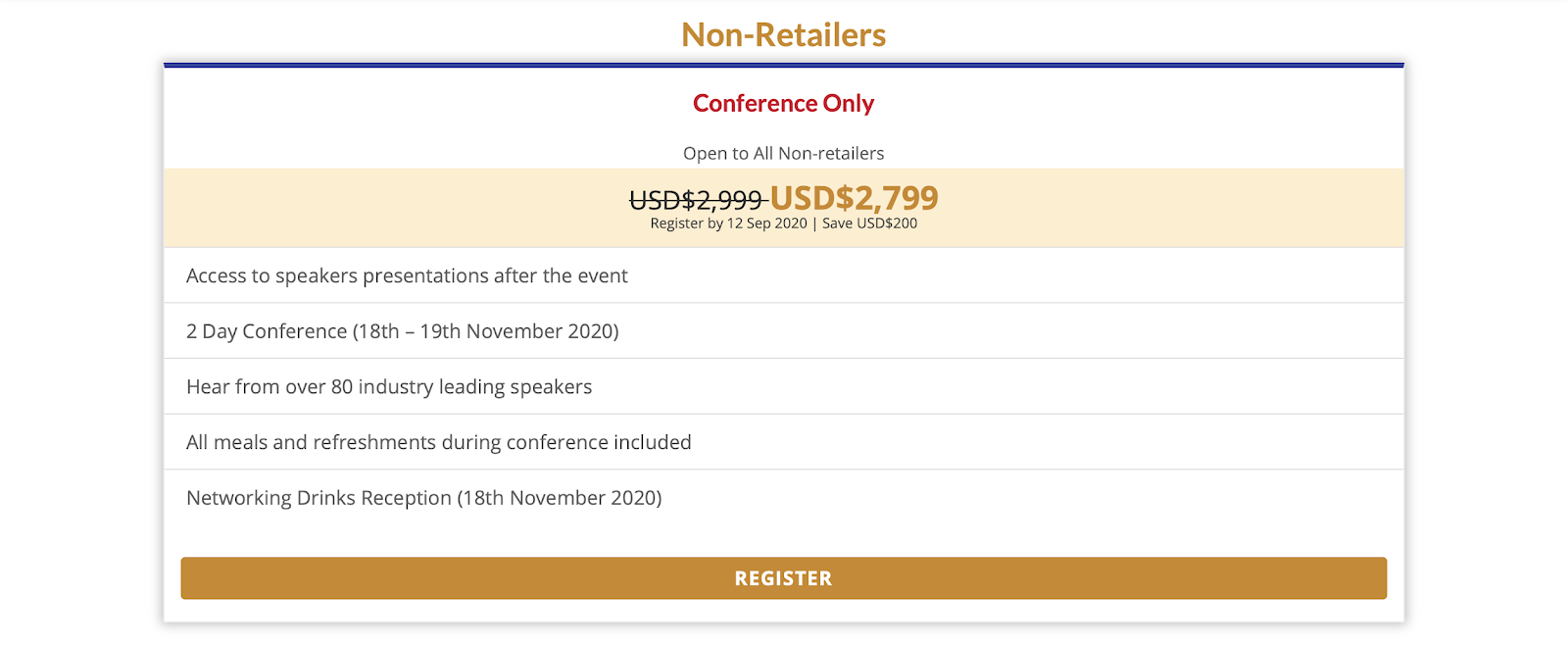 Additionally, eTail Asia offers certain discounts if you're registering as a group.

What do People Say About eTail Asia?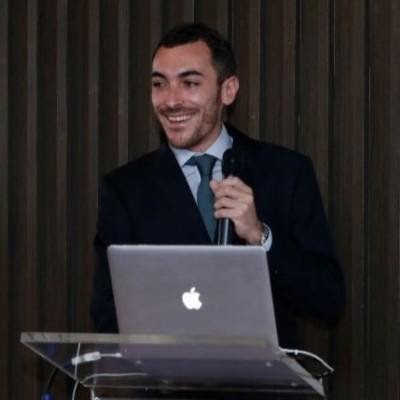 "eTail Asia helps you keep up to speed with the ever-changing technological landscape and better tailor your offers to the evolving needs of today's omnichannel customers."
Lorenzo Peracchione, Former Regional Director of Mobile Commerce at Sephora Digital, SEA
Related Conferences
If you're interested in other eCommerce conferences like eTail Asia, be sure to check out our in-depth reviews of these similar conferences:
E-Commerce Summit
eCOM360
eTail Connect Autumn
eTail Germany
eCommerce Expo