Festival of Marketing
Website: https://www.festivalofmarketing.com/#
Date: October 5-9, 2020
Location: London, UK (Online)
What You'll Get at Festival of Marketing
Festival of Marketing has taken place annually since 2013. While it has been held in-person in past years, it's switched to a virtual model for 2020.
Festival of Marketing is dedicated to providing guests with a unique digital experience where bold, ambitious marketers can learn, celebrate, discover, and shape the future together.
During the five-day virtual event, attendees will get more than just a series of webinars. Guests can expect the same great insight and inspiration in an exciting new digital experience.
Those attending will have access to online sessions taught by global thought leaders on topics like understanding marketing trends, delivering for customers, achieving creative effectiveness, and driving recovery after a disaster. All together, Festival of Marketing will provide over 80 engaging sessions.
Festival of Marketing Guest Speakers
Festival of Marketing has an exciting group of headliners coming to the 2020 virtual festival. When you get a ticket, you'll have the opportunity to hear from the sharpest minds in the digital marketing industry, including…
How Much Does Festival of Marketing Cost?
Festival of Marketing is a relatively affordable conference, somewhere between Southeast eCommerce and NFR Next.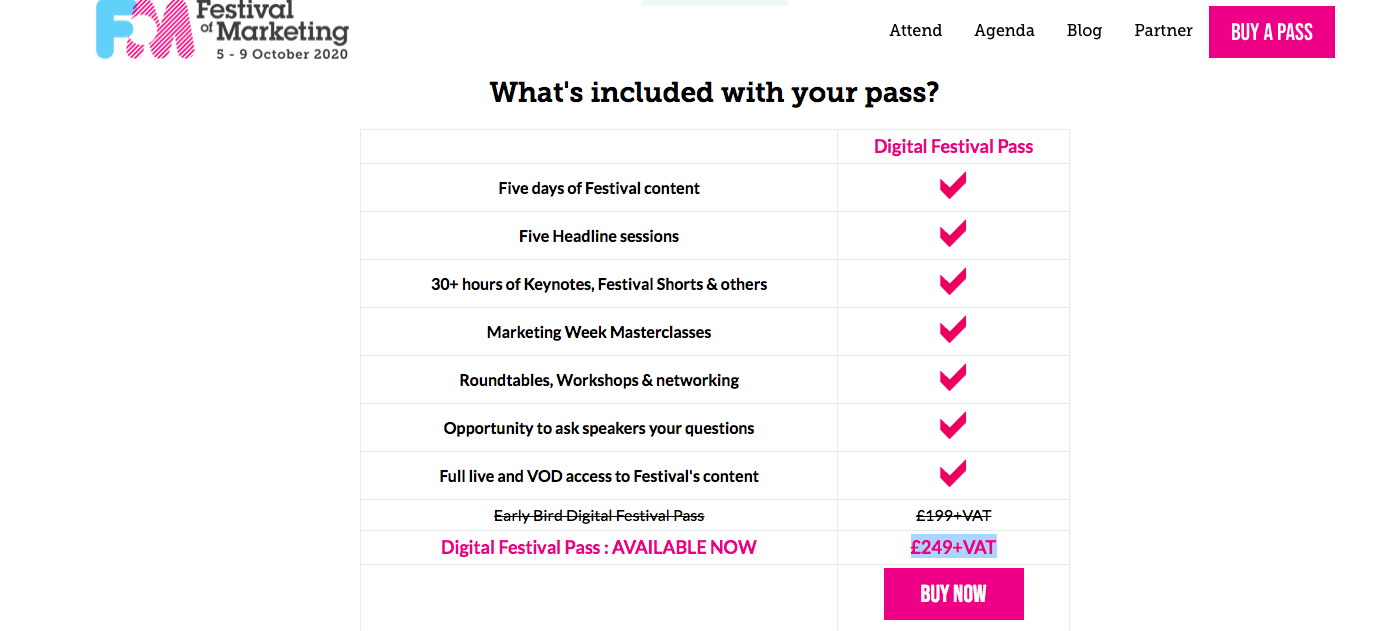 What Do People Say About Festival of Marketing?
"A must for marketers at whatever level within their business, it gives you the levels of exposure to the big businesses and latest ideas and concepts that can be taken and applied to companies of all shapes and sizes."
Marketing Manager, Michelin Tyre Plc
"Probably the most all-inclusive marketing event in the UK, or frankly anywhere else I've been in the world. A great range of speakers tackling and debating some of the most critical topics in marketing, alongside workshops and new partners to meet."
EMEA Media Director, GSK Consumer Healthcare
Related Conferences
Are you interested in attending marketing conferences similar to Festival of Marketing? If so, check out our detailed write-ups about these conferences you might like:
MarTech East
Marketing Technology Expo
The MarTech Summit: London
Digital Marketing Leaders Summit Jakarta
#MarTechFest 2020