Digital Marketing Leaders Summit Jakarta
Website: https://forwardleading.co.uk/summits/digital-marketing-leaders-jakarta-2020 
Date: Sept. 2-3, 2020
Location: Jakarta, Indonesia
What You'll Get at Forward Marketing Leaders Summit
Previously known as the Digital Marketing Leaders Summit Jakarta, the newly rebranded Forward Marketing Leaders Summit will host the same caliber of national and international marketing specialists.
This two-day conference will bring top leaders in marketing from around the world in the marketing, data, and technology industry to discuss branding, data, and tech innovations and how you can grow your business.
Topics to be discussed include, but aren't limited to: Digital in the South East Asia market compared to the western world, growing a digital business, and replicating the bricks & mortar experience online.
If you're an analytic, branding, data science, marketing, research, consumer insight, marketing intelligence, or creative design and operations professional—then this conference is for you. However, you should register quickly as last year's event only allowed 120 attendees in order to maintain the type of high-caliber and intimate conference the organizers wanted.
Forward Marketing Leaders Summit Guest Speakers
While the list of speakers for this year's Forward marketing Leaders Summit hasn't been released, there will be over 60 speakers from across the digital marketing sphere.
To give you a better idea of the caliber of speakers, last year's lineup featured a plethora of CEOs, vice presidents, directors, and thought leaders across the industry such as…
How Much Does Forward Marketing Leaders Summit Cost?
The Forward Marketing Leaders Summit Jakarta is a relatively affordable conference and is comparable to the cost to attend Dx3 Canada. It offers tiered passes, depending on the type of access you want, as well as discounts for groups.
Startup pass: $299
Gold pass: $399
Platinum pass: $599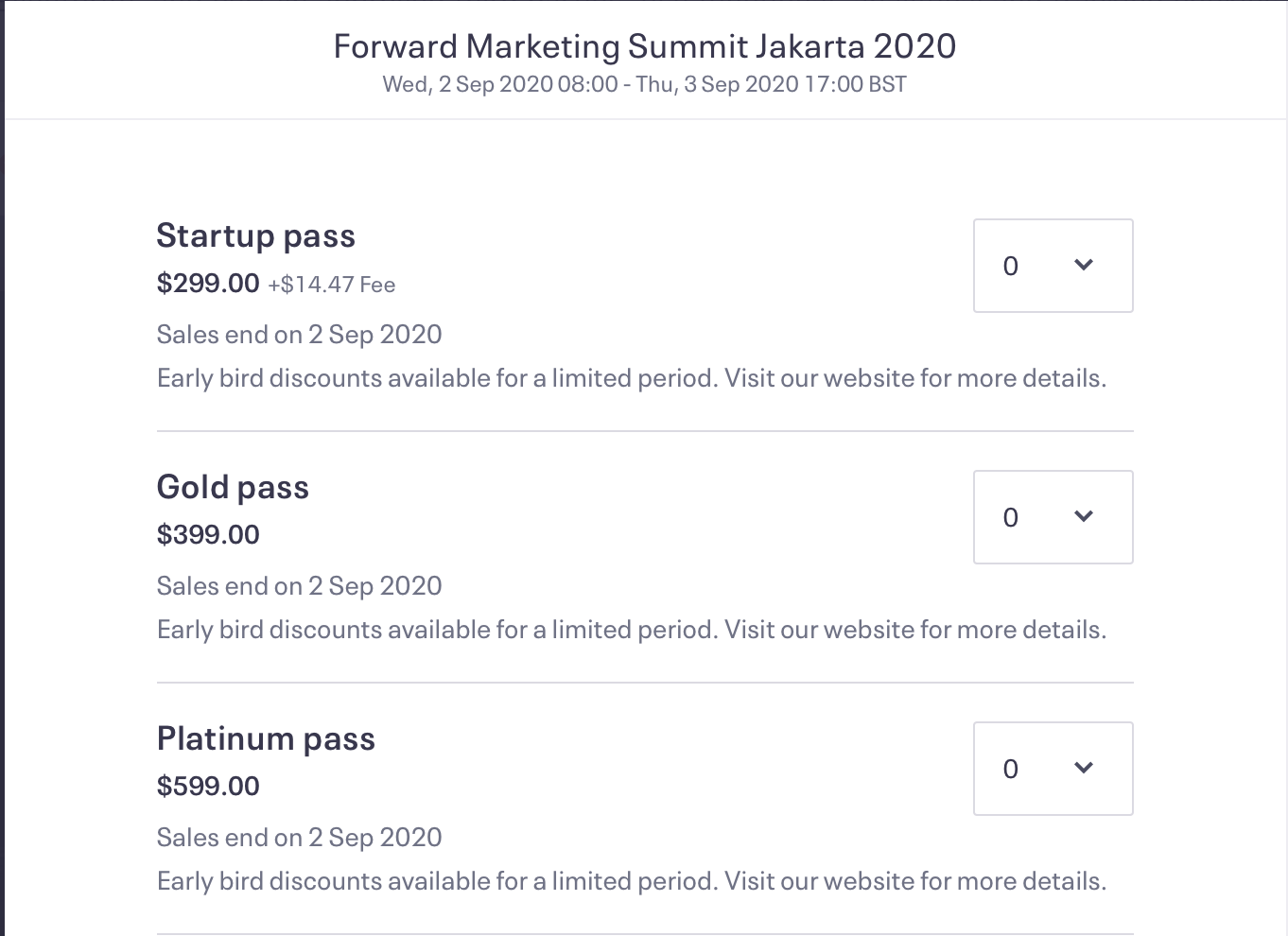 What do People Say About Forward Marketing Leaders Summit?
"The summit will gather the most influential, knowledgeable and innovative digital strategists and marketers both regionally and across the globe. But they also must have that 'special something'; it could be a unique human touch, a truly individual mind, or the courage to take their organisation through hell and back—and win. We've found that these particular people can offer the best to our audience, and are able to get the best from them in return."
Forward Marketing Leaders Summit website
Related Conferences
If you're interested in other marketing and tech conferences like the Forward Marketing Leaders Summit, be sure to check out our in-depth reviews of these similar conferences:
Digital City Festival
Dreamforce
E-Commerce Summit
eCommerce Expo
eCommerce Expo Ireland