Forward Marketing Summit: Jakarta
Website: https://forwardleading.co.uk/summits/forward-marketing-summit-jakarta-2020#
Date: September 2-3, 2020
Location: Jakarta
What You'll Get at Forward Marketing Summit: Jakarta
Forward Marketing Summit: Jakarta has been held annually since 2019. Previously known as Brand Marketing Leaders Summit and Digital Marketing Leaders Summit before 2019, this conference now has its own name and specific focus.
Forward Marketing Summit: Jakarta is dedicated to creating a conference where branding, data, marketing, and technology all converge into one. Across the two-day agenda, guests will gather with over 350 digital marketing professionals, analysts, data scientists, developers, and product leaders to share best practices.
While specific topics for the sessions have not yet been released, attendees can expect to learn about building a scalable data infrastructure, optimizing marketing tech stacks, and using data to complement marketing efforts. Altogether, Forward Marketing Summit: Jakarta will offer guests over 18 hours of networking experience and 60+ speakers.
Forward Marketing Summit: Jakarta Guest Speakers
Forward Marketing Summit: Jakarta has not yet shared their official list of speakers; however, there's sure to be plenty of inspiring industry leaders from brands like in the past. Past attendees have been lucky enough to hear from…
How Much Does Forward Marketing Summit: Jakarta Cost?
The cost of Forward Marketing Summit: Jakarta is reasonable, falling somewhere between MarketEd.Live 2020 and the Brand Safety Summit Singapore.
An Early Bird Startup Pass costs $199 and is for startup companies with a market value of under $3M. It includes access to all main sessions, AM/PM coffee breaks, lunches, networking breaks, exhibition floor access, and attendance certificate.
An Early Bird Gold Pass costs $299 and includes everything from the Early Bird Startup Pass plus unlimited access to the event's presentation slide decks and the event's presentation video recordings.
An Early Bird Platinum Pass costs $499 and includes all the Gold Pass benefits plus full access to the Marketing Master Class and one year's membership to Leading Online.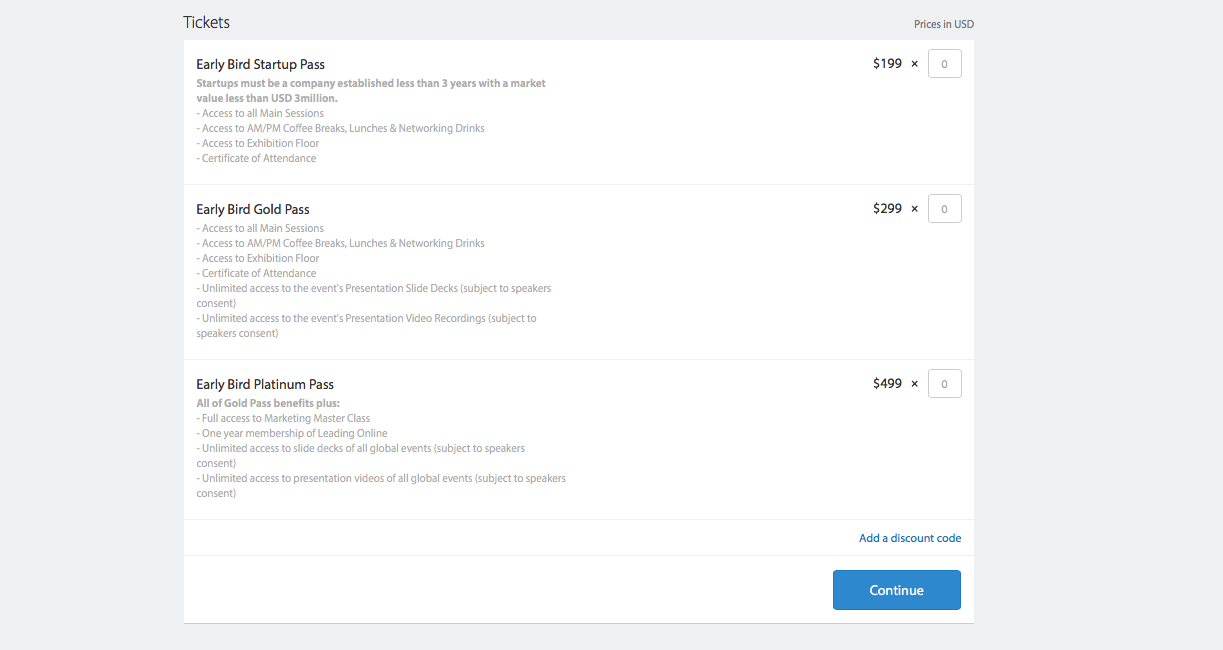 What do People Say About Forward Marketing Summit: Jakarta?
"We conduct in-depth market research and deliberately develop the agenda with leaders and experts who are at the forefront of branding, marketing trends and technology to ensure that the event answers your true needs and interests."
Forward Marketing Summit: Jakarta organizers
Related Conferences
If you're interested in other data science and digital marketing summits like Forward Marketing Summit: Jakarta, read our in-depth write-ups of these relevant conferences:
Forward Marketing Summit Singapore
Brand Marketing Leaders Summit Singapore
Digital Marketing Leaders Summit Jakarta
The Incite Marketing Summit
Ad:tech London