Shoptalk 2020
Website: https://shoptalk.com/
Date: March 22nd-25th, 2020 (postponed until March 21st-24th, 2021)
Location: Las Vegas, Nevada
What You'll Get at Shoptalk 2020
Shoptalk has been gathering some of retail's most prominent change-makers for the last five years. The event is held once annually, and they also hold a sister event called Groceryshop once annually. Shoptalk is also having a smaller virtual version of the event, called Shoptalk Meetup, from October 20th through October 22nd, 2020.
Shoptalk is famous for bringing retailers and brands together with startups, large companies, investors, developers, analysts, and more to better all involved. It's the best possible place to learn and collaborate on the future of the retail world.
Throughout the four-day event, guests will have the chance to attend events on just about anything, including things like electronics, grocery, apparel, and beauty.
Shoptalk 2020 Guest Speakers
At this event, you'll have the chance to meet, network with, and learn from thousands of shining stars in the retail industry. You'll hear from industry-leading professionals like:
7-Eleven Vice President of Product Management – Digital Customer & Store Experience Tarang Sethia
Google President of Retail Shopping & Payments Daniel Alegre
Sam's Club Vice President of Product Anshu Bhardwaj
How Much Does Shoptalk 2020 Cost?
As you might expect, since Shoptalk is such a large and successful conference, it costs quite a bit to attend – a full-priced attendee ticket will set you back $4,500. However, you can get steep discounts for purchasing early, and you'll pay less if you're a retailer, investor, or sponsor for the event. The full price list is as follows:
Attendee ticket: $4,500
Exhibitors and sponsors: $3,500
Qualifying retailers and brands: $2,500 (with the option to pay less when buying in bulk)
Investor rate: $2,800
Shoptalk also offers editorial media tickets, startup discount tickets, student rate tickets, and professor rate tickets.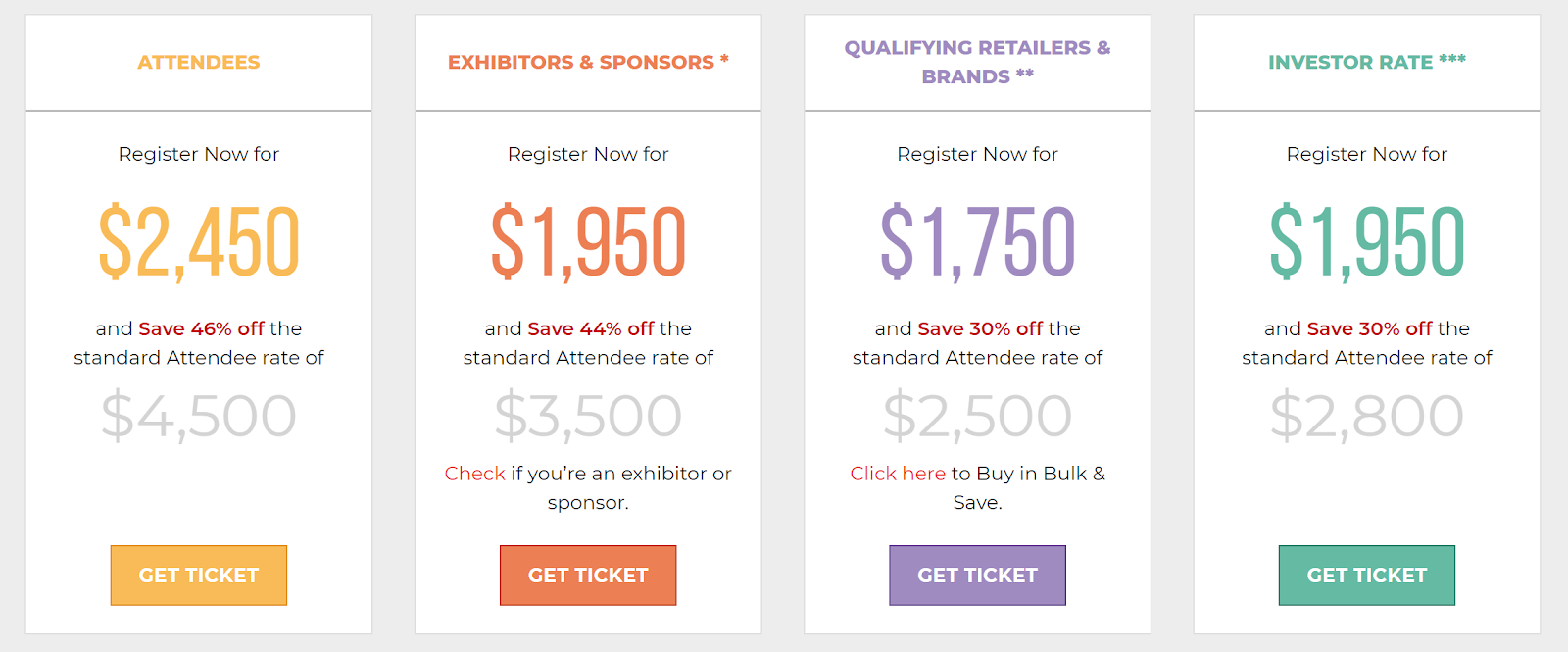 What Do People Say About Shoptalk 2020?
"Shoptalk is arguably the most exciting and informative retail conference out there. It's an annual gathering of industry insiders and thought leaders that, in its fourth year, hasn't lost its youthful energy."
Forbes
Related Conferences
If you're interested in more retail-centric gatherings like Shoptalk 2020, check out our in-depth write-ups of these similar conferences below:
The Brand Safety Summit
IRCE 2020
REACH 2020