It's tough to capture the perfect shot. You need to worry about staging, lighting, and ensuring that your subject is in focus, centered, and well positioned in the frame.
Photography is an art only few have mastered. However, with the proper education and practice, you can elevate your skill and mastery behind the camera.
This is where MasterClass photography courses come into play.
MasterClass has recruited world-renowned photographers to share their knowledge and teach you both the basics and advanced photography techniques.
In this review, we'll highlight four of the best MasterClass photography classes you should take and share a little about the professional photographers who will be teaching you their trade.
Disclosure: These reviews are reader-supported. We might earn a small commission if you purchase something through our site. Learn more
Our Verdict
There's something magical about seeing famous creatives so close, in the intimate environment of a classroom — even if it's virtual. We highly recommend you to try MasterClass to get that unique experience while the opportunity is there.
MasterClass Review
Learn from the Best
PROS
Affordable pricing
User-friendly platform
Features celebrity instructors
Easily refundable
High quality content
Bonus materials
CONS
No free trials
No reviews within the platform
Heavily geared towards creatives
In this MasterClass review, you'll learn:
A few frequently asked questions…
Do I need a subscription to access these photography courses?
Yes, you need a MasterClass subscription to access these courses.
How long is a MasterClass?
Typically, MasterClasses range in duration, but most last a few hours. For example, Annie Leibovitz Teachest Photography contains 15 video lessons that run for 3 hours and 4 minutes.
How can I watch a MasterClass?
After you purchase a membership and log in, you can watch your MasterClass on your computer or smartphone as well as any streaming device such as Apple TV, Amazon Fire TV, and Roku.
Is a MasterClass membership worth it?
MasterClass provides its students with unprecedented access to knowledge from some of the most skilled leaders, artists, athletes and cultural icons. If you put forth the time, you'll learn a lot from MasterClass.
Each course is distinctly different with some providing more immediately applicable value than others. The reviews in this blog should help guide your decision on where to begin your photography curriculum.
By signing up for one of these quality subscription offers, you'll get access to the 180+ courses MasterClass offers in several categories, ranging from cooking, baking, interior design, music, writing, makeup, poker, and even negotiation.
How to become a skilled photographer with MasterClass photography classes
Learning photography is a continuous process that doesn't happen overnight. But if you commit yourself to getting better each day and honing your craft, you'll start to see improvements in both your skill and knowledge.
MasterClass photography courses can help keep you on track by offering unique insights from some of the world's most talented photographers to peer through a lens.
Although there's no replacement to picking up a camera and seeking iconic images for yourself, each MasterClass photography course offers unique perspectives and a solid foundation of photography expertise.
Keep pushing and challenging yourself to learn from legendary photographers from around the world. Whether you're a beginner or an advanced photographer, there is value to extract from the MasterClass photography courses — all you need is a little time.
Now, let's dive in and see what the MasterClass photography courses have to offer.
1. Jimmy Chin Teaches Adventure Photography
Runtime: 4 hours and 10 minutes
Course Value: 4/5
Lessons: 20 video lessons
Supplemental Material: Student workbook and discussion forum
Jimmy Chin is an amazing National Geographic photographer who has captured breath-taking photos in some of the most daring environments around the world.
His work will make you stop and think: "Wait, how did he get that shot?"
He has scaled the side of mountains, navigated treacherous terrain, and waited for the perfect moment to shoot. Now, he's sharing his secrets and providing you with insight into his strategy, technique, and so much more.
Chin states, "Photography is a process of discovery—both external and internal." He highlights that there is an importance in each amazing photo. One image can tell an entire story.
For daring photographers hoping to push their limits, Jimmy Chin is the one to learn from.
Chin's MasterClass covers an array of topics including:
Creating a narrative through photography
Using natural lighting in your settings
Choosing the right camera gear
Pitching and working with clients
In addition, he spends two lessons focusing on building and leading teams as well as career advice. These last two are not typically offered in a photography MasterClass, and are definitely value-adds for this type of course.
Chin's MasterClass is rather lengthy, spanning a full 20 lessons exceeding 4 hours total. By the end of the MasterClass, you've definitely gotten your money's worth. There are few better to learn from than Jimmy Chin.
If your goal is to take breathtaking nature shots, this is the course for you.
2. Tyler Mitchell Teaches Storytelling Through Portrait Photography
Runtime: 1 hour and 30 minutes
Course Value: 4/5
Lessons: 11 video lessons
Supplemental Material: Student workbook and discussion forum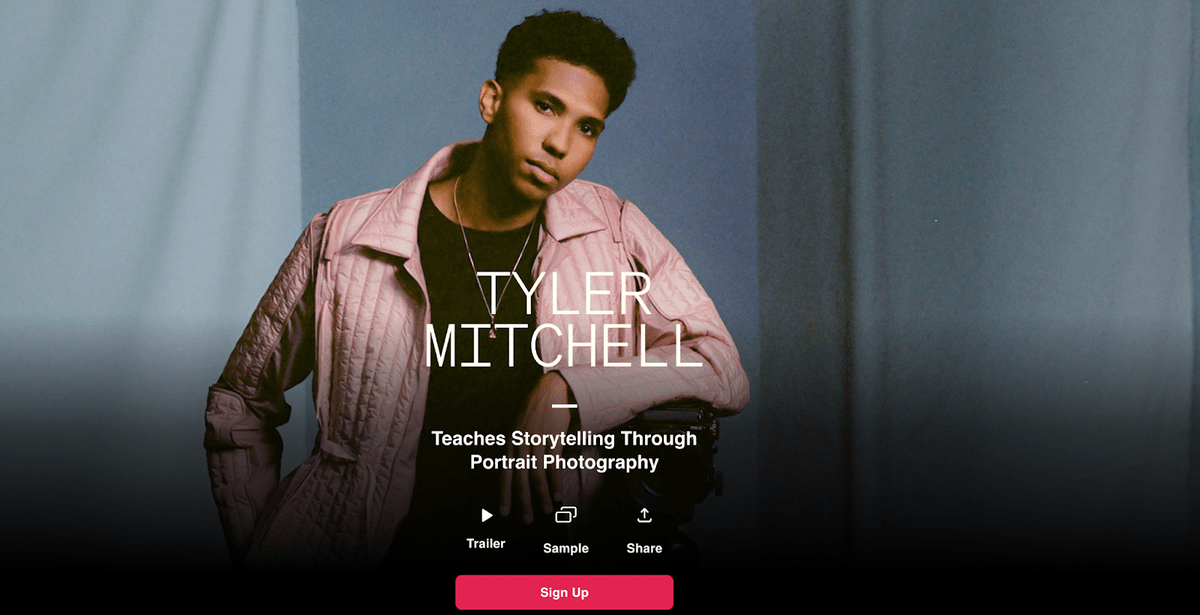 In 2018, Tyler Mitchell became the first Black photographer to shoot a Vogue cover.
Since then, Mitchell has made a name for himself as an accomplished portrait photographer. His stunning images are not only seen in Vogue but also in the Smithsonian Museum as well.
Mitchell walks the students through his process. "I fixate on an idea, and then I go out and make my idea happen," he says.
Mitchell's MasterClass covers a variety of topics, touching nearly all aspects of photography from A to Z. Some of the topics covered in his lessons include:
Telling stories with photography
Shooting indoors and outdoors with natural light
Editing your photos
Selecting the right camera
building confidence
Mitchell also speaks about the importance of finding your audience online. Photography-related MasterClasses typically focus solely on the craft. But here, Mitchell goes beyond and educates students on how they can take their craft and share it with the world.
Mitchell's youthful energy and passion is evident throughout his entire MasterClass course. He connects his art to his life's purpose by stating how he "wants to see protagonists who look like [him]" in his work.
He shows the viewer how to take a compelling photo even with your phone, showcasing his ingenuity, craftiness, and can-do style. This course is great for beginners looking to be portrait photographers in the modern age.
Although rather shorter than some other photography MasterClasses available on the site, Mitchell's content is rich, immediately applicable, and refreshing.
Whether you're just starting or looking to enhance your ability to take portraits, check out Tyler Mitchell Teaches Storytelling through Portrait Photography.
3. Capture Your Vision Through Photography with Petra Collins
Runtime: Flexible 30-day curriculum
Course Value: 4/5
Lessons: Manageable activities over 30-days
Supplemental Material: Projects and a community of peers and teaching assistants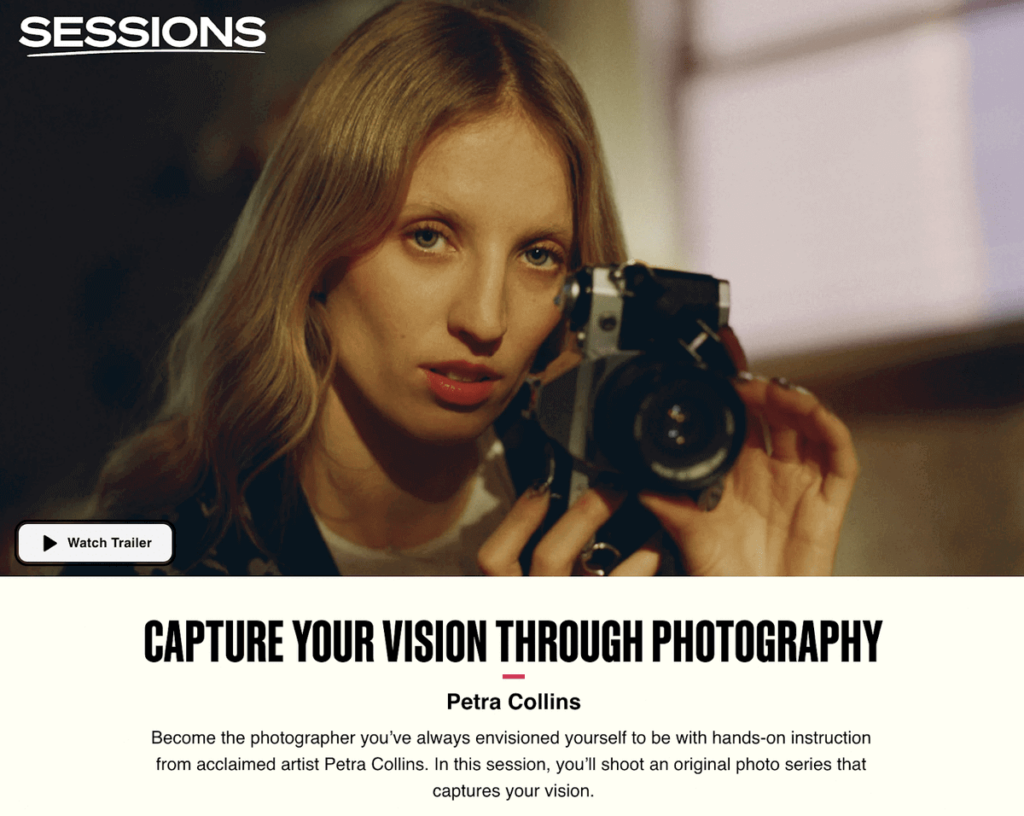 Petra Collins is an acclaimed photographer and feminist icon who has profoundly impacted the photography industry and the world. MasterClass highlights that she is "known for her dream-like, emotive photography" with a "whimsical style."
Many attribute the signature "female gaze," made popular in the early 2010s, to her. Her work can be found in various campaigns for global brands including Gucci, Nordstrom, Adidas, and more.
Capture Your Vision Through Photography with Petra Collins is a unique type of MasterClass called Sessions which offers more of a piecemeal community-based learning structure. Instead of experiencing the class in one sitting, students participate in a flexible 30-day curriculum with activities and a community offering continuous feedback on your work.
The Session is broken down into different sections:
Gearing up for inspiration
Understanding camera and lighting techniques
Assembling your starter kit
Working with natural light
Creating your series.
Collins promises her students that "photography doesn't have to be complicated." In the class, she empowers the viewer to "create images that no one has ever seen before." Her energetic style makes this a popular course on the site.
But what aspects of photography will the course cover?
With Collins and other students, you'll compile a photography starter kit, learn how to load film into your camera, expand your creativity, work on camera and lighting techniques, operate cameras in natural and source lights, learn how to choose locations, and present your work to your peers.
Collins shares her favorite techniques throughout the entire Session, making this a must-experience MasterClass to participate in.
At the end of the Session, you're able to publish and share the projects that you completed with other students in the class. There's a portion of the Sessions' landing page devoted to showcasing some of the best projects resulting from the class.
Just imagine if your hard work inspires another student to go on the same journey you did to become a more skilled photographer. That's the magic of this new collaborative learning model from MasterClass.
4. Annie Leibovitz Teaches Photography
Runtime: 3 hours and 4 minutes
Course Value: 5/5
Lessons: 15 video lessons
Supplemental Material: Student workbook and discussion forum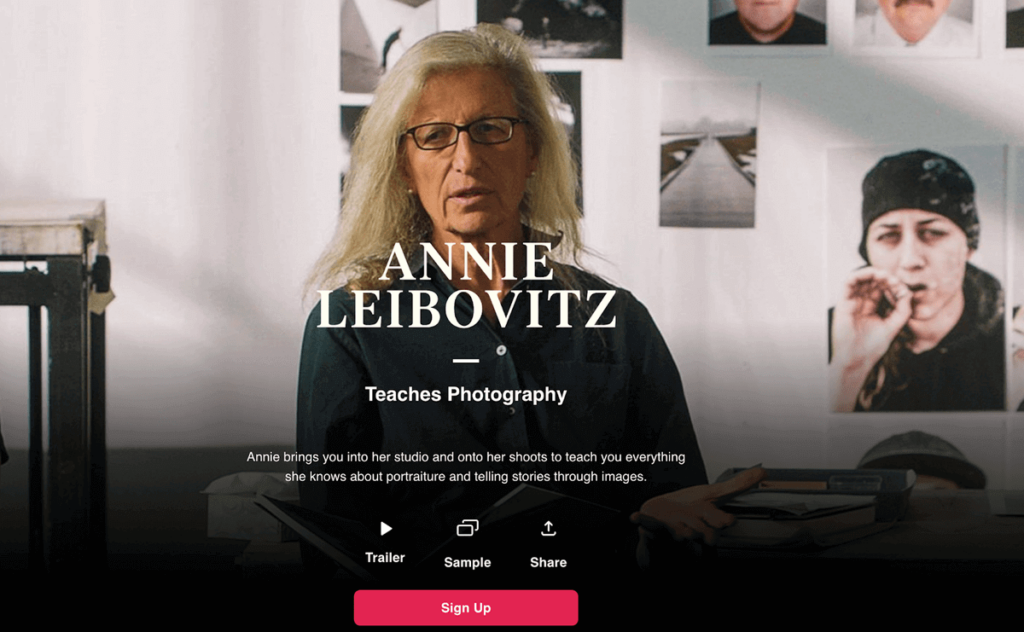 Annie Leibovitz is a Rolling Stones photographer who has taken portraits of hundreds of iconic national and international figures including musicians, world leaders, entertainers, athletes, culture icons and more. Some of these include Demi Moore, John Lennon and Yoko Ono, Bruce Springsteen, Meryl Streep, Whoopi Goldberg, and more.
Her MasterClass is a comprehensive course in all-things photography, providing students with an inside look into her processes, techniques, and post-production efforts.
She candidly shares her thoughts on the role of a photographer (like shooting down the misconception that it's a photographer's job to put their subject at ease) and provides insight into how she captured some of the most iconic shots in the world.
Leibovitz's concentration is mostly on portrait photography, but many of her lessons can span across all disciplines.
Some of the topics covered in her course include:
Creating concepts
Working with light
Selecting your shoot location
Working with your subject
Reviewing your work
She concludes her MasterClass with commentary on the evolution of a photographer as she looks back on her prolific career, offering advice and insight at every turn.
According to Leibovitz, "We never stop seeing." She advises students to be obsessed not only with their craft but with the world and the possibilities in it. She reminds viewers that with a camera, they can tell any story they want and invites them to look at the world in a new light.
Leibovitz reminds students to "always be present while taking photos." It's easy for photographers to be thinking about technical challenges with the camera, adjustments needed for the setting or answering questions for others on set. But when you're leaning in for a shoot, she reminds them to be completely present in that moment.
Overall, Leibovitz's MasterClass is an effective way to understand how to get the perfect shot that evokes emotion and captures the essence of the moment.
If you'd like to learn more about Annie Leibovitz's MasterClass, read the full review here.
Improve your skill set with MasterClass photography sessions
Some of the world's top photography experts are waiting on MasterClass to share their insights, technique, and skills. Are you ready to capitalize on this offering?
Learning from these skilled photographers during their MasterClass is a phenomenal investment in your own personal development. It could provide the foundation you need to kickstart your photography career and take your skills to the next level.
In just a few clicks and a couple hours of your time, you could be digesting some of the best photography practices from the world's leading experts.
Get started today with MasterClass and begin taking incredible photos.