If you run an online business and your store starts experiencing performance issues, you should consider migrating to a better eCommerce platform.
Among many potential names in the market, WooCommerce claims the top position for their impressive customizability and functionality. Many merchants, including Shopify users, rely on WooCommerce to grow their eCommerce businesses.
In this article, we'll cover different ways to migrate from Shopify to WooCommerce to help you implement the best solution for your eCommerce re-platforming. Let's get into it!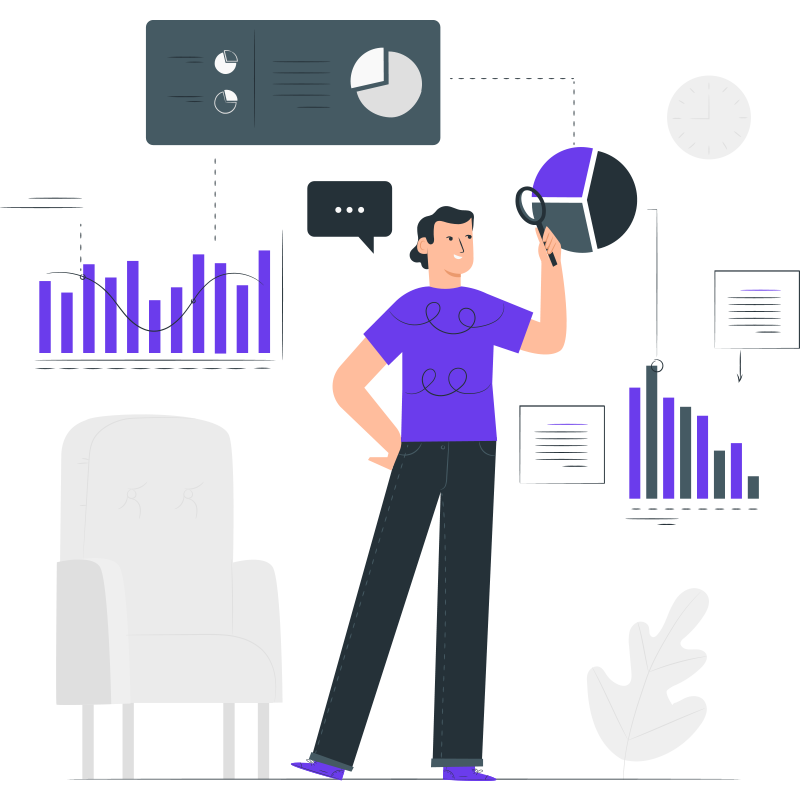 Get long-term ROI.
We help you grow through expertise, strategy, and the best content on the web.
Shopify Overview
Shopify is one of the top eCommerce software, with over1,000,000 users who made around 100 billion sales.
Shopify is the type of "for everyone" software in which users can sign up and kickstart their store without hassles. Although Shopify seems to be a perfect choice, it still has some cons that limit usability. Therefore, keep scrolling down to check its advantages and disadvantages in detail. Shopify offers a ton of great apps out there that can help you run your business more efficiently, like Shopify app subscription so you can track orders, send shipments, and manage inventory.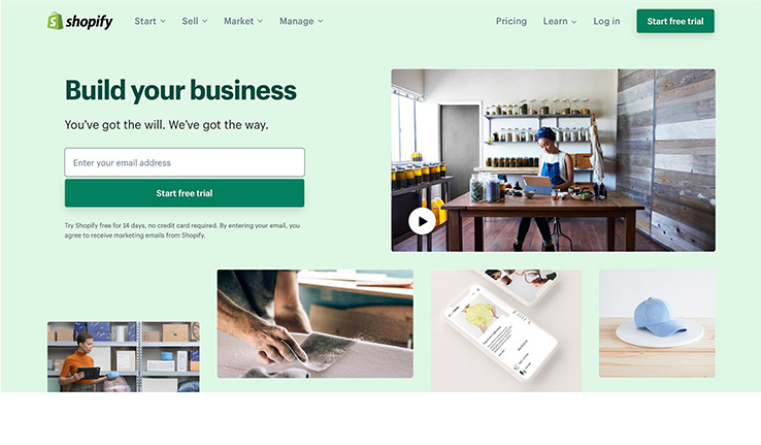 Shopify Pros
Shopify is fairly simple to use, with a clean, clear layout and a generally positive user experience.
Shopify offers 15 free eCommerce templates (or 'themes') to pick from, each of which comes in two or three different variations, providing you with a good amount of design alternatives.
Looking up for support has never been easier with the informative FAQ center, huge community, and dedicated customer support team.
Shopify Cons
The price is relatively high, especially when you want to expand your business. In particular, Shopify's monthly pricing ranges from 29$ to 299$. Other costs include transaction fees for selling online and subscription fees for using the programs you require.
Shopify is limited in product variations. While a product can have up to 100 versions, each one can only have three product possibilities. Removing these restrictions will necessitate the purchase of a third-party application.
WooCommerce Overview
Unlike Shopify or BigCommerce, WooCommerce is a customizable, open-source platform built on WordPress. This platform is particularly appropriate for users who want to develop something in their style and gives them more power over their website but are working with a limited budget at first, provided they have a basic level of technical understanding.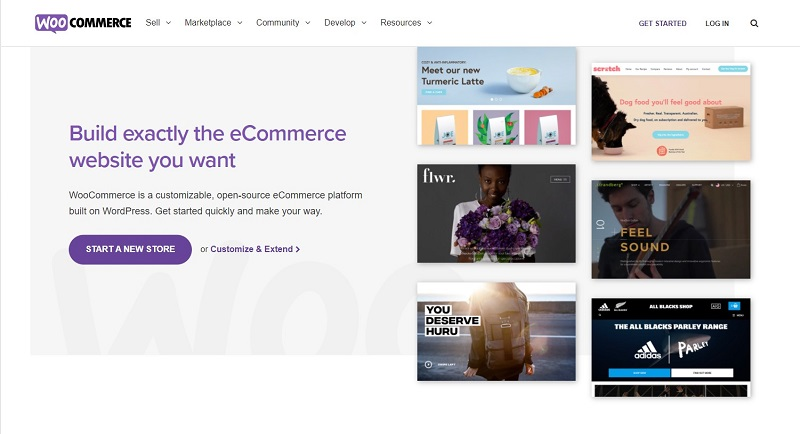 WooCommerce prevails over Shopify because of the following outstanding features:
WooCommerce is more configurable and versatile than Shopify. The underlying programming can be customized to build a one-of-a-kind web store that matches your company's special demands.
WooCommerce is better suited to users who aren't aiming to make a lot of money right away. Building stores on this platform is more of a creative project than Shopify because you'll have more creative flexibility and can completely personalize the site. Because of its benefits, choosing WooCommerce is the best option. The most difficult thing currently is to transition from Shopify to WooCommerce properly. Let's look at the stuff below to obtain the whole answer.
How can you migrate from Shopify to WooCommerce?
This strategy will create a high-security barrier around your data, as there is no way for it to be leaked. Furthermore, because you are performing the move manually, you will be able to save money.
This method means that you have to export data from Shopify and then import it into WooCommerce by yourself.
Manually export data from Shopify
Step 1: Select Export from the Products page.
Step 2: Choose the goods you'd want to export.
A dialog box will appear, asking what you want to export. Remember to select the option to only export products that match your filter. You have the option of exporting goods from your current page or n things that match your search (n is the number of products)
The current page of products
All products
Products you have selected
Products that match your search and filters.
Step 3: Choose the CSV file type. There are 2 types you can choose from CSV for Excel, Numbers, or other spreadsheet programs and plain CSV files.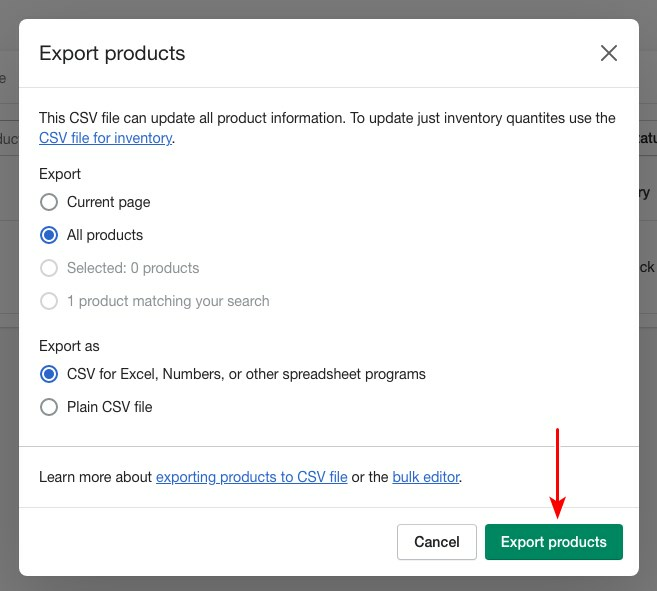 After double-checking the data you wish to export, click Export products.
Other data for export can be found in the Products area, including Collections, Gift Cards, and Inventory. For them, the exporting process is the same.
Manually import data to WooCommerce
Before importing data into the WooCommerce platform, ensure the two platforms' databases are compatible. You can do so by downloading WooCommerce's CSV sample files, comparing them to Shopify's CSV files, and making necessary changes.
To follow the format of WooCommerce CSV files, read these entire general guidelines.
Let's move on to the importing phase after reviewing the format of your exported files.
Go to: WooCommerce > Products
Select Import at the top. The Upload CSV File screen displays.
Select Choose File and the CSV file you want to use.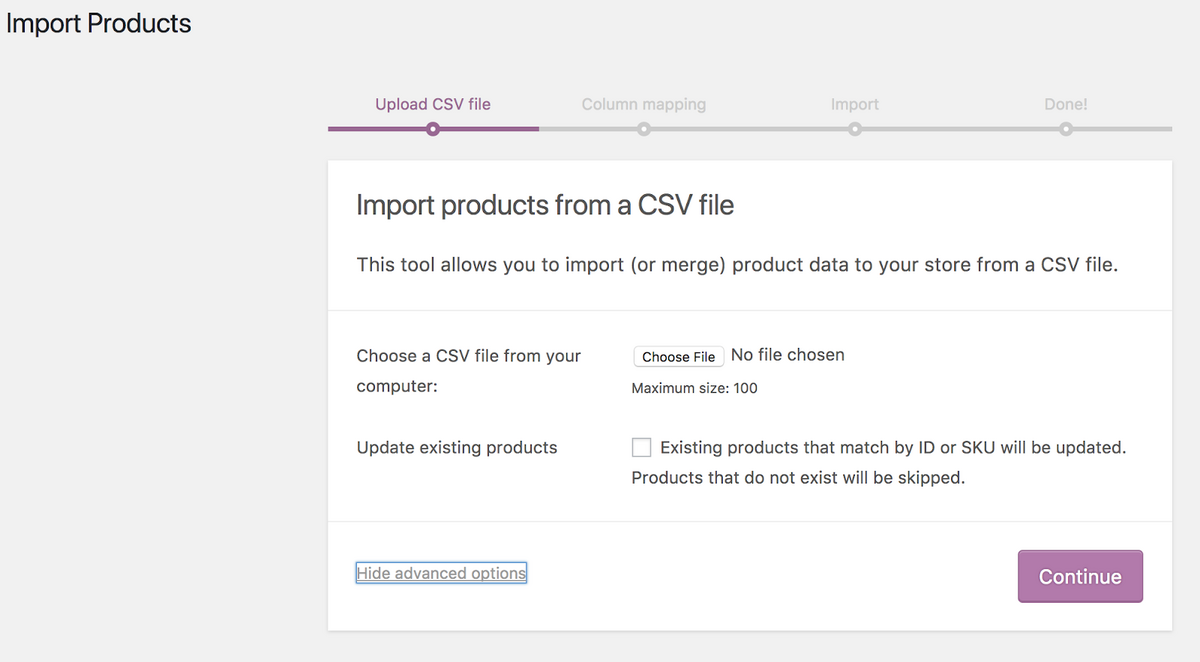 Click Continue
The Column Mapping screen displays, scroll down then click Run the Importer.
Wait till the Importer has finished with its task. Do not refresh or touch the browser while it is running.
And you've reached the end of your journey. Keep in mind that manual transfer is a challenging process requiring high technical expertise. Another limitation is that the amount of data that may be shared between Shopify and WooCommerce is limited. So, before you begin, be wary of this solution.
The second way to migrate from Shopify to WooCommerce is by hiring a migration expert/agency. This option is appropriate for those who do not want to engage in the technical stuff. In particular, you just need to provide the outsourcing party with your migration request and your store information. The rest will be taken care of by them while you can focus on improving other aspects of your business.
Fortunately, WooCommerce has a huge directory where you can find qualified agencies and developers. A WooCommerce expert can provide valuable guidance in optimizing your online store, ensuring it meets the unique needs of your business. As needed, you can seek help from these experts and the greater WooCommerce community.
This method however, will cost you a large amount of money. Hiring a web agency is typically between $50 and $80 per hour. The longer they have to spend, the more money you will have to pay. This method normally costs between $500 to $2500 in total.
While manual migration may appear appealing initially since it is less expensive, the long-term consequences of manual migration could be severe if the following factors are not considered and examined: data integrity, potential downtime, data assessment…
The most advanced approach for moving data from one eCommerce platform to another is to use a data migration tool. No technical knowledge is required, simply enter your card information, and you're ready to go.
Automated migration has the edge over other migration methods on account of enormous advantages:
Migrating large projects
Migrating test entities (test plan, test suite, test run, test results)
Multiple-to-one user mapping
Migrate from Shopify to WooCommerce with LitExtension
The most important thing to remember before migrating is to make a backup of your Shopify data. This procedure merits special attention because it can ensure the security of your business-critical data in the case of a disaster or a migration failure, or something new has appeared on your website. You do not need to be concerned because LitExtension will not interfere with your data, ensuring that it remains secure.
There are three methods to go about it:
Follow these detailed instructions, and you may quickly complete the backup data stage.
By pressing the top right button: Create Migration on the screen, you can create a new migration on the 'My Migrations' page. Select Shopify as the Source Cart from the drop-down box, then enter the store URL, API key, and password to migrate from Shopify to WooCommerce. LitExtension includes detailed instructions for obtaining each type of data.

Select WooCommerce as the Target Cart type and enter your store's URL to create your Target Cart. Then, choose LitExtension Connector to download, extract, and upload the connector zip file to WooCommerce's root folder.

Then click Next: Configure your Migration.
In this phase, you can choose which data from Shopify to WooCommerce you want to migrate, such as items, reviews, taxes, customers, orders, pages, blog posts, and other related entities.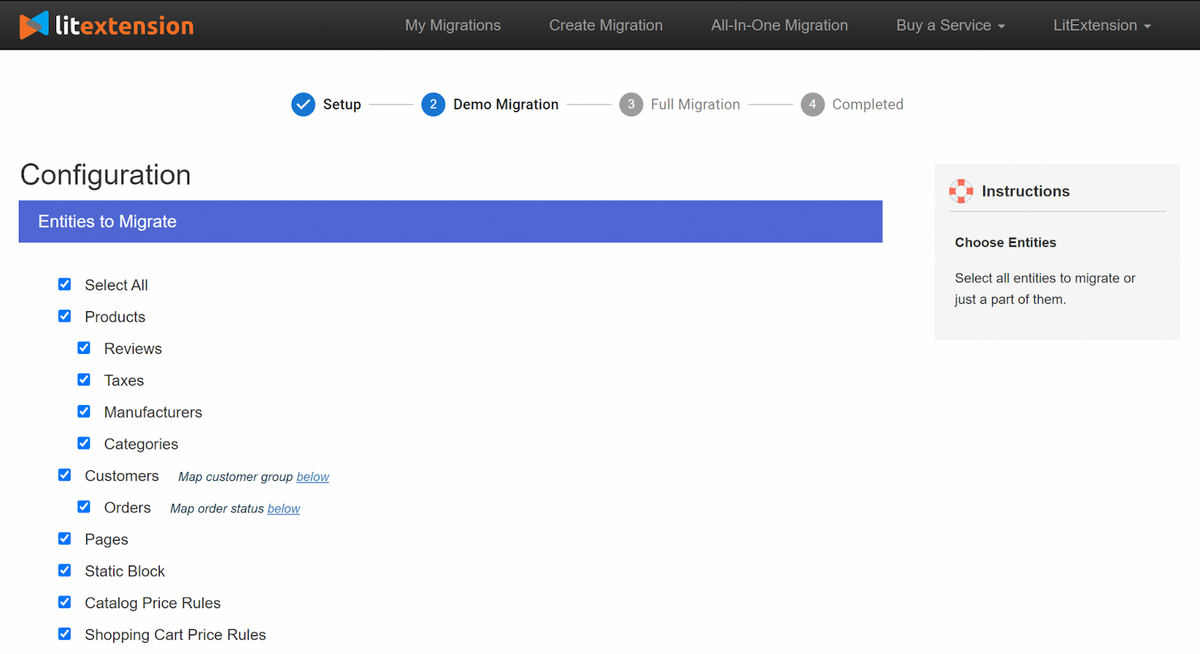 Furthermore, LitExtension provides additional options that you can use if needed. The image below shows all of the other powerful functions. Languages, Order Status, and Customer Group will be matched and shown in the new store accordingly.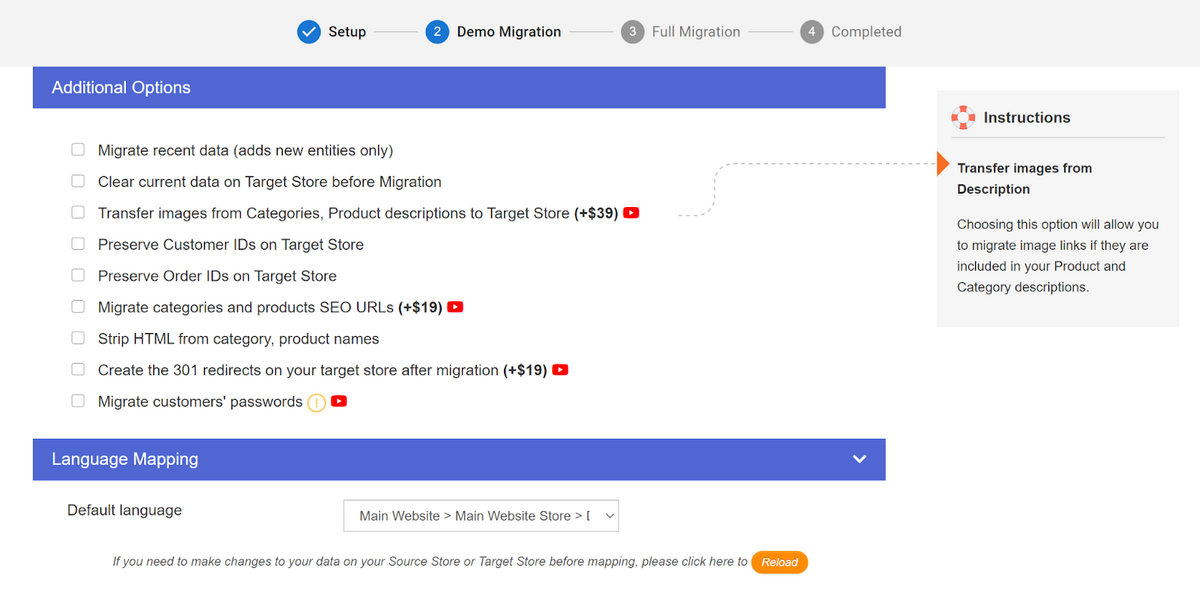 You can click Skip demo Migration to move forward to Full Migration immediately. If you choose to proceed with a full migration right away, you will be directed to a checkout page. Once you've made your payment, your migration will be ready to begin.
The migration is running in the background, and you don't need to keep the browser open until the migration is complete. You will receive an email from LitExtension when the process is done.
You can view the Demo's results before committing to the full migration by visiting the URL LitExtension has supplied.
LitExtension supports 5 payment methods:
PayPal
Skrill
Western Union
Bank transfer
Cryptocurrencies
Complete the checkout process and move to the next step.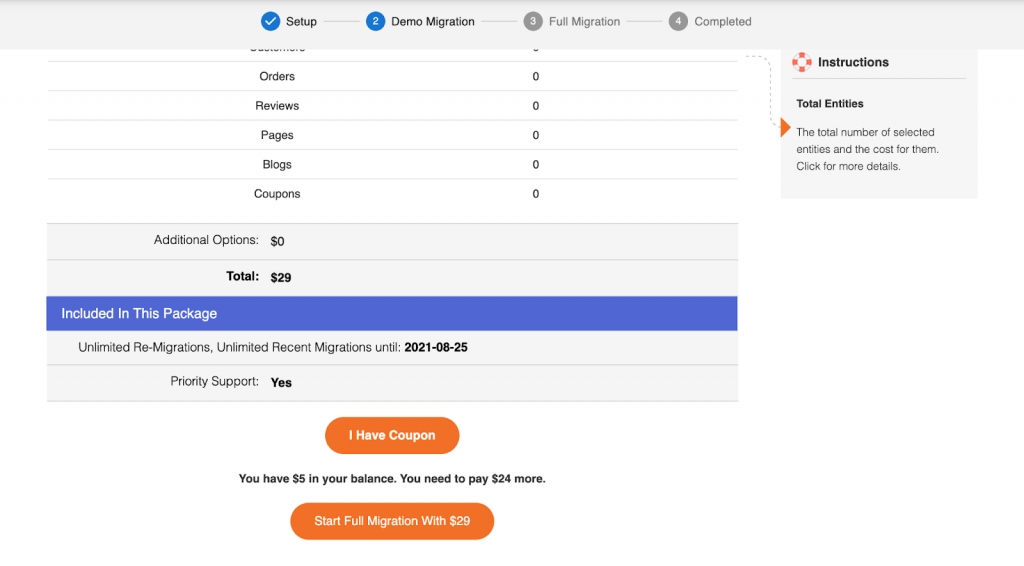 The entire migration procedure may take up to a few minutes or hours (depending on the number of entities you want to migrate).
Because LitExtension data transfer is cloud-based, you don't need to keep your browser open or your network connection active during the procedure.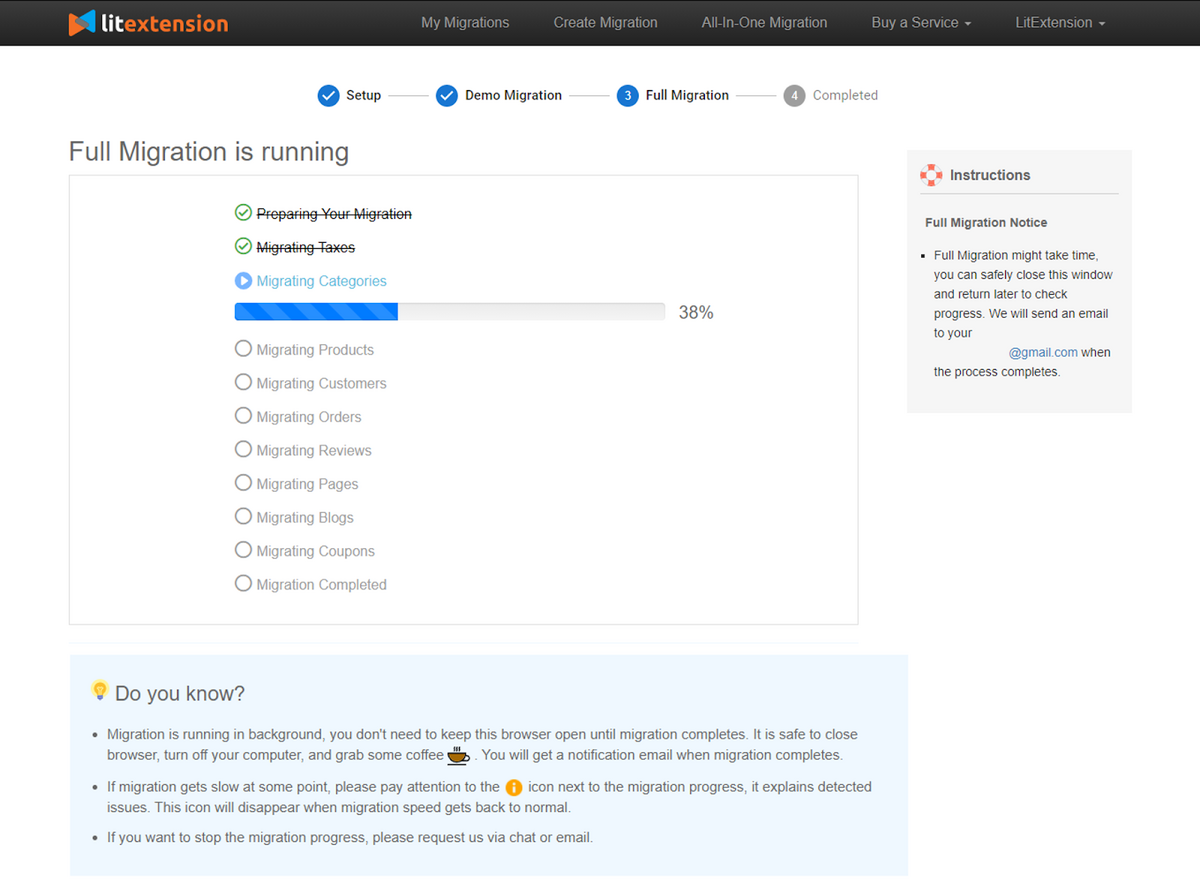 When the Full Migration is completed, we recommend that you review the results on your Target Store because some of the migrated data may not be properly shown at the storefront owing to certain shopping cart configuration anomalies.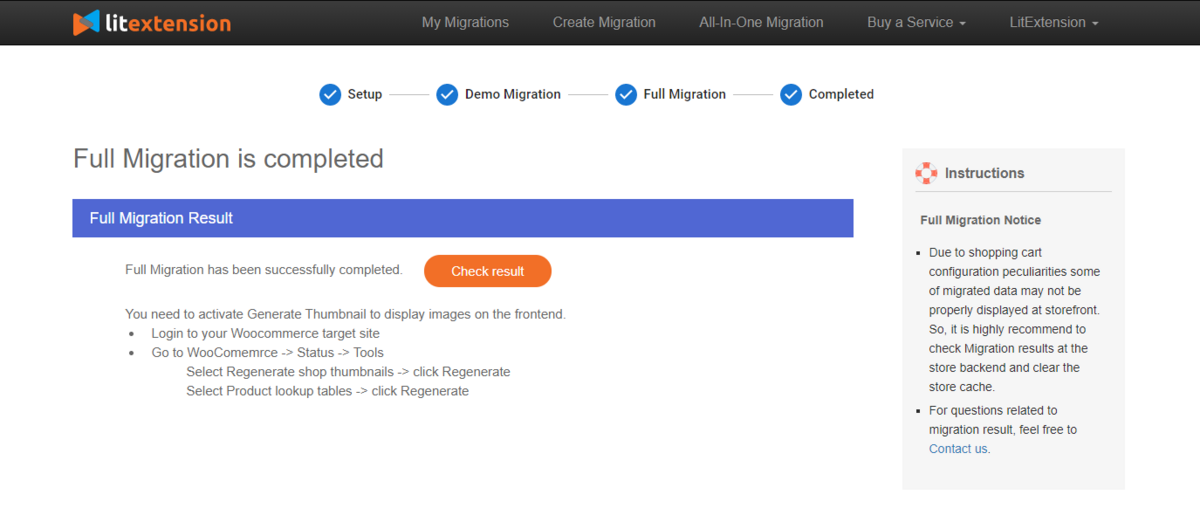 Congratulations! That's the end of your WooCommerce migration process.
FAQ
Would WooCommerce be worth your investment?
WooCommerce is the finest platform for you if you're seeking a cost-effective solution and want complete control over your online business. Furthermore, its advantages include great flexibility, limitless customization options, and an interactive community to discuss and find solutions. WooCommerce is worth your investment.
Is WooCommerce Migration Expensive?
There's no exact cost for migrating to WooCommerce because the cost depends on how large your data is. Manually migrating may be free. The cost of hiring a software developer may rise from $50 to $80 per hour. If you choose the automated migration option, you can estimate the cost of migration using LitExtension's automated pricing tool. Their Basic migration service costs only 29$ and the All-in-one migration service costs $119 for supporting the whole process.
If you have a sufficient budget, you can hire a WooCommerce development company to migrate it for you.
What Is The Best Solution To Migrate From Shopify to WooCommerce?
In the three methods suggested above, using an automated migration tool is the best solution for you to migrate your store from Shopify to WooCommerce.
Conclusion
As a store owner, the last thing you want is to keep your product data or customer information. You may manually import CSV files from Shopify into WooCommerce for a simple migration that covers your products, customers, and orders, but keep your time commitment and technical abilities in mind.
The second technique will serve if you don't mind blowing your money.
You can also choose LitExtension – #1 Shopping Cart Migration Expert's migration expert service for a more thorough (and hands-off) transfer. You won't have to worry about any errors or data difficulties with your eCommerce migration. Hope this article has helped you figure out which option best meets your needs and how they work.