In digital marketing, "Content is the King", and you cannot but nod in agreement with this expression. Original, SEO-friendly content is still considered the most powerful medium for lead generation and building an audience.
Having a constant increase in the number of leads and customers is vital to business fortunes, right? Therefore, content marketing becomes a quintessential part of your digital marketing strategy.
Simply put, content is the doorway to your brand that makes it possible for innumerable customers to become aware of your offerings, or even existence. Without the help of SEO-friendly content, your website won't show up in the search results, and you will lose potential business virtually every time someone searches for a relevant product or service.
The onus is on content marketing managers to make sure that the business ranks on the top SERPs of Google. In order to achieve this, content marketing managers have to don many hats at one time. They are also supposed to get on top of the content strategies, promote collaboration, ensure that all team members stay on the same page while meeting the goals of traffic and conversions.
While doing all this, things can get quite tricky and overwhelming at times. The challenge is not only to create high-quality content but also to manage tasks, track time spent on them, and more importantly, keep different members of the team together and work as a collective, cohesive unit.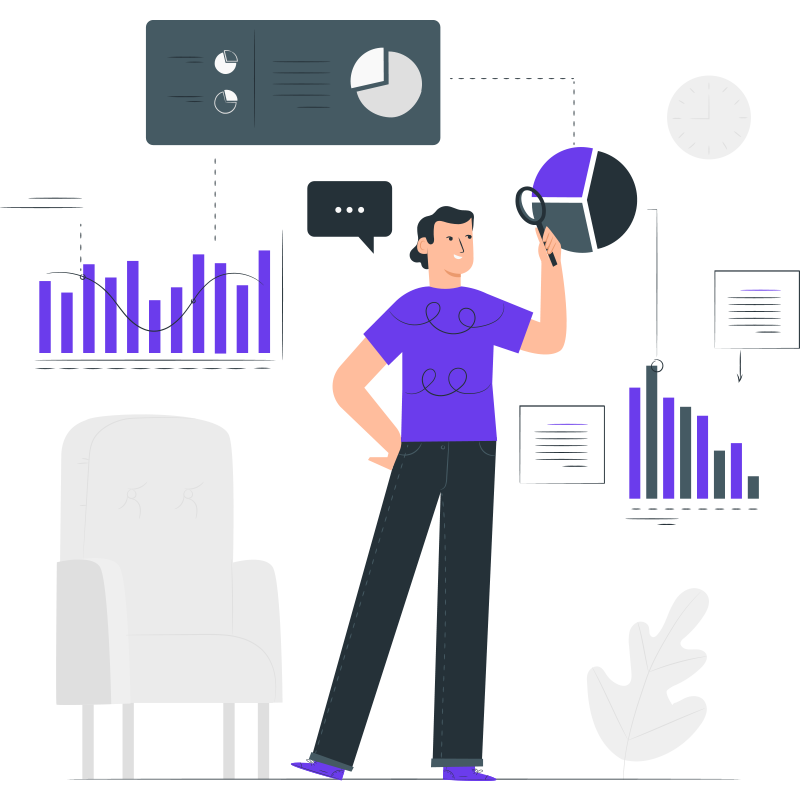 Get long-term ROI.
We help you grow through expertise, strategy, and the best content on the web.
Here are some other main challenges faced by content marketing managers in everyday life.
Maintain or improve team collaboration
Lack of clear goals and success criteria
Keeping clients in the loop
Ensuring a clear division of responsibilities
Ensuring clear and swift communication
Identifying areas of time wastage
Team collaboration and communication are two vital aspects of project management and content managers have to pay undivided attention to both. Sorting out these two can automatically streamline the entire work process.
The following figures by 2019 In-House Creative Management Report by inMotionNow and InSource are an eye-opener for digital marketing businesses. Content marketing managers need to pay heed to these facts because such issues might be present in their teams too.
Only 45% of creative teams report high morale
72% say that "getting the required information to get started on a project" is the major administrative task that takes up a significant chunk of their time
22% are of the view that collaboration between creative and marketing is fruitless
Even though these statistics represent just a fraction of a mammoth industry, still the results reflect a lot about what's going on in many companies. The point here is that challenges will always be there for content marketing managers to keep the flock together.
Rather than waiting for challenges to subside, they should pull their socks up, polish their skills, and use technology to overcome them with proficiency as a pro.
Given below are some proven tips for content managers to simplify project management and be successful at this challenging task.
1. Define Your Goals
You might have so many things on your mind that you plan to do with your content marketing. Generally, the three most important goals of content marketing teams across the digital marketing domain are-
Increase organic traffic
increase email subscriber
increase paying customers
Every project we undertake must be connected to one or more of these goals, or else the project is likely to lose track due to unclear goals and lack of direction.
That said, having a long list of goals can also make it difficult for your team to focus on the ones that really matter and have a significant impact on your business. Fewer goals mean less confusion and better clarity for your team to focus on.
Using task management software, create a small list of achievable goals, and share it with your team; know their thoughts about it, let them contribute and then move forward towards taking action on them.
2. Start The Day With Creative Briefs
Documenting a content strategy is one of the most important things for content marketing managers when getting started with a new project. Creative briefs are vital in completing the process of documentation. Teams that receive the right information at the right time are more likely to trust marketing leadership and report high morale.
Content marketing managers should always remember that productive creative briefs provide clear deliverables and expectations for everyone in the team. Team members are set to clear timelines within which they are expected to complete assigned tasks. Likewise, creative briefs state project goals in a firm manner.
Even though a considerable amount of time is spent on documenting content strategies, the effort is worth it in the long run. Creative briefs reduce the confusion of team members and answer their questions, thus encouraging improved team communication and collaboration. It helps them move in the right direction, without losing their focus – and that's the best way to achieve success in the project.
3. Encourage Open Communication
You cannot deliver a project successfully unless there's healthy, swift communication amongst the team members. Many issues can crop up during the course of the project, which necessitates to and fro communication amongst various team members. Hence, you must encourage open communication between the team members where all parties are able to express ideas, queries, and concerns to one another.
The communication process may also involve senior management, stakeholders, and clients. It is important for content marketing managers to maintain a fine balance between necessary communication and excessive communication that might interrupt team members as they do the work assigned to them.
Content marketing managers should utilize different communication modes for passing different types of information, be it video conferencing software, VOIP phone calls using vanity phone number, chat, texting, emails, or instant messaging software.
4. Use The Right Tools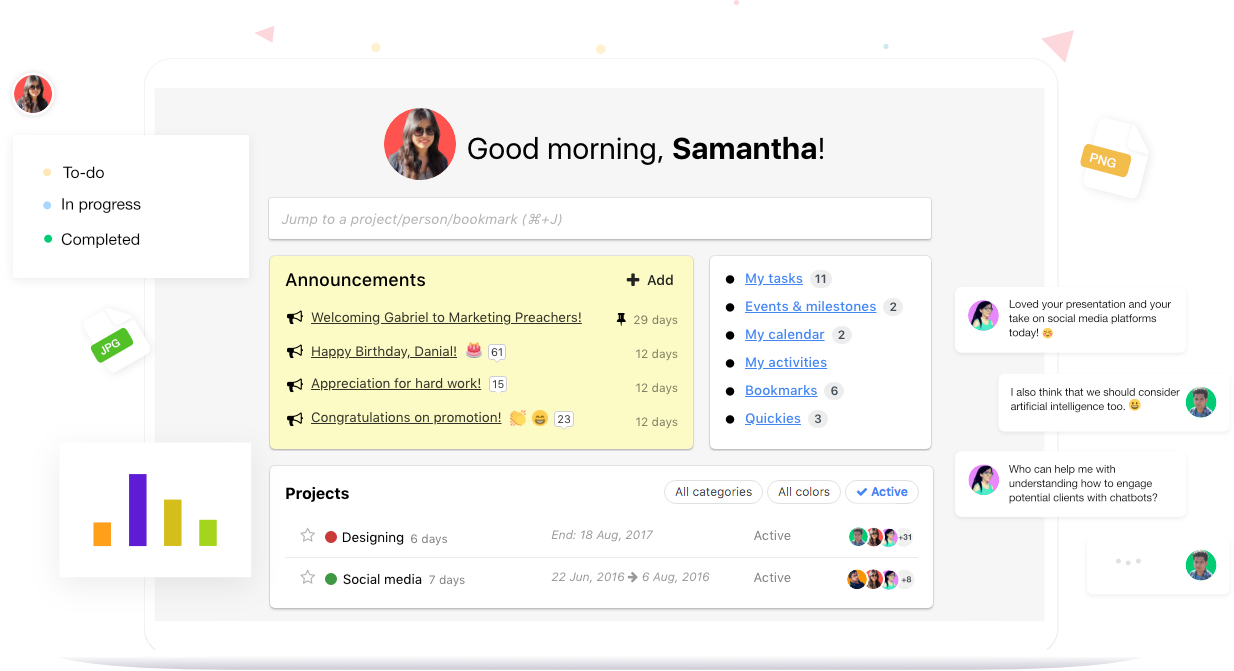 22% of organizations make use of PM software and the number keeps on growing. Content marketing managers cannot handle everything themselves as they have so many things to manage simultaneously. Some tools are built specifically for improved team collaboration and project management – such as Basecamp, Asana, Teamly, Workfront, and ProofHub. Then there are other tools that are specially designed and created for content marketing initiatives – such as CoSchedule, Contently, Kapost, and more.
Also, managing a content team also means storing and organizing a plethora of files and documents in long, messy email threads. Project management software with built-in file storage allows you to upload, store, and keep files organized at one place. You can collaborate and share feedback on files in real-time, all using one file management software.
If you manage a large team that consistently creates a large volume of content, it might be a good idea to invest in a solution that gives you ultimate control over teams and projects with centralized management. You might also consider working with another content marketing company that can reduce stress for you and your team by alleviating their workload. Alternately, you can also make use of any time tracking tools (e.g., RescueTime, TimeCamp, etc.), especially in the case of smaller teams, where each person's contribution matters much more. However, there are other RescueTime alternatives available in the market too which can automatically track your work and let you categorize it into projects.
5. Review Your Progress Frequently
One big blunder that some project managers make is not checking on the project progress until it's too late. That's when using a free time tracker might turn out extremely useful. It's important to review progress periodically to make sure things are being implemented as planned. There could also be some issues that your team members are unable to sort out themselves and hence need your assistance.
Content marketing managers can also implement agile project management and designate a product owner and scrum master. A scrum master and product owner leads daily team meetings and weekly project status meetings to keep projects on track and make sure the right people are assigned the right tasks to complete the project on time.
Every team member involved in a project gives updates on their status of work every morning in daily scrum meetings. Your scrum master is responsible for removing roadblocks that can hinder your project progress and put it weeks behind schedule.
By thinking out of the box, and reviewing your team's progress on a regular basis, you can eventually end up creating a winning team!
The Final Word
The role of a content marketing manager can be broader. Drafting content marketing strategies to running campaigns and delivering high-quality content across various channels is just the tip of the iceberg.
Managing projects and teams simultaneously can be a challenging task. Like project managers, solely the content marketing managers are held responsible for both the success and failure of the project. However, that's not really the case. It is a combined effort, where content marketing managers are there to steer the ship in the right direction.
Using the right technology and man-management skills can help content marketing managers to achieve greater control over projects. The key to any project's success is getting the best out of different creative individuals and motivating them to put their combined efforts to achieve individual and organizational success.
Equip your team with the best resources, documented planning, streamlined communication, best tools, and you might very well be on your way to being a skilled project manager besides an experienced and highly successful content marketing manager.
So, are you up for the task?