Are you looking for a platform that can help you run and manage your online course, membership site business, or coaching program? Something that's sleek, user-friendly, and doesn't require a bunch of codes or plugins?
Most digital entrepreneurs and businesses don't know that such a platform exists. But we're here to tell you about something that might be worth your attention – Kajabi. What exactly is Kajabi, and how can you utilize its functions for your business? And, what's the Kajabi pricing? Is it worth the cost? Let's find out.
TABLE OF CONTENTS
What Is Kajabi?
Kajabi is a user-friendly content marketing platform boasting all the tools businesses would need for their membership site or online courses to run smoothly. The platform gives you plenty of options to build and manage your content and removes the hurdles small businesses and entrepreneurs used to have running their online business.
Unlike similar platforms, Kajabi doesn't require third-party tools. There's no need to learn the ins and outs of other services or plugins to manage your online business. Its all-in-one software focusing on email management, sales funnel marketing, and marketing automation. In a nutshell, it has the tools necessary for sales and marketing.
The integrated sales funnel software helps you build powerful marketing funnels to generate sales, while email marketing automation enables you to send personalized messages.
With the various customizable themes Kajabi offers, users can create websites that reflect their brand's voice and logo.
Finally, Kajabi has a fantastic support team that deals with the updates, security, and maintenance-related issues. This allows users to focus entirely on their content.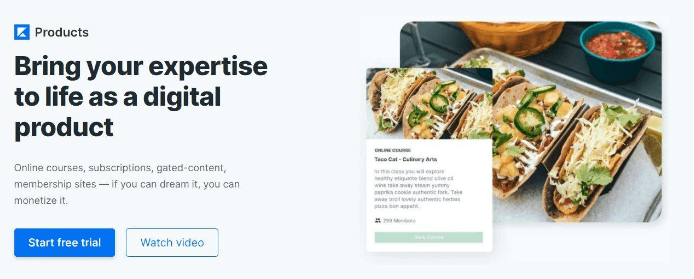 How Much Does Kajabi Cost?
Before deciding whether Kajabi is the right platform for you, familiarize yourself with Kajabi pricing. Kajabi pricing occasionally changes, so make sure to check the website for up-to-date info.
Kajabi has three different packages:
Basic ($149/month)
Growth ($199/month)
Pro ($399/month)
But if you get the annual subscription, you're looking at 20% off, which significantly reduces the cost. For example, the annual subscription plan with the discount is as follows:
Basic ($119/month)
Growth ($159/month)
Pro ($319/month)

At first glance, Kajabi pricing might seem high. But considering that it's an all-in-one platform for marketing and sales that doesn't require third-party tools to operate, it's relatively affordable.
For example, if you opt for other apps that feature all Kajabi functions, the cost would come to more than the basic monthly Kajabi cost. You would need to get a website builder, an online course platform, an email marketing app, a checkout payment app, and many others.
Now let's explore what each Kajabi plan offers. The first thing you should know is that all three tiers include unlimited bandwidth, 0% transaction fees, and unlimited video hosting with Wistia.
Basic Plan
With the Basic Plan, users can create up to three products a month, one website, and three sales pipelines. It's a good place to start if you're still unsure whether Kajabi is the right platform for you.
Keep in mind that if you have any questions about this plan, you'd need to schedule a meeting with customer support. The Basic Plan offers customer support services only on weekdays from 9 a.m.-7 p.m. through live chat.
Growth Plan
The next plan enables users to create up to 15 products a month and have 15 sales pipelines. On top of that, the Growth Plan allows 10 admin users, instead of the one the basic plan offers, and lets you have up to 25,000 contacts. Furthermore, it offers advanced automation with more filters, the ability to remove the Kajabi logo from your site, and the affiliate program deal.
The Growth Plan also allows you to contact customer support at any time.
Pro Plan
Do these plans seem to limit you? Perhaps you need something with more options and fewer limits. Then, upgrade to the Pro Plan.
This package lets its users create 100 products and 100 sales pipelines, have 100,000 contacts, and 25 admin users. And instead of creating one website, Pro subscribers can have three.
What's more, the Kajabi Pro Plan includes the code editor, which can change the code in the product, website, and a landing page on Kajabi.
If you're not sure which package would suit your needs the most, why don't you test them? Kajabi offers a free, 14-day trial period on all their plans. Use this time to check how Kajabi works and whether you need to upgrade.
As you see, with all features these plans offer, the Kajabi pricing isn't that expensive. Plus, since their support manages security and maintenance, all you've got to do is focus on your products.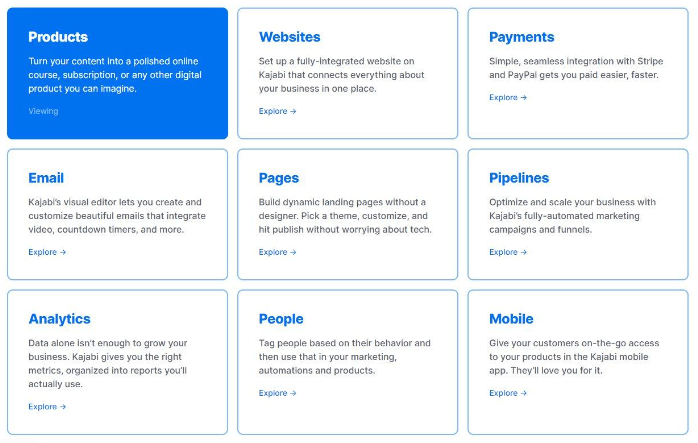 Kajabi FAQs
Who is Kajabi Hero?
If you're somewhat familiar with Kajabi, you might have heard about Kajabi Hero. So what, or who, is that? A Kajabi Hero is an individual who was able to earn $1000 using Kajabi. These individuals are people from different branches, all trying to pursue their passion.
Does Kajabi offer free plans?
Unfortunately, Kajabi doesn't have a free plan. However, they offer a 14-day free trial period for all their packages. During this time, users can explore the platform and see if its functions are suitable for their needs. They can test each plan and its functions to decide which one works for them.
Can I use Kajabi to create tutorials or online courses?
Kajabi was designed as a no-brainer platform to create online courses or tutorials. It doesn't require coding knowledge or any technical skills. Once you choose the plan, creating courses or tutorials is relatively simple. Here's how to do it:
On the Kajabi dashboard, you'll see a Product tab. Under this section, there will be different product blueprints from which to choose. For example, users can select a mini course, online course, etc.
Who hosts my video content?
Although you can create online tutorials or courses with Kajabi, the platform doesn't host your video content. Instead, Wistia provides hosting services.
Can you use Kajabi with WordPress?
Kajabi allows integration with WordPress. Users can add a link between navigation on WordPress and Kajabi and a purchase button on the sales page that links to Kajabi.
Conclusion
To sum up, Kajabi is an affordable platform considering all the features it offers. It's user-friendly and well-integrated, thus allowing users to run and manage their online learning business.
Kajabi pricing plans offer different features. While the Basic Plan is the most affordable, it might limit some users. In that case, choose between the Growth Plan and the Pro Plan. Explore each to see which one suits your needs and can help bring more profit.