A reliable email marketing tool is a crucial asset if you want to personalize interactions and grow your email marketing list. Such a tool should help a company create marketing strategies that will eventually generate revenue and provide a personalized experience for customers.
But with plenty of platforms available, it isn't easy to find a tool that would do all that for a relatively reasonable price. Many businesses are faced with the same challenge including, quite possibly, yours.
One of the new email marketing companies worth considering is Sendlane. In this article, we'll provide a Sendlane review, and tell you about its functions. Plus, you'll learn about the package price, which can help you determine whether Sendlane is the right tool for your business.
TABLE OF CONTENTS
What Is Sendlane?
Sendlane is a marketing automation tool that can help businesses grow revenue, build a loyal list of clients, boost customer retention, and offer their clients a personalized experience. And all that is packed in one convenient platform.
Using Sendlane for your internet marketing campaign is relatively simple. This tool allows its users to set up an email list and even decide which of the customers will get which particular promotions. Moreover, it uses intelligent techniques to determine the number of opens and clicks. This provides an e-commerce store with valuable insight into clients' interests.
Furthermore, as an automation tool, Sendlane offers full automation, with features that let users create an email retargeting campaign and nudge clients who might have forgotten about their company.
Sendlane also provides real-time event tracking to help users improve their marketing campaign. Use it to monitor the number of leads you generate and achieve the best results.
Although the platform offers many attractive features, the whole interface is user-friendly, so it's great even for marketing beginners. And it's constantly releasing new features or updates to provide the best email marketing automation.

How Much Is Sendlane?
Considering what Sendlane offers and how much it can help a brand improve its marketing strategies, the software is a smart investment. It might be more expensive than its competitors, but this is because it boasts a sleek drag-and-drop email editor, a landing page creator, and much more.
Before deciding to purchase any of the Sendlane plans, you should get familiar with the pricing.
First things first. Sendlane doesn't offer a free plan. This might be an issue if you're a startup. But, if you're serious about increasing your email marketing success, it's worth investing in a tool like this. It does offer a free 14-day trial period during which you can test its features with up to 100 contacts. Keep in mind a credit card is needed to sign up.
Interestingly, all their plans include almost all the same features. For example, users can send unlimited emails, have a live chat with customer support, have the ability to predict marketing automation based on behavior, receive real-time data, and analytics, etc.
On top of that, all Sendlane users can take advantage of pre-built email templates, which they can use to build comprehensive marketing campaigns much faster and efficiently. Plus, Sendlane plans offer integration with various other tools, such as Shopify, ClickBank, Smile.io, OneClick, WooCommerce, etc.
However, the pricing can change based on the number of contacts in your marketing enterprise. And their more expensive packages include some advanced features. Let's look at the differences between the plans Sendlane offers.
Growth
The cheapest marketing package Sendlane offers is Growth. It starts at $79 per month. However, if you opt for the annual fee, expect a price reduction. This package includes everything we've mentioned above and supports up to 5,000 contacts.
But if your business is mid-sized and has more contacts than that, there are other options.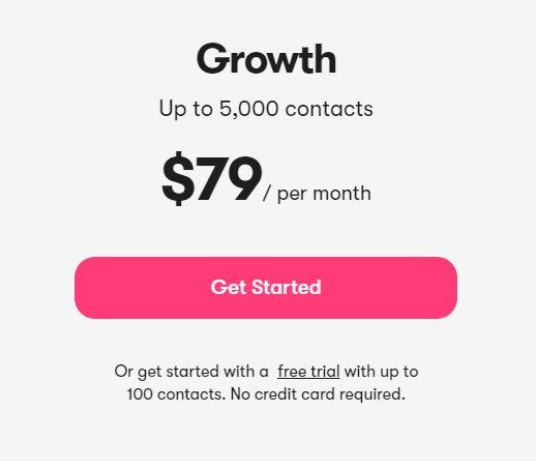 Pro
The Pro Plan is suitable for mid-sized and larger marketing enterprises. Its price depends on the number of contacts you need. For example, for $150 per month, you can have 5,000 contacts. This price reduces to $125 per month if you choose an annual subscription.
Do you have up to 10,000 contacts? Don't worry, Sendlane has got you covered. Their Pro package, priced at $208 per month, supports this extensive list.
Here's the list of other Pro package options:
25,000 contacts – $266 per month
50,000 contacts – $375 per month
75,000 contacts – $491 per month
100,000 contacts – $666 per month
More than 100,000 contacts – Custom price
All the Pro Plans include everything the Growth Plan has, plus account management to help you plan your marketing strategy, multi-user access, SMS automation marketing, and advanced migration services.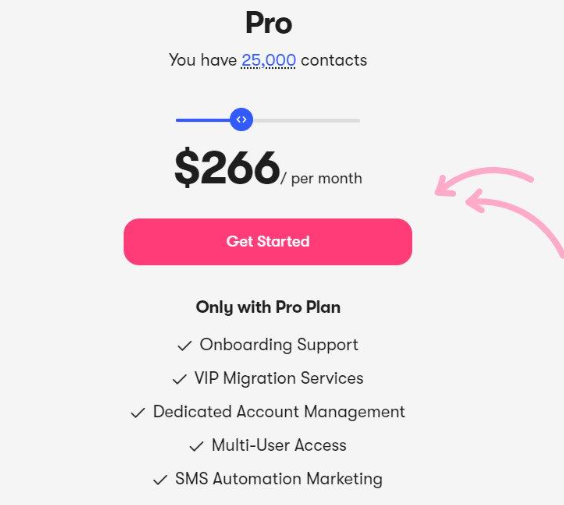 Sendlane FAQs
Does Sendlane have a free plan?
Many startups interested in Sendlane wonder if this tool has a free plan. They might not want to pay for the plans if they're not sure it'll suit all their needs. Unfortunately, Sendlane doesn't have a free plan.
However, they offer a 14-day free trial period during which you can test the platform with up to 100 contacts. After that, you can try their Growth Plan, which is the cheapest and can support up to 5,000 contacts.
What is the difference between Sendlane Growth and Pro Plans?
While the Growth and the Pro Plans offer some similar features, there are also some differences. For example, the Pro Plan supports more than 5,000 contacts. Its pricing varies based on the number of contacts you need. Furthermore, it includes account management, SMS automation marketing, and multi-user access.
Do I need a credit card to sign up for a free trial period?
Yes, users need to fill in credit card details even for a 14-day free trial period.
Can I use Sendlane to create a landing page?
Since Sendlane has a landing page editor, users can use this tool to create a landing page. Utilizing this function is relatively simple, so you don't need any particular skills.
Does Sendlane offer integration with WordPress?
Yes, in a way. Sendlane offers integration with WooCommerce, which is a WordPress e-commerce plugin.
Conclusion
Although relatively new, Sendlane has managed to make its mark in the email marketing automation industry. It's a great tool for digital marketers and e-commerce, mainly because of its ability to integrate with Shopify.
There are two different package options. Your choice will ultimately depend on the number of contacts you have.
The tool is growing pretty fast, so expect it to include some other exciting features in the future.