In today's market, social media presence is a crucial marketing strategy to build and maintain customer loyalty. It helps brands engage with their audience and boost leads and sales.
That said, most modern businesses have multiple social media accounts which they use to communicate with their audience, create a post, etc.
But it's a lot of work to manage your social media accounts, post to them on time, keep your inbox monitored, and analyze all data to keep ahead of the competition.
If you're in the same situation, you might have wondered if there is a tool that could help with social media marketing but doesn't break your bank like similar platforms. That's why we're taking a look at just such a platform – SocialPilot.
TABLE OF CONTENTS
What Is SocialPilot?
SocialPilot is like your personal social media marketing agency. It's a tool designed to help teams and agencies of all scales with social media management. As such, it can improve your marketing strategies, increase brand awareness, and track analytics, thus enabling you to focus more on your company.
SocialPilot supports all major social media platforms: Twitter, Instagram, Facebook, Pinterest, and LinkedIn. In fact, it lets businesses link to over 100 different social media accounts. It boasts numerous benefits such as the ones below:

1. Managing Multiple Social Media Accounts
There's no denying that social media presence matters. But do you have a hard time keeping up with all the social media accounts of your brand? After all, managing multiple different platforms can be a daunting task.
As a management tool, SocialPilot helps its users efficiently handle their social media channels. It makes juggling Twitter, Facebook, and Instagram much more manageable.
2. Multi-Channel Campaign Analysis
SocialPilot eliminates the need to create a social media post on each individual platform. Instead, it enables businesses to schedule posts on multiple platforms from one tool. Social media scheduling is much simpler, more efficient, and faster this way.
And because of this benefit, SocialPilot can also analyze multi-channel campaigns. Such data can give you more insight into how your social channels are doing and which medium your clients use the most to engage with you.
3. Better Team Collaboration
Managing multiple social media accounts is already tricky. But when you've got a team, it becomes even more challenging and chaotic. So when users can manage everything from one place, they're able to communicate more efficiently.

4. Bulk Scheduling
A great feature SocialPilot offers is bulk social media scheduling. This option enables brands to schedule many posts with a few clicks.
Moreover, SocialMedia has a pre-schedule option allowing you to plan exactly when you want to post something and take advantage of peak traffic.
5. Client Management
Clients value transparency more than ever before. SocialPilot uses this to its advantage by enabling you to manage other accounts securely. This means your clients don't have to give you their credentials and sensitive information.
Clients can still create their posts on Instagram, Twitter, and other platforms. However, social media scheduling is done by businesses managing their accounts.
How Much Is SocialPilot?
The feature that makes SocialPilot an attractive social media managing tool is its pricing. This tool is relatively affordable compared to its competitors. For larger businesses, this isn't the crucial factor, but for small businesses or startups it's certainly attractive.
It's worth noting that SocialPilot offers a 14-day free trial period for all plans. And the great thing is that signing up doesn't require a credit card. But before deciding on one package, use this trial period to your advantage to test all that SocialPilot offers.
Package-wise, there are four different subscriptions:
Professional
Small Team
Agency
Enterprise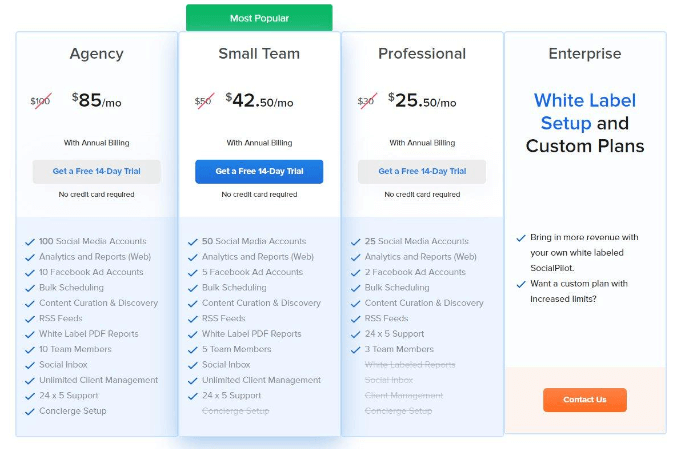 Let's explore these options:
Professional Plan
Suitable for teams of three members interested in social media management, the Professional Plan costs $30 per month or $25 if billed annually.
With this plan, small teams can manage 25 social media accounts, get useful social media analytics, have the option of bulk scheduling, and can share up to 200 posts. The plan doesn't offer client management and Social Inbox.
Small Team Plan
The second option, suitable for teams of five members, is a Small Team Plan. Priced at $50 a month, or $42.50 with annual billing, this package helps you manage 50 social media accounts, schedule 500 posts per day, and have unlimited client management. On top of that, it supports Social Inbox.
Agency Plan
The Agency Plan is an excellent option if your team has 10 members. It costs $100 a month, or $85 with annual billing. The package offers management of 100 social media accounts, permits 1000 posts per day, gives you 10 Facebook Ad accounts, and much more.
It's worth considering this social media scheduling plan if your team is somewhat larger.
Enterprise Plan
If you're looking for a fully customizable plan, then consider the Enterprise package. The price is not available on the SocialPilot site, so you need to schedule a meeting with them to discuss it.
SocialPilot FAQs
Does SocialPilot have a free plan?
SocialPilot doesn't have a free plan. However, it offers a 14-day free trial period during which time you can test all their packages.
Does SocialPilot have any special discounts?
Occasionally, SocialPilot offers discounts on their packages. They also create special offers and coupons you can use to get a lower price on their plans. Check their website to be in the loop about these discounts.
Can SocialPilot users post videos in bulk with this tool?
For the time being, SocialPilot users can't schedule videos posted in bulk.
Can I integrate SocialPilot with other tools, and which ones?
SocialPilot users can integrate this platform with other third party tools, such as Zapier, Canva, Dropbox, Bitly, and Snip.ly.
Which social media platforms does SocialPilot support?
SocialPilot supports most social media platforms, including: Twitter, Facebook, Instagram, YouTube, Pinterest, Tumblr, and LinkedIn.

Conclusion
SocialPilot is a fantastic social media management tool that can make your brand marketing much more manageable.
One could say its functions even exceed its modest cost. Although relatively affordable, this tool still helps brands stay focused on their work instead of losing precious time maintaining their social media presence.
Take advantage of the platform's social media scheduling function to ensure you post on time and use it to track multi-channel campaigns.
With all this in mind, SocialPilot a tool definitely worth considering, whether you own a startup or a larger enterprise.