Picking just one Scrivener alternative is tricky.
It's tricky because Scrivener is like the Swiss Army Knife of writing apps. It can do a little bit of everything on your word processor (as covered in our detailed Scrivener review).
It's got distraction-free writing. Revision history. Organization features. And it's priced really affordably, too.
However, it's not perfect for everyone.
Some people need a little more horsepower in their go-to writing app. Others, are fine with a more simple and streamlined Scrivener alternative.

Our content marketing agency produces over 300+ articles/month, test the best writing apps, and review MasterClass classes so that you don't have to.
We're going to walk through a big list of potential alternatives here to see which one might work best for you.
Disclosure: These reviews are reader-supported. We might earn a small commission if you purchase something through our site. Learn more
TABLE OF CONTENTS
Is Scrivener the Best Writing Software?
Yes and no.
There is a lot to like about it. But it's not perfect. It does fall short in a few key areas. So here's how the competition stacks up…
1. ProWritingAid: Best Style & Grammar Editor
ProWritingAid is mostly known as a grammar editor for your word processor. But it's actually got a lot more than that under the hood. Check it out.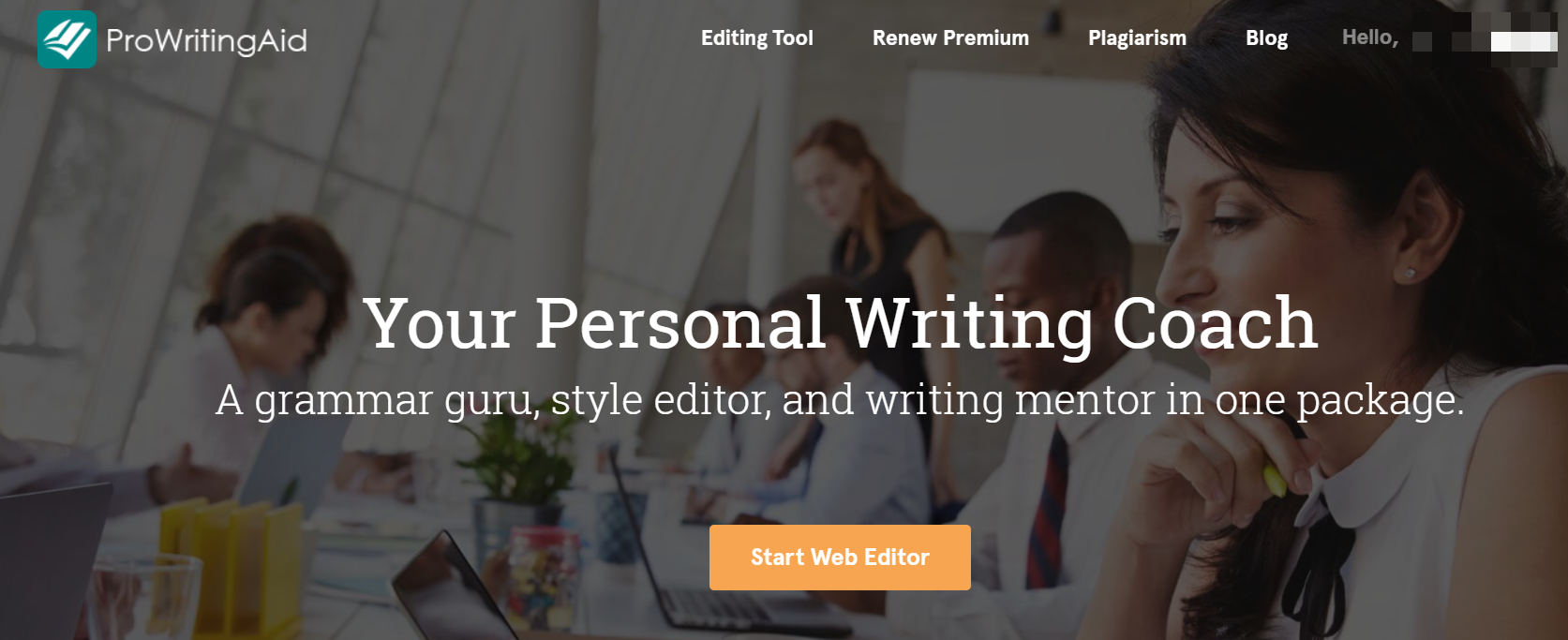 ProWritingAid Pros
#1. ProWritingAid integrates eve-ry-thing.
You can pull up the web version and start writing ASAP. They have standard desktop apps if you can't live without them. And it even integrates with Open Office, Google Docs, and yes… Scrivener.
#2. You can pick up the Premium license and use it on unlimited devices. Plus, there are no word count restrictions or any other limitations — so it's 'all-in' pricing.
#3. Here's where things get interesting. Yes, ProWritingAid has made its name as a grammar checker for your word processor. However, there's actually a lot more to their editor. It's like having a built-in writing coach that gives you feedback on everything from the overall structure and readability, to stylistic issues — even overused words and phrases.
#4. The reporting is also excellent, giving you a detailed breakdown of bad habits for Microsoft Word: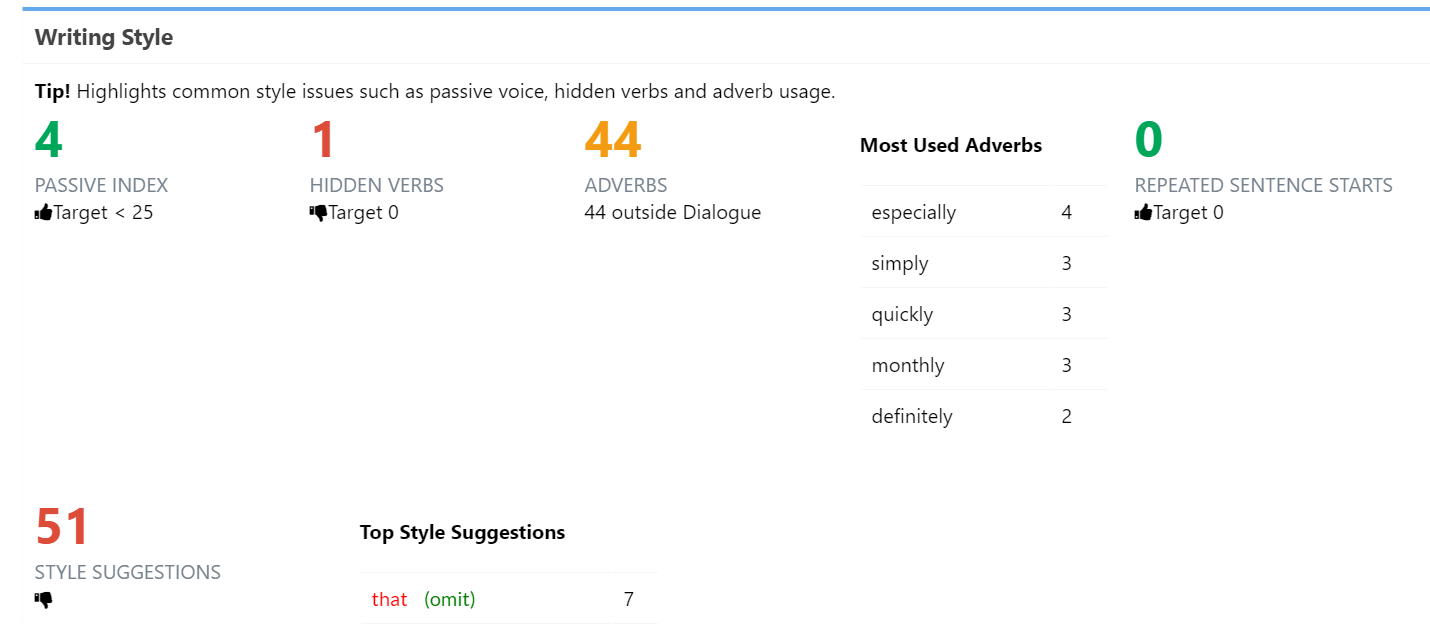 And even different readability levels: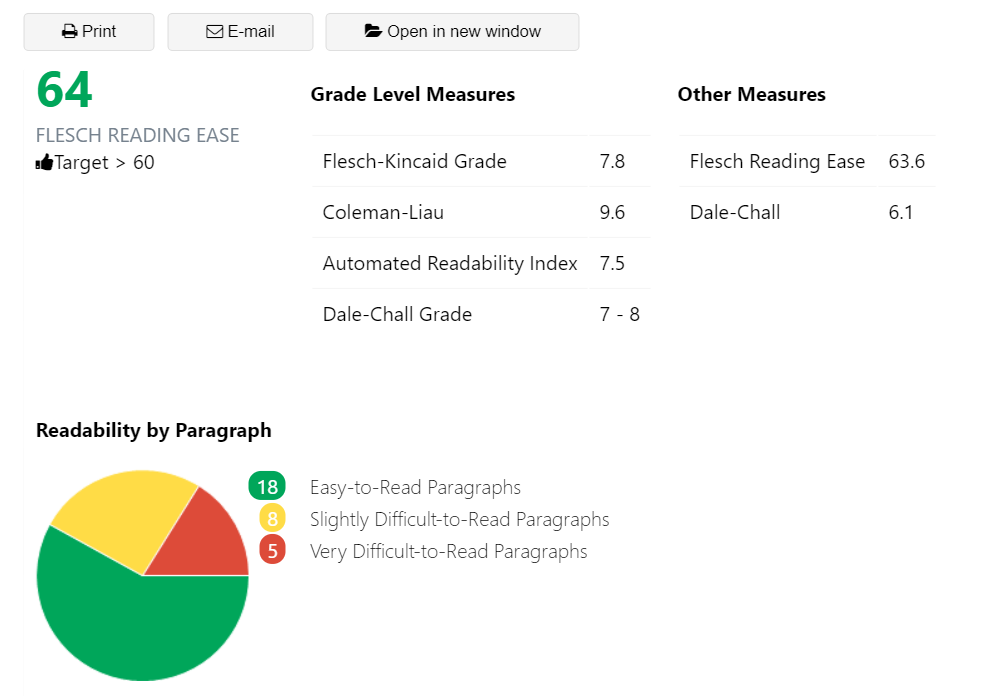 ProWritingAid Cons
#1. ProWritingAid's editor is great for simple, one-off pieces in Microsoft Word:. Just open and start typing. Unfortunately, they lack advanced features like distraction-free writing. And it's also limited for organizing large projects like books or scripts.
#2. ProtWritingAid currently only works with U.S., U.K., Canadian, and Australian English writing. No other foreign languages are supported.
ProWritingAid Costs, Plans, & Payment Options
ProWritingAid's annual pricing starts at $50, with a lifetime option at $175.

The good news is that you can also pick up a coupon to bring the cost down to $36 for the year. That's what I paid: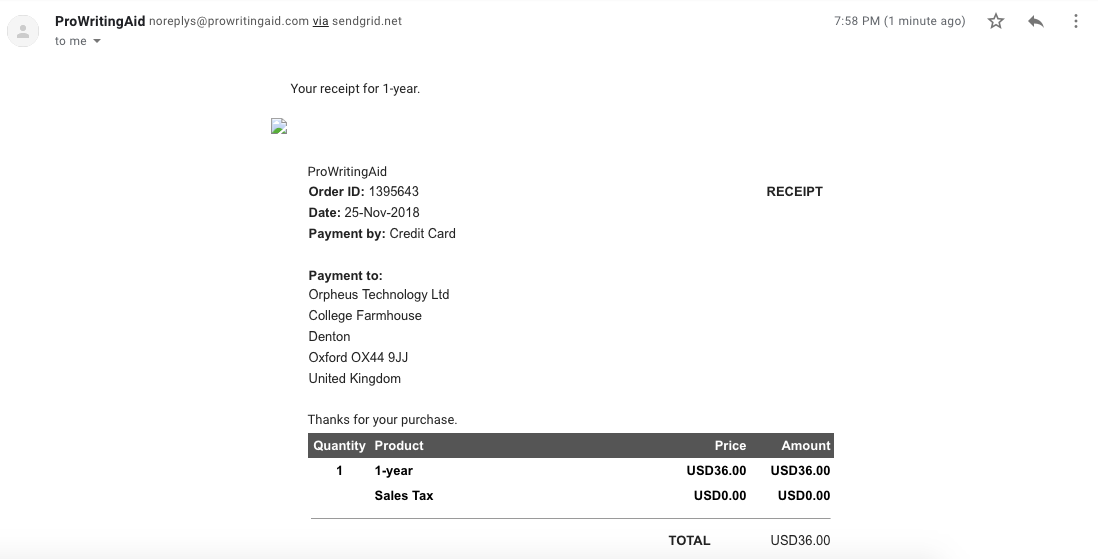 Do I Recommend ProWritingAid?
Yes — if you work on simple, straightforward writing projects and don't need built-in organizations for chapters.
It's easy to use, compatible with basically everything, and adds the bonus of built-in grammar reporting for your writing.
2. Write! App: Best Distraction-Free Desktop App with Cloud Sync
Write! App is super intuitive, offers two distraction-free writing environments, and is priced really well. Let's take a look in more detail.
Write! App Pros
#1. Choose between two different distraction-free writing options
Write! App is all about focus. They offer two different writing options to block distractions and zero-in on the words you're typing. You can also change the background and text colors, too.
The 'Focus Mode' will block all notifications, pop-ups, and apps on your site to make sure nothing gets in the way of putting words down on the page (err, screen).
#2. Cloud-sync feature
Write! App is technically a desktop writing app. But it's cloud-sync feature means that whatever you're working on is automatically backed up to the cloud so that you never lose a single document.
#3. Collaboration available
You can 'publish' Write! App documents to quickly get a shareable link that you can send over to friends or colleagues so they can access your text editor and writing online. All it takes is a few clicks.
#4. 35 other languages available
Write! App also supports 35 different languages, and it will even perform basic writing spell checks during your writing process.
Write! App Cons
#1. No mobile apps
Write! App works well across Windows, Mac, or Linux devices. But no mobile apps here.
#2. Exporting is restricted
Write! App doesn't offer the same level of exports that Scrivener does, only providing PDF, Plain Text, or Markdown files for book writing.
#3. No version history
The good thing for book writing is that Write! App will help sync your documents automatically to the cloud. However, the bummer is that they don't really allow you to flip between older revisions of the same document.
Write! App Pricing Plans
Write! App is available for only $24.95. That's the lifetime price! (And people in school can save another 60%, making it only $9.95 for students.)
That's insanely cheap compared to other Scrivener alternatives on this list (like Final Draft which retails for $200+).
Just keep in mind that there is a small ongoing cost for the book writing cloud sync option — $4.95/year.
You can use PayPal, credit, or even Debit to pay.
Do I recommend Write! App?
Yes, definitely.
Write! App is easy to use and you'll fall in love almost immediately. The distraction-free writing features are some of the best in the business, including MS Word. Cloud sync automatically backs up your work so you don't have to worry about constantly saving your work. And there's just enough organization features to support bigger, multi-step documents like a book. But without the steep learning curve of a more complex tool.
Two thumbs up. 👍👍
3. Final Draft: Best Screenwriting App
Final Draft is the aptest substitute for Scrivener and in many areas performs much better than its counterpart for book writing.
The only difference is while Scrivener is still valuable to bloggers and essay writers, Final Draft is entirely geared towards play and screenwriters. Let's find what else it has in its armor.
Final Draft Pros
#1. To fasten the research and note-taking process, Final Draft has an open-source in-built corkboard (they call it Beatboard) where book users can make quick notes or do some character research in the form of beats.
#2. Final Draft makes group book projects fun. You can invite your colleagues or writing partners to work together on a script. And both of you can edit the book at the same time.
#3. Scrivener for Windows is nowhere near Final Draft in terms of quantity and variety of book writing templates. Unlike ywriter, it boasts over 300 templates covering various projects like Screenplays, novels, movie scripts, etc.
#4. Final Draft knows its users love going back and forth between their current and older copies. That's why it gives you the power to revert your older versions using the revision mode.
#5. You can export your manuscript as .fdx, RTF, PDF, HTML, and .sex files. However, it's not as good as Scrivener because there's no support for common file formats like Word, ePub, and plain text.
#6. Final Draft is at par (if not better) with Scrivener reviews in terms of device compatibility. It works great on Mac, Windows, and iOS devices. However, like Scrivener, there's no Android support available at the moment.
Final Draft Cons
#1. I've tested the live chat support of Final Draft, and it is remarkably fast. But I can't say the same for its email support. It never replied to my request that I sent using their contact form.
#2. Surprisingly, Final Draft does nothing to provide a distraction-free writing environment to its users. Full-Screen mode and Final Mode is nowhere to be found within the software.
Final Draft Pricing Plans
Since Final Draft specifically targets showbiz industry, it's one of the costliest writing software out there. The Windows and Mac variant cost $299 and paired up with a 30-day free trial. Whereas the iOS app costs $9.99 without a free trial.
Do I recommend Final Draft?
Yes, I do recommend Final Draft. Because it's a tailor-made app for screenwriters and novelists that do a better job than Scrivener for Linux, but if you're a blogger or outliner like me, you may want to prefer a free Word Processing tool (like Zoho Writer or Google Doc) instead of paying ~$200+ bucks.
4. Zoho Writer: Good Free, Word Processor Alternative
If Scrivener is the most versatile writing and formatting app, Zoho Writer is the one of the better word processors on the market, thanks in large part to its keyboard shortcuts.
It's also free. The list of advantages is going to be long, so let's dig in without wasting any time.
Zoho Writer Pros
#1. Zoho Writer offers a wide range of rich text writing templates to give you a head start in writing, regardless of whether you use Linux or some other Windows version. Its repository boasts a variety of templates from resumes, to business letters to meeting notes and many more.
#2. While there are people making money by teaching others how to use Scrivener's navigation pane, Zoho Writer is a piece of cake even for the newest of writers. Log in to your account, choose a new document, and start writing. That's all it needs.
#3. You can save your content as different variations using the "create a version" options under "Files".
#4. Since Zoho Writer is a small part of the large Zoho family of writing programs, it supports a boatload of integrations. And one such tool is 'Notebook'. It allows users to jot down notes or rough ideas in a snap. And you can come back to the Word document later and turn them into full-length projects within the tool.
#5. If not 10/10, Zoho Writer does a commendable job in the exporting section. It can export files as Word, PDF, ODT, RTF, Text, HTML, and ePub. Enough options for an average user.
#6. What makes Zoho a more fitting choice than the Scrivener app for bloggers and freelancers is its ability to share files and invite other users to collaborate on a project.
You can also edit the same document with your partner together in real-time.
#7. Even though it doesn't have its own cloud repository, you can still save all your files in the cloud by adding your cloud space provider to Zoho. It supports all the prominent players like Google Drive, One Drive, Dropbox, Evernote, and Box.
#8. There's no device limitation. Zoho is a web-based app, so there's no need to install an app on your computer. You can access your account through a browser on any computer whether it is Mac or Windows. Similarly, there are dedicated apps for Android and iOS users.
#9. Do you easily get distracted by screen icons or constant notifications? Fret not. Toggle the "Full-Screen mode" on or enter the "Focus Mode" to focus on one sentence or paragraph at a time.
#10. Finally, to make the experience plenary, Zoho has added Zia — the dedicated writing assistant. It acts as an in-house copy editor that points out grammatical and spelling errors as you type.
Zoho Cons
#1. Customer Support is the only blemish Zoho Writer has on its wall. It's so mediocre that even after a couple of weeks I'm still waiting for their response to my request.
Zoho Writer pricing plans
Zoho Writer is free.
Do I recommend Zoho Writer?
Zoho Writer checks all the boxes, and except the support department, it has no deficiencies in the product itself. So, there's no reason I'll not recommend it.
5. Google Docs: Best Free Collaboration Tool
Google Docs is the most prevalent writing tool out there that almost everyone (including myself) use for all sort of writing. It's easy, feature-rich, and free of cost. Above all, it stacks up well against Scrivener.
Google Docs Pros
#1. Usability is the most critical aspect that determines if the user would like the product. And Google Docs nails this section. Open the app, choose a blank document, and start typing. Easy-peasy!
#2. Don't want to save each version manually? No problem. Google Docs stores all your content (along with the changes you make) in the drive automatically. And when you select "Version history", it shows all the previous versions of your content.
#3. It's easy to share your files with peers using the "Invite" button on the top right, and Google Docs also facilitates editing the doc simultaneously with your team.
#4. Like Zoho Writer, Google Docs is also a web-based software that doesn't call for a desktop app. Be it Mac or Windows PC, you can log in to your account using your favorite browser.
But if you want to use it on a mobile phone, you have to download the iOS or Android app from their respective app store. The positive side is there's no restriction in device compatibility and the number of devices you can use the app on.
#5. The presence of "Keep" makes Google Docs a more sophisticated writing place where you can dump your unbaked ideas or research notes chop-chop.
#6. There's an array of exporting formats available to download your files as. It includes PDF, Word (.docx), ODT, RTF, plain text, HTML, and ePub for e-readers.
#7. Though the collection of writing templates is not as broad as Zoho Writer, 41 templates are not bad either (at least, it's way more than Scrivener).
Google Docs Cons
#1. Full-Screen mode is not so tight. It does cover the whole screen but doesn't hide all the tabs and icons. Also, you will miss Focus Mode.
#2. Customer Support? Forget about it. It's so shoddy that I'll call it one of the worst out of all the 15+ writing apps I tested to date because there is no email support available at all. You don't expect such absurdity from a giant like Google.
Google Docs pricing plans
Google Docs is a gift from Google. So it doesn't cost a penny to use it.
Do I recommend Google Docs?
Yes for sure. Except for Focus Mode, it gets you whatever you ask for — versioning, check. Collaboration feature, check. Writing templates, check. Device compatibility, check. What else do you need!
Yet, with Google Docs comes compatibility with Wordable. Wordable will allow you to export from Google Docs to WordPress in 1-click. It will not only clean and properly format your HTML, but also compress images, open links in a new tab, automatically set featured images, or create a table of contents, and lots more.
6. Script Studio: Best Budget Screenwriting Tool
Script Studio is another writing tool in this lot that is inclined towards screenwriters. What separates Script Studio with other screenwriting apps is the 12 scene-by-scene breakdown of the famous Hollywood movies (including Spider Man and Die Hard,) it provides to show the upcoming screenwriters where they stand against the pros.
It also helps the writers polish their scripts and see the errors they should avoid. However, this is not the only thing that impressed me.
Here's a summary of all the benefits you get from Script Studio.
Script Studio Pros
#1. Let's start with its USP.
If there's one reason I would recommend users to discard the likes of Scrivener and Final Draft to choose Script Studio, it would be for its scene-by-scene tutorial.
For writers, it's like having a cheat sheet they can turn to, every time they indulge in a new script.
#2. FeelFactor is another uncanny feature in Script Studio that enables you to analyze the pace of your story.
Basically, it shows you the level of emotion your story has using a colorful graph where different colors indicate different emotions.
#3. Script Studio throws two different solution — Story Task and Scratch Pad — at you to outline stories and take notes respectively. Story Task is designed mainly for shaping up stories so that your story doesn't lack any twist or punch.
On the other hand, Scratch Pad is divided into eight categories to unload research notes, script snippets, general ideas, etc.
Dividing into categories dismiss chaos, and you'll be able to trace your notes in seconds when you need them next time.
#4. It supports an array of file formats to export content. That includes PDF, Plain Text, RTF, Final Draft, Fountain File formats, and HTML. Surprisingly, I couldn't find the option to export files as Work or ePub which is quite strange when you consider the format it does support.
#5. The full-screen mode is effective. A white page spreads across the whole screen and block all the on-screen interruptions. But Focus mode is non-existent.
#6. Script Studio provides 24/7 customer support and their support team is always on their toes even on weekends. I was damn impressed by their speed and service because it hardly took them three hours to resolve my issue on a lazy Sunday.
Script Studio Cons
#1 The biggest red flag with this apps and software is the inability to save the content as different versions in the same file. You have to store each version as a separate project which is painfully annoying.
#2. What makes the matter worse is you can't share your script folder with others unless the other party also have a Script Studio license. And even then you're only allowed to share files via email. You can't invite your friends to work together on the same script.
#3. Script Studio works only with Mac and Windows machines. And that too, you can't install the app in more than two computers at a time. Also, it has nothing to offer to phone users.
Script Studio Pricing Plans
Script Studio comes with a one-off price tag that is $199.95 for both Mac and Windows variants. You also get to test the app for 30 days for free before making the purchase decision.
And for some reasons, if you think you didn't get what you expected, you can still return the product within 30 days, and get all your money back.
Do I recommend Script Studio?
It's a difficult call, but I would say, yes and no.
Yes, because it has some excellent facilities to groom new scriptwriters and also easy to use.
No, because it disappoints when you demand some advanced features like version control or sharing work with others.
Also, the absence of mobile apps is something you can't ignore.
7. Storyist: Solid Novel & Screenwriting App
Finally, last but certainly not least we have Storyist.
Storyist can show the kind of versatility that Scrivener has because even though it calls itself a word processor, it also contains all the qualities of a screenwriting app.
But again, it's far from perfect. There are many hits and misses which are mentioned in the following section.
Storyist Pros
#1. Storyist beats even Scrivener in terms of total number of export options. It supports almost all the formats you've ever heard of like PDF, Word, RTF, Plain Text, ODT, HTML, ePub, Final Draft, Fountain files, and also as Scrivener file.
#2. It has an inbred corkboard where you can use color-coded index cards to take notes, store your research, cast your plays, etc. Similarly, for outlining stories, characters, or plots, use Storysheets.
#3. It is not a significant strength of Storyist, but still noteworthy that there are some pre-designed writing templates for your disposal (though the quantity is low). And if you're not happy with the pre-existing ones, you can create your own manually.
#4. Using Apple's version technology, Storyist automatically saves the previous version of your content so that you can get back to them for future reference.
#5. Storyist has an extremely agile support team that is lightning fast in serving the users. I got a reply within three hours sending my query. And the answer was quite in-depth.
Storyist cons
#1. Not having Focus Mode is understandable (as it is absent in many other prominent tools). But it's a big bummer for Storyist for omitting Full-Screen mode, too. That's the basic thing you can expect from a writing tool!
#2. Once again, it's not so surprising that you can't collaborate with another user on Storyist because it has kinda become a norm for most of the premium writing softwares not to allow the users work together. But the irony is, free tools like Google Docs and Zoho Writers are excellent in this department.
#3. Storyist works only on Apple devices (iPhone, iPad, or Mac). It doesn't issue a license for Windows or Android devices.
Storyist pricing plans
If you're planning to use Storyist on your iPhone or iPad, it won't cost you anything.
But it also sets you back because many features have been restricted only to the Mac version. So to unlock those features, get ready to pay a one-off fee of $59 to get your hands on this Mac version.
Do I recommend Storyist?
Once again my answer would be yes and no.
Go for it if you're an Apple user and want a budget software to fulfill your scriptwriting goals. Because as you see in this post, the other alternatives like Final Draft and Script Studio can make a big hole in your pocket.
There are so many reasons to not buy this app: (a) If you're a Windows or Android user. (b) If you're looking for a more sophisticated screenwriting software and have the budget to spend. (c) If you often work with a team of writers.
8. Writer: Best Grammar Checker For Businesses
Writer isn't exactly an alternative to Scrivener, in the same way that ProWritingAid isn't. It's an AI writing assistant designed to help companies and brands communicate effectively and consistently across all platforms. If you use Scrivener to write business-related items, you definitely should consider Writer.
Here are the pros and cons.
Writer Pros
#1. What sets Writer apart is that you can specify specific styleguide rules that are in place for your company. For example, you can tell it your company tone, words you avoid, specific grammar rules to follow, gendered language preferences, and a lot more. Once these things are in place, the app will analyze all your content against those rules, ensuring it's in compliance.
As you're writing, the app will provide feedback and suggestions for how to bring the content in line with the style guide.
#2. The best business writing (or any writing) is clear and simple to understand. Writer examines what you've written and then gives you specific ways that you can make it clearer and easier to grasp.
#3. Writer uses AI to flag any grammar or spelling errors in your content. But it will check more than grammar. It also looks at important factors like inclusivity, delivery, and even compliance.
#4. Writer will check your content against millions of other published pages, ensuring that everything is original and not plagiarized. You can try their plagiarism checker for free on their website.
#5. The app integrates with Google Chrome, Google Docs, and Microsoft Word. This means that you can get all the benefits Writer offers directly within these writing apps.
Writer Cons
#1. The app doesn't integrate with Scrivener. So if you're set on using Scrivener, you're out of luck there. It also doesn't work with Safari, Firefox, or any other browsers other than Chrome. Ditto for offline word processors other than Word.
#2. Writer is currently English only. So if you need support for other languages, it probably isn't your best bet.
#3. There's a free trial period but after that it's a paid only tool.
Writer Costs, Plans, & Payment Options
Writer starts at $11/month per user, with custom enterprise pricing available if you need it.
Do I Recommend Writer?
Yes, if you're a business looking for a powerful AI writing assistant. It's not going to replace Scrivener, but it will certainly help your business communicate more clearly and more effectively.
9. Quoll Writer
Quoll Writer is a great contender as a Scrivener alternative. It is an attractive and compact text processor with most of the bells and whistles you'd expect from a book writing software.
However, a few notable things set it apart from Scrivener and put it in a league of its own as a great fiction writer tool for anyone.
Quoll Writer Pros
1. Quoll Writer is completely free. While this might not sound like much, many amateur or beginner writers are put off by the price tag that professional editing tools have. Luckily, this solution comes at no cost and can be downloaded without even making an account.
2. It is incredibly easy to use. While Scrivener has a plethora of options for novel writing, Quoll focuses on the essentials only. Everything looks simplistic, but that is mainly just by design. The focus is on delivering the best possible results with a clean user interface that still houses plenty of settings and storytelling devices.
3. Quoll Writer is an inherent, distraction-free, writing software. Its UI is minimalistic to a fault, and you can choose a background of your choice when in full-screen mode.
4. It boasts many important writing options, including character development tabs, story map tabs, plot outlining, and a spell checker. It also comes with an integrated Editor mode, allowing you to collaborate with your editor directly, allowing it to also double up as an editing tool.
5. It provides writing exercises that are meant to help with writer's block. You can use over 300 preconfigured prompts or set up your own prompt to practice, when you can't figure out where to go in your novel writing.
6. Quoll Writer is built to be a robust project organizer. You can't edit multiple documents at a time with it, but you can save and load projects separately and have an overview of your progress.
7. You can also configure reports, statistics, and deadlines to help you progress further when you're writing long text pieces. It even has a few comedic achievements to relieve some of the pressure from hours of work.
Quoll Writer Cons
1. Its export options are a bit limited compared to more commercial software solutions. It can export into docx, ePUB, and HTML formats. Note the lack of PDF or RTF file support though.
2. The editor is Java-based, so it can be a bit clunky at times and might produce an odd visual glitch or two. This is mostly the fault of the platform rather than the software itself, but it can irk some users.
However, the developer is always working on updating the appearance and functionality and resolving major issues.
3. Quoll Writer is officially only available for Windows. However, a Mac user can get around this issue with Wine, as that's reported to work in a relatively stable manner. Wine can also be used on Linux to an extent. Just don't expect to use this on your iPhone or iPad. It's never going to work.
Quoll Pricing
Quoll is free to download and use.
Do I Recommend Quoll Writer?
I would definitely recommend Quoll as a free alternative to Scrivener. It has plenty of options to allow writers to hone their craft.
It also has an editor mode to allow them to collaborate with their editor easily. Its distraction-free mode can be somewhat hard to get used to, but it works well.
As long as you know what to expect for the $0 price tag, you'll be good to go and you'll be able to create a writing project in no time.
Final Verdict…
Scrivener is undoubtedly an excellent place to tackle your writing projects. But it's far from being a complete package.
Fortunately, it's not the only player to put your bet on. There are so many alternatives out there. And the best thing is most of these substitutes can offer far more than even Scrivener can.
The icing on the cake is, few of them are completely gratis. So after testing the these alternatives, I have three clear winners depending on what kind of writer you are:
Just looking for a lighter-weight version of Scrivener or Hemingway app? Check out either ProWritingAid or Write! App.
If you're a screenwriter or novelist, look no further than grammar checker Final Draft. It is the BEST, period.
If you're looking for a free solution to start out on your writing journey, we can recommend Quoll Writer. It has a great array of options that will make project editing a breeze, once you get used to using it.
For those who are new in the screenwriting game can opt for Script Studio because of the movie script breakdown it offers.
On the other hand, Writer is a great solution for copywriters who don't need all the fluff that Scrivener provides them with. It will allow for a crisp, clean brand story that captures the audience.
And fear not, because there's always Google Docs to fall back on as well.