A seasoned writer needs the best writing apps — for book or blog posts writing, for example.
Scrivener is one of the best writing software I've tested by far. And it's below sea level pricing makes it a sheer value for money.
But does that mean, it's perfect (with a capital P)?
It's certainly not. There are many areas where Scrivener is not that effective, and this where other tools like Ulysses come to fill the void.
While Scrivener targets mostly authors, novelists, writers, and screenwriters, Ulysses tries to showcase itself as an all-in-one solution for anyone who writes (doesn't matter what they write).
Now the question is, which tool is actually better? How does a Scrivener tutorial stack up to Ulysses? And are there better Scrivener alternatives out there on the market than Ulysses? Which app is the best for book writing and formatting?
I've compared both the apps head to head across five different categories to answer just that.
So, without any further ado, let's see what I found.
TABLE OF CONTENTS
Publish Google Docs to your blog in 1-click
✅ Export in seconds (not hours) 
✅ Less VAs, interns, employees
✅ Save 6-100+ hours/week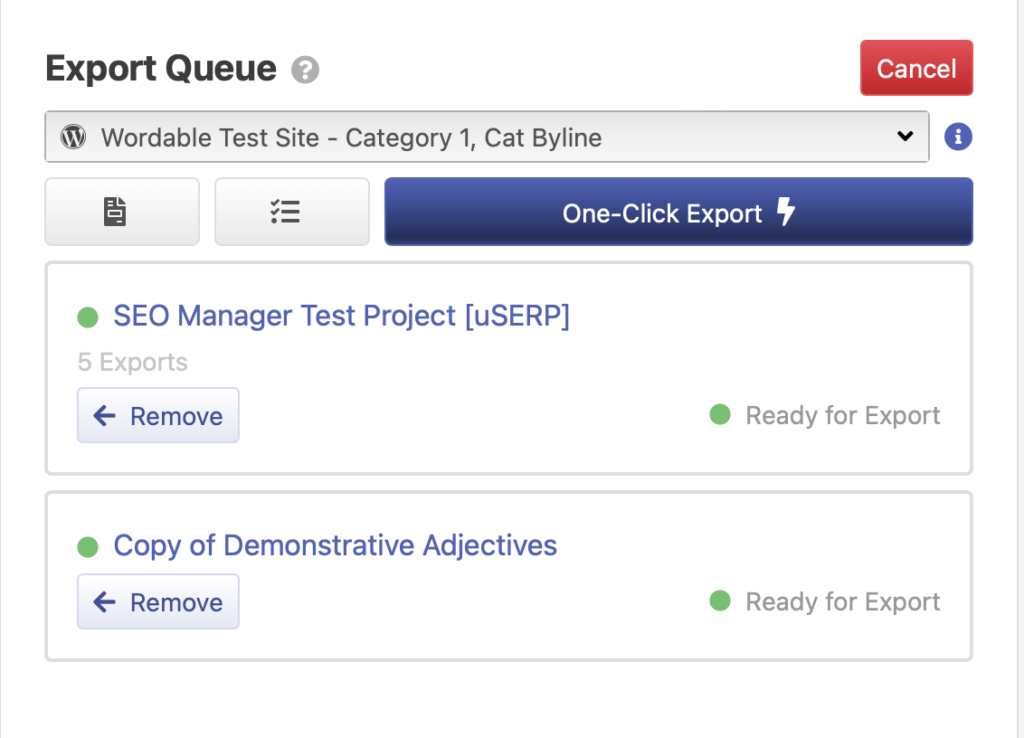 Category #1: Note-taking, Templates, and Distraction-free Writing
The first category includes the small, basic functionalities you expect a writing app to do like — the ability to take notes quickly, the presence of writing templates, and a distraction-free environment to write.
To start with Scrivener, it does excel in all three departments.
Its sister product Scapple is the most sophisticated note-taking tool among the 15+ writing software apps I tested to date.
It literally works as a brain mapping software where you can script your ideas and interconnect them later on to eliminate any possibilities of misunderstanding.
However, the only drawback is, it comes as a separate service and you need to spend some additional moolah to make use of it.
Similarly, Scrivener is loaded with writing software templates ranging from screenplays to novels to personal essays, and many more. Scrivener is a great writing app if you need a book writing software or a text editor for your novel.
And when you feel distracted or want to vanish the on-screen obstructions like menus, tabs, icons, and notifications, just toggle the "Full-Screen" mode on, and you'll be good to go. The full-screen mode is distraction-free and makes your writing environment better.
Now enough of Scrivener, let's talk about Ulysses.
While I found that Ulysses does an excellent job of clogging up on-screen distractions, it fails dramatically in the other two areas.
There are no writing templates available, neither you will find any specific feature that helps you capture your ideas.
So, Scrivener is the clear winner in this category.
Let's move on to category number 2 to see if it can score another point.
Category #2: Versioning and Collaboration
It's common for writers to spend hours writing a particular paragraph or two, and then all of a sudden it looks bland, and you want to go back to the previous copy. Even a best-selling author could face this during the writing process.
This is where the power of version control comes into play. And you'll be glad to know that both — Scrivener and Ulysses — are equipped with this special feature.
But again, they're not equal.
In Scrivener, you can use the 'Snapshot' tool to lock a specific version of your text. And it works equally amazing in either of the operating systems — Mac and Windows.
But you can't say the same for Ulysses. Though it can save older copies of your file, it restricts this attribute only to its Mac version. It's not possible to do the same in the Ulysses mobile app.
Now, coming to another advanced aspect, i.e., sharing files or manuscripts with others and inviting co-writers to work together on a project. Let's say you are writing a book with another writer and wish to send over your text or folders.
This time Ulysses got the better out of Scrivener.
Firstly, there's no in-built sharing facility in Scrivener, and when you try to use a third-party service like Dropbox; there are so many do's and don't that you would better export your script as a PDF and send it as an email attachment.
Also, Scrivener is made for single usage. When you open the software on two computers simultaneously, it gets crashed. So it's definitely not an ideal choice for group projects.
On the other hand, there are no such tantrums with Ulysses. Though it, too, doesn't support built-in sharing, it integrates well with Dropbox, and share your folders or text smoothly.
However, it also doesn't allow you to collaborate with a fellow writer.
So, even though it was a tight race, I would declare Ulysses as the winner because:
It has a version control facility.
It can share files smoothly using third-party apps.
Category #3: Export Options and Devices Compatibility
Sorry for the spoiler, but it's a tie between both the Titans when you compare the number of exporting options you get.
Both apps can export your writing in Word processor (Microsoft Word), PDF, RTF, Text, and ePub formats.
However, while Scrivener allows some additional file options like Final Draft and OpenOffice, Ulysses fills the gap with HTML and direct publishing to WordPress and Medium.
So even-steven in this section.
Having said that, I would give Scrivener a slight edge over Ulysses on device compatibility because it works great with Windows as well as Mac computers. And there's also a dedicated app for iOS users on the app store.
Whereas, Ulysses is entirely dedicated to Apple devices. You need to have either a Mac PC or an iPhone or iPad to run Ulysses. They haven't developed a Windows version of the app as of now.
And unfortunately, both the tools have nothing to offer to Android users.
So the winner is, again, Scrivener because it supports all three OS (Mac, Windows, and iOS).
Category #4: Pricing
Two similar kinda tools, but totally different pricing plans.
However, what's common between both the software is, you can get a student discount on both the apps and if you're not sure, there's free-trial available to test the apps before buying.
Talking about price, while Scrivener sticks with the one-off payment plan where you need to pay $45 for the Windows/Mac version and $19.99 for the iOS license, Ulysses comes with a monthly or yearly subscription plan.
The monthly plan costs $4.99/month, and the yearly plan is priced at $39.99/year.
At first glance, the numbers of Ulysses may seem low, but when you do the math, Scrivener comes out way cheaper than its opponent.
For example, even if you take the $4.99 plan and use Ulysses for 12 months, the total cost would surpass the Windows/Mac license price of Scrivener that comes with lifetime validity.
So Scrivener is clearly more cost-effective and also the winner of this category.
Category #5: Customer Response Time
So far, so good for Scrivener. But it instantly takes the back seat when you talk about customer support.
It's not like they are rude with their users or don't reply to requests, but the turnaround time is toooooo long.
In my case, it took them around 11 days – yes 11 freakin days – just to answer some minor questions about their product (though the answer was thorough and covered all my issues).
The reason? Shortage of members in their support team (at least, that's what the agent told me).
On the contrary, when you compare Ulysses support with Scrivener, it seems as if Usain Bolt is competing with a sumo wrestler in a 100-meter race.
Ulysses is light years ahead of Scrivener in serving its users. When I sent them a request asking some questions, it took them around 20 hours to get back to me with a detailed answer.
I tested them a little further to make sure it was not a fluke and this time, the response time came down to minutes from hours.
Super impressed by their lightning-fast speed!
And of course, they (Ulysses) are the clear winner of this category.
Scrivener
Ranked #1 Best Writing App
PROS
12+ writing templates
Distraction-free writing
Version history
Export: Word, PDF, Final Draft, EPUB, and more
Available on Windows, Mac, and iOS
CONS
No collaboration features
No Android app
PROS
Stores writing in one place
Keep older versions of images
Distraction-free interface
Exporting options
Add third-party apps
The best Customer Service
CONS
No pre-designed template
Only available in MacOS and iOS
Works only with sheets
Citation Machine Cost
Final Verdict
Phew!…the battle was tight and intense, and it's evident with the final score that looks like this: Scrivener (3) – (2) Ulysses.
Of course, Scrivener is a clear winner according to the scoreline, but I can't say, it thrashed Ulysses left & right in every department.
It's just performed better in a few sections. Otherwise, either of them is solid in what they do.
So, this is how I would break it down:
Choose Scrivener: If you want a budget-friendly writing tool that works on both Mac and Windows, and also offers specific solutions for taking notes along with some pre-designed writing templates.
Choose Ulysses: If you often share your writing with others and care for quick customer support.
Ditch both if you're an Android user.