In digital marketing, the importance of creating exceptional content cannot be overstated.
It's long been said that 'content is king' – and that principle holds true today.
The key aim for copywriters is to produce content that provides value to readers and drives website traffic by ranking high in search engine results.
But how can you ensure that your content achieves this goal?
The answer lies in striking a balance between quality and search engine optimization (SEO).
Finding the sweet spot in this balancing act can be a challenging endeavor.
Fortunately, there are strategies and tactics available to help you craft content that is both high-quality and optimized for SEO success.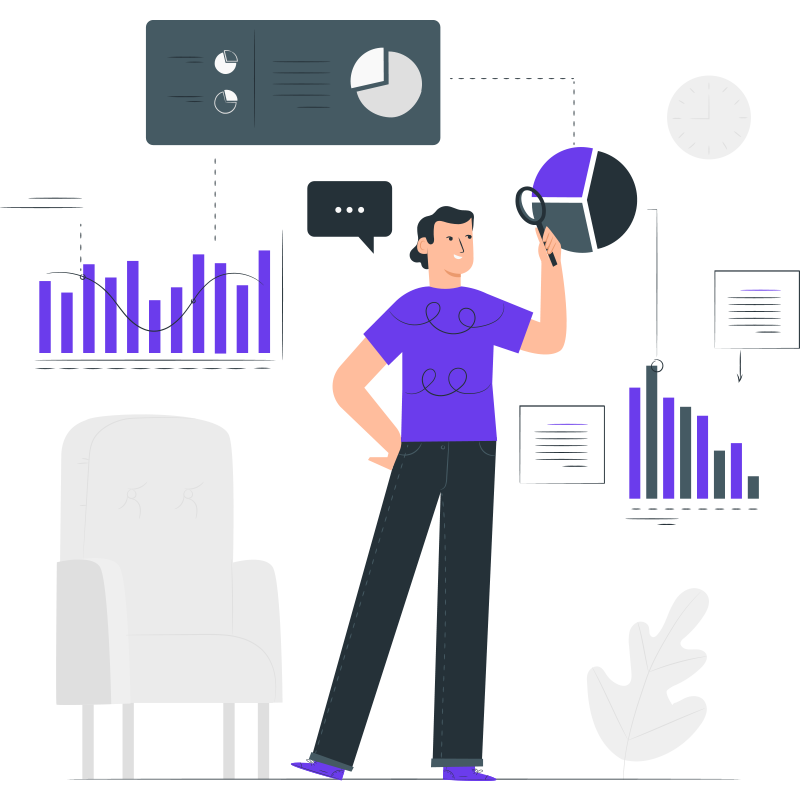 Get long-term ROI.
We help you grow through expertise, strategy, and the best content on the web.
How to ensure content quality
While SEO is undoubtedly important for gaining visibility for your brand and website, your optimization efforts will achieve nothing if your readers aren't met with quality content.
Any visitors who land on a page that has no value for them will quickly abandon the website, regardless of how high it appears in their search results.
So it's crucial that you provide engaging, well-produced content that sparks interest in your readers and provides them with the information they need.
To achieve this, you should adhere to the following guidelines.
1. Establish your brand voice
Establishing your brand voice, values, and narrative is an essential part of content creation.
These elements will form the foundation that your content writing is built upon.
Your brand guidelines will shape your public image and make your content (and brand) more memorable for your readers.
They'll also help you stand out from your competitors by giving your writing a unique style.
2. Know your audience
It's essential that you have a solid idea of who your readers are and what they want to get out of your website/content.
With this knowledge, you can ensure that your writing is tailored to the wants and needs of your target audience.
Be sure to identify their pain points, areas of interest, and the questions they want answered. You can either conduct online research to identify those things or actively engage with your audience, schedule meetings, and then focus on reviewing AI call summaries.
By building your content around these elements, you'll be able to provide high value to your readers.
3. Grab your readers' attention
In order to prevent a high bounce rate, you need to captivate your readers as quickly as possible with your content.
The best way to do this is by crafting an impactful title (H1) followed by a compelling and informative introduction.
Your introduction should clearly convey what the content will cover as well as what the reader has to gain from continuing to read.
You can consider the H1 and first paragraph as tools to entice the reader to stay on the page and keep reading.
They'll set the tone for the rest of your writing, so it's important that you engage the reader and provide quality from the get-go.
4. Make your content reader-friendly
High readability is critical when you're writing online content.
After all, your writing has to be accessible to many readers if you want to build a large audience.
Take a look at the following tactics to help you make your content as reader-friendly as possible:
Avoid unnecessarily complex sentences and split large blocks of text into smaller paragraphs
Make use of headings, lists and bullet points
Incorporate multimedia, such as images or videos, to break up the text and make the content more visually engaging
When selecting your font style, size and color/s – the text must be legible and easy to read.
Include a table of contents for your readers to refer to
Consider word count – your work should be long enough that it's informative and appropriate for the topic, but not so long that it's daunting for the reader
Remember that all your content should be well-written, but this doesn't mean it has to be extremely formal and overly complicated! You can use an AI Writer to develop some initial ideas and move forward from there.
Instead, it should be clear and easy to understand. Without readability, there is no quality or value for your audience.
5. Pay attention to detail
When it comes to ensuring high-quality written content, you must pay attention to detail.
Your work should be well-written with appropriate grammar, spelling, and punctuation. It should also be structured so that it flows well and makes sense to your readers.
It's a good idea to have your content proofread by a third party before publishing. That way, any errors you've missed will likely be identified.
You can also benefit significantly from the feedback and perspective of someone who's read the text with fresh eyes. They'll be able to tell you if the content is understandable and can provide pointers for improvement.
But it's not just the quality of writing you have to pay attention to – you also have to ensure that the knowledge you provide is valuable too.
You should aim to create comprehensive pieces that cover all of the important bases for your topic of choice.
The information you provide should be accurate, well-researched, and useful for your target audience.
How to meet SEO goals (without sacrificing quality!)
SEO is the process of crafting content so that it will rank higher on search engine result pages (SERPs).
Improving your SERPs ranking is critical because 95% of all search engine traffic goes to sites that appear on the first results page.
Through effective SEO, you can significantly increase your number of site visitors, as well as your online presence and brand visibility.
This is particularly important for businesses as it creates more opportunities for conversions and customer engagement.
SEO can be a daunting task, especially when you're trying to juggle it with content quality.
Take a look at the following steps to help you achieve successful SEO without sacrificing quality!
1. Research keywords
Keyword research is the foundation of successful SEO.
It allows you to identify the topics that are of most interest and relevance to your target audience.
You should always do your research first and then build your content around the target keywords. That way, you can be sure that you're writing about topics that are relevant to your audience.
The best place to start is by brainstorming ideas. Imagine yourself as one of your readers – what knowledge do you want to gain? And what words, phrases or questions would you type into Google to find that information?
You should also study the websites of your competitors to find inspiration and discover what topics/keywords they're targeting.
Once you've identified a keyword or phrase you want to rank for, you should take note of the following information:
Keyword difficulty
Monthly search volume
Search intent
The websites currently on the first SERP for that keyword
To make the entire research process more accessible and more lucrative, your best bet is to make use of a SEO keyword research tool. Popular options include Ahrefs, SEMrush and KWFinder.
Researching optimal keywords is essential both for SEO purposes and for developing quality, high-value content that your readers care about.
2. Use your keywords wisely
When it comes to optimizing your WordPress site, keyword placement is a crucial aspect of your SEO strategy. After you've determined the keywords you want to rank for, it's essential to strategically incorporate them into your content.
The primary keyword should always be incorporated into your H1 and in the meta description for the website page.
It can also feature in some of the subheadings and within the body of text, as well as your secondary keywords and phrases.
However, it's vital that you don't force keywords into sentences where they simply don't fit. This practice will negatively impact the quality of your content by disrupting its flow, value, and readability.
Another practice to avoid is the pitfall of using the same keyword as many times as you possibly can throughout the text.
This will not only hinder your content quality, it will also decrease your chance of SEO success by creating a keyword density that is too high.
An unusually high keyword density can cause search engines to penalize your site for keyword overuse, thus lowering your SERP ranking rather than improving it!
So, be careful not to keyword cram, and always strive to integrate keywords in places where they are relevant, logical, and natural.
3. Utilize SEO content editing software
One of the best ways to optimize your content while maintaining its quality is with the help of an SEO content editing tool.
Take Surfer SEO, for example. This software will provide you with an optimization score as well as density guidelines for all relevant keywords and phrases (see images below).
It will also equip you with the optimal word count range and the number of headings, paragraphs, and images to aim for.
You can paste content into the editor and use the information in the sidebar to guide your optimization process.
In order to rank highly on the SERPs, you should aim for a SEO score of at least 80.
The takeaway
Effective SEO and content quality go hand in hand.
Without effective SEO, you're unlikely to rank or gain much traffic. But without quality, your site visitors are unlikely to stay on your page for long and are even less likely to convert.
Remember, it doesn't matter how well you use your keywords if they're surrounded by poor content!
The key to successful content writing lies in balancing creativity with SEO tactics and practices.
By utilizing the strategies explored in this article, you can find the intersection between quality and SEO so that you can truly get the most out of your content writing ventures.
But bear in mind that perfecting this balancing act can be a process of trial and error.
Never fail to experiment. Use various content and SEO tools, online topic generators, and more!
Be sure to experiment and discover your unique practices for success!