Background
Codeless worked with EarlyBird from November 2020 until March of 2022. By focusing on creating net-new content around a variety of core topics that appealed to their audience — including parent investing, financial planning, gifting, and cryptocurrency — we were a big part of their early-stage business growth.
By strategically selecting content categories and systemizing a content and SEO plan built for their growth stage, we helped accelerate the growth of their online traffic, taking them from 0-70,000+ monthly blog visits in only 16 months.
Here's how we did it.
An overview of EarlyBird
EarlyBird is an investing platform and mobile app that makes it easy for parents and extended family to invest in their child's future so that they can grow their wealth through childhood. Parents can set up monthly contributions, but friends and family can also gift monetary investments, too.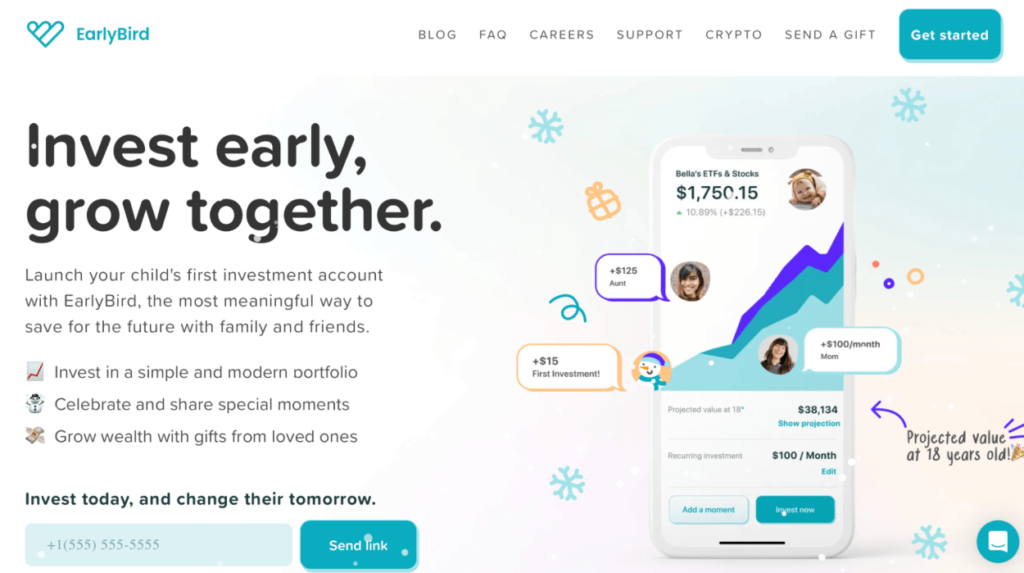 The challenge
The EarlyBird team acknowledged early that there were multiple significant challenges they were facing when it came to creating a strong, high performing blog.
There were a lot of challenges when it came to creating a content strategy from scratch at EarlyBird. One of the biggest ones was resources. Quite frankly, we didn't have enough manpower or the people to support building the critical structure of a content strategy that was necessary to ideate, strategize, and execute to really bring it to life.

Caleb Frankel, COO and Co-Founder of EarlyBird
Financial topics can also be highly specialized… and highly competitive. This meant that a rock-solid strategy and level of writer expertise was needed in order to get the results they wanted and to break through the content competition.
That's when EarlyBird came to us in December 2020.
The content strategy we used
Right away, we knew that developing a strategic plan based on the client's objectives, market, competition, and existing reputation (or lack thereof) was going to be crucial.
We started by identifying keywords to target using the following method…
1. Selecting keyword categories
Before we could dive into individual keywords, we knew we needed to select the keyword categories we'd focus on.
We worked closely with EarlyBird to understand their market and how they fit into it. We also learned about their core business priorities, and then took a look at what their competitors were ranking for.
Based on this information, we used Ahrefs' keyword research tool to take a look at what types of topics presented the most opportunity for ranking well and driving traffic to the site.
We determined that the categories of content (in which our topics would be sourced) were the following:
Financial gifting
Cryptocurrency
UGMA/UTMA accounts
General investing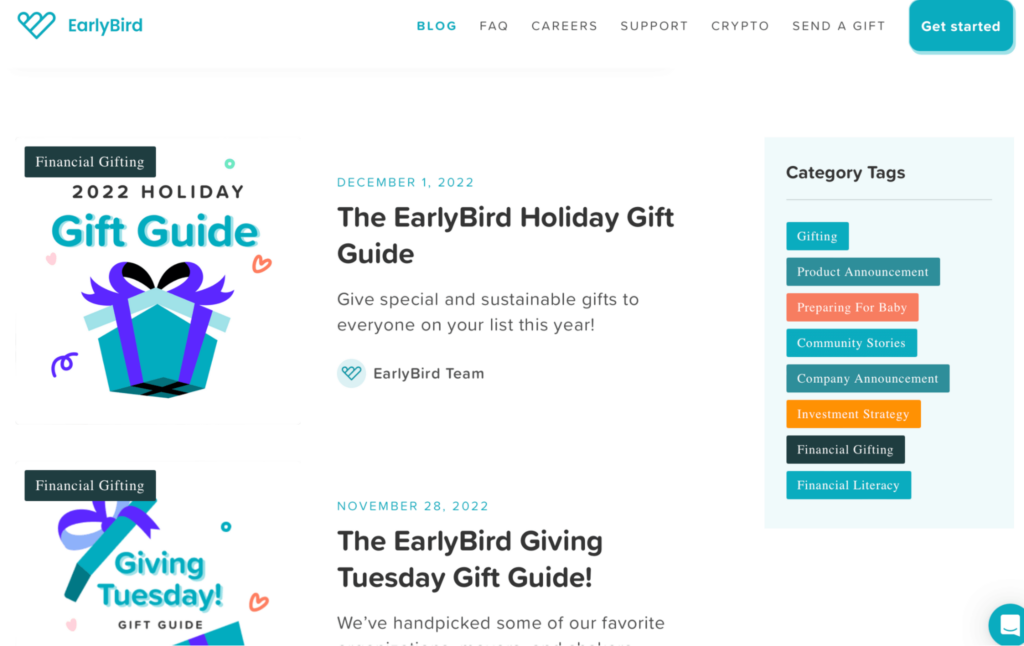 2. Pull a list of keywords for each category
Once we had defined keyword categories, we focused on the individual keywords.
We pulled a list of keywords for each individual category, and we did so based on monthly search volume (MV), keyword difficulty (KD), and search intent. We tried avoiding any keywords with a monthly search volume of 250 or less unless it was an exceptionally high-intent keyword (something more likely to convert visitors).
Pro tip: If a client has a lower domain authority, we'll only target keywords with immediately attainable keyword difficulty. This depends on the individual domain authority, but we usually start with keywords with a KD of 30 or less.
3. Set pillar pieces for each category
The creation of pillar pieces — higher-investment, in-depth guides for core topics that you can link to and reference in other content — is a core content strategy we used for EarlyBird.
We identified 2-4 pillar pieces within each keyword category. And while they were often more difficult to rank for, they also can come with high intent, high customer relevancy, and/or high monthly search volume. This meant that they were good topics to invest time and resources into expanding.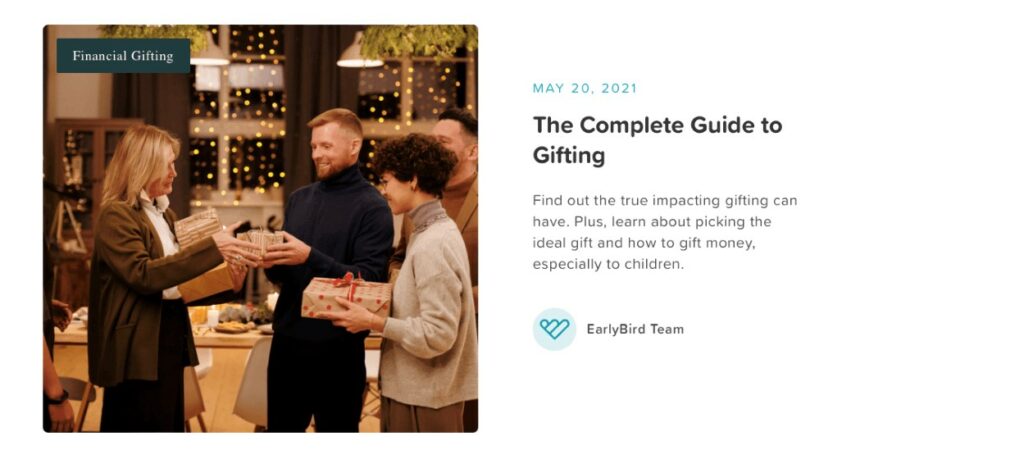 4. Identify supporting topics
If each category of content has 2-4 pillars, it should also has 10-15 support topics. These target more attainable keyphrases (long-tail or niche, usually) which we believe we'll be able to rank for more readily.
These articles act as support for the pillar pieces we mentioned above. That works in two ways:
Internal links from ranking content increase the chance of the content linked to (the pillars) ranking
Having articles within a certain category rank increases your domain's topical authority and domain authority, which makes it easier to rank for related content (the more competitive pillars) down the line.
5. Create the content plan
When creating a content plan, we took EarlyBird's monthly word count into consideration.
We dedicated the necessary words to the pillar pieces first, and then accounted for the support content in each category that would link back to the pillar post upon publication.
6. Bring in and educate writers
Alongside expertise in the financial vertical, we were also looking for writers capable of creating non-generic content (something that would stand out against the ranking competition).
In order to avoid writing generic content that won't really help a specific client, we make sure that all of our writers are well educated on each client that they'll be working with. We have a systemized approach to inform all of our collaborating writers on the following:
Notes from the client
Brand style guides
Working titles
Specific angles to take
7. Scope out individual pieces
Assigning word count correctly is an important part of the content strategy. We usually start with our standard word count of 2,000 words per article, but an individual post's word count may be more or less depending on factors like keyword difficulty, subject matter, and topic type.
It's not uncommon for pillar pieces to be higher in word count, and to have supporting content ranging from 1000-2500 words in length.
8. Assign topics to a specific writer
Once we have target word counts attached to different keywords, we assign out the keywords to specific writers within our highly-trained, experienced team. If there are additional notes or instructions we need to provide, including about a specific angle or what client products to feature, we'll mention it here.
9: Review category performance after 6 months
After 6 months — enough time for content from all the categories to be indexed, the support to be effective, and rankings to start coming in — we take a step back and look at the analytics.
Essentially, if the support and pillars within a given category are outperforming the support and pillars in another, we double down on that category's content in months 7-12.
How to create content that ranks
We have a highly-systemized approach to creating consistently high quality, well-written, and well-optimized content that will rank well.
The client is highly involved in every part of the process. They review our content plan and provide notes on individual topics, giving us the "inside take" from their perspective to help us create rich, unique content.
Alongside client involvement, we only work with experienced content writers and copywriters who come to us knowledgeable about the industry.
Each writer will also get an abundance of information about the client and their project to prevent generalized, non-specific content. They'll receive a writer's creation guide based on a questionnaire completed by the client. Each piece needs to meet specific quality standards, going through three rounds (one outline and two draft) of review before it's seen by the client.
We share the client's notes on every topic that a writer touches, and then have regular check-ins during the creation process. We also create custom images for our clients so that every aspect of the content is truly unique.
After the drafts are submitted, they go through an intensive editorial process through our internal team to ensure that the content is aligned with the client's need, perspective, and brand style guides. We make sure that the content is optimized for your brand's voice, perspective, business goals, and audience.
Results
The results are the best part, right? And these results are nothing to sneeze at.
By writing high-quality SEO-friendly content using our pillar strategy, Codeless was able to take the EarlyBird blog's monthly visitors from 0 to over 70,000 over the course of a 16-month period.
You can see the data from a the key six-month period of growth here: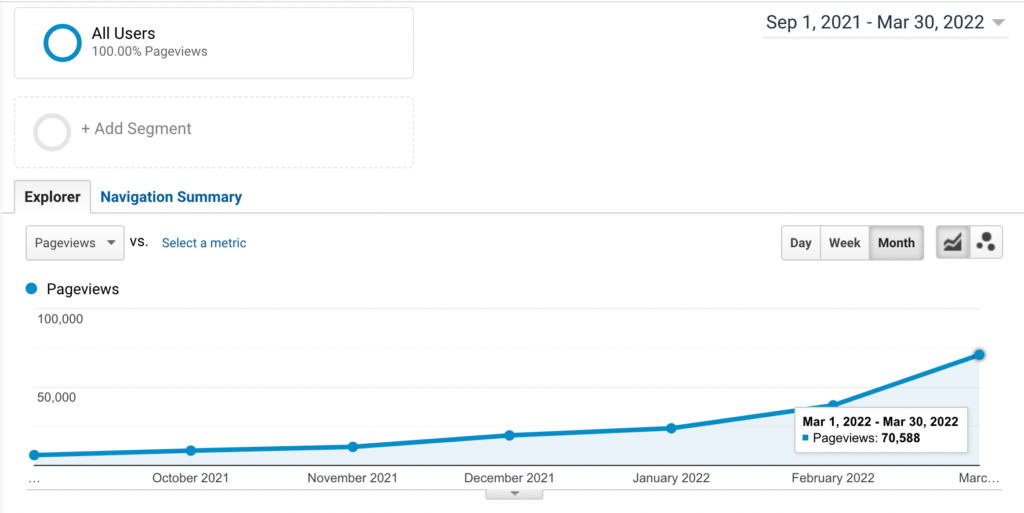 As a note: It did take six months to get this strategy off the ground. We had to build some momentum. You can see the results of that momentum in the graph above, but we do want to note that before early September 2021, their traffic was less than 5,000 monthly page views.
So what you're seeing here is the slow but highly remarkable and steady growth that shows the ROI of content marketing — so long as you have the confidence to commit to a long-term strategy.
When our contract ended in March 2022, EarlyBird was ranking for 6,096 non-branded keywords. 923 of these keywords were in the top 10 search results, and 175 were first-page ranking positions with a monthly search volume over 250.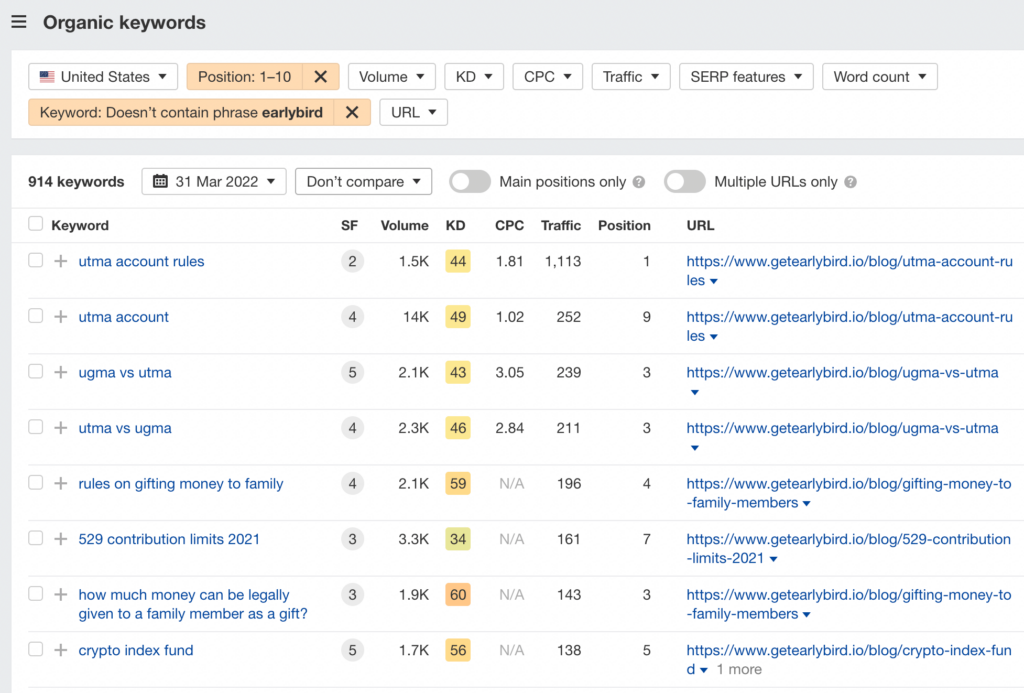 Contributing to the success was an introduction of a unique-to-EarlyBird type of content category: Crypto-related content.
We wrote cryptocurrency-related content for 9 months. At the end of our engagement, EarlyBird was ranking for 834 crypto-related keywords, including 116 first-page positions. Some of the most notable rankings include the following:
5th position rank for the keyword "crypto index fund," with a MV of 1700
3rd position rank for the keyword "crypto investment strategies," with a MV of 900
1st position rank for "crypto safety" with a monthly search volume of 500
3rd position rank for "is cryptocurrency safe" with a monthly volume of 800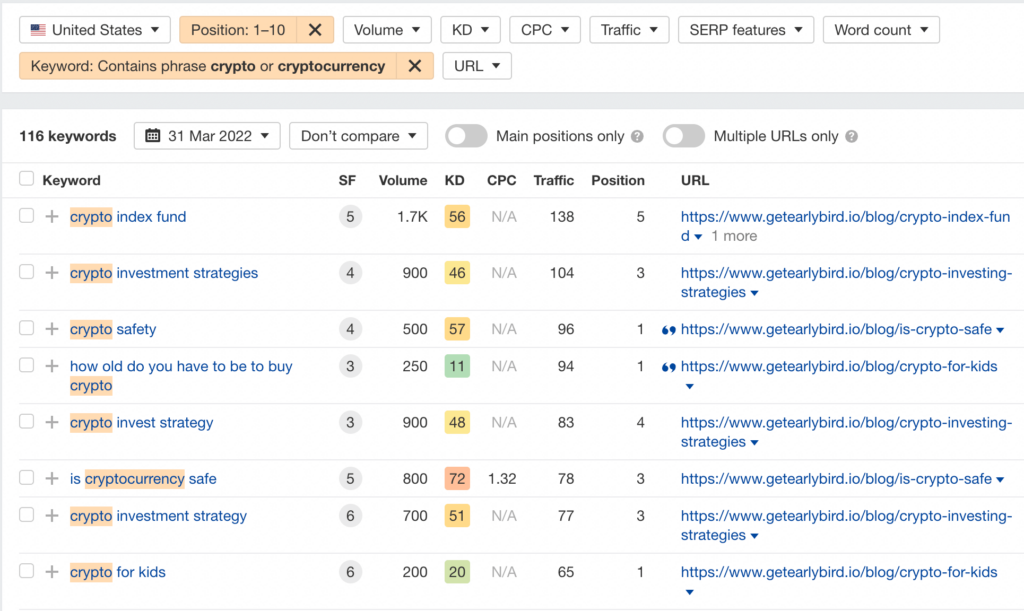 What EarlyBird had to say
Caleb Frankel, the COO and Co-Founder of EarlyBird, shared the following about their experience with us:
We decided to work with Codeless because they really provided full spectrum support on content marketing. They looked at the strategy, they looked at our resources, our goals. They put together an entire plan behind that strategy and then knew that they were able to execute within the means that we needed them to, and within the time constraints that we had.

Caleb Frankel, COO and Co-Founder of EarlyBird
Final thoughts
We believe that a customized approach for each client combined with a systemized approach for thorough, strategic content creation is the key to generating momentum with content marketing long-term.
We were able to take EarlyBird from 0 monthly site visitors all the way to 70,000. Get in touch to see what we can do for you.

Interested in working with us? Book a call to learn more about how we can help you here.