While all brands have unique challenges regarding content creation and marketing, some industries are more challenging than others. For example, Businesses with highly technical content for niche audiences often fall into that "extra challenging" category.
A combination of the right strategies, content that's technical but still accessible, expert writers, and a careful review process is essential to excelling in these types of industries. Codeless has helped dozens of clients that meet the criteria.
One of those clients is Nextiva, and in today's case study, we'll show you how we created an intensive process to develop technical blog posts that drive traffic over three years later (with two individual blog posts alone still driving up to 3000 monthly visitors).
About Nextiva
Nextiva is a business communications company. They offer multiple business communication products, including a VoIP phone system, voice and call analytics, reputation management features, and contact center solutions that facilitate communications through various platforms like SMS and video calls in a single dashboard.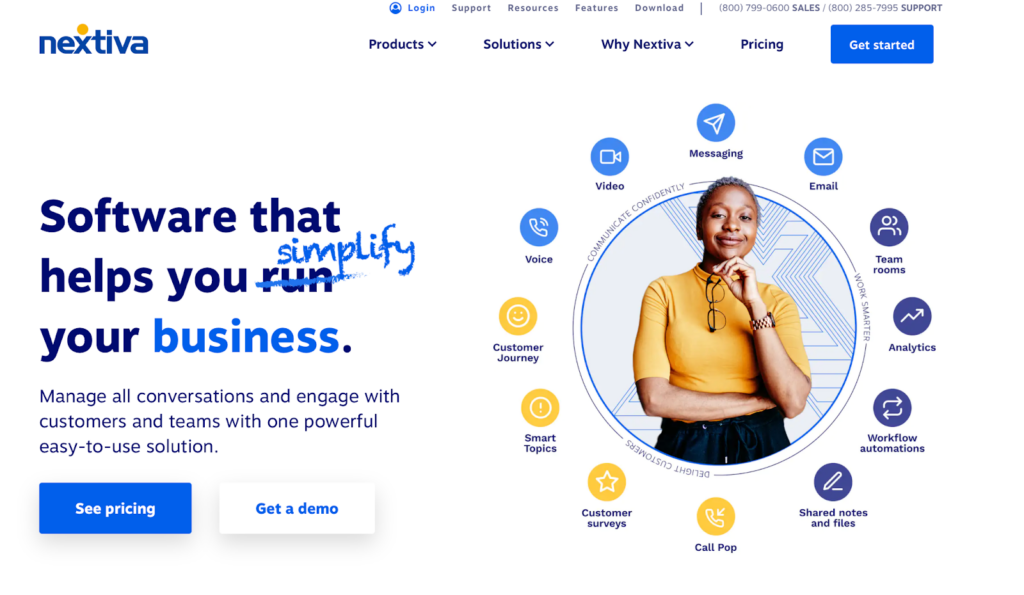 Voice over Internet Phone (VoIP) systems are a modern alternative to landlines; they're remote-work friendly and highly scalable. Virtual business phone lines have become increasingly common in the past decade, offering extensive benefits, including call routing, call analytics, and call recording.
The challenge
We've mentioned it a few times so far, but the biggest challenge for Nextiva was creating content that was both technical and still accessible while ranking well, as the product itself can be very technical by nature.
Technical content is any content that requires detailed knowledge of a product or industry. It's heavily fact-based and may include use cases, technical step-by-step tutorials, and updated information about higher-level concepts or technology. It must be precise, but you still need to ensure it's accessible enough for an "everyday" person in your audience to understand.
Nextiva needed help creating content that reached high-level decision makers in B2B businesses, meaning the content had to be high-quality and written to appeal to the right audience personas. So, they came to Codeless for help.
The strategy
When we started working with Nextiva in the fall of 2019, the first thing we knew we needed to do was to put together a strong team of writers, train them well, and develop a collaborative approach with the client's team.
Let's look at the strategy we used to create strong, technical content for Nextiva.
We learned the ins and outs of the product and brand
Because Nextiva has a technical product line and needed technical content, we knew we needed to understand their product and brand.
We spent a month working with their team to do so. Account managers and editors joined for sales calls to better understand how the products were being sold and what
features were most valuable. We also used the on-demand video provided by the client to get our team up to speed.
During that month, we talked to essential players in Nextiva's business, including the CEO, the head of demand generation, and their sales teams. It was an incredibly well-rounded approach that allowed us to gain great insight into the product, the brand, and the technology itself.
We provided extensive training to our writers
Our account managers and editors received extensive training, but so did our team of writers. We hand-picked writers for this project who had past experience with technical B2B content writing, and then we spent about a month getting them up to speed about the product they'd be writing about.
The video records of calls from the sales team were shared with our writers. They saw how the technology worked and learned about the client's unique selling proposition (USP) and standout features.
We ultimately created a detailed writers' guide with all the information needed, including not only style guide requirements but all of the technical information they'd need to create the type of content our client needed.
We followed our standard keyword research process
Here's a run of our keyword research and topic selection process:
Analyze each client's Domain Rating to determine their current ranking potential
Consider what categories and general topics the audience needs and would be interested in
Conduct extensive keyword research based on the above criteria, choosing relevant key phrases that have the highest search volume possible while maintaining a balance of reasonable difficulty levels based on the client's domain rating
Include a primary and multiple secondary keywords in briefs for each client, along with information about search intent
We had a detailed content creation process
We required that all writers on the project were up to speed with the client's product and how VoIP technology works.
Once that had taken place, our account managers created detailed briefs that included a post's topic, headline, keywords, and important points of discussion.
After writers submitted the initial drafts, our editors would do a line-by-line review of each post. Only then would they be sent to the client for review, after which we could make any additional edits requested.
We used this process for all content created, including blog posts, landing pages, and feature content pages. This systemized process allowed us to create not only high-quality technical content but to do so at scale.
We created custom images
Writing isn't the only thing that matters in content marketing. Images also matter greatly, so we created custom images for the content we generated for Nextiva's blog. We aligned with their brand's visual aesthetic and created images for the array of content we created for them.
The results
We worked with Nextiva from September 2019 to March 2020. It was a short engagement, but during that time, we created a wide variety of content ranging from blog posts to landing pages.
Some of these pieces featured technical content that discussed topics like how to end changes of session with your smartphone or call center analytics.
Our technical content started ranking soon after being published, and many of the posts are still generating significant traffic over three years later.
Our Call Center Analytics post, for example, generated around 1500 monthly visitors alone.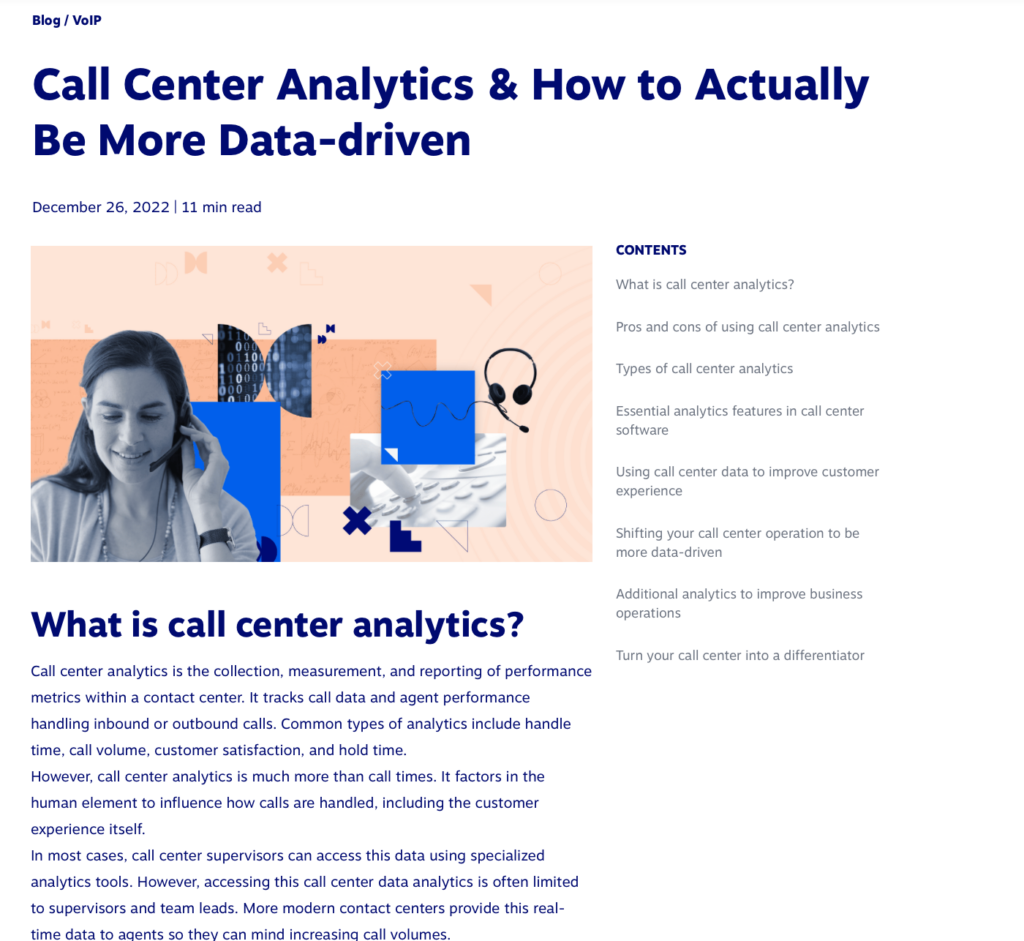 The Call Center Technology 101 post we originally wrote for the client in 2020 has since been updated to showcase recent trends, but is still attracting over 1500 monthly visitors on its own.
Between those two blog posts alone, both of which were first created and published over three years ago, the client is still receiving over 3000 monthly visitors on average. This post is also consistently high-ranking in the SERPs, appearing in top positions for the high-value keyword "call center technology."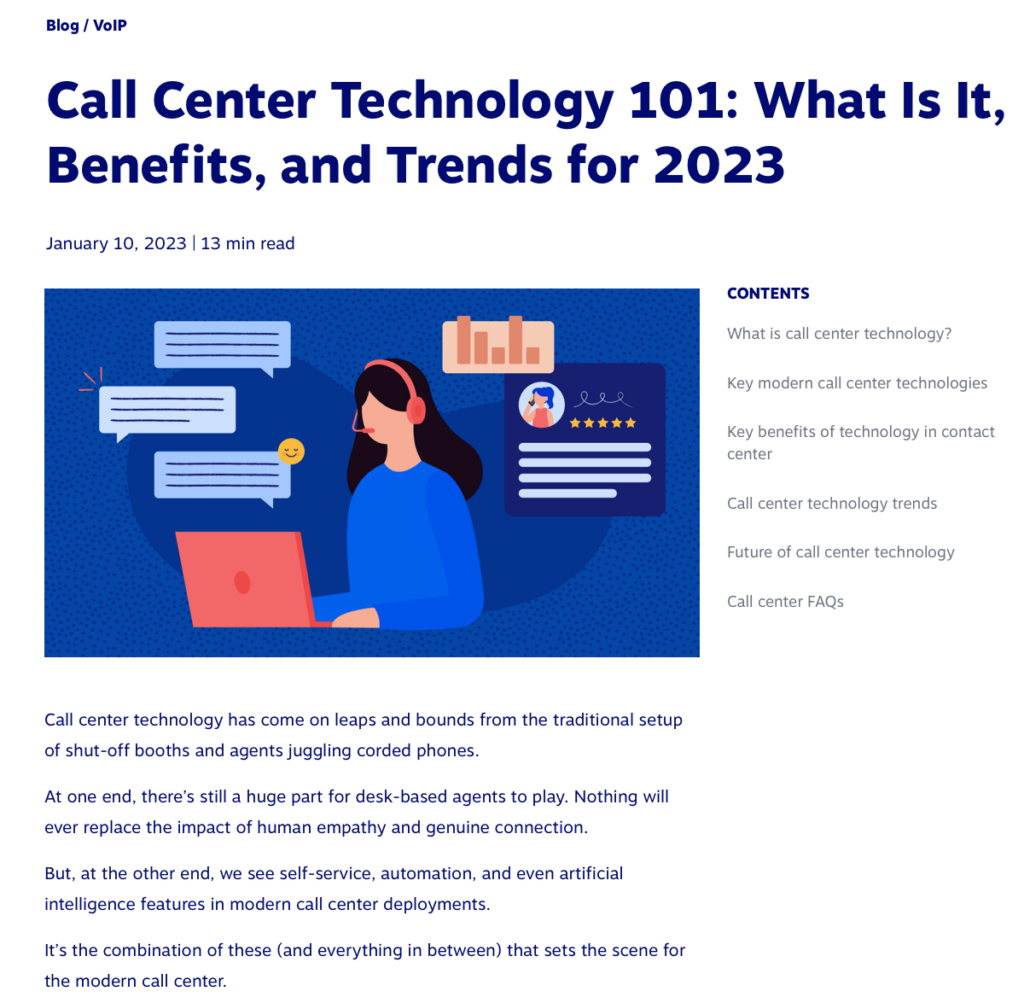 Across the board, the content that we created for Nextiva is still ranking for hundreds of different keywords, generating high-value traffic. Some of the content can also be used to help existing clients navigate the technology themselves, so not only is it helping to attract potential customers but it may also help retain them.
Final thoughts
While we only worked with Nextiva for about six months, the impact of the work we did is still benefiting them over three years later. For example, two blog posts alone drive over 3,000 monthly site visitors on high-value and extraordinarily technical topics, demonstrating the value of well-written evergreen content.
And that's just two posts, proving that the full impact of evergreen content is significant, even if it's an investment to create.
When you're choosing an agency to work with, make sure that they're as invested in the content creation process (and the end result!) as your own team. Of course, technical products require technical content, which will always mean a more lengthy and detailed training process. With this process in place, however, Nextiva was consistently happy with the content delivered, as it truly aligned with its brand and offered real value to its customers.

Need help generating high-value, high-quality technical content at scale? We've got you covered. Get in touch to learn more about how we can help.