Financial writing can be extremely technical, heavily research-based, and competitive. Knowing this, Codeless created a custom work process when working with Robinhood in 2019, even bringing on specialized writers in different financial niches and two editors who worked exclusively for the client to create massive amounts of high-quality, expert content at scale.
Our strategy and work process worked, helping our client rank for over 82,600 keywords in under twelve months. And in this Robinhood case study, we'll show you exactly how we did it.
An overview of Robinhood
Robinhood is a Fintech company that's been making big moves in the financial, cryptocurrency, and investment sectors. It's an online brokerage offering commission-free stocks, options, EFTs, and cryptocurrency trading.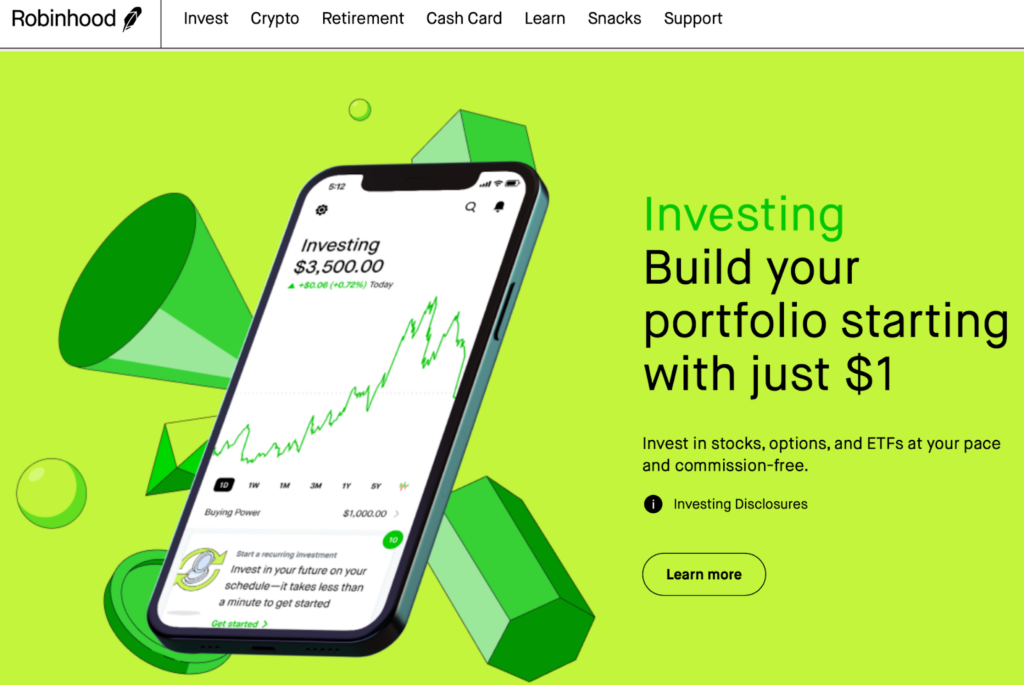 Robinhood is designed to be accessible even for new investors who may not have much to invest, especially since no minimums are required to open an account. To make it even more user-friendly, its mobile app is outstandingly easy to use (and popular amongst younger generations).
The challenge
When Robinhood first came to us here at Codeless, they already had an outstanding blog called "Under the Hood" and had recently acquired the well-known MarketSnacks media brand (now just dubbed "Robinhood Snacks"). Their blog focused almost entirely on updates surrounding the Robinhood brand itself, with posts announcing the rise or fall of interest rates or new products offered by the company.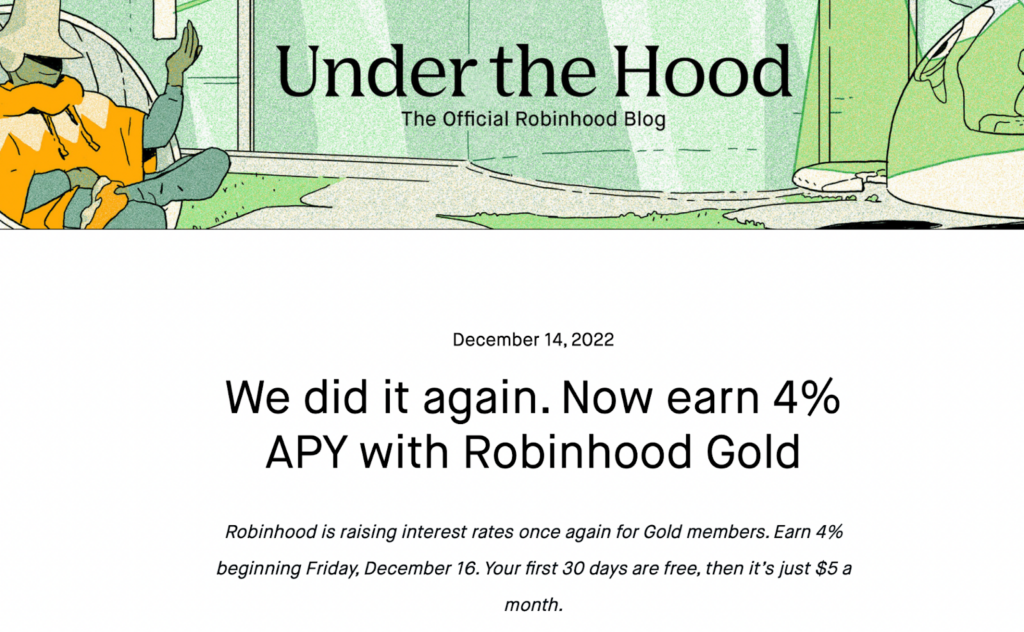 They knew, however, that there was more content opportunity out there for them, and reached out to Codeless to create a new section of their site called Robinhood Learn.
Here, the focus was going to be on education, with glossary-style content that could help readers increase their financial literacy and skill sets. This would give them a chance to offer increasing value to readers and potential investors while also driving more traffic to their site. The content would be more evergreen and more SEO-focused.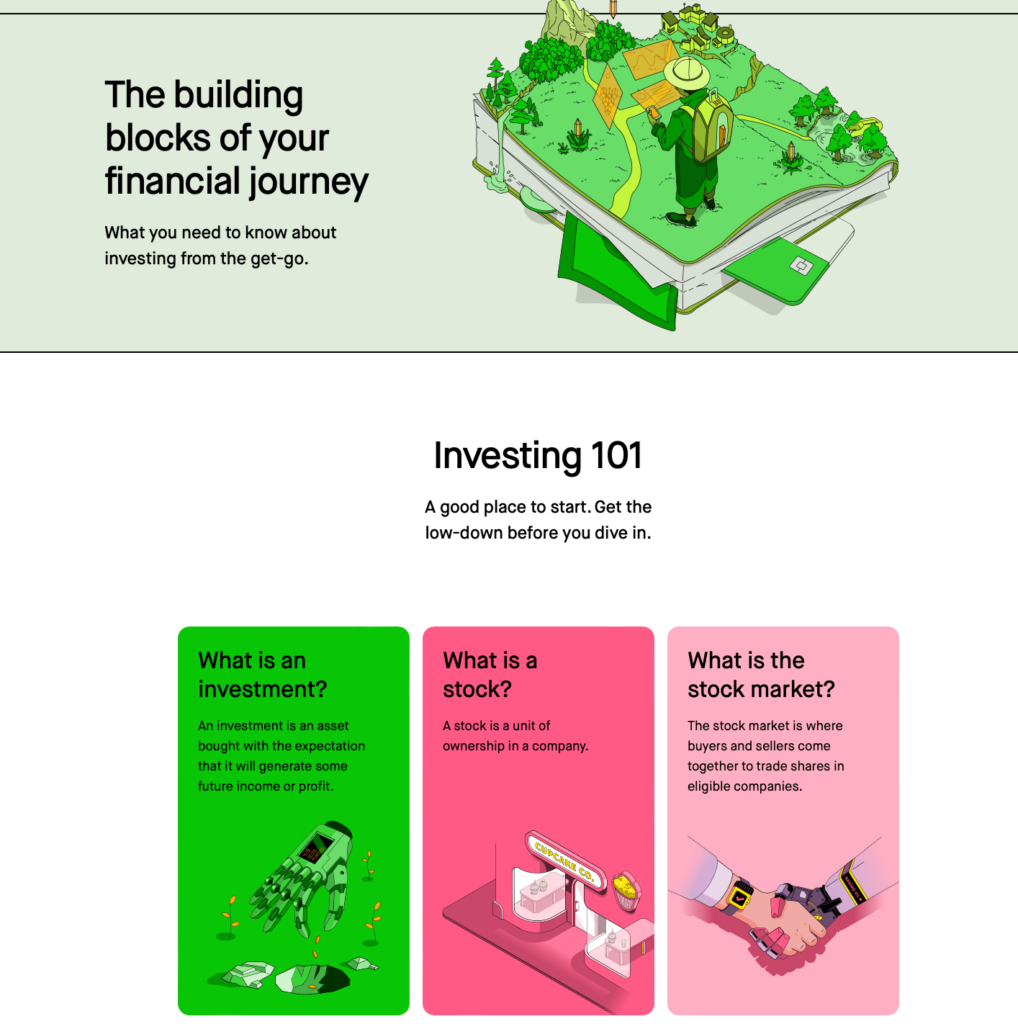 This is what Codeless helped them create, and we knew immediately that this would be a challenge.
Financial writing requires highly accurate, very detailed, and technical content creation. It has to be meticulous for legal and ethical reasons— you don't want to advise someone and accidentally tank their retirement savings.
It's also incredibly competitive, as there's an abundance of well-written, thorough, and authoritative content from brands like NerdWallet, Investopedia, and more. The ability to produce enough evergreen content to actually build awareness and drive sign-ups was a significant task.
The content strategy
We've already mentioned how difficult financial writing can be— especially how it relates to competition, technicality, and even legal compliance. As a result, we created a customized work process for our contract with Robinhood, which would include hundreds of pieces within a single year.
These are the steps we took.
We focused on "what is" keywords
Robinhood Learn is all about glossary-styled content that's designed to answer a user's direct and specific financial question.
These questions could be beginner-focused, like "What is the stock market" all the way up to the much more advanced "What is a credit privacy number."
We conducted keyword research to determine which keywords and phrases had high monthly search volume potential while also looking closely at the core content Robinhood's readers would need in order to learn more about different common financial topics.
We also considered what topics would be needed for users who wanted to explore all of Robinhood's different financial products and investment options.
We hired new writers
We have an expansive team of writers here at Codeles, all of who each may have one or more niches in topics like health, business, or lifestyle writing.
Because Robinhood's content was going to be so technical and finance writing must be accurate, however, we sourced and trained a team of writers specifically for this project.
We didn't just hire writers who had some experience in finance writing; we found writers who were extremely niche subject experts in different categories (and who focused pretty exclusively on those topics). These categories included corporate finance, real estate, investing, and cryptocurrency.
We created detailed briefs & writing instructions
Because of how complex technical financial writing can be, we put together detailed instructions for the writers who would be working on the Robinhood project.
This included a detailed resource pack, which covered information such as the following:
Accepted authoritative sites to be used for sources and linking
Accepted secondary sites for information but not for external linking
Banned sites, which could include competitor sites
Links to data sharing statistics and research
Compound interest calculators
Common issues to watch for and writing terminology to stick to
These writing instructions improved the quality and accuracy of writing right off the bat, increasing the potential output by reducing needed revisions.
We created brief content that answered the search intent
Many of the articles we produce here at Codeless are around 1,500 to 2,000 words, depending on the client, the strategy, and the topic at hand.
This was not the case for Robinhood. We produced over 600 articles, most of which were around 1,000 words long.
We made this decision with Robinhood's team because the most important part of this strategy was to create valuable resources that made complex topics simple.
Shorter post length allowed us to answer specific questions directly, aligning with search intent and ensuring that the content was valuable without overwhelming users.
Since there was an extensive gallery of glossary-style content, we could always link to other content we were creating if needed.
We had an extensive but efficient editing process
While we were able to reduce excess revisions by having strong, expert writers and detailed writing briefs in place, we still had an intensive— and custom to Robinhood— editorial process. It was extensive but efficient.
Robinhood, after all, needed what we'll call a content production assembly line that could include dozens of people to create hundreds of pages of quality content.
As a result, we hired two editors to work exclusively on the Robinhood project. They knew every detail about the client's needs and were already senior financial writers in their own right. They'd edit the content on a line-by-line basis, and it would go through quality assurance from our own team before Robinhood ever saw it.
Every single word and phrasing was scrutinized, because precision is paramount in Fintech writing.
We accounted for addition revisions from the client
Once we sent the content over to Robinhood, the work wasn't done just yet. It would go through an internal review on their side, and it would then be reviewed for compliance.
Only then, once it was all approved and finalized, was the content published.
The results
We worked with Robinhood for (TIME FRAME), and in that time we created over 600 pieces of content for the Robinhood Learn section of the site.
Robinhood's organic traffic skyrocketed with the implementation of this strategy. By December 2022, the average of organic traffic was 138,720 visitors per month.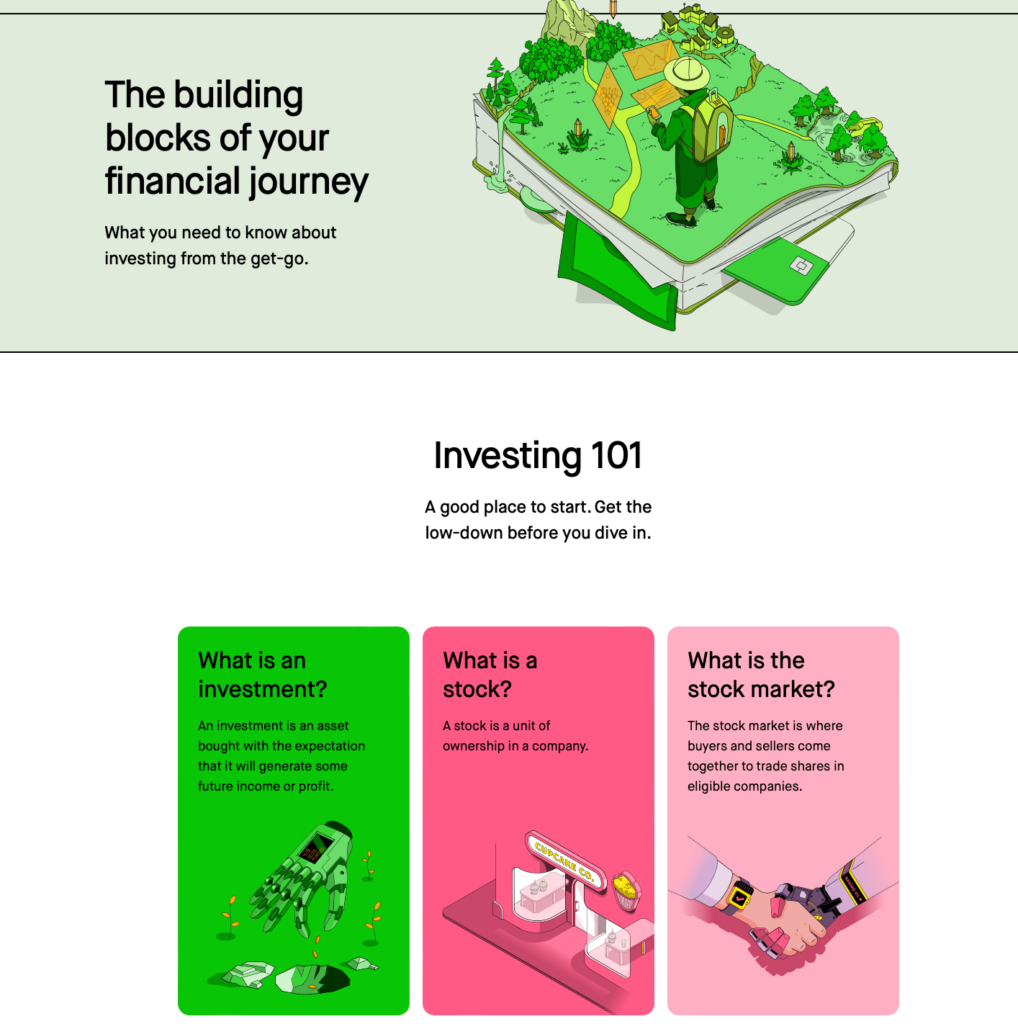 As of December 2022, they were ranking for 82,600 terms, 10,366 of which were ranking on the first page of the SERPs.
There are a few examples that really show how powerful each individual piece of content had the potential to be.
The post "What is a Credit Privacy Number (CPN)" is a fantastic example of this.
The article is now ranking in the top ten positions for the keyword "CPN," which has a 40,000 monthly search volume, and for "CPN meaning" which has a 15,000 monthly search volume. This post ranks for 240 keywords in the top 100 positions, giving it exceptional visibility and reach.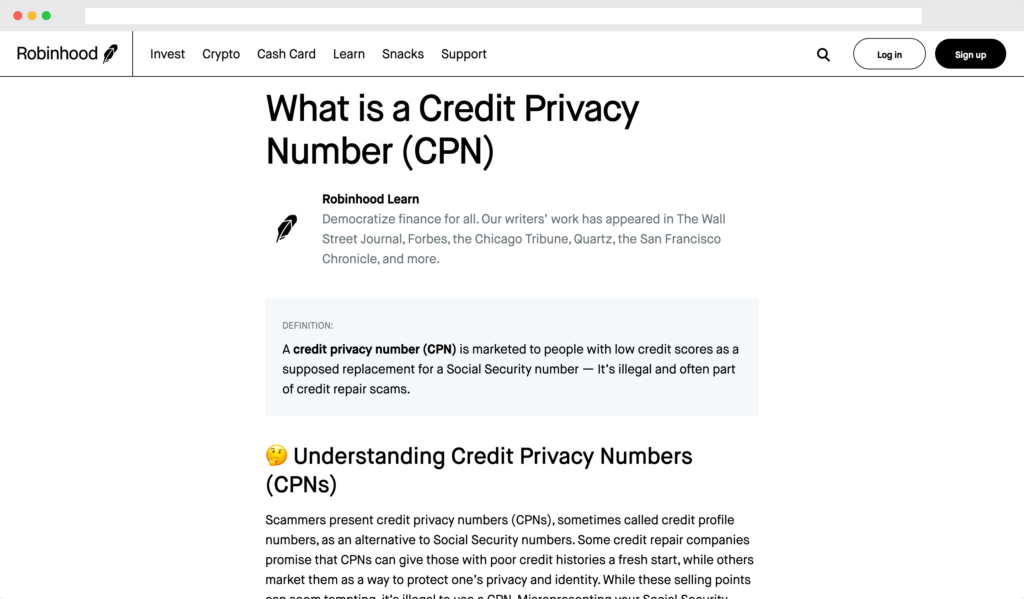 Another fantastic example is the article "What Does Pro Bono Mean?"
This article ranks in the top 10 positions for the keyword "pro bono meaning," which has a monthly volume of 27,000 searches. It's ultimately ranking in the top 10 position for 18 different keywords, including "what does pro bono mean" (which has a 5,400 monthly search volume).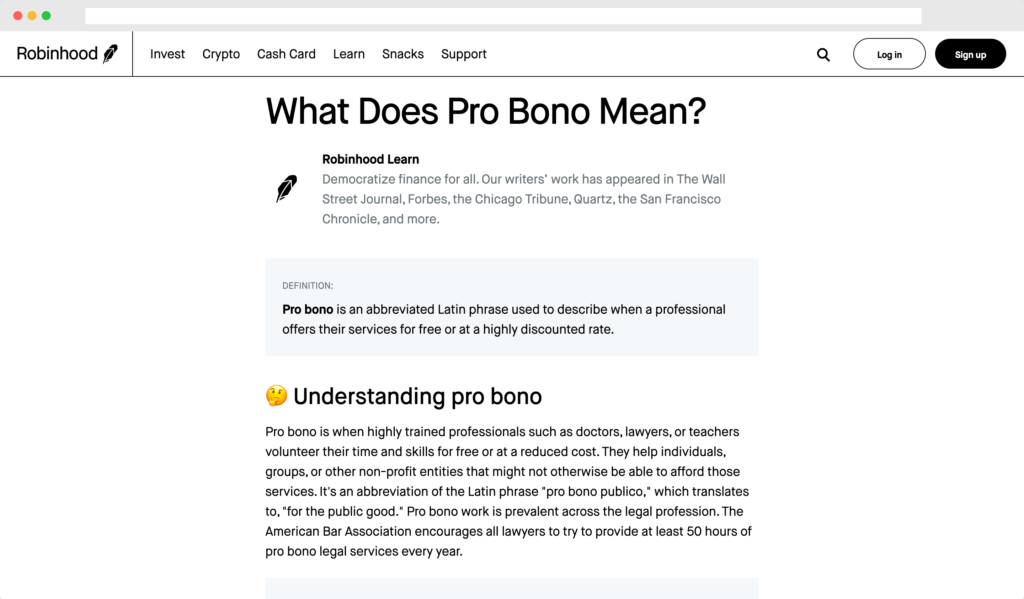 Final thoughts
Helping our client with the Robinhood Learn section of the site was an exciting project to be part of. The evergreen content we created while under contract with them still ranks well today, driving organic traffic, leads, and sign-ups.
Since Robinhood has plenty of first-time investors joining as clients, the library has also increased the brand's value altogether, making it easier for new investors to learn about different aspects of investing overall.
Do you need a unique, custom approach to develop your content marketing strategy? We've done it with Robinhood, and we're happy to do it again with you! We can work together to develop a customized-to-you process that accounts for content technicality, detailed revisions, and fact-checking.
Want to learn more about how we can help you scale your content production? Book your free call with Codeless today!