Background
The free-trading Fintech company wanted to launch a new content-driven educational site, Robinhood Learn.
They'd previously acquired the well-known MarketSnacks (now just Robinhood Snacks) media brand. But they wanted to also start producing more evergreen content to help accompany their news-driven product.
The challenge was producing (1) high-quality content to compete in an already crowded space with the likes of Nerd Wallet, The Motley Fool, Investopedia, and more. And (2) to produce enough evergreen content to build awareness and drive new signups for a better long-term ROI than competing advertising alternatives.
Our Involvement
Robinhood had an ambitious plan to produce thousands of content pieces over the course of a year.
For starters, that means we helped source and train a team of writers made up of subject-matter experts in different categories, from traditional investing to corporate finance, real estate, and even cryptocurrency.
Next, they needed a production assembly line that could accommodate literally dozens of people — writers, editors, account managers, strategists, and more — all working together on a common goal.
Last but not least, every single word also has to be scrutinized and clear complex compliance requirements before going live.
Examples
What is a Credit Privacy Number (CPN)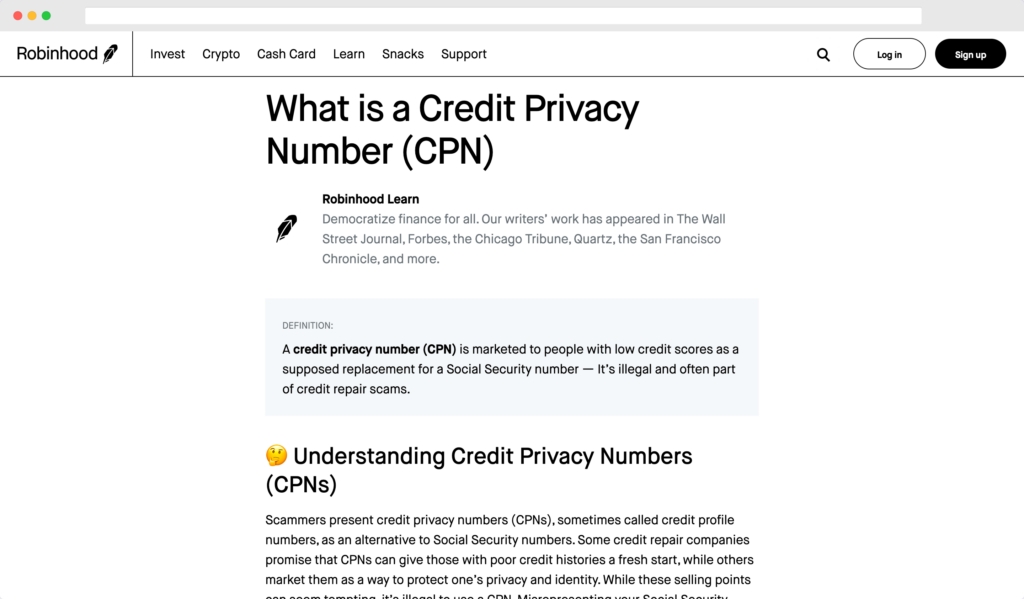 Article ranking in the top 10 for "cpn" (40,000 volume) and "cpn meaning" (15,000 volume)
Ranking for 240 keywords in the top 100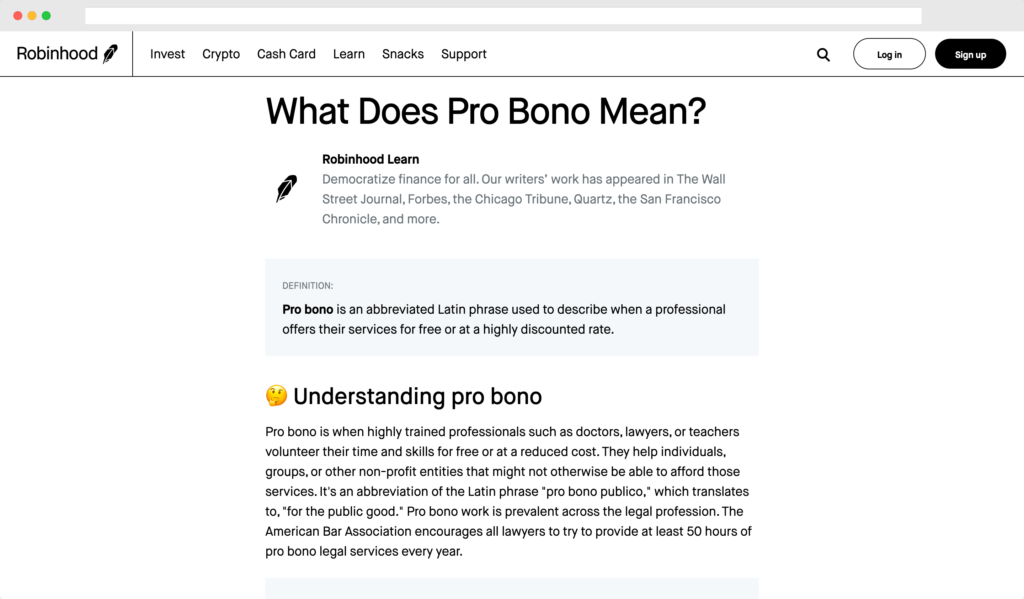 Article is ranking in the top 10 for "pro bono meaning" (27,000 volume)
Ranking in the top 10 for 18 keywords, including "what does pro bono mean" (5,400 volume)