Codeless worked with Saving For College for a little under a year, with a contract from October of 2020 to September of 2021. In order to help increase site traffic and ranking positions, we both created net new content and optimized their existing content.
The new content helped, but the optimization of existing content through post refreshes was a core part of the strategy that allowed us to help Saving For College leverage their existing blog posts more effectively. The strategy was so effective that they saw a 121.9% increase in traffic on average for individual site pages, with many pages of existing content significantly increasing their ranking positions in the process.
An overview of SavingForCollege
Saving For College is an incredible brand that has an invaluable goal of helping families and students find more paths to pay for their education. They have an abundance of resources designed to help families make more informed decisions regarding loans, 529 plans, and other savings options.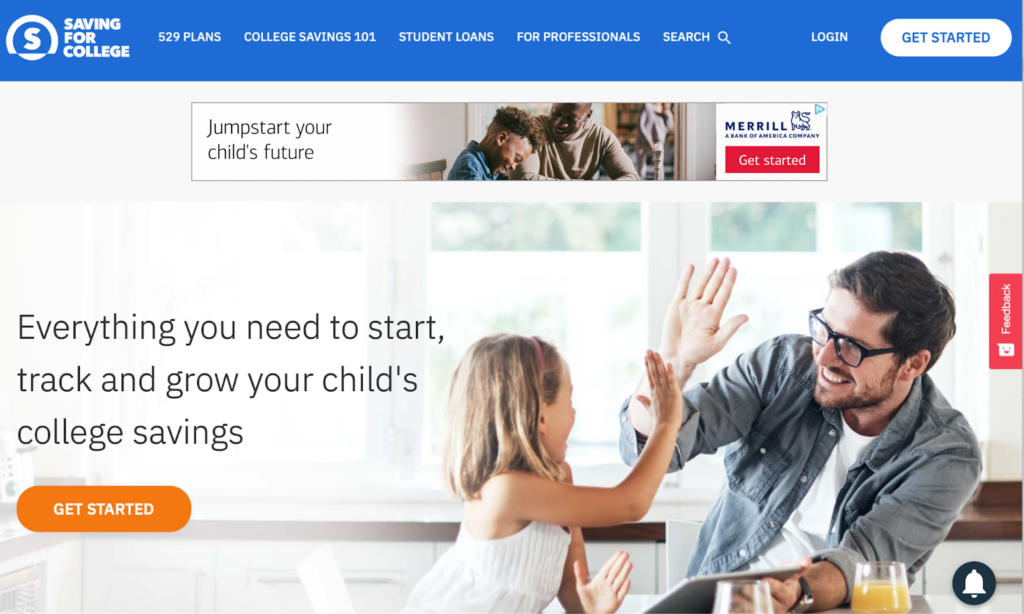 The challenge
While Saving For College was founded in 1999, they were having trouble ranking for the content they had already created, and thus were struggling with increasing site traffic.
They had an impressive library of content already, but it wasn't working for them. While they had hundreds of articles and hundreds of thousands of monthly visitors, traffic overall had plateaued. They suspected it was because they were struggling to attract new traffic through the search engine results pages (SERPs).
As a result, they came to Codeless so that we could help get them back on track.
The content strategy we used
We knew that since Saving for College already had strong site traffic overall with a massive library of content, we needed to leverage what they already had in addition to creating new posts.
As a result, when we developed our content strategy, we did keyword research for net new content in addition to conducting keyword research for existing content. We also identified URLs that were appropriate for optimization by using the following method.
1. Pull a complete organic keyword list for blog content
The first thing we did was create a list of organic keywords that the client was already ranking for through the blog. We used Ahrefs and searched for the subdomain (https://www.savingforcollege.com/article) in order to access this data. This allowed us to see what the client was ranking for, and in what positions.

2. Filter keywords by ranking potential
After we had a full list of blog content and their associated keywords, we narrowed it down a bit. We filtered the list by keywords to determine which blog posts were ranking between the 8th and the 20th positions in the SERPs.
The idea is to identify the "just off of the traffic-driving positions" URLs — low-hanging fruit for optimization.
3. Filter by search volume and keyword difficulty
Once we had our initial list, we narrowed it down further by filtering for search volume and keyword difficulty. We looked for keywords that had a decent monthly search volume and we ruled out those with an unobtainable difficulty. We based this on the site's domain ranking, and by doing so, we found a list of keywords worth optimizing for.
When it comes to Saving For College, we looked for keywords with a monthly search volume of at least 250 and a keyword difficulty under 35.
4. Organize the list in Google Sheets
After we compiled all of the above information, we exported the list into a Google Sheet. Once we did that, we organized it by search volume. Throughout the process, we moved any duplicate keywords, which left us with a list of the top keyphrases for each URL.
5. Review keywords manually to determine relevance
Relevance isn't ever something that you should rely on a SEO tool to determine; you need to manually review each individual keyword to assess whether or not it's actually relevant to the existing content (and the new content strategy).
An associated search term for "college costs," for example, might be "college overhead costs." While there's a close keyword match, this is nowhere close to the search intent of what our clients' audience is looking for, so it would be scrapped from the list.
We went through the list of keywords in Google Sheets and scrapped irrelevant keywords while highlighting potential high-value opportunities.
6. Check existing ranking positions
When we choose keywords to optimize for, we always ensure that we aren't working against ourselves by doing anything that would negatively impact the existing pages ranking.
In order to assess this, we drop the URL into Ahrefs and look at its existing ranking positions. If there are any higher-ranking keywords that we could use for a post, for example, we ensured that these keywords wouldn't cannibalize those positions.
In some cases, we found that the new target was different enough that the content optimization would not impact existing rankings.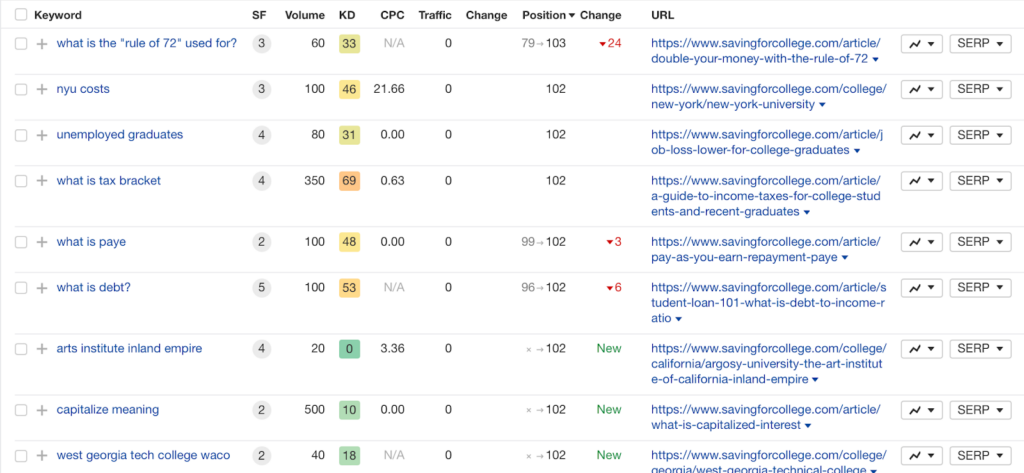 7. Pull Frase reports for any remaining URLS
Since a core part of our strategy for this client was to refresh and reoptimize existing content, we wanted to be extremely thorough for the remaining opportunity URLs.
We ran Frase reports for all of the remaining opportunity URLs to assess whether or not each post was optimized as much as possible, or if there was any room for improvement. If the post needed to be optimized more, we'd take care of that. If it was already in good shape, then we knew we needed to make an effort to increase backlinks to those URLs.
8. Assign relevant URLs to our writers
After we had our detailed content strategy mapped out, we broke down the list of URLs and assigned them to our team of expert writers with clear instructions on what was needed. All of our writers have extensive experience and training in content marketing, and they were provided with detailed briefs about how to optimize each piece of content they worked on.
How to optimize content
For optimizing both new and existing content, we utilized our agency's detailed SEO processes.
This includes the following:
Ensure that primary and secondary keywords are used consistently throughout each article, including in prime locations like headings and meta descriptions
Create content that directly answers the user's search query more thoroughly than other high-ranking content
Link to high-quality and high-authority resources to support our claims
Include both internal and external backlinks in each post, utilizing anchor text strategically to support the client's other content that we were backlinking to
Write strong meta descriptions and SEO page titles that included the primary keyword
Include strong visual components to increase engagement, including both videos and custom images
Aim for creating content between 1500-2000 words, broken down into clear subheadings
Writing strategically for opportunities like featured snippets, which could increase ranking potential and overall content visibility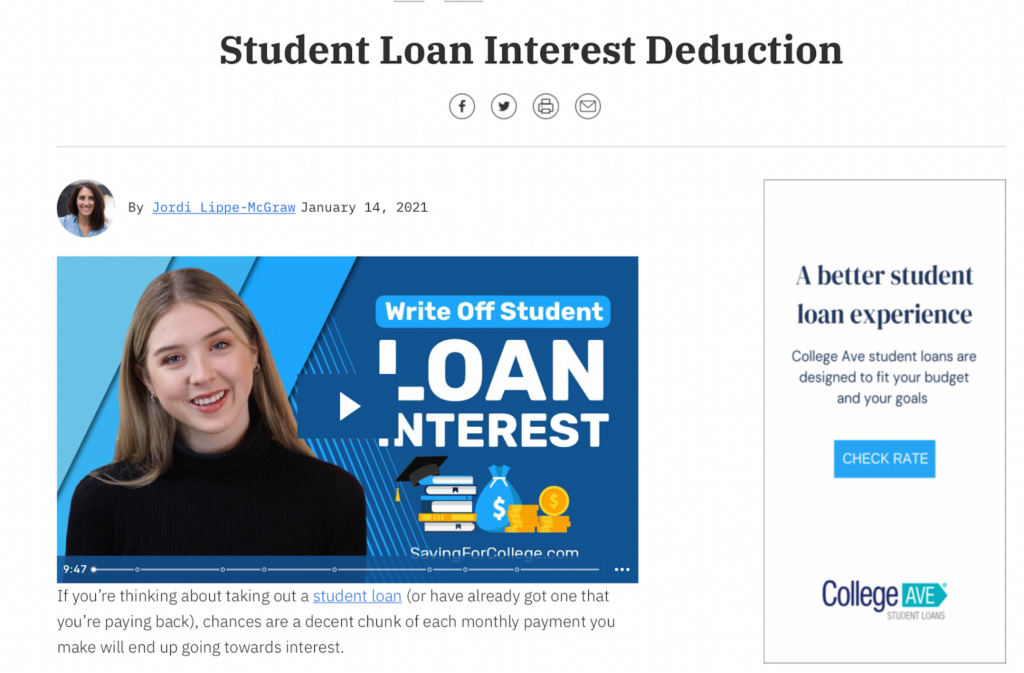 The results
During our content optimization process, we identified a total of 28 different URLs as "optimization opportunities." We amended their existing content, revising them to increase their chance of ranking well.
While we also created new content that helped Saving For College rank, it was the newly optimized existing content that we want to highlight here.
The average traffic increase across all URLs was 121.99% after our optimizations.
Here are a few specific examples:
This blog post went live with new optimizations on January 1st, 2021, and almost immediately saw a nearly 200% increase in traffic.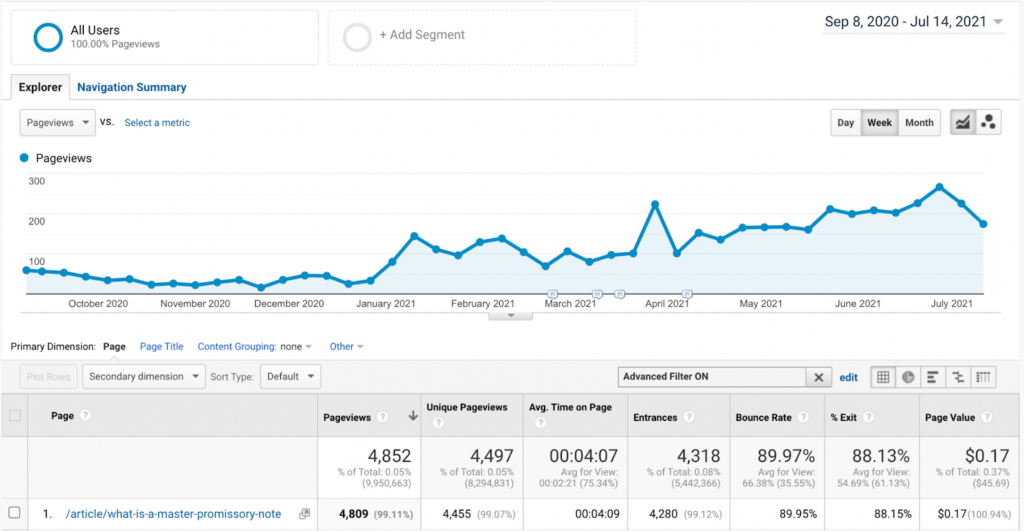 This blog post went live on December 15th, 2020, and saw growth that increased overtime starting in December all the way through July of 2021.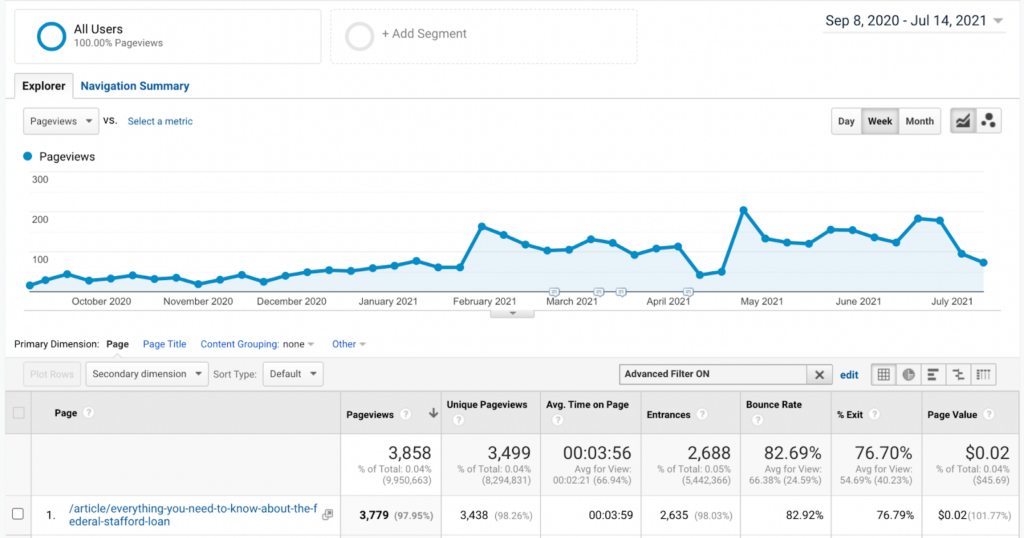 This post about changes coming for selective service and financial aid had optimizations go live on January 19th, 2021. While the post had previously had fairly minimal but steady traffic, the optimizations led to incredible increases in traffic and page views that continued to grow several months out.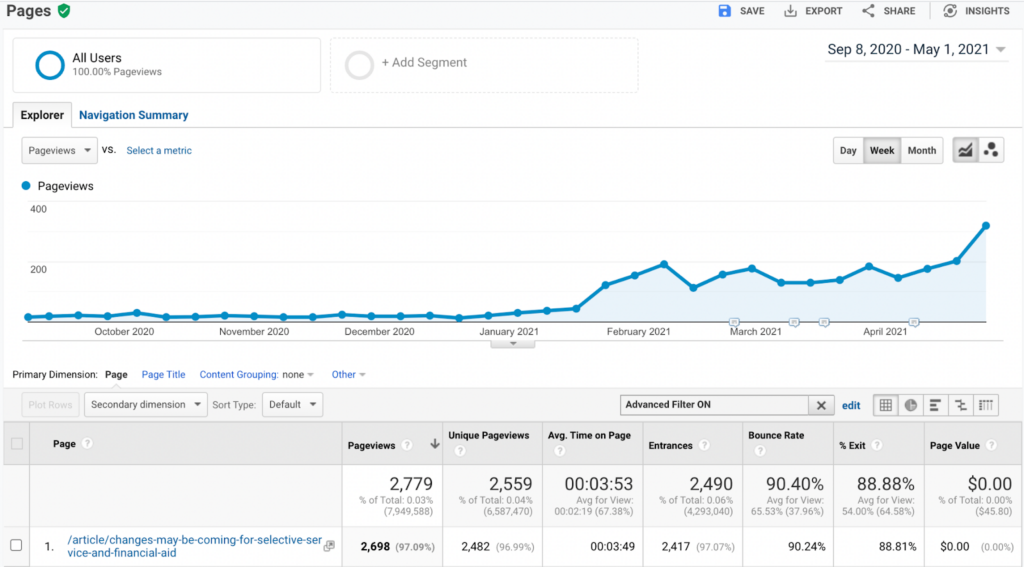 Final thoughts
While new content is always an asset to most businesses and their blogs, sometimes one of the most valuable steps to take is to start with the content that's already there.
Going back and optimizing high-potential but underperforming content is an outstanding way to derive value from what you've already got and ensuring that each post is maximizing its ranking potential.
Are you looking to help get the most out of the content you've already created? We can help. We use a systemized approach to optimize, create, and edit content specifically for your brand and audience. Learn more about how we can help here.