Background
WickedReports' analytics tools help businesses maximize their return on ad investment through accurate, long-term attribution of ad results.
For several years, WickedReports' business growth relied on word-of-mouth referrals and strong relationships with Google and Facebook's advertising teams.
Initially they approached Codeless for our primary offering: high-quality, long-form, search-optimized content. However, after in-depth conversations with Codeless' digital marketing experts and content strategists, it was decided that an investment in website and marketing funnel optimization should be prioritized before diving into blog content creation.
Our Involvement
Many content agencies won't hesitate before selling your business on a dozen blog articles per quarter, without taking into account your business' true needs.
That's why Codeless' approach has always been one of personalization: what does your business really need, and can we provide it? If not, we won't sign a contract. Period.
With WickedReports, we worked with their team to determine their content priorities. First came website optimization: the creation of high-quality landing pages focused on their features and competitive advantages. Second came marketing funnels: the creation of lead-gated content, landing page copy, and email drip campaigns. Last will be blog content: the creation of highly-optimized, search-oriented blog content to drive traffic and brand awareness to the newly-optimized WickedReports site.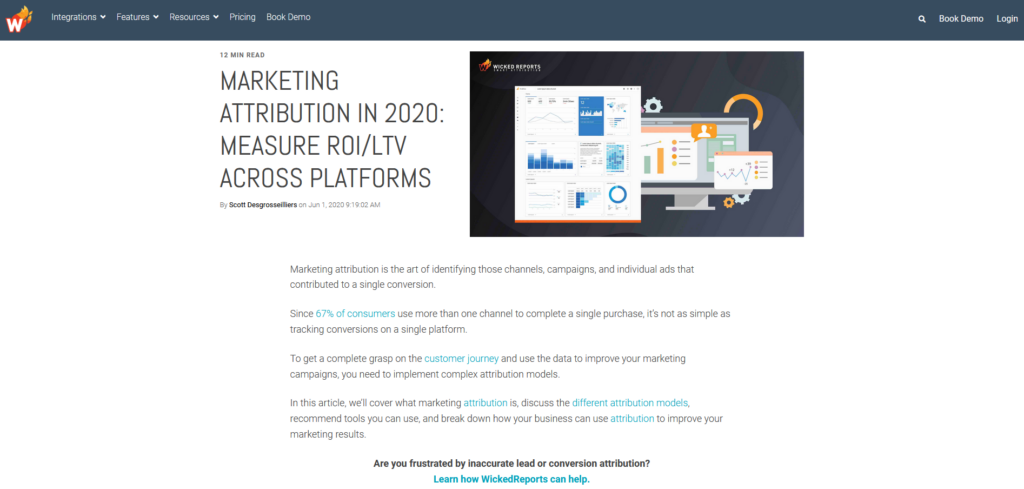 Results
The results of our work with WickedReports remain to be seen, as we're still in the process of creating the website and marketing infrastructure which will turn their traffic into sales. Once WickedReports has seen the fruits of our work, we'll update this case study and showcase their growth.