So you're overwhelmed with your social media content calendar and need some guidance on creating, developing, planning, and distributing the best possible social media content? You've come to the right place. This guide is jam-packed with helpful information for both individuals and teams looking to improve their skills at creating great social media content.
So without further ado… let's get started!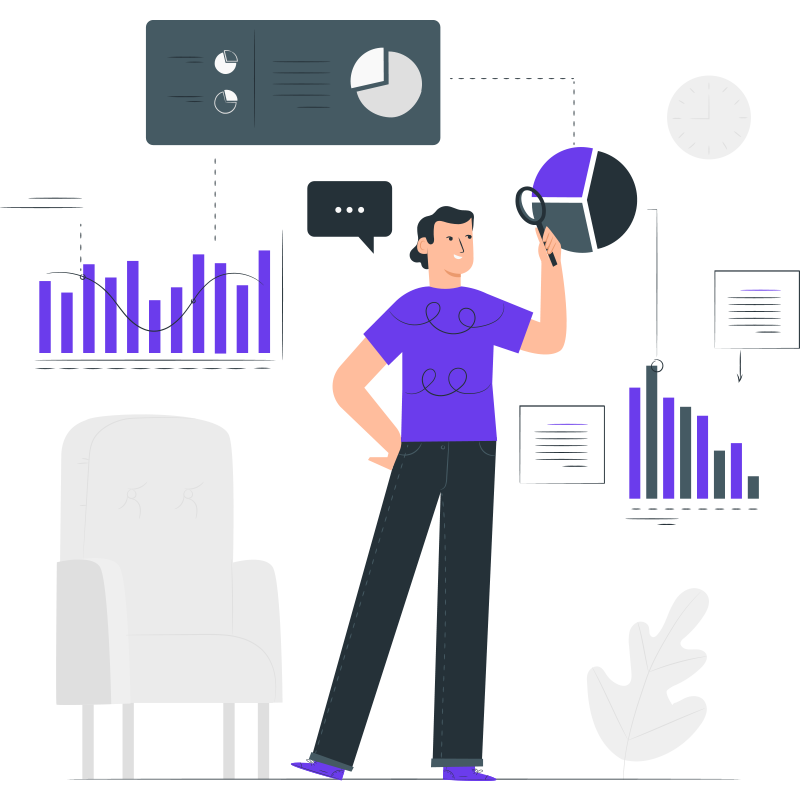 Get long-term ROI.
We help you grow through expertise, strategy, and the best content on the web.
Step 1: Curating and sharing content
Curating and sharing third-party content is a great way to bring invaluable traffic and build your credibility within your industry. Make sure that you're always adding value to the conversations by tweeting exciting facts, statistics, and infographics that aren't directly related to your brand. This will help raise awareness of who you are and what you do without being too pushy or sales-orientated.
And there are tools to help you monitor audience engagement with the content you're creating (for example, using email clients to measure engagement). Here we're talking about social media listening tools like Hootsuite, Zoho Social, Sprout Social.
SMM managers need to note what type of content their target market responds well to. Creating generic tweets that could be relevant across several demographics tend not to attract as much engagement because people don't feel like it's appropriate to them. Make sure that you're always catering to your own specific demographic by sharing content specifically beneficial to them!
Step 2: General considerations
Before you can begin developing or creating any form of social media content, it's first necessary to define your general strategy. You will need a plan for using social media to your benefit and understand what you hope to achieve. This will help inform the type of content you should be producing and allow you to adjust or adapt your strategy if necessary later.
It's also vital that this plan is flexible enough to easily accommodate changes in direction without causing too much disruption within your organization.
Once defined, this will provide the groundwork for all future efforts to develop social media content.
Define the voice which you will use for your social media posts
The tone of voice is an essential factor in creating effective social media content. It determines how your audience perceives your brand personality, the way they interact with it, and crucially what expectations they have for future interactions. For example, if a company uses a casual tone, users are likely to expect more informal interaction with them; but this doesn't mean sacrificing quality or value!
Your tone of voice should be determined based on market research within your industry. During this process, you'll find out what is appropriate for the type of people who are likely to engage with your social media channels. As your audience becomes used to this tone, they will be able to recognize when it's inconsistent- which could lead to them unfollowing or unfriending you.
Once you have determined the tone of voice for your brand, you can make sure that all of your content is presented in a way that is consistent with this and resonates with your audience. This will increase their engagement levels further.
Define your goals on each channel
Having a clear idea of what you want to accomplish with social media is vital to ensuring successful implementation.
This can include driving traffic back to your website through organic search, brand awareness, lead generation, and expanded sales. Having clearly defined goals makes it easier to identify which channels would best suit each objective, measure posts' performance, and adjust accordingly if necessary.
Once defined, you can begin creating specific types of content (such as blog articles) which align with them. Then, you can determine the best course of action for publishing it on social media.
Research your audience and competition
Before you start creating any form of social media content, you must know who you're trying to engage with. Some basic research around your competition can give a good indication of what type of content they are producing. This, in turn, helps inspire your own ideas for posts.
Identify the purpose of each social channel
Each social media network serves a different purpose. For example, Facebook is typically used to communicate with family and friends. At the same time, LinkedIn is better suited for professional uses, such as developing business contacts or engaging in discussions around industry trends. By understanding what individual channels are designed for, you can ensure that your social strategy is appropriately implemented and provides users with the experience they expect from using it.
Step 3: Know your audience
You need to know who you create content for and what they expect from it. If you don't, then the developed content may not be relevant to them – which means it won't engage or resonate with them, therefore making it worthless.
Once you know who is using your social networks, you can ensure that all of the content created is engaging and relevant for them – leading to more shares.
Step 4: Audit existing content
Before any new social media content is created, an audit of existing posts must be carried out. This will help provide a benchmark of what's worked so far, highlight areas where improvements could be made, and, most importantly, show gaps where additional types of social media content could fit in. This is also an excellent opportunity to determine the best publishing times to gain maximum exposure.
Step 5: Establish your content calendar
Before getting started on any new social media content, you should establish when and how often it will be published. This could be daily, weekly, or even monthly, depending on what works for the type of industry/business you are representing. You should then distribute this across all relevant social networks – i.e., Facebook, Twitter, Instagram, etc.
The more detailed you get with your editorial calendar, the better! For example, if you know that a blog post will be going live at 5 pm on a Wednesday along with a podcast release – make sure these your social posts are scheduled well beforehand to squeeze as much juice out of your efforts as possible.
Step 6: Developing your content
Once you know what type of social media content you'll go for and have developed an editorial plan, you're ready for the fun stuff! There are many ways of creating social media content, including blogging, podcasting, or images/infographics.
Blogging
What better way of establishing yourself as an industry expert than by starting your own blog? A blog allows you to produce regular posts, which means that each time new content is published, you will be front-of-mind with your audience. If you don't already have a website, this is an excellent place to start – although blogging platforms can often be used as a website, this may not be an issue. If you already have a website, it's still worth adding your blog posts after publication to gain all the benefits, including any new links to your site!
Podcasting
Podcasts are audio tracks that feature online content that can be downloaded and listened to at any time. They are becoming increasingly popular due to their ability to provide high-quality information quickly and easily. The best type of podcast for social media marketing purposes would include interviews with industry experts or founders who have interesting/inspiring stories. In contrast, others could take the form of educational seminars which teach people something new in twenty minutes.
Video
Video content is becoming more and more popular with consumers. The reasons are pretty obvious — video content offers a much more passive experience than a blog post. It's also worth mentioning that video content such as infographics can often provide a higher level of engagement than just written content alone – do consider this for your social media marketing!
Infographics
These visually stunning images/charts/graphs, etc., contain complex information in a simple format, allowing viewers to easily digest it. The best infographic to use for social media purposes would be one that gives advice or provides inspiration, e.g., "10 reasons why you should start blogging". This is solid social proof that will increase the likelihood of people engaging with the content.
Step 7: Publishing your social media content
When you have your social media content ready, it's time to share it with the world!
But, before you do so, you need to keep in mind some things.
Not everyone will like/share/comment on your social media content – this is normal and happens with all types of brand awareness strategies! If people like or share your social media content, it doesn't mean that they've gone through the whole buying process – they may just have liked/shared it with their friends. This is why you need to consider your social media content as simply one part of an overall process – the 'sales funnel.'
Suppose you are trying to sell a product or service through social media content. In that case, this must be clear from the earliest stages of publishing the content – not the end. Suppose you are simply trying to increase brand awareness within your target demographic (without selling anything). In that case, consumers must understand this.
Updating social media content regularly will keep your page or profile active and encourage content sharing – if people see that you've published something recently, they are more likely to check it out! Also, consider using an editorial calendar to keep track of all of the social media content you've published and what is coming up in the future.
And finally…
Your social media content should be a reflection of your business, so make sure it includes critical components such as:
a strong call to action – tell people precisely what you want them to do, so make them clear!
a link to your website – send people to another page on your site, so it gives you more potential for conversions.
visual stimulation – helps social media users engage with the content and keeps things interesting – remember that visuals can be much more popular than regular, old text (e.g images/infographics/videos, etc.). If you would like to create visuals that will be remembered, you can also focus on updating your images and change background of photo online easily and very quickly with a free tool like Picsart.
Remember that social media is a two-way conversation. Ultimately you want to build relationships with people who want to do business with your company.
Setting up your editorial calendar
An editorial calendar is a visual representation of all the content you plan to publish during a specific period. It provides valuable insight into who will be posting content and on what date, which is especially useful if you have more than one person in charge of your social media strategy.
If you don't already have an editorial calendar, make sure you visit our guide on making one here. Having an effective editorial calendar is vital for any successful social media campaign.
Using social media content calendars
Once you've set up an editorial calendar, it's time to start filling in the gaps with your own content! Social media content calendars are live spreadsheets that allow you to plan out when you will be publishing different types of social media content. For example, one column may be used for Facebook posts while another is used for tweets.
There's a better way to go about things than resorting to spreadsheets, though — using dedicated tools, which come with calendars already included.
An added benefit of using content calendars is that they give you lots of incredible statistics about your social media marketing efforts. For example, you can see how many posts have been published and on what date, making it easier to adjust your content efforts and workflow.
Social Media Scheduling Tools
Social media scheduling tools provide a centralized area where all your social media content can be kept and scheduled for posting throughout the week, month or year. This is a fantastic way to ensure that you don't miss any days during busy periods. Each day has an equal amount of posts, allowing for significant variation without too much planning!  
Wrapping up
Social media marketing is a constantly changing landscape. It becomes more challenging to stand out from the crowd as time goes on. However, adopting smart strategies such as those outlined in this guide will definitely help ensure that you're always ahead of your competitors! Remember, don't be afraid to try new things – just because it doesn't work now doesn't mean it won't work next week.
It's also important to remember that social media changes fast. An effective strategy today may become obsolete the following month, so be sure to keep up-to-date with current trends and adapt your goals accordingly. The most important thing is always consistency, stick to a schedule, and you'll be guaranteed to see a steady increase in your social media following!