Promotions have been a staple in the marketing toolbox for ages.
They help grow awareness and create excitement around your brand.
But social promotions are even better.
It's the best way to have your message spread authentically (and cheaply).
Here's how you can use social promotions to grow your business.
Determine Your Goal
Before you even start, you need to think about your social media goals.
Every status update, and campaign idea needs to support your goals.
Otherwise you'll get terrible results.
When running a social promotion, you have to make an important choice.
Do you want to grow awareness, or increase engagement?
If you want to build brand awareness, then run a sweepstakes or giveaway. You should make it as easy as possible for people to enter.
If you want to increase engagement of your audience, then hold a contest where people have to take an action and join the discussion.
In the beginning you might want to focus heavily on building awareness. But you'll also have to focus on engagement if you want to get the most out of social media.
Product Giveaway
The easiest, least expensive way to run a promotion is to give away your own products and services.
Managing a promotion takes a lot of work, but the actual cash-out-of-pocket doesn't have to be a lot.
Prizes usually push the cost up dramatically.
So try creating your own packages by bundling a few products or services that you can give away.
Just make sure it's valuable, and it's something you know your audience will love.
Take American Trucks' example, where they ran a summer giveaway on Instagram, allowing customers to win a $500 gift card for truck parts and accessories from their store.
Participants only needed to like the post, follow their account, and tag a friend. They even added bonus entries for sharing the post on the story to expand their result.
The result? This post was one of the highest-liked posts on their Instagram, with hundreds of comments and engagement. Now that's a successful social media engagement tactic.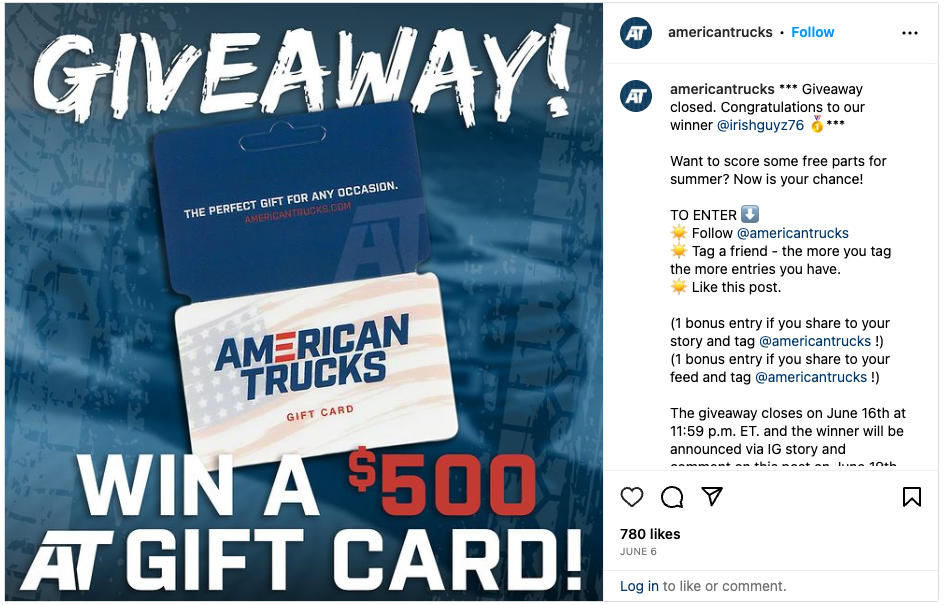 Partner with Others
The best way to get more customers is through referrals and recommendations from others.
Look for other companies who complement your business, and who have similar customers.
This works well when you partner with larger companies who may be more established and have more fans.
They'll do the selling to their audience, and you'll quickly reap the rewards.
You can also combine your partner's products and services to create even better packages.
For example, if you're a restaurant, you could partner with a local hotel and spa for an unforgettable "weekend escape".
Include Bloggers
Social media is the new PR.
And bloggers are the new journalists you want to reach online.
If they have the right audience, then it doesn't matter how big it is.
Reaching these passionate, niche markets is key to online marketing. And bloggers are your gateway to growing traffic.
Give them free samples or an exlcusive "sneak peak".
If you get them involved early, then they'll do the selling for you.
Add a Viral Component
Regular promotions work well.
But viral ones are even better.
The difference?
Promotions with a viral element have people involve their friends or social graph.
The best example is to have people vote, and the winner will have the most votes or Likes at the end of the competition.
You'll get friends-of-friends involved, and it will dramatically increase your reach to new people.
This viral growth is the biggest advantage of online social promotions. And it helps you get more leads without investing more money.
Summary
Promotions are still a great marketing tactic.
And they're also one of the most cost effective.
Social promotions are an essential tool to consistently grow your audience and create more engagement in your community.
Without growth and engagement, your progress will plateau.
And you won't actually accomplish any of your goals.