Does this sound like you?
Content marketing is one of your greatest skills.
You have a knack for writing articles that convert and you have a handful of clients that love your work.
You're passionate about the content marketing game and you're eager to scale your efforts across the board.
The problem?
You don't know where to start. Sure, you can crank out five articles a week. Yes, you know a thing or two about content tools.
But what about running a full-out business? Do you have what it takes to go from freelancer to content marketing agency owner in just a few months?
We bet you can.
In fact, with the right strategy and a tenacious attitude, we bet you can become an agency owner sooner than you think.
If you're ready to see your vision come to life, stick around.
In today's article, you'll discover how to start a content marketing agency in 2023 in just eight simple steps.
Ready to learn more?
Let's get into it.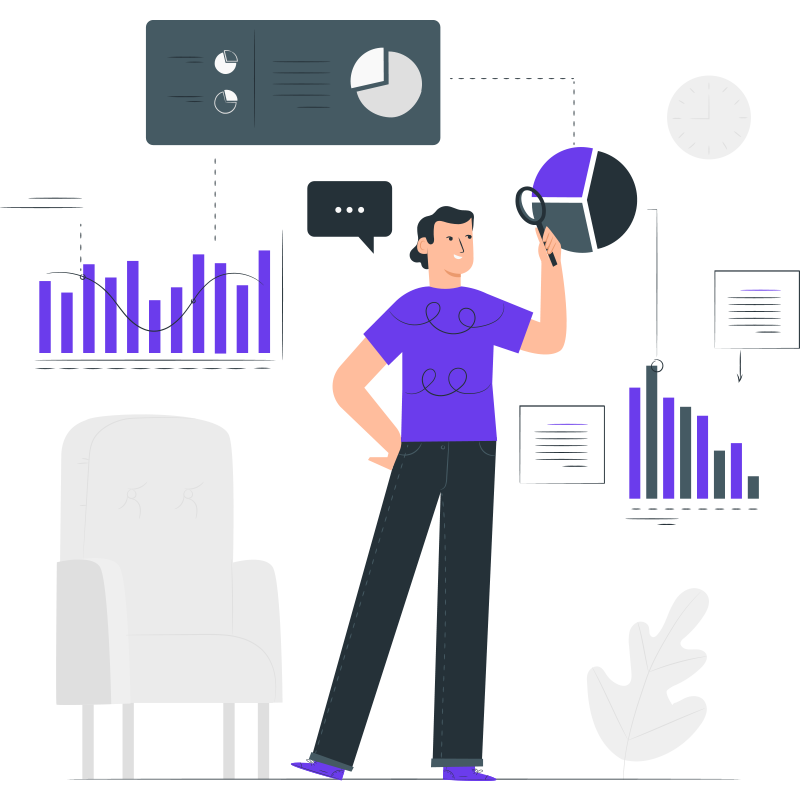 Get long-term ROI.
We help you grow through expertise, strategy, and the best content on the web.
1. Choose your niche
Before you can identify your ideal clients and create offers with them in mind, you need to decide on a niche.
If you've been writing for a while, you probably already know which topics you excel at let alone the best copywriting tools. Either it's Copy AI vs Jasper, but consider the big picture. You might thrive with real estate topics, but do you want that to be your core niche? Is that what you'd like your agency to be known for?
To help you nail down the right focus, consider pinpointing an umbrella niche that can house similar topics underneath it.
For instance, if you'd like to focus on B2B SaaS, then your umbrella might look like this:
Core niche: B2B SaaS

Sub-topics:

Marketing
Business
Cybersecurity
Tech
Project management
Or maybe you'd like to focus on media topics, such as TV packages, radio, and film. Or travel-related topics, like day trips, ecotourism, international travel, and scenic drives. Or youth-centered financial topics, like bank accounts for college students, investing for kids, and teen budgeting apps.
Whatever the case may be, start with your core niche and then narrow down your sub-topics.
2. Solidify your target audience and create your offers
Now that you know what kind of content you'd like to focus on, consider your target audience and the offers they'd find most valuable.
For instance, if you chose visual entertainment and gaming as your core niche, then your target audience would probably be game development companies or eCommerce stores that sell games for pcs.
If you chose youth-centered financial topics, then your target audience would probably be:
Companies that have launched financial apps for kids
Banks that offer financial products and services for kids, teens, and college students such as kid's debit cards
Brands that offer financial gifting and investing products for youth
After solidifying your target audience, consider what you'd like to offer them.
What does your target audience need and value? Do they already have content? If so, how can you make it better? If not, how can you help them establish a content marketing presence?
Finally, create your pricing and packages.
In addition to these, consider approaching developers of financial software targeted toward young users. This could encompass applications that make managing finances fun and educational or platforms that simplify investing and savings for beginners. Understanding their needs and pain points could help you to design offers that effectively meet their marketing goals, whether that's creating fresh content for their brand, enhancing their existing content, or establishing a robust content marketing strategy. With this in mind, adjust your pricing and package offerings to appeal to these financial software companies.
For instance:
4 articles a month for $1000 USD
8 articles a month for $1900 USD
12 articles a month for $2900 USD
Content gap analysis services: $75 per hour
Content audits: $0.20 per word
UX optimization: $0.25 per word
Note: Before deciding on pricing, be sure to conduct research to see what the standard rates are in your chosen industry. For instance, B2B content may range from 12 cents to 25 cents a word, while B2C content might average 10 to 18 cents a word. Look up current rates to stay in range.
3. Identify your secret magic sauce
Your secret magic sauce is what sets you apart from the competition. It's the special value that only you can bring to your customers.
So, think about it.
What makes you different? What makes you special? Why should clients choose your agency over another one?
For instance, are you an anti-fluff guru? Can you create expert thought leadership pieces like nobody else can? Can you boost content scores by 20 points over the target?
Whatever the case may be, get laser-focused on your value-add. Then, come up with a simple statement that reflects your secret magic sauce.
Use the template what + who + why to create your value statement.

For instance:
"We're an anti-fluff B2B agency dedicated to helping SaaS clients get the visibility and authority they crave."
Add your value statement:
To your email signature line
On your landing pages
In your top-of-funnel content
On your website
In your marketing materials
In the bio sections of your professional social media profiles
In your outreach messaging
4. Choose your tools and create efficient processes
When you run a full-time agency, you — and your clients — won't have time for subpar processes.
To run your business like a well-oiled machine, you need fast tools that can help you create efficient workflows.
Here's a quick run-through of the tools you'll need:
A Work OS to manage daily tasks, assign projects, and track timelines
An SEO tool to optimize articles for search
A communication tool to sync up with clients, team members, and stakeholders
Editing and grammar checker tools to scan for common errors and inauthentic copy
Document processing tools to write and edit articles
Accounting and budgeting tools to manage business financials, pay employees, and organize monthly expenses and write accounting services proposal
And here's a quick overview of the workflows you'll need:
Daily workflows for redundant processes (i.e., automating work orders)
An editing workflow to polish every draft before submitting
A collaboration workflow to manage team and client communication
An onboarding workflow to establish new client relationships with ease
A client deliverables workflow to submit articles on time every month
An accounting and budgeting workflow to make sure bills and employees are paid on time
A proposal software to optimize proposal creation and management and help you create a Content Marketing Proposal Template.
Another bonus of having efficient processes? Your agency might be more attractive to buyers if you decide to sell your business in the future. You never know when you might need to take an exit later down the line.
5. Set your capacity levels
Even if you'd love to be the largest agency in the whole US, the worst thing you could do is try to scale too fast when you don't have the support system to do so.
In other words, setting healthy capacity levels is pivotal to your success as an agency.
So, think about it:
How much work can you realistically take on?
Can you afford to hire employees? How many and for what?
What kind of schedule can you keep? Will you have official hours of operation?
To drive this home, create a mock content calendar that includes faux projects and deadlines.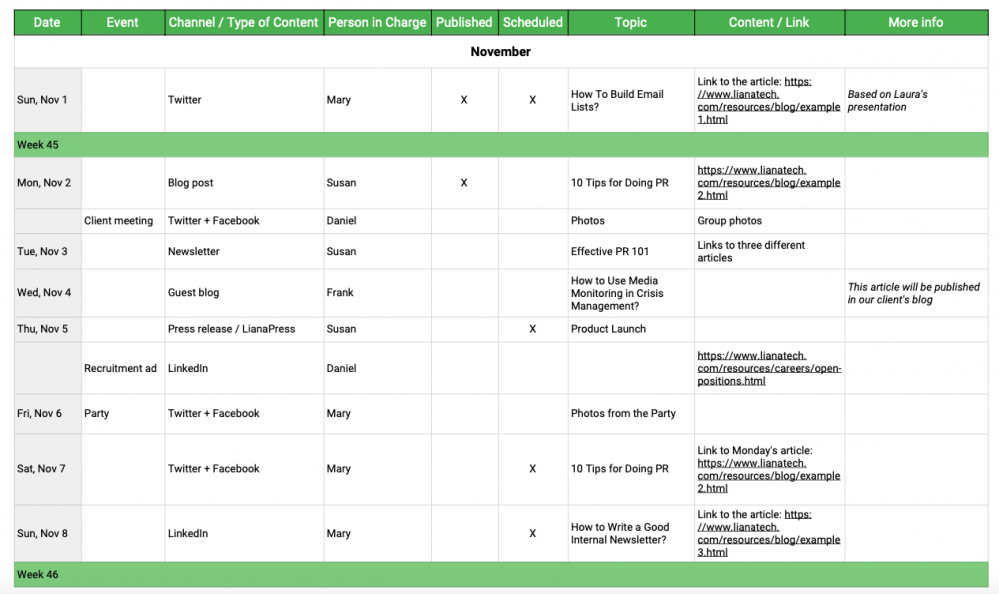 Take a look at what you've created. Can you realistically take care of the content you've scheduled in your mock calendar? Do you run the risk of turning in deliverables past the deadlines or did you build in enough wiggle room?
Practice this exercise until you've created a mock calendar that reflects realistic capacity levels.
6. Get legal: Prepare your contracts and docs
You can't have a legal business if you're not registered as a proper business entity.
Some of your business entity options include LLCs, Sole Proprietorships, and S-Corps — each with its own liability and tax structure. Remember that most business entities are required to pay quarterly taxes. Paying quarterly taxes can be a foreign concept to previous W-2 employees, so you'll need to speak to a professional to learn how to stay compliant.
LLCs are a popular choice for new entrepreneurs as they offer limited personal liability and pass-through taxation. Whatever option you choose, you can set up an appointment with a lawyer, tax accountant, or opt for a formation service to get it up and running quickly and affordably. If you go for a business formation service, ensure you compare different service providers to get the best value for your money. For instance, you could read out this SmallBusinessHQ Incfile vs LegalZoom review post.
Some other docs you'll need to prepare include:
Client contract templates
Employee and freelancer contract templates
Non-disclosure agreement templates
Invoicing templates
A wise thing would be using a contract management software to manage all those contracts and docs under one roof.
7. Solidify your brand image
To become an established brand, you need to be recognizable. That's why it's essential to solidify a brand image your clients and target audience can easily remember. To establish a long-lasting impression for your brand, you first want to create a logo that will evoke instant associations with your brand among consumers.
If you don't have the resources to hire a graphic designer just yet, you can opt for free ones to get started.
For instance, you can:
Use free vector graphics to create a company logo and brand elements
Create a free portfolio on Medium.com
Create an affordable website with Squarespace (free trial available)
Gather customer testimonials on LinkedIn
Use Canva to create social media graphics and client-facing documents
Utilize free design templates for social media and email marketing campaigns
8. Create your outreach plan
And finally, how do you plan to score new clients and keep them rolling in?
Your outreach plan isn't just a nice-to-have. It's a blueprint for gaining recurring sales, so be sure to treat it as such.
Here are some of our favorite outreach tips:
Post an article every day on Linkedin — be sure to tag the website your article was published on
Use LinkedIn to build new connections, apply for work, and set yourself as "open for business" — you can also DM ideal clients
Scour job boards like Content Writing Jobs, Contena, ProBlogger, and Peak Freelancing
Use organic marketing strategies, such as blogging, email marketing, and social media marketing
Use paid marketing tactics, such as social media ads, Google ads, and PPC ads
Create a cold pitching protocol (use Google to search "niche name / audience type" + "writer needed" or "agency needed")
Create a warm pitching protocol (reach out to all of your previous clients)
Hire a sales/outreach director if you can afford it
Refresh yourself on proven outreach strategies by devouring well-known marketing books
Wrap up
And that's it! We hope this quick run-through has inspired you to take the final leap to create your ideal content marketing agency.
Remember, it all starts with a strategy and a plan.
Create your strategy using the insights above and then implement your plan, step-by-step.
Before you know it, you'll be working with dream clients and running your very own content marketing agency. (We'll be the ones in the back with the champagne.)
To your success!