Many people today are going into business thinking they don't need any type of marketing or PR. Instead, they let their work speak for themselves. For this reason, it's abundantly clear that we need to present the importance of marketing in creating and strengthening your online presence.
In this article, we'll explain the importance of different marketing strategies and how they equate to securing a strong online presence, no matter the industry. With our easy step-by-step guide, you'll be well on your way to create a bulletproof marketing strategy that will usher in great results.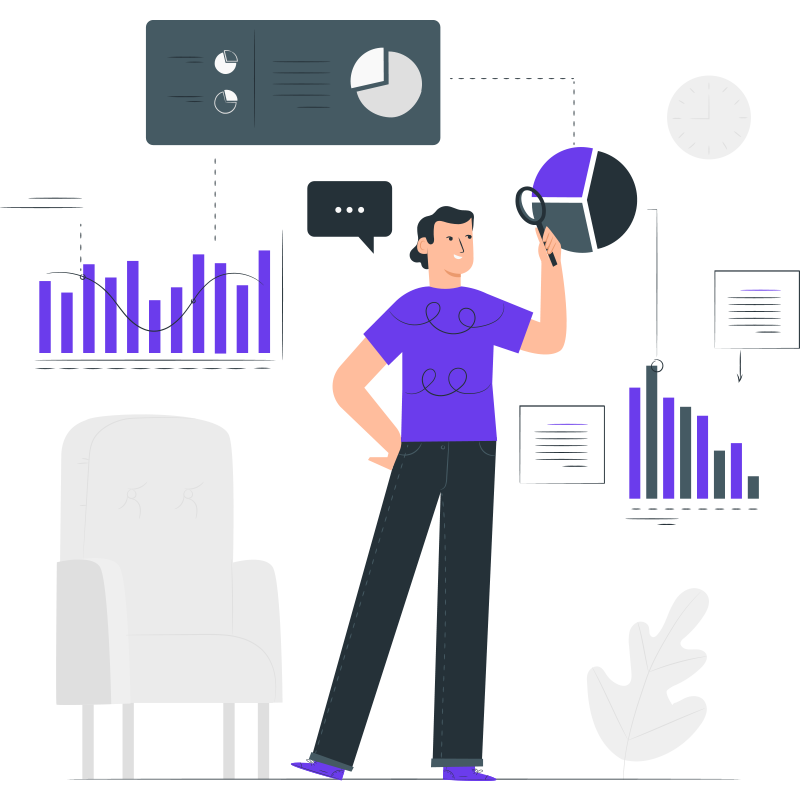 Get long-term ROI.
We help you grow through expertise, strategy, and the best content on the web.
Know that brand awareness never ends
Contrary to popular belief, brand awareness isn't just a starting strategy that helps you gain popularity in the first week of a business. Brand awareness should continually be worked on since it's the basis of your marketing efforts.
The thing that usually confuses people is the difference between brand awareness and brand recognition. While brand recognition doesn't go beyond remembering a brand's visual identity, brand awareness expands to remembering past experiences one had with a brand, knowing how they feel about certain products and services and talking about them in their private lives.
The importance of brand awareness lies in forging bonds between you and your audience and securing repeated sales. A good way to jump-start your brand awareness efforts is to promote it via multiple channels and stand out not just with the uniqueness and quality of your products and services, but with your brand story as well.
If the entirety of current digital marketing efforts could be condensed into a single word, it would be – storytelling. This is where you want to not just differentiate yourself from your competition, but also create a brand story that goes beyond your product and that people can relate to.
Take all that into consideration when creating content, because it would be a shame to only create clearly promotional content that doesn't show the bigger picture and evoke people's feelings. A great example of that would be Benetton ads. They don't necessarily put the focus on their product, but their distinctive messaging makes sure you know exactly which brand stands behind the ad.
Work on your SEO
Just like brand awareness, search engine optimization is a group of activities you'll continually have to work on by adding new content, keywords and building your backlink network.
The importance of SEO lies in the fact that the majority of online traffic is driven by search engines. While advertisements on social media and Google will help you reach your short term goals, investing in SEO will give your brand long-term benefits since your content can garner more and more attention over time, without the need for constant investment.
Aside from on-site SEO efforts, you'll also want to work on your off-site SEO by building your backlinks, writing guest blogs for other domains and working on social media and influencer marketing.
You'll also want to work on your site to ensure it's fast, has a great user interface design and loads quickly on both desktop and mobile without losing any functionality.
Make value-based content
The best way to ensure your audience is going to return to your website over and over again is by continually providing them with valuable content. The best way to present such content is by a combination of blogs, videos and online quizzes.
Our suggestion is to produce content that is value-based, as well as some lighter content in order to create an easy to digest flow that doesn't feel over the top. This can go in a myriad of different ways. However, we'll focus on educational content, content reviews, case studies and quizzes that gamify your content.
Educational content
Audiences love learning about new products and services that can help them in their day-to-day work obligations, as well as learning about maximizing the services they already use. The way content creators often do that is with tutorials, how-to videos and step-by-step guides.
The allure lies in the fact that it's not overtly promotional, offers real value and covers topics that audiences are interested in. On the other hand, this type of content is amazing for brands because it's engaging, and in the long run, it helps them create bonds and establish trust with their audience.
Providing your potential clients with valuable content without asking for anything in return, makes it easier to attract and retain customers.
Product reviews
The best way to put your product in the centre of your blog or video is to review it. Talk candidly about all the features and benefits, as well as the journey that lead you to create it. This is where you'll want to put your personality front and centre.
The only way people are going to know your product can help them is if you open up about a problem you had that lead you to create the solution. Describe how quickly your product brought in results, what kind of ROI it gets and how much time it saves you while not compromising the quality of the end result.
Don't avoid showing proof, customer testimonials and talking about different benefits for different people. Try to put yourself in your audience's perspective and think about their needs and habits and features they will find interesting.
Case studies
Case studies are an effective way to promote your product or service because of one main point: the third person's perspective. An objective voice that isn't affiliated with your brand telling their story and how you helped them grow.
By presenting an actual business you worked with, you're putting a face on a brand and that stands out more than any statistic or chart. Case studies allow you to get on your audience's level and talk to them about their pain points as well as showcase the solution to their problems.
When making your case study, present your case studies with numbers and statistics that show growth, but don't rule out the human factor. Make room for your clients to talk about how they grew as a brand, how many people they got to hire and how they impacted their customers' lives.
Gamify your content
As we said before, the high-quality content you create that offers your audience a great deal of value should be mixed with some light entertainment, just to mix things up and create a flow that is easy to follow and doesn't feel too pushy.
That's why we believe in gamifying your content. Gamifying entails making non-gaming content seem like a game. Marketers do this with sign-up sheets, giveaways and quizzes. Creating quizzes as a part of your content strategy works well because they bring instant rewards and a sense of accomplishment.
Dive into human love for competition and provide progress bars and different badgers that symbolize levels, with smaller prizes waiting at the top.
Upgrade your social media strategy
Using social media is a must these days. However, posting without a bulletproof strategy won't get you far. The best way to upgrade an existing social media strategy is to revisit your goals.
Go through your analytics and see if your audience has changed over time. In a lot of cases, brands see their audience maturing and with that, they make changes in their lifestyle and spending habits. If that happened to you, you should shift your strategy to better align with your current audience.
Another big factor you should consider is your competition. Research their social media behavior and track how they respond to new trends and changes in the marketplace. If you want to generate leads on your socials, you need to engage in social listening and see where your audience is and go to them, instead of having them go to you.
Once you have a better understanding of your audience and the strategies your competition uses, it's time to revamp your social media advertising. Change up your audiences and make your messaging more in line with the new goals you've set for your brand.
Once you do all that, keep track of the changes and test and analyze frequently to make sure your efforts and budgets are being maximized.
Moreover, make sure to not lose track of social media's intended purpose, which is of course to engage with your followers. Answer their questions, encourage them to tag and mention you in their posts by liking and commenting on as many of them as you can and create unique hashtags to be used when talking about your products or services.
If you're engaging with them on a regular basis, they will be more likely to engage with your posts about new products, so keep that in mind.
Conclusion
Creating a harmonious online presence that attracts clients is a process that doesn't happen overnight. However, investing in brand awareness, SEO and an all-encompassing content strategy will definitely pay off.
Marketing strategies should be upgraded often, in order to have better results, in order to keep up with the competition and just to mix things up a bit. Do you agree?