Have you heard or seen the hit TV drama "Mad Men"? I'm sure, many of you have. Oh, the glamour of working in the advertising industry in the US in the 1960s, with boozy business lunches and sleek office decor, with text-based images as the main form of ad.
And then wonder, how much of it has changed?
It is undeniable, the industry has changed in a big way. Traditional advertising as we know it has shifted towards digital marketing. However, creative content and storytelling were there already in the 1960s, just communicated through different channels in a different form.
The content marketing industry is growing at a fast rate – expected to climb to $137 million by 2026 from $42 in 2018. Due to the shift to online driven by the Covid-19 pandemic, and the rise in the usage of social media apps such as Facebook, Instagram, Twitter, and Whatsapp, this growth is expected to continue with a CAGR of 16% between 2020 – 2027.
Targeted personalized content creation is nowadays more important than ever, and easier with the help of extensive customer data available to us. With software tools and data, one can create truly engaging content and distribute it through the right communication channels to the right customer.
So, in this article, we explore what is content marketing, really, and bring out several excellent and useful content marketing examples.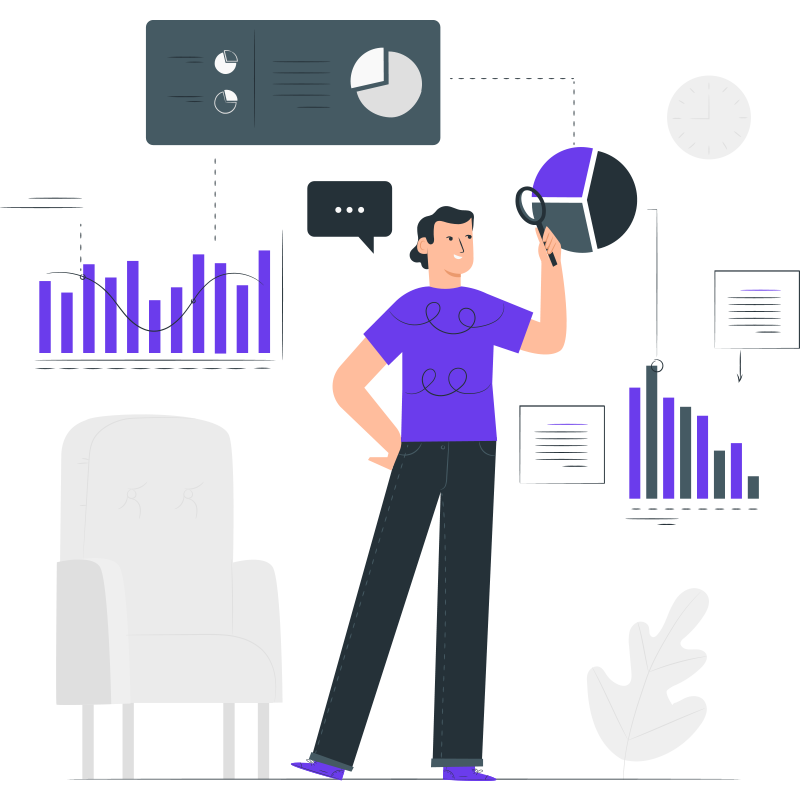 Get long-term ROI.
We help you grow through expertise, strategy, and the best content on the web.
What is content marketing?
Content marketing, in a nutshell, is selling without coming across salesy.
Content marketing can be defined as the creation of engaging content in the form
of a blog post, article, video clip, visual content, white paper, or a podcast, which is then shared either via social media, blog, or emails, in a way that informs, educates, or entertains its target audience.
The end goal is creating a value proposition, attention, and hype around a service or a product without being intrusive. The focus should be on creating awareness, which would ultimately result in sales growth and new leads.
The difference is that content marketing brings a value-providing approach, whereas traditional advertising brings a sales-oriented approach. For a clear differentiation, here you can find an excellent list of Instagram accounts to follow for small businesses, to see how they have created a clear value proposition through their content.
On top of this, let's take a couple of examples.
This ad is selling cars.
This podcast is also selling cars.
Which one did you find more engaging, more informative, and less salesy?
Of course, it could be both, depending on the viewer. However, the second example really engages the listener through interesting information, and not just the product features.
Let's continue with some nice examples to get you inspired.
Useful content marketing examples for inspiration
It isn't easy to put a good content marketing strategy together.
Before you create and write any piece of new content, it is crucial to know who you are trying to reach. You should always have an outreach strategy built in your campaign, and know who you are targeting.
Hopefully, after reading this article, you will come up with an excellent idea for a podcast to promote your B2B business or find that sharing content through social media to promote your online store is the right way to go.
Below, we will focus on two of the most popular ways of content marketing in 2021: video sharing through social media and content sharing through blogs. Furthermore, name some examples for the growing trend – content marketing through podcasts.
Content sharing through video and social media
Sharing content through social media is one of the most popular ways to share knowledge about a product or service. Content marketing and social media marketing go hand-in-hand, with one being the educator and the other the communicator.
Brands are racing against each other to impress and win over the customers. In that case, how do you measure the effectiveness of your content? Well, technology comes to your aid. When on Instagram, you can use tools for Instagram competitor analysis to gather insights into what your competitors are doing and how you can amp up your game.
What is more, video content marketing through social media is an excellent way to present your service or product to potential customers, the combination of the two is gaining more and more traction.
New research into video content marketing by Wyzlow discovered that a total of 86% of businesses questioned plan to use video as a marketing tool in 2021 and 69% of people currently not using video said they expect to start from 2021.
Here are some great examples to inspire your strategy.
1. LEGO movie and Mattel via YouTube
Ok, maybe not a video per se, and not through social media, but the Lego Movie in 2014 might just be one of the greatest examples of content marketing to date.
Thanks to this hit movie, or should we say a hit content marketing piece, Lego announced a surge in sales and surpassed then the biggest toy company Mattel for the very first time back in 2014.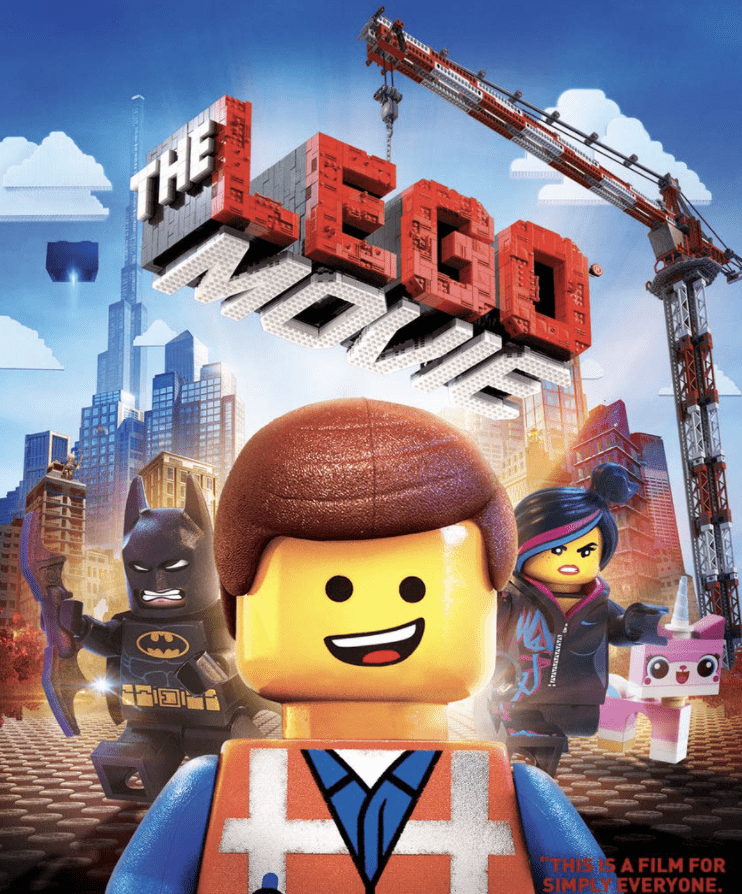 Lego went as far as producing a full-length movie to promote their product. And it worked – because at the end of the day, their target audience (kids) don't want Legos because of their special features, but because of their popularity.
Since then, the innovative Danish business has risen to be the largest toy company in the world, reaching $7.21 billion in revenue in 2020, leaving Mattel in 4th place.
And interestingly, since the pandemic and the shift to online, Mattel has also deployed content marketing in their strategy.
After statistics showed that over 80% of the parents said their kids watch videos on Youtube, they ramped up content creation on their Barbie Youtube channel and created a new "Playroom hub" full of engaging and educating blog posts on Barbie's web page.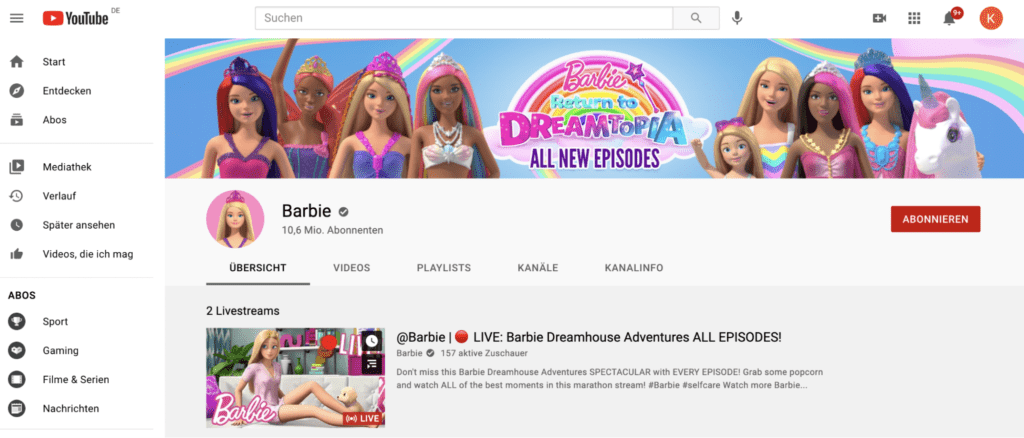 2. Gymshark via TikTok
TikTok is gaining popularity amongst brands, used specifically for video content marketing. Over 60% of TikTok users are Gen Z – 60% are aged 16-24 and 26% are aged 25-44, a total of 80% are between 16-34. In January 2021, TikTok was the most downloaded app globally with nearly 62 million installs.
Promoting through TikTok worked well for Gymshark, a fitness and lifestyle brand with a clear target audience between ages 18-26, known for their social media and influencer marketing strategy.
In a "#Gymshark 66" campaign in 2019, they asked fans to share personal fitness goals and post before-and-after content on TikTok. For this, Gymshark partnered with six TikTok influencers like Rybka Twins and Twin Melody with a combined following of nearly 20 million, who then created and posted 15-second video clips of dance and acrobatics.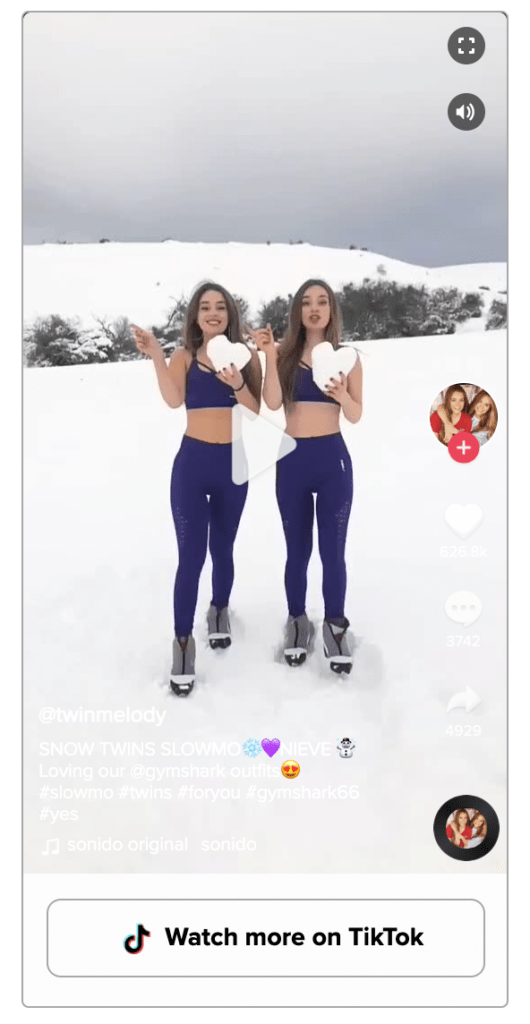 This campaign was a success, earning them nearly 2 million likes, 12k in comments, and post views of nearly 46 million times.
3. Apple via Instagram
Since the launch of Instagram in 2010, the picture-sharing platform has grown to be the fourth biggest social media channel in 2021, with over 1.2 million active users. Instagram ranks 4th after the likes of Facebook, YouTube, and Whatsapp.
With the introduction of stories and reels, Instagram is continuously finding ways to keep ahead of the competition. This also allows content sharing in different forms.
Apple's #Shotoniphone reels are an excellent example of content sharing through social media. They have commissioned several videographers to produce magnificent and tantalizing content filmed with iPhone cameras, highlighting the key product features.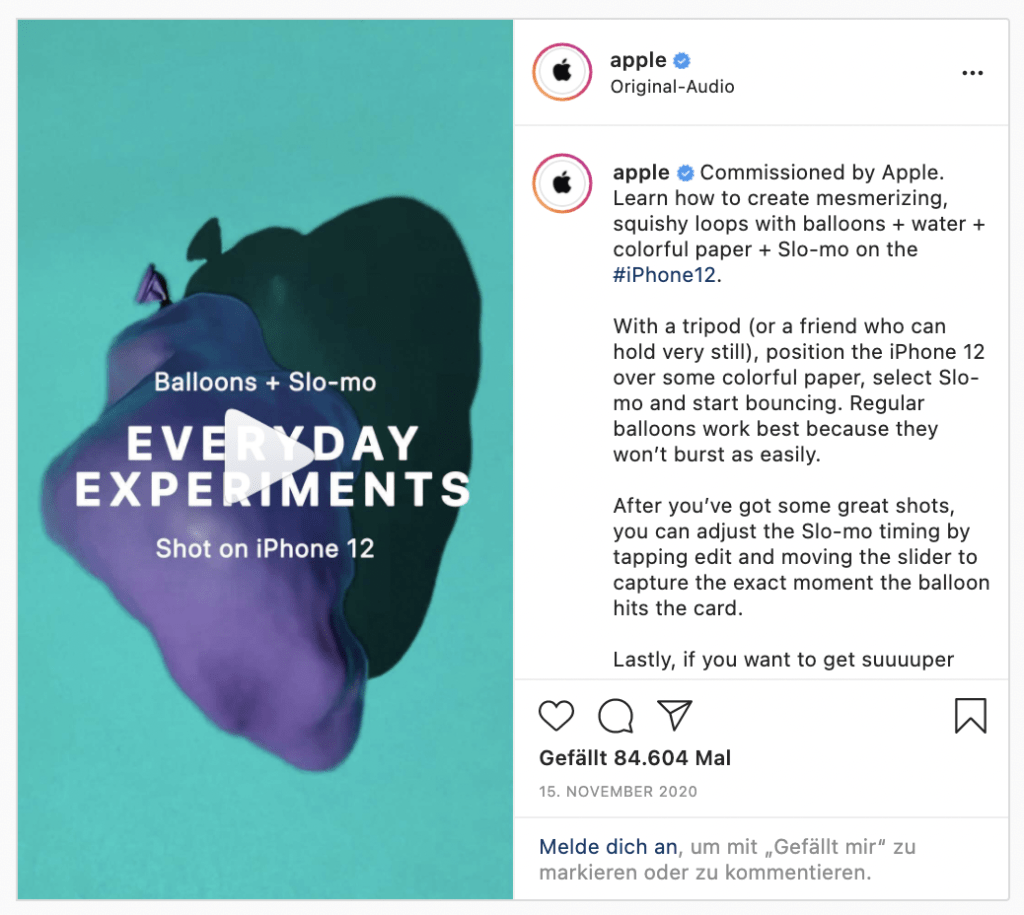 Content sharing through blogs
In 2021, blogs are still one of the top ways of content after video sharing.
Blogging helps to attract visitors' attention with educating information and can provide useful tips or updates regarding your product or service. What is more, helps to maintain social media presence and optimize your SEO efforts.
Here are a couple of excellent examples to get you started.
1. "Into The Gloss" blog
Beauty and skin-care brand Glossier started out from a blog.
Emily Weiss, editorial assistant at Vogue at the time, started her style and beauty blog "Into The Gloss" in 2010, curating stories of beauty routines of well-known icons like Jenna Lyons and Karlie Kloss. The blog attracted a following of over 1.3 million visitors over the next 6 years.
Thanks to her huge following from curating the ITG blog, in 2014 she launched her e-commerce business Glossier, which has become one of the most beloved beauty and skin-care brands amongst consumers globally.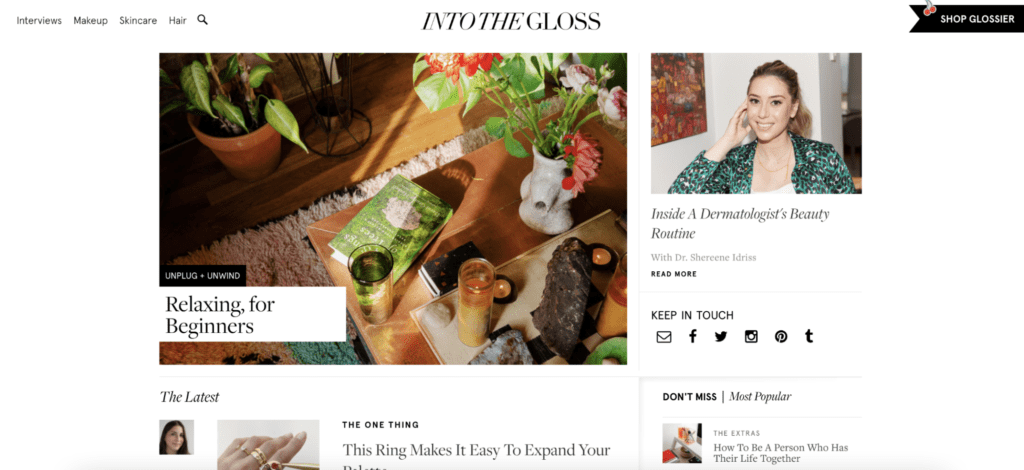 Some of the main reasons her blog was so successful:
She used content as an affordable way to build a loyal audience
She didn't focus solely on the product, but building a lifestyle around the product first
She created a followership who is loyal and already into the brand story and lifestyle
She used content for community building, launching an inclusive brand at the very right moment, where the industry was known for its selectivity and exclusivity
2. Hubspot blog
A look away from the e-commerce industry, let's check Hubspot's blog. Hubspot is an inbound marketing & sales software provider, an all-in-one software platform for inbound marketing and sales CRM.
Their blog is one of the best for keeping up with the industry trends. Hubspot is using its blog to educate its audience on topics around marketing, sales and customer service, and general business matters.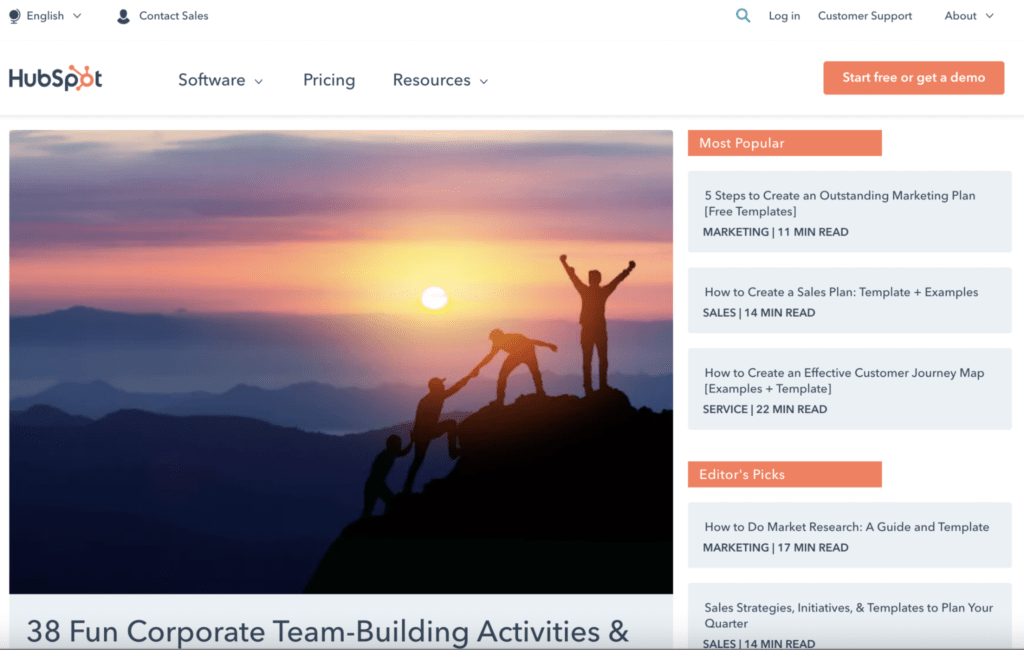 Content sharing through podcasts
Podcasts are still a largely underexplored area for the purpose of content marketing, however an excellent way to truly engage your audience without direct selling.
Podcasts are attractive for marketers and businesses, as they can be easily listened to practically anywhere – on the daily commute, whilst exercising, or doing chores around the house.
In addition to topics around politics, society, comedy or culture, and music, podcasts are increasingly becoming an innovative solution also for marketing.
1. Jeep podcast – user-generated content
Jeep has excelled in content and word-of-mouth marketing.
Navigating the challenges of the Covid-19 pandemic, they have focused on social channels such as YouTube for product search and discovery, Instagram to depict Jeep lifestyle through captivating imagery, Facebook to get customers sharing experiences, and Twitter to share information and updates.
Early April 2020 they launched the #StayOffTheRoad social campaign, which was promoted across named social channels.
But most importantly, what they have excelled in is their by-word-of-mouth marketing. There are several Jeep podcasts online, created by enthusiastic fans who have all bought into the Jeep lifestyle. The most popular one is "Jeep Talk Show, A Jeep podcast!" with nearly 1.5 million downloads and streams.
2. National Geographic podcast
Another great example of the clever use of podcasts for marketing is National Geographic.
Their official podcast "Overheard at National Geographic" was released and conceived by their marketing team. A truly innovative idea, that suits their target audience.
By turning in to the podcast, one can listen to the intriguing conversations overheard at their headquarters. Several topics, from how the number of Chimpanzees living in the forests of Nigeria is calculated, or how Nat Geo's photo engineers adopt new technologies to capture never seen or heard sights and sounds are discussed in the podcasts.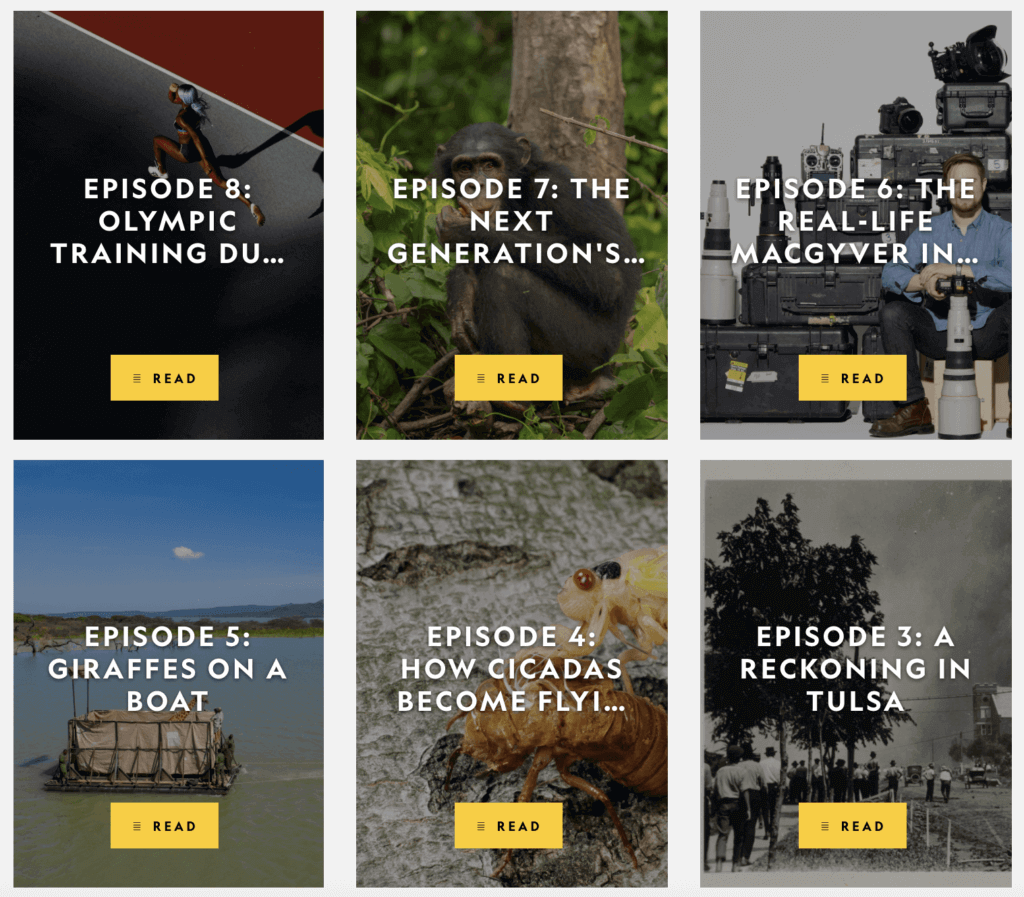 Use content marketing to catch the attention of your audience
We've come a long way since the 1960s. The marketing industry has changed immensely with digitalization. Customers would no longer tolerate seeing sexist ads that were dominant at the time – diversity, inclusivity, and personalization in marketing have become imperative.
People expect positive, thoughtful, and respectful views that reflect in content. It is more important than ever to empower your customers with your stories in a convincing and exciting way. To really know your clients and tweak content accordingly in order to increase brand awareness and gain credibility.
Video content, if done right, can be a powerful way to show your customers who you really are as a business, as it is accessible to a large audience and works well across several channels.
Blogging is still an excellent way to attract new clients or customers through captivating and educating information and is an excellent option for both B2B as well as B2C businesses.
Podcasts, a fairly new form for content marketing, will get your audience hooked and listening, without noticing that content is related to marketing.
Hopefully, you have found an example that inspired you to go and think about new ways and concepts to market to your audience.