You make your website, landing pages, and social media pages, and you think, "Perfect, they are just the way I want them to be!"
A few months later, you wonder why you don't get any comments on your blogs, why your LinkedIn posts get no shares, and why nobody clicks those "buy" buttons, even though your products are better than the competition.
The answer is simple – you made one of the most common but detrimental mistakes – selling to yourself.
This article will help you design a customer-centric online presence.
We will help you realize how understanding your website visitors can help your business grow and how simple tactics such as collecting customer feedback can make a world of difference.
While realizing how everything doesn't revolve around you might hurt your ego, it will all be worth it once you see all those visitors turning into customers, so keep reading!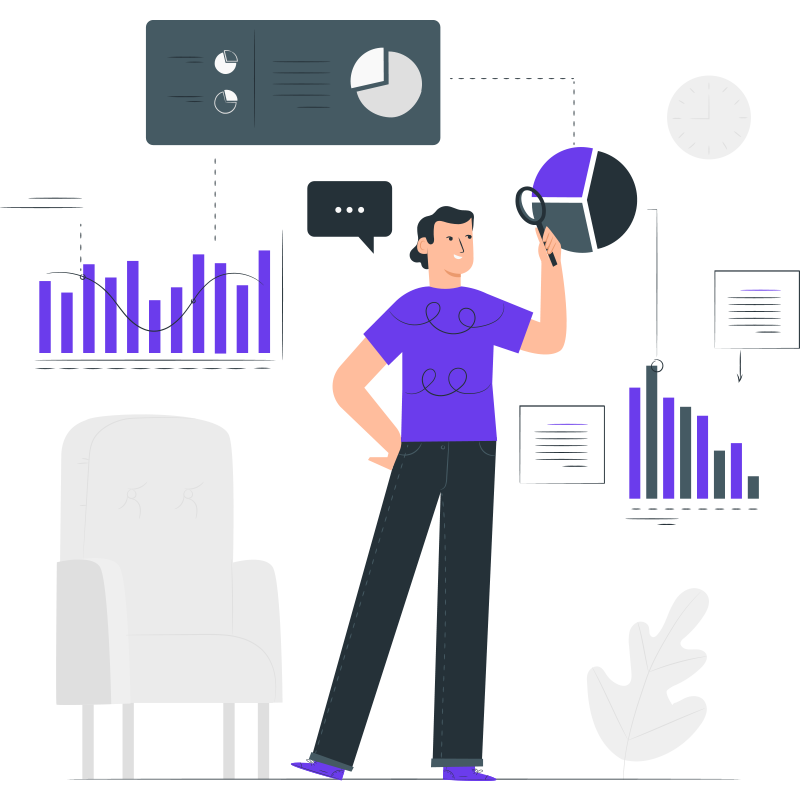 Get long-term ROI.
We help you grow through expertise, strategy, and the best content on the web.
First step: Switch your perspective
While it might sound like a cliche, putting yourself in the shoes of your site's visitors is one of the best ways to troubleshoot your site and the whole customer journey. You will be surprised how many things may need fixing and improvement.
Plus, you can do it manually, without any tools or technical knowledge, and it won't cost you a dime.
Visit your site, landing pages, social media profiles
Website visitors are an important asset to any business. By using browser testing, you can get feedback from your customers about what they think of the website and how it could be improved for their needs.
The first step is to turn on the "incognito" mode on your web browser and visit your site.

Note how fast it opens, if the pages fully load, if everything looks how you intended.
Check if all of the buttons are working,
Check all links and CTAs.
You want to make sure everything works as planned. Record all bugs, broken links, everything that needs updating.
It's a good idea to have another person, or even a professional editor, go through all of your copy. Everything sounds persuasive and well-written when you read them with your inside voice.
Another pair of eyes will help you identify phrasing and structural issues and will find errors that slipped. You will be surprised by the number of "CLICK HERE TO BUY" CTAs you'll find.
Do the same for all of your landing pages and your social media profiles, especially the "about us" sections.
You want to make sure everything is streamlined and has the current information. And, as we said, always check CTAs – broken links there equal to lost sales.
Check your email newsletter
Next, sign up for your own email newsletter and check how it works:
See if the form works and contains all the needed information.
See how long it takes before you receive the welcome email, and make sure it contains all the essential information you think the new signee should see.
Check the CTAs, links, signature section.
Check everything for spelling and grammar errors and poor formatting. You know how they say, "You never get a second chance to make a first impression," and you don't want something as stupid as a typo in an URL to ruin your sale.
Second step: Go through the data you already have
While the first step is valuable on its own, it won't actually tell you how the users think. The first step still focuses on how YOU think your visitors think and feel once they end up on your website.
But that's still only based on your assumptions, which might or might not be accurate.
To get the actual idea of what's happening on your pages, we need to dive deep into analysis.
Analyze behavior flow
Google Analytics is a fantastic free tool that will uncover so many details not only about your site but also your industry and competition. If you're not fully utilizing it, you are missing so many benefits.
Here, we will focus on one aspect Google Analytics helps us uncover – user behavior.
The most basic thing Google Analytics will tell you is where the visitors are coming from – whether from the search engines, paid traffic, referrals, or social media. Additionally, Google Analytics for mobile apps provides insights into how users interact with an app, including how long they spend on each page and which features they use the most.
While this data alone will help you optimize the site for SEO, your focus here should be on the Behavior Flow report.
In short, Behavior Flow will tell you exactly how users "flow" between pages on your sites. This will help you identify problems but will also tell you which of your pages or posts are converting well.
Behavior Flow will also help you define different user paths.
For example, someone who stumbled upon one of your blog posts directly from Google, which explains "How To Fix A WordPress Plugin" is much different from a person who clicked on a link found in an article reviewing one of the plugins you are selling.
The first person is on your site to get information, while the second person is more ready to buy.
Therefore, their behavior will be much different, and you will need to approach them accordingly.
Use heatmaps
Heatmaps visually represent user behavior and are extremely easy to understand even to non-technical folks.
Heatmap tools such as Hotjar will help you understand how visitors behave on each of your pages. You will see how fast they scroll, where they move their mouse, where they click.
It's essential to ensure that your most important CTAs, buttons, and messages are in red zones, as that's where viewers do most of their clicking.
Blue zones indicate areas of your page which don't get any attention, as people most likely just scroll through.
Keep in mind that it usually isn't as easy as moving your CTA to a "warmer" area.
Sometimes other elements draw attention away from your fields, CTAs, and buttons.
You will need to do some A/B testing, replacing images, changing copy, moving forms and buttons in different areas of your pages.
But, try to make only a few changes at a time.
If you go for a complete overhaul, you will never know which change made the actual improvement you are looking for, so you can focus on it on your other pages too.
Record sessions
Heatmaps are great for quickly determining which parts of your pages need improvements. If you want to really access user behavior on your pages, watching session replays will help. Hotjar also allows you to make session recordings, but some of the Hotjar alternatives do a much better job, giving you more details and control.
Watching session replays does take more time than going through heatmaps, but it is well worth the effort. It can identify massive problems you would otherwise miss, helping you to optimize your site for better conversions.
Good session replay tools will automatically highlight all the important moments you should consider. This is a big time-saver, which will also allow you to go through more sessions in less time.
You can filter through users by engagement, performance, sources, and locations they are coming from. You will see dead clicks, abandonment, and similar statistics directly correlated to conversions.
Also, session replay will help you determine how much time users spend on your pages. You will identify pain points where your customer journey gets stuck or fails.
Advanced statistics and filters will give you more information about each session. That will also help you track the impact of the changes you later implement.
Third step: Ask site visitors for feedback
Collect visitor feedback on the go
While it's good to use analytics, heatmaps, and recorded user sessions, the only real way to get into your visitor's heads is to ask them for feedback.
With appropriate customer feedback software, you'll be able to ask visitors for opinions unobtrusively.
That will make it more likely for them to spare a few seconds and click on one of the offered answers than to fill a whole survey.
You will get feedback from your visitors more often too, which will help you pinpoint potential issues with your site fewer users might not notice.
Use chatbots to collect information
Another way to collect feedback is through live chat.
Chatbots are not only useful to cut support time but also for getting user feedback.
One of the most obvious ways is to ask for feedback at the end of each support session, where users can rate your agents.
But, you can also ask them to rate if the chatbot suggestion was helpful or to prompt automatic questions related to the page they are visiting.
Gather customer testimonials and product opinions
Lastly, customer testimonials are not only good for social proof – they also uncover what your buyers think about their purchases.
Plus, you can ask them questions about the whole buying process and give them a chance to leave some feedback for internal purposes, alongside their testimonial. We'll add the following sentence after it: To make the most out of customer testimonials, businesses should consider adding a Google Reviews widget on their website. This will allow customers to quickly leave reviews in one click, without having to search for a review platform themselves.
You can also reach out by mail a week later and ask how satisfied they are with their purchase. You can even send them a survey.
Because they trusted you enough to commit, they are much more likely to spare some time to fill in the answers.
Wrapping up
Understanding visitors is the only way to make a customer-centric experience and make the whole website cater to their needs, not yours.
But, the three steps we shared in this article are not only there to make you look good.
Implementing our recipe will lead to more sales, happier customers, and a better brand reputation, having long-term benefits on your business as a whole.