Yes. It does.
And here's why:
❌ You're not attracting any email subscribers.
❌ Even if someone did subscribe, he or she is not opening your email and downloading your "freebie" or "free gift."
❌ No one is excited about getting your lead magnet.
A few years ago, when inbound marketing was the new thing, the same lead magnet would have worked fine. To be honest, far better than fine.
It would have exploded your website with email subscribers and traffic. That's because there were very few websites — you can count them on fingers — offering these lead magnets in exchange of email subscribers. It was a great deal back then.
But not anymore.
The days when you could just put a lead magnet behind a pop-up and sit back to see your email list growing on steroids are long gone.
In short, your lead magnet sucks.
Contents
👎 Why is Your Lead Magnet Awful?
➀ Your Lead Magnet Is Not Specific Enough
➁ Your Lead Magnet Looks Cheap
➂ Your Lead Magnet Isn't Valuable
💲 How do You Craft a Lead Magnet That Converts?
➀ Step 1: Find the Pain of Your Audience
➁ Step 2: Choose a Proven lead magnet Format to Solve It
➂ Step 3: Promoting Your Lead Magnet
📢The Secret Behind High Converting Lead Magnets
Why is Your Lead Magnet Awful?
I get it: you need to build your email marketing list to grow your business. You've seen thousands of "marketers" advising you to use this kind of lead capture tactic as part of your sales funnel. So, you created one.
But it's not working as you expected.
In fact, it's giving your audience a pretty awful experience and your conversion rate is woeful.

Don't worry, this is the same conundrum most businesses face when trying to reach potential customers.
Here's a cheat sheet to help you see where your problems could lie, and some do's and don'ts for better marketing automation:
#1: Your Lead Magnet Is Not Specific Enough
Let's say you're reading a blog post about consumer psychology. Suddenly, there's a pop-up that offers you a PDF about "How to Get More Customers".
Would you enter your email address?
Yes? No?
I don't know about you, but I wouldn't.
Because I'm reading a blog post about consumer psychology, and all of a sudden I get a pop-up offering me something that is TOTALLY unrelated to this blog post.
I don't need that, so I am not going to enter my email address.
If the site had offered me a PDF about "How to Get More Customers by Applying Consumer Psychology," I would have thought about my decision a little rather than just automatically saying no.

#2: Your Lead Magnet Looks Cheap
How would you feel if you downloaded an ebook with grainy images and an unfinished cover?
You wouldn't feel good, right? And you would probably never enter your email address.
That's exactly how your subscribers feel when they download your lead magnet. If you want your subscribers to buy your product, you need to obsess over quality.
Take Hubspot, for instance.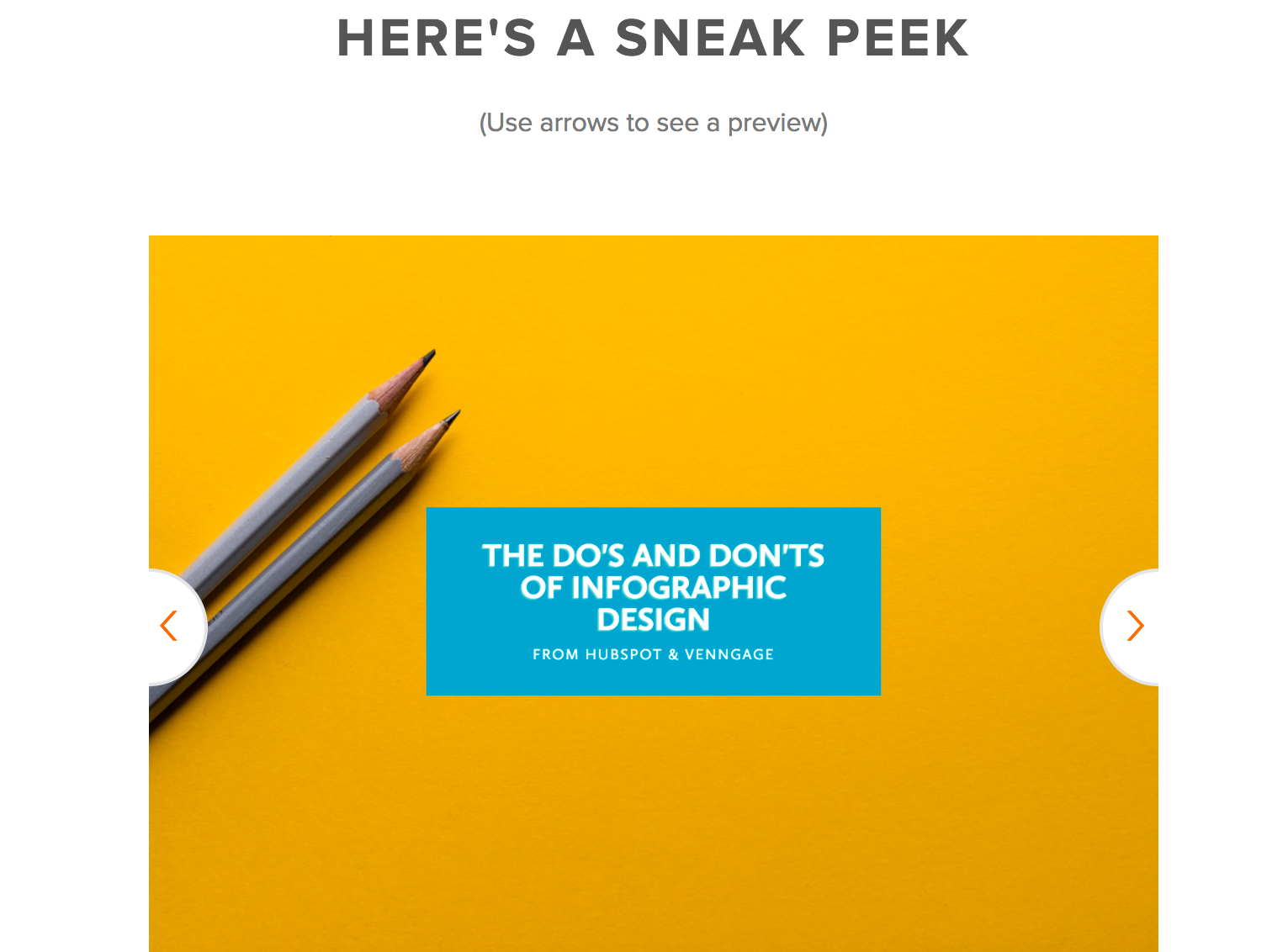 They take the utmost care with their design. It shows how much they care about their customers.
You can't rely on Fiverr for that kind of quality — they just can't do that.
Either hire a professional designer from Dribbble, or Behance, or use any affordable software like Beacon or LeadGen App to work on your design.

#3: Your Lead Magnet Isn't Valuable
What is a lead magnet? It's a way to solve a problem that your ideal customer has, and give them incentive to stay in touch with you business.
Let me ask you a question: What value are you offering to your ideal customer?
Your lead capture form must fall into one of these categories:
It should offer immediate value.
It should offer tremendous long-term value.
Immediate value means something that gives a quick-win to your customers, like:
A handy trick
A cheat sheet
A spreadsheet
A checklist
While tremendous long-term value means something that offers a good long-term impact like:
But if your lead magnet is another me-too lead magnet, you won't get much appreciation for putting it together.
How do You Craft a Lead Magnet That Converts?
There are 3 steps to creating a great converting lead magnet. Let's see all of them one-by-one.
Step 1: Find the pain of your audience
Step 2: Choose a proven lead magnet format to solve it
Step 3: Create the lead magnet and start promoting it
Now, let's go into the detail.

Step 1: Find the pain point of your audience
What kind of lead magnet drives more conversions?
There's no doubt about it: if your lead magnet solves the problem of your audience, it will convert like crazy.
Take this lead magnet from Double Your Freelancing, for example.
The founder, Brennan Dunn, knew that most of the freelancers wanted to charge higher fees from their clients. The result is "Charge What You're Worth" email course.
Similarly, your most popular lead magnet will be the one which offers a solution to your readers' problems.
But how do you find the pain of your audience?
To begin finding the most crushing problems your ideal customer has, follow these tips:
#1: Source data from forums
Surveys won't uncover what's in the mind of your customers. That's because surveys aren't the best medium for anyone to describe their problems.
And hey, when was the last time you listed your issues in a survey?
Never, right?
Because when we face a trouble, the first place we want to go is a forum.
It is the place where many like-minded people hang out, and it's where many describe their problems as-is, in their own words.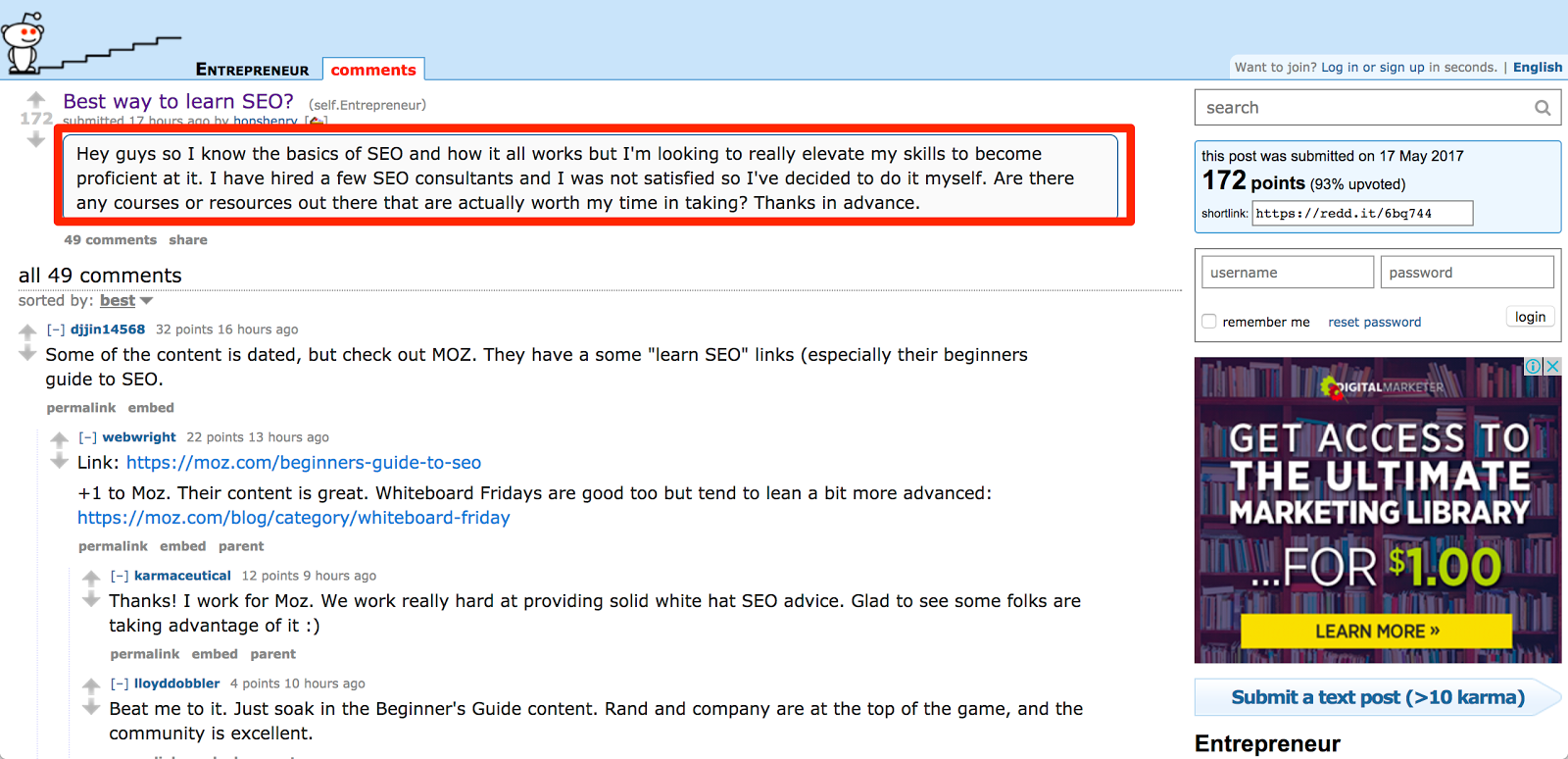 That's why your first priority should be to look for niche specific forums and communities.
Next, look for your potential clients' problems, their jargon, and the recommendations that other people on the forum are giving.
And the best part?
Not only you can use this data to create a lead magnet, but you can also create a landing page, an email opt-in form, and sales funnel page using these jargon terms.
#2: Look in the comments sections of popular posts
What if you can't find any good niche forums or communities?
Fortunately, there's another solution.
Once you've chosen a keyword, visit the most popular posts for that keyword, and peek inside the comments section.
The comments section is a golden nugget where many people drop their most soul-sucking troubles and ask for the help.
For example, take this comment that I found in the Do You Yoga comments section: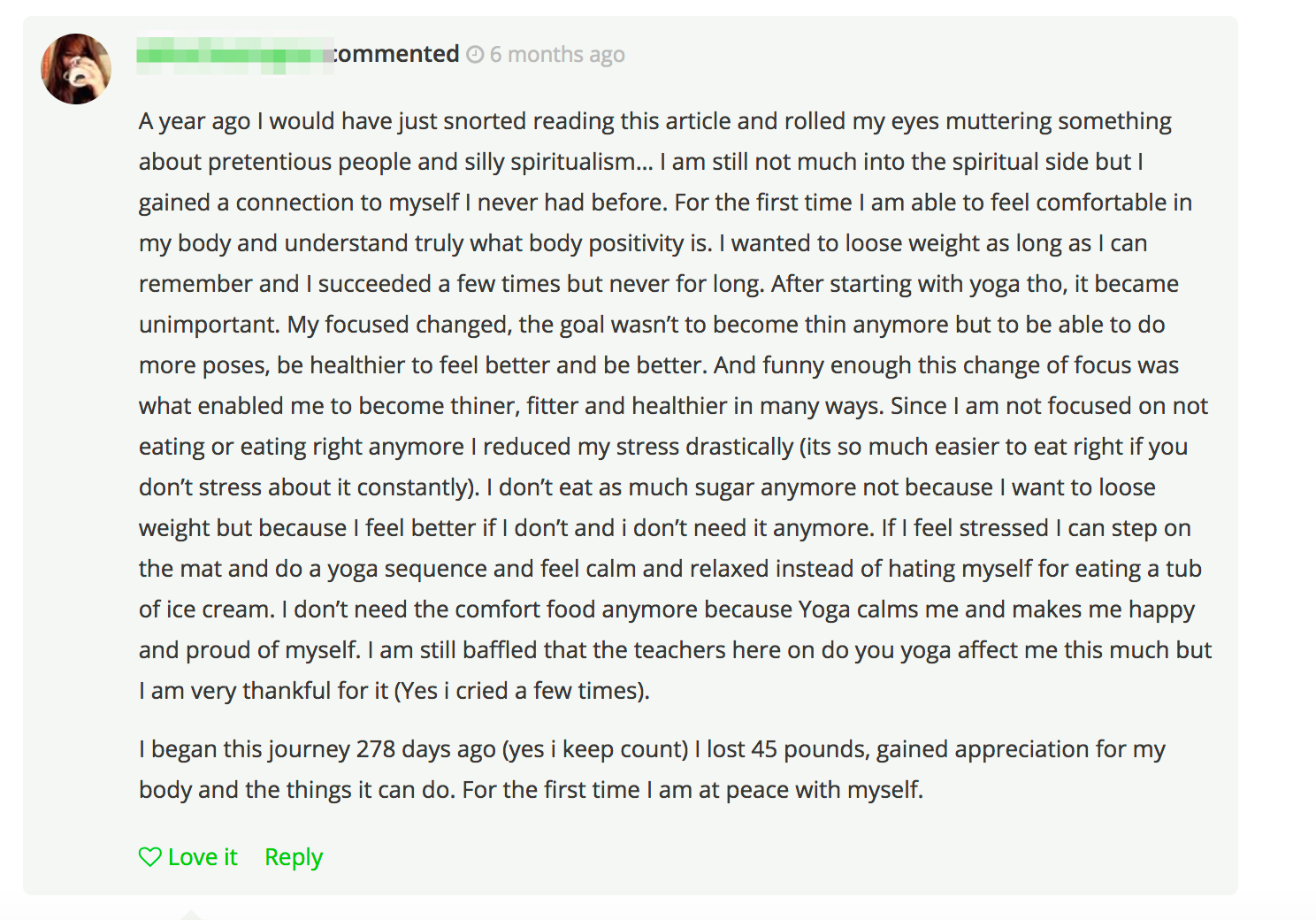 See how amazingly the reader has described her journey? There are some terms she used you wouldn't think of using yourself.
There are millions of comments like this that you can use to tap into the mind of your reader and reach your ideal customer.
#3: Use this magic sentence in your welcome email
But what if you still do not want to research?
I understand. Research is boring, it's monotonous, and eats up too much of your time. So you want to avoid it altogether, right?
In that case, just ask a simple open-ended question like…
"What is the biggest struggle you have with X right now?"
The responses you get will be astonishing. Your customers will share so many challenges that you never even thought of.
The important part is setting up a context. Now, I'm not saying you to randomly email everyone you know and ask them.
You should add this question in your welcome email. Take a look at Amy Hoy's welcome email, for example.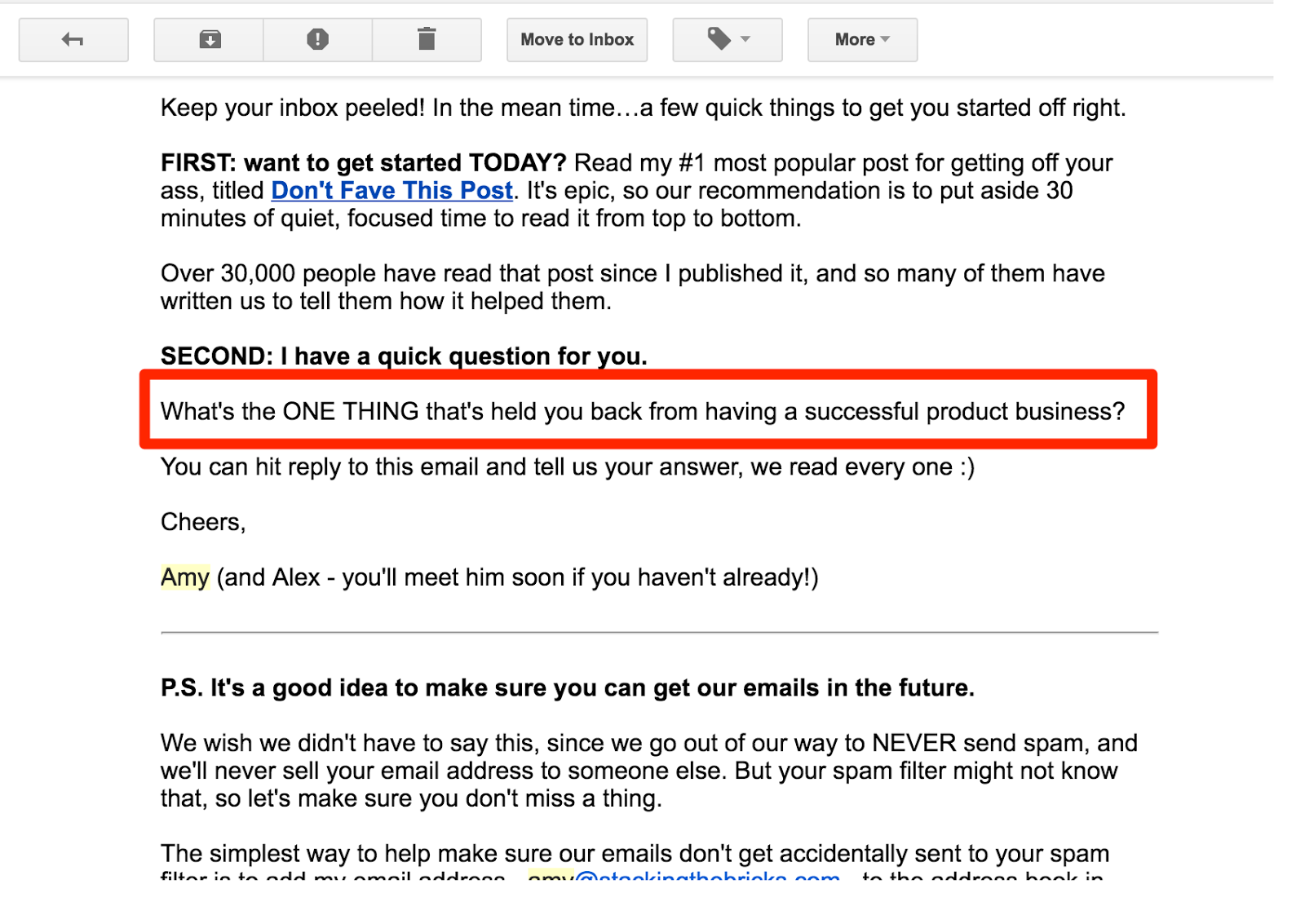 The beauty behind this is that you now have a system in place that will generate ideas for you on autopilot.
Take a look at some other effective welcome email templates to inspire your next sequence.

Step 2: Choose a Proven Lead Magnet Format to Solve It
So you've finally figured out your customers' pain points and problems. Now, how do you plan to solve them?
You'll have to create a lead magnet in a format that not only solves the problem easily, but that your audience feels comfortable using.
For instance, take this lead magnet from Jane Portman.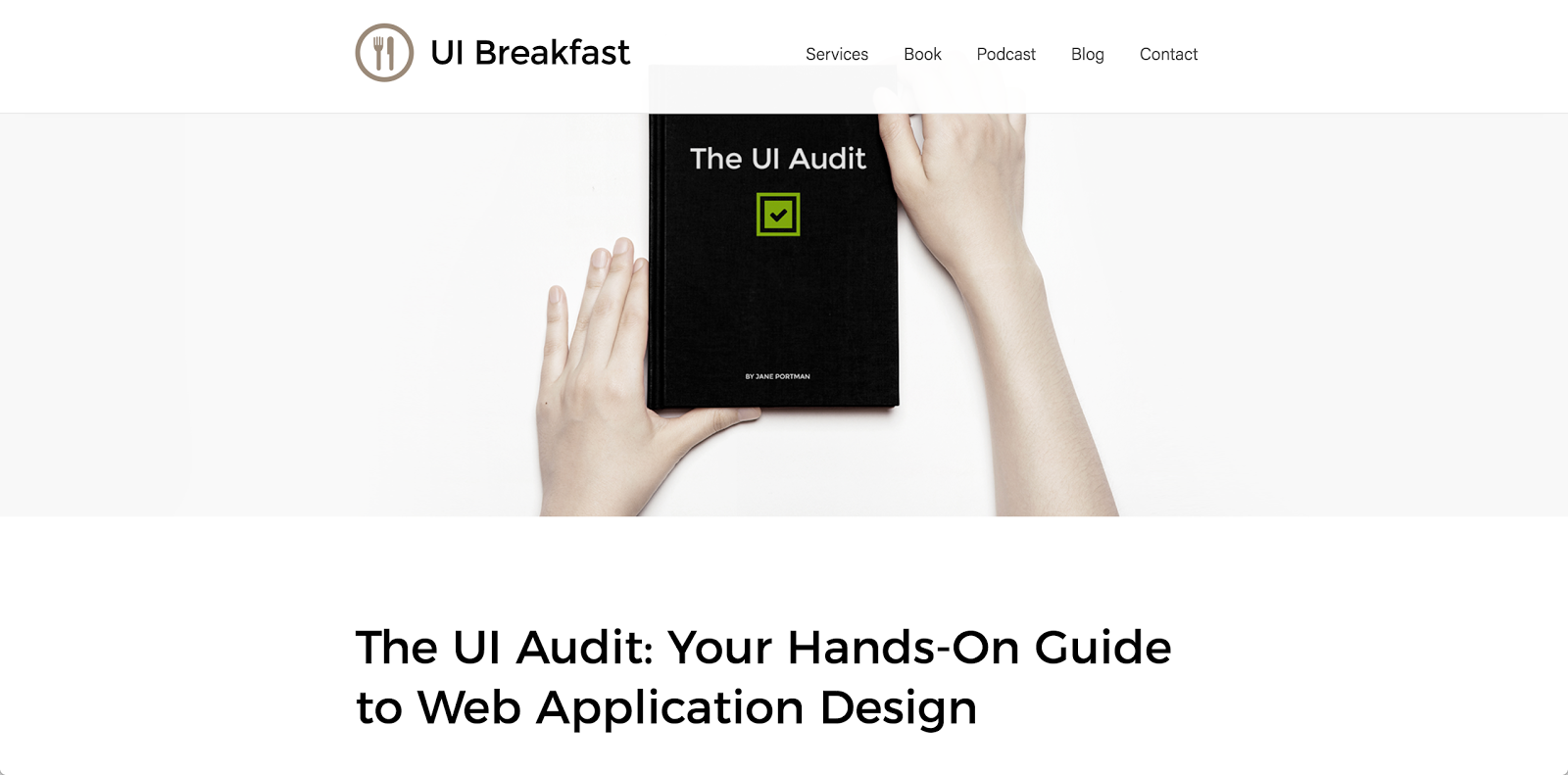 She offers UI/UX consultancy to companies. She knows that before contacting her, the clients need to know her expertise. And that is the reason she is offering a free 1-hour video course.
What is the format that your audience would find most valuable?
Idea #1: Guide
An ebook or a guide is the most basic lead magnet of all.
Almost everyone these days is offering one, so you need to be careful about it when trying to grow your email list.
If you have a strong offer in place, a free e-book or free guide can work for you.
Take this example from LFA, a capsule filling machine company:

This ebook likely converts really well, and the reason behind that is, of course, a strong benefit and the design which makes this ebook look premium.
Idea #2: Cheat Sheet
One of my favourite lead magnets is cheat sheet.
They are easy to create as well as easy to consume for the readers. Cheat sheets can make any difficult task look easier.
Take this example from SmartBlogger.

This lead magnet is something they could have created well within 1-2 hours and is also super beneficial for the readers.
Idea #3: Checklist
Another format which I really like is checklist. And I love the fact that you can easily create a checklist within half an hour, still they will be super useful for the readers.
Want example?
Here's one from OkDork.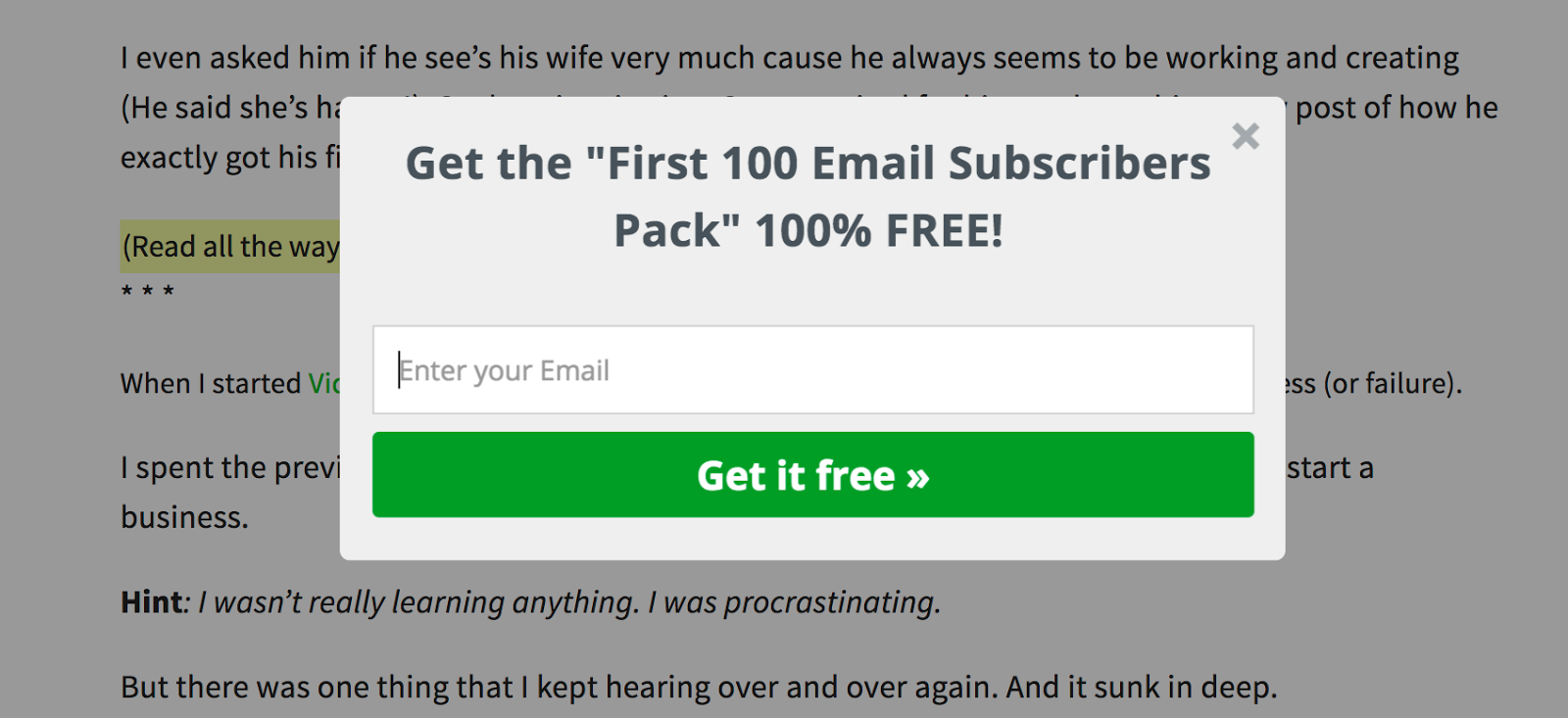 Noah Kagan is offering several checklists. You can also create similar checklist using Sweet Process.
Idea #4: Resource Guide
The best way to tell your readers about the tools and resources you use is by creating a PDF and offering it to the readers in return of their email address.
Like a cheat sheet or a checklist, you can easily put together a resource guide within few minutes.
And the result?
It's going to be handy for your readers, as they also want to use the tools and resources you are using.
Here's an example from Michael Hyatt. He has documented the 99 tools he use daily to create this awesome lead magnet which surely converts like crazy.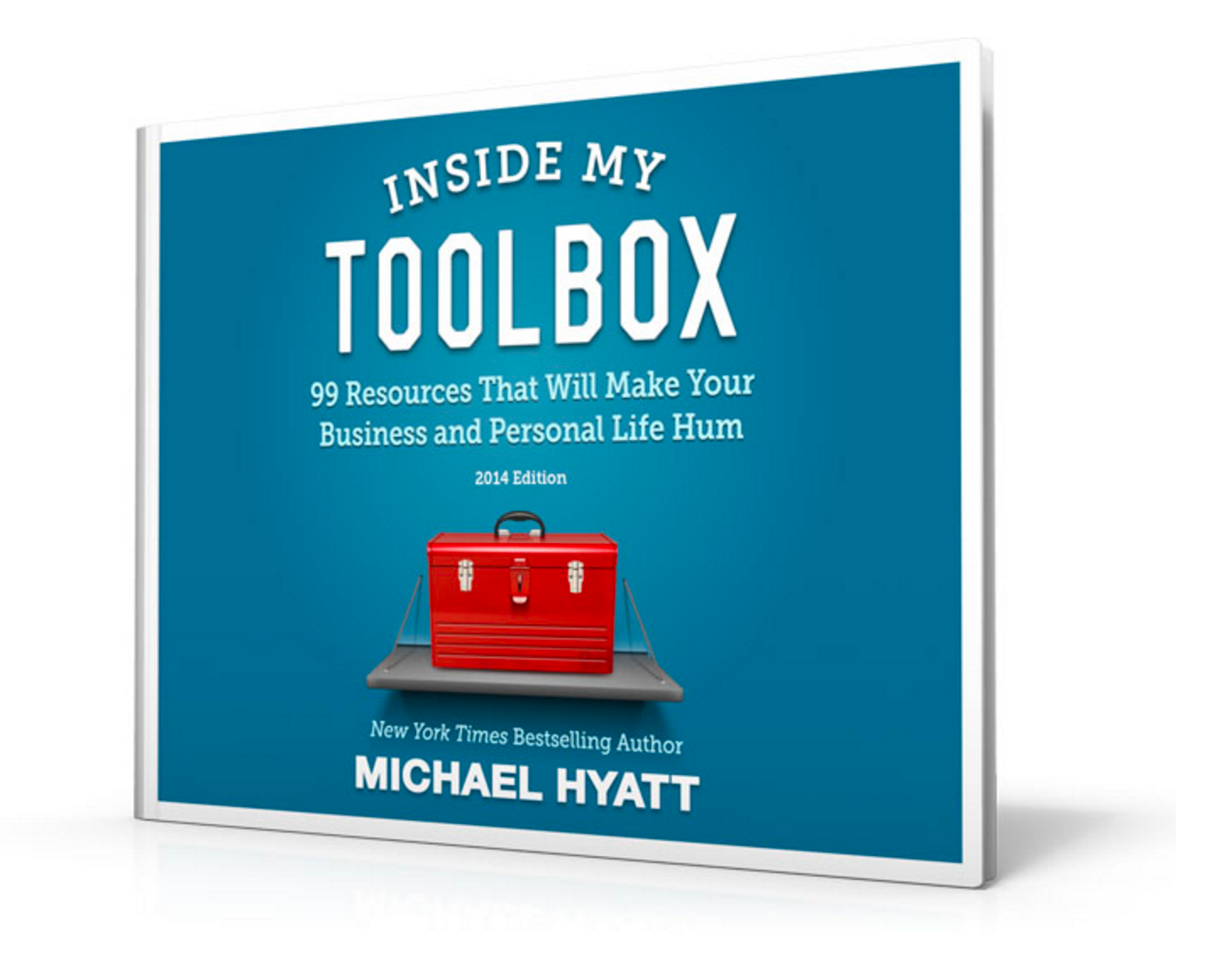 Idea #5: Video Training
Generally, videos have much higher perceived value than the text.
This is why videos and video training convert so well.
In fact, video are so powerful that almost every product launch these days begins with a video training.
That is the reason Joanna Wiebe from Copyhackers is using video training as a lead magnet.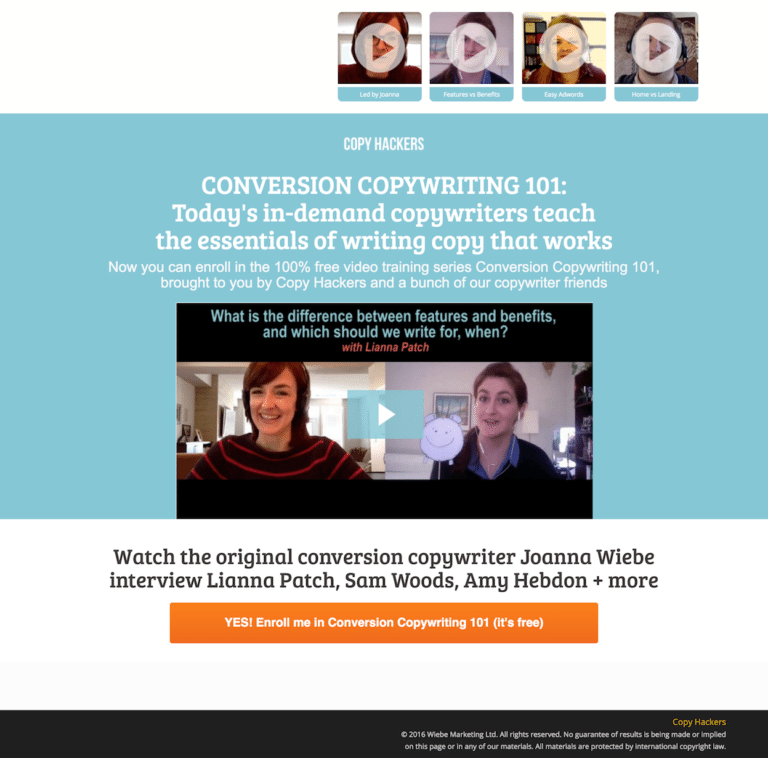 She is giving 3 videos, all of which are super high-quality. And the best part about this video training is that all these videos are interviews with other experts in the field.
Clever, isn't it?
Idea #6: Free Discount
A free discount could be a great lead magnet if you have a popular product. It could a digital product or a physical product that your business offers.
Not only does encourage new people to sign up to your email list, but email subscribers also tends to buy your product.
But like I said, it's not for everyone, just for those who have a best-selling product.
However, you can still use it by offering an early bird discount for any of your new products.
Idea #7: Swipe File
A swipe file is a collection of some examples which you give to your audience.
If you are interested in learning Facebook advertising, AdEspresso has a big collection of Facebook Ads which you can copy. This is the epitome of valuable content.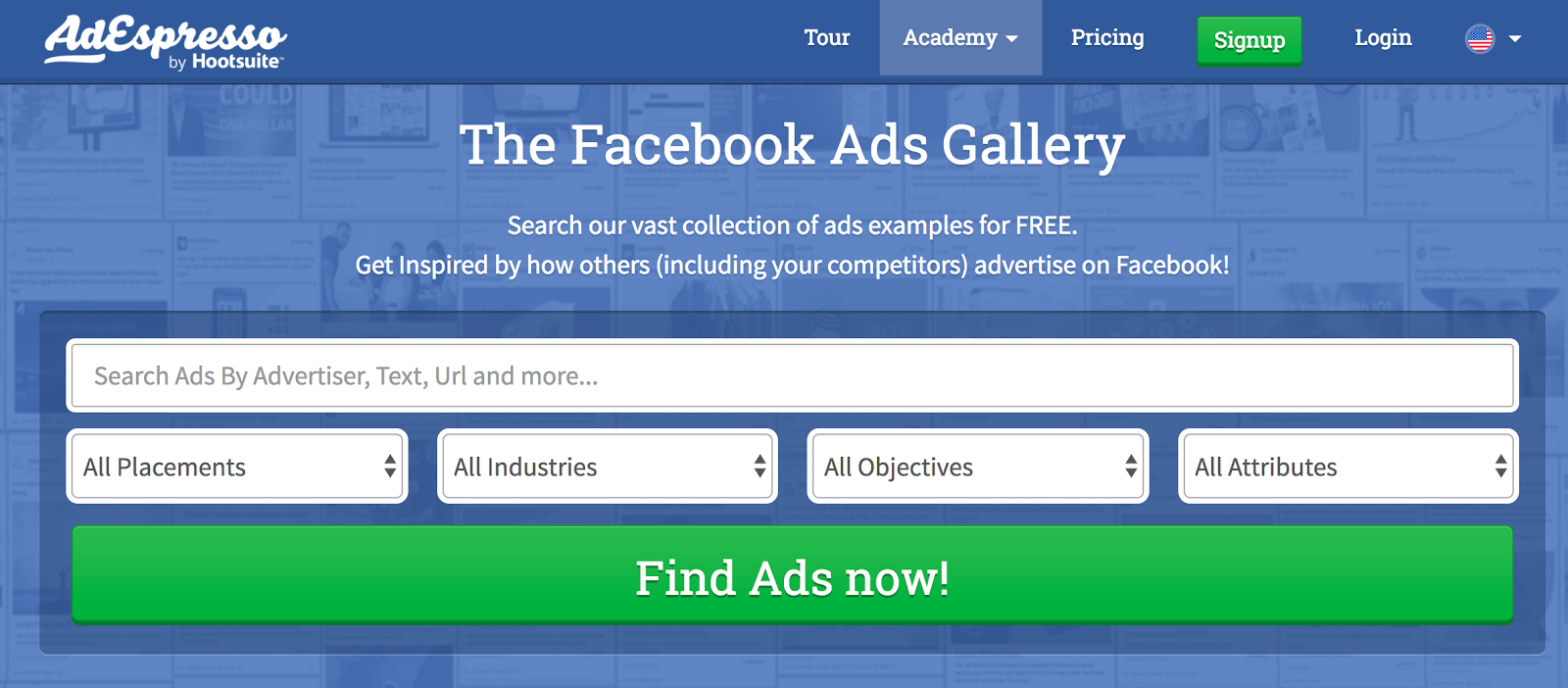 So it can be said that said swipe files are one of the best lead magnets to offer, because all you have to do is copy and paste them.
If you also want to offer a swipe file to your customers, then I'd recommend you to use Evernote and share the notebook with your customers.
Idea #8: Calendar/ Planner
Calendars or planners could be extremely powerful lead magnets, especially when you want to give your audience a specific solution.
And they can be created well within 1-2 hours.
Take this lead magnet from 100 days of real food. She is offering this planner to help people start eating real food.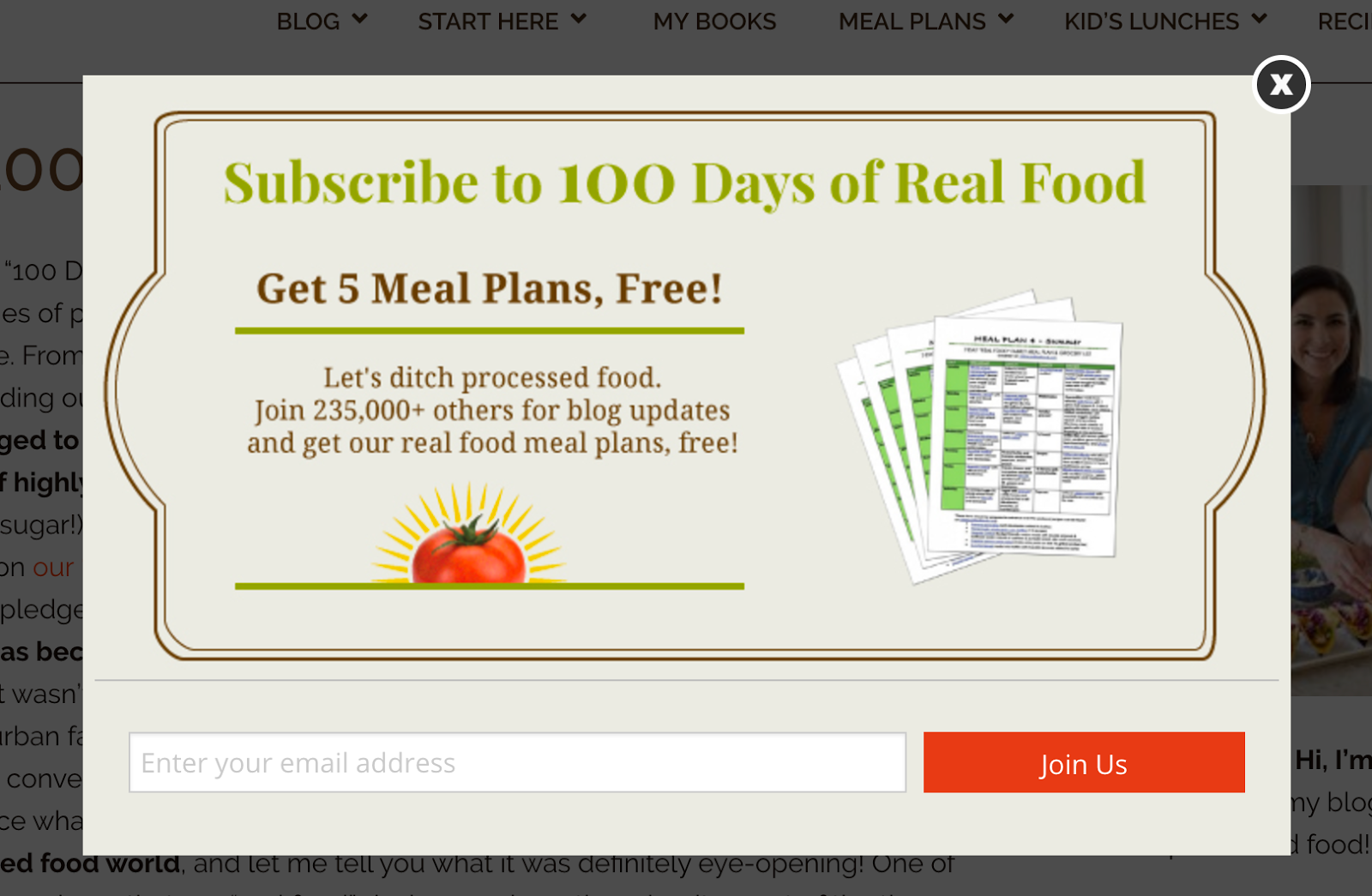 Similarly, if you have something that can be best conveyed by using calendar or planner, then go for it.
Idea #9: Workbook
Similar to a calendar, a workbook is also something that people can print and fill with their own responses.
It's best to give workbooks when you want people to take action on a strategy or a system.
CoSchedule always utilise this format. They've a huge marketing library which consists of ebooks and workbooks.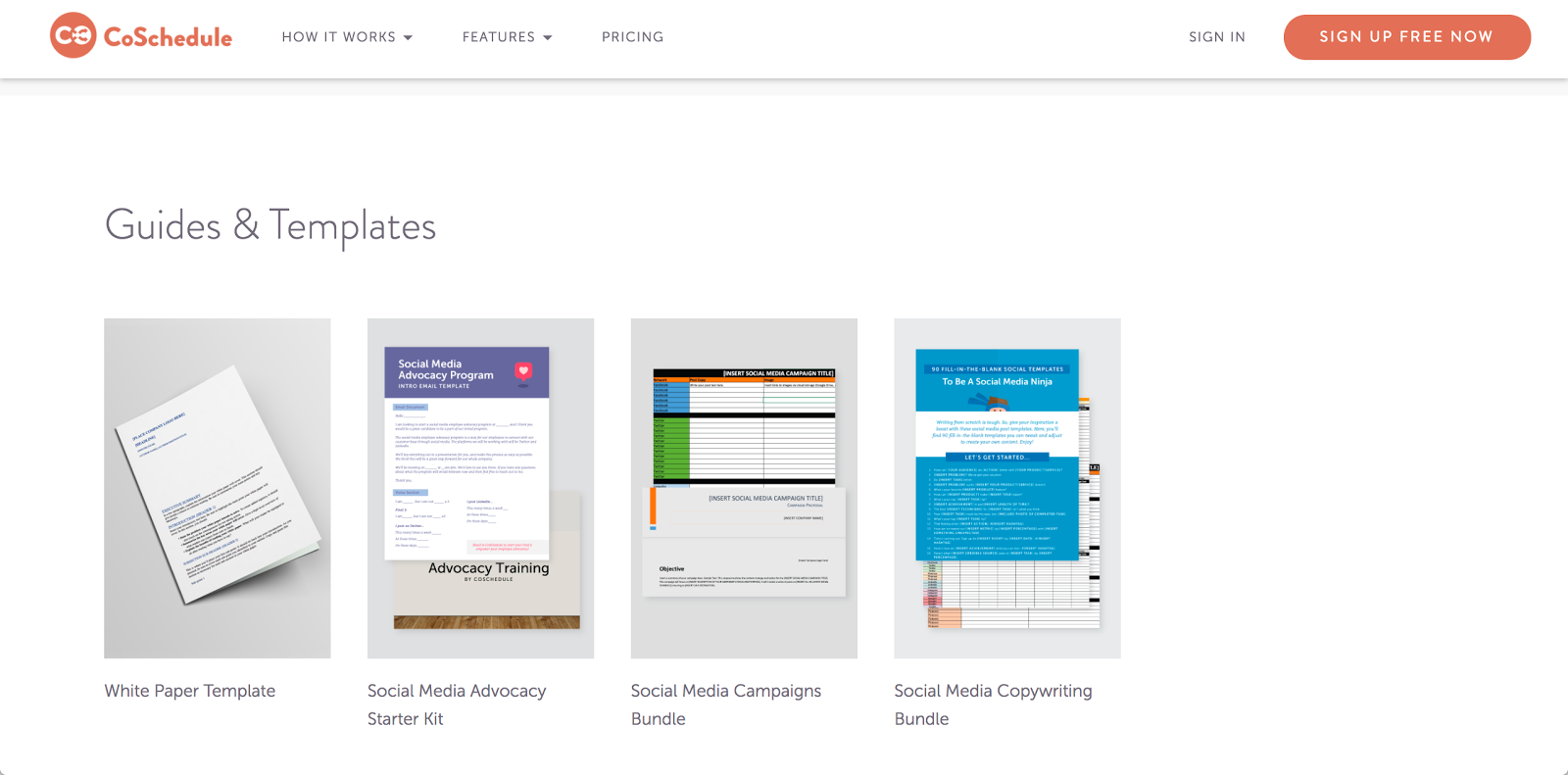 However, I recommend you to create editable versions, so that someone can simply download it and fill out right on their computer, without having to print anything out.
Idea #10: Mind Map
With the help of the last exercise, you know the problems of your audience.
So in this lead magnet, you can plug that information in and create a mind map.
Mind maps help you to break down complex problems into step-by-step digestible solutions.
The LeadPages team loves to offer mind maps. They've done exactly same with this podcast episode for SPI.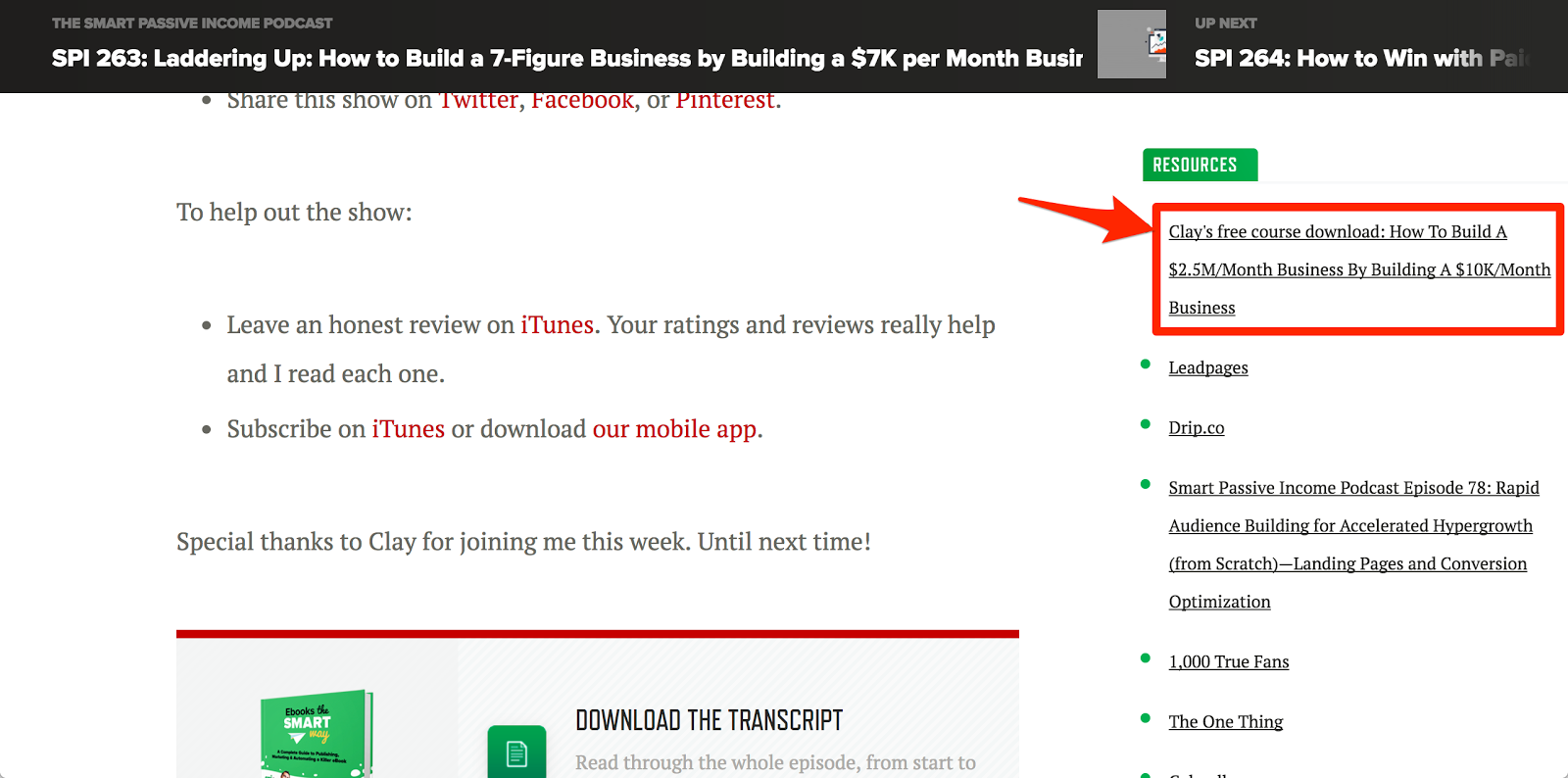 In this podcast, Clay Collins, the founder of LeadPages, offered this free checklist to all the listeners.
And you can do the same.
You can easily create a mind map in few minutes using a free mind-mapping software like MindMeister.
Idea #11: Spreadsheet
Spreadsheets are one of the most cost-effective yet powerful lead magnets out there.
If you want to give a list of resources in a simple format, then a spreadsheet is the way to go.
Consider Sumo. They offer spreadsheets for most of their blog post.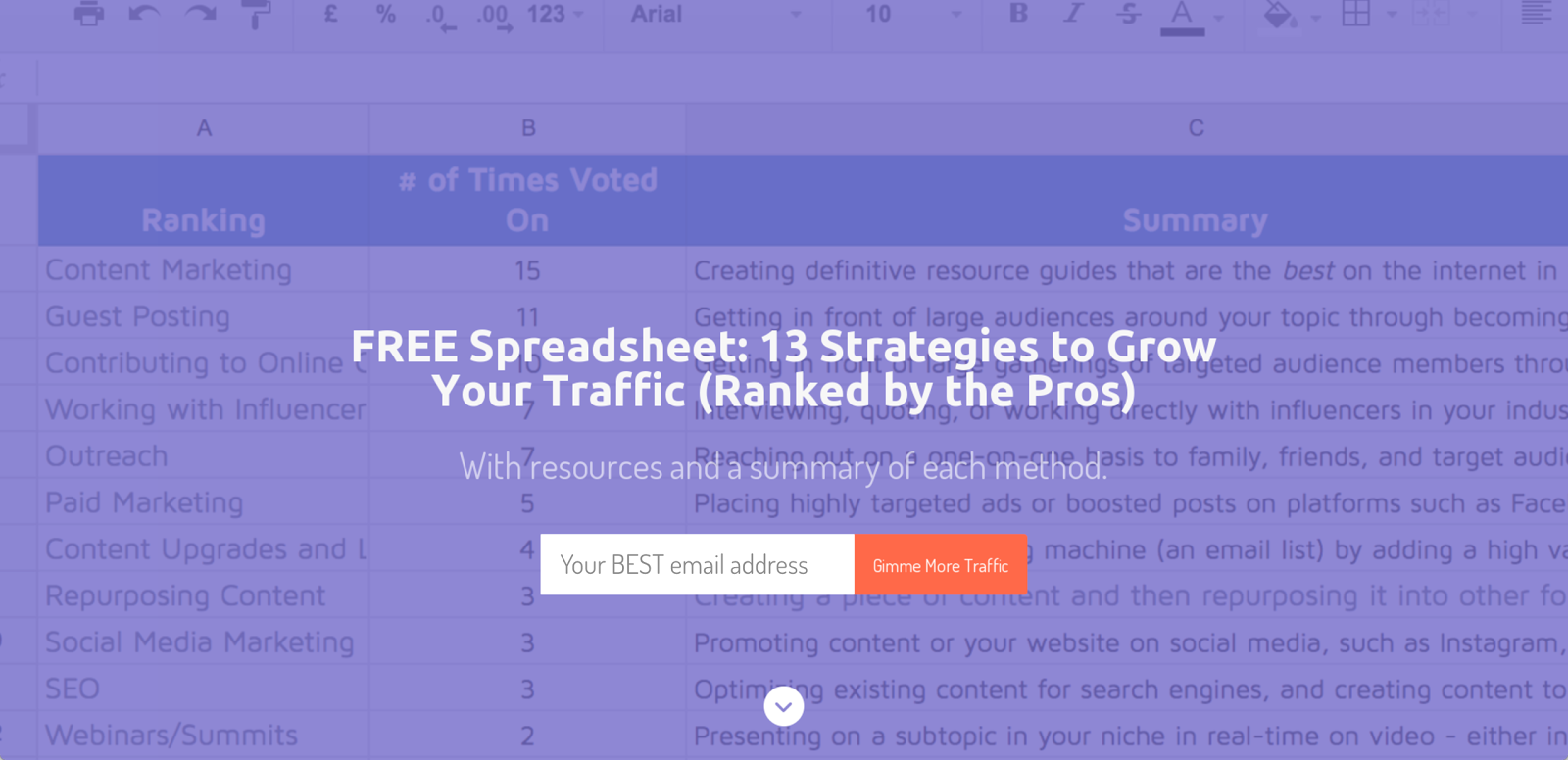 And really it's simple. Just go to Google Sheets, type in your resources, do some formatting to make it look good, and share it with your readers.
That's it!
Idea #12: Audio Content
Sometimes people prefer listening over reading. The best way to turn these people into customers is by creating audio content.
To do that, simply write your content and read it out using a simple app like Audacity.
Idea #13: Create an email course
Email courses can easily convert your subscribers into paid customers.
And the best part?
You can easily repurpose your old content to create an email course.
Buffer created email courses by repurposing several blog posts and the result was marvellous.
They crossed over 18,000 subscribers within a week. Amazing, right?
Idea #14: Create a video
You know, video is a really powerful medium. So why not offer a free video in exchange for email address?
After all, many people love video demonstrations, and you can also build a connection with those viewers, right?
Take Bryan Harris, from Videofruit.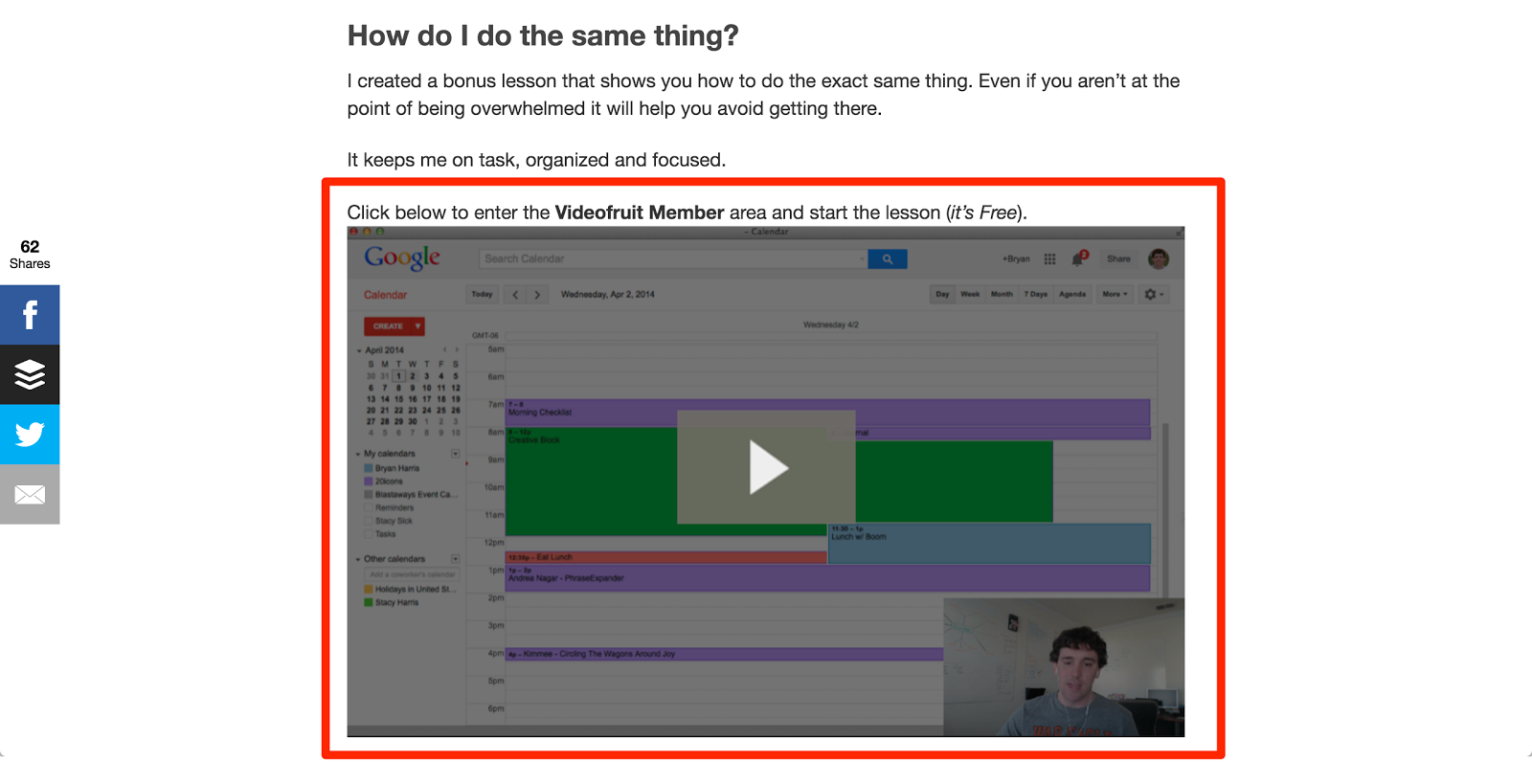 For this particular post, he offered a free how-to video. This is great example of using a video as a lead magnet.
To start with, download any screencasting software like Camtasia or Screenflow.
Idea #15: Create a slideshow
If you're a speaker or you have given presentations in the past, you can use those slideshows to build your email list.
Not only is it beneficial to you, as you're getting email subscribers, but it's also beneficial for your subscribers, who would love to borrow your brain!

Step 3: Promoting Your Lead Magnet
Congrats on creating a wonderful lead magnet that will hopefully solve your customer's problems!
Really, it is an achievement.
Because, while most people like to skimp over quality, you've done a terrific job.
But what good is a lead magnet, if it is not sending email subscribers your way?
That is what we're going to do. In this, we will promote your lead magnet that will send email subscribers your way on autopilot.
Sounds good? Let's get started.
#1: Share it with your audience
Is your lead magnet really useful? Or is it just your gut feeling that tells you it is valuable?
Before you do anything with your lead magnet, you must see how valuable it is.
The best way to know this is by sharing it with your email subscribers and followers to get their feedback.
These are your true fans and they really love your content. And by sharing your lead magnet with them:
You'll get highly valuable feedback.
You'll strengthen the bond with the audience as you've given an unexpected free gift.
Now, quickly create a broadcast email for your email subscribers and share the free gift with them.
#2: Create a Landing Page for Your Lead Magnet
After creating a lead magnet, your first priority should be to set up a landing page for it.
This way, you can easily promote your lead magnet with the help of ads, social media, or email signatures.
For instance, Brian Dean from Backlinko has created a very simple yet powerful landing page to promote his lead magnet.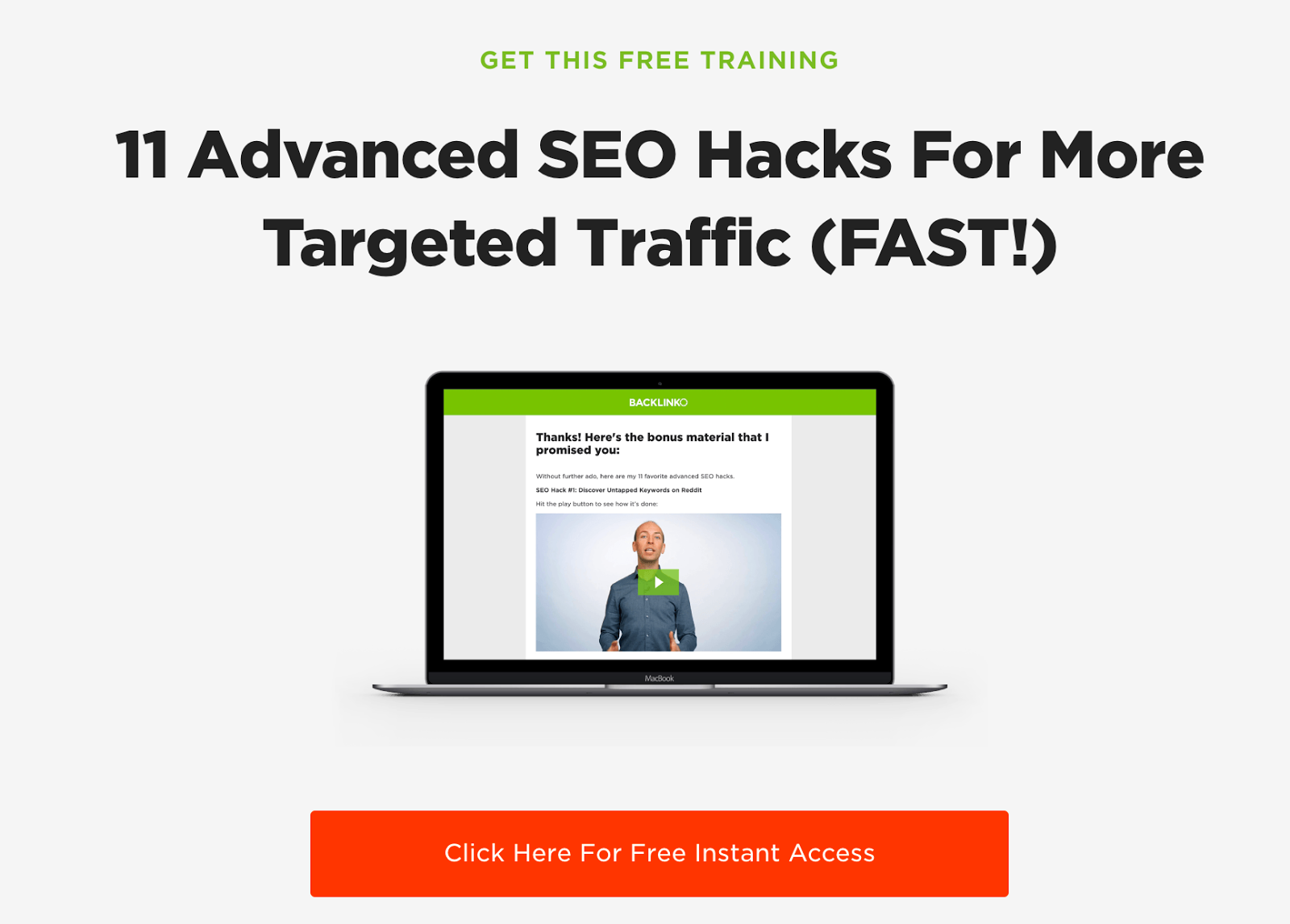 Doing so, he can easily share it from his guest posts, social media, or even blog posts.
With the help of robust tools like LeadPages, OptimizePress, Thrive Landing Pages, it's really easy to setup a landing page.
#3: Create Enticing Signup Forms
Good marketers these days don't just create landing pages for lead magnet — they also promote it by creating an enticing opt-in form.
Take Neil Patel, for instance. His primary lead magnet is a free bonus containing SEO strategies. And he promotes this lead magnet twice in each page.
First, in the sidebar: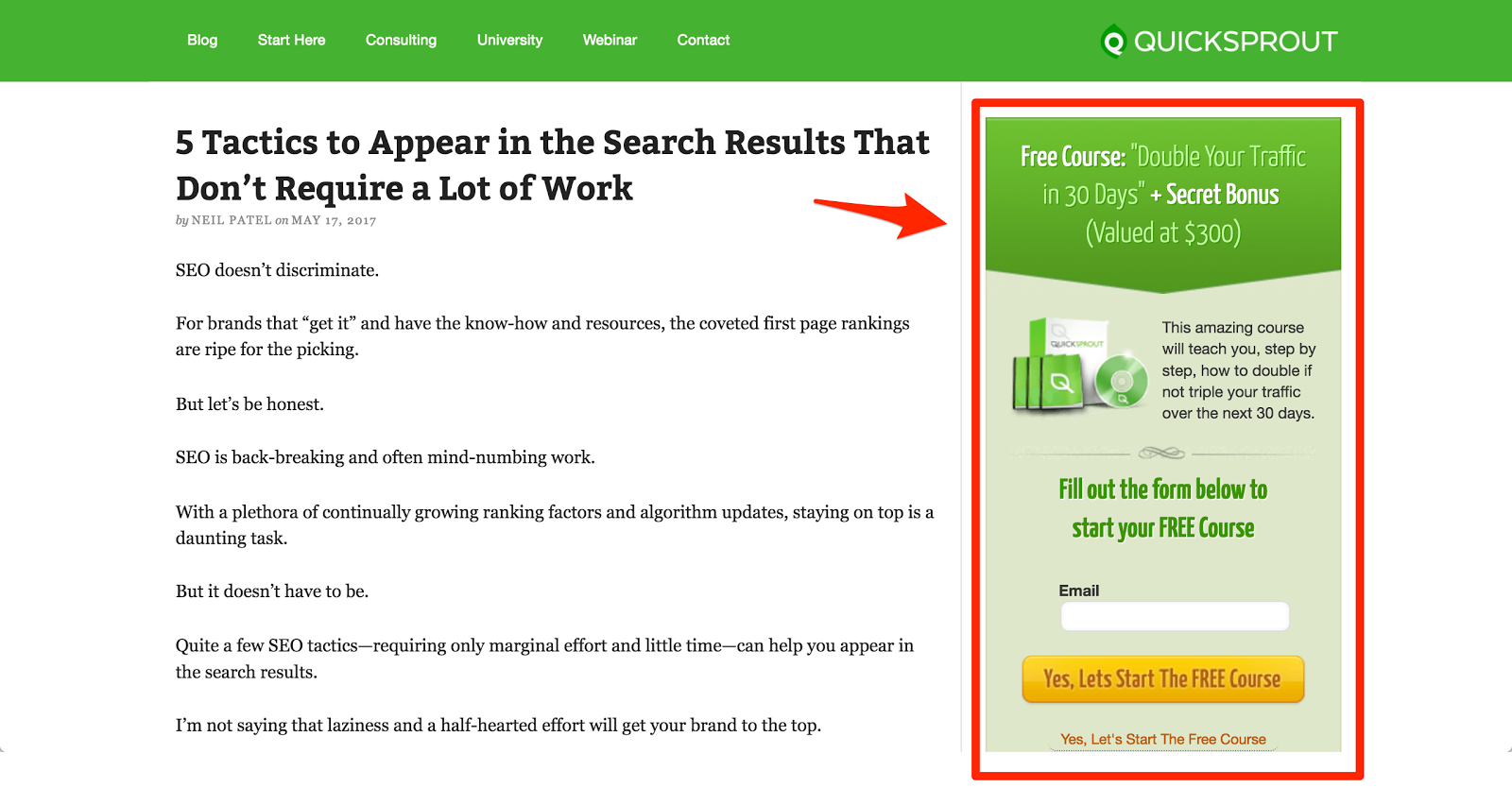 And second, at the end of a blog post: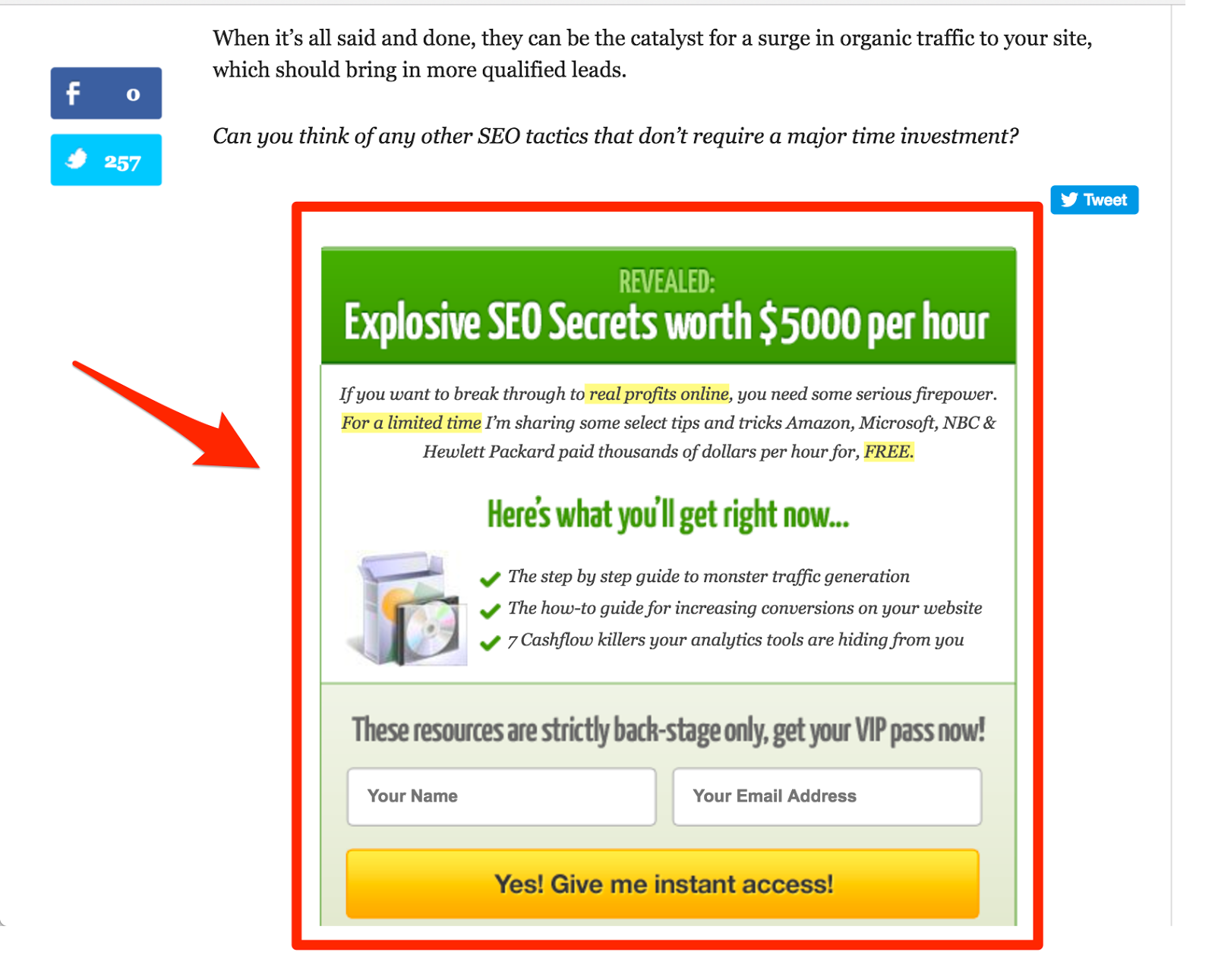 Similarly, you also need to create these signup forms. I'd recommend setting up signup forms in these 6 places:
Signup Form Placement #1: Hellobar
This is a small bar that sits above your site header.

Here are some tools to add Hellobar to your site:
Signup Form Placement #2: Exit Intent Pop-up
It is a signup forms that covers the entire screen after someone is about to close the tab.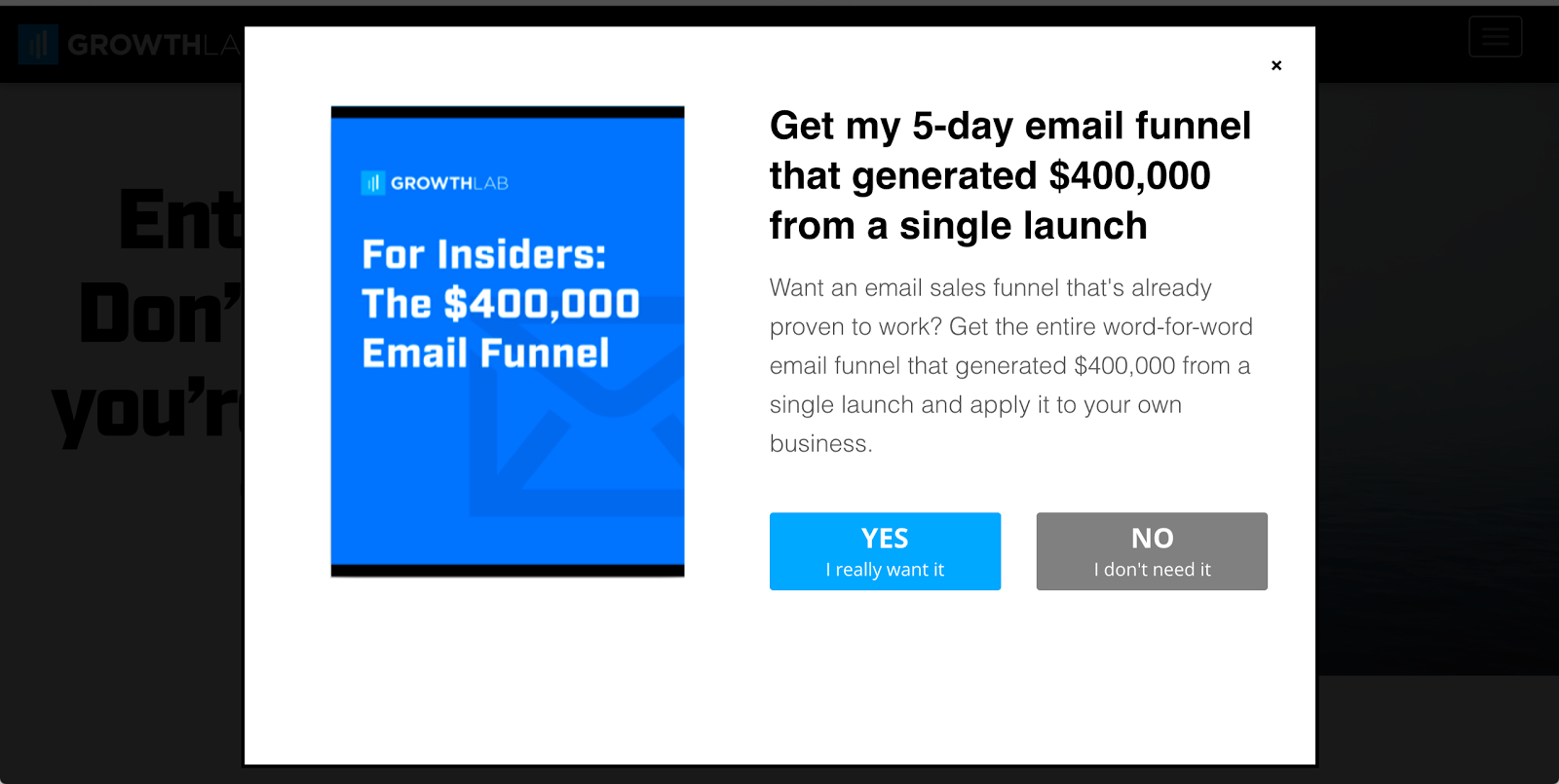 To setup an exit intent pop-up, you can use these tools:
Signup Form Placement #3: After Post
This signup forms appears after each blog post.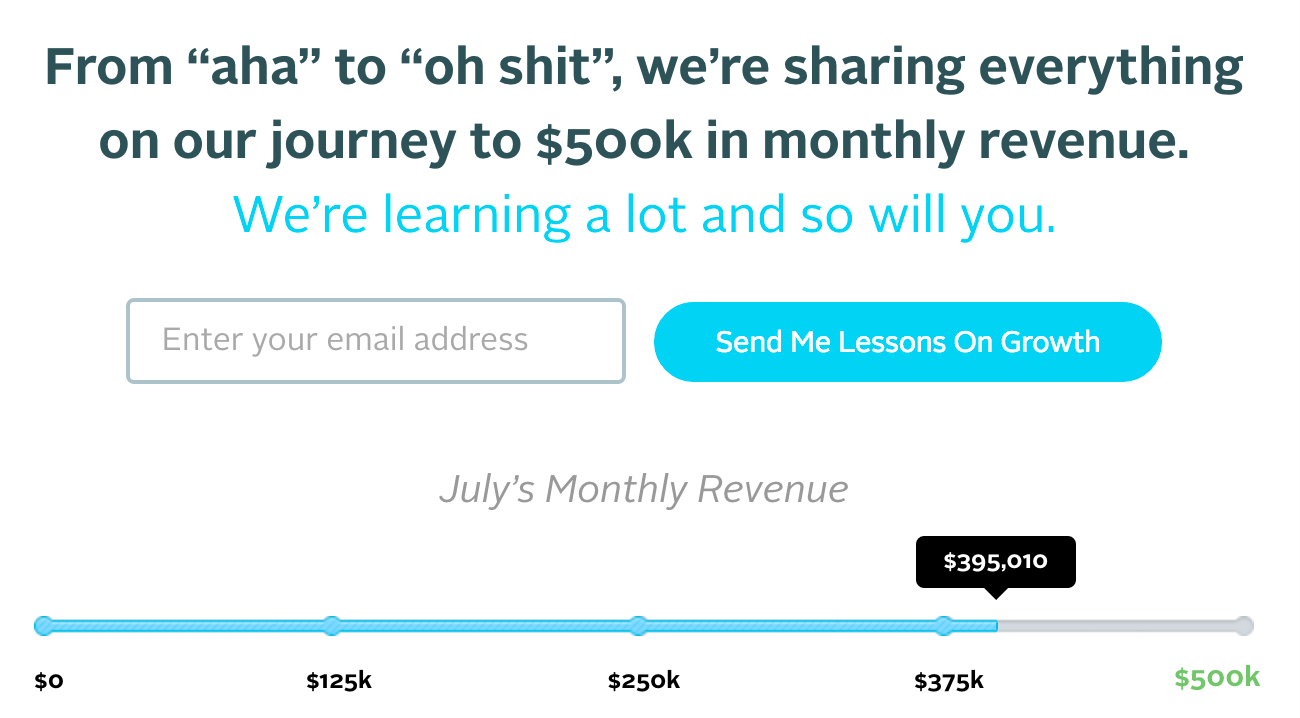 Here are some tools to create an after post signup form:
Signup Form Placement #4: Homepage
Your homepage is the most popular page on your website, so make sure to add a signup form there.
Depending on your theme, you can easily set this up using a widget. If not, you can use a landing page builder to build a custom homepage. Here are some landing page builders:
Signup Form Placement #5: About Page
Like your homepage, your about page is also very popular and can help you build relationship with website visitors. You can then use a signup form to convert those visitors.
Here are some tools that will help you do that:
Signup Form Placement #6: Content Upgrade
Your final task is to find blog posts that are similar to your lead magnet. Then, add a signup form to each one of these blog posts.
Here's an example: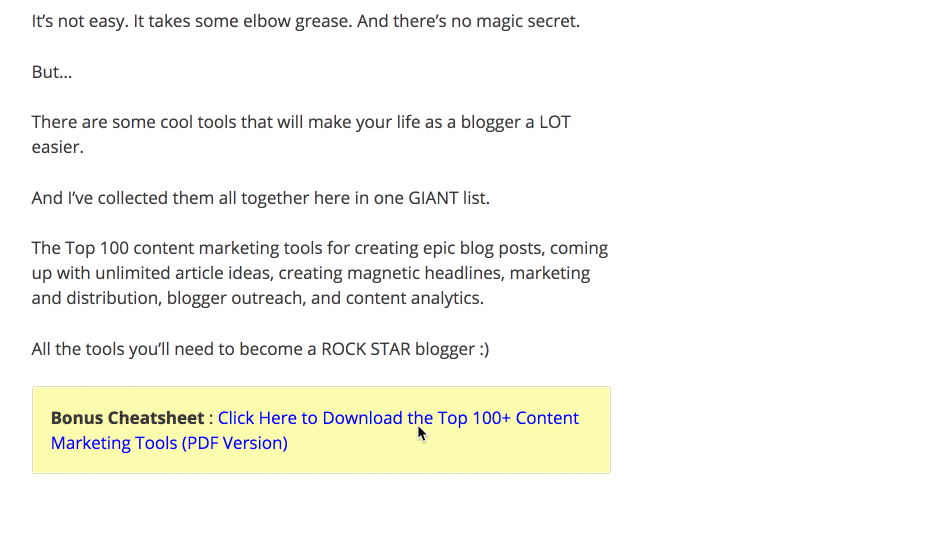 Again, for this you need to create a signup form and you can do this by using these tools:
The Secret Behind High Converting Lead Magnets
Ask yourself how you can maximize the amount of traffic you are getting in your marketing funnel.
Well, your very first goal should be to create a lead magnet that not only converts these visitors but also helps you build a connection with them. This is approach will generate leads and increase conversions dramatically.
And fortunately, you have this guide that will help you do just that.
Next thing?
Keep learning.
I like to think of this quote from Amit Kalantri:
"Even if you have achieved everything, there is Perfection, still left to be achieved."
Fortunately, we're here to help.