Selecting the right writing utensil might not be an easy task. Everyone has different needs, after all, and it takes time to find the perfect solution.
This guide will present you with 15 writing utensils to help boost your creativity.
Disclosure: These reviews are reader-supported. We might earn a small commission if you purchase something through our site. Learn more
Grammarly Premium Walkthrough Video
Grammarly
Best All-Around
$11.66
/mo – before discount
PROS
86% out of 86% accuracy
16+ billion database
150k+ word limit
5 devlice limit
Includes plagiarism
1-hour response
CONS
Only supports English
Expensive without our link
What is a Writing Utensil?
Writing utensils are implements used for writing, but also for drawing, calligraphy, or painting. There are many different types of writing utensils, including pencils, rollerball pens, multicolor pencils, permanent markers, and even quill pens. Most of them are meant for universal use, but there are also professional models, too.
If you prefer minimalism, then the Ohto Slim Line should serve you well. Ohto is a well-respected Japanese company known for high-quality writing utensils. Thanks to its small size, it's easy to carry around and is one of the cheapest high-quality pens available.
User rating: 3.7/5
Slim body
Durable
Low price
From another renowned Japanese company, the Delfonics Wooden Ballpoint Pen inspires with both its design and durability. It has a satisfying clicking mechanism and is so light, it easily fits in your chest pocket. The competitive price point also helps.
User rating: 4.1/5
Beautiful design
Clicking mechanism
Light
Like most ballpoint pens, the Uni-Ball hs quick-drying ink. The Uni-Ball Jetstream is made of stainless steel and is available in many colors. The standard package includes four pens but there's also a 12-count version.
User rating: 4.7/5
Price: $10.50 (4-count version)
Ideal for lefties
Stainless steel
Available in many colors
Kaweco fountain pens are easy to recognize thanks to a traditional design that goes way back to 1935. This is a compact writing utensil that can be easily taken apart, and which uses a standard mini ink cartridge.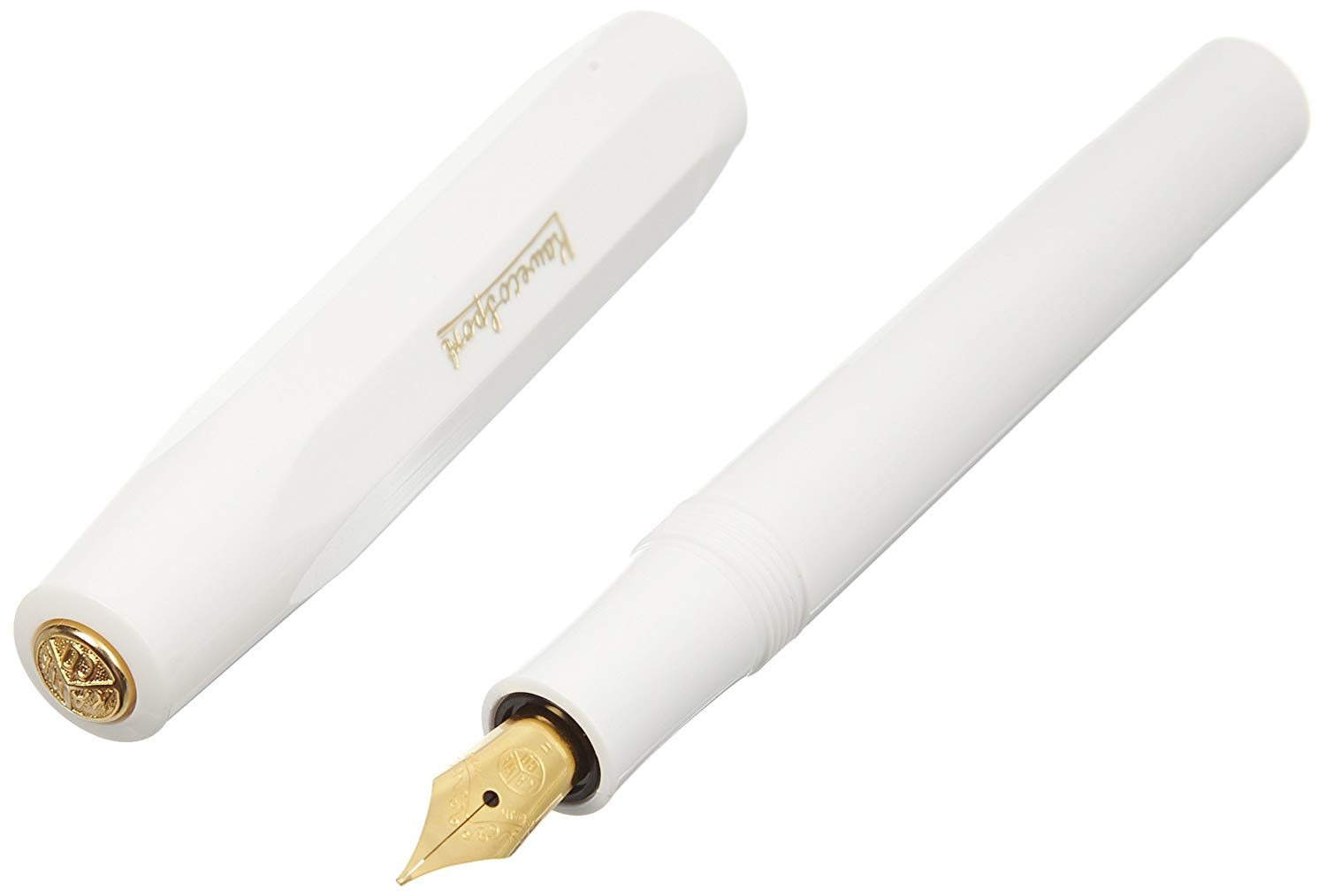 User rating: 4.1/5
Unique octagonal design
Uses standard mini cartridge
Gold-plated steel nib
This rolling pen is all about precision thanks not only to its thin tip but excellent ink. Made of quality plastic, this writing utensil has a metal clip, which will serve you for a long time. It's available in 12 colors.
User rating: 4.8/5
12 ink colors available
Retractable
Fine point
This writing utensil is easily recognizable, as it's not only used by astronauts but was also featured in the "Seinfeld" show. Of metal design, this ballpoint pen has a nice feel to it and the ink dries quickly. Plus, it works in extreme heat and cold.
User rating: 4.6/5
Usable in extreme conditions
Simple design
Quick-drying ink
Due to its rubber grip, this pen is all about feeling comfortable in your hand. This makes it perfect for anyone who writes extensively. It helps that it's also refillable and retractable, and it provides a smooth writing experience.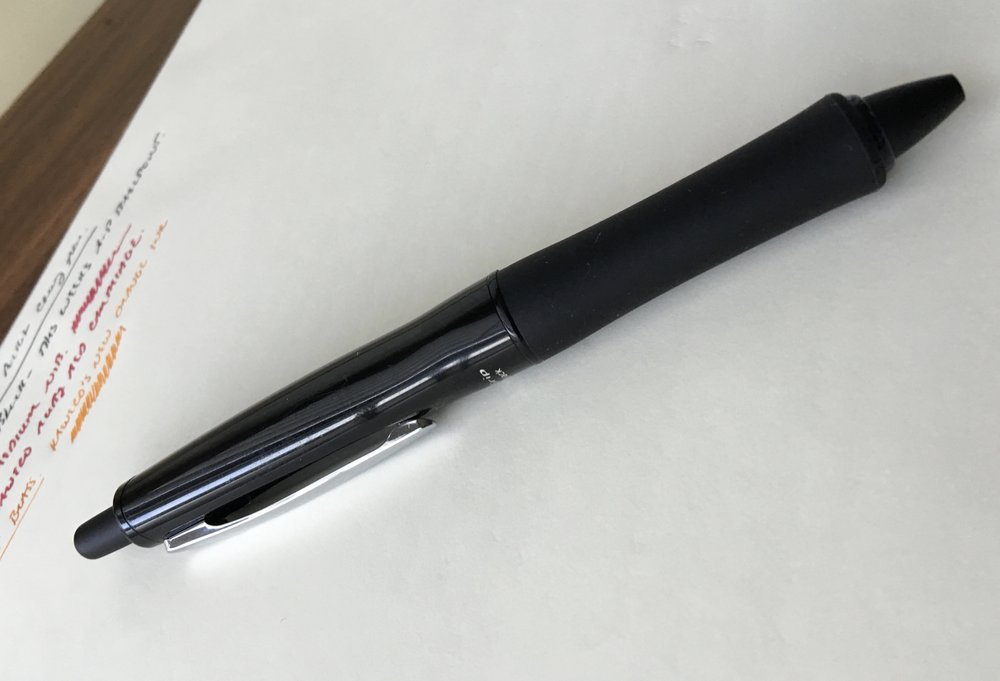 User rating: 4.7/5
Ergonomic
Low price
Compact
If you like a classic design with a luxurious touch, the Lamy 2000 will certainly grab your attention. This is a highly durable fountain pen with an extra-fine tip. It also helps that it's easy to refill while the capacity is voluminous.
User rating: 4.5/5
Classic design
Extra fine tip
Easy to refill
If you're looking for something extravagant, the Meisterstück 149 will suit you down to the ground. This is a top-of-the-line writing utensil that uses special Montblanc ink. The classic design features gold-plated rings that will definitely stand the test of time.
User rating: 3.4/5
Ink quality
Smooth writing
Extremely durable
Modern and easy on the eyes, this writing utensil isn't all about beauty. Large ink cartridge guarantees hundreds of written pages before you need refill the ink. The Popline is available in many colors, ranging from black to neon green.
User rating: 4.4/5
Eye-catching design
Available in many colors
Aluminum body
The Pilot Metropolitan is an excellent choice for your first fountain pen. The build quality makes it look like a top-of-the-range product and a perfect nib for calligraphy. The design combines a classic look with a few modern details. Not to be missed are the stainless accents on the brass barrel.
User rating: 4.4/5
Build quality
Excellent value
The design
Plastic fountain pens are cheap and excellent backup solutions. The Tradio Fountain Pen looks elegant, and the writing performance is surprisingly decent. It's not as durable as more expensive solutions, but it can certainly hold its own.
User rating: 4.1/5
Low price
Writing performance
Clean look
Bamboo fountain pens are excellent for the environment, and also look beautiful. This one comes in a wooden case that's both durable and light. The pen itself has universal appeal and can be used both for writing and calligraphy.
User rating: 4.7/5
Environment-friendly
Durable
Wooden case included
This gel ink pen comes in different colors and is made out of metal, ensuring that it won't be easily broken. The spring-loaded pocket clip is both innovative and fun to use, while the writing is smooth.
User ratings: 4.6/5
Available in different colors
Durable
Spring-loaded pocket clip
Luxurious fountain pens often offer conservative design, but the Waterman Carene does things differently. It looks rather minimalistic, has 18-carat gold nib and is available in more than 10 colors. What's more it's also extremely pleasant to hold.
User rating: 4.4/5
High quality
Available in range of colors
Minimalistic design
Conclusion
We hope that this article provided you with more information about writing utensils.
What you should remember is that there's no perfect, universal solution. Therefore, choose your writing utensil according to what feels best for you. What we can recommend is to always have a backup solution in your pocket.