Any Google search for email marketing stats will show that it's still a tactic well worth your marketing dollars.
However, not only do you face loads of competition in SaaS marketing, but you're also speaking to an audience of highly educated customers. They expect valuable information about how your product or service will improve their professional lives, systems, or workflows.
They don't want to be "sold" to or have time to sift through empty information. That means you need to target carefully and use the right strategies for absolutely everything.
In this article, we'll take you through four SaaS email marketing strategies to boost open rates and score more leads.
Let's dive in.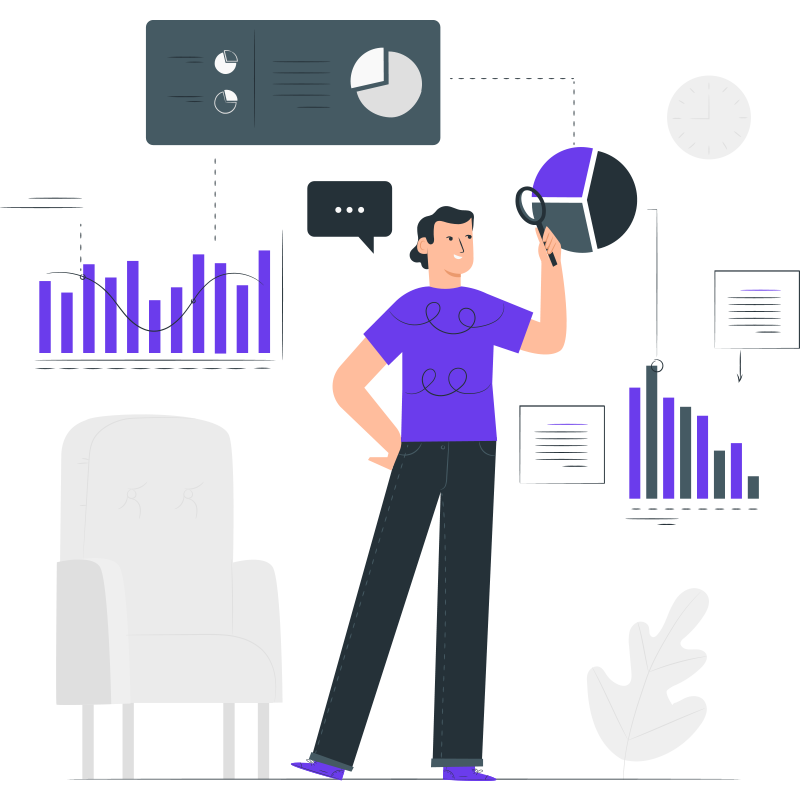 Get long-term ROI.
We help you grow through expertise, strategy, and the best content on the web.
Types of Emails
Before we get into email strategy, it's essential to understand the different varieties of emails you'll be sending. Each type of email content has a different purpose. Likewise, you'll send them to different segments of your audience at various stages of their customer journey.
Transactional emails
These emails are simple. You may send transactional emails to confirm information or follow up with a customer after purchase or inquiry.
For example, a welcome email sent after a new subscriber confirms their interest in your newsletter is a transactional email. A receipt is too.
Remember to brand these even though they're short and sweet, and maintain your brand's voice and tone.
Marketing emails
Marketing email sequences provide information and move your prospects through your sales funnel. So you can adapt them for Top-of Funnel (ToFu), Middle-of-Funnel (MoFu), or Bottom-of-Funnel (BoFu).
These can be promotional emails that contain discounts or helpful information, such as newsletters promoting blog posts or other assets like white papers, ebooks, or case studies.
Product emails
Here's where you give your customers product updates, upcoming product launches, and company news. You can also send surveys to get feedback on your products.
Sales emails
Finally, sales emails move leads further down your funnel and bring back prospects you may have lost previously (churned).
To do this, you can offer discounts, gift cards, or simply send a friendly update on what the company's been up to.
Now that we've explored the types of emails involved in email marketing, it's time to talk strategy.
Strategy #1 — Personalize your email campaigns
Using the recipient's first name in an email isn't personalization. At least, not enough. It should go beyond that.
Personalization involves two things:
Understanding your target market's demographics and behavior
Tailoring email campaigns with relevant messages for specific audience segments
Take a look at this example from Toggl Track.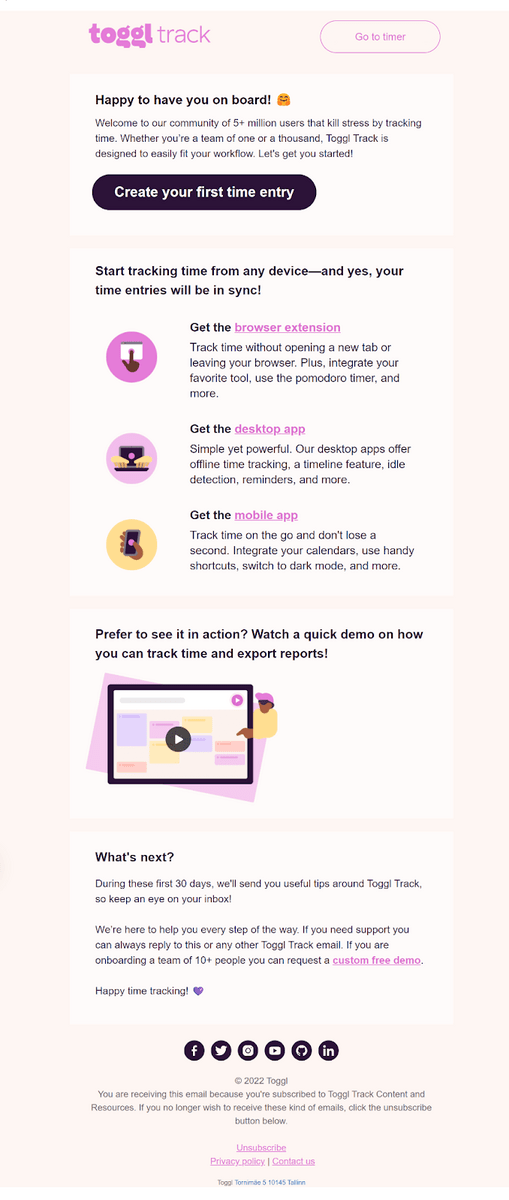 (Image Source: Screenshot by the author)
Email Subject line: So long, stress! 👋
Why this works: This is Toggl Track's welcome and onboarding email. Users receive it after registering for a free Toggl Track account. The email offers some helpful CTAs:
Create your first time entry
Get the browser extension
Get the desktop app
Get the mobile app
Watch a demo
Get a custom demo
This brief email contains everything users need to get started using this tool.
Key takeaways:
Brand your emails so they're instantly recognizable.
Provide complete but simple information for users on getting started or about next steps. Remove as many barriers as possible for a great user experience (UX).
When you have multiple CTAs, emphasize your primary CTA by making it bolder, using a button, or using color.
Best practices to personalize your emails
Segment your mailing list based on specific factors (listed below) and the customer journey.

Demographics
Geographics
Psychographics
Technographics
Value-based
Needs-based
Behavioral
Lifecycle stage
Collect detailed information from customers to sort them into the segments above. Use relevant details in the subject line or email body for better personalization.
Integrate your customer's recent purchases or shopping patterns with your email marketing platform. Now, create email marketing campaigns highlighting ‌products customers recently bought or viewed or related products running out of stock. Use this tactic to upsell or resell the products.
Use customer data platform (CDP) marketing to create a 360-degree view of the customer and map their journey. Based on the journey, create engaging and relevant messages tailored for each customer segment.
Pro tip: Sending an email asking about your customers' preferences can be a fantastic way to clarify your segmentation even more. Check out this example from Bonobos.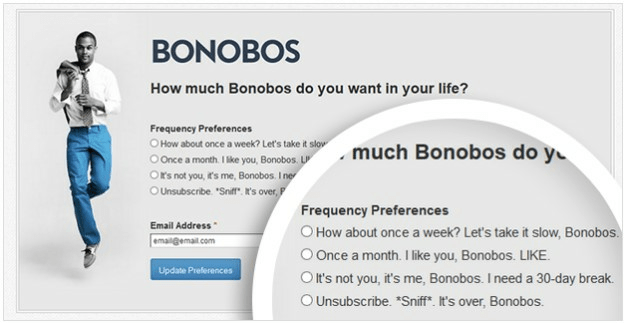 Strategy #2 – Use NPS surveys
NPS (net promoter score) surveys are the gold standard of customer experience surveys. Nearly every company uses them, and those that don't should.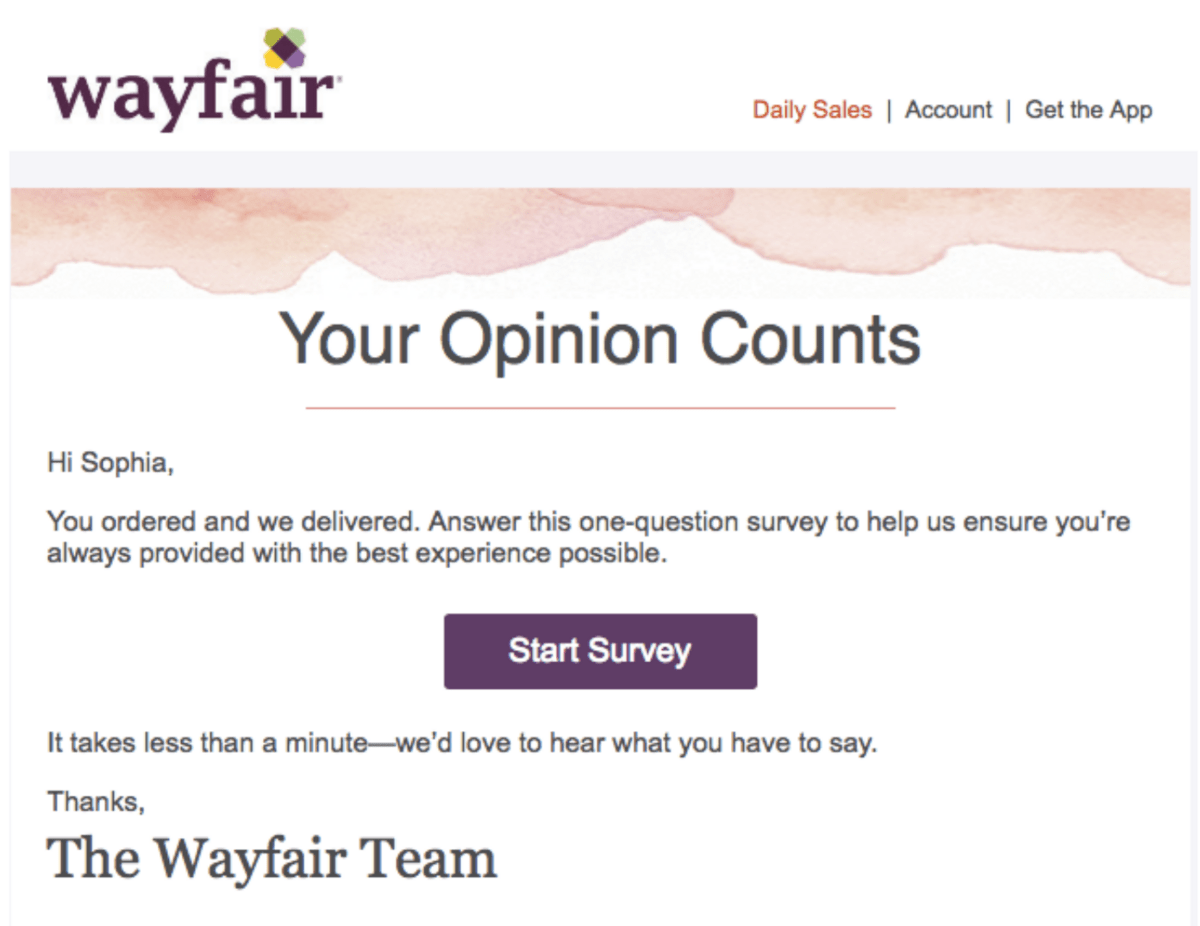 They're typically a single question: "How likely are you to recommend (the brand or company) to a friend?" The answer options are on a scale of 0 to 10, 0 being not likely at all and 10 being extremely likely.
So how can a company use NPS surveys as an email marketing strategy?
The responses to these surveys inform you (the brand) of the customer's position: detractor, passive, or promoter.
Obviously, you want as many promoters as possible, but knowing whether someone is passive or a detractor is extremely useful.
Promoters are excellent candidates for referral campaigns. You should also keep them in mind for upselling. But don't send too many too often. No one likes spam.
If someone is passive, there's a good chance you can win them over to become promoters with the right marketing messages and customer experience (CX).
If someone scores as a detractor, you can‌ ask for more information about why they scored the way they did or how you could improve their experience. Additional details can help you improve important customer-facing nuances and prevent future detractors.
Your NPS might look like this: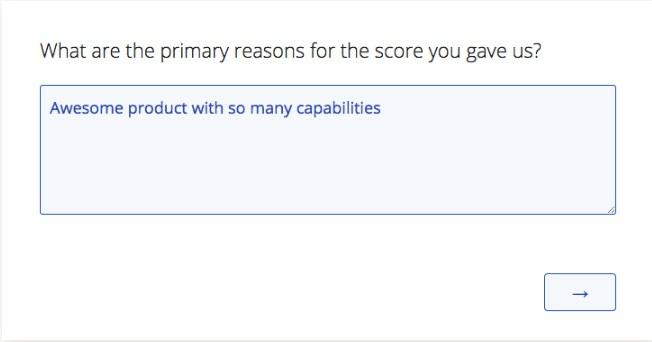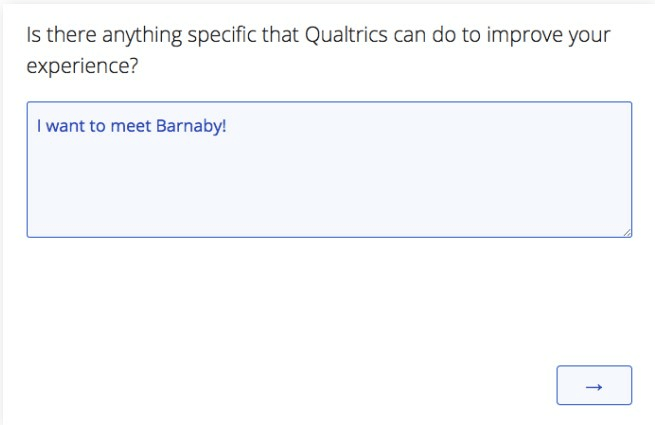 Strategy #3 — Optimize your email campaigns
You never know which email campaigns will likely fail and which will gain maximum traction. The solution? A/B test your email campaigns.
It's simple:
Have variations of the email campaign you send.
If you send a transactional email to subscribers, use two different subject lines.
Divide the A/B test into the ratio 50:50.
Now, send an email campaign to 50% of your subscribers with the first subject line and another with the second subject line to the remaining 50%. If the second campaign performs better, you know why.
But don't only test subject lines. There are many ways to optimize your campaigns.
Here are four more elements to test:
Copy
There's no proof that long- or short-form copy will increase click-through rates and conversions. That's why testing is so important.
Your copy should align with your marketing goals as well as your brand. Great copy "sounds like" your company to anyone who reads it.
Remember to keep your email campaigns conversational. Your formatting should make them easy to read.
Here are a few tips:
Use shorter sentences and jargon-free language
Use bullet points and numbered lists
Use a question-and-answer format, such as FAQs
Include a clear call-to-action (CTA)
Format important words and phrases (in bold, italics, or underlined)
Use white or negative space for an easy, scannable read
And you can also take inspiration from successful B2B SaaS marketing campaigns.
Image or no image
Are you sending image-loaded emails to your subscribers?
The recommended ratio for text to image in your email copy should be 80:20, i.e., 80% text and 20% images. Why? Because many marketing emails are image-heavy.
But email campaigns containing huge blocks of images can lead to delivery failures. If recipients can't view them, they report the messages as spam or delete them.
If you're unsure whether your subscribers would prefer images, test it. Also consider incorporating DMARC reports to enhance email deliverability.
Create two emails. One that includes 20% images and the other that includes none.
Send one to half of your list and the other to the other half. Whichever has the better click-through rate is your winner.
Personalization level
When personalizing your emails, use recipients' details like their first name, location, and interests. Use these elements in the email's subject line or copy.
Another great way to personalize emails is to send them from a real person rather than a team or company. This welcome email from Frase is a great example.
Subject: "Welcome to Frase, Erin!"
Body: "Hi Erin​,
I just saw your Frase purchase come through, and I wanted to be the first person to welcome you to the Frase family!
My name is Duncan‌ — ‌I'm your go-to guy for anything regarding your Frase account.
New customers who get properly onboarded report getting way more value out of the tool than those who don't. So, I'd like to schedule a 20-min platform walkthrough with you (and your team, if they're interested).
Some things we'll cover:
-How to personalize Frase for your workflow
-Tips and tricks for using the Content Brief to create content 40% faster
-How to leverage the Frase Topic Score to outperform your competitors
-Using the AI Writer to complete first drafts up to 5X faster.
Thanks for choosing to work with us,
Duncan​"
Even though it's a simple, text-only email, by addressing the recipient by name and signing it himself, Duncan brings a warm, welcoming personality through the message.
Call-to-action
When analyzing the CTAs, focus on these questions:
Are your CTAs shorter or longer?
Are they buttons or simple hyperlinked text?
When you've added the CTA to your email copy, analyze it based on the above questions and decide on another CTA.
Check these factors when doing the A/B test for CTAs:
Shorter vs. longer: "Start Now" vs. "Start Your Free Trial Now"
Capitalization: "Start now" vs. "Start Now" vs. "start now" vs. "START NOW"
Punctuation: "Go, add to cart" vs. "Go, add to cart!"
Text formatting: "Save now" vs. "Save now" vs. "Save now"
Size: Test the font size, button size, or both
Look at Skillshare's Black Friday email, where they've added two CTAs for their subscribers—"Use Your Discount" and "Start and Save 50%".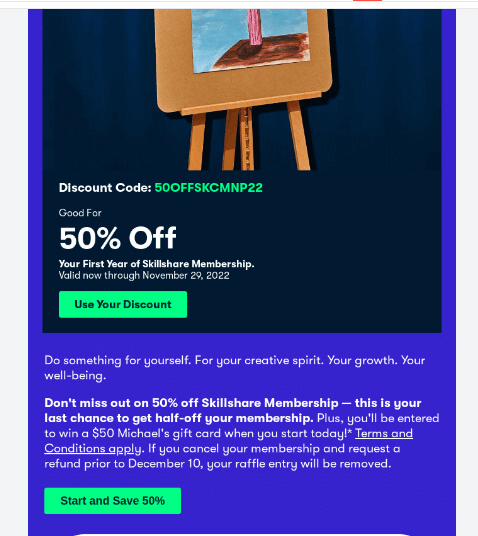 Strategy #4 — Track the right email marketing metrics
Your email marketing campaign will succeed if you keep a tab on the right metrics. These include open rate, click-through rate (CTR), churn rate (unsubscribes), and conversion rate.
Your email marketing software will have analytics to help you track your KPIs and adjust as needed.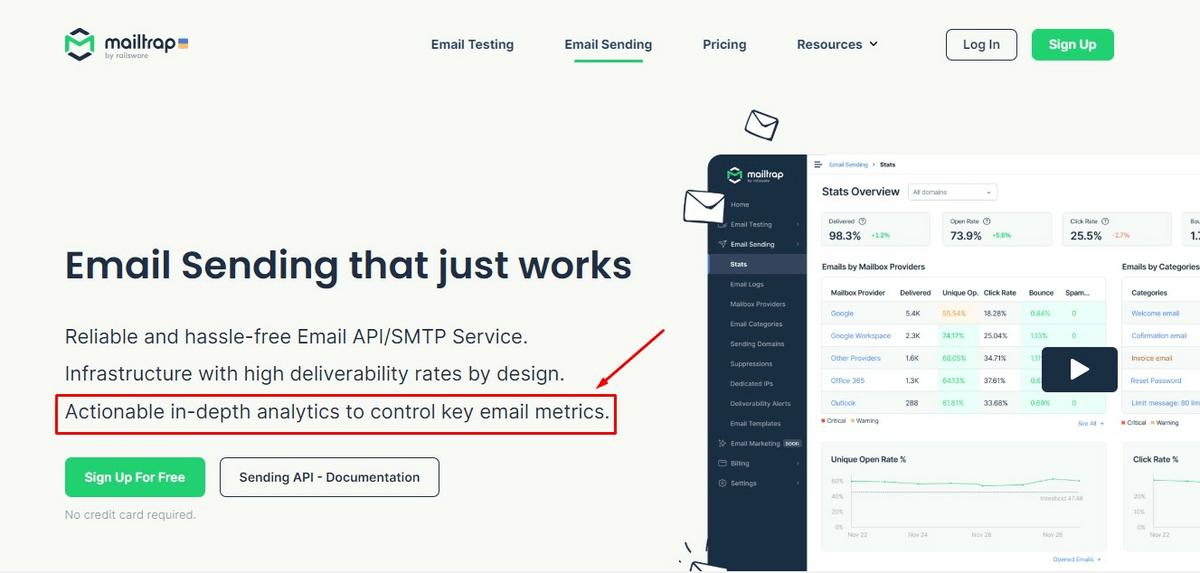 Another great practice to analyze your key performance metrics is to leverage ELT (extract, load, transform). ETL takes the unstructured data from your marketing campaigns, turns them into definite metrics, and helps you understand whether your campaigns are on track to meet your goals.
By tracking these KPIs, you can identify the stage at which subscribers are most engaged. That's when you can maximize the right campaigns to persuade or convert them.
For example, when you have a reasonable click-through rate on your initial email, it informs you that your copy is compelling and that the subscriber has shown interest in your product.
Then, you follow up with an email containing case studies or testimonials from satisfied customers.
Skyrocket SaaS-inspired email marketing strategies
According to HubSpot, the top two email marketing strategies for 2023 are subscriber segmentation and message personalization. So, of course, we included those on our list.
Studies have also shown that testing campaigns leads to higher returns, so remember to track those KPIs and adjust as needed.
Let's recap the four SaaS email marketing strategies to implement and boost sales:
Personalized email campaigns. Gather relevant data on your customers, create appropriate audience segments, and personalize email messaging.
Use NPS surveys. Using the information collected from these surveys, send referral campaigns to promoters and marketing campaigns to passives. Use the additional details gleaned from detractors to improve internal processes.
Optimize your email campaigns. Test your email campaigns with A/B testing. Test your subject lines, email copy, CTAs, and personalization.
Track the right email marketing metrics. Analyze the right email marketing metrics like the open rates, click-through rate, churn rate, and conversion rate to examine the effectiveness of your campaigns.
And that's it. Now it's your turn.
We're confident that these strategies will help your email marketing efforts pay dividends.
Which one will you try first?