We all know content is vital to a successful marketing strategy. But not just any content created for the sake of it — only exceptional pieces capable of providing value and engaging your audience.
Don't forget that your target audience is inundated with content that tests their fragile attention span.
So, the critical question is how to create content that captivates your website visitors enough to get them to return. We're talking about content that educates and informs. But also entertains, inspires, and persuades them to take action.
For this, you need more than a content strategy. You need an audience engagement strategy.
In this article, we'll share some proven tips for crafting content that'll stand out and transform your readers' fleeting glances into engaged interaction.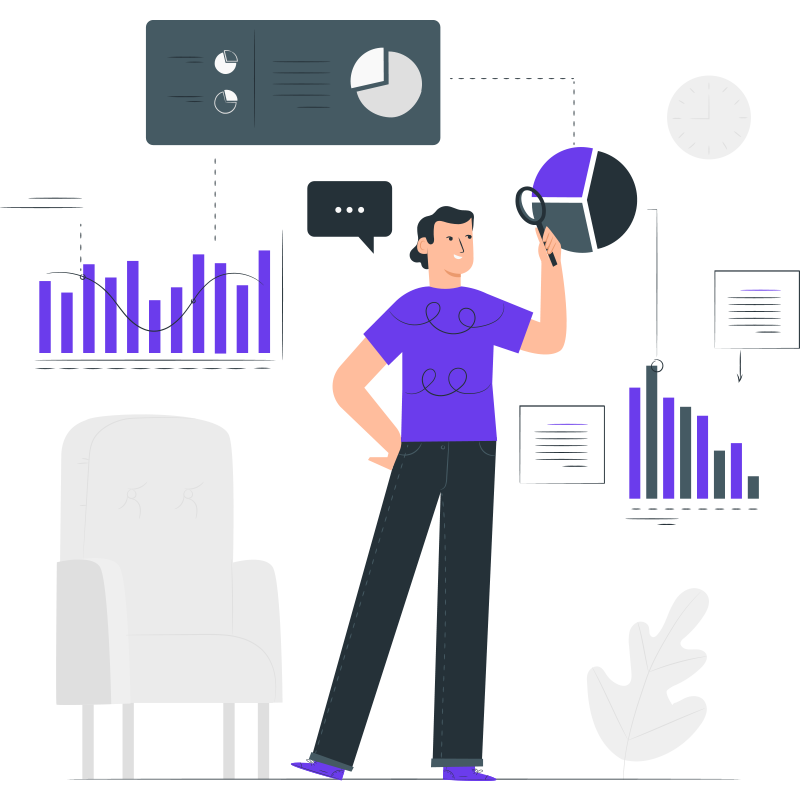 Get long-term ROI.
We help you grow through expertise, strategy, and the best content on the web.
1. Build trust with your audience
Compelling content is trustworthy.
People don't want to waste their energy on content that lacks credibility. 80% of customers say that trust is a crucial factor when making purchasing decisions. So it's obvious why you should insist on getting this aspect right throughout the buyer's journey.
Unfortunately, only 34% of consumers trust the brands they use. Trust is a particularly hot-button issue in health and finance, where people are especially vulnerable to unscrupulous professionals. Furthermore, a lot of parents are concerned about the content available to children and young teens on the internet. If your audience include youngsters, you can build trust with parents by showing your content passes parental control apps. Ensuring parents that your brand maintains a safe digital experience for their kids will make them more likely to engage with your content.
So, how do you make your content trustworthy and educational?
The key lies in understanding your audience – to write for them and only them. By getting to know your potential customers, crafting unique content that addresses their needs, interests, pain points, and challenges gets easier. Of course, using their language and making sure your content resonates with them is also essential.
Answer audience questions with your content. To find out what questions they're asking, use tools like Answer the Public and Google's People Also Ask feature.
You can also try out different mediums. Present your message in the most suitable way for your prospects. No matter how popular or effective a certain format is, it won't work if it doesn't fit your audience's preferences.
For example, Bay Alarm Medical sells medical alert systems. It's crucial to prove their reliability to a target audience of senior citizens who aren't particularly tech-savvy. So, the brand uses a clever tactic to showcase how its staff handles actual, real-life emergency calls.
This simple but powerful approach communicates to their audience, "We understand your greatest fear, and we've got your back."
This also lends their brand authenticity and displays integrity. Both are important qualities for their customers.

2. Leverage interactive content
Interactivity is at the core of engagement.
If you want to really catch your customers' attention, include interactive content in your content strategy. Unlike its static counterpart, interactive content encourages audience participation.
Calculators, quizzes, games, and webinars are a surefire way to engage your audience. They're super-effective because they require users' input to deliver the desired information.
This user feedback ensures the content is valuable, personalized, and relevant. This guarantee helps boost engagement.
Your audience is sure to love personalized content. But interactive content is also great for lead generation. You can exchange valuable information for a bit of personal information, such as their name and email address.
Of course, not all interactive formats are suitable for every audience. B2B and B2C audiences have different interests and goals, so bear that in mind.
Sephora's Skincare Routine Builder is a textbook example of interactive content. This beauty brand educates its customers and helps them find the right products.
Sephora could've written a lengthy article on skin types and the corresponding products they sell. But instead, Sephora makes the entire experience fun and interactive.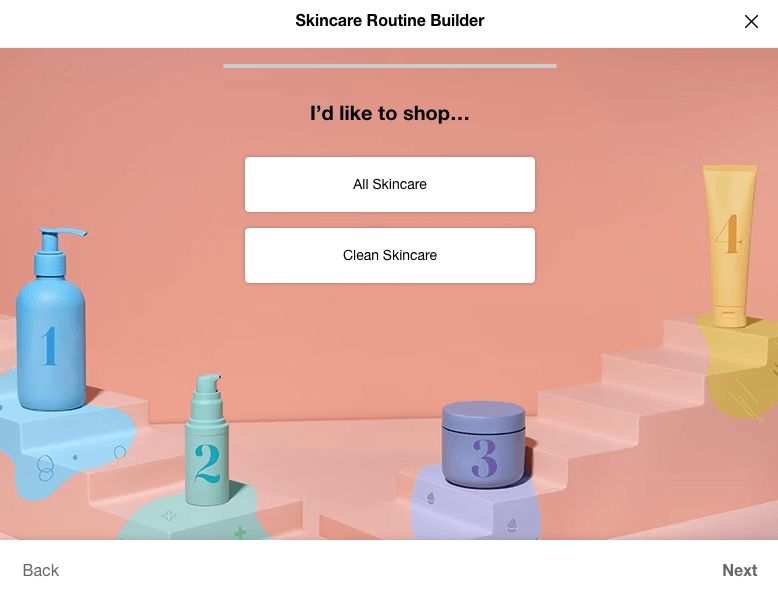 3. Zero in on visuals
People don't like reading massive blocks of text, and if your blog posts are 1,000+ words long, not including images is a recipe for a high bounce rate.
So, if you want to ensure reader engagement, it's essential to break up your pieces with images and other visuals. These colorful intermezzos will help your audience maintain their focus by making the content easy on the eyes.
Simply put, visuals will improve the readability of your long-form pieces.
In addition to that, it's much easier for people to follow instructions that combine text and illustrations than instructions without illustrations. Similarly, our brains are hardwired to memorize images better than words.
That's why infographics will do wonders for your engagement rates, as they turn data-heavy content into an easily digestible sequence of illustrations and pictograms.
Why overwhelm your readers with facts, figures, and stats when you can represent all the boring data in an interesting and fun way with the help of infographics?
Also, this type of content is much more effective for explaining complex processes than your average text-based step-by-step guides. The same applies to abstract concepts that would otherwise take a lot of words to communicate.
SomnifFix uses an infographic to recap important details about its product. So customers will learn everything they should know about its features, benefits, and contraindications at a glance.
By highlighting when someone shouldn't use the product concisely and immediately, the brand communicates the message clearly and effectively.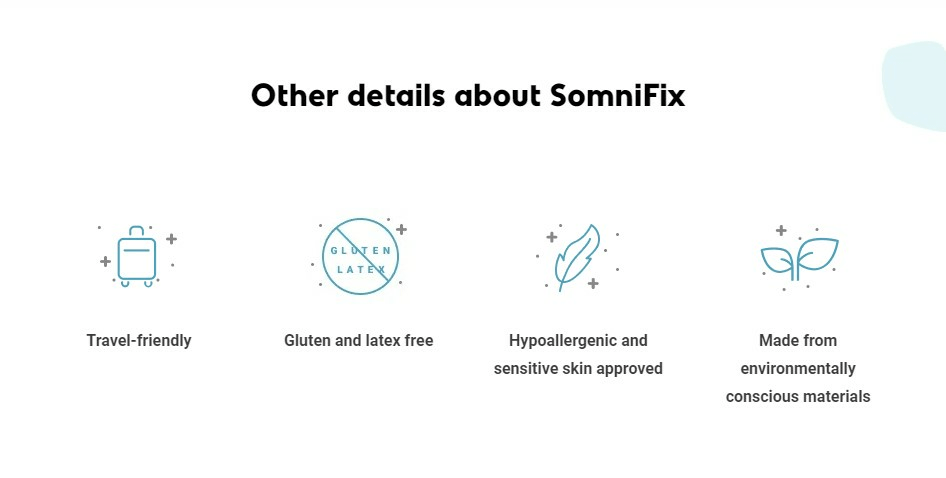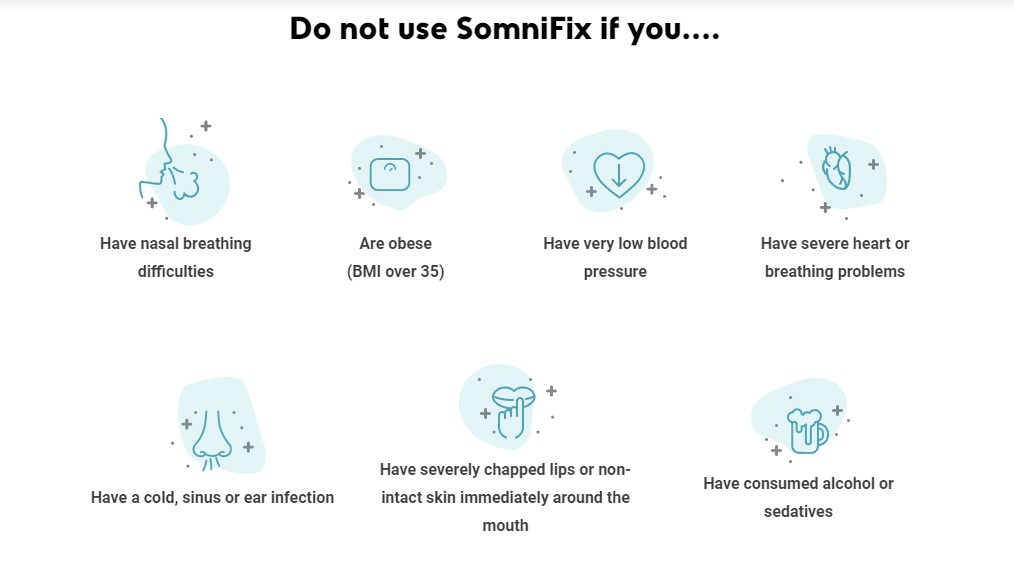 4. Include compelling CTAs
Your content is there to get your audience to do something. That can be signing up for your newsletter, downloading an industry report or other gated content, registering for a webinar, or following your brand on social media.
Exceptional content will answer their questions and offer solutions to their pain points. But your audience needs some extra encouragement to do what you want them to. That's why engaging content requires an additional ingredient to make it actionable — a compelling and bold call to action, such as a button for "learn more," "buy now," or even a call widget for "contact us."
This button is a valuable piece of real estate. First, it encourages user engagement by prompting them to interact with your website. That leads to more time spent on site, repeat visits, and a higher likelihood of taking a desired action.
To achieve all this and boost visitor engagement, your CTAs have to be prominent and highly visible. Here are some strategies for making these website elements conspicuous and click-worthy:
Ensure the CTA copy is relevant to the content's pain points or challenges.
Use contrasting, bold colors that make buttons pop against the background.
Direct visitors' actions using clear language.
Presetlove checks all the boxes as its homepage features conspicuous, strategically placed CTAs that visitors immediately notice.
The page doesn't feel cluttered, despite several bright red call-to-action buttons, thanks to the white background. Moreover, this combination allows for easier navigation between different preset categories.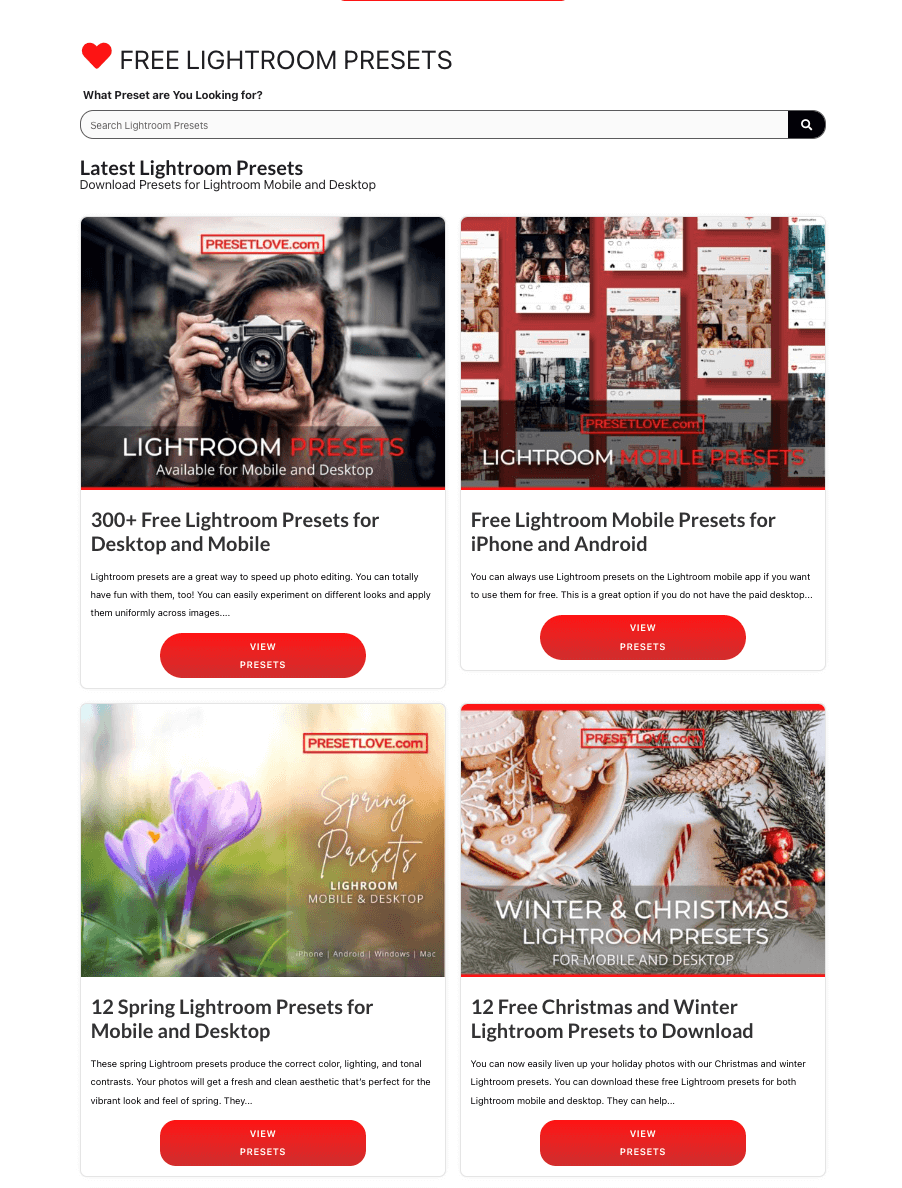 5. Be generous with negative space
We've already mentioned readability as a crucial factor to consider when crafting engaging content. The thing is that no matter how well-written and valuable your pieces are, they won't reach their full potential unless they're properly formatted and easy to follow.
White or negative space is a powerful yet often overlooked and underused tactic to help you create visually appealing and more accessible content. Using white space generously on your website, you'll:
Improve the readability of your content, give all the elements on the web page enough breathing space, and improve the natural flow of information. All this will enhance the user experience and transform your content into an engaging read.
Accentuate key information. White space allows you to organize your content better and draw visitors' attention to the specific information or web page elements you want to highlight.
Guide your audience through content. By separating paragraphs, sections, and page elements with the right amount of negative space, you can establish a clear and logical hierarchy of your content.
How to strike the right balance with negative space
Striking the right balance is everything in this case. Too much empty space can disrupt the ‌flow, while too little will create clutter and hurt readability. To avoid these extremes, follow these best practices:
Use short, easy-to-read sentences and paragraphs.
Set the letter spacing to at least 0.12 times the font size, word spacing to at least 0.16 times the font size, and line spacing to at least 1.5 times the font size to reduce the strain on readers' eyes.
Opt for larger fonts to accommodate visitors who browse on mobile devices. Don't make them pinch and zoom to read. Note that at least half of your visitors browse from smartphones and tablets. That's why this UX tactic goes a long way toward improving the readability and engagement of your content.
Organize your content into narrow columns to reduce the number of words per line and maximize white space. This kind of layout will help readers focus on the content and make learning all that information easier. Plus, it accommodates skimmers who don't read word for word but rather scan content.
Aura's homepage features a minimalistic layout with plenty of white space and content structured in a narrow column. As a result, customers can quickly spot the information they need and understand what the product does and how they'll benefit from it.
The brand manages to inform and educate its audience without using too many words or taking up too much room, contributing to the content's visual appeal.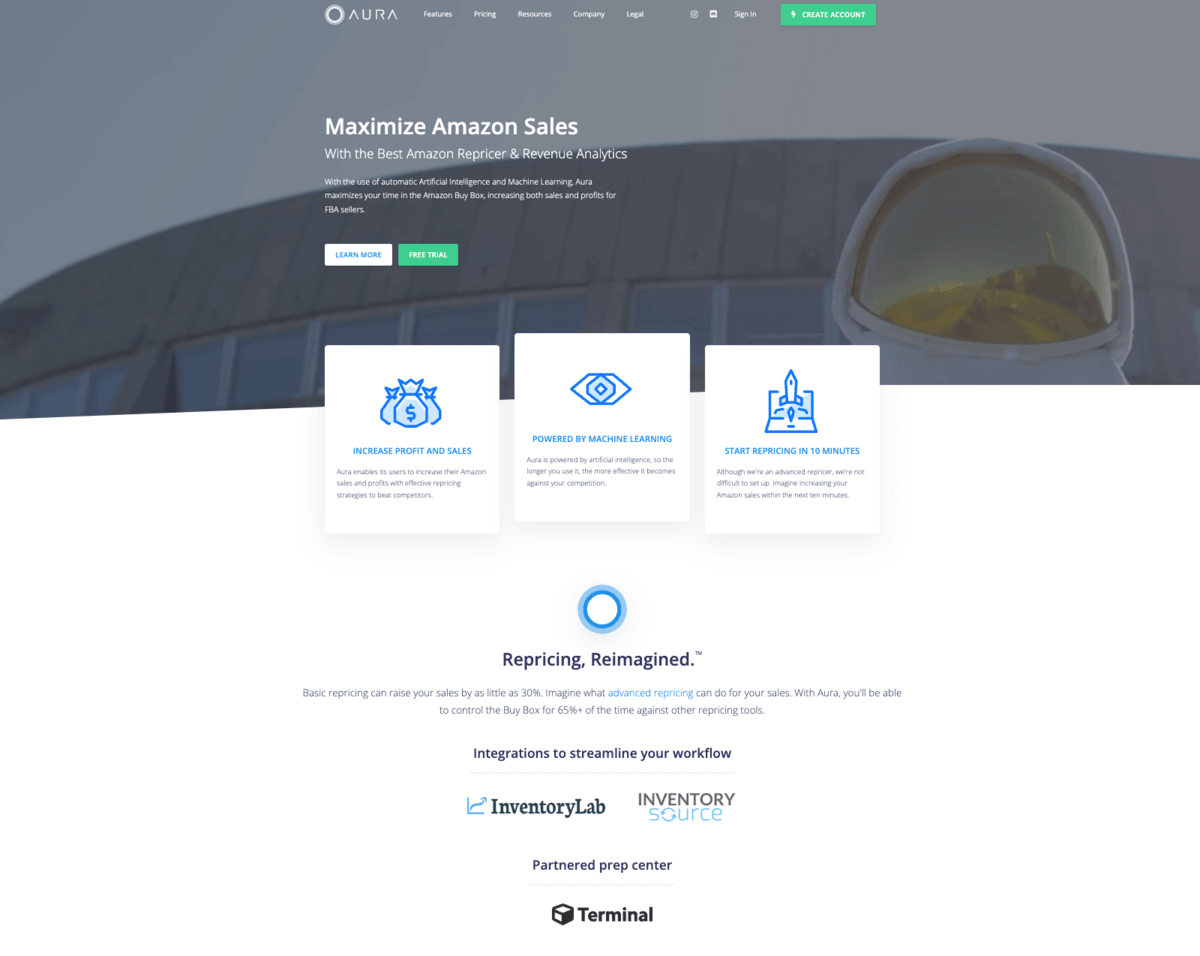 6. Encourage user-generated content
User-generated content is synonymous with engagement.
So, instead of posting only articles, images, videos, and other media your brand creates, it's a much better idea to include your customers in the process and give them the floor.
UGC is indispensable for your content marketing efforts for several reasons:
It comes across as more genuine and relatable than branded content. Naturally, people are more receptive to content created by their peers, so let your satisfied customers speak for your brand.
It's powerful social proof, showing prospects what existing customers think about your brand and driving participation.
It shows that you appreciate your customers' input and value their opinion, thus humanizing your brand. Sharing their content on your channels shows that they matter to you and make them feel special.
It's great for building a loyal community. UGC makes customers feel heard and seen, which helps build a community that'll drive engagement and foster loyalty.
The B2B industry benefits from customer success stories and case studies. They demonstrate how others succeeded with the help of a product or service.
These two types of UGC rely on numbers, metrics, and other quantitative data to illustrate what a potential customer can expect if they implement their product or service.
On the other hand, customer reviews, social media posts, and images and videos that show customers using a product are more suitable for B2C brands.
When talking about engagement, it's worth mentioning that responding to followers' comments and sparking discussions on social media can encourage more customers to share their experiences with your brand and create UGC.
Apple's Instagram profile is a masterclass in user-generated content. The brand almost exclusively uses this channel to showcase its customers' photos and videos shot on the iPhone.
Both parties benefit from this, as Apple gets free promotion of their products, while their customers get to present their artwork in front of a massive audience.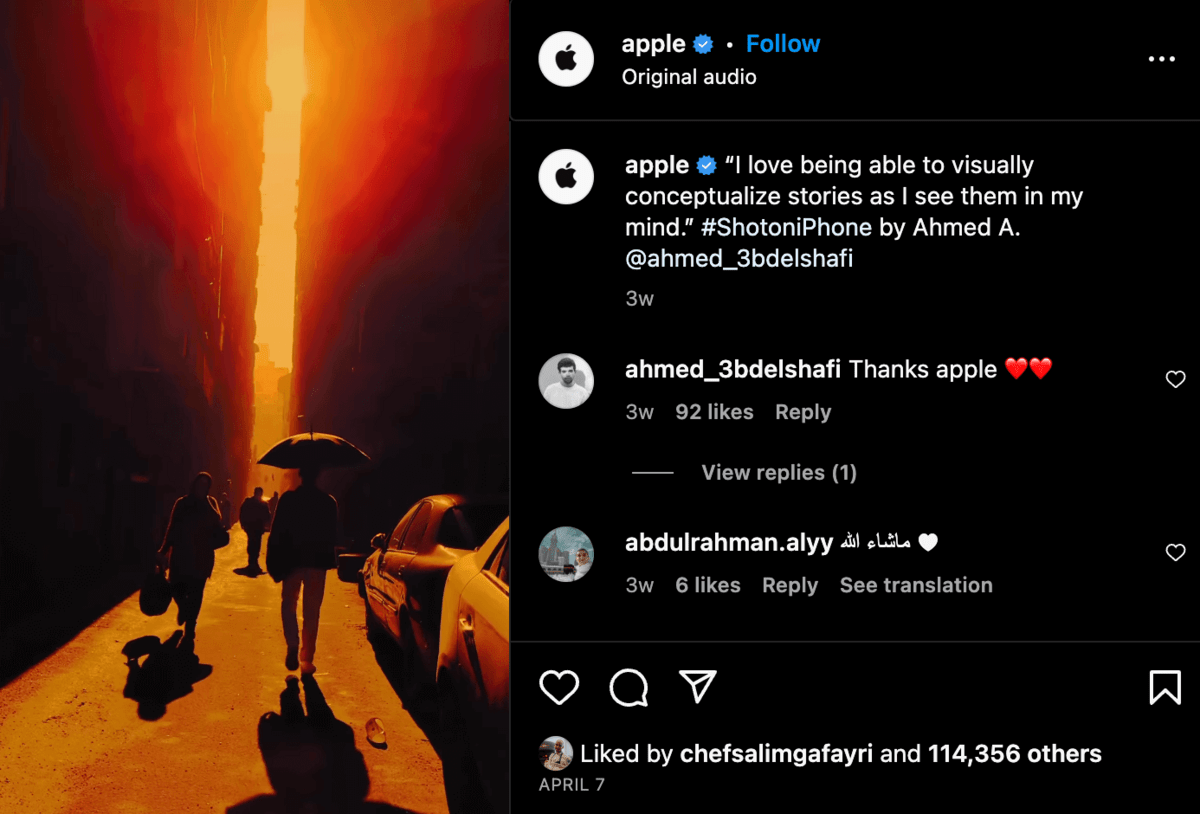 In closing
Cutting through the noise with your content can be quite a feat. But, keeping your audience engaged once you reach them with your content is even more challenging. That's why you should combine the tactics and approaches discussed in this article.
Don't forget to test everything and see what works and what needs improvement. It's all about crafting authentic, credible, and valuable content that's easy to read and involving your customers.
With the right recipe of content that drives audience engagement, the sky's the limit.