Are you looking for a way to earn passive income without having to hold stock, make products, or trade your time for money?
You might consider creating an affiliate marketing website.
However, with so many other affiliates out there, how can you make sure your site stands out and actually drives the traffic — and revenue— you need to make your passive income dreams come true?
It starts with an easy-to-navigate website, high-quality content, affiliate marketing tools, and a lucrative niche.
To that end, we are going to look at eight examples of successful affiliate marketing sites and talk about what they work — and what strategies you can apply to your own successful affiliate marketing site.
But, before we dig into examples, let's talk about what affiliate marketing is, and how you can use it to build a passive income.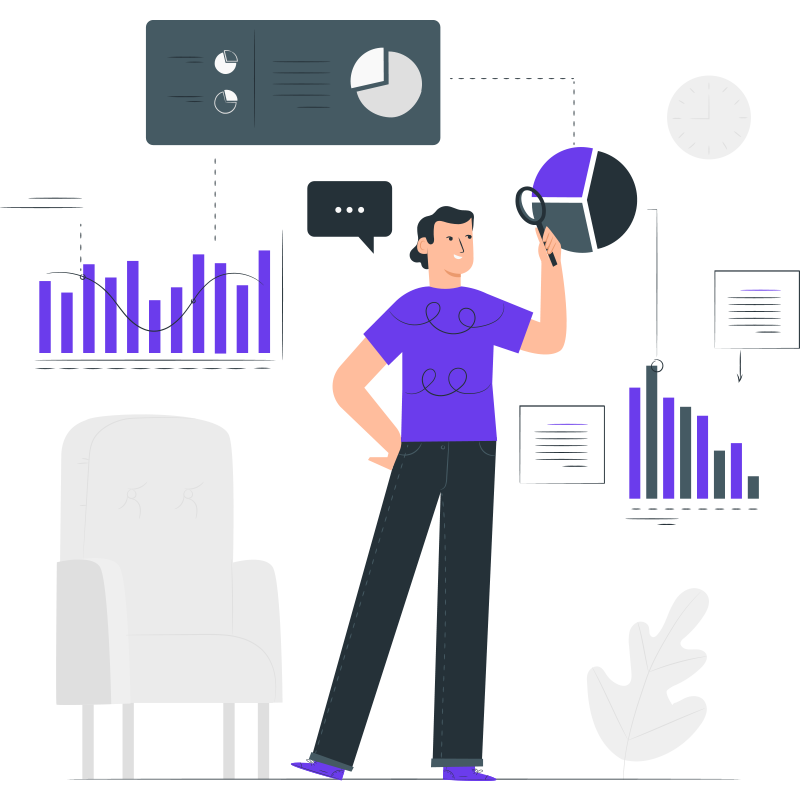 Get long-term ROI.
We help you grow through expertise, strategy, and the best content on the web.
What is Affiliate Marketing?
Affiliate marketing is a way to earn passive income by promoting other people's products or services and earning a commission when users follow your affiliate link.
Essentially, you serve as a marketer for another company and earn an income when someone buys a product or service through your affiliate link. For example, you might write a blog post about digital marketing where you review your favorite marketing tools. Many of those tools have affiliate programs, so when your readers sign up for the tool, you earn a small commission. Sounds easy enough, right?
Well, to be successful, you'll need to repeat that last step a few hundred times.
Why do you need a great website to be successful at affiliate marketing?
Affiliate marketing might sound pretty easy — just throw up some content and let the money roll in, right?
The problem is, the affiliate marketing sector is highly saturated.
Currently, the affiliate marketing industry is worth $12 billion, which means there are a lot of other sites in nearly every niche trying to do the same thing.
On the other hand, 81% of brands rely on affiliate programs — so while there is plenty of competition, there are also tons of opportunities.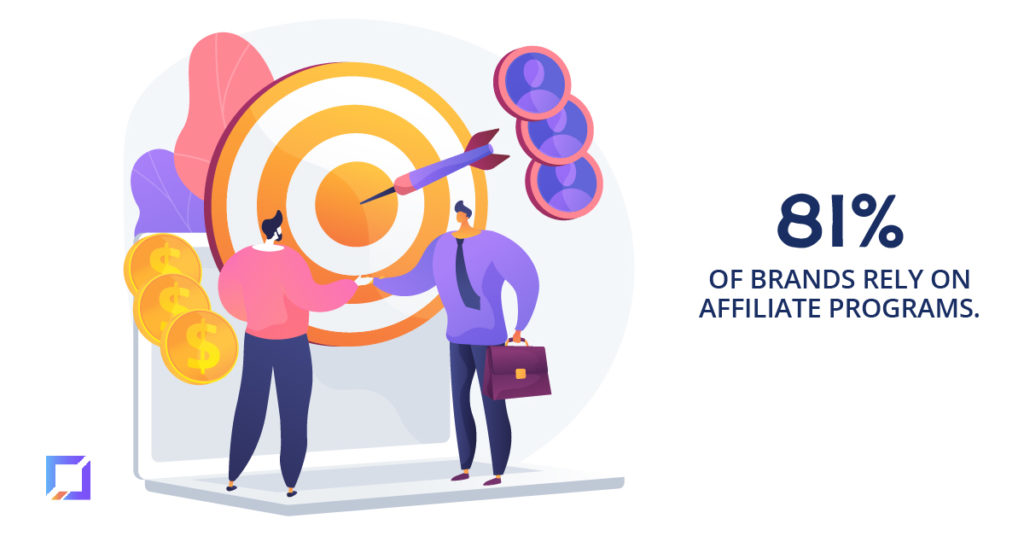 The most effective affiliate marketers know that making sales starts by inspiring trust.
So how do you do that? Let's look at a few of the most successful affiliate marketing website examples.
Key Takeaway
The most effective affiliate marketers know that making sales starts by inspiring trust.
9 Affiliate Marketing Website Examples You Can Learn From
You have to be willing to invest time and energy into building a lucrative affiliate marketing website.
But, you might not know where to start.
Let's analyze some of the most successful examples of affiliate marketing websites — including what strategies they use to draw in users.
#1. Whoishostingthis.com
Whoishostingthis is a website dedicated to reviewing hosting companies and website builders. Hosting is a pretty competitive niche, but it is also quite lucrative.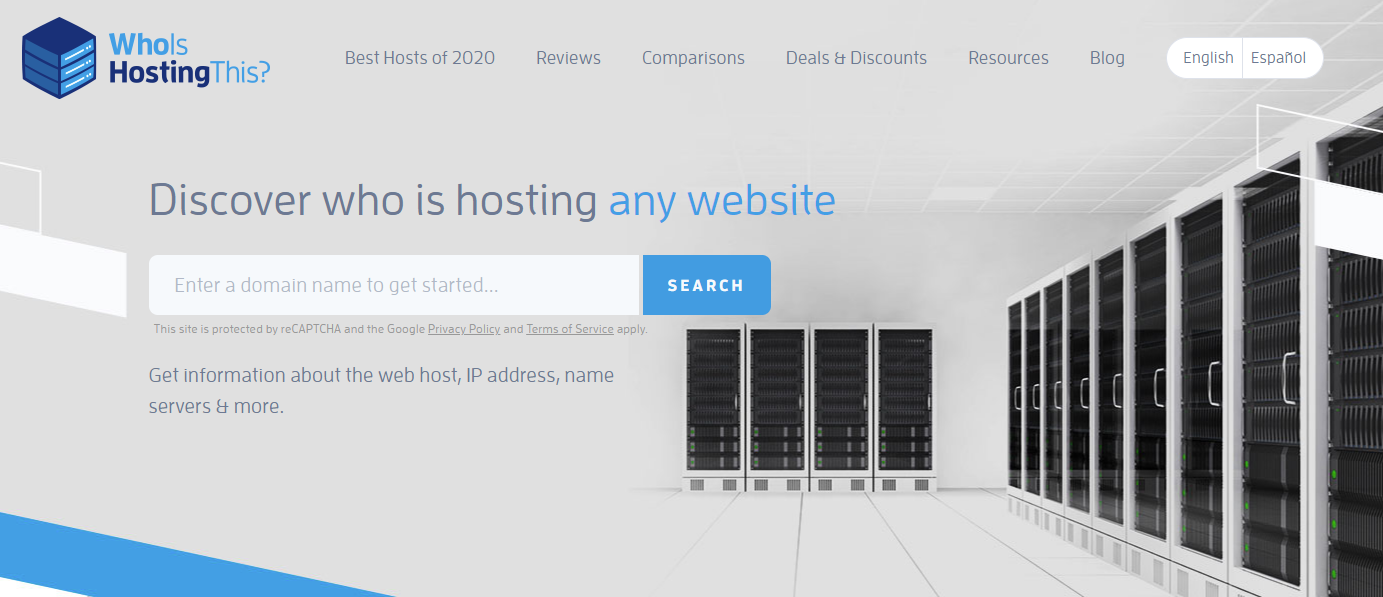 Their content includes super in-depth reviews of some of the most popular hosting companies, including this one of BlueHost & HostDuplex.
Notice the table of contents, which makes it easier for readers to find the features or concerns they might have about the host.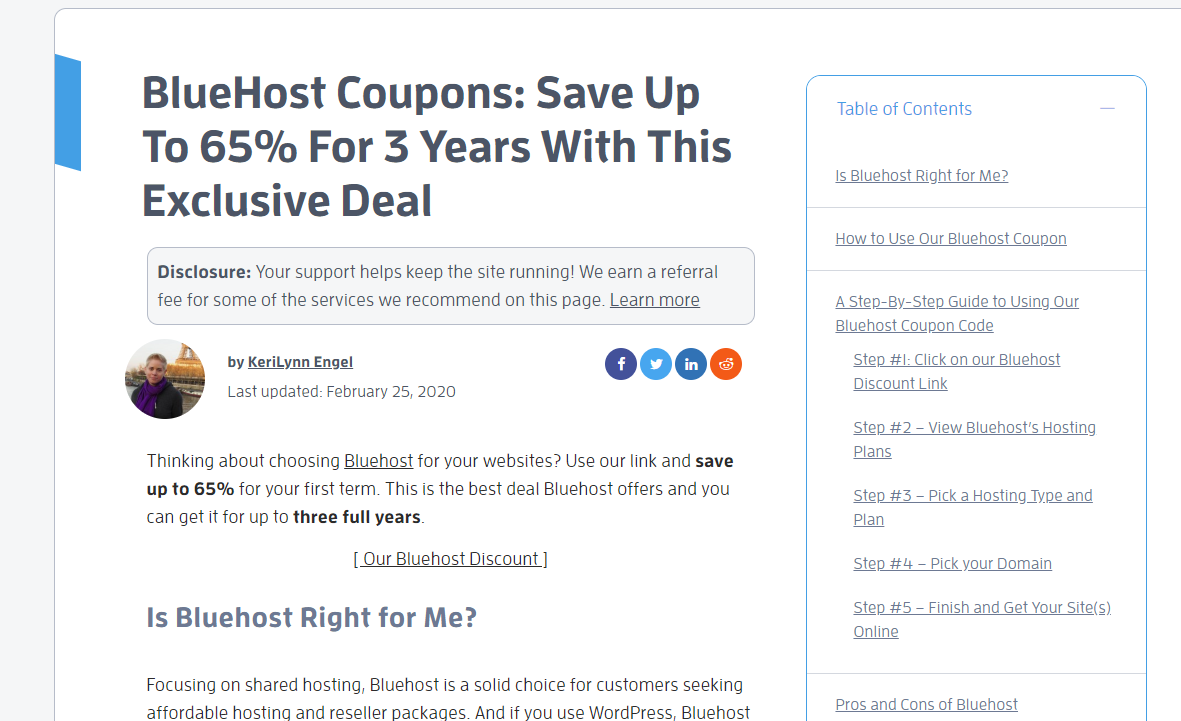 They also offer comparison tables, which makes it easier for users to compare different hosts to find the right one for their needs.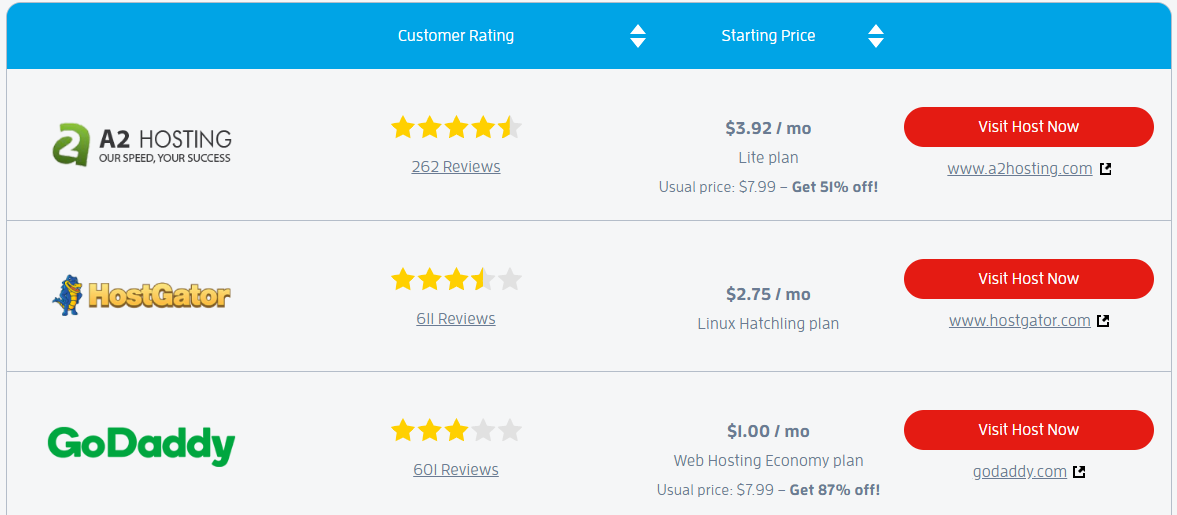 Why this affiliate marketing example works:
The use of a Table of Contents on posts to make them easier to peruse.
The use of internal links that lead to other useful content.
Comparison tables so users can easily compare features between hosts and web builders.
Screenshots and walkthroughs that explain how features work in-depth.
In a lucrative niche (hosting) where most companies use affiliate product marketing.
SEO optimized posts that drive organic traffic rather than relying on paid ads, which can eat up profits.
Revenue: Whoishostingthis has not released official revenue numbers, but hosting affiliates generally earn between $50 and $150 per customer sign up.
#2. WireCutter
WireCutter is a popular review site owned by The New York Times. They have built a strong reputation with consumers by providing detailed content on a huge range of products, including electronics, home and garden, kitchen, travel, credit cards, gift lists, and more.
Here is an example of one of their recent posts about noise-canceling headphones:
While they do offer direct reviews of products, this post covers questions users often have about noise-canceling headphones. Its primary goal is to inform customers and capture searches from users who are interested in noise-canceling headphones — but might not be ready to buy just yet.
Why this affiliate marketing example works:
Their content marketing strategy includes covering a wide niche of products including travel, home and garden, and electronics. This wide coverage also helps diversify their affiliate income sources so they aren't relying on one affiliate network, such as Amazon Affiliates.
They use storytelling and educational content in addition to reviews, which are more engaging and helps build audience trust.
High-quality images to help users see the products before they buy.
Revenue: Generated $150 million in ecommerce revenue in the first four years. (The site was purchased by the NYT for $30 million, and revenue is no longer separated from NYT overall profits.)
#3. Sleepopolis
Sleepopolis is a mattress review site founded in 2014 by Derek Hales. It was later acquired by Casper after a court battle, but remains one of the top mattress comparison websites in the space.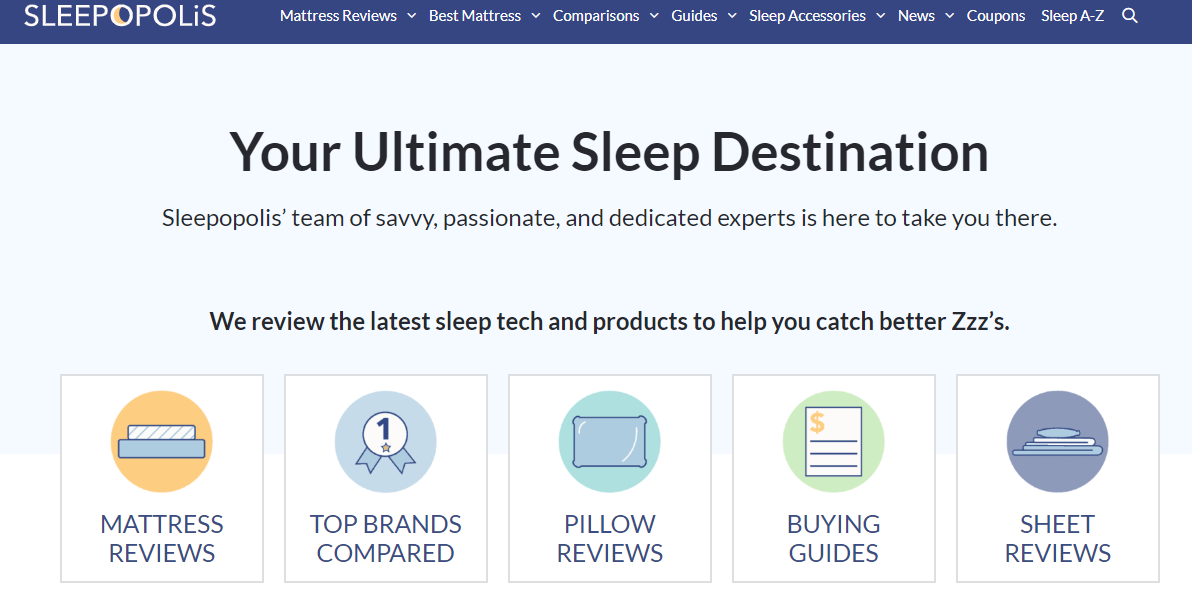 While the website's homepage is on the bland side, there are several strategies you can learn from.
Why this affiliate marketing example works:
Detailed content about every type of mattress, pillow, and sheet you can think of.
An about page that showcases who they are, which helps establish trust. The page includes images of their team and personalized bios.

The website is easy to navigate due to the navigation bar and the category pages, which are featured front and center on the website's homepage.
The comparison guides help grab Google snippets and make it easy for users to find exactly what they are looking for.

Revenue: Estimated annual revenue of $5.7 million
#4. Carseat Answers
Carseat Answers aims to answer the top question on many parents' minds — what car seat should I buy to keep my child safe?
And while it might seem like a no brainer, there are dozens of factors that can impact the answer, including the age and size of the child, the car they drive, and whether or not the family travels often.
Overall, the site is pretty simple (which just goes to show you don't need a $40K website to make a decent income as an affiliate marketer!)However, it is chock full of useful information.
Why this affiliate marketing example works: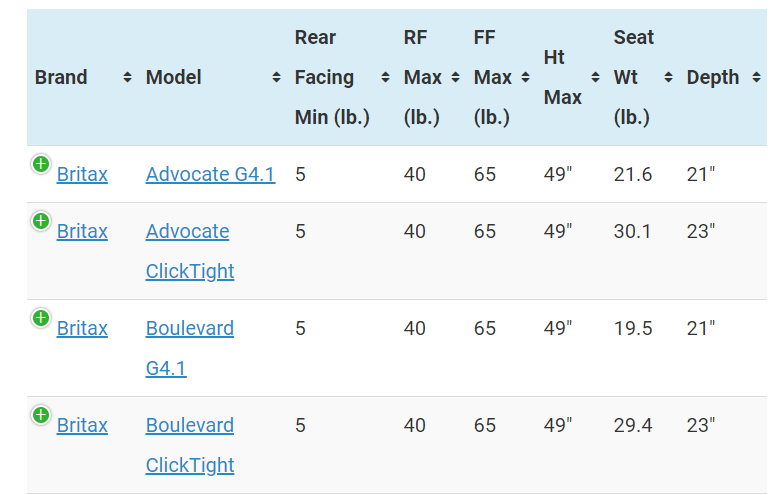 Covers a topic that people care passionately about (keeping their kids safe) and has complex answers — there are hundreds of car seats on the market and tons of rules and laws that can get really confusing.
Easy to navigate navbar with dropdowns to make it easy to find the information you are looking for.
Revenue: I was unable to find revenue for the website, but they get more than 2,500 views per month, according to SEMrush.
#5. 100 Days of Real Food
100 Days of Real Food is a blog and affiliate site founded by Lisa Leake in 2010. It was originally dedicated to sharing the changes she was making in her own family's food choices by eating only real food for 100 days.
Over the years, it became a large platform for sharing resources about eating clean, healthy meals.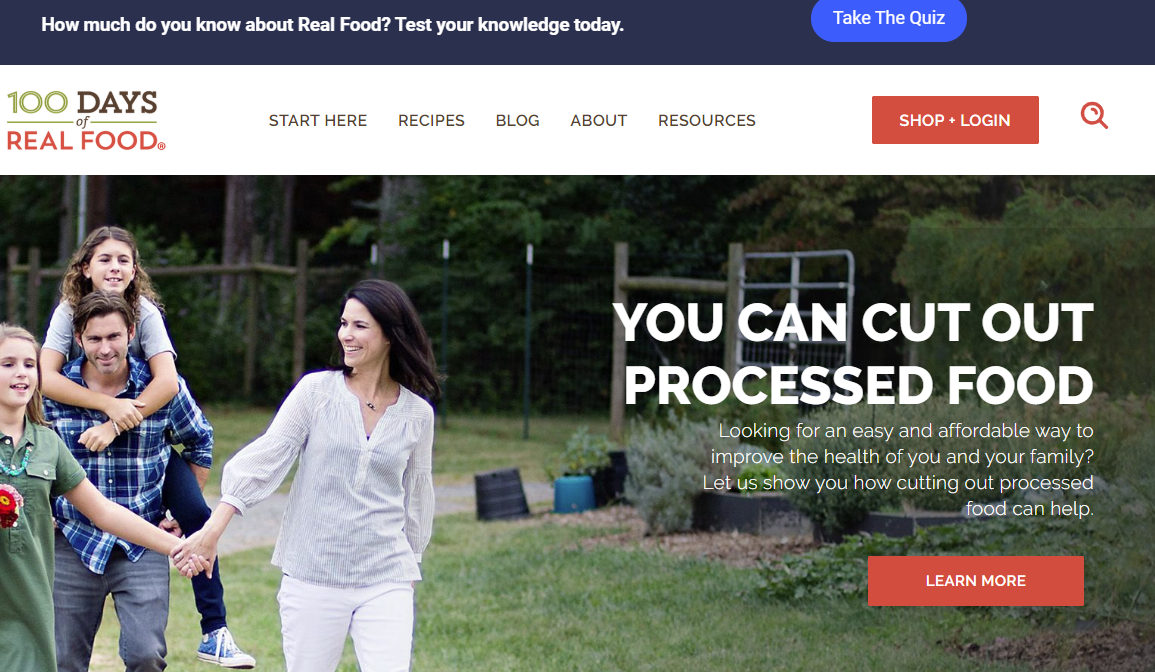 The site includes a range of healthy recipes, blogs, and other tips for families looking to improve their health by cutting out processed foods.
Why this affiliate marketing example works:
The use of social proof, including reader reviews and websites where their content has been featured:

Separating the content based on where the reader is in their journey, which makes it easier to find the right type of content.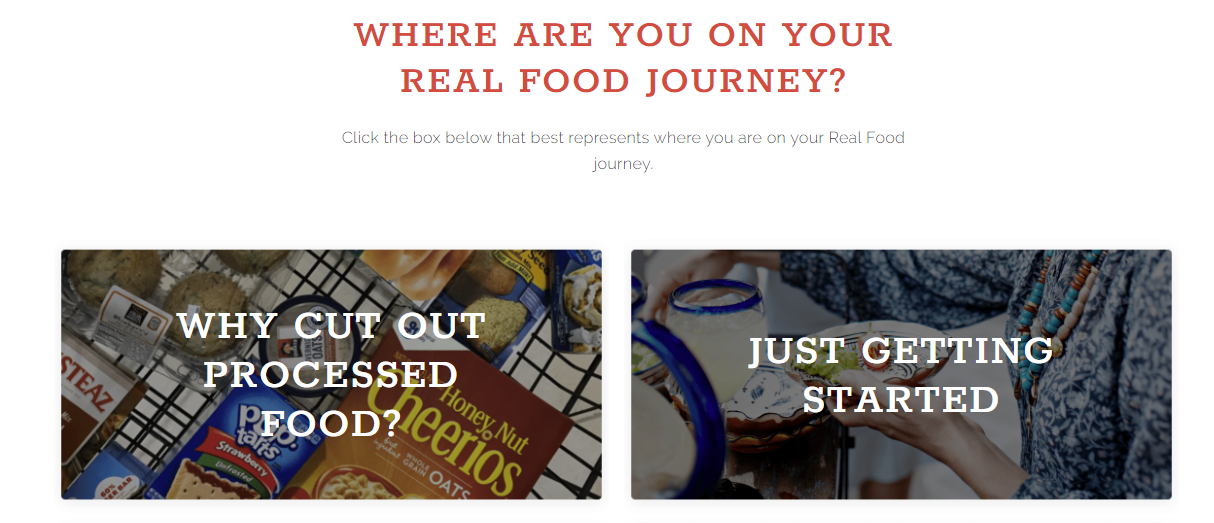 Diverse income streams. While they do rely on some Amazon affiliate income, the site also monetizes their site by promoting their own products, including cookbooks and courses. 100 Days also partners with advertisers to create sponsored posts. This diversity ensures the site will survive even if Amazon reduces its Amazon affiliate commission rates, for example.
Incredibly active social media presence, which helps drive traffic to the site from Facebook, Twitter, and Instagram.
Revenue: Lisa doesn't release income statements, but she has three New York Times best-selling books, more than 1.6 followers on Facebook, and 130,000 followers on Instagram. Her husband also works for the site full time.
#6. The Points Guy
When it comes to affiliate website examples, you'll see The Points Guy's site comes up quite a bit. The site is often held up as a shining example of affiliate marketing done right.
The site is filled with useful information for travelers looking to earn points through credit card hacking, but it also covers industry news, credit card comparisons, and reviews of new and luxury airlines.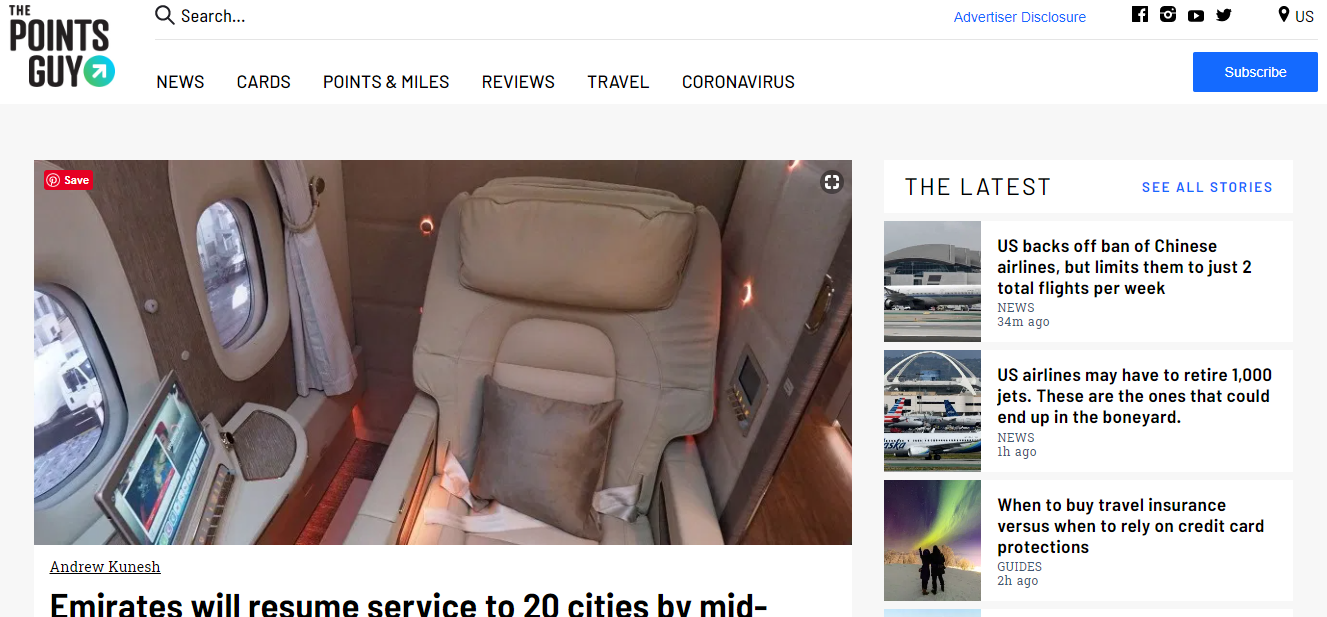 Why this affiliate marketing example works:
TPG makes money off of credit card referral bonuses, which is a highly lucrative sector of affiliate marketing. But, rather than just covering credit cards, they niched down to focus on users who use "travel hacking" to earn points and travel for little cash.
They focus on building an email list, (even when travel is down due to the coronavirus) by using a highly relevant lead: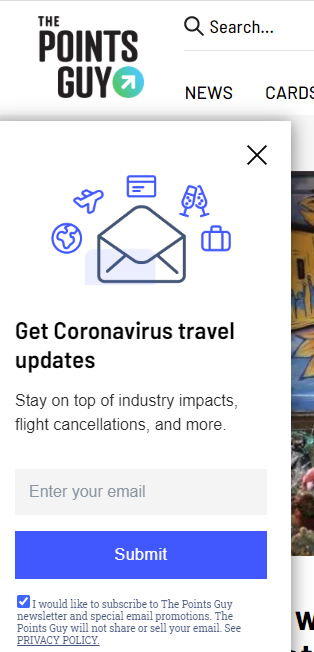 They cover the latest news too, which is not related to credit cards, but is relevant to their audience: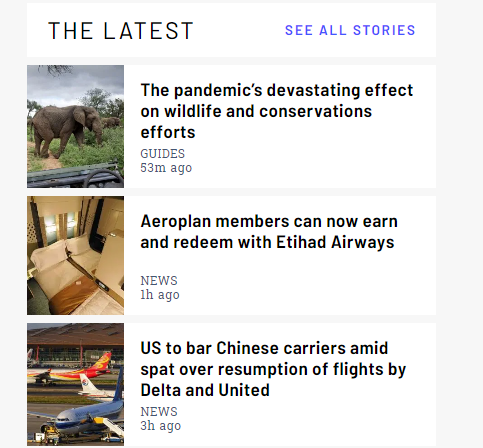 TPG uses an exit-intent email pop up to drive more sign-ups. This is important because credit card sign-ups often have a long decision cycle — by capturing those leads, they can continue to nurture readers through email marketing.
Incredibly in-depth blog posts covering credit cards, travel destinations, and even topics like car insurance.
They are working to diversify their revenue by offering events, tools, apps, and communities.
Revenue: While TPG doesn't release income statements that I can find, it was sold to BankRate in 2012 for $20 million and then again to Red Ventures in 2017 for $1.24 billion.
#7. This is Why I'm Broke
This is Why I'm Broke is an Amazon affiliate partner website that has cornered the market on weird products.
Unlike some of the bigger Amazon affiliate sites, This is Why I'm Broke takes a more casual approach to affiliate marketing. The often tongue in cheek site scopes for the most unusual and interesting products from all over the internet.
The website itself is nothing to write home about— but design clearly isn't everything.
Despite its simple layout, the site has found a few strategies that really work.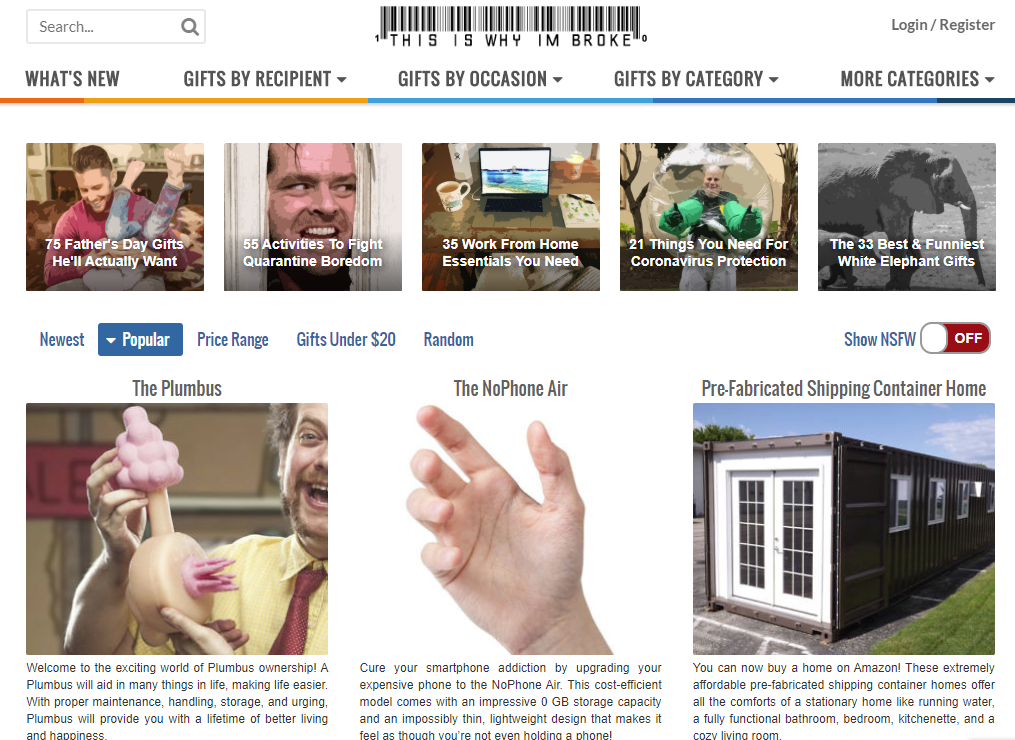 One of the most effective strategies they use is a plethora of social proof in the form of reviews and 'saves'.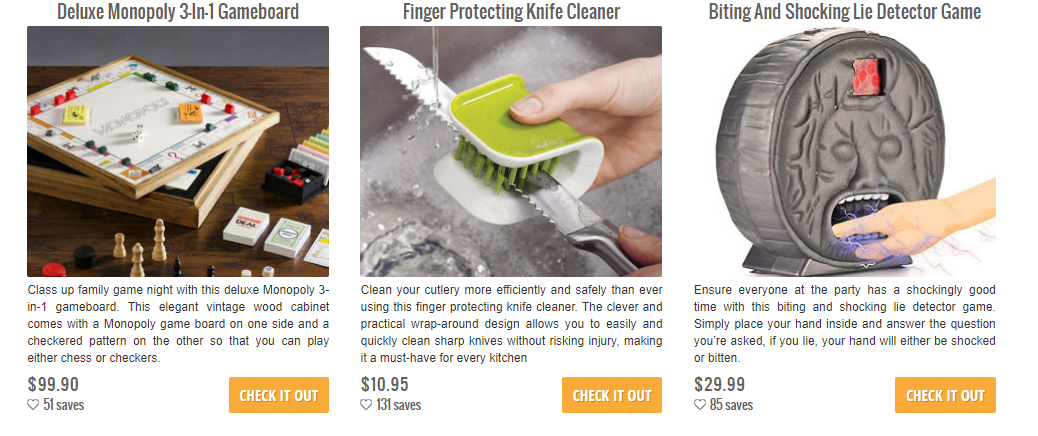 And that social proof is powerful.
Why this affiliate marketing example works:
The site's tongue in cheek style draws in their target audience of younger internet users.
Their funny product finds often go viral, bringing in tons of free traffic.
They offer gift guides, which are a funny yet informative way to promote affiliate products.
It is an unusual niche site — people looking for off the wall products — so competition is pretty limited.
They highlight prices and "saves," which serve as social proof.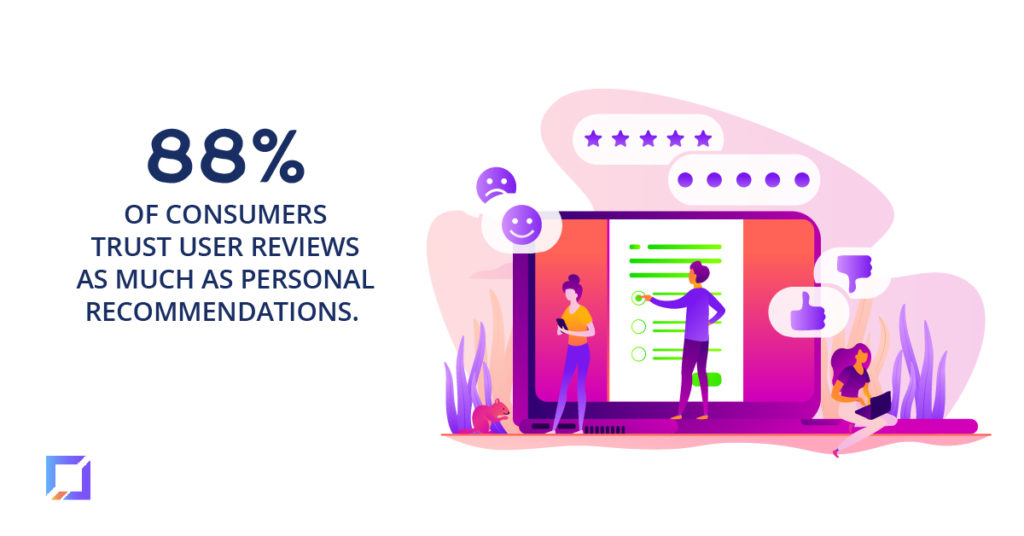 Even if you don't buy any of the weird products they promote, This is Why I am Broke can still earn money as an Amazon affiliate website— as long as you click an affiliate link and then buy something on Amazon in the next 24 hours.
Revenue: While they don't release official numbers, the owner has shared, "It is a very lucrative business model – it's an extremely low-cost site full of affiliate links that get shared at viral traffic levels."
#8. Bookish
Bookish is an affiliate website dedicated to all things books. They publish a wide range of reviews, interviews, and book lists — all related to reading.

Why this affiliate marketing example works:
Diverse income streams: Bookish participates in affiliate programs through IndieBound, Amazon, Etsy, Barnes & Noble, and other retailers. They also promote their own books, through NetGalley and book club kits.
They offer a wide variety of content — not just book reviews, but also interviews, anti-racism resources (which are timely), and tips for participating in a readathon.
They use engaging quizzes like this one, which keep readers both interested and entertained: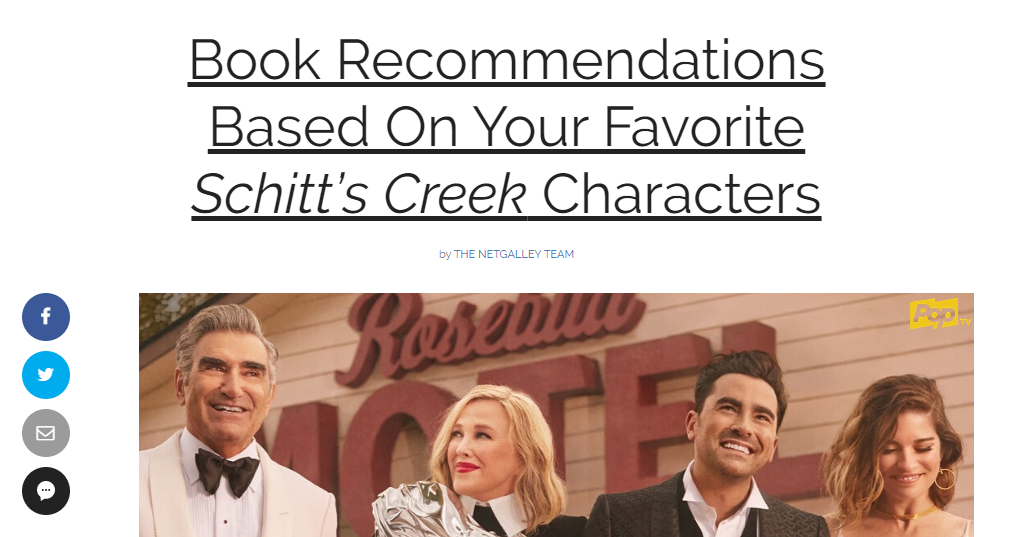 Revenue: The Bookish website is owned by NetGalley, which uses the site to share books from NetGalley. There are no revenue reports available, NetGalley does get 22.5K organic visits per month, according to SEMrush.
#9. Kommo
Another company that provides a way of earning money as a side, or even a main hustle, is Kommo. Being a less-known name among the affiliate marketing website examples brought up here, Kommo has lots of benefits for those who choose to become partners.
It specializes in a quite different market when compared to the other listed here: software. Specifically, a CRM System to manage enterprises and its ways to connect with customers.
In general, the affiliate program is quite simple, offering up to 35% in commission, without needing to invest a cent. Kommo counts on liberal professionals, as well as marketing companies, to provide the services of affiliates.
Why this affiliate marketing example works:
It is quite direct and attracts the eyes of a miscellaneous group of people.
They offer courses and deep training to people who are interested in becoming affiliates;
The product sold is quite searched for in nowadays market;
They have a strong and known product.
Final Thoughts on Building a Successful Affiliate Website
Affiliate marketing can be incredibly lucrative; however, market saturation means affiliate marketers must create an easy to use, authority site with strong, useful content to draw in visitors.
As you can see from the affiliate marketing website examples above, there is no one-size-fits-all solution to driving traffic and revenue. A simple site with quality content can still generate high levels of revenue.
As an affiliate marketer, your core goal should be to provide high-quality, useful content first, and foremost. And, make sure to diversify your income. Don't rely totally on one affiliate marketing program — such as Amazon — or your income will be at the mercy of a third party.
Not sure where your content stands? Get a free content audit today.