Ginger is a grammar and a spell checker tool that has been gaining popularity around the Web.
It is constantly referenced as one of the top three services in the world, commonly being compared to heavy hitters grammar checker apps Grammarly and WhiteSmoke.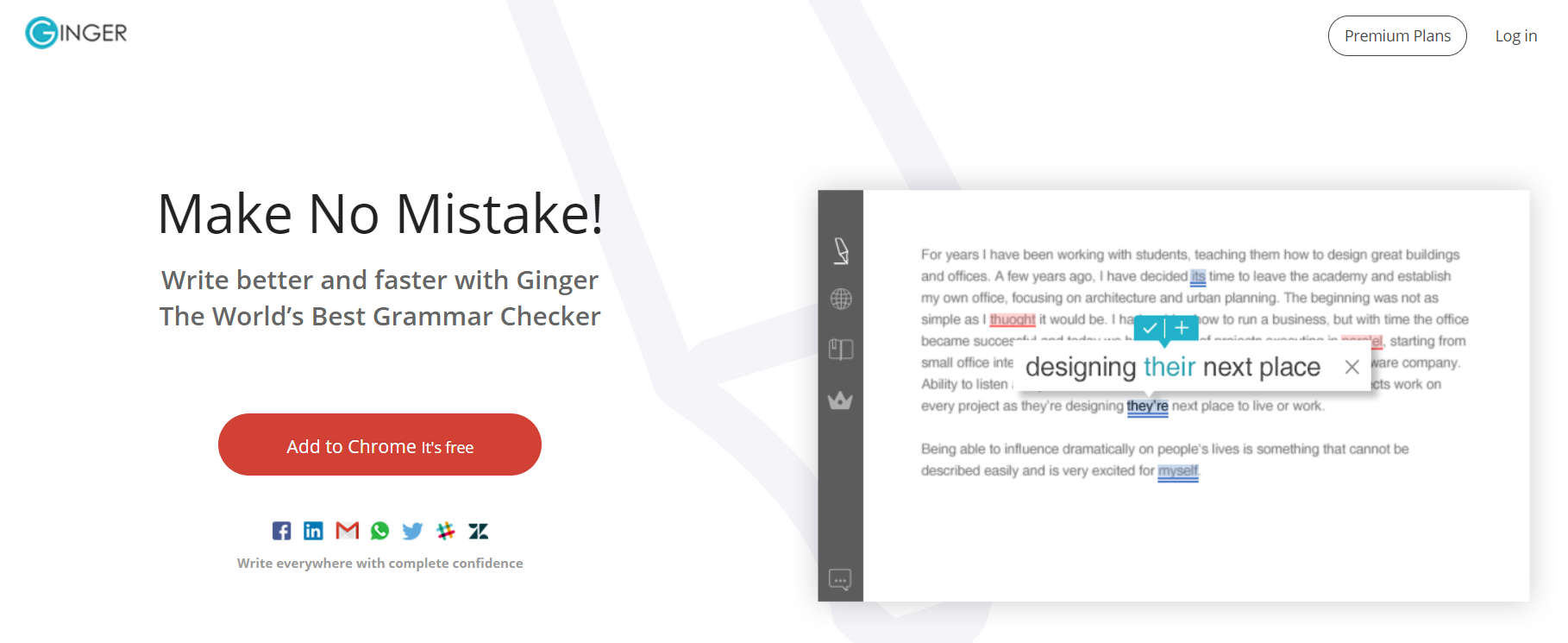 When a writer uses a grammar checking system, there are a few questions that they want to answer.
Is this an accurate system?
What are its limitations?
Does it check for plagiarism?
How responsive is the customer service department?
Is the price worth the service?
At our content marketing agency, we've reviewed and tested some of the best grammar checkers.
We put Ginger through the same exhaustive series of tests that we subject all of our grammar checkers to, hoping to once and for all determine where this increasingly popular service ranks in the upper echelon of grammar and spelling checking services.
But can Ginger live up to the hype? Will it carve out a place atop the grammar checking world alongside some of the very best, or will it fall woefully short?
That's what we intend to find out in this Ginger grammar checker review.
Disclosure: These reviews are reader-supported. We might earn a small commission if you purchase something through our site. Learn more
Our Verdict
Ginger's pricing is great and the language selection is a huge bonus. However, the biggest drawback is no plagiarism detector. The reporting is pretty sparse, and you might not get a whole lot of support, either, so we would also recommend Grammarly or ProWritingAid.
While Grammarly might be on the pricey side, you can save 20% with our link. 
Grammarly
Best All-Around
$11.66
/mo – before discount
PROS
86/86% accuracy
16+ billion database
150k+ word limit
5 device limit
1-hour response
CONS
Only English
Expensive without our link
Ginger Grammar
Limited Features
PROS
Over 60 language translations
Unlimited premium use
Highly compatible with devices
Easy to use and install
CONS
No plagiarism detector
Poor reporting
Poor customer service
Grammarly Premium Walkthrough Video
TABLE OF CONTENTS
Ginger Pros
You don't rise up the popularity ranks as Ginger has without some pretty strong positives. There's quite a bit to enjoy about this product. For starters, their language selection is one of the finest I've ever seen. They offer a series of additional features on top of the standard grammar checker, and the system is unlimited for Premium users.
Let's dive in and start singing Ginger's praises.
1. More than 60 Language Translations
One of the weaknesses that I found when reviewing Grammarly was their lack of language diversity. What is widely known as the best grammar checker in the world is only available in English.
It sounds subtle. But just like the experts from our MasterClass review can attest, it's the details that make all the difference!
Considering that English is spoken by less than 20% of the Earth's population, it is a glaring weakness in an otherwise fantastic product.
Ginger picks up the slack where Grammarly falters, offering service in more than 60 different languages for its premium users.
That's not to say that free users have no selection. All accounts can translate into 40 different languages.
Not only can Ginger check for grammar mistakes in these various languages, but it can translate entire essays from one language to another.
This is definitely impressive and worthy of praise.
2. Unlimited Premium Use
Premium users, those who pay to use the system, can enjoy unlimited access to Ginger's entire suite of services.
Many grammar checkers limit how much you can use them, even to paying customers. While a lot of the more expensive services have limitations that are in the hundreds of thousands of words, they are still limitations.
Ginger imposes no limits on how often premium users can access the service. You can check a full novel every single day and never be turned away.
Free users are not so lucky. They are allowed 14 corrections per month. One might balk at such limitations, but I would quickly point out that it is a free service, and you get what you pay for.
There is also no limit as to how many devices you can connect to. This makes Ginger ideal for businesses and families that would require multiple connections.
3. Installs on Many Devices
Ginger comes equipped with a number of applications, which are ready to install on your devices.
First off, Ginger can be downloaded directly into your Chrome or Safari web browser. This enables the service to work on most of the websites that you regularly visit. Among them are Gmail, Facebook, Twitter, LinkedIn, and many others.
Additionally, Ginger can be installed in Microsoft Office, working alongside programs like MS Word, PowerPoint, Outlook, and more.
Ginger also has a desktop app that can be installed on either Windows or Mac operating systems.
Mobile is not left out, as Ginger has both an iOS app and an Android keyboard to protect and police your mobile content.
4. Easy to Install
Installation was an absolute breeze when I downloaded the Ginger Windows desktop client.
The initial setup started instantly once the file was downloaded off of Ginger's official website.
I love the circular design of the installer. It's so unique and cool looking. It was definitely a surprise when it first opened.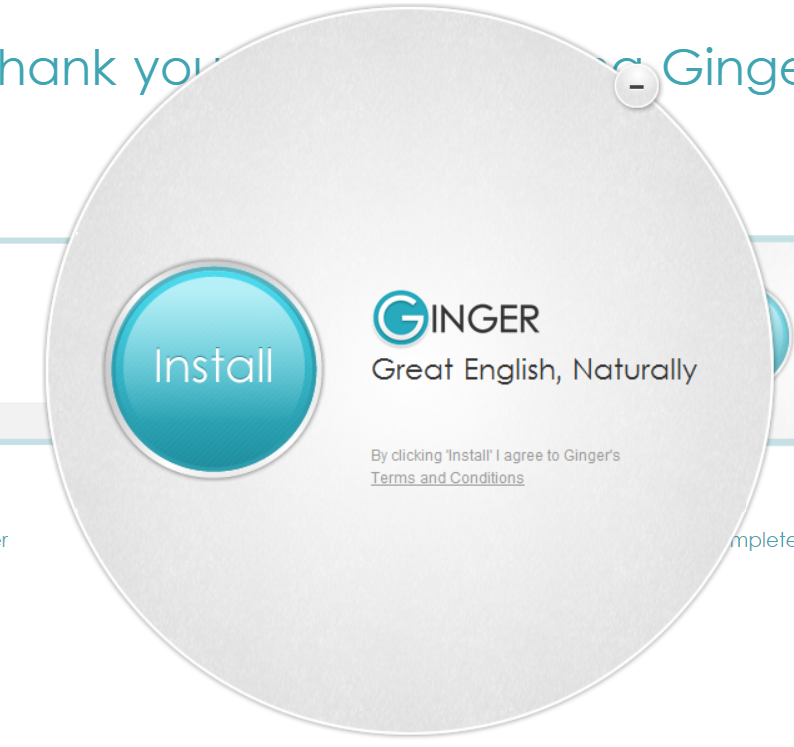 First, click "Install" to accept Ginger's terms of service and start the downloading process.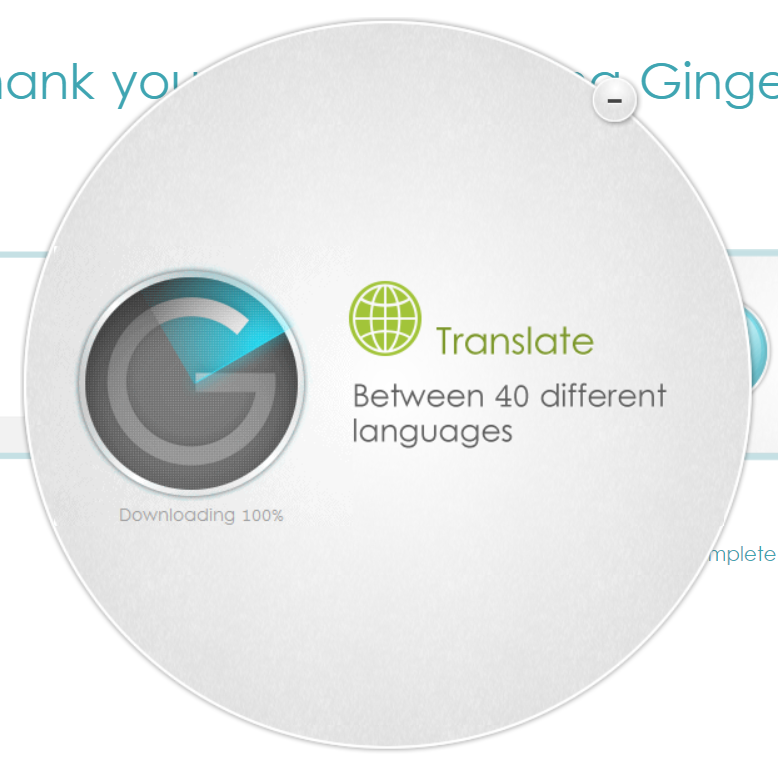 This will bring up another screen that runs through Ginger's various features while the service installs itself. The total download time was under 45 seconds.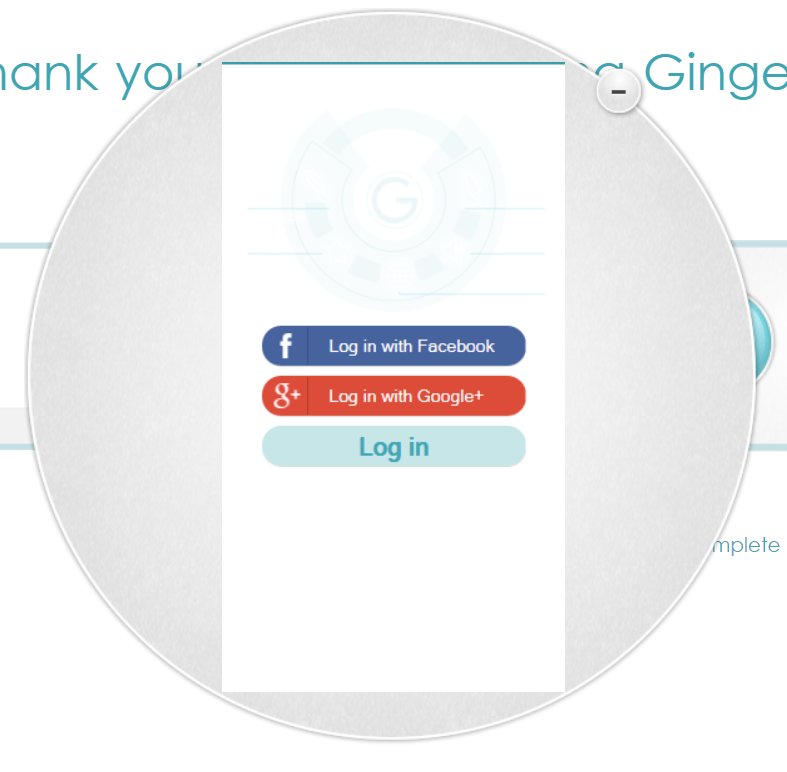 After that, you'll be asked to log in. You can do this by entering your email and password, or logging in via Facebook or Google+.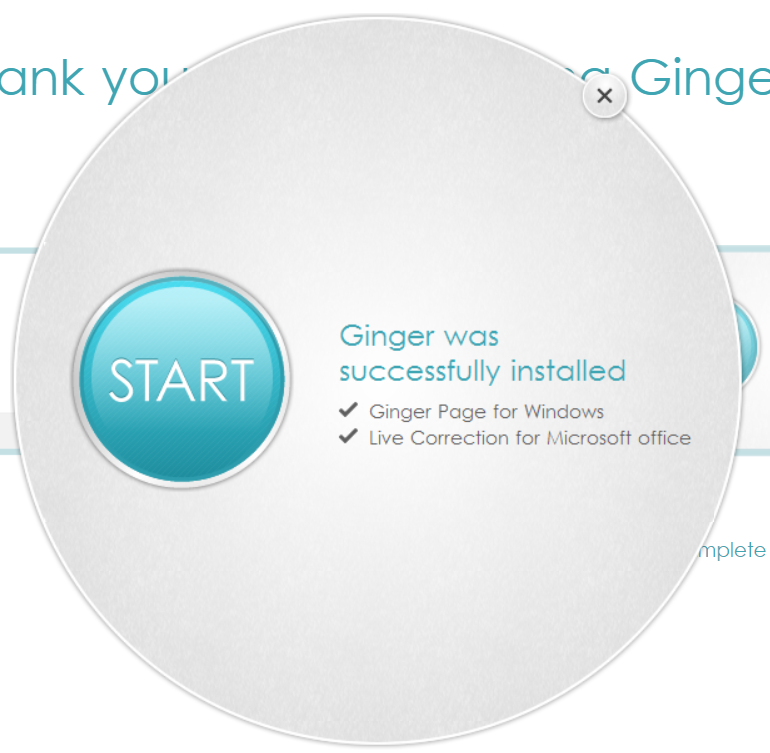 Once the login process is complete, Ginger will finish installing. You can begin by pressing the "Start" button on the left.
5. Easy to Use
There is nothing complicated about Ginger's setup. It's a blank sheet that you can easily paste a long document into.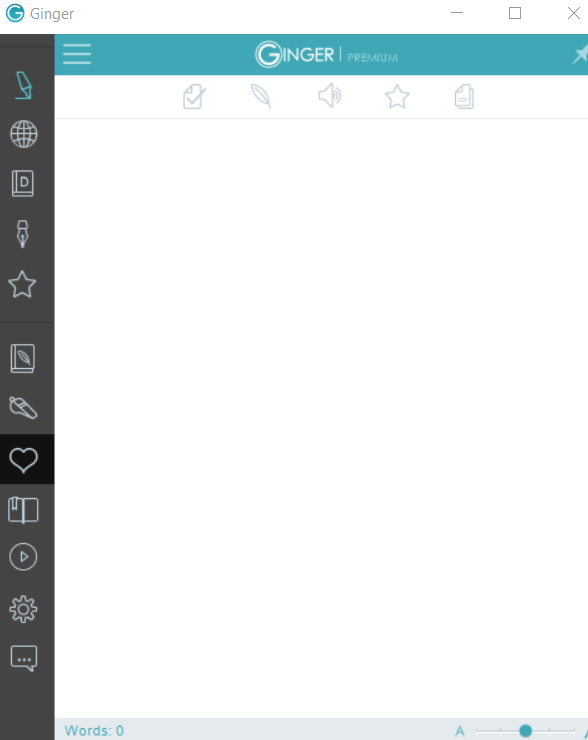 As you can see, there is a toolbar set up on the left-hand side, with all of the checker's various services.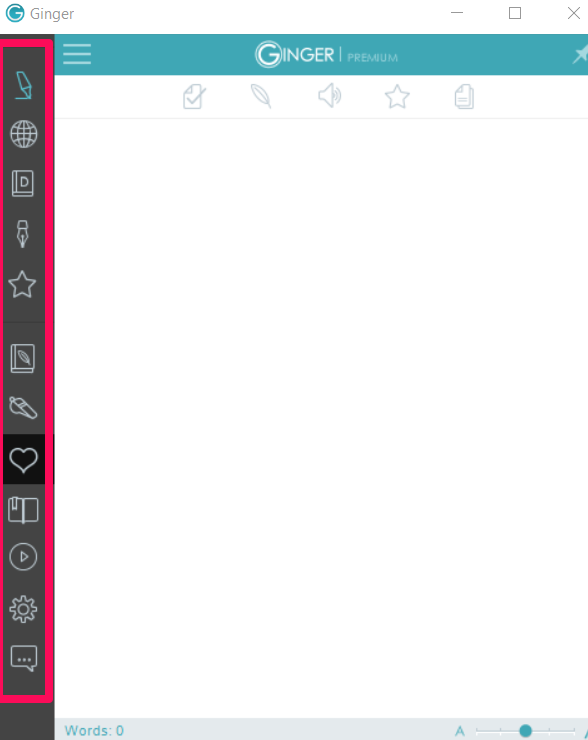 It's very easy and straightforward. All you have to do is paste your content into the open white space, and the program immediately gets to work.
We will go into the overall effectiveness of the reporting system a little later, but simplicity was the name of the game for this hands-on test, and I was more than happy with how Ginger worked.
6. Lots of Features
Ginger has a wealth of exciting features to create a complete content checking experience.

First up is the translation system we discussed earlier. There's not much more to say about that other than it's a good system that gives Ginger a leg up on some stiff competition.
There's a personal dictionary that users can add to. This system syncs up with every device associated with your account, so you can keep a customized experience even on the go. You can add commonly flagged words like a person's name or a company name into the personal dictionary and Ginger will overlook them from that point on.
Another great feature of Ginger is its sentence rephraser.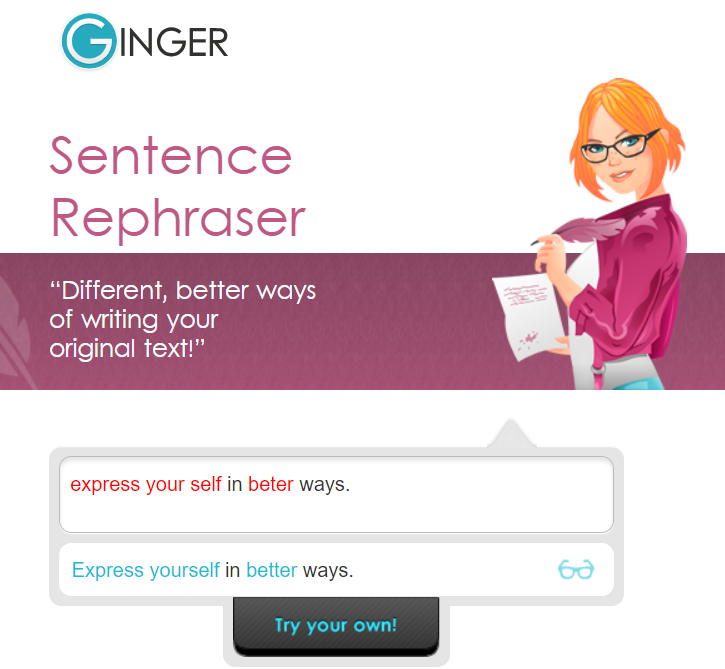 This service takes the sentences you write and offers up different ideas on how you can create more effective content.
Ginger can also be used for people trying to learn the English language. It has a system called English Personal Trainer, which lets the user practice writing in English and receiving advice on how to write and speak more fluently.
There is also a text reader function, which allows users to hear their text read back to them.
Ginger Cons
Ginger is far from a perfect system. For starters, I was not a fan of their error reporting. They have no plagiarism checker, which immediately puts them behind the 8-ball. Most importantly, the checker was not as accurate as some of the other systems we've tested.
Take a deep breath and let's journey through some of the bad.
1. No Plagiarism Detector
Plagiarism can be a costly mistake. I say mistake because a lot of content that appears to be plagiarised was copied accidentally. That's why a plagiarism detector is so essential for a well-rounded grammar checker.
College students who turn in plagiarized content open themselves up to a number of costly consequences, which include automatically failing a course or even expulsion from the university.
On the business level, plagiarism can lead to a hefty lawsuit, as it counts as theft of intellectual property. A small content-driven business could be driven out of existence if slapped with a massive lawsuit due to unintentional plagiarism.
Students and professional writers need a plagiarism detection tool to ensure that they are not unintentionally stealing the work of another. Educators and professional editors need a plagiarism checker to ensure that their students and writers are keeping themselves honest.
Sadly, Ginger has no plagiarism checker to speak of. They have so many features and include more than 60 languages, but one of the most basic core needs in a writer's life goes completely unanswered with this program.
2. Poor Reporting
I was left scratching my head after pasting our test article into Ginger's interface. The system got right to work, but there was no reporting to speak of.
I think to properly illustrate this point, we have to unfortunately once more draw a comparison to Grammarly.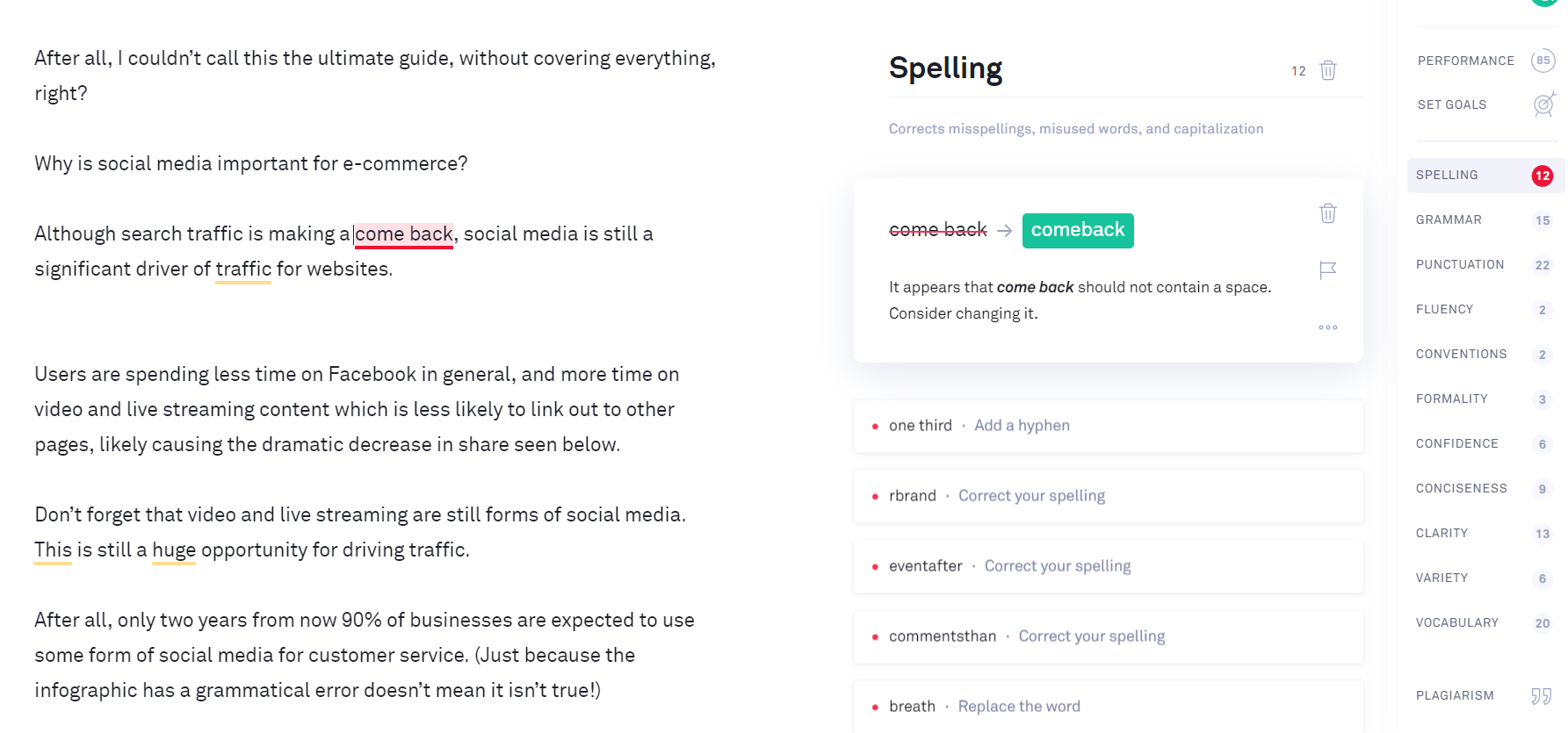 This is a look at Grammarly's user interface.
As you can see, it tore through this content and gave us a menu on the right where it itemized all of our mistakes along with explanations as to why they were wrong. Furthermore, it gives a number of different solutions for each problem and offers you tips on how you can improve as a writer for next time.
Grammarly also customizes your experience based on the genre you're writing. You can read all about this in our Grammarly review.
By comparison, here are the results we got using Ginger.

None of the article's formatting carried over when it was pasted into Ginger. There are no itemized corrections. It works like a normal spell-checking program, highlighting mistakes until you hover over the content in question and select whether or not to change it up.
The end result is a jumbled mess when compared to Ginger's largest competitors.
What's more, Ginger just didn't catch the same number of mistakes that Grammarly did. They claim to use "proprietary technology" in their quest to be the best grammar checker in the world, but a lot of their suggested changes were incorrect, and they couldn't match the power of some of the more well-known systems out there.
3. Poor Customer Service
This is where I often get accused of being picky. I feel that customer service is important when dealing with a product like this, which can have a strong impact on your professional or academic life.
To that end, I want responsive complete answers to questions (ideally with live chat or email).
Unfortunately, not many grammar checkers have a live chat, so I usually have to settle for responsive and complete email aid.
Ginger has both an FAQ section and a contact form.
Their help articles aren't very helpful. I searched for all of my questions in their knowledge base and only the most basic of basics could be found.
Then, I decided to send them an email through their contact form and see how long it takes to get a response.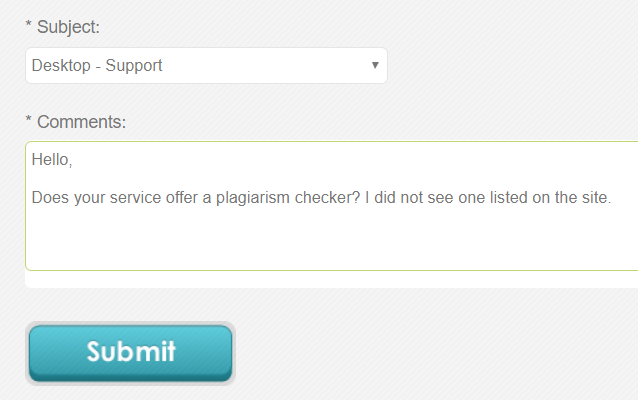 I asked about a plagiarism checker, hoping against hope that maybe I was just missing something and they actually had one.
Once I sent my question along, I got a form response that said someone would get back to me.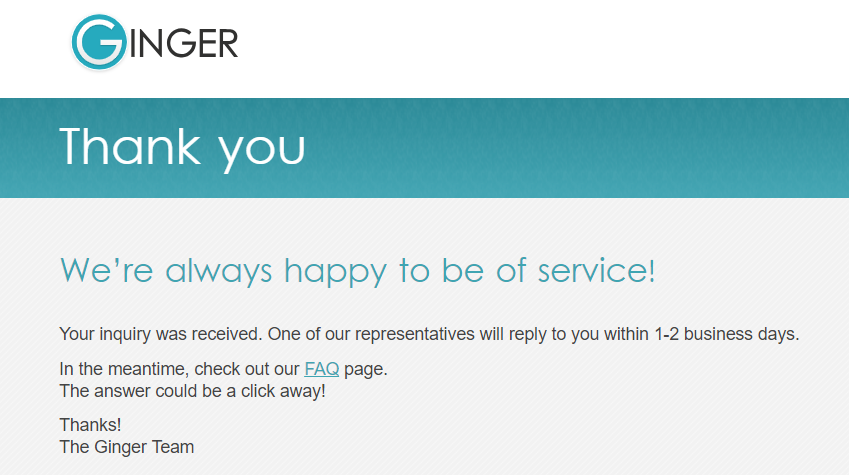 In their response, they ask for one to two business days to return inquiries. This didn't scare me too much, as that's pretty common. Most businesses will overestimate the time they need to send a response.
It has been more than 16 hours since I sent along with this query and I have yet to receive a response.
Good customer service is the backbone of a company, and this was a very poor showing from Ginger. For example, Grammarly vs Ginger has shown better results as their customer service is better.
Ginger Costs, Plans, & Payment Options
Ginger has two plans to choose from. They have limited free service and an unlimited premium plan.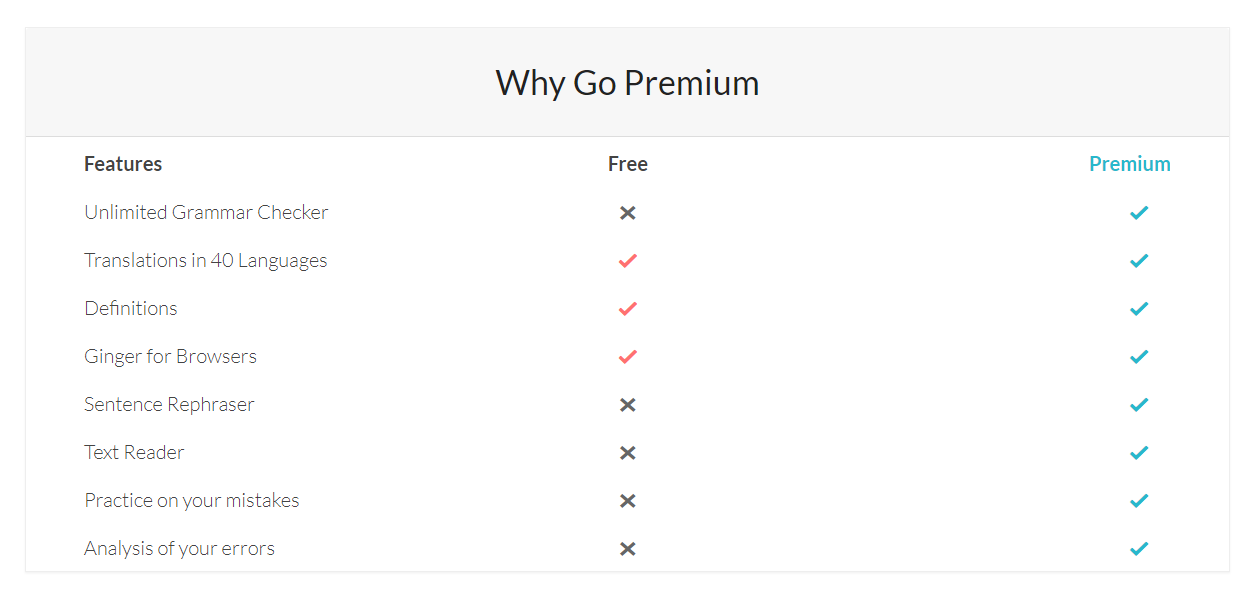 The free service is limited to 14 checks per month, with translations in 40 languages, definitions, and browser add-ons.
The premium plan comes with all of that, plus more than 60 languages, the sentence rephraser, text reader, and more.
So, what does all of this cost?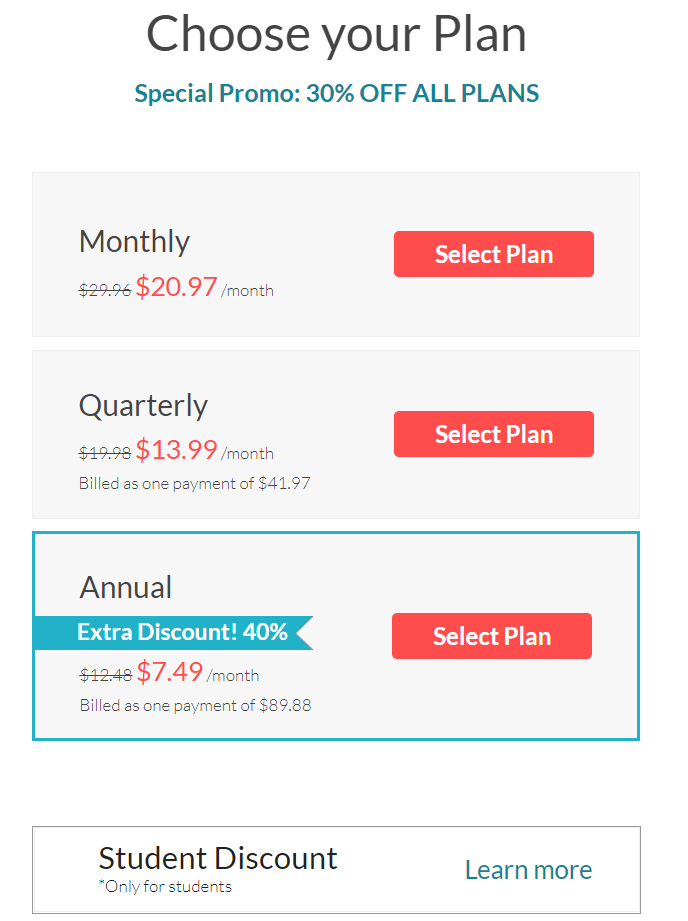 At its most expensive, with no commitment period, Ginger will cost $20.97 per month. With a one year commitment, you're looking at a reasonable $7.49 per month, however, that is all paid upfront. That means it's a one-time fee of $89.88.
I paid for the single month to start with: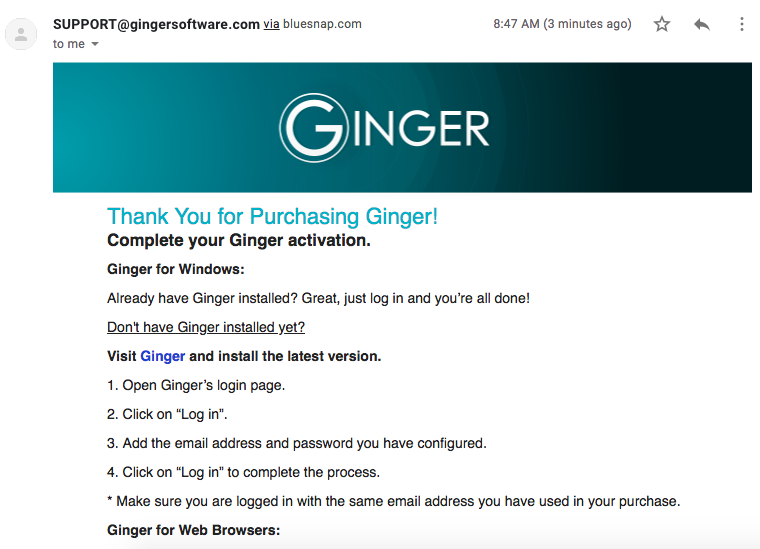 There is a student discount as well, which is always nice to see from a grammar checking service.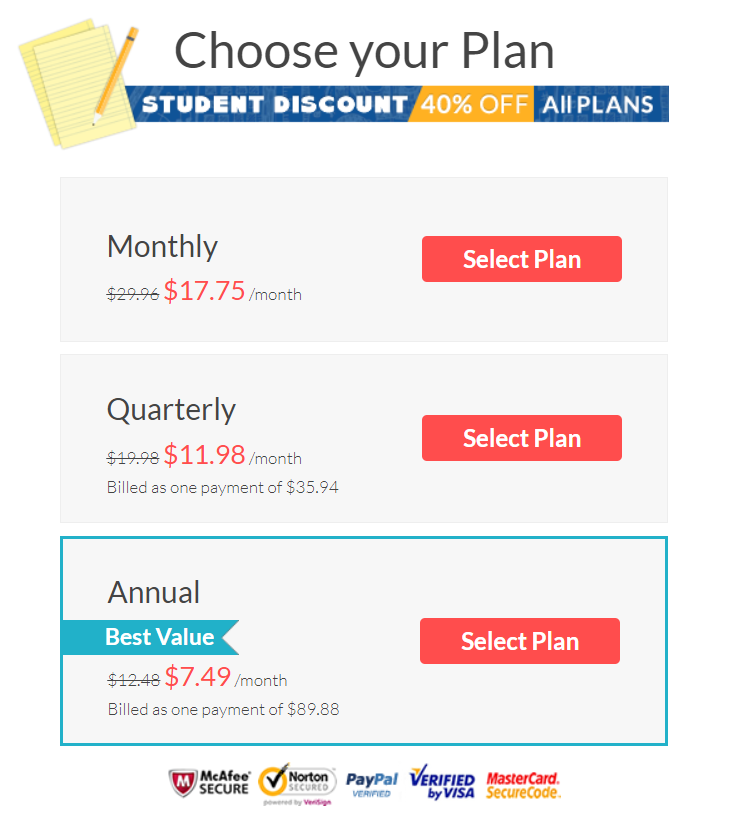 The annual plan stays the same, but there is a decent reduction in both the monthly and quarterly plans.
You can pay using a credit/debit card or PayPal. All first-time subscribers receive a 7-day money-back guarantee.
Do I Recommend Ginger?
Yes, but it depends.
Don't get me wrong, it has some good points. The pricing is great and the language selection is a huge bonus. I also love that it helps people learn the English language.
The biggest drawback is no plagiarism detector. So if you're OK without it, you'll still find value from Ginger.
But keep in mind that the reporting is pretty sparse, and you might not get a whole lot of support, either.