There's something exhilarating about learning a new skill at your own pace.
An explosion of self-paced online learning platforms have removed the pressures of testing, late-night study sessions and imposed timelines that come with a classroom of any kind (virtual or in-person).
Disclosure: These reviews are reader-supported. We might earn a small commission if you purchase something through our site. Learn more
Our Verdict
No question – we feel strongly that MasterClass is worth it.
The amount of valuable, high-quality, well-produced content that you can access makes it a fantastic purchase for anyone who considers themselves to be a lifelong learner or is interested in continuously pursuing new skills.
MasterClass Review
Learn from the Best
PROS
Affordable pricing
User-friendly platform
Features celebrity instructors
Easily refundable
High quality content
Bonus materials
CONS
No free trials
No reviews within the platform
Heavily geared towards creatives
Click the links below to head straight to the section which interests you most:
What is MasterClass?
MasterClass is a self-paced online learning platform that connects lifelong learners and students with online class content consisting of pre-recorded video courses and learning materials taught by teachers who are the best of the best in their field.
Members can watch classes whenever they want, at their own pace, and in whatever order they wish to learn.
It's this freedom that's fueling an upward trend in online self-learning platforms across the globe. In fact, the global market for such platforms is projected to reach $10.96 billion by 2027, of which North America will take up 31%, Europe 21%, and China 18.32%.
For MasterClass in particular though, the increase in popularity comes from the caliber of MasterClass instructors that they've recruited to produce their courses. No other platform (for instance) offers classes in songwriting and producing from Alicia Keys, for example…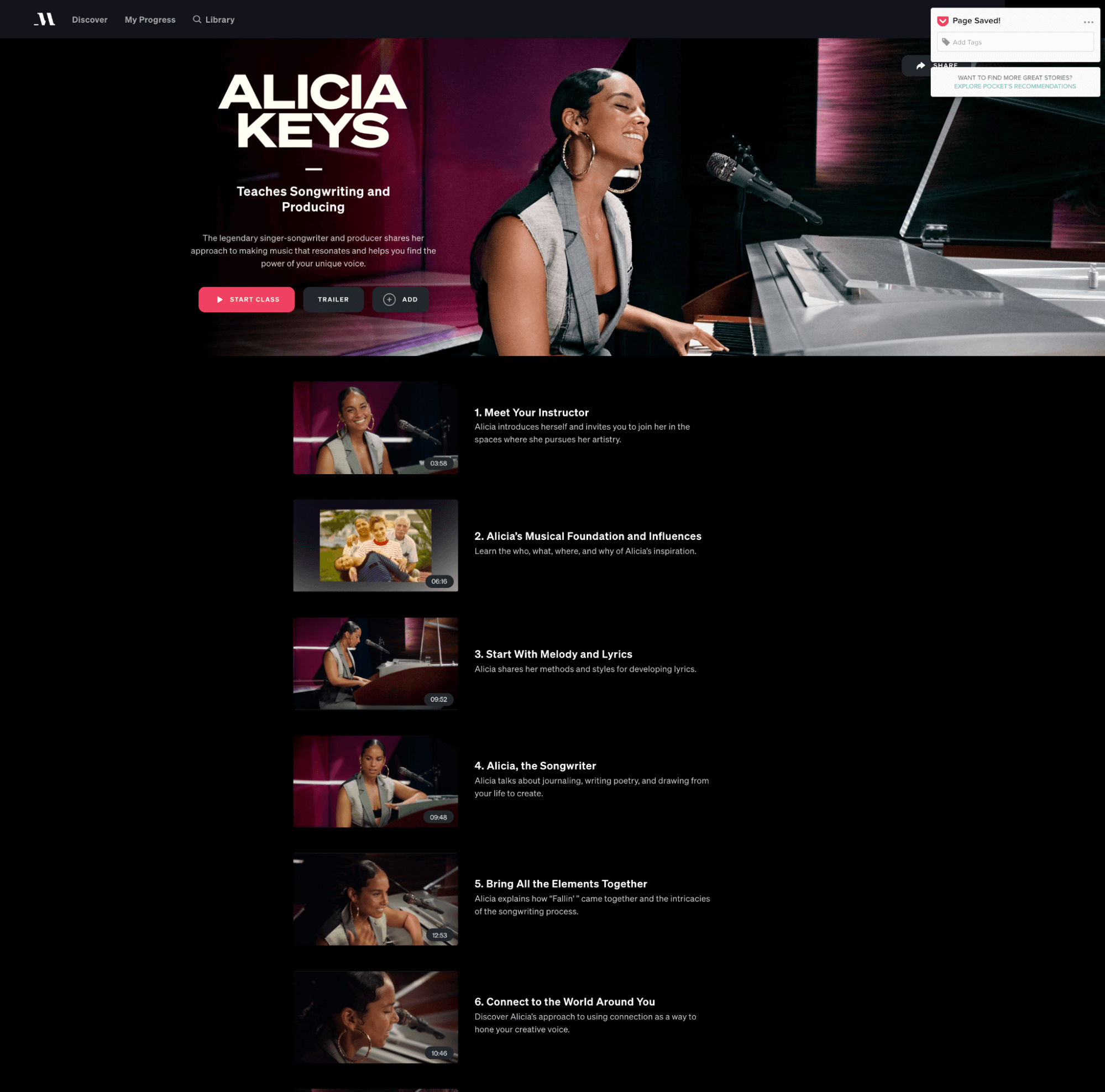 MasterClass's mission is to allow everyone the opportunity to learn from the best by providing access to their 100+ instructors and classes across many subjects, which is why each of their courses is created by the instructor themselves.
Each course consists of about 20 video lessons, at an average of 10 minutes per lesson, although some of those on the longer side can span the length of an hour. Each class also includes a workbook, interactive assignments, and a student community.
Founded in 2015, the platform is only growing in popularity. In May of 2021, they raised $225 million in a new round of funding to launch an enterprise business and expand internationally. The round more than tripled their valuation to $2.75 billion.
According to their CEO, David Rogier, much of their recent success is due to a large increase in MasterClass membership sign ups when people were stuck at home during the pandemic, but the quality of the courses is what made them stay.
What makes MasterClass different from competitors?
The biggest difference between MasterClass and competitors like Skillshare, Coursera and Udemy is the instructors. MasterClass exclusively works with masters of their craft, so students can feel confident that they're gaining knowledge from a true master.
In fact, MasterClass is rumored to pay $100,000 per course to instructors in order to attract the best and brightest minds in each category.
Who teaches MasterClasses?
MasterClasses are taught by teachers who are masters of their craft — well-known and often famous faces that are undeniably some of the most talented or gifted people in their respective fields.
Here are some of the teachers that are listed as the most popular on the main page of the MasterClass website:
These top eight teachers just scratch the surface of what MasterClass has to offer — there are over 100 classes all taught by famous instructors of the same stature.
How does MasterClass work?
In order to gain access to any MasterClass online course, you have to sign up for a membership. The sign up process includes payment of your annual membership fee, which unlocks access to every course that MasterClass has to offer.
How to find classes
Once you've become a member, you'll gain access to the MasterClass "Discover" dashboard, which will showcase the courses it thinks you'll like the most.
It also includes a list of individual lessons within each of its classes that are the most popular that day. Exploring classes through popular lessons is a great way to get your feet wet if you're not sure which course you want to try first.
If you know which teacher you're looking to learn from, or you're interested in exploring a certain topic, head over to the search library to find the course that matches your needs.
Here you can also filter by class categories to narrow down your search or browse to discover new classes and teachers within a category that interests you.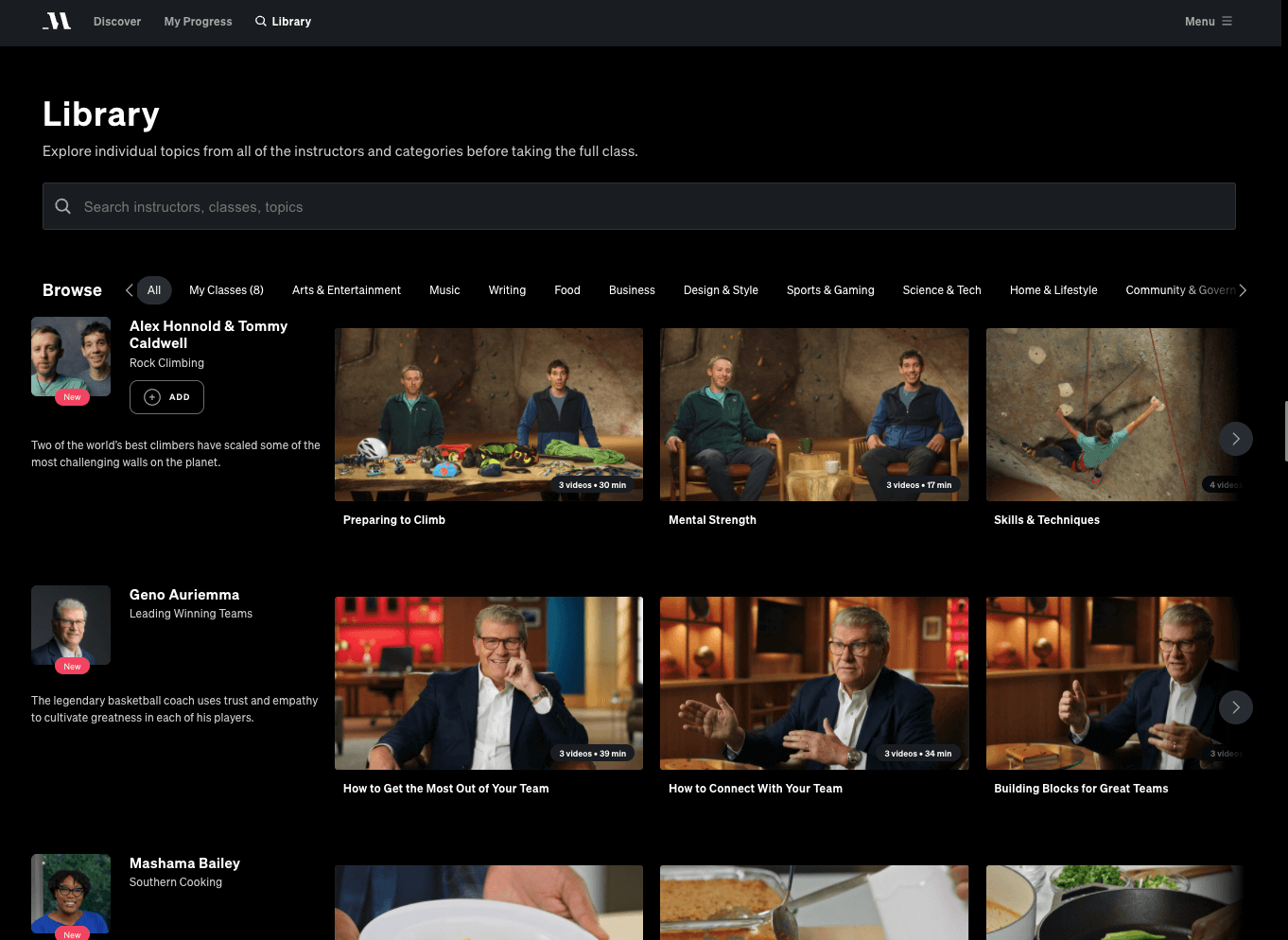 As you browse, you'll see an option on the course page to add it to your list. This functions much like the lists you're familiar with in apps like Netflix.
Once you've selected a class you're interested in, you'll be taken to the class page where you can see the full list of lessons available to watch. Here's an example of Neil deGrasse Tyson's class on scientific thinking and communication, which consists of 13 videos and clocks in at 134 minutes (or about 2.5 hours) to complete.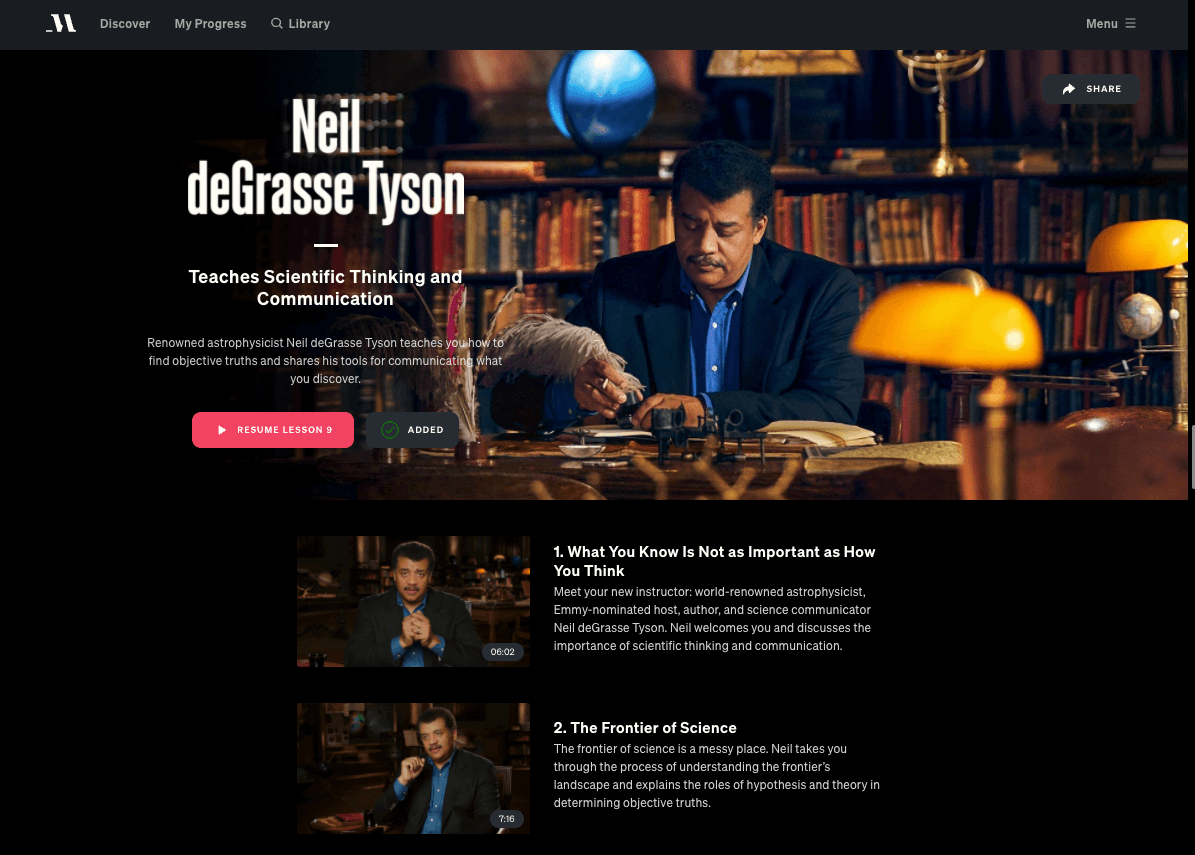 How to watch classes
One of the underrated and under-discussed selling points of MasterClass is the multitude of options they offer to consume their courses. Whether you like to read, view or listen; whether you like to move through a course in order or jump around; or whether you like to go through one course at a time or multiple, MasterClass lets you do it all.
You can watch video recordings on your desktop browser, and when you do so, you have access to all of the MasterClass features — video courses, notes, workbooks and discussion forums.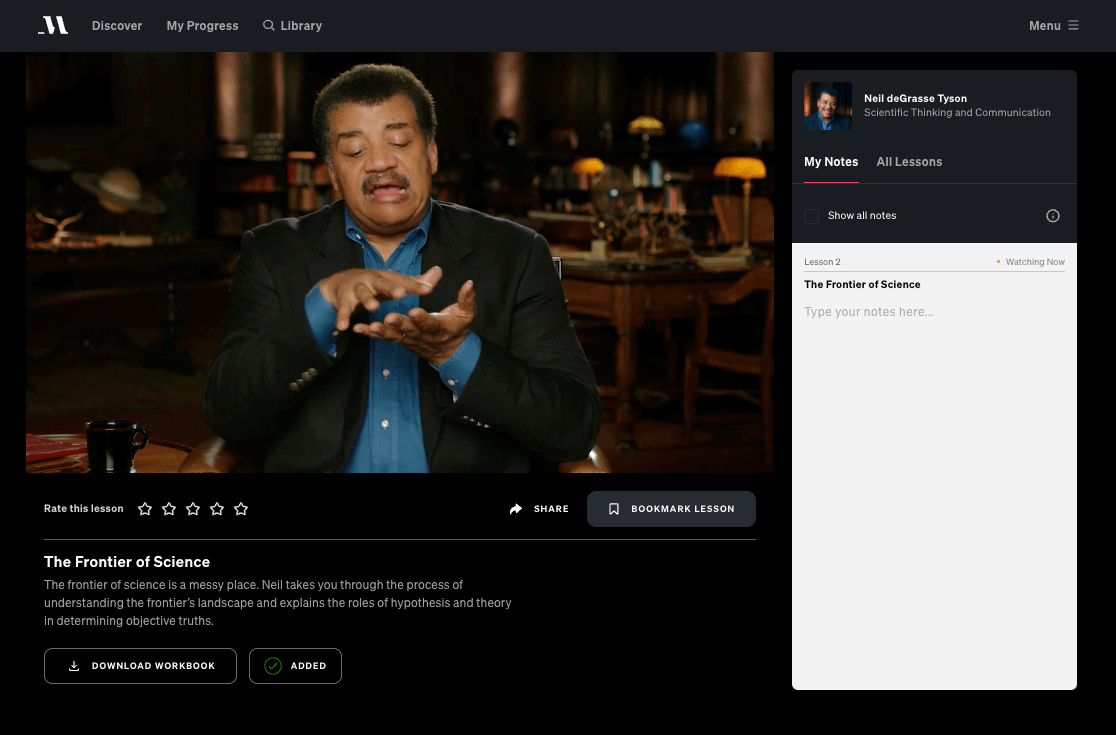 Through the MasterClass app, you can watch video lessons and download the workbook, but you don't have access to your notes or the community forum.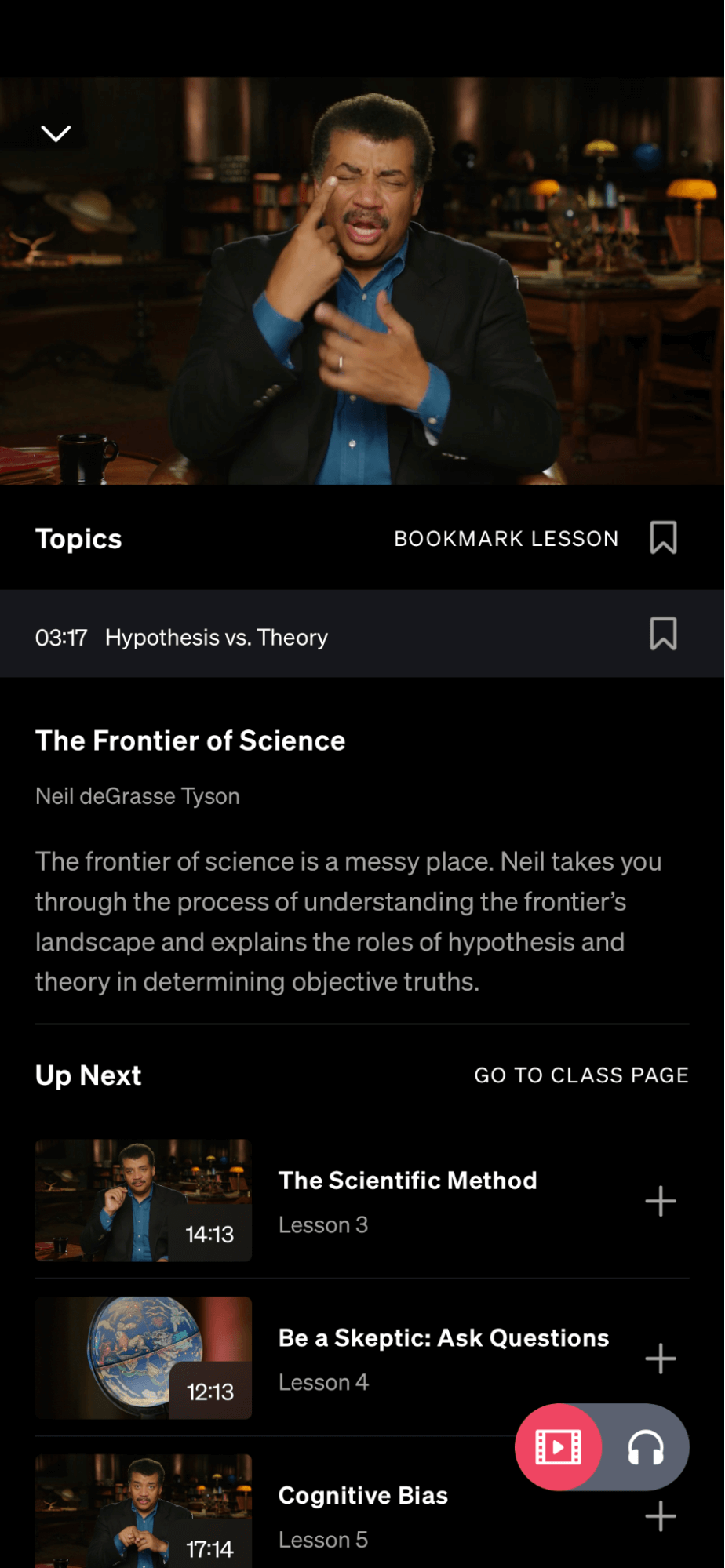 While watching mobile video lessons, you can toggle between video and audio using the switch in the bottom right hand corner of the screen.
You don't actually have to use the switch, though. Just lock the screen on your mobile device while watching a video, and the audio will automatically keep playing. It's small but powerful features like this that make each MasterClass lessons feel high quality and easy to consume.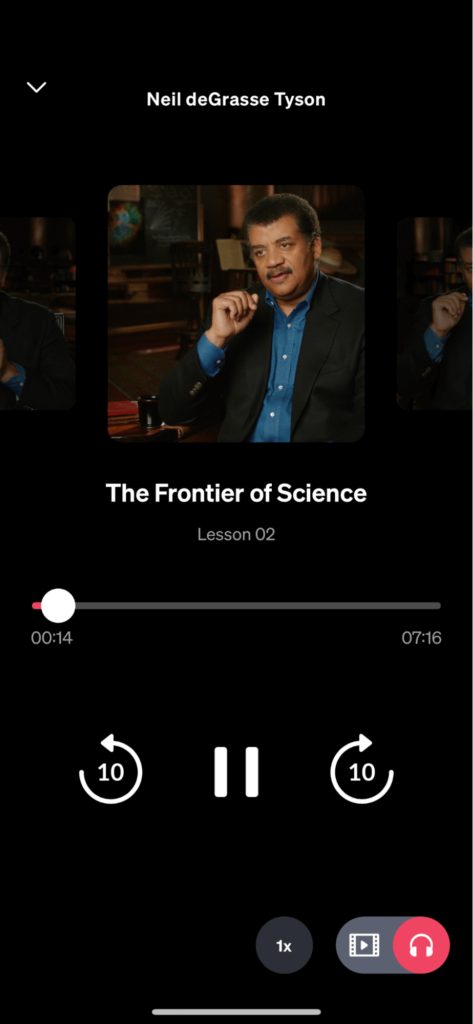 Finally, you can cast MasterClasses to your TV or device of choice with a Chromecast, Amazon Fire Stick, Roku or Airplay from your laptop or mobile device using their app.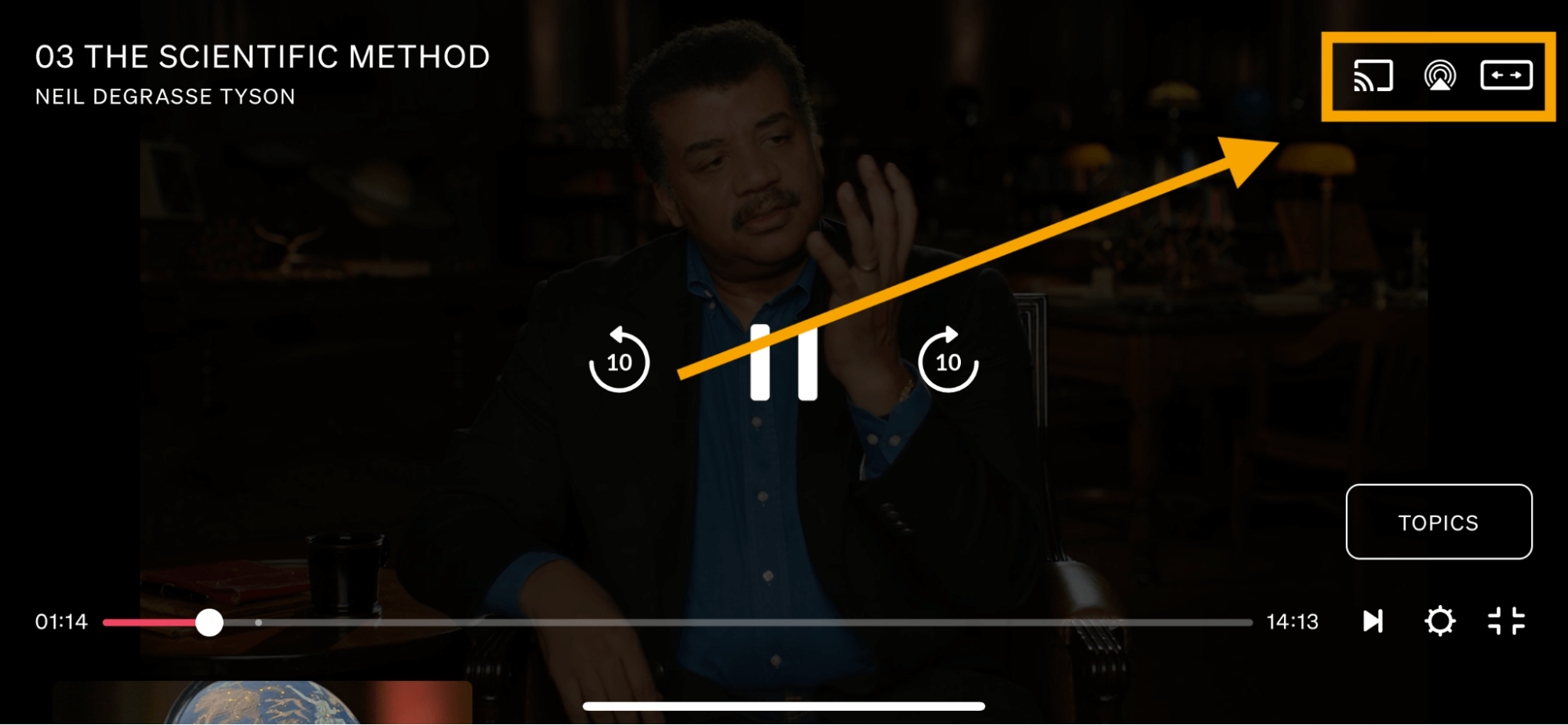 Once you've found your device using your preferred casting method, you'll see the MasterClass loading screen.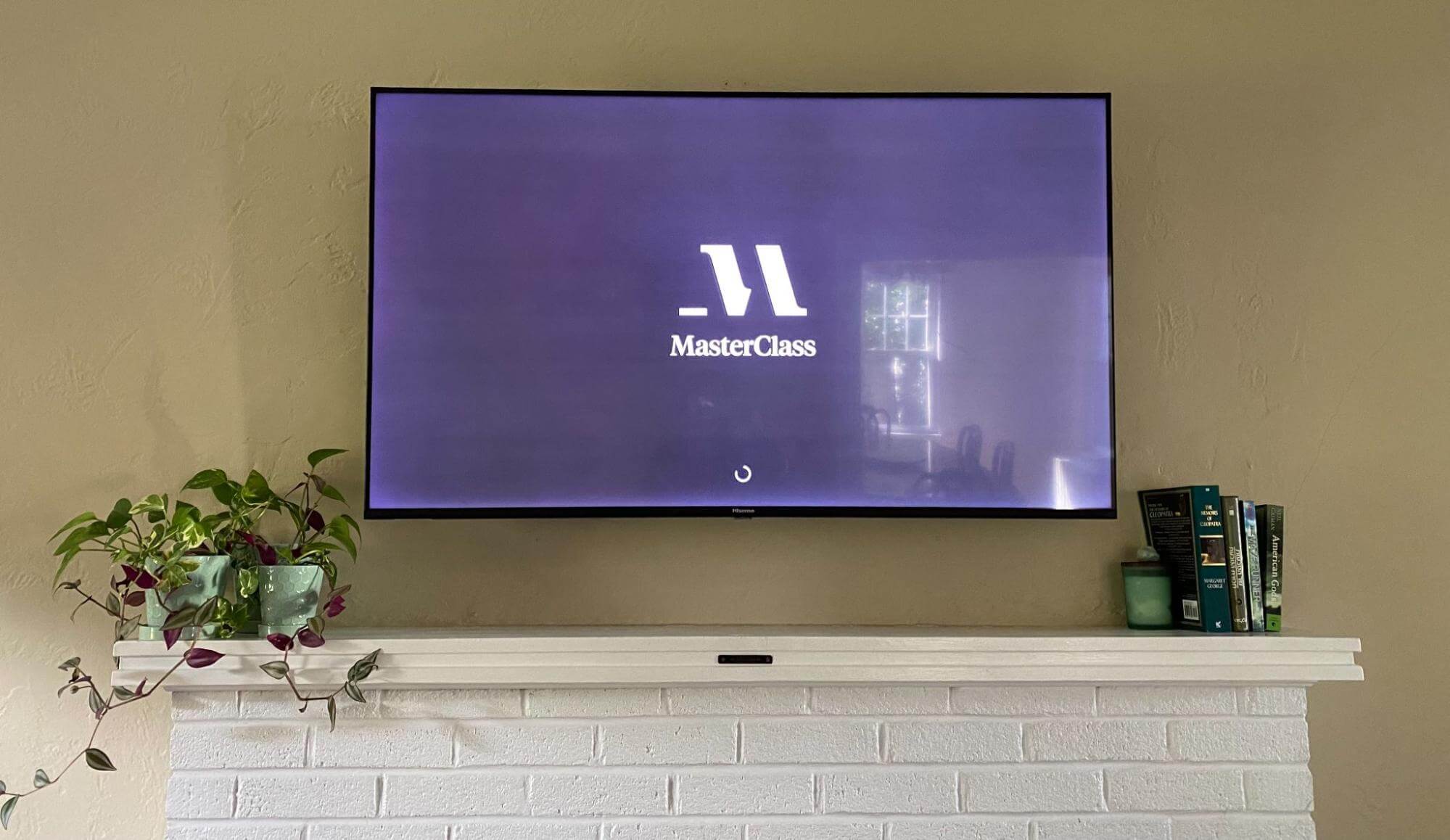 Shortly afterwards, your course will begin to play. You can stop, start, fast-forward or scrub the video using the controls on your mobile device.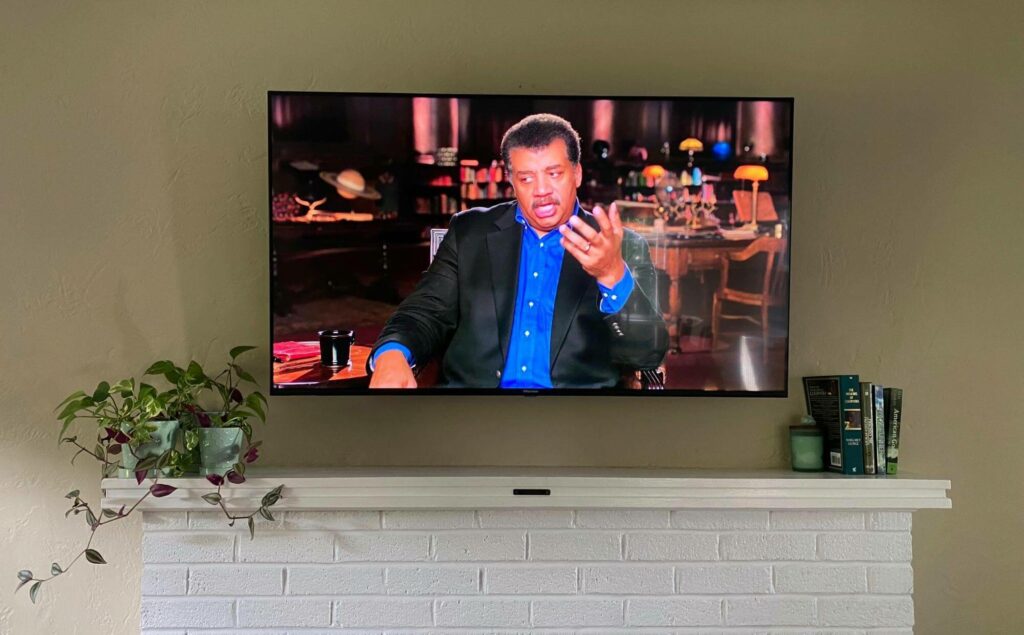 In addition to viewing or listening to a video lesson, those who prefer written materials have the option of downloading the class workbook and following along.
While MasterClass's core value will always be their high-quality content, being able to interact with that high-quality course content in whatever way works best for you is an added bonus worth mentioning.
What do you get with MasterClass?
Before we start getting into the cost of MasterClass, let's break down exactly what you're paying for…
1. Workbooks
At the bottom of each course page is a downloadable workbook for students to use as a supplement to video lessons. Workbooks are typically organized in chapters that align with the course video lessons and include helpful study aids or exercises.
This sample is from Neil deGrasse Tyson's course, and includes lesson summaries and thought exercises for students looking to go deeper into the lesson plans.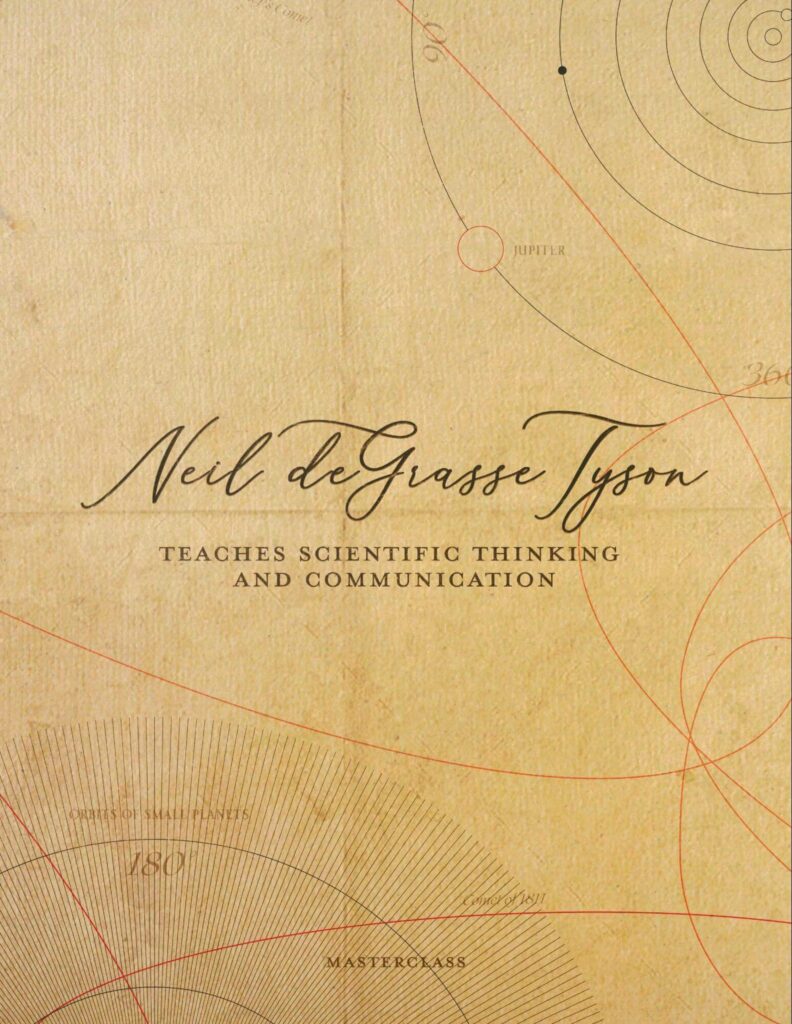 If you struggle with writing or are concerned about your grammar, we've reviewed the best writing apps and grammar checkers for you.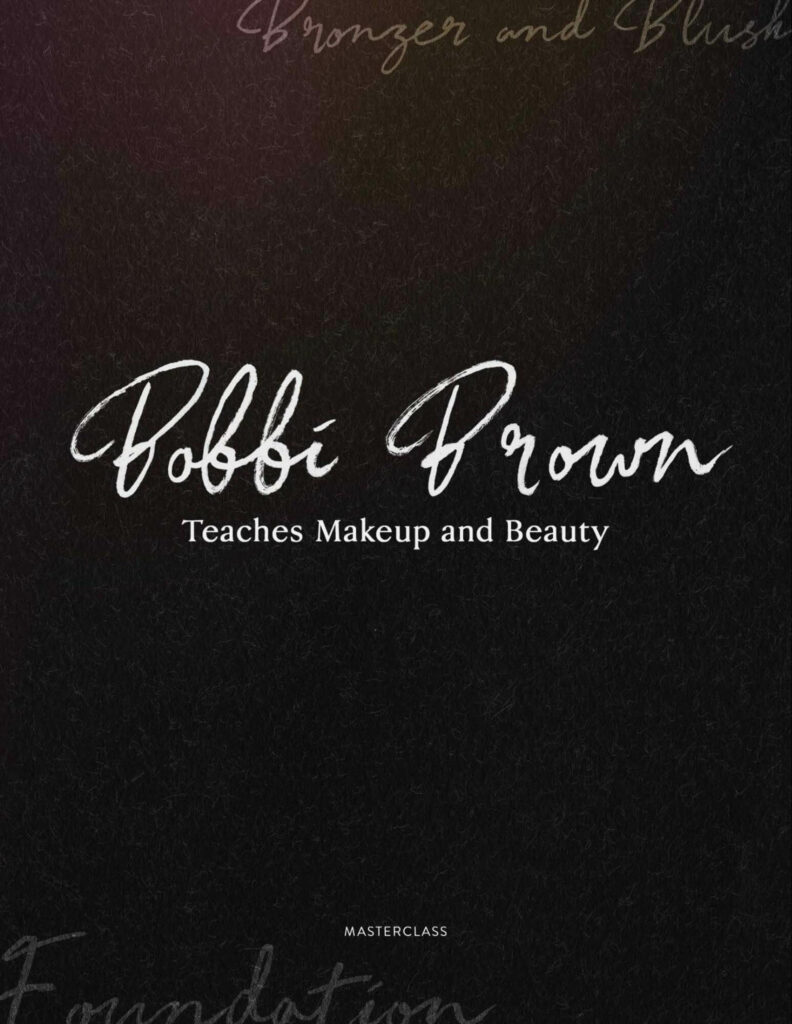 Other course workbooks include exercises for students to practice lessons learned in the course, like Bobbi Brown's (below) workbook which include makeup looks for students to practice.
Finally, this example from Thomas Keller's MasterClass on cooking meats and sauces offers a list of recipes and instructions for students to recreate while following along with his videos.
The workbooks are tools to help students practice the lessons learned in each video lesson. Students can follow along with teachers by practicing what they learn as they go.
2. Discussion forum
Each MasterClass also has a dedicated discussion forum where students can participate in discussions related to course material together. In forum threads, you can respond to topics or pose topics yourself for other people who have taken the course.

If you're the type to worry about not sounding too original or accidentally ripping off someone else's ideas, you can check out some plagiarism checkers to come off as your most authentic self.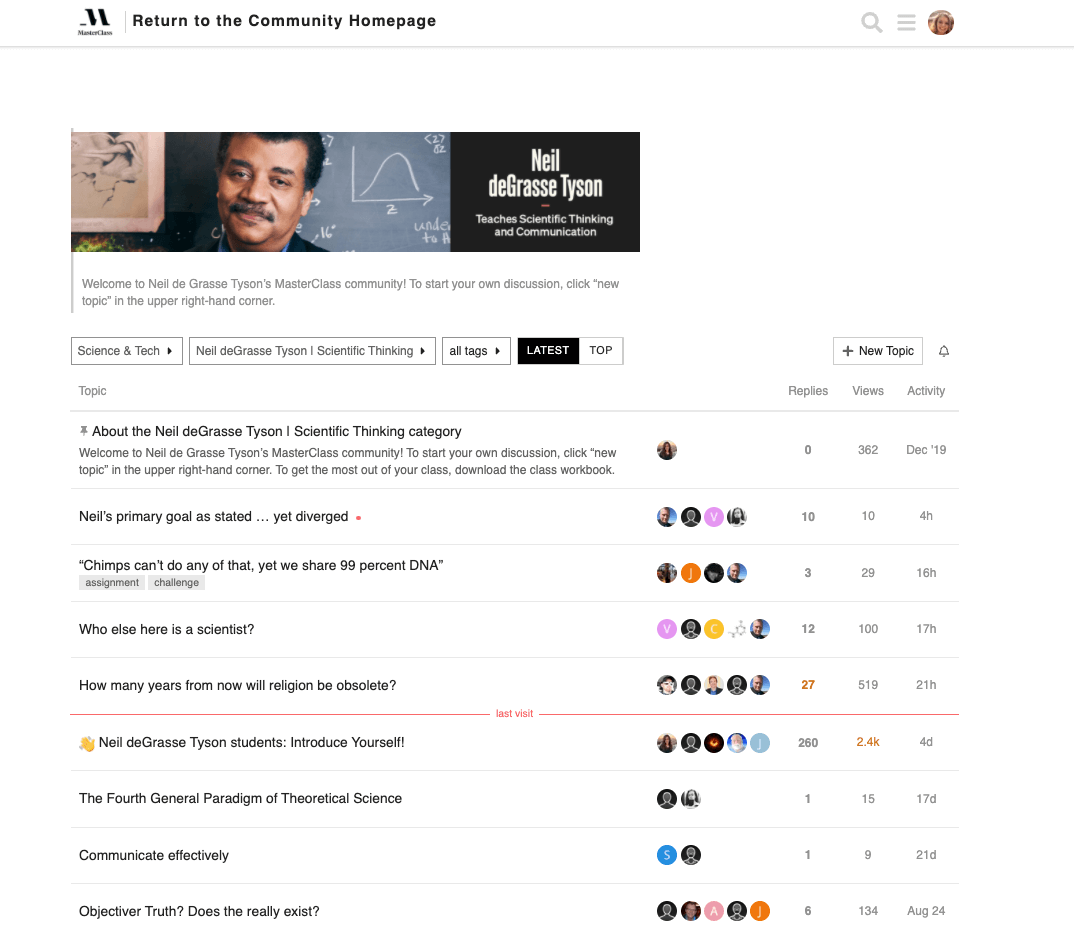 Click into a thread in order to interact with your classmates. You can organize threads and responses by date, or relevance to the topic you want to discuss, and save conversations to refer back to later.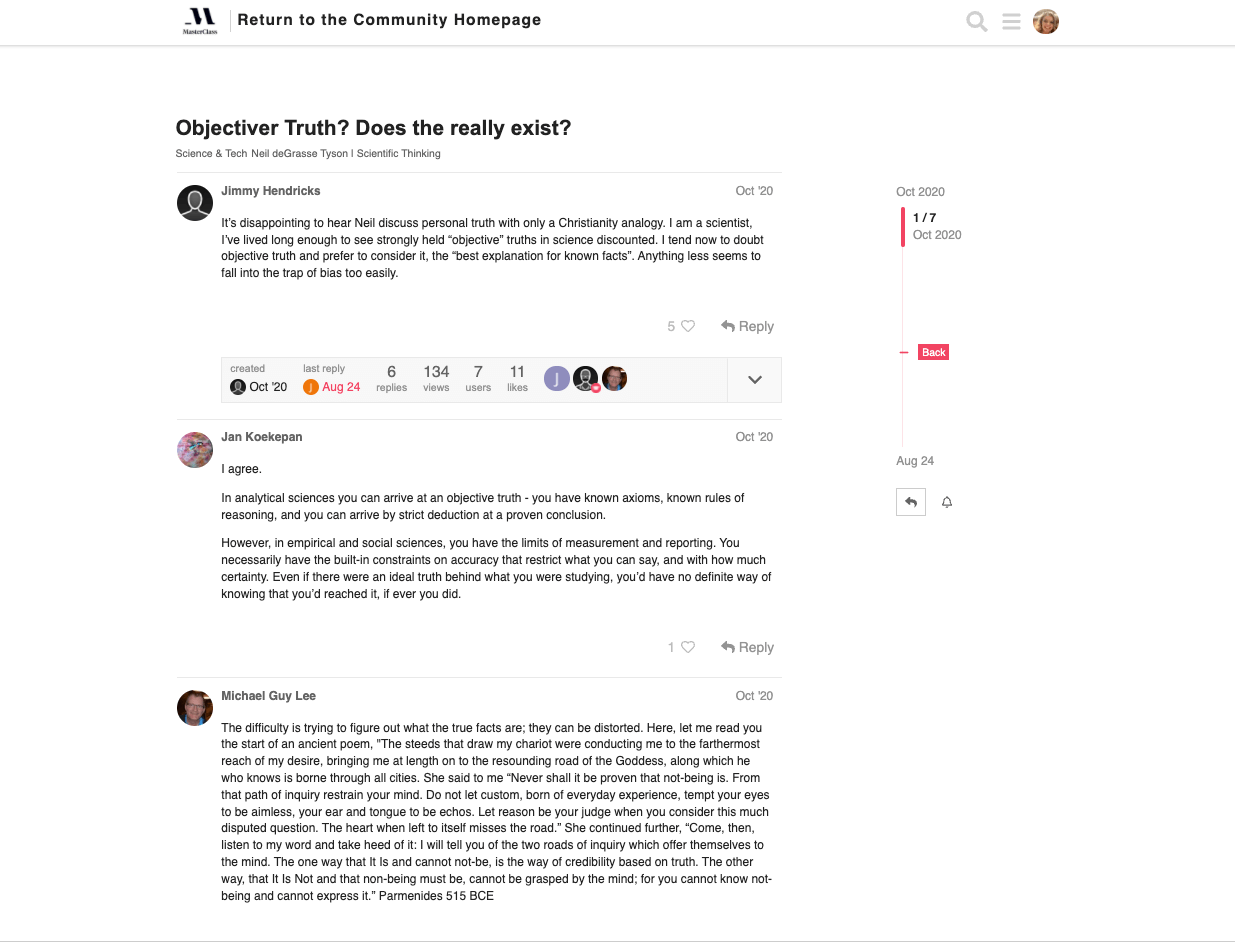 3. Note taking
The MasterClass desktop website allows you to take and save notes related to each individual lesson using a dialog box that appears to the right of the video feed. This feature is only available on desktop devices, and unfortunately not within the mobile app.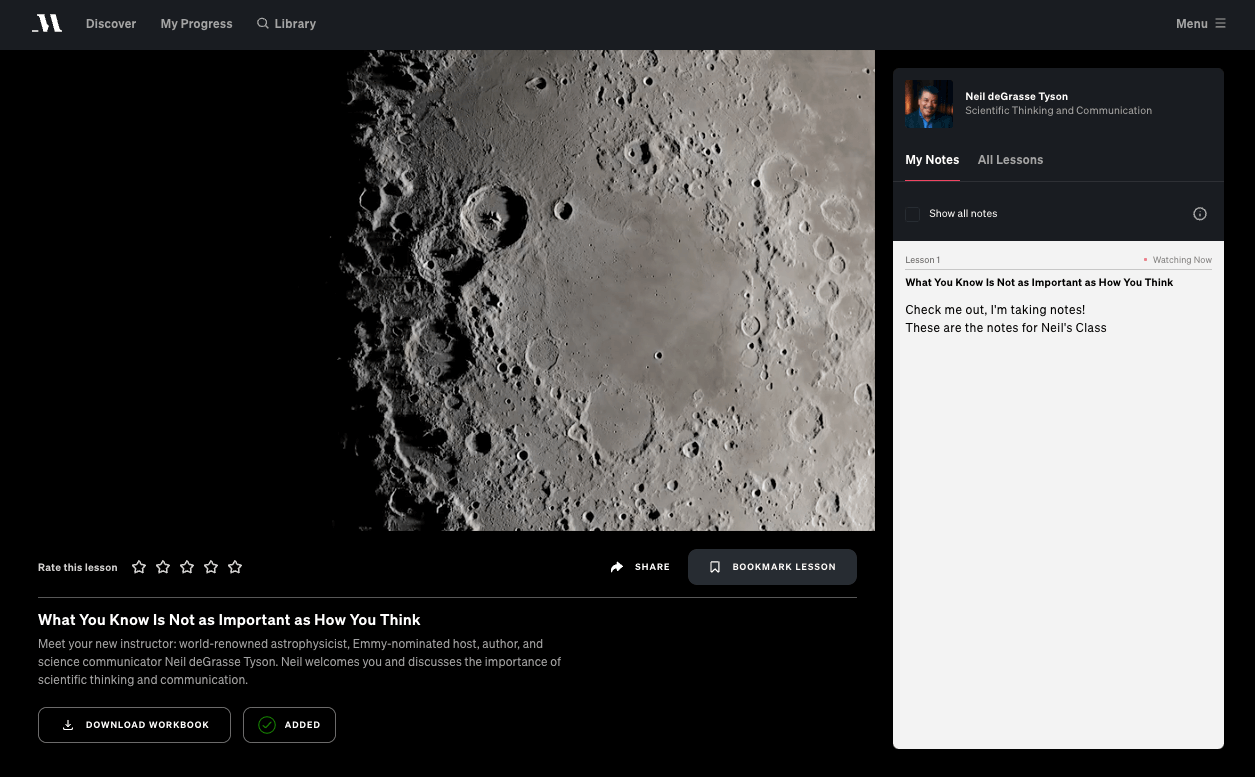 In addition to taking notes that you can refer back to, you can bookmark specific lessons to review at a later date. This feature is different from the one that allows you to add a full course to "My List," as it allows you to save individual lessons that are a part of the full course.
Your notes and bookmarked lessons are saved in the "My Progress" section of the MasterClass website.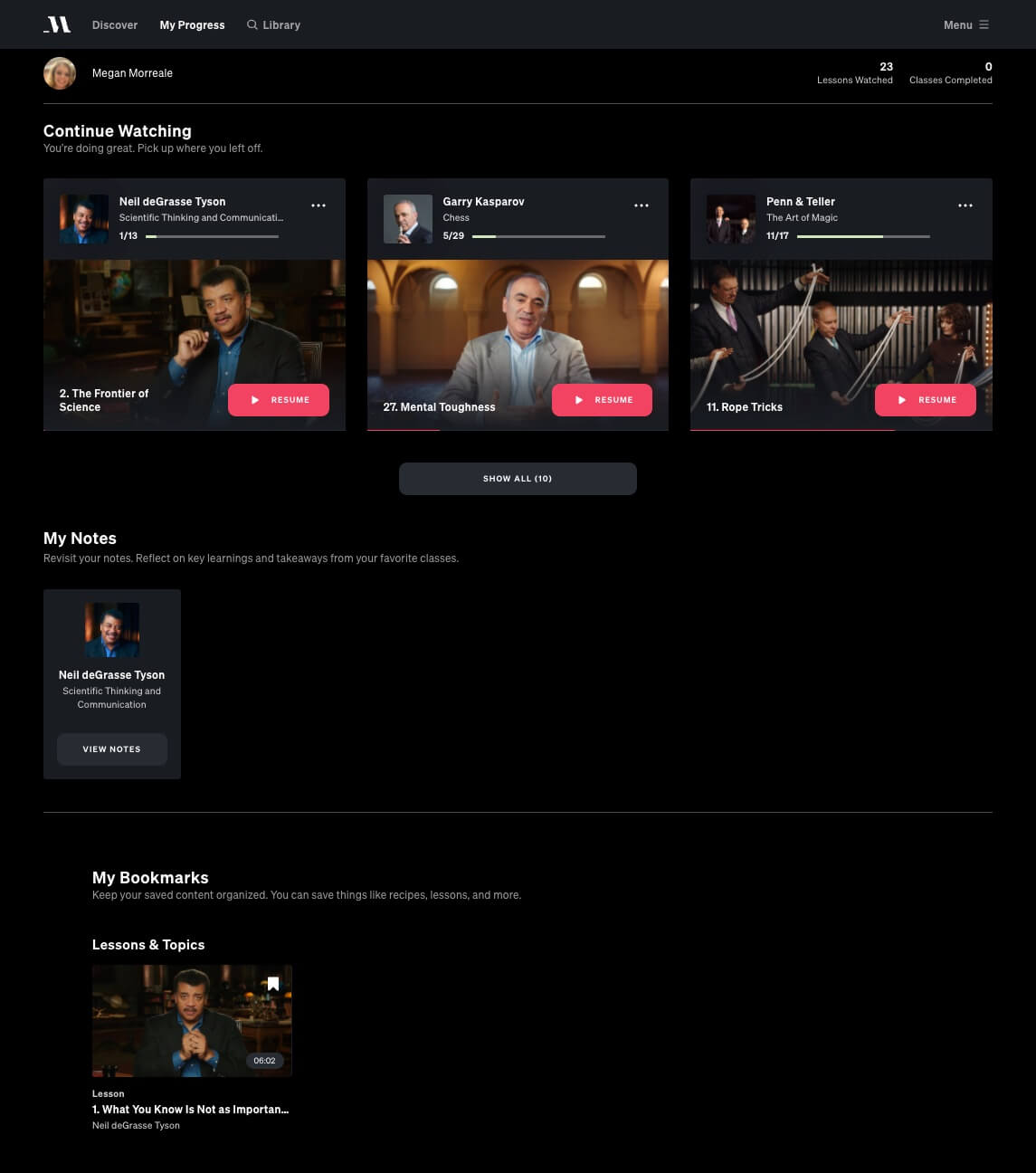 You'll be able to view your saved courses, a list of lessons, and a list of full courses that you've completed in that same "My Progress" tab.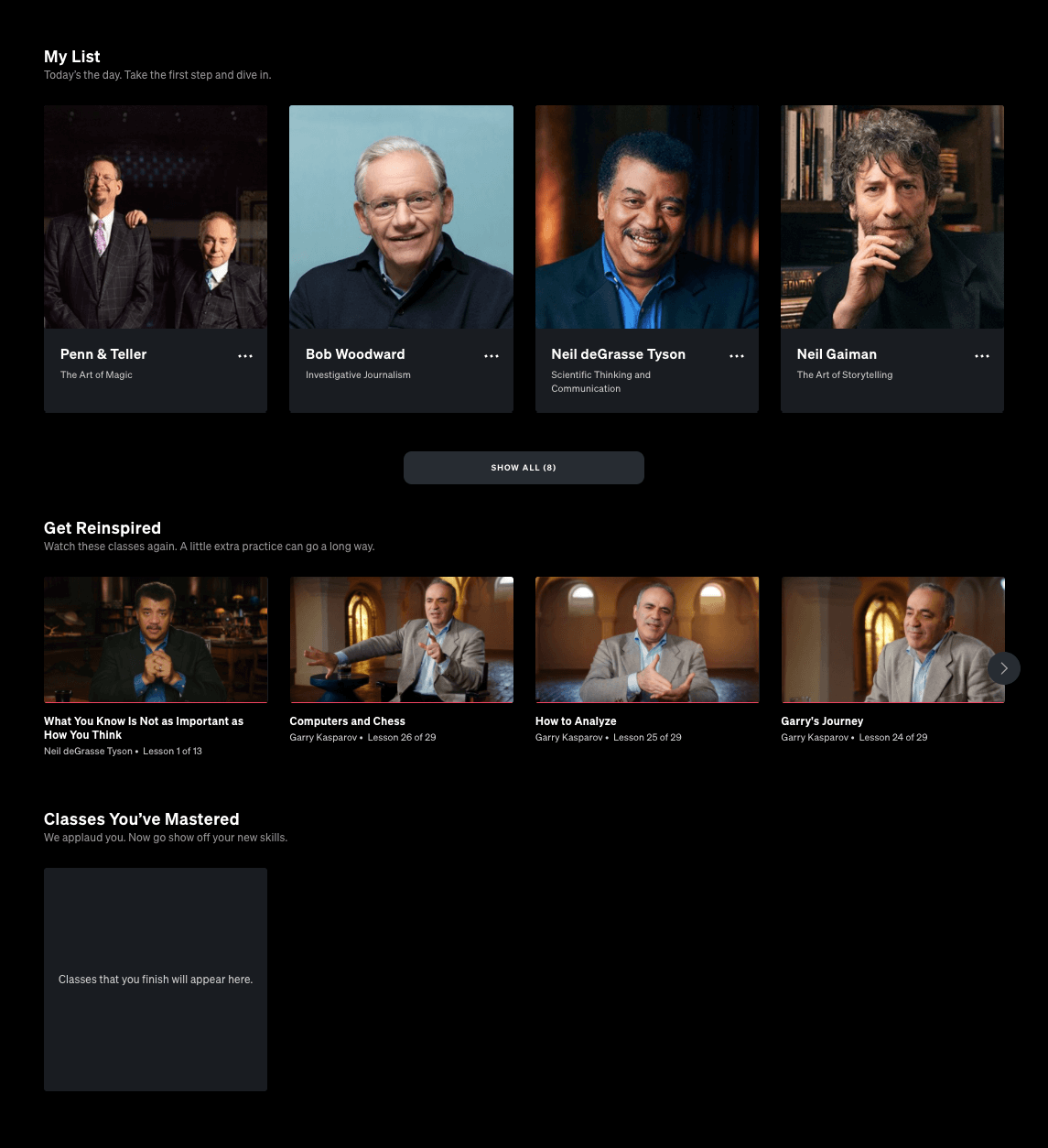 How much does MasterClass cost?
MasterClass's annual membership costs $180 a year for their Standard plan. You can also purchase a MasterClass subscription Plus plan at $240 a year or their Premium plan at $276 a year. These plans increase the number of devices that you can stream from simultaneously (enabling you to share with family), and allow you to download video lessons for offline viewing learning.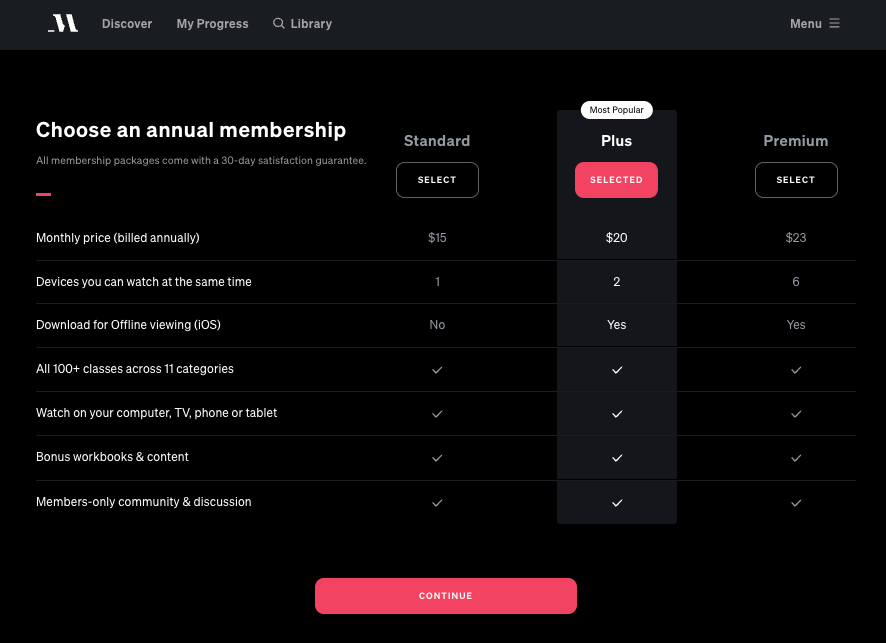 There's no difference in the availability of course content between the plans — you always get every MasterClass offered, no matter which plan you choose.
While upping your subscription so that you can share your account with your friends and family might be the right choice for you, it is worth noting that there is not currently an option to create multiple profiles within your account, like you see on streaming services like Netflix and Hulu.
This means you're not just sharing access to MasterClass, but you're sharing notes, and a user profile for discussion forums. Not to mention, if two people want to watch the same MasterClass at the same time, only one person's place will be saved in the dashboard.
For those interested in MasterClass that spend a significant portion of their day without internet access — like commuters or those that spend lots of time outdoors — the Plus or Premium plan might be the best fit so that you can watch lessons without an internet connection.
How much does MasterClass cost for businesses?
Exact pricing for MasterClass business plans isn't publicly available, as it depends on the number of people your business employs. You'll have to contact MasterClass's sales team for an exact cost.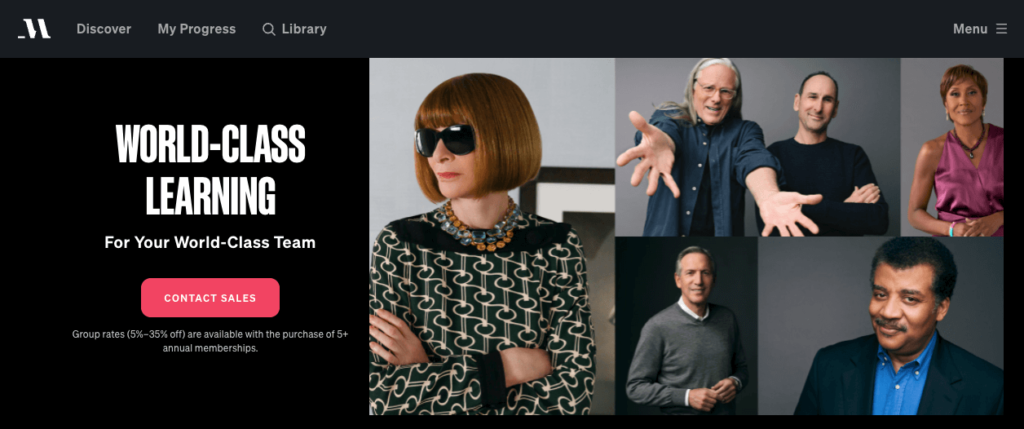 While the exact price isn't public information, MasterClass does disclose that they discount their membership rates by between five and 35% for business memberships that purchase between five and 1,000 seats.
Is it worth the cost?
Whether or not MasterClass is worth the cost to you depends on how committed you are to lifelong learning and how highly you value the expertise of MasterClass's premium teachers.
In comparison with other popular self-paced online learning platforms, MasterClass is actually less expensive for a comparable product offer (and arguably better instructors).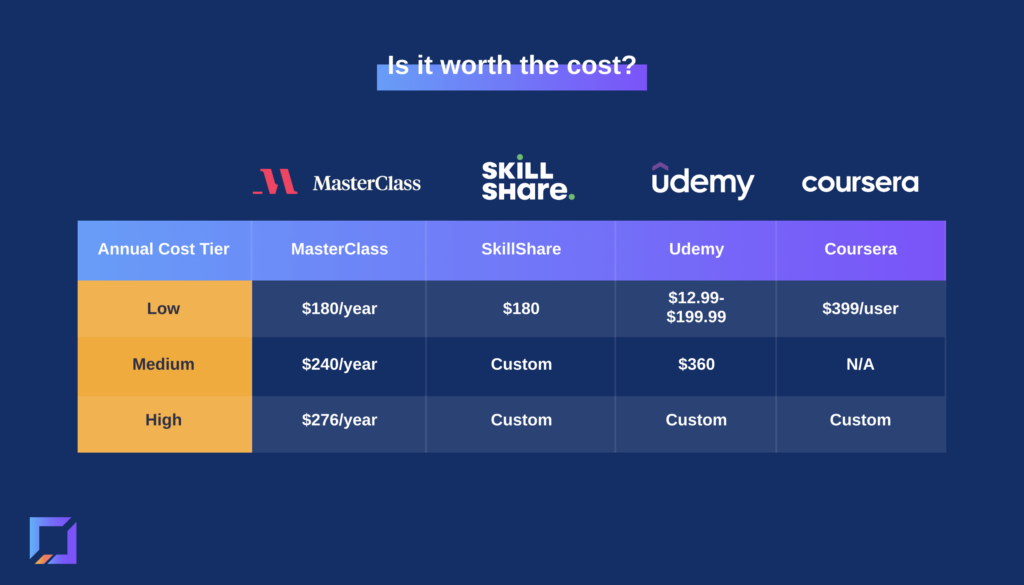 Some critics of MasterClass say that the MasterClasses aren't as in-depth or actionable as those you might find on Skillshare, Udemy or Coursera. Still, the fact that MasterClass members receive a significant amount of pre-recorded courses at a comparable or lower price than those other leading platforms make it a desirable choice.
The cost of MasterClass seems even lower when you compare it to other common expenses that for many people are already a no-brainer.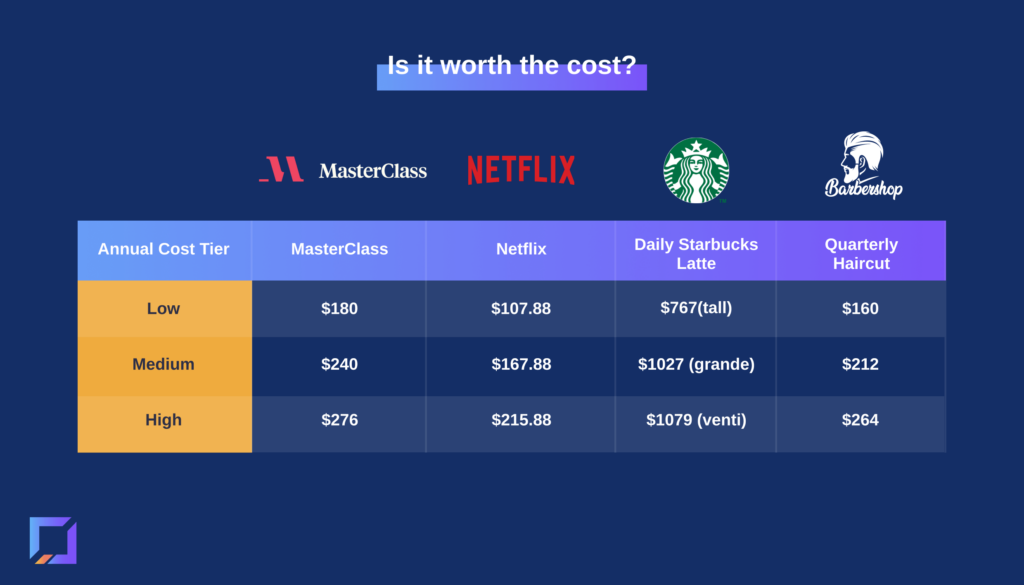 A MasterClass subscription is only a bit more expensive than Netflix, and arguably adds a lot more value to your daily life than the popular streaming giant. Plus, they're significantly cheaper than your daily Starbucks habit and comparable to the cost of a quarterly haircut.
Our verdict: For the price, MasterClass is absolutely worth the cost. The valuable lifelong lessons and learning opportunities that this membership provides definitely outweighs the price tag.
Who will benefit from MasterClass?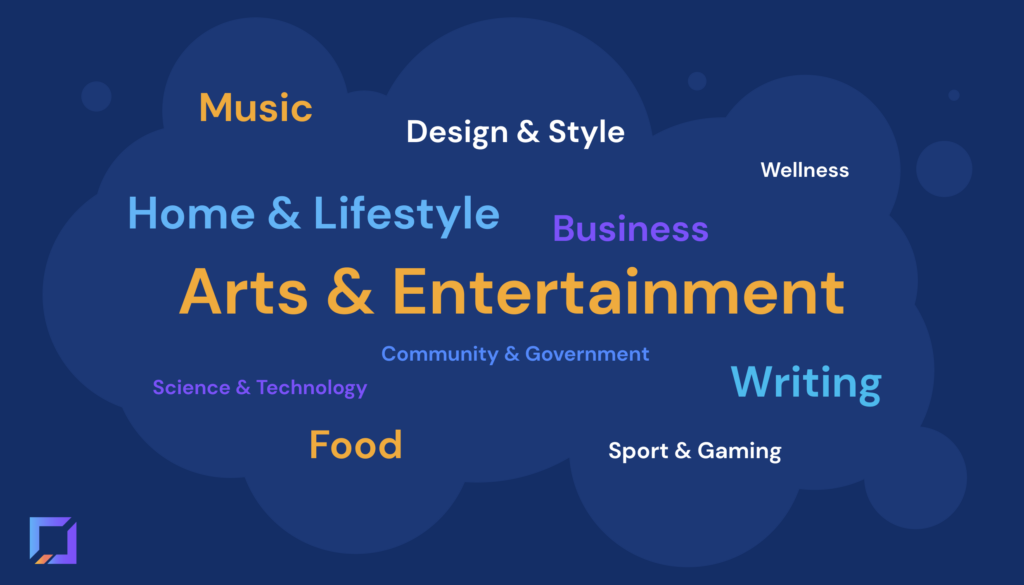 MasterClass defines its target audience as lifelong learners.
And we can see why — membership provides access to a variety of different courses, so it seems most valuable for those people who want to take advantage of many of the courses, instead of simply purchasing the membership to complete a single course.
A membership unlocks courses in 11 different categories, making it attractive to almost anyone who wants to learn. However, there are definitely more classes that teach creative professional skills, like a writing class, than those that teach analytical skills, like a business class.
This is the full list of categories, and the number of courses within each category.
The number one thing that stands out on this list is the 62 classes in the arts and entertainment section in comparison with other categories that have about 20 classes each.
When you think about it, this makes sense. MasterClass targets well-known masters of their craft, and it's a lot easier to become well-known as an actor than it is as a rock-climbing master, for example.
MasterClass has a lot of high-quality options for learners of all types, but there are definitely more options for those looking for creative skills.
The most popular MasterClasses by category
There's no numerical way for members to see which MasterClasses are the most popular — you can't see how many times a course has been taken, or how many times a lesson has been viewed, for example.
But, if you're not logged into the MasterClass dashboard, the homepage of their website features a list of courses that they claim are their most popular. We've briefly described each of those classes that MasterClass considers to be the most popular here, organized by category.
To head straight to the category which interests you most, click the links below:
Food
Gordon Ramsay Teaches Cooking I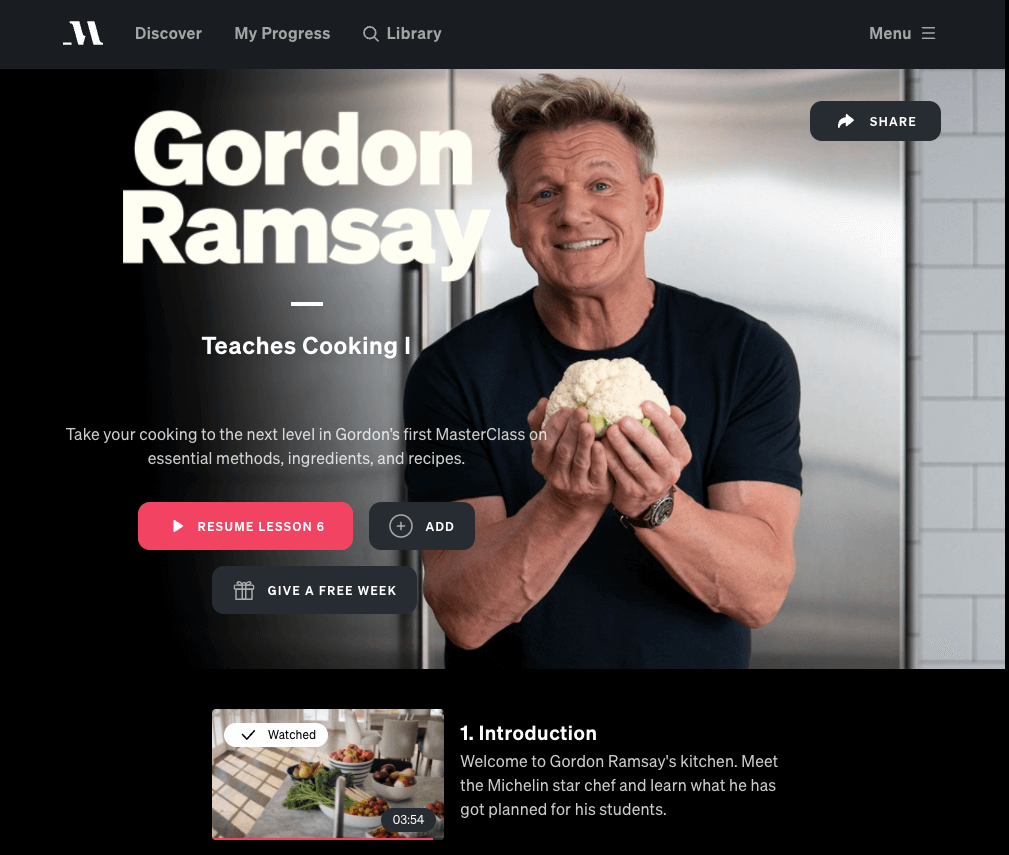 Famously known for his colorful personality on reality cooking television shows, the popular chef Gordon Ramsey teaches an introductory course to cooking.
Gordon Ramsay Teaches Cooking II: Restaurant Recipes at Home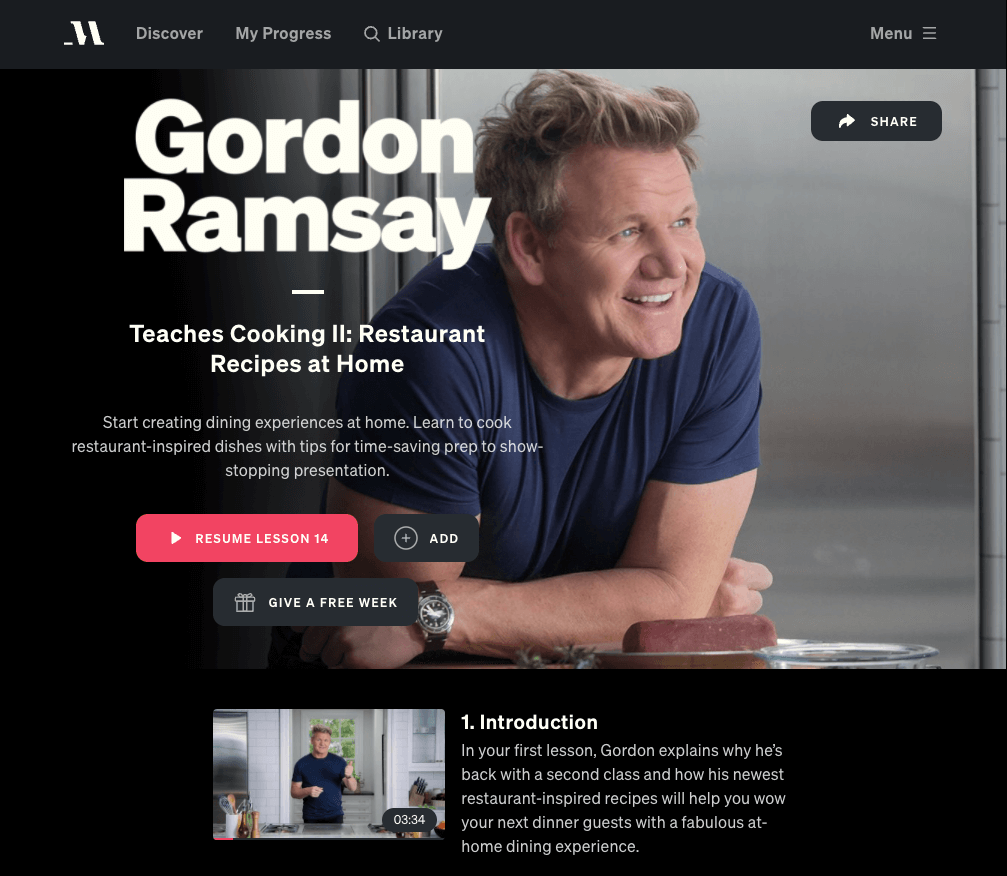 Ramsey's second MasterClass is a more advanced look at how to recreate some of his famous restaurant recipes in your home kitchen.
Thomas Keller Teaches Cooking Techniques I: Vegetables, Pasta and Eggs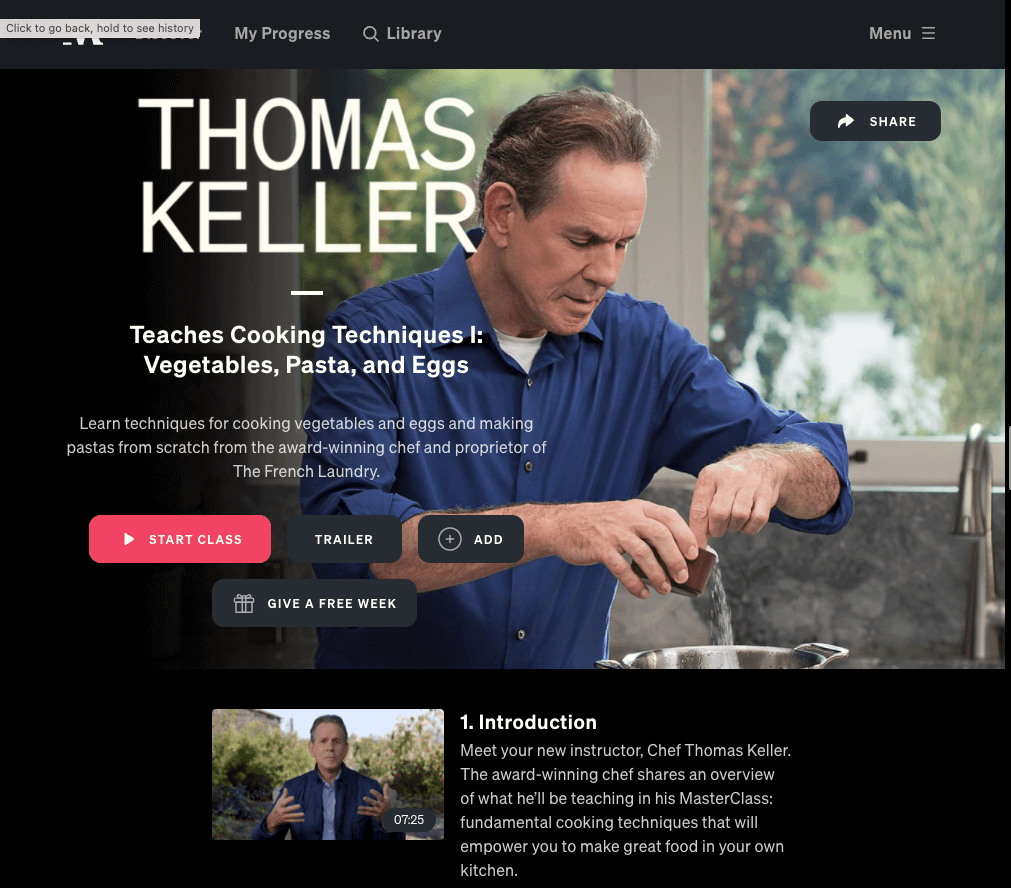 Thomas Keller's part one MasterClass teaches cooking fundamentals that are specific to cooking vegetables, pasta and eggs.
Thomas Keller Teaches Cooking II: Meats, Stocks and Sauces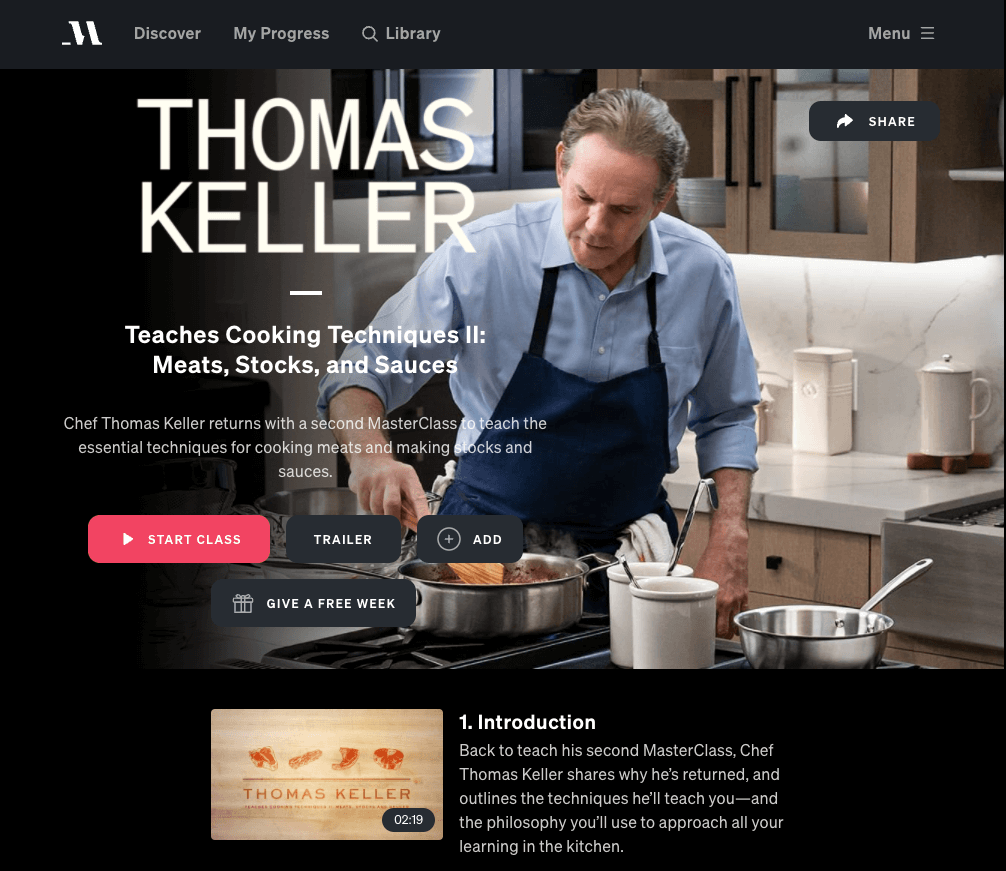 To follow his course on vegetables, pasta and eggs, Keller's second MasterClass covers stocks, sauces and meats, and again provides students with both recipes that they can master, as well as fundamental skills that they can apply to recipes not included in the course.
Aaron Franklin Teaches Texas-Style Barbeque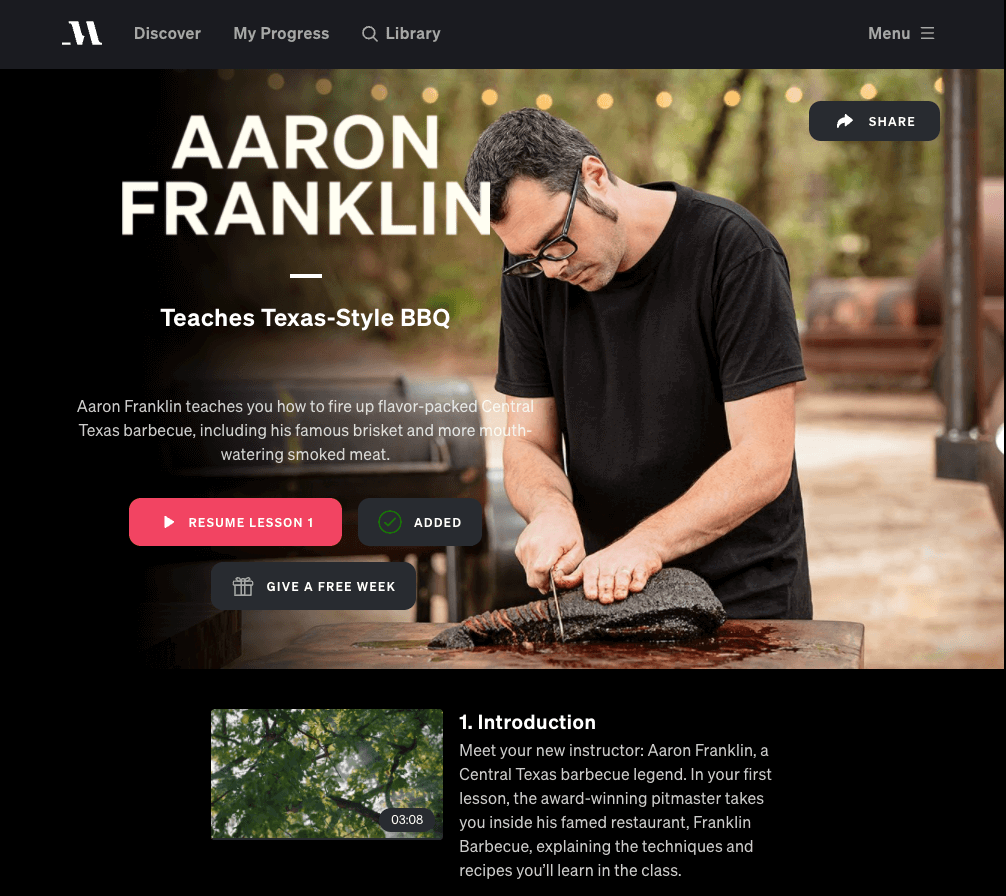 This well-known reality TV chef teaches students to make his famous Austin, Texas barbeque with lessons on pork, steak and brisket.
Gabriela Cåmara Teaches Mexican Cooking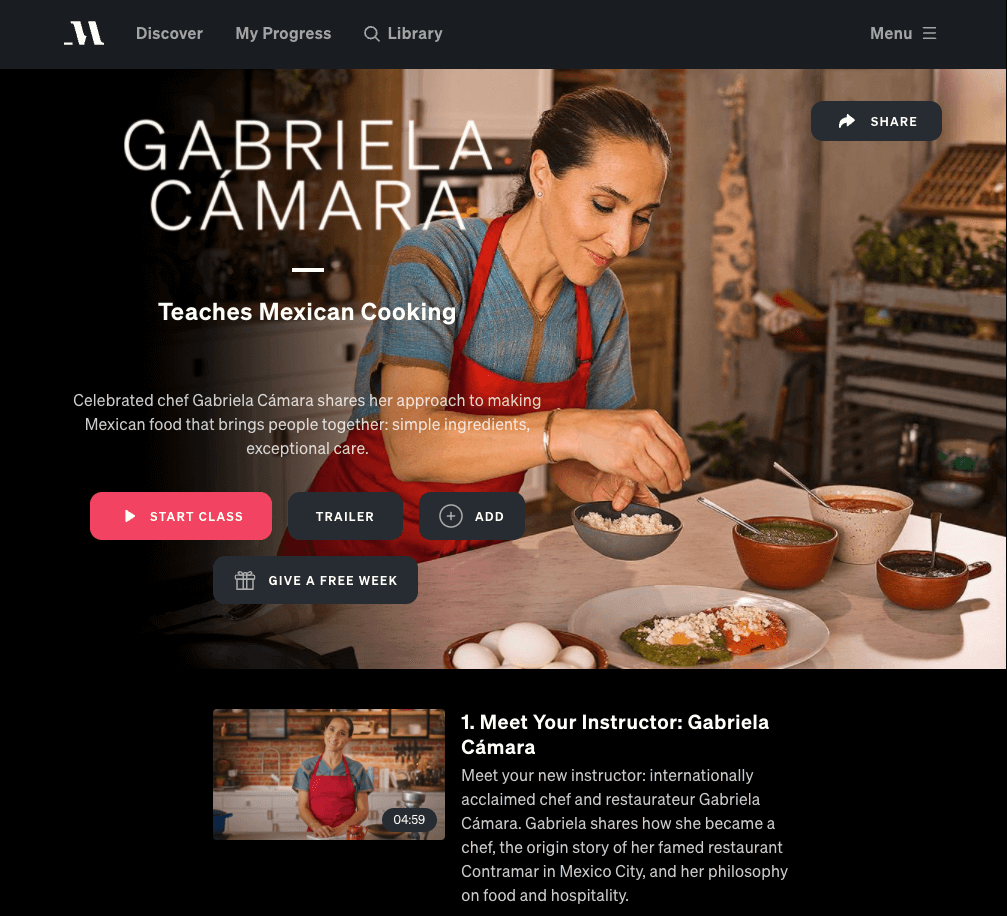 If you're a lover of Mexican food, Gabriela Cåmara's class will teach you the fundamentals of a great Mexican meal.
Arts & Entertainment
Anna Wintour Teaches Creativity and Leadership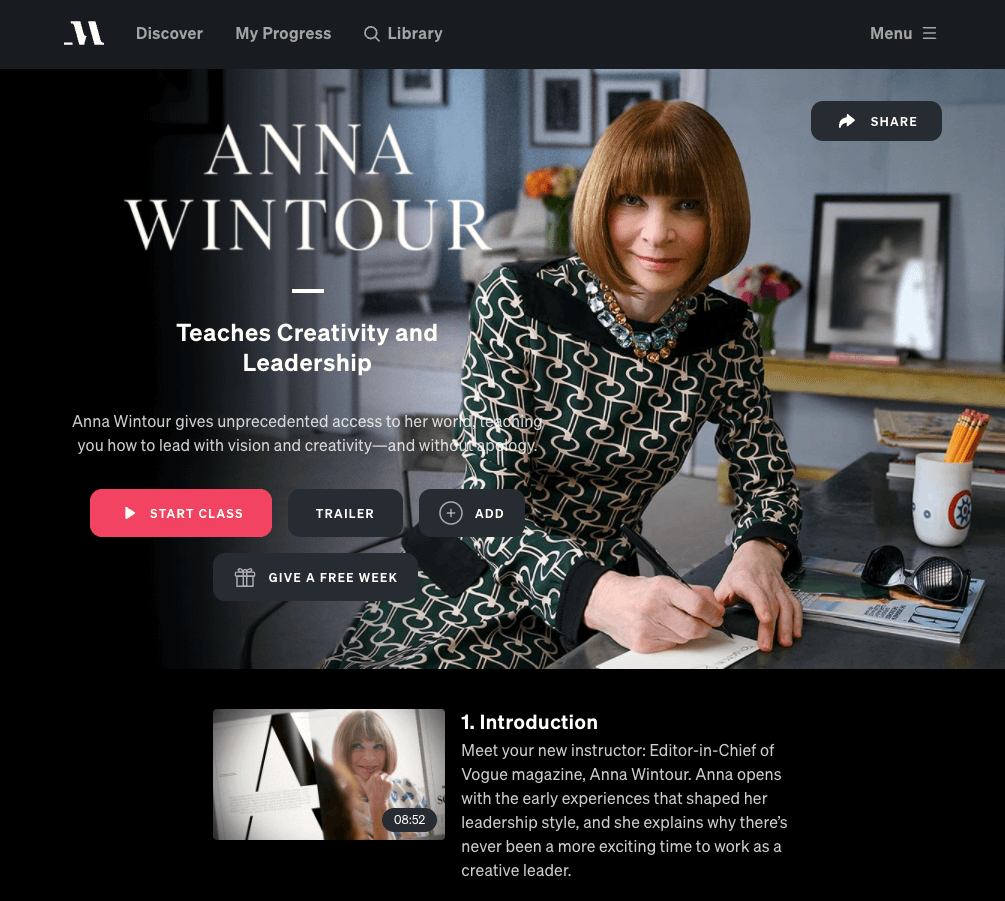 Editor-in-Chief of Vogue magazine, Anna Wintour's MasterClass takes students through early experiences that shaped her leadership style, while she explains why there's never been a more exciting time to work as a creative leader.
Annie Leibovitz Teaches Photography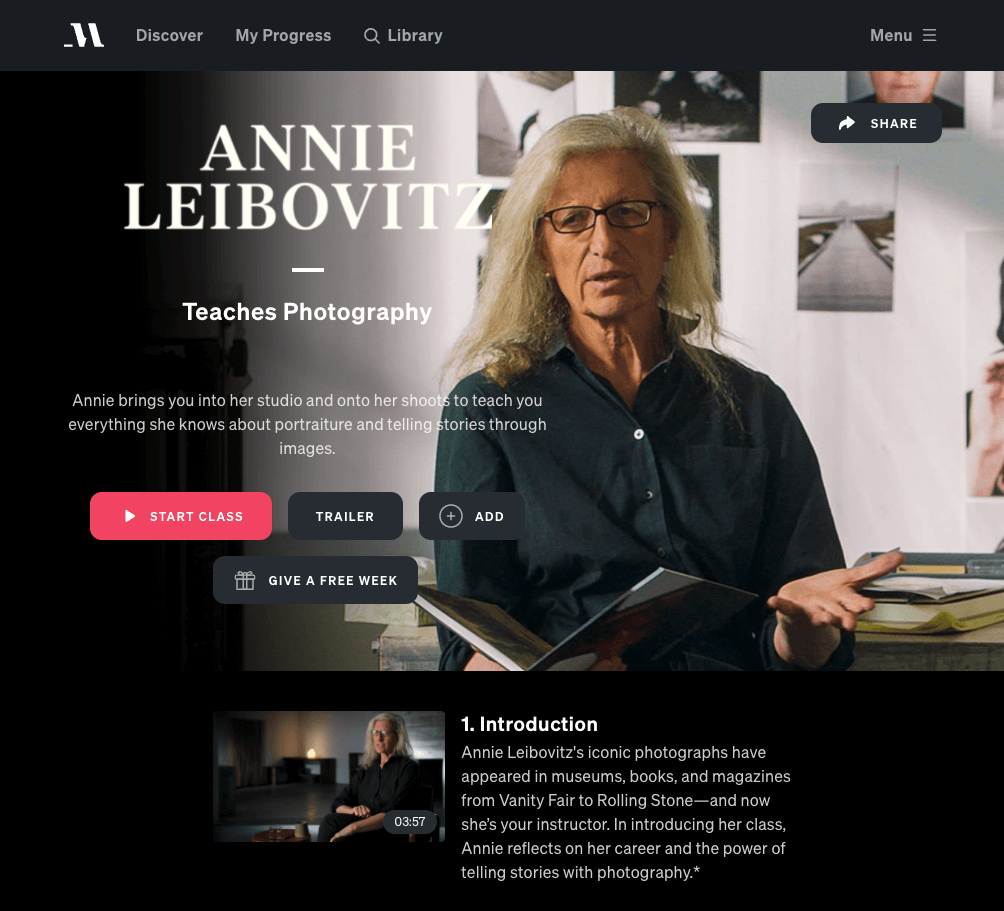 Learn how to take stunning and impactful photos with Annie Leibovitz, whose iconic photographs have appeared in museums across the world, published books, and magazines from Vanity Fair to Rolling Stone.
Business
Chris Voss: Teaches the Art of Negotiation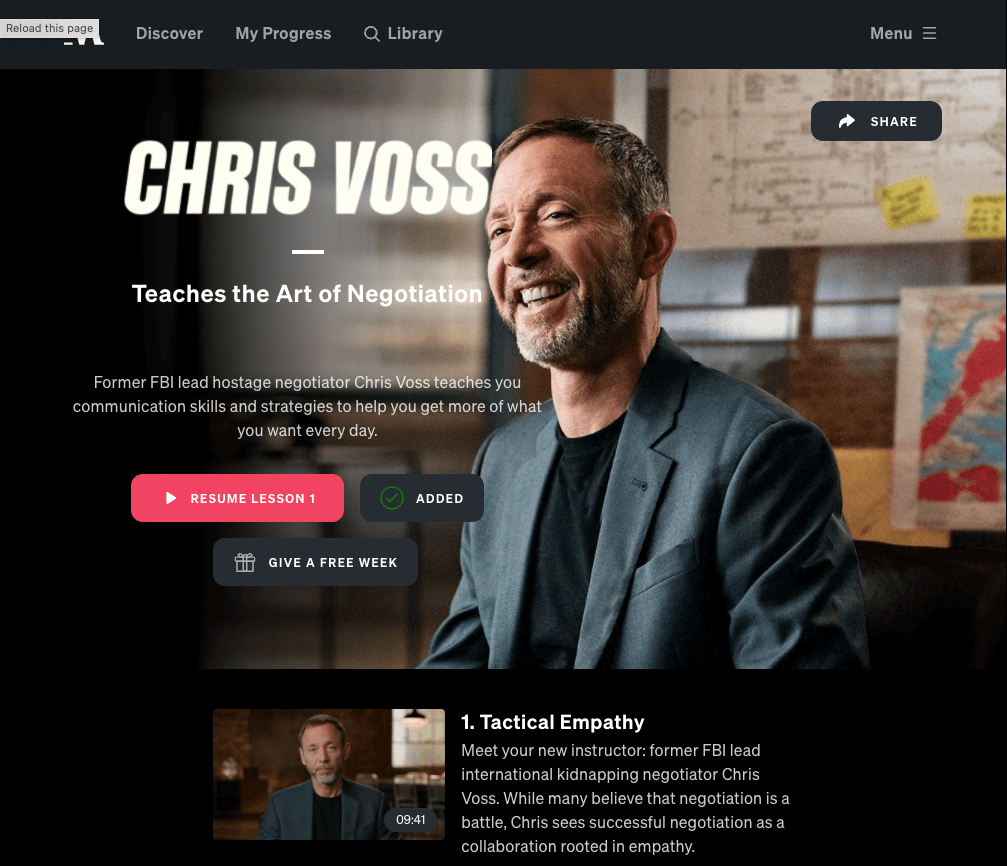 Former FBI lead and international kidnapping negotiator Chris Voss teaches MasterClass students the fundamentals of negotiations — skills which for him in many cases meant life or death for those he was trying to protect.
Bob Iger Teaches Business Strategy and Leadership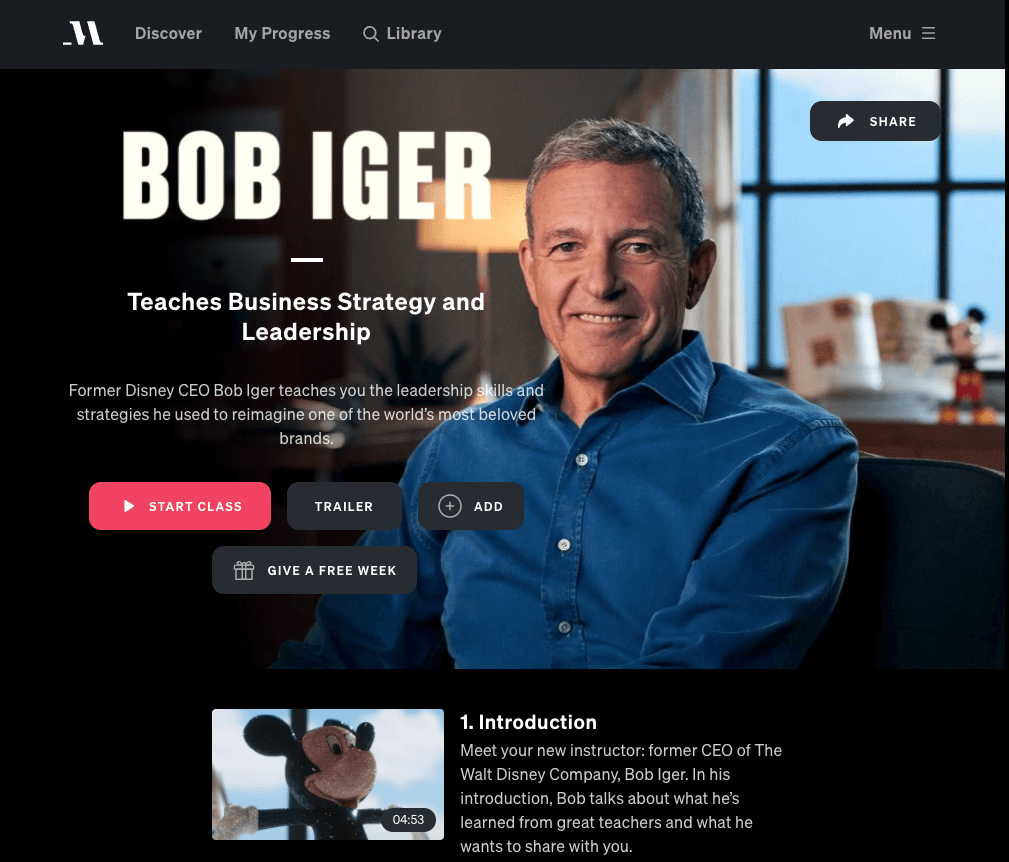 Former CEO of The Walt Disney Company, Bob Iger shares how he views leadership, and the strategies that helped him successfully run one of the largest businesses worldwide.
Daniel Pink Teaches Sales and Persuasion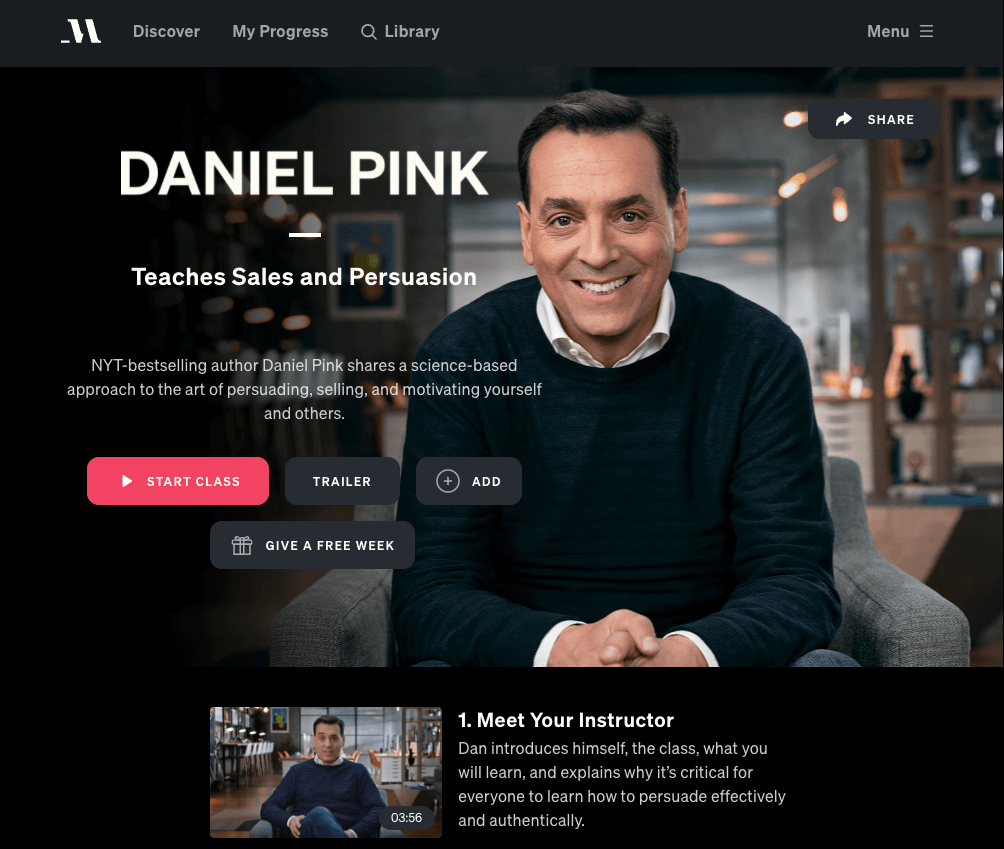 Daniel Pink is an award winning New York Times bestselling author. He shares his approach to persuasion, sales, and motivating yourself and others, backed by science.
Sara Blakely Teaches Self-Made Entrepreneurship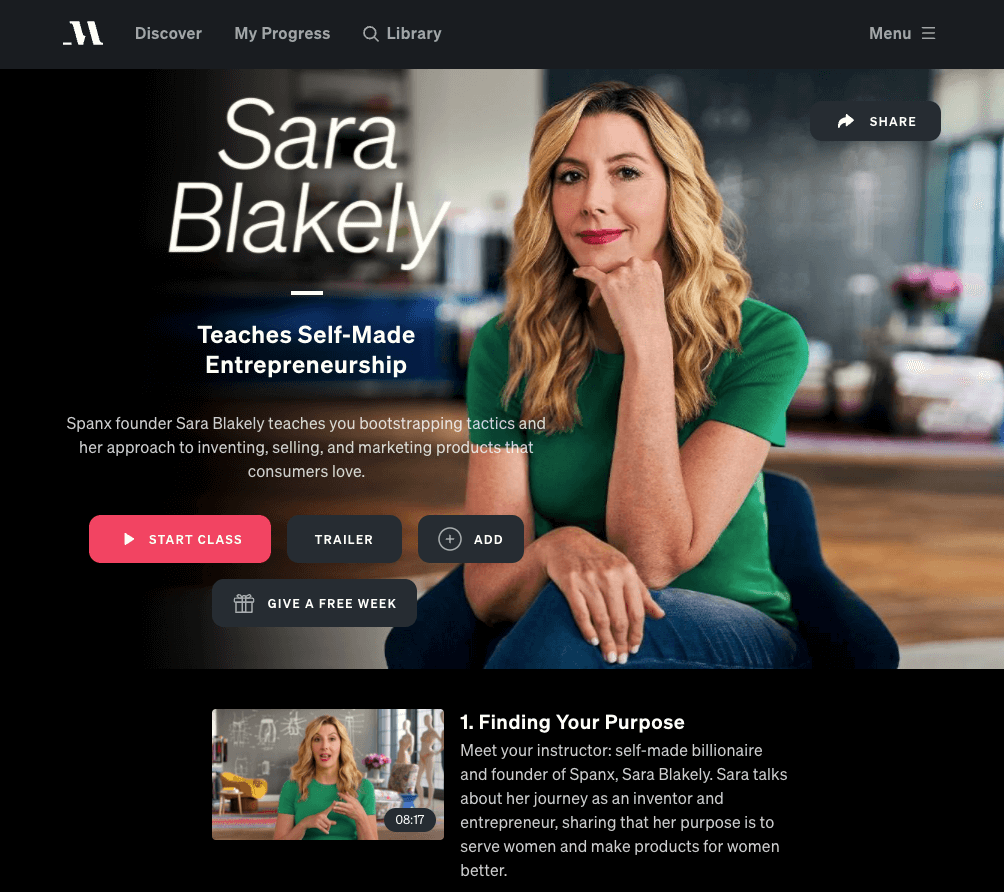 Sara Blakely is a self-made billionaire and founder of Spanx. She shares her journey as an inventor and entrepreneur with MasterClass students, and reveals that her purpose is to serve women and make products for women better.
Writing
Neil Gaiman Teaches the Art of Storytelling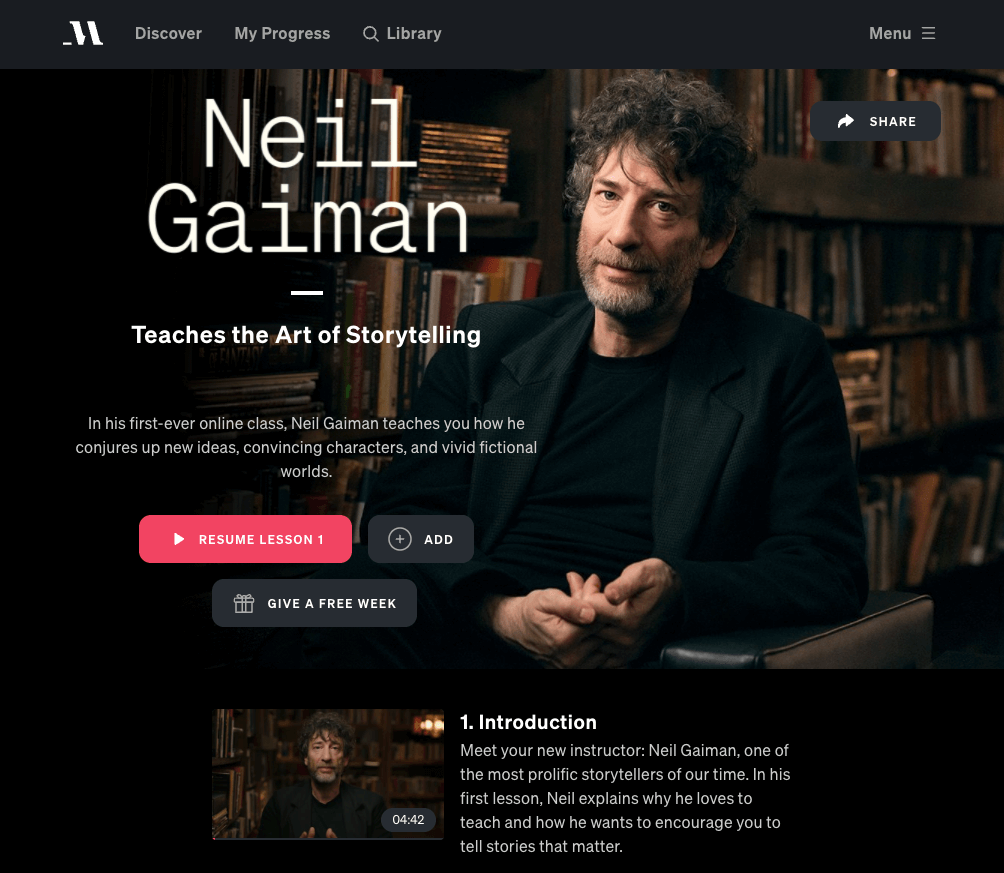 Neil Gaiman is one of the most prolific storytellers of today and author of The Sandman, Coraline, The Graveyard Book and other favorites. Gaiman's MasterClass teaches writing and how to build worlds and characters that make an impact.
Aaron Sorkin Teaches Screenwriting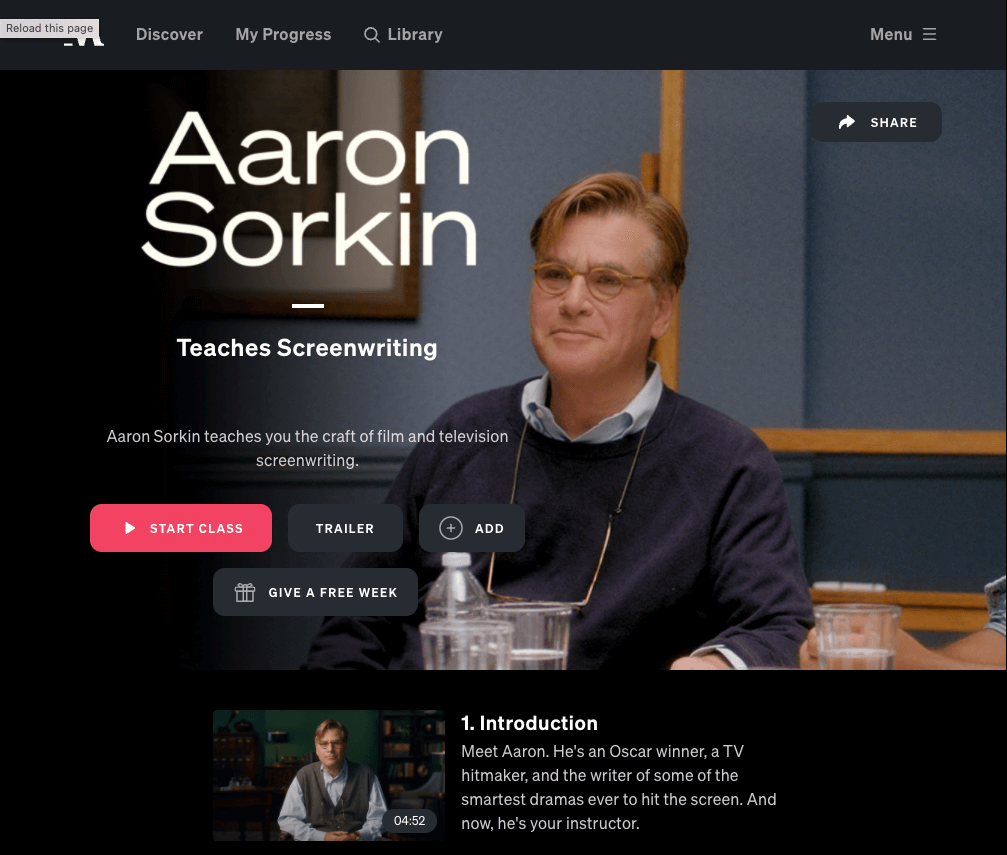 Oscar winner and writer of some of the smartest dramas ever to hit the screen, including famous dialogues like "You can't handle the truth!" from A Few Good Men, teaches a writing MasterClass that covers screenwriting skills.
Margaret Atwood Teaches Creative Writing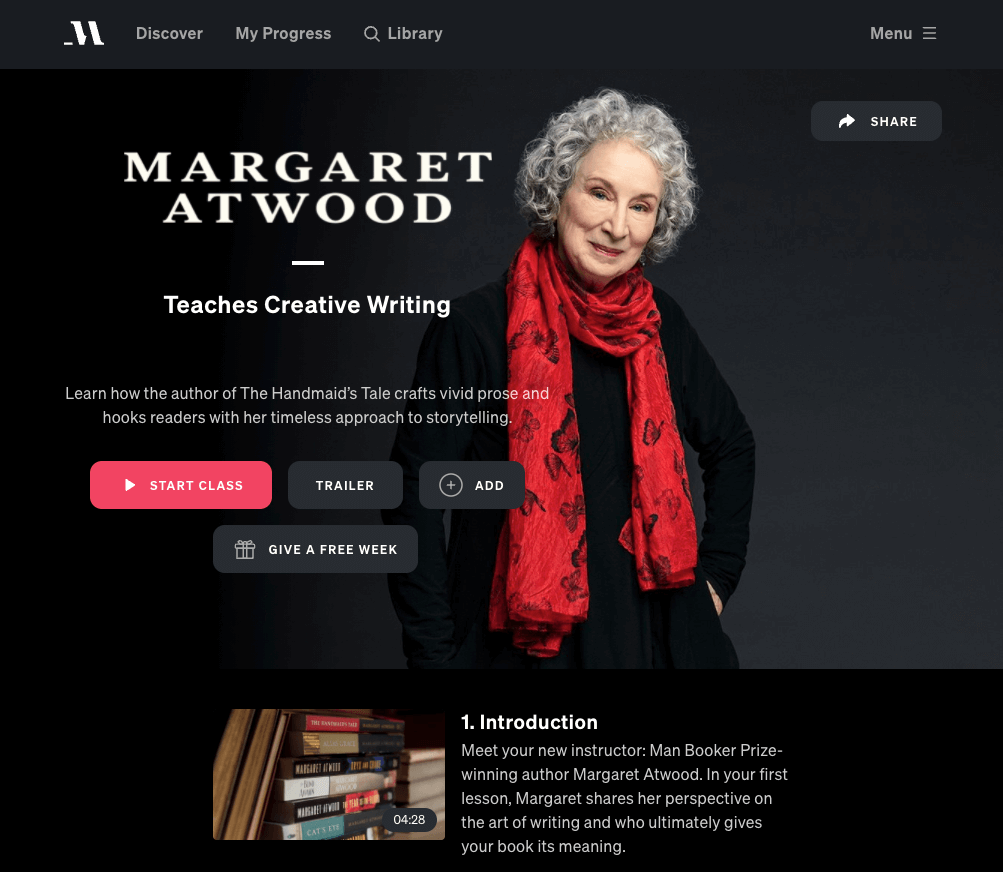 Man Booker Prize-winning author and creator of popular books like The Handmaid's Tale and Oryx and Crake Margaret Atwood teaching creative writing skills.
Home & Lifestyle
Bobbi Brown Teaches MakeUp and Beauty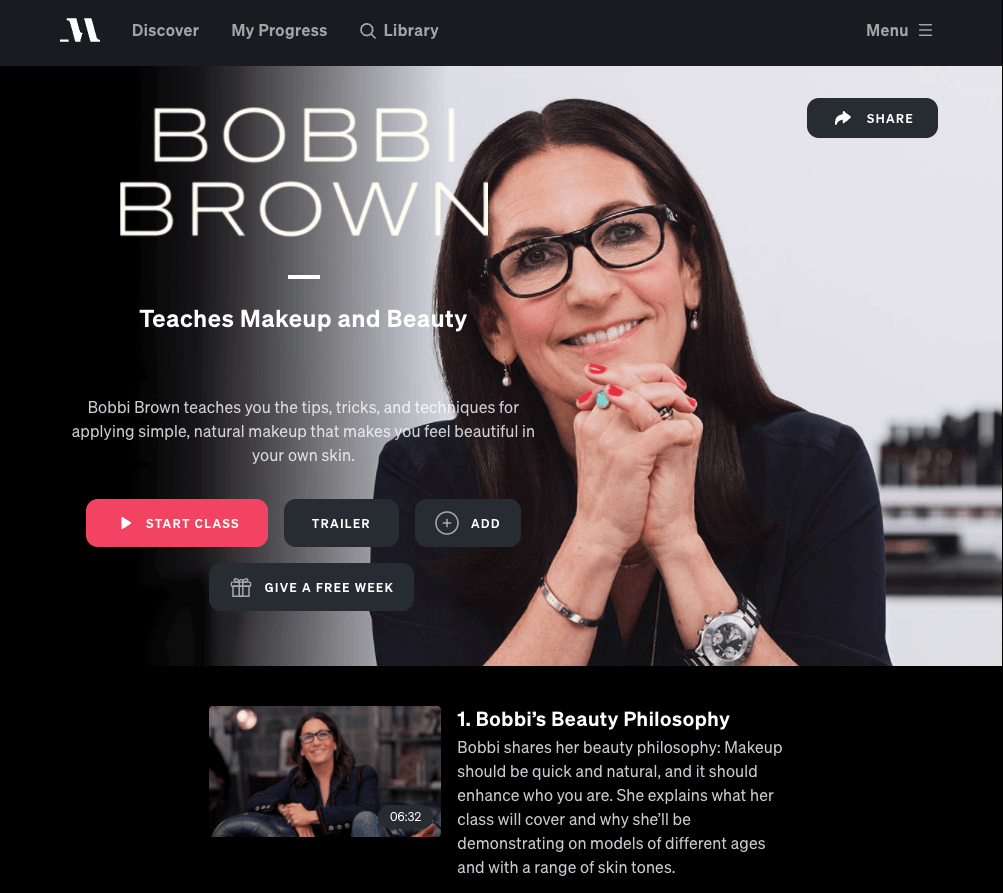 Creator of the famous Bobbi Brown makeup line and iconic lipstick colors, Bobbi Brown teaches tips, tricks, and techniques for applying simple, natural makeup looks that make students feel beautiful in their own skin.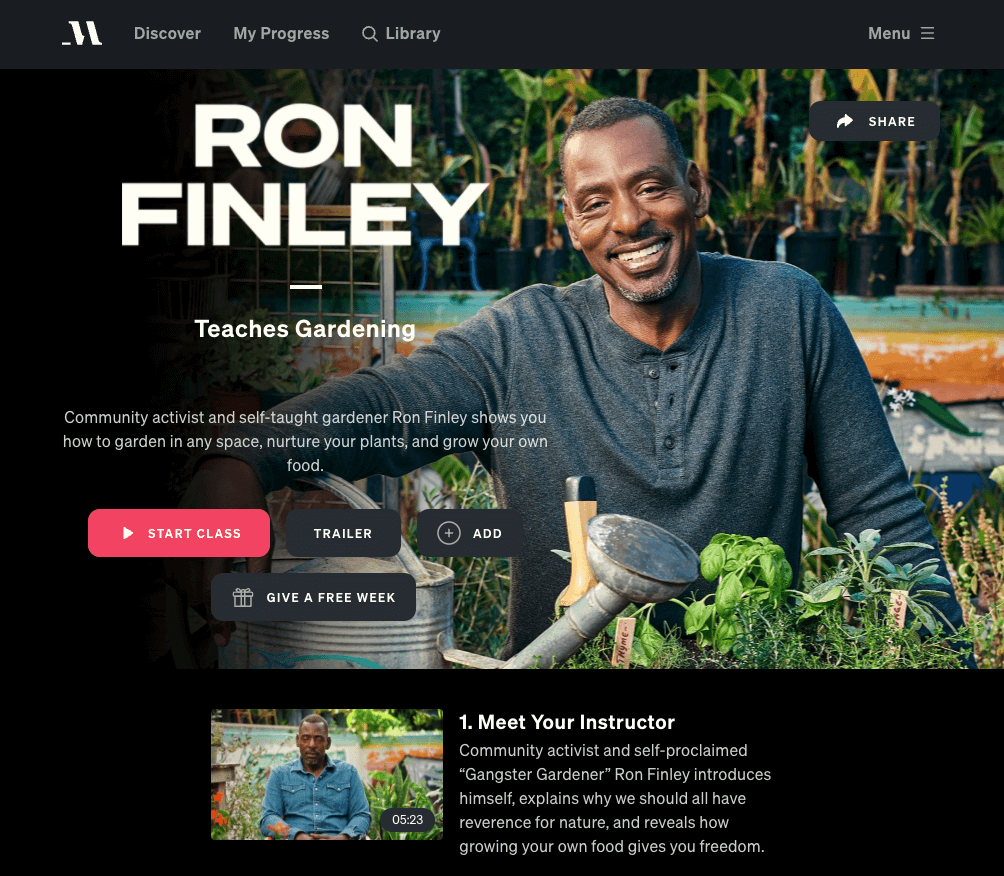 Ron Finley is a well-known community activist and self-proclaimed "Gangster Gardener." His MasterClass teaches students to have a reverence for nature, and shows students how growing your own food gives you freedom.
Brandon McMillan Teaches Dog Training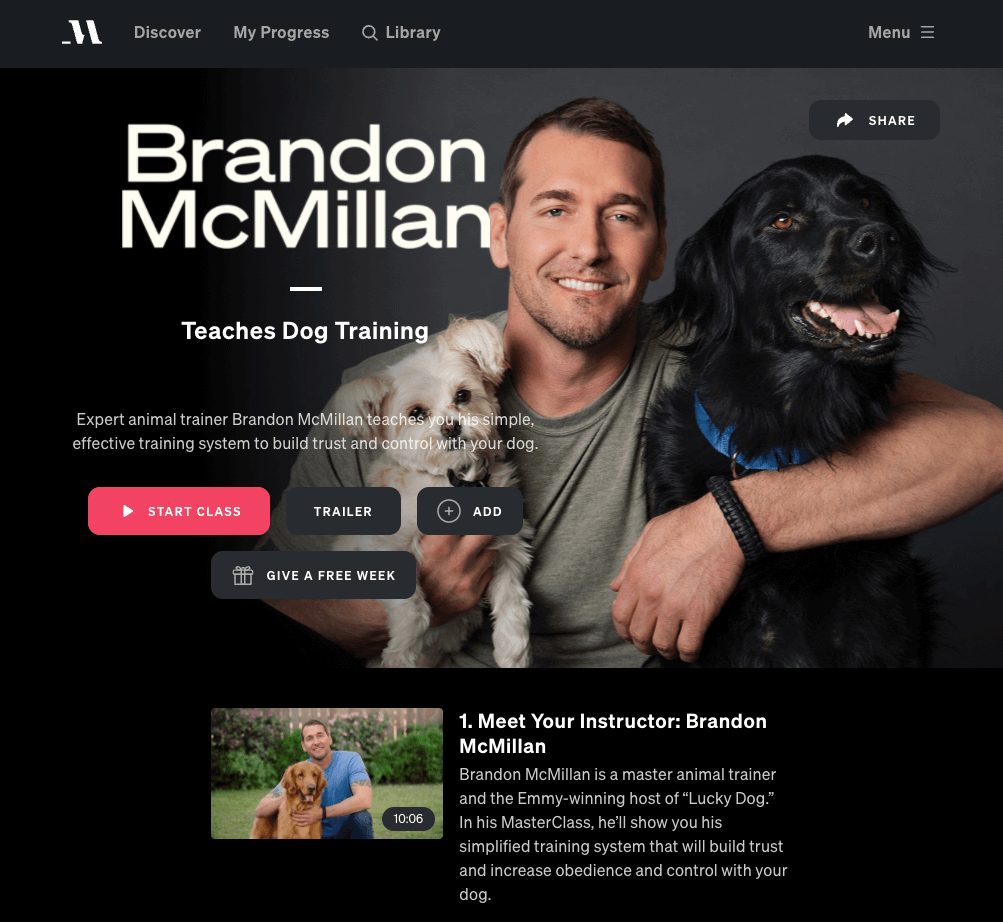 Brand McMillan is an expert animal trainer that teaches a simple, effective training system to build trust and control with your fur-children.
Wellness
Matthew Walker Teaches the Science of Better Sleep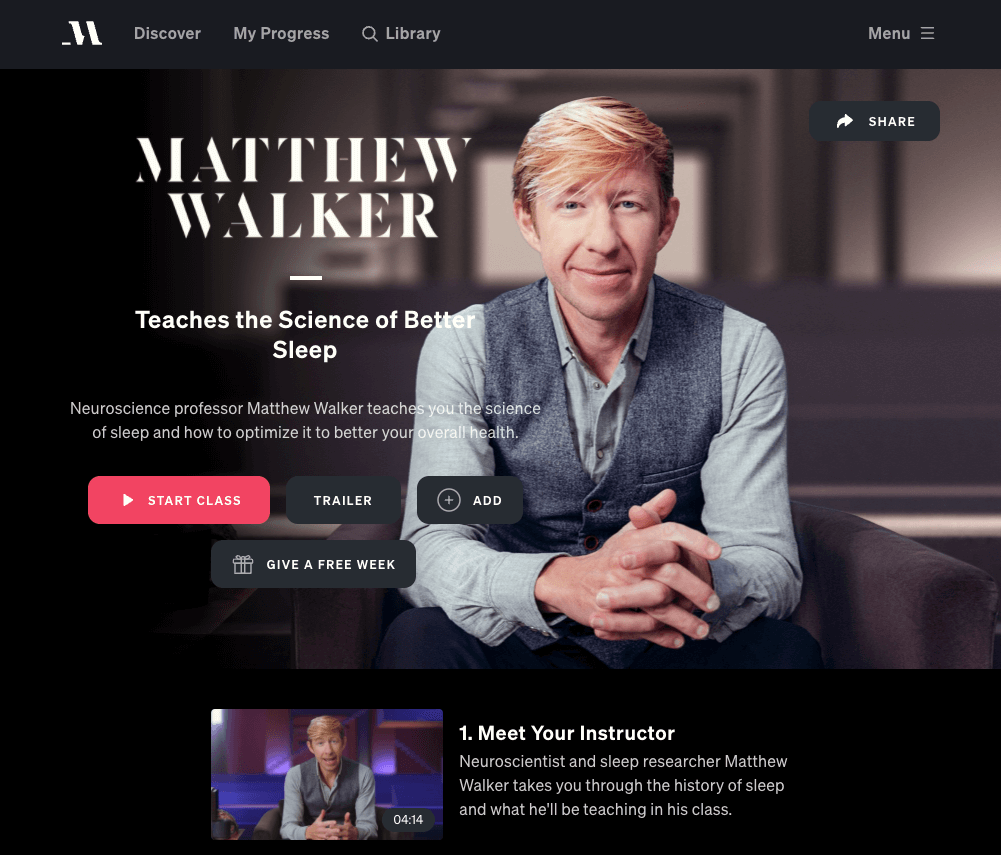 Need to get a little more shut eye? Matthew Walker is a neuroscience professor that teaches the science of sleep, and provides tips on how to optimize your sleep to better your overall health.
Jon Kabat-Zinn Teaches Mindfulness and Meditation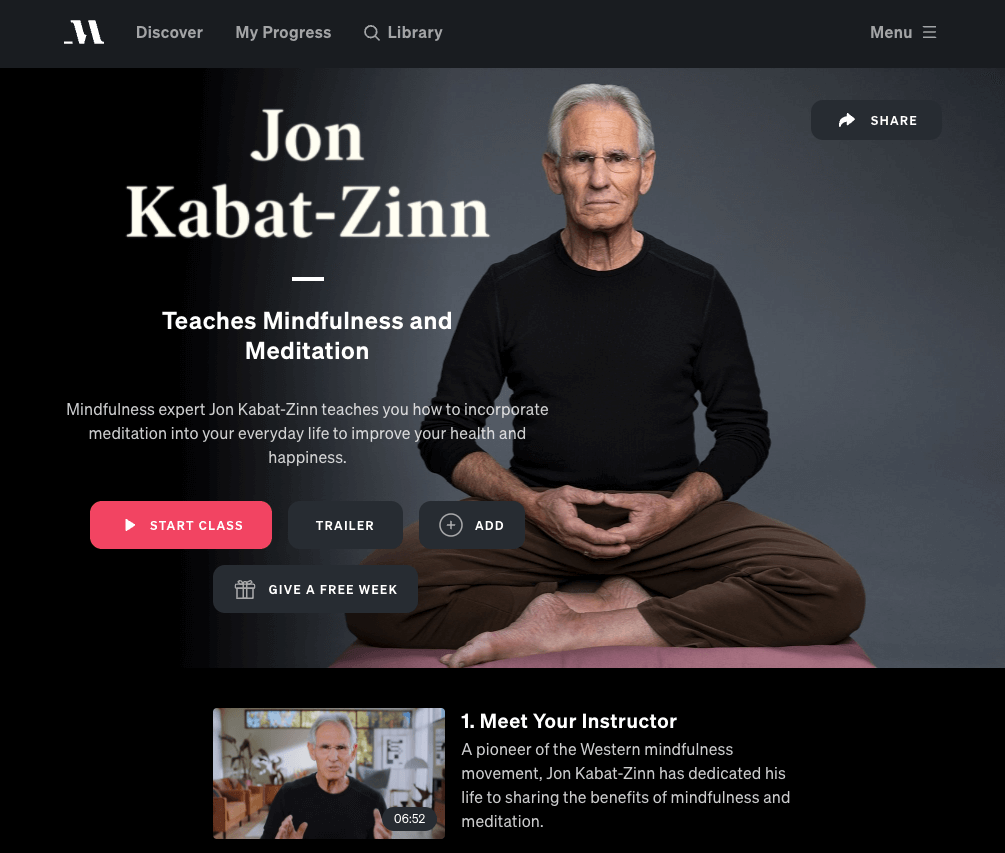 Jon Kabat-Zinn is a mindfulness expert that teaches students how to incorporate meditation into your everyday life to improve your overall health and happiness.
Design & Style
Kelly Wearstler Teaches Interior Design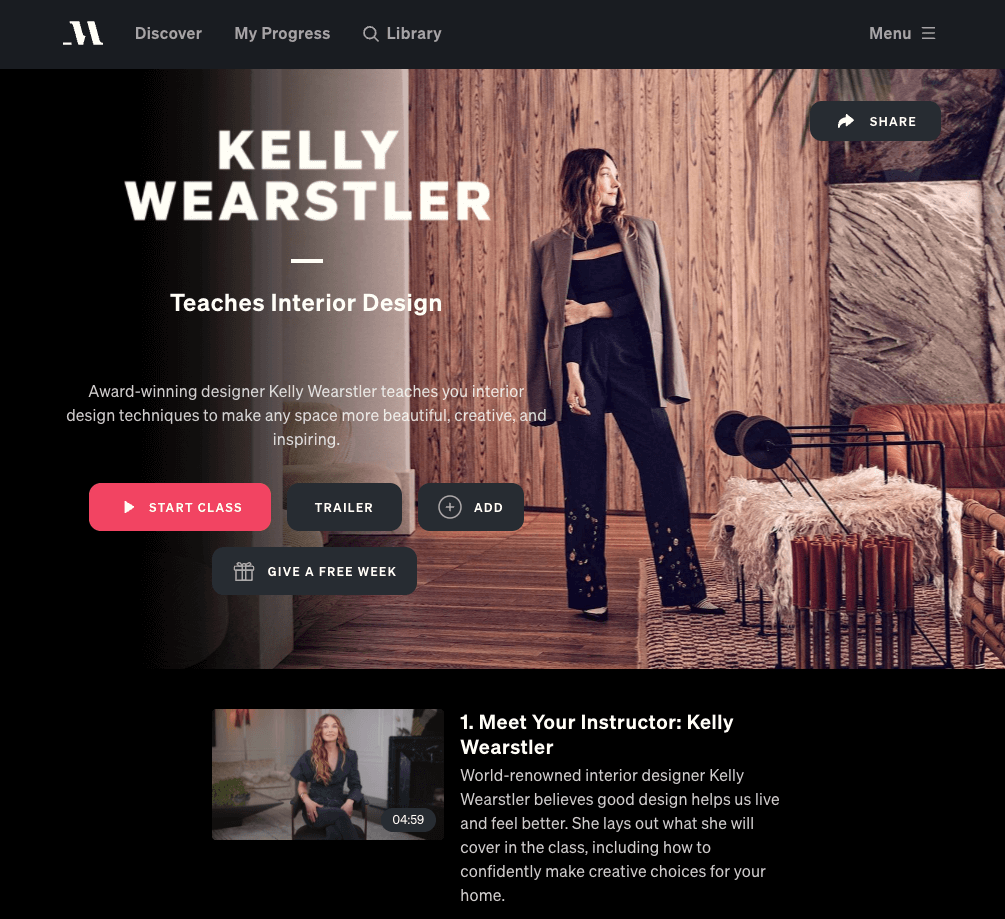 World-renowned and award-winning interior designer Kelly Wearstler believes good design helps us live and feel better. She teaches principles of interior design to MasterClass members.
Sport & Gaming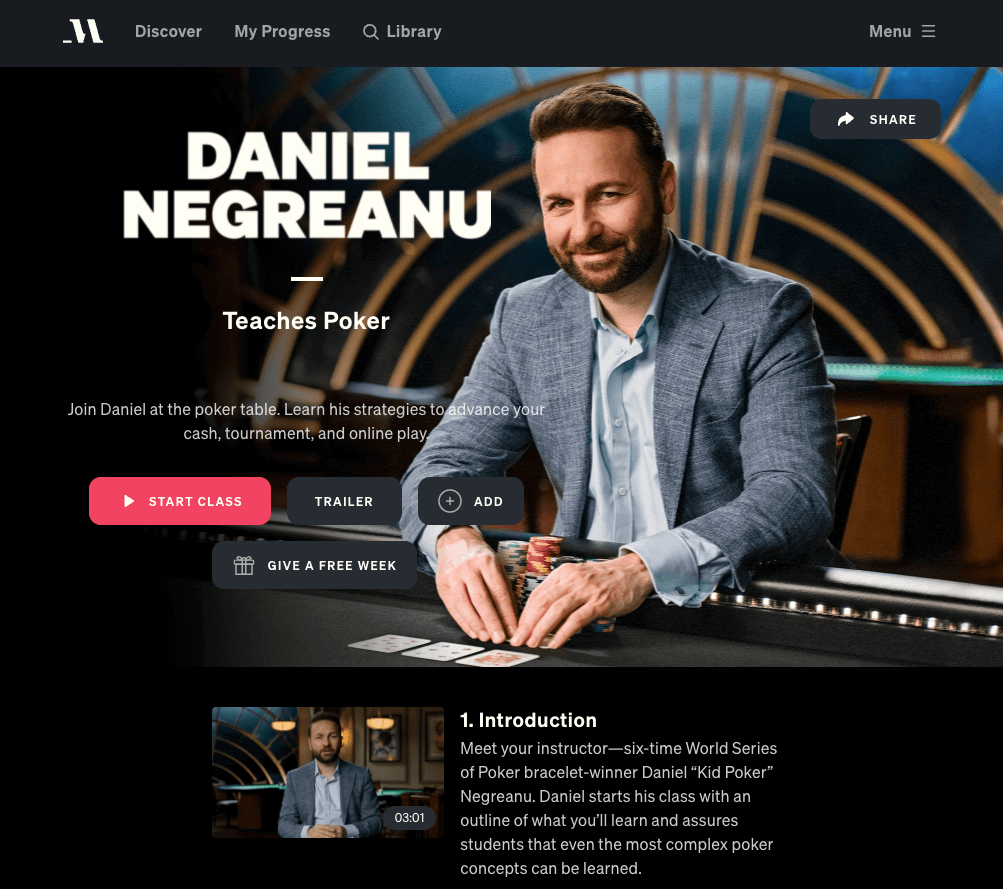 Six-time World Series of Poker bracelet-winner Daniel "Kid Poker" Negreanu teaches strategies to advance cash, tournament, and online play.
Science & Tech
Neil deGrasse Tyson Teaches Scientific Thinking and Communication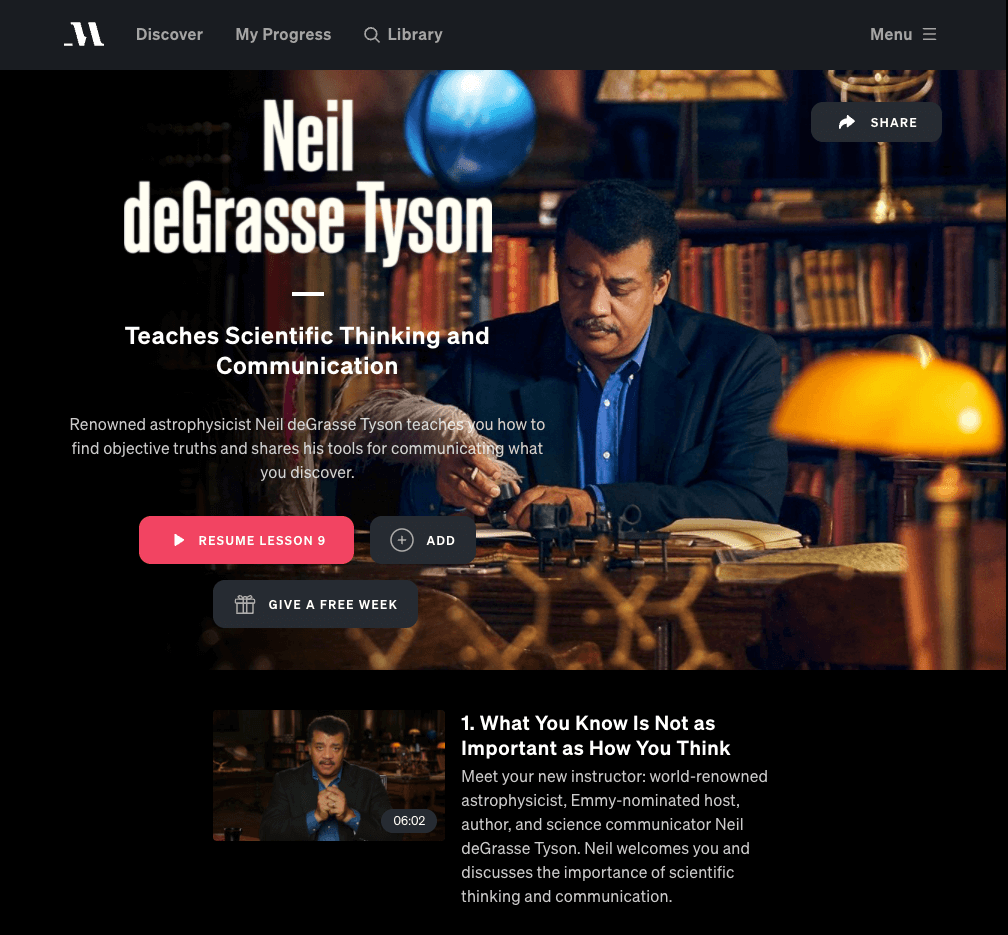 Famous astrophysicist Neil deGrasse Tyson teaches strategies to find objective truths and communicate what you discover.
Chris Hadfield Teaches Space Exploration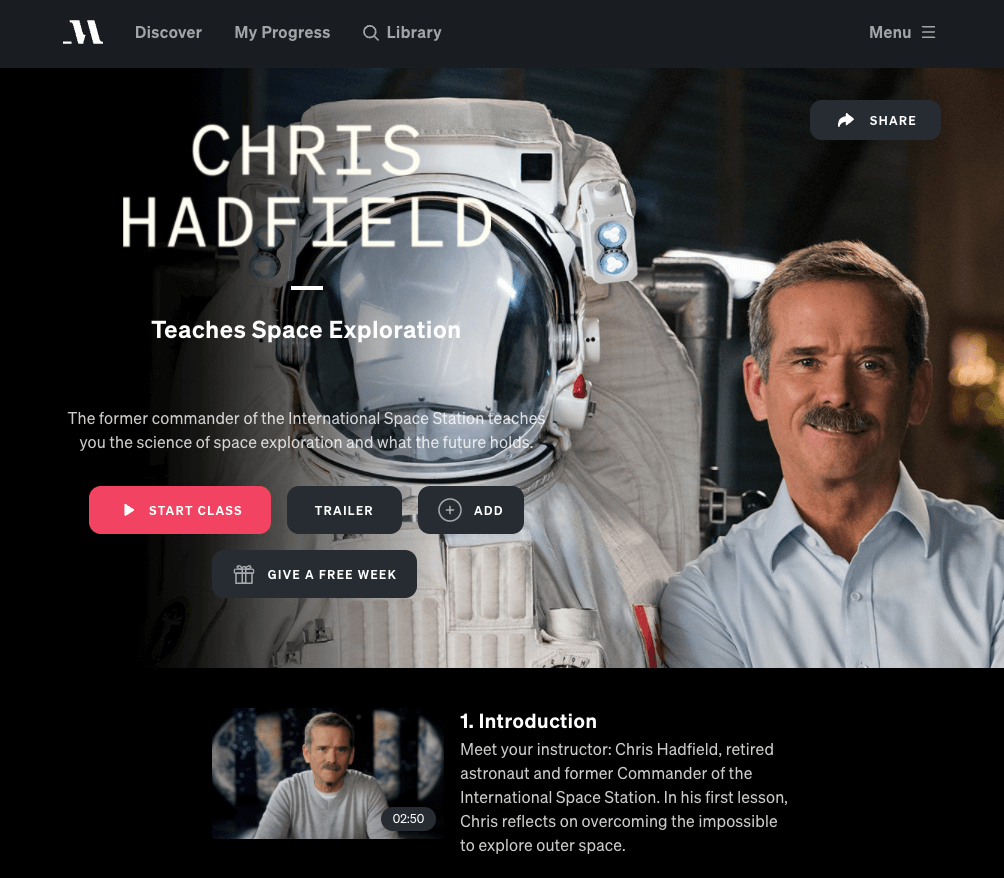 Former commander of the International Space Station teaches the science of space exploration.
Community & Government
Paul Krugman Teaches Economics and Society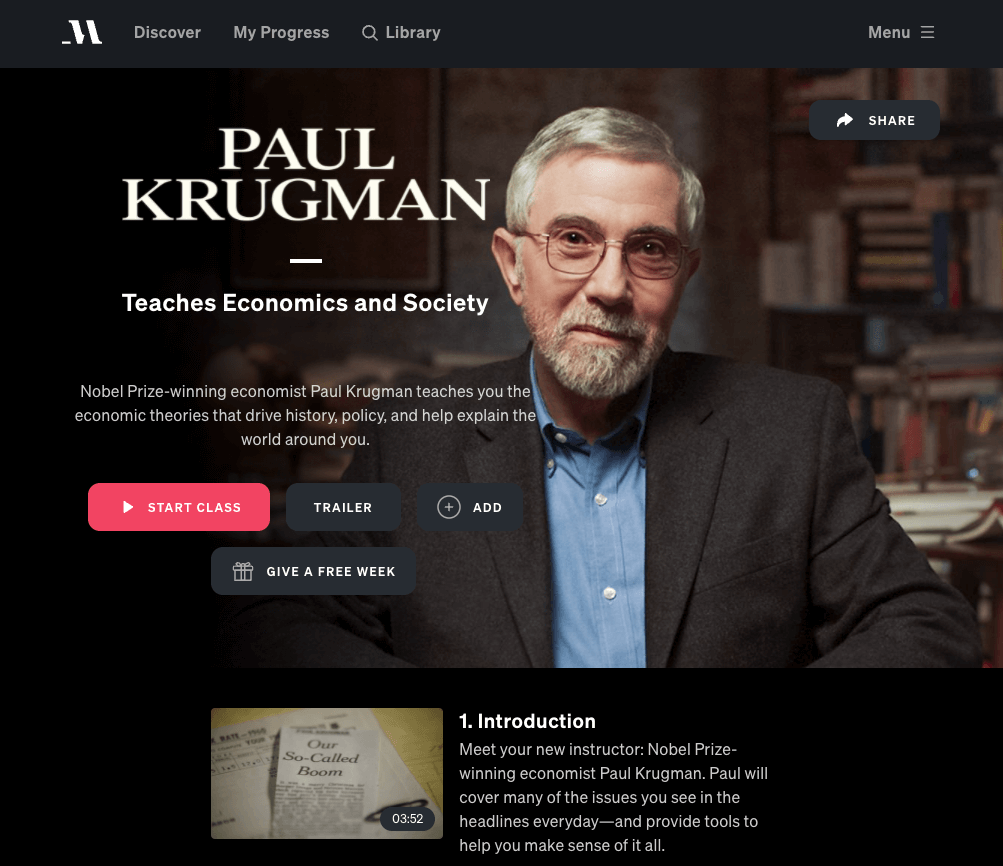 Paul Krugman is a Nobel Prize-winning economist that teaches economic theories to teach MasterClass students the principles that drive history, policy today.
Music
Alicia Keys Teaches Songwriting and Producing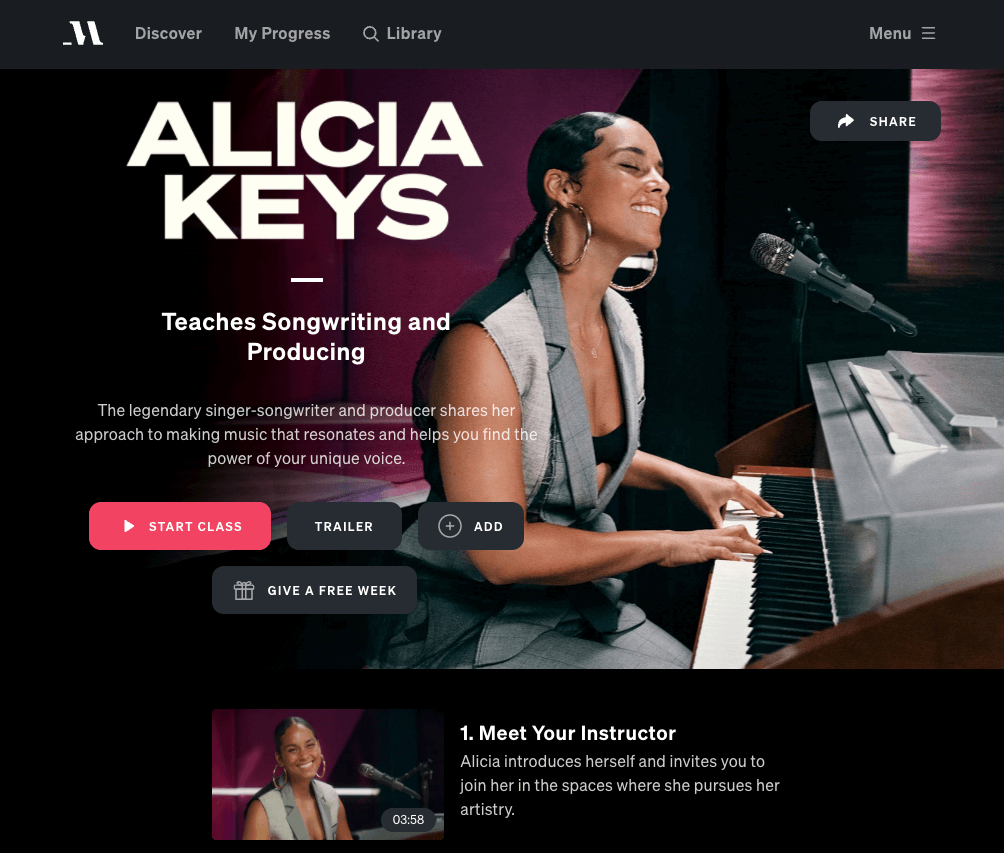 Alicia Keys is a legendary singer-songwriter and producer that shares her approach to making music that resonates. She wants to help MasterClass students find their unique voice.
Frequently asked questions (FAQs)
These are some of the most common questions asked by those considering purchasing the MasterClass online education platform membership.
Is MasterClass Worth Buying?
Yes, we think it's worth the cost. See the last section of this post for our final verdict.
How much does it cost to use MasterClass?
MasterClass costs $180 a year for their Standard plan, $240 a year for their Plus plan and $273 a year for their premium plan.
Can you get MasterClass for free?
No, but there is a refund policy. If you aren't happy with your purchase, you can contact MasterClass for a full refund within the first 30 days.
Can you get just one MasterClass?
No, you must subscribe to the entire platform. Some individuals sell online courses that they call MasterClasses, but aren't affiliated with the official MasterClass platform.
By signing up for one of these quality subscription offers, you'll get access to the 180+ courses MasterClass offers in several categories, ranging from cooking, baking, photography, music, dancing, writing, poker, makeup, and even negotiation.
The pros and cons of MasterClass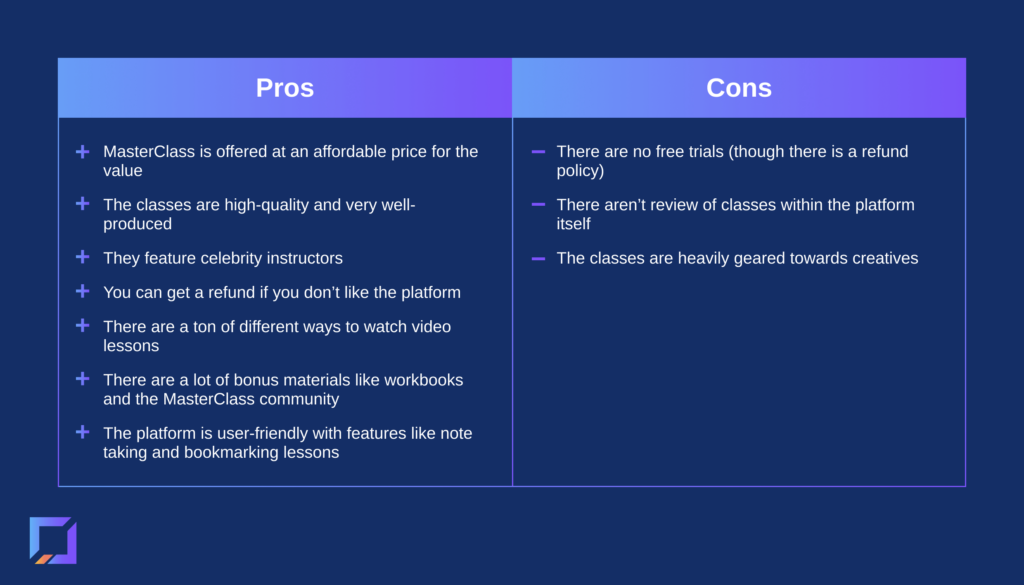 There's two sides to every story — even that of a self-paced online learning platform with some of the best instructors around. Let's examine the pros and cons of MasterClass
Pros
MasterClass is offered at an affordable price for the value
The classes are high-quality and very well-produced
They feature celebrity instructors
You can get a refund if you don't like the platform
There are a ton of different ways to watch video lessons
There are a lot of bonus materials like workbooks and the MasterClass community
The platform is user-friendly with features like note taking and bookmarking lessons
Cons
There are no free trials (though there is a refund policy)
There aren't review of classes within the platform itself
The classes are heavily geared towards creatives
MasterClass Review: Final Verdict
Very simply, we feel strongly that MasterClass is worth it.
The amount of valuable, high-quality, well-produced content that you can access makes it a fantastic purchase for anyone who considers themselves to be a lifelong learner or is interested in continuously pursuing new skills and ideas.
The classes included within the membership are all a manageable length, and at less than the cost of a daily Starbucks coffee, you really can't beat the value this membership will bring to your life.
If you're interested in becoming a MasterClass member, and broadening your skillset with the guidance of some of the best and brightest minds out there, start your membership today.