Dance is one of the most influential and expressive art forms known to man.
By learning how to maneuver one's body in a controlled, rhythmic way, people can express profound ideas and emotion — all without relying on outside tools like brushes or instruments.
That said, dance doesn't have to be serious. It can also be a fun, casual hobby to enjoy with friends or by yourself. It's also an amazing way to build strength and improve coordination.
Those fully dedicated to the craft spend years mastering the art form. However, you can start building up your own dancing skills with the help of some quality lessons from MasterClass.
In the article below, we'll explore three of the best MasterClass dancing courses you can start taking right away to expand your artistic horizons, build up your strength, and find a fun, meaningful way to express yourself.
Let's leap in!
Disclosure: These reviews are reader-supported. We might earn a small commission if you purchase something through our site. Learn more
Our Verdict
Whether you're new to the dance floor or a seasoned professional looking for some additional pointers from renowned dance experts, these MasterClass dance lessons are well worth the time and effort you put into them.
By the time you're through with each course, you'll be ready to take the stage with new skills and meaningful dance experience.
MasterClass Review
Learn from the Best
PROS
Affordable pricing
User-friendly platform
Features celebrity instructors
Easily refundable
High quality content
Bonus materials
CONS
No free trials
No reviews within the platform
Heavily geared towards creatives
In this MasterClass review, you'll learn:
Some common questions about MasterClass…
Before we delve into the essential information you should know about these fantastic MasterClass dancing courses, let's explore some of the common questions people have about MasterClass.
Do I need a subscription to access courses?
Yes, you'll need to purchase one of the three annual MasterClass subscriptions to gain exclusive access to any of their course offerings.
How long is the MasterClass?
MasterClass offers access to over 180 classes in 11 categories. Each course contains between 1 to 5 hours of video lessons on average, divided into around 20 unique video lessons.
Are MasterClass courses available offline?
Two of the three MasterClass subscription plans (Duo and Family) offer download capabilities for offline access to video lessons across multiple devices.
Does MasterClass have a cancellation policy?
Yes, you can cancel your MasterClass subscription at any time before your subscription renewal date to avoid additional charges. You can also cancel within 30 days of your original subscription and ask for a full refund.
Are MasterClass courses worth it?
Yes, all of the fantastic courses MasterClass offers are worth taking. Their video lessons are high-quality and feature input from some of the most well-respected celebrities and industry professionals around the world.
MasterClass dancing: expand your artistic horizons with every lesson
MasterClass is a high-quality online course provider that launched back in 2015 and became one of the most rapidly-growing online educational platforms in only a few months. On top of its original popularity, the demand for courses spiked by more than 1,000% during the pandemic.
Through its amazing and diverse courses, people around the world have broadened their horizons and learned new skills while stuck at home.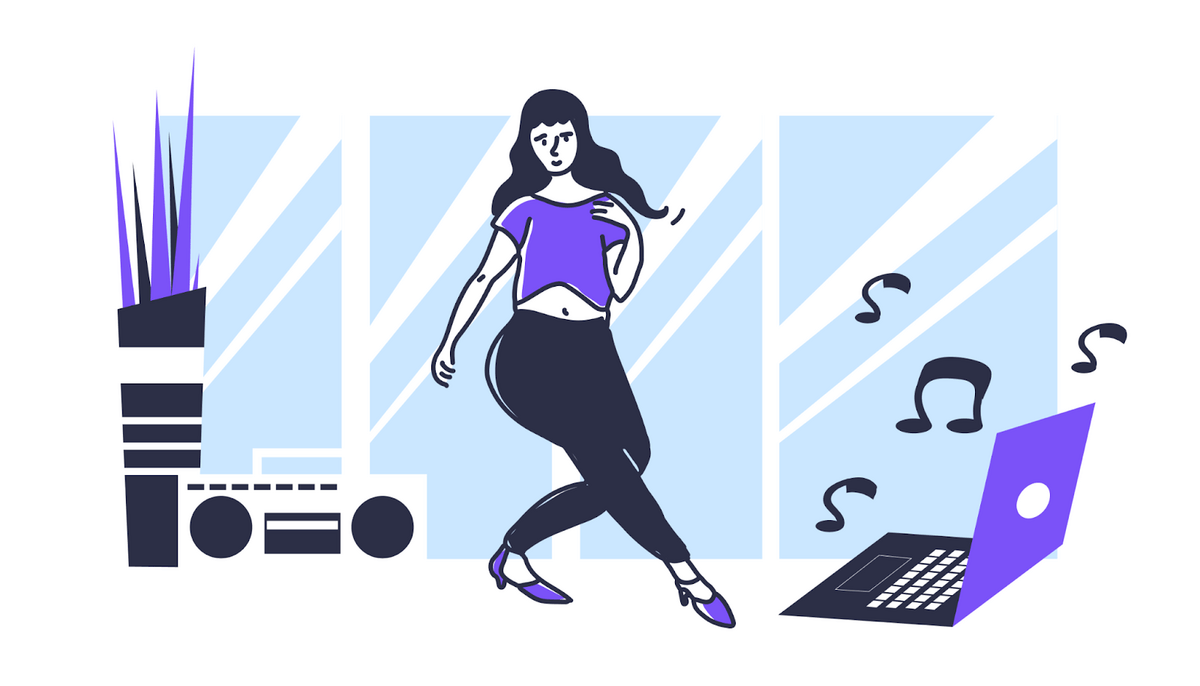 MasterClass currently offers three annual subscription tiers for users to choose from. Each consecutive tier unlocks fantastic new features for a slight increase in monthly cost.
From least to most expensive, these plan tiers include:
Individual
Monthly price (billed annually): $15.75
Number of devices that can watch lessons simultaneously: One
Lesson download capabilities: No
Duo
Monthly price (billed annually): $21
Number of devices that can watch lessons simultaneously: 2
Lesson download capabilities: Yes
Family
Monthly price (billed annually): $24.15
Number of devices that can watch lessons simultaneously: 3
Lesson download capabilities: Yes
Aside from access to a massive library of great content for an amazingly low price, the best part of taking MasterClasses is that only respected celebrities and industry professionals get to teach courses.
By signing up for one of these quality subscription offers, you'll get access to the 180+ courses MasterClass offers in several categories, ranging from cooking, baking, interior design, photography, music, writing, makeup, poker, and even negotiation.
As such, the dance classes explored below aren't ordinary lessons you can sign up for at a local dance studio. The courses are taught by world-renowned performance artists who are eager to share their secrets with others.
1. Misty Copeland Teaches Ballet Technique and Artistry
Course Value: 4.7/5 Stars
Runtime: One hour 46 minutes
Lessons: 17 video lessons
MasterClass Category: Sports & Gaming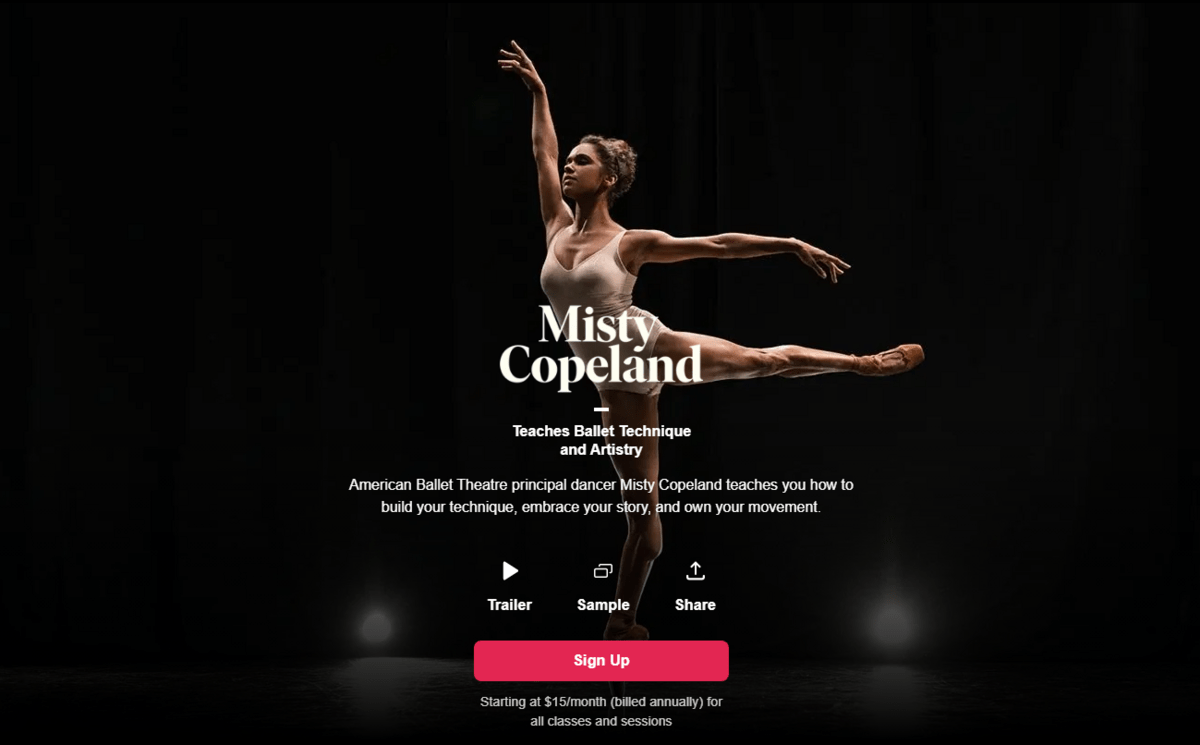 Misty Copeland is a reputed American ballet dancer and one of the most renowned ballerinas of her generation.
Copeland began formal training at thirteen — a relatively late start for a serious ballet career. Despite this, she won several competitions and scholarships before joining the American Ballet Theater's (ABT) corps de ballet as the only African American woman among 80 dancers.
In 2015, Copeland became the first African American female to serve as a principal dancer with the prestigious ABT, one of the three most infamous ballet theaters in the United States.
Some of her most notable performances include her title and lead roles in The Firebird (2012), Swan Lake (2014), and On the Town (2015).
In her highly-rated MasterClass course, Misty Copeland Teaches Ballet Technique and Artistry, Copeland instructs students on everything from essential ballet basics to full-on dance rehearsals and performances.
Along with the course, students also get access to a downloadable workbook of Copeland's practice regimen, along with tips and tricks for choreography.
Lessons cover a wide range of topics, including how to prepare pointe shoes, effective warm-ups, dancing techniques, and performance deconstructions.
Some of our favorite video lessons from Copeland's course include lesson six — Barre Technique: Ronds de Jambe, and lesson nine — Performance: White Swan Pas de Deux.
The former features an advanced demonstration of various exercises to help students practice ronds de jambe, or "round of the leg." This common ballet step is integral to many performances and a great exercise for toning and lengthening the legs.
The latter features a performance by Copeland and her dance partner, Calvin Royal III, as they perform the White Swan pas de deux. The performance is followed by an in-depth explanation of why understanding your role- and your partner's role- is so essential.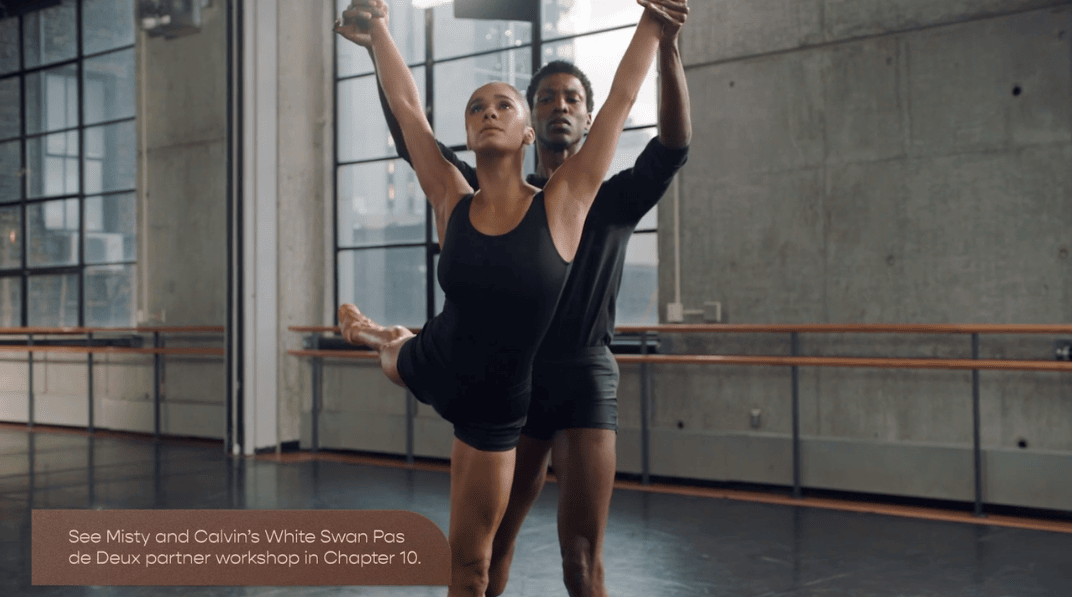 Interspersed throughout her dancing instruction lessons, several of the course videos feature in-depth MasterClass interviews with Copeland.
In these interviews, she details her unique ballet journey and explores her desire for a legacy that encourages more inclusivity in the world of ballet.
We found all of her interview-based lesson videos inspiring. Each one provides an in-depth look into Copeland's life, and imparts essential industry knowledge onto the viewer about everything it truly takes to become an exemplary ballet dancer.
From start to finish, Misty Copeland's MasterClass is a shining example of what makes MasterClass courses so profoundly effective and worthwhile for students.
After expanding your ballet skills with Copeland's course, take your dancing education even further with some MasterClass articles on contemporary ballet and modern dance technique.
2. Usher Teaches The Art of Performance
Course Value: 4.7/5 Stars
Runtime: Two hours 29 minutes
Lessons: 16 video lessons
MasterClass Category: Arts & Entertainment, Music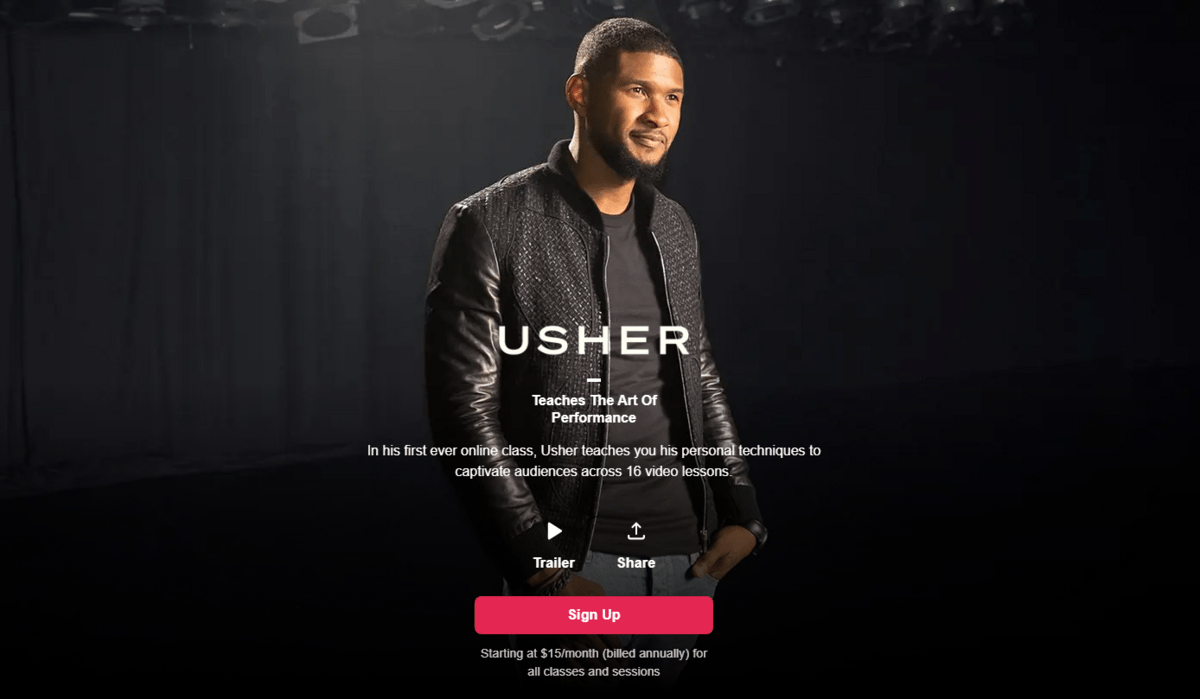 As an eight-grammy award-winning singer, songwriter, dancer, and actor, there likely isn't a single person in the entertainment industry who hasn't heard of Usher.
The music legend got his big break in the late 1990s thanks to his second album, My Way, which featured his first number-one single to hit the US Billboard Hot 100.
But while Usher is known for his phenomenal music career, he's also shown incredible promise as a professional dancer. Thanks to all of his time on stage and his massive assortment of music videos, his dance skills are a well-known staple of his artistic identity.
Now, he's taken his work to the online world of MasterClass to show his students how to take the stage when it comes to the art of performance.
Unlike the other two MasterClass courses discussed here, Usher Teaches the Art of Performance isn't primarily dedicated to teaching students about dancing.
Throughout his course, Usher delves into several critical aspects of different types of performance, ranging from dancing and singing to acting and gathering the inspiration needed to fuel creativity.
Alongside the course's wide selection of video lessons, you'll also get access to a 25-page downloadable workbook featuring supplemental materials and detailed lesson recaps.
During the dancing video lesson of Usher's course, he explores the essential role personal style, individuality, and interpretation play in the moves you make on stage. These three aspects are the keys to developing a captivating dance performance.
According to Usher, he wasn't a great dancer when he first started his career, though he loved dancing as a kid.
The people around him who helped him build his career initially didn't consider dance a priority for his image as an artist. But Usher was determined to make his brand a representation of who he truly was as a person, and dance was a major part of that.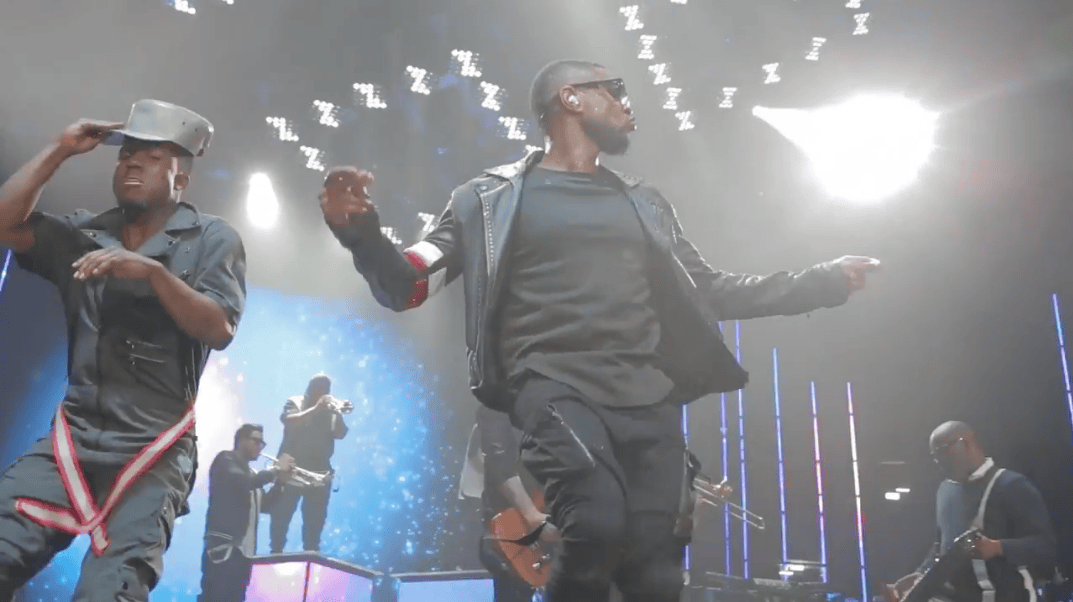 Usher worked with several choreographers from around the country, each with unique perspectives on everything from pop and lock to boogaloo. Together, they developed an individualized style of dance that's now a critical piece of Usher's brand.
Throughout this lesson, students can learn more about how Usher developed his individual dance style. From there, he'll explore how MasterClass students can use their own experiences, expectations, and attitudes as inspiration to develop their own unique dance style.
While Usher's course may not cover dance alone, his expertise on the topic is definitely worth exploring for any student who wants to expand their dancing know-how.
3. Parris Goebel Teaches Creativity in Choreography
Course Value: 4.7/5 Stars
Runtime: Two hours 6 minutes
Lessons: 16 video lessons
MasterClass Category: Arts & Entertainment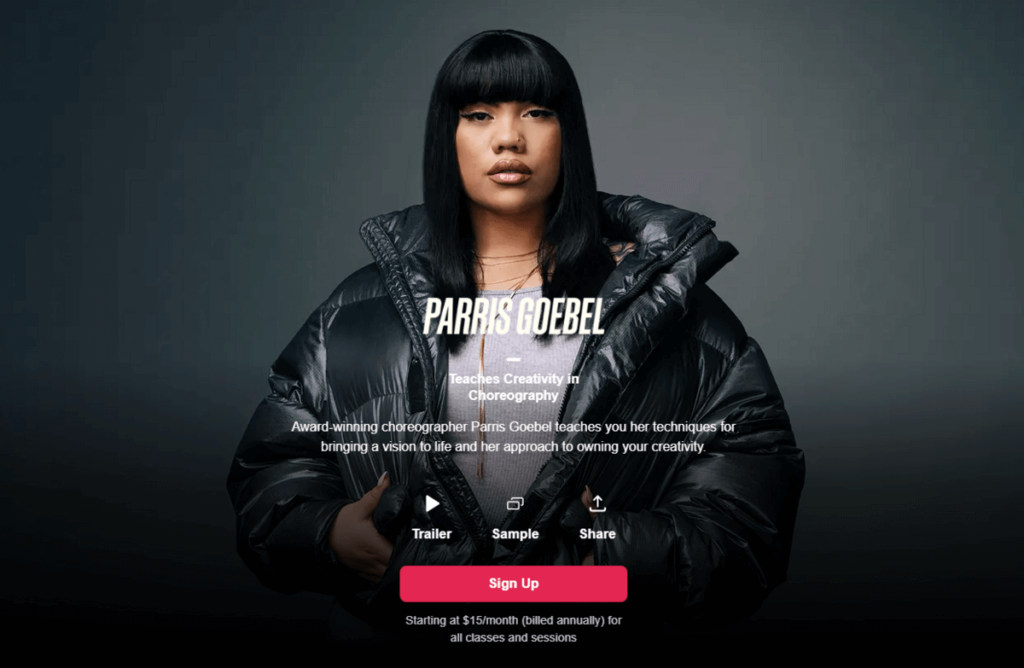 Parris Goebel is a professional dancer, singer, and choreographer from New Zealand who's most widely known for her work on Justen Bieber's "Sorry" music video back in 2015.
Her hip-hop routines have won multiple world championships, and her dance videos have taken the online world by storm, acquiring billions of views on YouTube.
In 2017, Goebel took her place as one of Forbes' 30 Under 30 Asia list under the Arts category.
Goebel is now one of the most sought-after choreographers in the world, thanks to all of the work she's done with some of the biggest names in entertainment, including Rihanna, Jennifer Lopez, Nicki Minaj, and Janet Jackson.
In her innovative MasterClass course, Parris Goebel Teaches Creativity in Choreography, Goebel delves deep into how students can bring their vision to life through her unique approach to choreography and dance.
Class videos cover a wide range of important topics, ranging from how to unlock one's creative spirit to an exploration of unique brand development.
Her course also features a deep look into Goebel's journey into the world of professional choreography. Alongside two case studies exploring two of her most famous pieces of work, including Justen Bieber's "Sorry" and Ciara's "Level Up" music videos.
Alongside her course's video lessons, students also get access to a downloadable class workbook where they can learn about Goebel's Royal Family dance crew and the origins of choreography.
Students also get some extra insights into Goebel's signature choreography style, alongside several tips and tricks for everything from filming on phones to building brands.
All of the lessons featured on Goebel's MasterClass course offer a wide selection of helpful lessons and information. However, students with a true passion for expanding their dancing skills will likely find lessons five and six especially useful.
Lesson 5: Building Blocks of Dance Choreography, explores several aspects of Goebel's creative process, including how she leverages filming tactics and has her dancers layer moves.
Lesson 6: Fundamental Dance Formations features demonstrations of how Goebel comes up with and uses key dance formations that dictate how her dancers move throughout the stage. It also covers how she leverages symmetry and shapes to inspire her routines.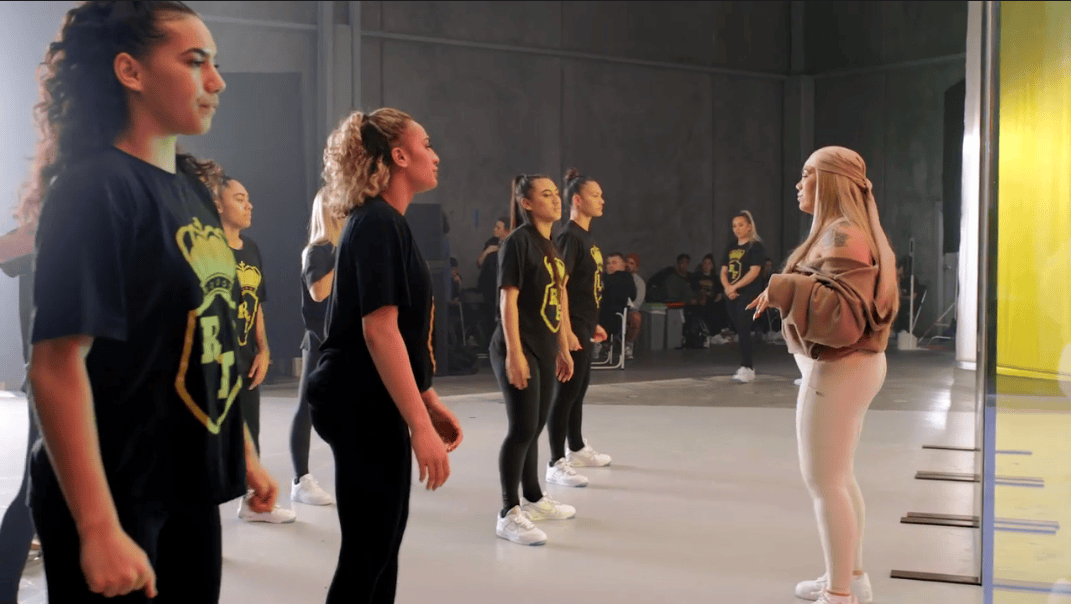 By the time you're finished with Goebel's course, you'll have a radically new perspective on dance and choreography, along with a range of excellent skills you can leverage in your own dancing.
If you want to take your dancing knowledge to the next level after finishing Goebel's course, also consider reading through the expertly-written MasterClass article exploring jazz dance.
Grab your dancing shoes and express yourself with MasterClass
Ultimately, it doesn't matter if you approach dancing as a strict art form, a fun hobby, a fantastic source of strength-building exercise, or all three. Either way, dancing is an undoubtedly engaging pastime that's more than worth learning about.
Whether you're new to the dance floor or a seasoned professional looking for some additional pointers from renowned dance experts, these dance lessons are well worth the time and effort you put into them.
By the time you're through with each course, you'll be ready to take the stage with new skills and meaningful dance experience.
When you sign up with MasterClass, your subscription will unlock access to each of these three amazing dancing courses, along with countless others across several amazing categories.
Consider creating an account with them today to start expanding your creative horizons!