Do you know every design festival, art market, antique shop, and independent furniture brand in your city? Do you prefer Pinterest and Houzz to TikTok and Facebook?
Then, you should consider learning interior design from real pros. Chances are, you've already tried some interior design courses but haven't found the one yet.
Meet MasterClass, an award-winning education platform. They have quite a few courses that can help you better understand interior design fundamentals and develop a good sense of taste and style when it comes to decor, furniture, plants, and beyond.
Here's our honest review of the MasterClass interior design courses, and a few others that might spark your creativity. We'll help you understand what the platform currently offers and whether it's the right choice for you.
Disclosure: These reviews are reader-supported. We might earn a small commission if you purchase something through our site. Learn more
Our Verdict
There's something magical about seeing famous creatives so close, in the intimate environment of a classroom — even if it's virtual. We highly recommend you to try MasterClass to get that unique experience while the opportunity is there.
MasterClass Review
Learn from the Best
PROS
Affordable pricing
User-friendly platform
Features celebrity instructors
Easily refundable
High quality content
Bonus materials
CONS
No free trials
No reviews within the platform
Heavily geared towards creatives
In this MasterClass review, you'll learn:
A few frequently-asked questions…
Do I need a subscription to access this course?
You'll need a MasterClass subscription to be able to access all MasterClass courses. Unfortunately, You can't buy individual courses.
By signing up for one of these quality subscription offers, you'll get access to the 180+ courses MasterClass offers in several categories, ranging from cooking, baking, photography, music, dancing, writing, poker, makeup, and even negotiation.
How long is the MasterClass?
MasterClass offers over 180 courses and Sessions on various topics. The courses are typically a few hours long, while Sessions tend to stretch over multiple weeks. All of the MasterClass content is self-paced, so you can either take it slow or do a learning sprint.
Does MasterClass have a cancellation policy?
The platform has a 30-days satisfaction guarantee. If you aren't satisfied with the classes, you can get your money back within 30 days.
Can you teach yourself interior design?
Many in-demand interior designers are self-taught, so the lack of a proper degree shouldn't stop you from exploring this field. You can learn interior design online with the help of educational platforms like MasterClass.
Which course is best for interior design?
MasterClass offers multiple courses under the home design umbrella such as interior design, architecture, art, and gardening. With a MasterClass subscription, you can try them all to understand which niche interests you the most.
What are the advantages of learning interior design on MasterClass?
What's so special about MasterClass that makes people pay "extra" for relatively short and dense online courses?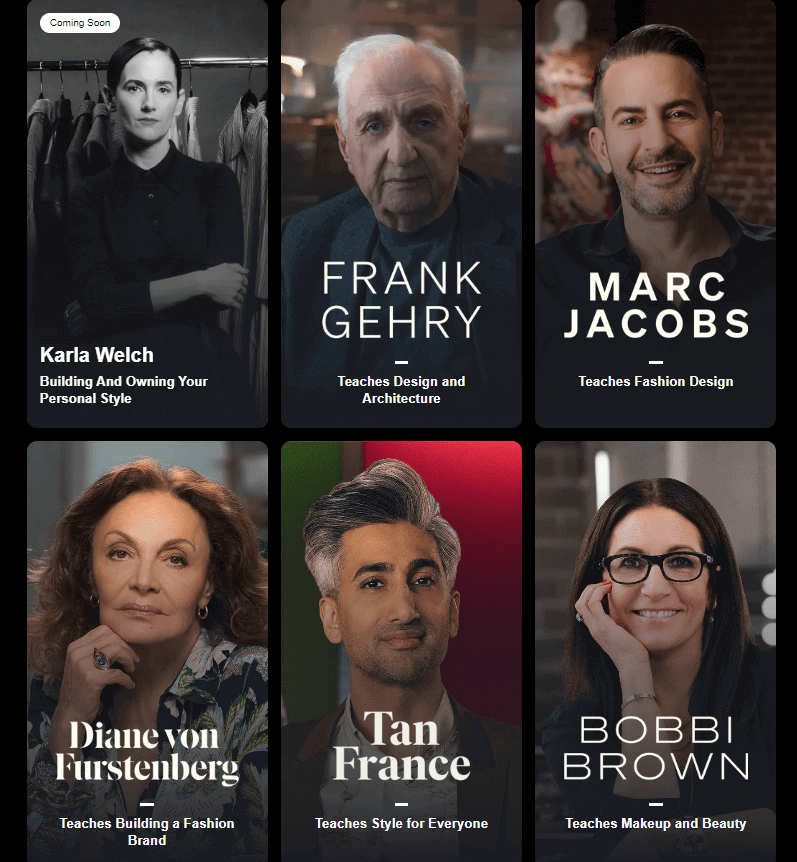 Well, there are a few reasons you may want to choose MasterClass over Skillshare or any other eLearning platform.
It's one-of-a-kind: This is the only place on the internet where you can learn directly from the masters of design, cooking, show business, and so on.
It's pleasing to the eye: The higher price pays off — MasterClass offers pixel-perfect lessons, a delightful interface, and intuitive curricula.
It's collaborative: Learning remotely can feel lonely and isolating at times, but you can maintain your motivation by exchanging ideas and projects with other MasterClass users in the Sessions course offering.
It's digestible: You can easily transition from theory to practice by using the downloadable materials that come with every MasterClass.
It's convenient: You can learn from famous designers without having to travel to expensive in-person workshops — their knowledge is now right at your fingertips.
Knowing all that, let's take a thorough look at the interior design courses the platform has to offer to understand who they're targeting and how much value they bring.
1. Kelly Wearstler Teaches Interior Design
Runtime: 2 hours 13 minutes
Course value: 5/5
Lessons: 17
Supplementary materials: Workbook and access to the student community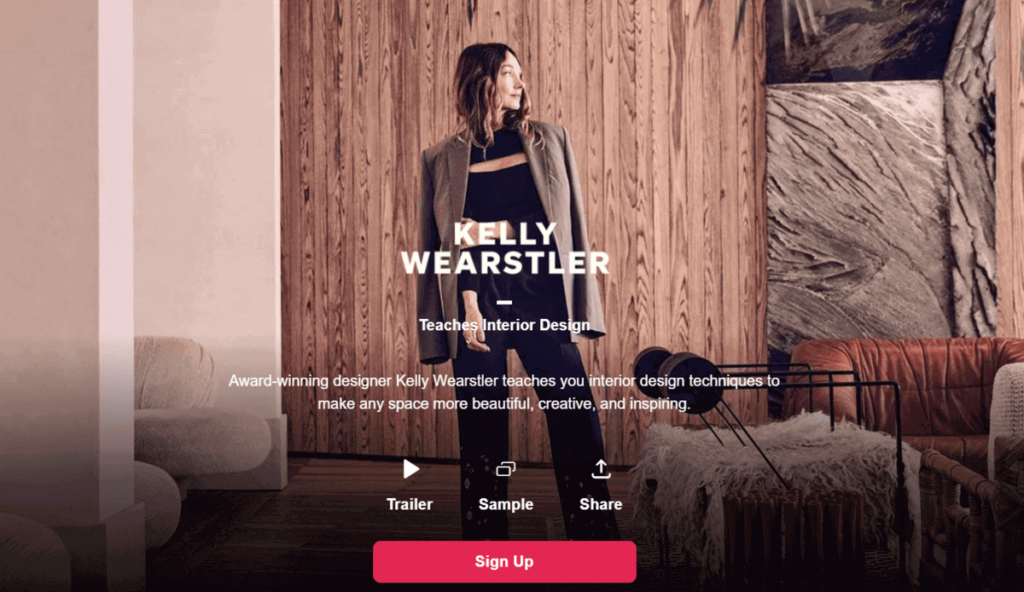 In this MasterClass, Kelly Wearstler teaches you how to create stunning designs that resonate with your personality and are comfortable to live in.
She is the artist responsible for designing gorgeous hotels, residential properties, and retail environments across the United States. Her designs are overwhelmingly versatile and multi-layered — so much so that they helped redefine modern American design.
During the course, she helps you understand how interior design and storytelling are intertwined and why good design can and should be personal. You'll learn how to:
Find inspiration in subtle and unrelated things and shape your vision for a new project.
Work with space in a clever, unconventional way.
Combine different materials and textures in a bold yet tasteful way.
Work with patterns to keep your interiors dynamic but not too busy.
Use natural and artificial light to create various zones, moods, and accents.
Choose furniture that'll complement or lead your design and add the necessary balance and symmetry.
Kelly Wearstler's MasterClass is perfect for beginners who are curious about interior design and are eager to start by redecorating their own home. You won't need any professional software since this class is mostly theoretical. For more, read our full review on Kelly Wearstler's MasterClass.
2. Corey Damen Jenkins Teaches Interior Design
Runtime: 2 hours 10 minutes
Course value: 5/5
Lessons: 12
Supplementary materials: Workbook and access to the student community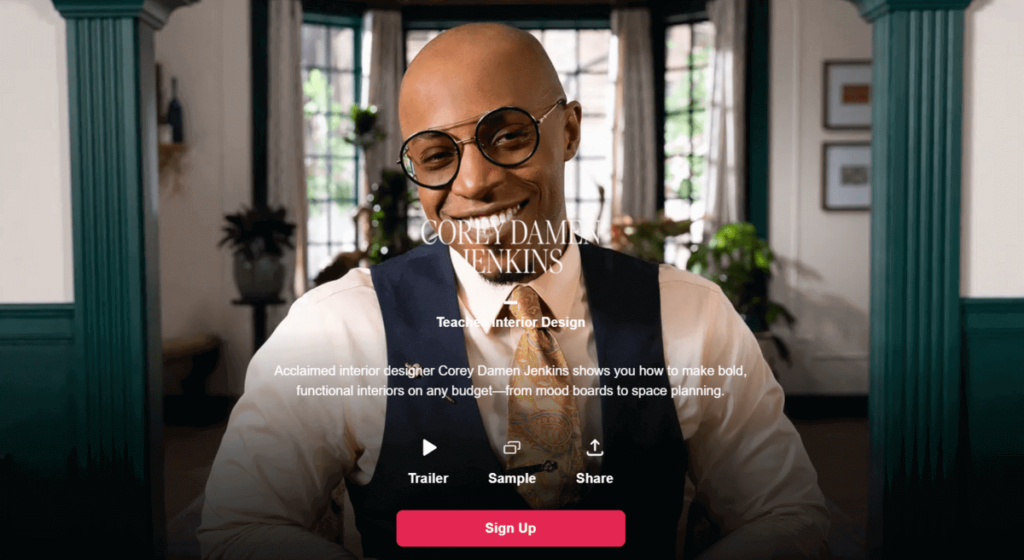 If you want to get acquainted with interior design basic principles and get your creative juices flowing, then Corey Damen Jenkins Teaches Interior Design is for you. You'll learn how stylish and functional spaces are created and what it takes to become a successful design entrepreneur.
Jenkins is one of the most prominent designers of our time. He started out as a door-to-door salesman. Now, he's designing luxurious living and commercial spaces, mentoring interior design students, and occasionally appearing on TV. His designs are timeless yet fresh, daring yet elegant.
This MasterClass covers everything you need to start designing more sophisticated and vibrant spaces:
Define your personal style and let it shine in your designs.
Learn how to overcome internal barriers and become a confident designer.
Understand how to work with color and create gorgeous palettes.
Demystify patterns and learn how to combine them without creating a visual mess.
Find out how to use lighting to add depth, height, focal points, and coziness to your space.
Adopt a more professional approach to space planning.
Learn how to make the most out of your budget.
Just like the previous course, this MasterClass is perfect for beginners — it'll help you instantly fall in love with the craft and make more meaningful design choices.
There are a few other courses we think you may like if you're interested in interior design. We'll dive into those below.
3. Frank Gehry Teaches Design and Architecture
Runtime: 2 hours 32 minutes
Course value: 4/5
Lessons: 17
Supplementary materials: Workbook and access to the student community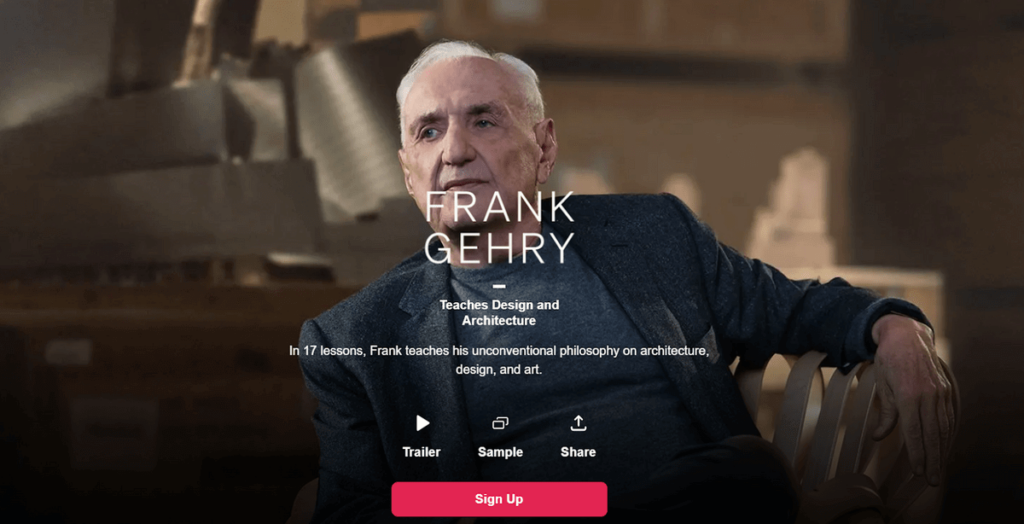 For more fundamental knowledge about space design, try Frank Gehry's MasterClass on design and architecture. This class will help you understand if interior design is the right job for you.
In this course, you'll be allowed to take a look at his archive and gain insight into his creative process.
Frank Gehry is a Canadian-American architect. Many of his projects have become popular tourist attractions and are instantly recognizable — Walt Disney Concert Hall, Dancing House, Louis Vuitton Foundation, and 8 Spruce are some of the projects he's worked on. His buildings are controversial, mind-bending, and spectacular.
In his MasterClass, Frank Gehry shares his thoughts on creativity and explains his design philosophy. You'll learn how to generate and explore crazy ideas and where to seek inspiration when you feel stuck. Also, this course will empower you to efficiently work in collaboration and go against the current when necessary.
If you've always been fascinated by Frank Gehry's signature style, make sure to check out full review on this course.
4. Es Devlin Teaches Turning Ideas Into Art
Runtime: 2 hours 43 minutes
Course value: 5/5
Lessons: 15
Supplementary materials: Workbook and access to the student community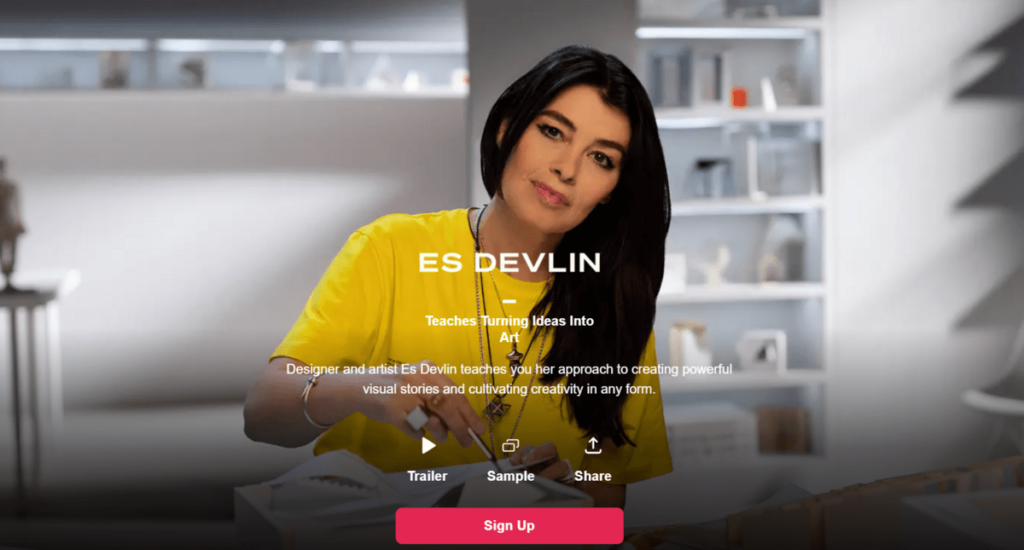 If you want to tap into your creative side and develop design thinking, check out Es Devlin's MasterClass on visual storytelling and ideation.
Es Devlin is an artist and stage designer working with mixed media. She's worked with top stars like Beyoncé, Billie Eilish, The Weeknd, and U2. In this course, she teaches space design in general and explains how to transition from abstract words and ideas to solid, complex concepts and layouts.
Es Devlin's unique vision is applicable to interior design as well. Here's what you can take away from her course:
Why it's important to do proper research and sketching before focusing on one specific idea.
How to scale models to see how they'll behave in the real world.
How to work with shapes and depth to create immersive experiences.
What role light plays in how people perceive a certain space and objects within it.
How to use mazes and patterns to create a narrative.
What it takes to be a creative leader.
How to solve technical challenges creatively.
In her MasterClass, Davlin also shows you how her most beloved projects were developed and implemented and how much work and iteration is behind every bold idea. This course will encourage you to think out of the box and design dreamy, unconventional spaces.
5. Design Stunning Floral Arrangements With Maurice Harris
Runtime: 30 days
Course value: 3/5
Lessons: 6 sections containing around 10 lessons each
Supplementary materials: Access to the student community and exclusive offers from flower farms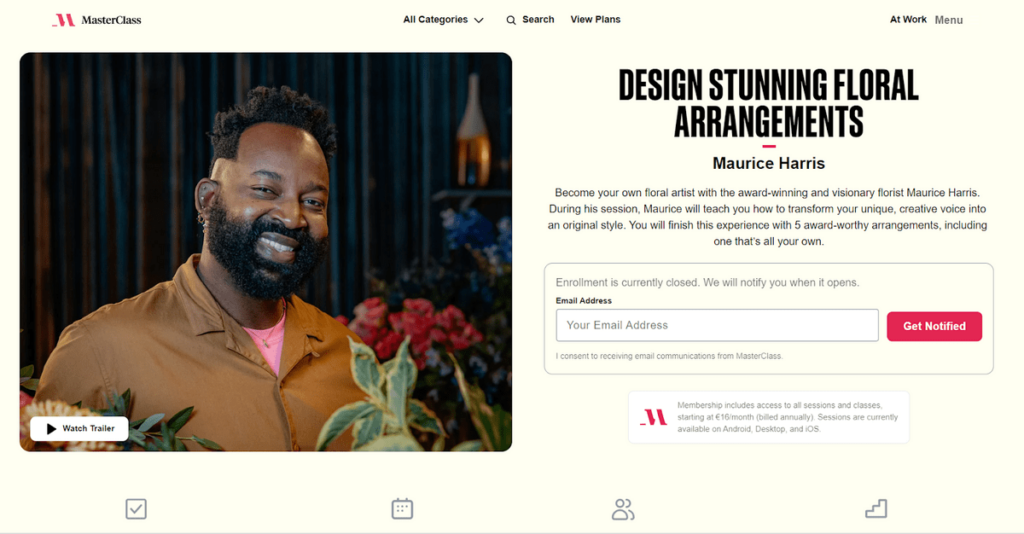 Learning floral design from Maurice Harris can help you transform your space and make it more colorful and atmospheric with the help of flower arrangements. You'll learn how to use flower language to express your mood and style and create delicate, tasteful bouquets and wreaths.
Harris is a floral designer who also happens to be a fantastic entertainer — even though this is a long-form course, you're guaranteed to stay motivated and excited all the way throughout.
You'll learn to incorporate flowers into your interior design in various ways:
Table arrangements
Wreaths for any season
Hand-tie bouquets
Classic pavé style arrangements
Bloom & Plume-style arrangements
Naturally, once you finish the course, you'll also be able to turn your floral arrangements into memorable presents or make them to order. This Session is suited for beginners — just make sure to get proper cutters, pins, wires, and tapes before you get started.
6. Ron Finley Teaches Gardening
Runtime: 2 hours 7 minutes
Course value: 3/5
Lessons: 10
Supplementary materials: Workbook and access to the student community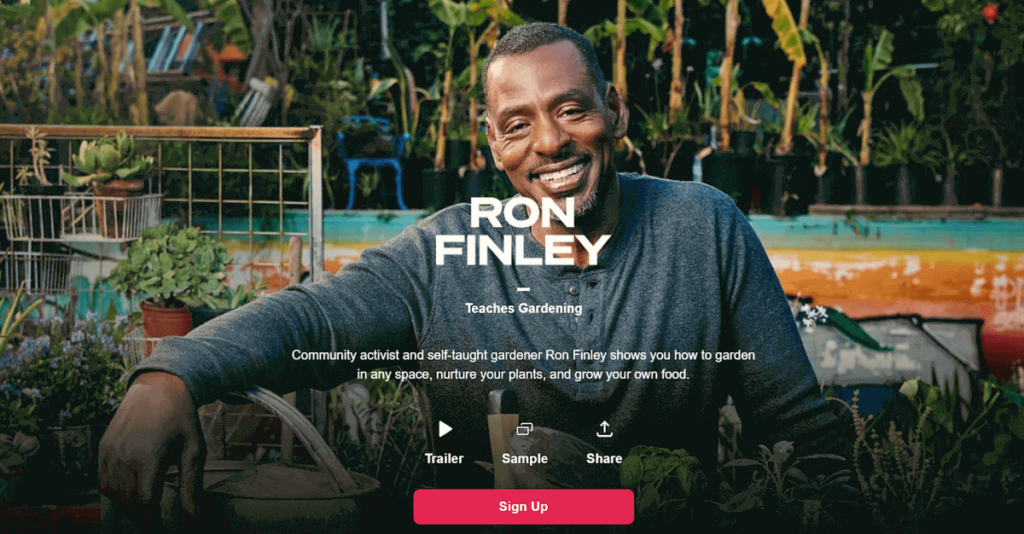 Ron Finley's MasterClass is fantastic for all lucky homeowners out there who have a terrace or a backyard. You'll learn how to create a luscious garden literally anywhere and why it's so important to get your hands dirty with soil sometimes.
Ron Finley is a man of many talents — a Los Angeles-based sportswear designer and a big urban gardening advocate. You may know him from his viral TED talk on guerilla gardening. His Ron Finley Project empowers people living in so-called food deserts to grow their own vegetables and brings local communities together.
In this course, Finley teaches you how to:
Use gardening to connect with other people from your neighborhood.
Prepare the fertile ground for your seedlings and utilize waste properly.
Create pretty plant pots out of whatever you have on hand.
Grow your own greens, legumes, vegetables, and herbs.
Propagate plants and take proper care of them.
Ron Finley's MasterClass is targeted at people who're curious about sustainable ways of living and want to make their space a bit greener and more lively. Read our full review on Finley's MasterClass.
How else can you learn interior design on MasterClass?
Did you know that MasterClass also has a blog with useful articles on interior design, style, and gardening? In the blog, you'll find many professional tips and fresh ideas on making your living space Pinterest-worthy.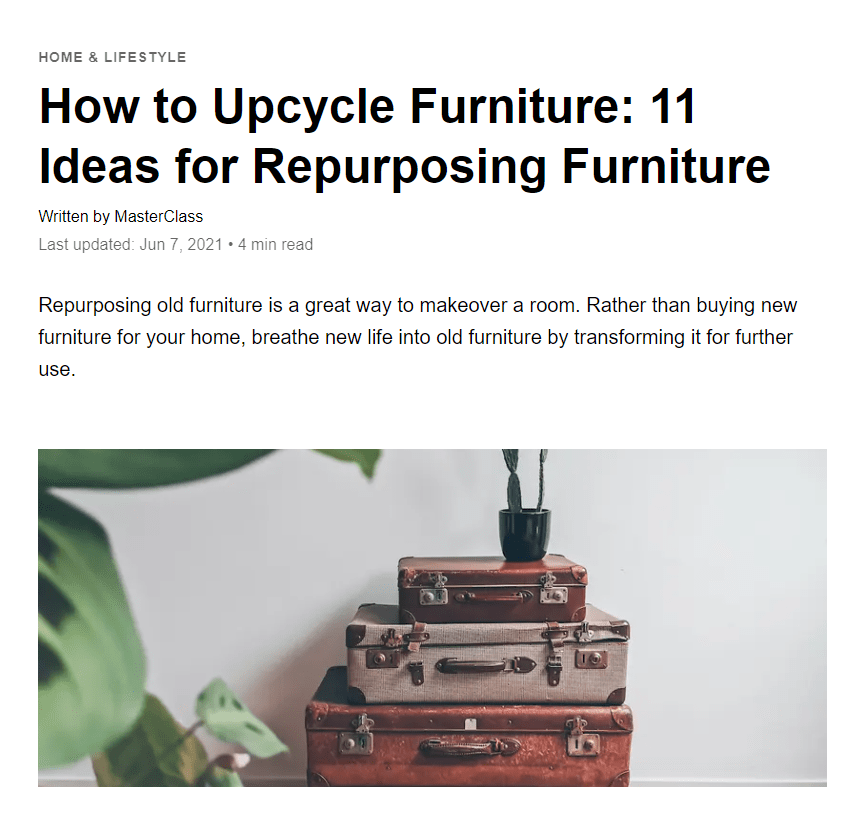 All of the MasterClass content is thoroughly reviewed, so you get a better chance of finding recommendations and practices that actually work. The blog can help you learn how to do minor renovations, choose lighting, or take care of a home garden.
Final word
There's something magical about seeing famous creatives so close, in the intimate environment of a classroom — even if it's virtual. We highly recommend you to try MasterClass to get that unique experience while the opportunity is there.
MasterClasses aren't typical online courses — they're closer to exclusive lectures or workshops, the ones that usually happen behind closed doors and which only the lucky few are allowed to attend.
Start your membership today to grab this unique chance and learn style, interior design, and makeup from the absolute stars of the industry.