Kelly Wearstler MasterClass review synopsis
What you'll learn: Learn how to apply the craft of interior design to upscale homes and buildings from professional designer Kelly Wearstler.
How long does the Kelly Wearstler MasterClass take?: Wearstler's MasterClass is composed of 17 video lessons which should take 2 hours and 13 minutes to complete.kelly
Similar courses: Frank Gehry, Anna Wintour, Bobbi Brown, Tan France, RuPaul
Do I recommend Kelly Wearstler's MasterClass?: Kelly Wearstler's MasterClass is great if you're looking to start a career in interior design. But if you're just looking for ideas on how to spruce up your own home, it's not likely to help.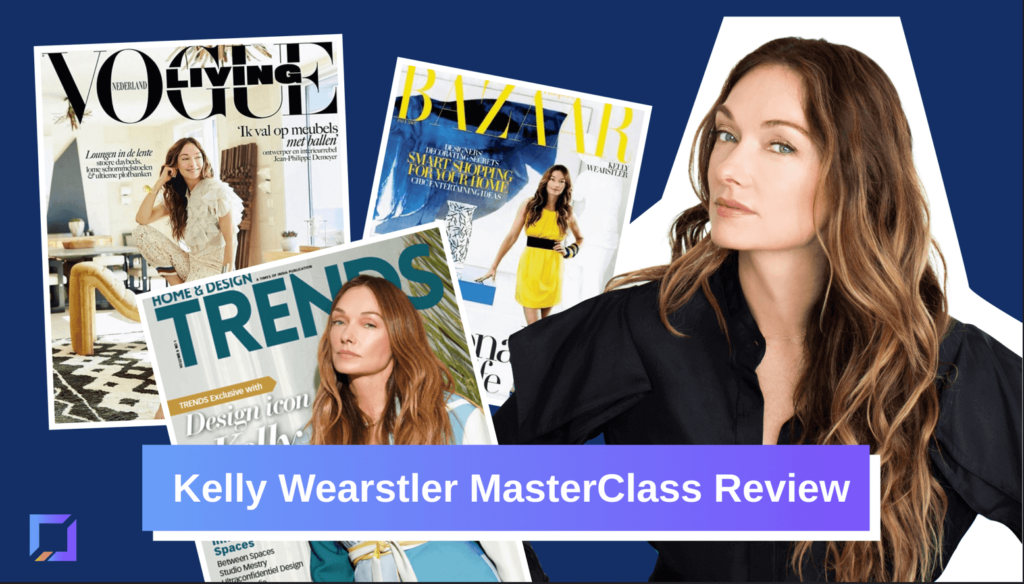 A lot of times, we think of art as pieces in a museum. We reserve the term for paintings, sculptures, and the like. But art lives and breathes in everything all around us.
The way you arrange a room with furniture, color, lighting, and objects is art; and that is one of the main takeaways from the Kelly Wearstler MasterClass.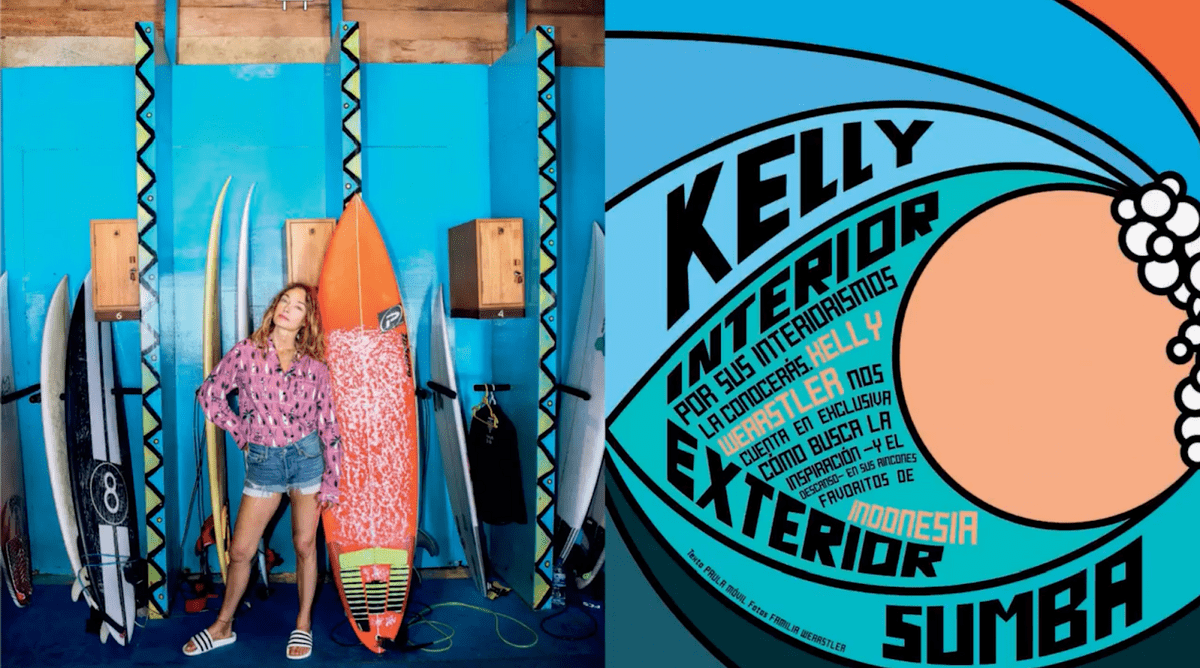 Wearstler is a world-renowned interior designer, applying her trade to sprawling estates, penthouses, hotels, restaurants, and other majestic buildings.
But what can you take away from this course? We're obviously not all going to design palaces, so is there something in Kelly's MasterClass that you can apply to your life and your journey?
That's what we're going to determine in this Kelly Wearstler MasterClass review.
Disclosure: In the interest of full transparency, Codeless uses affiliate links in our MasterClass reviews to cover our site's costs.
Our Verdict
This MasterClass is highly recommended  if you're looking to start a career as a professional interior designer for high-end clients.
Kelly Wearstler MasterClass
Become a Pro at interior design
PROS
Lots of visuals
Takes you on "field trips" to show a lot of the concepts at workdown scenes from his films to show a concept at work.
Shares her personal storyway of speaking.
Focuses on creativitylike he wants to be there.
It's very useful if you want to be a professional designer
Effective and engaging workbook
CONS
Mostly deals with designs for the fabulously wealthy — Not practical for most people
No real conclusion chapter — Just abruptly endsshould be broken up a bit more. They go on for a long time.
In this MasterClass review, you'll learn:
A few frequently-asked questions…
Let's start by tackling a few frequently asked questions:
Do I need a subscription to access this course?
You need a MasterClass subscription to access any MasterClass on the site, including Wearstler's.
By signing up for one of these quality subscription offers, you'll get access to the 180+ courses MasterClass offers in several categories, ranging from cooking, baking, interior design, photography, music, writing, makeup, poker and even negotiation.
How long is the MasterClass?
This MasterClass is on the shorter side, clocking in at 2 hours and 13 minutes.
Does MasterClass have a cancellation policy?
MasterClass subscriptions come with a 30-day money-back guarantee.
Is the Kelly Wearstler MasterClass worth it?
Wearstler's MasterClass is definitely worth it if you're looking to become a professional designer. If you're just looking for interior design tips, I'd suggest looking elsewhere.
Try the Kelly Wearstler MasterClass for yourself
About Kelly Wearstler
Kelly Wearstler is a world-renowned American interior designer who has been running her own design agency since the 1990s.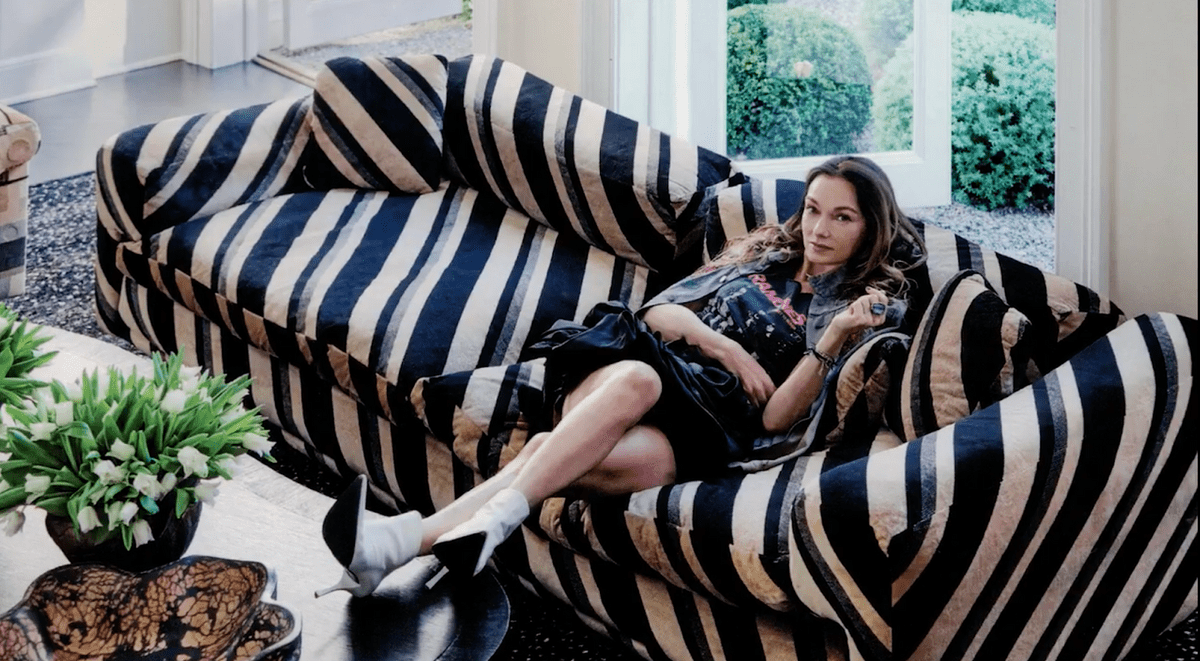 Her focus in that time has mostly been on the hotel industry, but she has also expanded to high-end commercial and residential properties as well.
Some of her high-end clients include Cameron Diaz and Gwen Stefani, and she has been featured in Architectural Digest, Vogue, Forbes, and Elle Decor.
Wearstler has authored five books and is an LA Times best-selling author. She has also won numerous awards throughout her career, including Time Magazine the Design 100, Elle Decor A-List Designers, and Vogue Best Dressed. Plus, she was named to the AD 100 Hall of Fame.
How much does Kelly Wearstler's MasterClass cost?
Wearstler's MasterClass is included with any MasterClass subscription.
There are three MasterClass subscriptions to choose from. All of them are billed annually.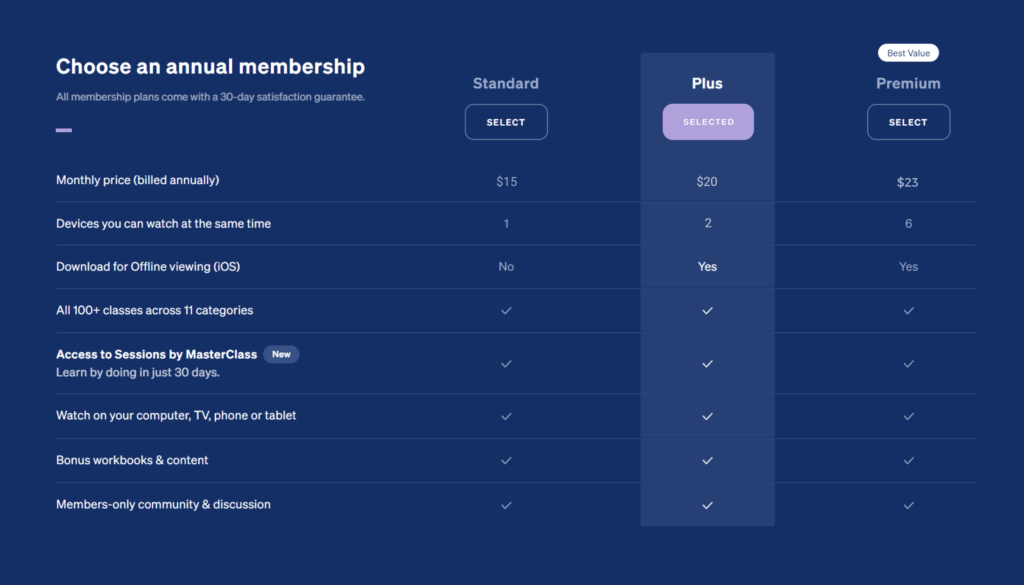 The Standard Plan is $15 per month. Subscribers can take classes using one device at a time. It comes with a workbook and access to a members-only community forum.
The Plus Plan is $20 per month. Subscribers receive everything from Standard, with the added ability to access classes on two devices simultaneously. Videos can be downloaded for offline viewing using an iOS device.
Premium is the most expensive MasterClass plan at $23 per month. You'll get everything from the Plus Plan, with the added option to watch classes on six simultaneous devices.
Choose your MasterClass subscription now
What is included in the Kelly Wearstler MasterClass?
Runtime: 2 hours 13 minutes
Course Value: 3.5/5
Lessons: 17
Supplementary materials: Workbook, MasterClass Hub
Supplementary workbook
All MasterClasses come with an included workbook, and Wearstler's class is no different. As this is an interior design MasterClass, I was hoping that it would include a lot of images and be laid out in an interesting way.
I was not disappointed.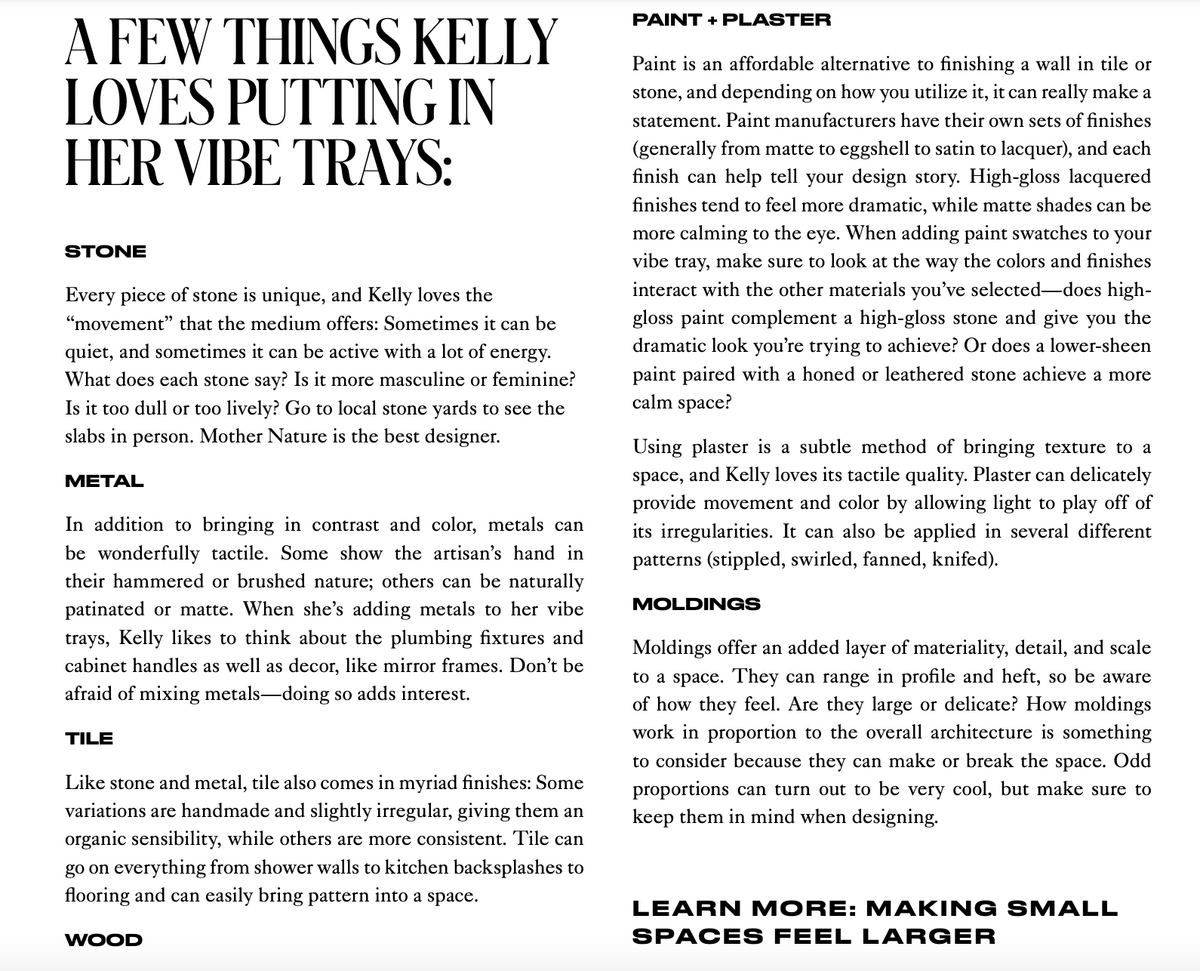 Most MasterClass workbooks are very cut and dry, with little to no images. They're usually just walls of text.
Wearstler turns that concept on its head with a fun and engaging workbook. Much like the book from the James Cameron MasterClass, it comes off like more of a textbook than a workbook.
The MasterClass Hub
All MasterClasses have their own community forum known as the MasterClass Hub. These are message boards where classmates can come together to discuss the topic and classes, and get to know one another.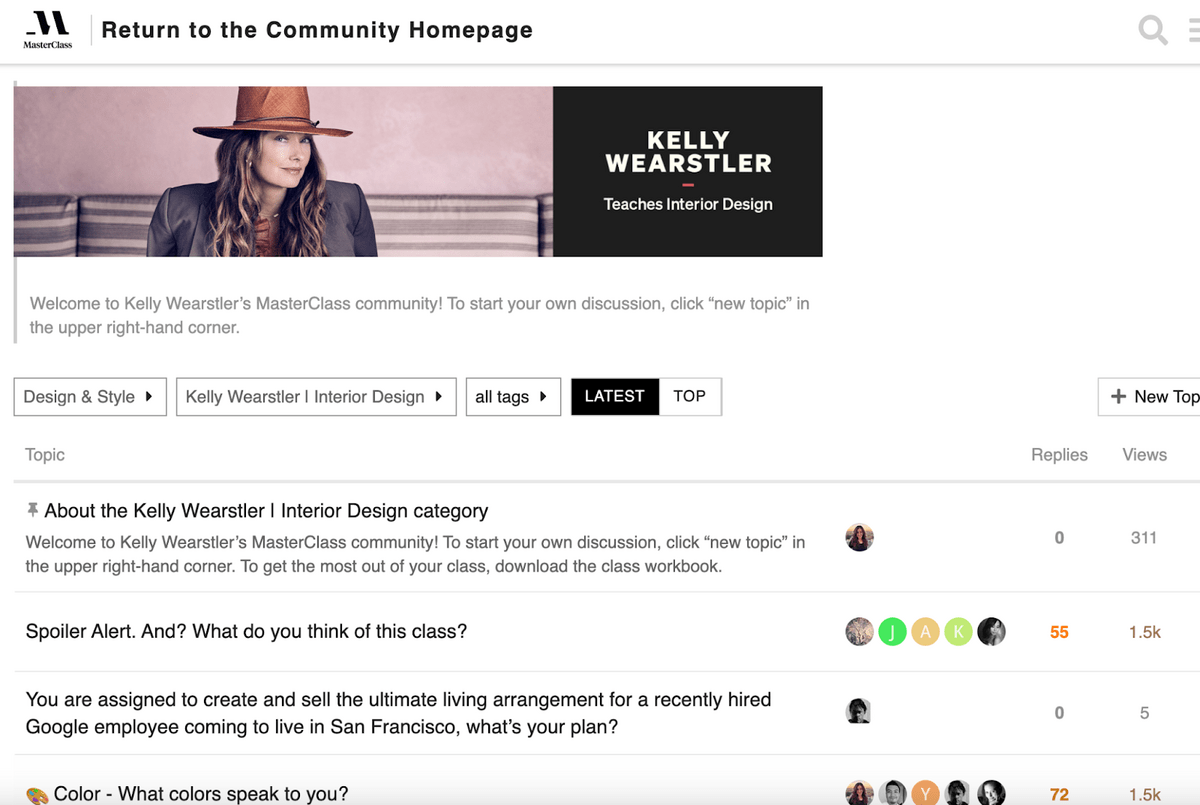 While many of these aren't hopping with non-stop conversation, the Wearstler MasterClass Hub is really sparse. There are many topics that, as of this writing, have no responses, and most don't have much interaction at all.
A complete breakdown of the Kelly Wearstler MasterClass curriculum
Wearstler walks her students through the ins and outs of life as an interior designer. As such, the course is broken down into 17 chapters, many of which include lectures where she'll walk you through specific design concepts.
She then shows these concepts in action through a series of "field trip" videos.
Curriculum:
Meet Your Instructor: Kelly Wearstler
Sources of Inspiration
Starting a Project
Working With Space
Field Trip: Working With Space
Materiality in Design
Living With Color
Field Trip: Experimenting With Color
Discovering Texture
Pattern: Movement and Scale
Lighting: Enhancing Your Space
Furnishing: Balance and Comfort
Creating Experience With Art and Objects
Field Trip: The Completed Story
Design Heroes
Creative Journey
Life as an Interior Designer
Course summary:
I was excited to take this course. I just moved into a new house, and I've been really into the concept of turning the space into something very personal.
So, I figured an interior design MasterClass with a world-famous designer was going to be perfect for me.
I know you're expecting a "but" here…and you're right.
But what I got was a course on how to be a professional interior designer.
Wearstler's designs are massive in scale, creating gorgeous hotels, restaurants, and huge mansions. She talks about designing one client's 20'x20' closet — which is way larger than my entire bedroom — and another client's second mansion that was made specifically for entertaining.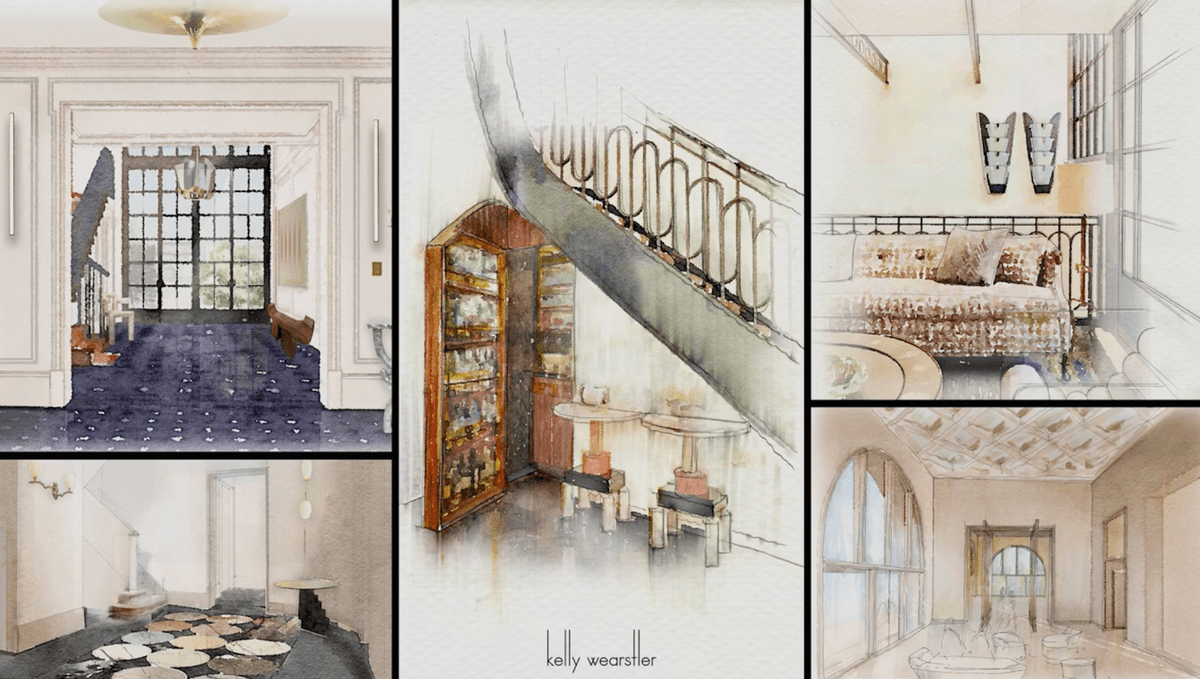 I felt like I needed a monocle and a top hat just to be in this conversation.
At one point, she shows you her house and how she arranges her 14-foot sofas.
So, if you want to be a professional designer and create lifestyles for the rich and famous, this is an ideal class for you.
But if you're trying to furnish your studio apartment, look elsewhere.
I can't really knock a course for being what it is instead of what I want it to be. Wearstler is a high-end designer, and she's teaching you high-end design.
And she succeeds at this.
Her emotions and passion for what she does pour out of her throughout the course. There's a lot of hands-on demonstrations. She's not just sitting in a static location talking at you like Neil deGrasse Tyson does in his MasterClass.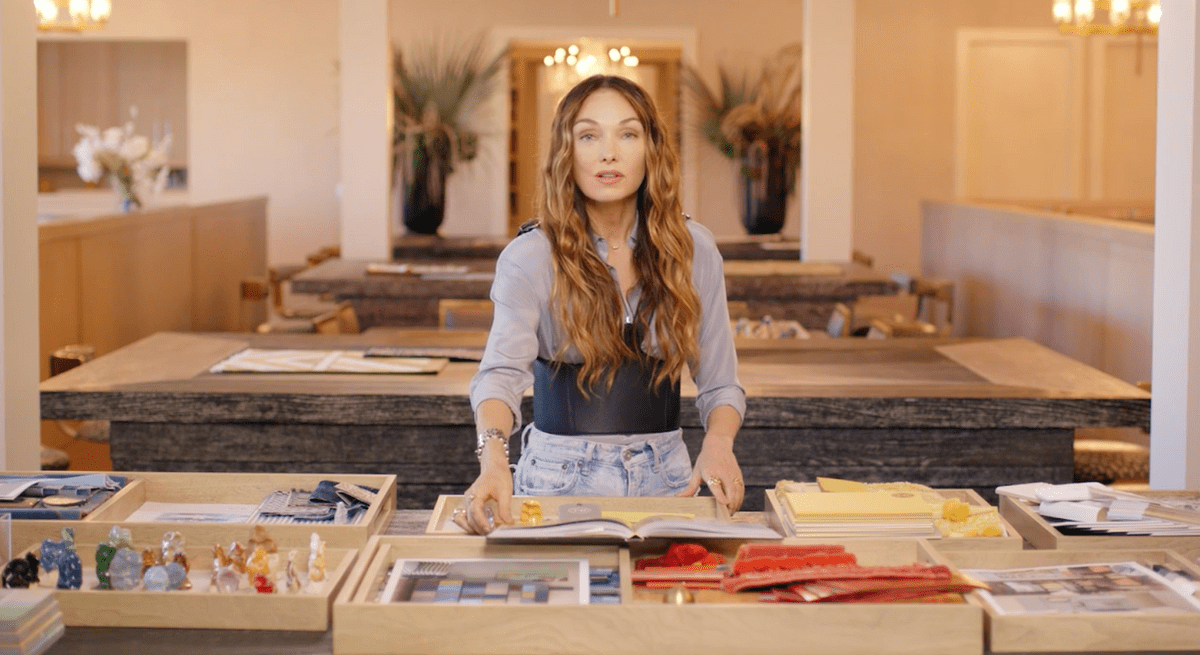 Wearstler introduces important design concepts and then shows you those concepts in action through a series of "field trips."
It's really interesting to see, and she explores design in a way that will really make you see it as an art form.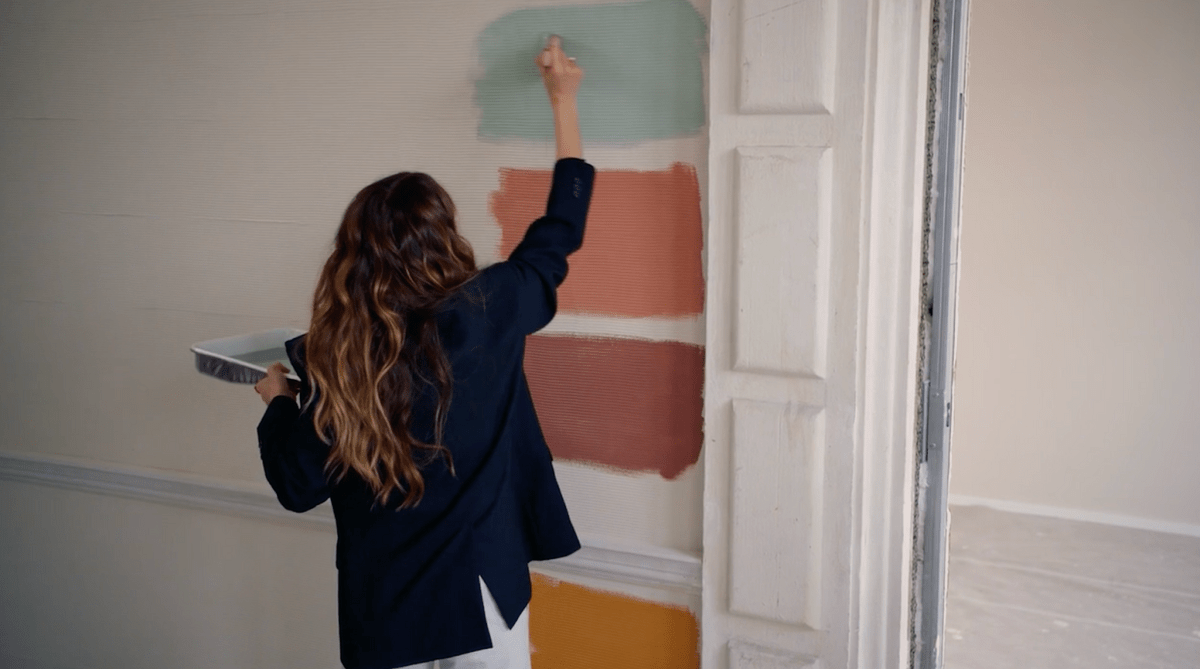 She closes everything out with her personal story.
I like that she kept all of that toward the end of the class. If you were there for the practical stuff, then it was all there for you. You didn't have to skip around a lot of personal exposition that you weren't looking for.
But then it just….ends.
Seriously, she's talking about following your dreams or something inspirational, and then the MasterClass logo pops up, and you're done. There was no closing chapter where she summarizes key takeaways and wishes you luck.
It was a jarring way to end the class.
What I learned
I didn't personally get a lot out of this that I could use from a practical standpoint, but I did learn an awful lot about design as an art form.
I never appreciated how color, lighting, and furniture could transform an empty space into a story. As a writer, I appreciate storytelling, and she was able to bring stories to life through space the way Neil Gaiman brings them to life on the pages of a novel.
14 takeaways from this MasterClass
Here are my top takeaways from the Kelly Wearstler MasterClass:
1. Design must stimulate all the senses:
What do you touch? What do you see? What do you feel and hear? Design is a story that you want to unfold in the best possible way using every sense in the human experience.
2. Get design inspiration from things that you love:
Kelly loves rare and pretty stones and has collected them since childhood. So she uses them in a lot of her designs. You can throw more of yourself into the design by pulling from something you're already passionate about.
3. You have to educate your eye:
You can find design inspiration everywhere, from art to fashion. You have to educate your eye to look for these things and pull from them when designing a space.
4. Ask questions and listen when determining what the client wants:
You need to get to know your client. This is very similar to Frank Gehry's take on architecture projects.
5. Design space like you would a boat:
Every square inch has to be considered, just like it would be if you were trying to create a sea-faring vessel. You can create negative space and use it effectively.
Wearstler uses an example in which a client wanted a bar, and she realized there was a 4'x7' area of space under the staircase. She opened up the space and created a secret bar that opened up out of the wall. You can't get upset by awkward spaces. You have to embrace them.
6. Trickery can be used effectively in a space:
Mirrors can completely transform a room if you place them in the right spots.
7. Color is the key to emotions:
Different shades of white can be bright and clean, while happiness can be conveyed by citron and various shades of yellow. Color is how you can dictate what emotions people feel in a room.
8. When trying to decide what color to paint your rooms, look in your closet:
Whatever color you wear a lot of the time is a color you're comfortable in. If you wear a lot of white, then paint your rooms a shade of white. If you wear many different colors, try taking articles of clothing into a room that's to be painted and drape them over chairs to see what feels right in the space.
9. Black and white are colors too:
There are so many shades of black and white, and they are worthy options when designing. Trying to choose a black or white shade is often more complicated than trying to choose a shade of blue.
10. Colors have to speak to one another from room to room:
You have to compare the colors of your rooms and make sure they tell a cohesive story together. Kelly illustrates this in a field trip study where she opens all the doors in a space with different color swatches painted on the walls to experiment with colors and determine the conversation of color.
11. Lighting can create a mood in a room:
There's so much that can be accomplished through the use of light. It can change or alter the architecture, improve the appearances of the people within a room, show the importance of artwork, and even raise a ceiling.
12. Furnishing a room is like sculpting a sculpture:
You have to consider scale, proportion, color, and materiality before you begin.
13. Things still need to be comfortable:
If your interior design looks cool and captivating, but it's horribly uncomfortable, then you've failed. It's not all artistic flair. Things still have to be functional.
14. Art is more than just sculptures and paintings:
Anything can be art, from chairs to light fixtures and other pieces of furniture. Everything you add to a room can be artistic in some way.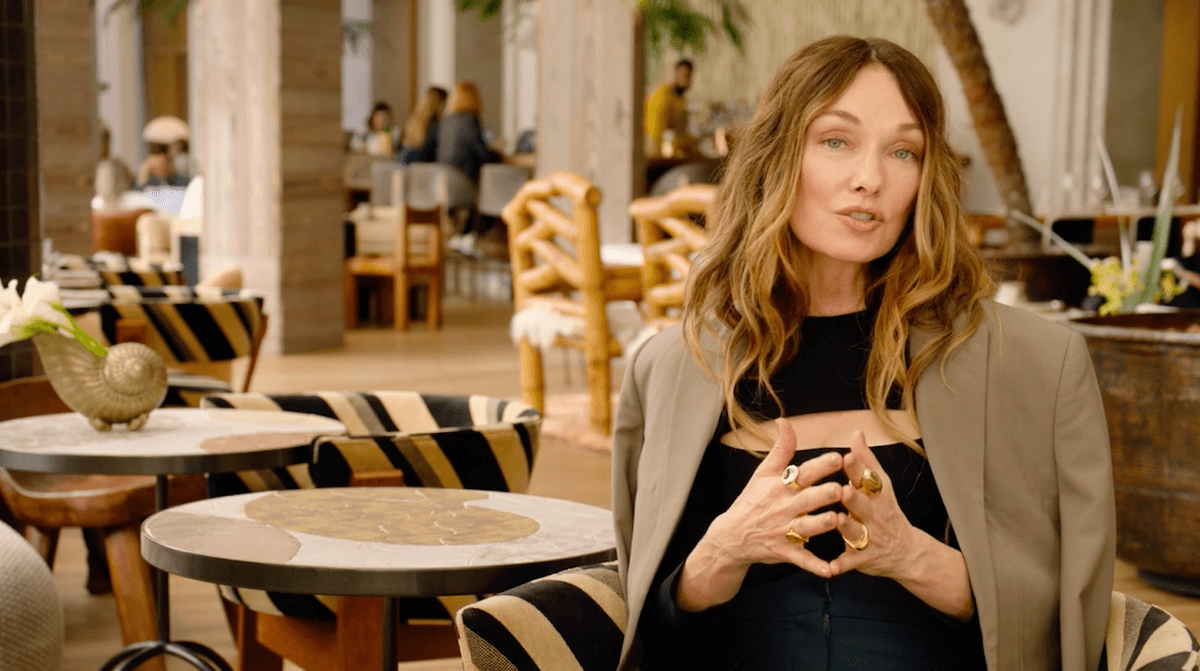 See what you can learn about interior design with the Kelly Wearstler MasterClass
Memorable quotes from this MasterClass
"Good design is important because it helps us live better, it helps us feel better."

– Meet Your Instructor
"I think design is around us everywhere; you just have to be aware of it."

– Sources of Inspiration
"I always say that living without color is like living without love, and I mean that."

– Living With Color
"I encourage everyone to bring as much natural light as they can, because it not only makes us look good, it makes us feel good."

– Lighting: Enhancing Your Space
"Failures and design flops happen, and they still happen today. You have to learn from them. It's like boxing, you're gonna get hit, and you're going to keep your hand up next time."

– Life as an Interior Designer
Kelly Wearstler Masterclass pros and cons
Wearstler's MasterClass was a positive experience, but even the most positive experience can have good and bad elements to sift through.
Here is a list of the pros and cons of the Kelly Wearstler MasterClass to help you decide whether it's worth your time and money.
Pros
Kelly Wearstler puts a lot of work into this class, and it shows.
Here is a list of some of the pros of this course:
Lots of visuals
Takes you on "field trips" to show a lot of the concepts at work
Shares her personal story
Focuses on creativity
It's very useful if you want to be a professional designer
Effective and engaging workbook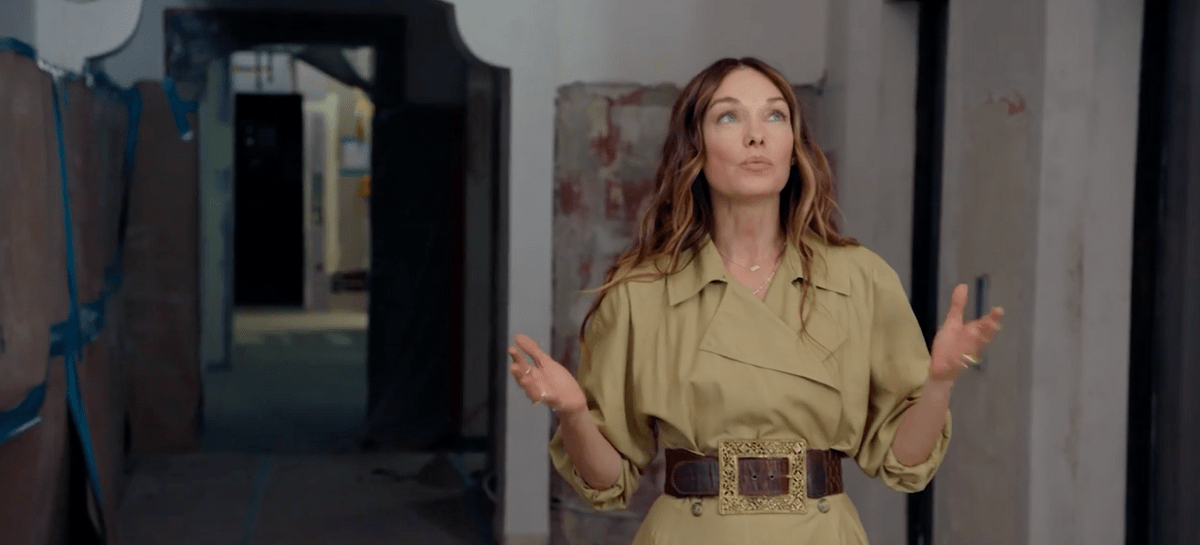 Cons
Of course, there are some drawbacks to this class.
Take a look at these cons and see if any of them are a dealbreaker for you:
Mostly deals with designs for the fabulously wealthy — Not practical for most people
No real conclusion chapter — Just abruptly ends
Do I recommend this Masterclass?
I recommend this class if you're looking to start a career as a professional interior designer for high-end clients.
If you're trying to furnish and decorate a three-bedroom suburban house or a studio apartment, you're not going to learn much.
But for those looking to take their first step into the world of designing spacious, glamorous interior settings, this is a true MasterClass.
Start your membership today to grab this unique chance and learn interior design and style from the absolute stars of the industry.