Throughout human history and across every culture, games have prevailed as a cornerstone of entertainment and socialization. And card games play an especially important role, whether they're based on skill, chance, or something in between.
While there's a lot of argument about whether poker is a game of chance or skill, it's undoubtedly a pastime that holds global appeal.
Whether you're a novice player who wants to learn the ropes or an advanced player aiming to take on some of the world's biggest tournaments, you'll leave the card table with something new after taking one of the poker courses from MasterClass.
In the post below, we'll delve into the fundamentals of each course and the two poker professionals who teach them. We'll also explore some additional MasterClass resources for your consideration to enhance your poker skills even further.
Get ready to place your bets.
Disclosure: These reviews are reader-supported. We might earn a small commission if you purchase something through our site. Learn more
Our Verdict
Whether you're a total novice to the poker table or an experienced player who wants to up your skills for the chance of winning a tournament, MasterClass poker courses are a great way to expand your poker prowess.
MasterClass Review
Learn from the Best
PROS
Affordable pricing
User-friendly platform
Features celebrity instructors
Easily refundable
High quality content
Bonus materials
CONS
No free trials
No reviews within the platform
Heavily geared towards creatives
In this MasterClass review, you'll learn:
Some common questions about MasterClass…
Before exploring everything you'll need to know about MasterClass poker, let's briefly delve into some common questions people typically have about MasterClass.
Do I need a subscription to access MasterClass courses?
Yes, you'll need to purchase one of the three annual MasterClass subscription options to access any of the courses they offer. Once you have a subscription, you get unlimited access to all MasterClass content.
Does MasterClass have a cancellation policy?
Yes, MasterClass members can cancel their subscriptions any time before plan renewal to avoid a payment recharge. Members can also cancel their original subscription within 30 days and ask for a complete refund.
How long are MasterClass courses?
MasterClass offers hundreds of video lessons across over 180 courses. Individual courses feature an average of around 1 to 5 hours of video content, with each course divided into about 20 video lessons.
Are MasterClass courses good for beginners?
MasterClass courses are an excellent starting point for beginners looking for insights, tips, and tricks in new fields of interest.
Learn to hold 'em or fold 'em with MasterClass poker
After its initial launch only eight years ago in 2015 by co-founders David Rogier and Aaron Rasmussen, MasterClass quickly became one of the fastest-growing educational platforms online.
During the pandemic lockdowns, the site's growth expanded even further as demand grew by more than 1,000%.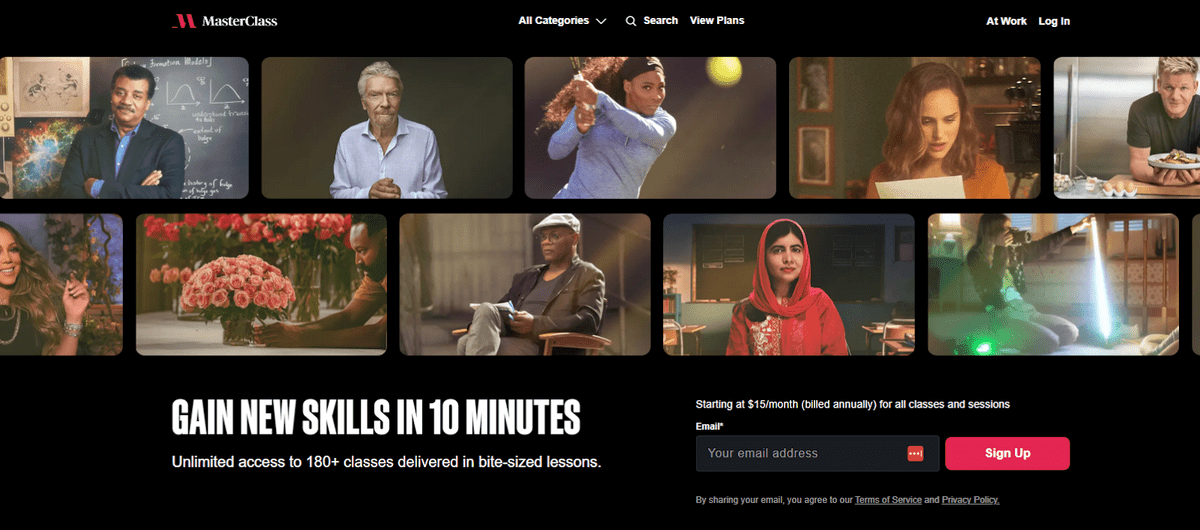 MasterClass offers three annual membership plans for subscribers, including the Individual plan ($15.75/mo), the Duo plan ($21/mo), and the Family plan ($24.15/mo).
Each consecutive plan unlocks additional features to make your MasterClass journey more enjoyable, including offline download options and access to courses across multiple devices simultaneously.
By signing up for one of these quality subscription offers, you'll get access to the 180+ courses MasterClass offers in several categories, ranging from cooking, baking, interior design, photography, music, dancing, writing, makeup and even negotiation.
The best part?
Celebrities and renowned industry professionals teach all MasterClass courses, including the two poker classes below.
These MasterClasses go far beyond any basic poker lessons you can pick up from a friend or other poker training courses you may find online.
They are provided by two of the best poker players in the world, who are eager to share their techniques with MasterClass students. Each course also comes with some fantastic extras, including downloadable class guides!
1. Daniel Negreanu Teaches Poker
Course Value: 4.8/5 Stars
Runtime: 7 hours 40 minutes
Lessons: 38 video lessons
MasterClass Category: Sports & Gaming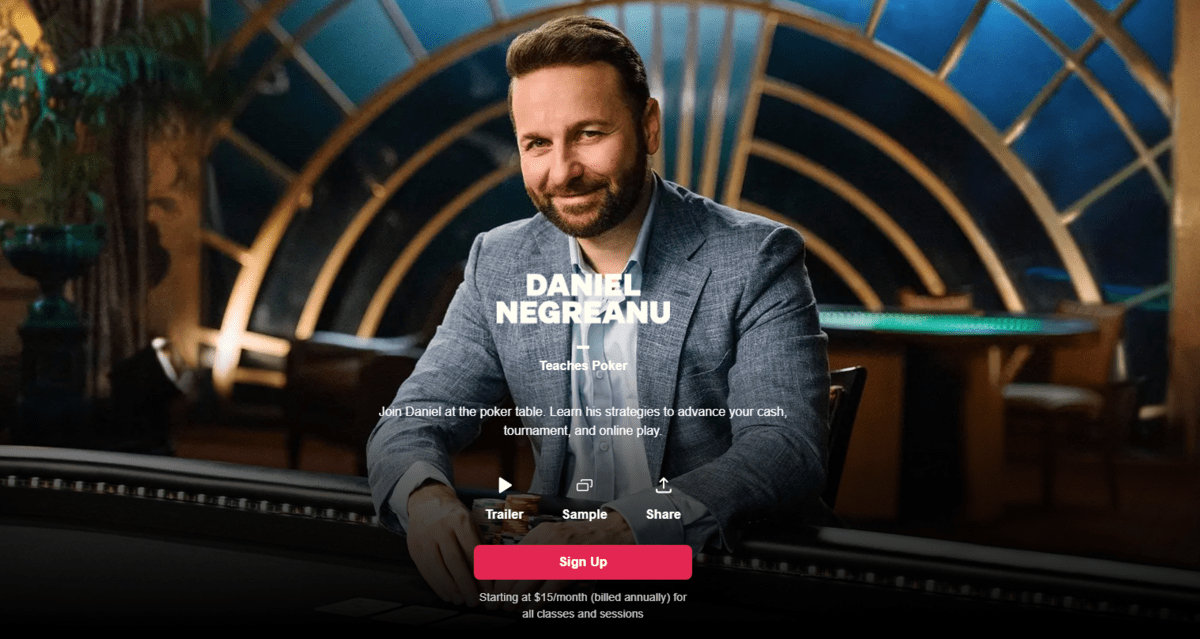 Daniel Negreanu is one of the best and most influential poker players on earth, thanks to his staggering skills, two World Poker Tour (WPT) championship titles, and six World Series of Poker (WSOP) bracelets.
Negreanu discovered his affinity for poker, pool hustling, and gambling when he was only sixteen. He started playing poker full-time after leaving high school and consistently won against adults twice his age at gambling halls and charity casinos during cash games.
At 23, he became the youngest player ever to take home a World Series of Poker bracelet, a feat which earned him the nickname "Kid Poker."
According to his profile on CardPlayer, this king of the cards has an astonishing recorded earnings total of $49,229,695 from his 43 individual tournament wins.
In his wildly popular MasterClass poker course, Daniel Negreanu Teaches Poker, this professional poker player doesn't just teach his students how to play the game — he teaches them how to win.
Alongside effective poker strategies, Negreanu delves deep into advanced poker theory and practice by going through several of his winning games.
These game deconstructions let students see "behind the scenes" of his winning approach to poker. It helps them develop techniques to actively sharpen their mental game by learning how to read opponents and spot their tells.
We especially loved his lesson on multi-way dynamics, which explores how your poker strategy needs to change as the number of players does.
His lesson on how to effectively leverage table talk is also one of our favorites. In this video lesson, Negreanu teaches students about sophisticated ways they can gather valuable information from opponents while protecting themselves from other prying players.
Overall, this course is an excellent choice for beginner poker players who want to learn the game while also picking up some pointers for winning at the poker table in cash games and tournaments.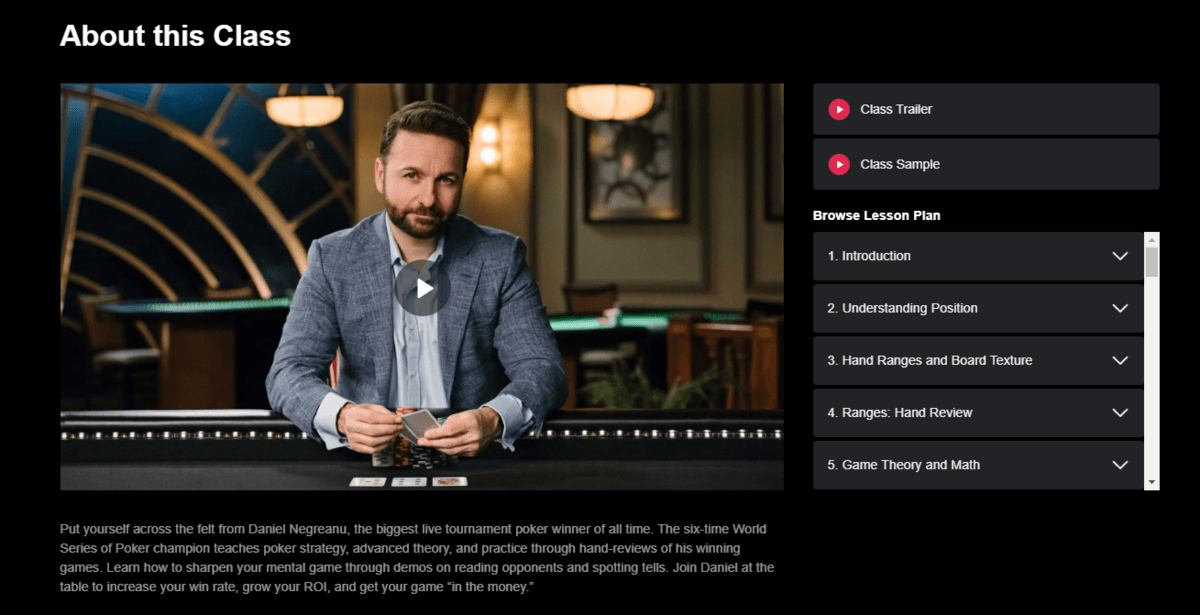 If you loved the Daniel Negreanu MasterClass and want to continue expanding your poker-playing prowess even further with his help, consider reading through the additional MasterClass resources tied to his course.
We highly recommend the article entitled Poker Pro Daniel Negreanu Explains Value Betting, which expands upon some of the essential lessons in Negreanu's course about betting.
Also, don't forget to take advantage of the free downloadable class workbook that comes with the course!
Learn more about everything Daniel Negreanu's MasterClass has to offer.
2. Phil Ivey Teaches Poker Strategy
Course Value: 4.7/5 Stars
Runtime: 3 hours 30 minutes
Lessons: 12 video lessons
MasterClass Category: Sports & Gaming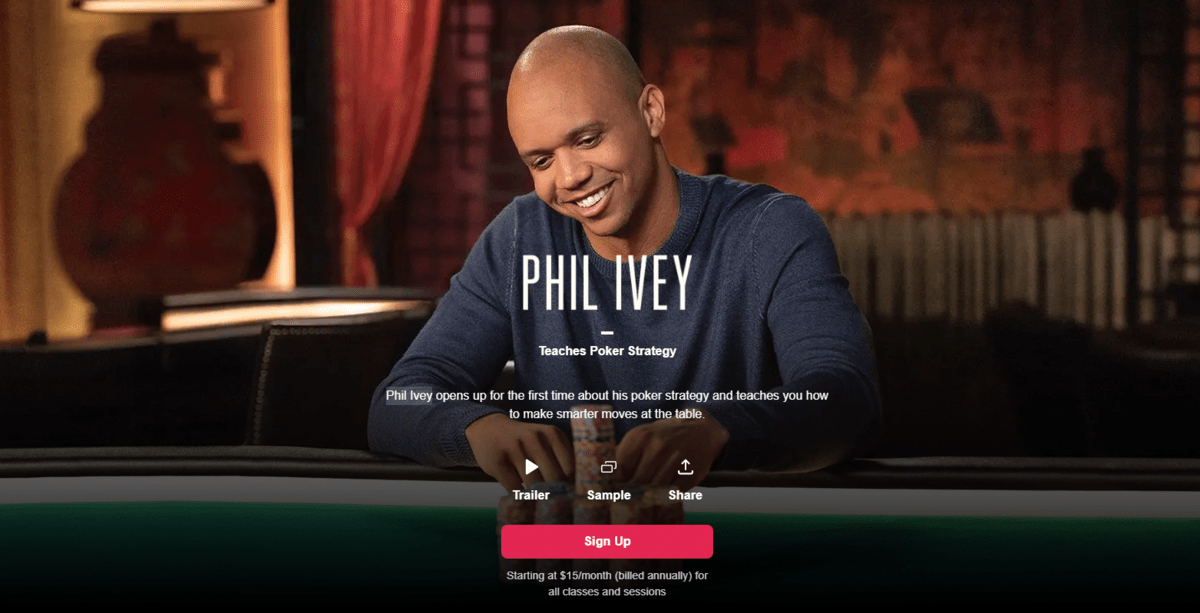 Phil Ivey is one of the most talented poker players in the industry and is often called "The Tiger Woods of Poker."
Ivey discovered his love for cards when his grandfather taught him how to play 5-card stud at only eight years old. His skills quickly grew into outright card game mastery as he developed his own winning strategies.
Because he couldn't legally get into casinos to test his talents until he turned 21, Ivey used a fake ID and was known as Jerome Graham for several years until he came of age and was taken on by his mentors, Daniel Negreanu and Barry Greenstein.
Much like his mentor Negreanu, Ivey has thus far raked in an incredible $37,729,341 in recorded earnings from his 179 poker tournament wins, according to his CardPlayer profile.
In Phil Ivey Teaches Poker Strategy, Ivey takes his students through a journey that goes far beyond the basics of poker and into the realm of a professional poker approach.
As the title of Ivey's MasterClass implies, his course is firmly about teaching his students top-quality poker strategies. His techniques not only improve students' game skills overall but teaches them how to adapt their own strategies as needed during games.
While we found all of his video lessons invaluable, we especially loved the ones covering the different post-flop situations players can encounter, along with the concept of table image.
We also sincerely enjoyed his lesson entitled The Mental Game, in which Ivey delves deep into the personal thought processes he uses during a hand. In the lesson, he also explores his key poker tips and tricks for dealing with tough losses.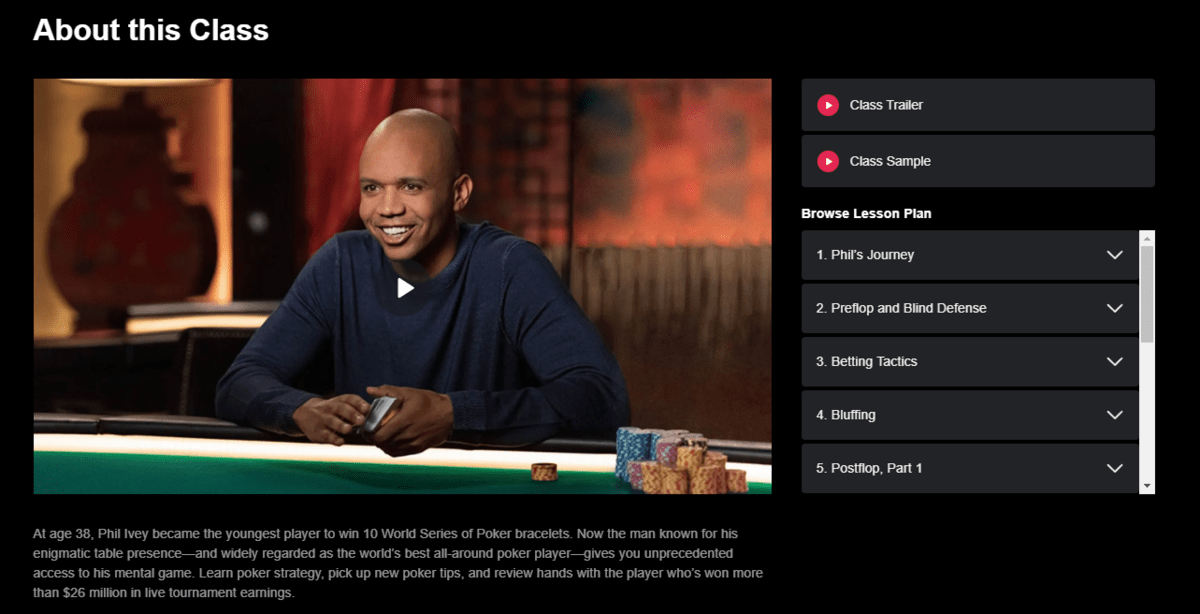 Much like the Daniel Negreanu MasterClass, Phil Ivey's course is excellent for beginners as well as those who want to develop their poker skills.
That said, his MasterClass is less about helping students build a foundational understanding of the game and more about providing them with extra tips, tricks, and effective strategies for future success.
As such, total newbies to the complex world of poker may find it helpful to take Ivey's MasterClass after or alongside Negreanu's to build up their foundational poker knowledge.
Doing so will ensure students have the basics needed to truly appreciate and apply the more complex poker concepts and strategies Ivey explores in his lessons.
Unlock more great insight into Phil Ivey's MasterClass on Poker Strategy.
Advance your poker skills further with these expert MasterClass articles
After taking Negreanu and Ivey's MasterClass courses, you'll have an amazing foundation of poker skills and essential game knowledge.
However, you don't have to stop there just because MasterClass doesn't currently offer more poker-based courses. If you really want to take your poker prowess to another level, you can go further and explore some of the other poker resources MasterClass offers.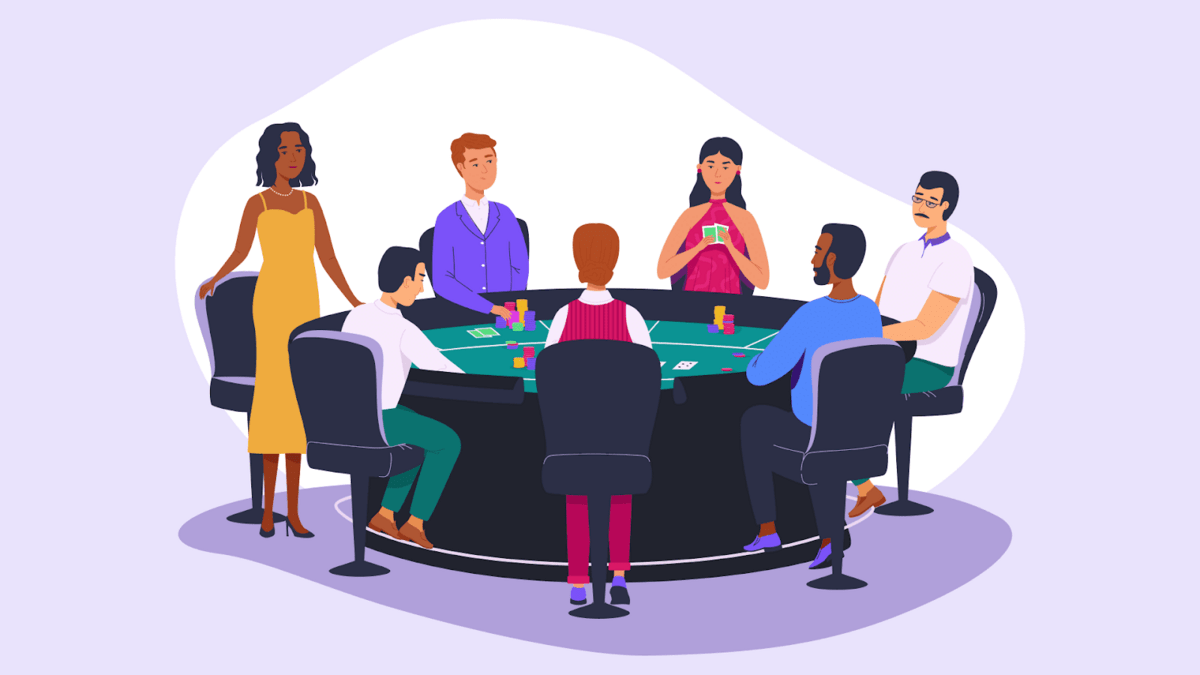 While not nearly as comprehensive as full-blown, hours-long poker training courses by world-class players, the following articles are still a great source of additional tips, tricks, and ideas to consider while improving your game.
Learn Poker: Complete Guide to Common Poker Tells
You need to know a lot of things to successfully navigate a poker game, ranging from basic game rules and how to determine the best bets to place at any given time to the impact of board texture.
However, one of the most critical skills that every good poker player needs to master is how to pick up on their opponent's tells.
In the Complete Guide to Common Poker Tells, MasterClass experts explore the basics of what tells are, why they're so essential to poker success, and how to spot several of the most common tells players may have.
The guide also details two key ways you can avoid giving off tells to your opponents and significantly enhance your game.
Poker 101: How Do You Read Other Poker Players? Learn to Discern the Difference Between a Tight Play and a Loose Play
You can think of this Poker 101 article as an in-depth sequel to the guide above, where you'll learn about the four types of players you'll usually face at the table.

These include:
Tight-aggressive players
Tight-passive players
Loose-aggressive players
Loose-passive players
The article also explores why knowing the difference between these four player types is important for collecting information on your opponents, an essential part of developing an effective game strategy.
After studying this guide and the one above, you'll have a better grasp on several key aspects of how to take on other successful players.
Learn Poker: What Are Pot Odds? How to Calculate Pot Odds and Winning Odds
While there's considerable debate on whether poker is more of a game of skill or luck, it's important for players to remember that odds always play a role in a successful game.
In this MasterClass poker post, you'll learn the basics of pot odds, including how to calculate them alongside winning odds. You'll also get a detailed rundown of how to effectively use odds to inform your in-game decision-making.
Additionally, the post provides a brief exploration of when pot odds don't work and how that can impact both the game and your personal play strategy.
For additional information on poker odds, how they work, and how to calculate them effectively on the fly, you can also check out this other MasterClass Poker 101 article on the topic.
Level up your next poker game with MasterClass
Whether you're a total novice to the poker table or an experienced player who wants to up your skills for the chance of winning a tournament, MasterClass poker courses are a great way to expand your poker prowess.
By going through Daniel Negreanu and Phil Ivey's poker classes, you'll learn the poker tips and tricks needed to level up your gaming skills and take on the table with style and strategy.
And by going the extra mile to study the other comprehensive poker resources explored above, you'll push your abilities even further. So get ready to achieve meaningful insights that'll pave your path to future poker wins.
Consider signing up for one of the three MasterClass subscription services to take advantage of all the educational content they offer.