Before you spend your hard-earned money on anything — a car, an item of clothing, or even an online learning platform subscription — you want to know whether or not that item will work for you.
If you're thinking about taking the leap to subscribe to MasterClass but find yourself asking, "how does MasterClass work?" you're in the right place.
We've taken the time to pop the hood on this self-paced learning platform to showcase its functionality, course materials, and cost details before you dent your checkbook.
Let's dive in.
Disclosure: These reviews are reader-supported. We might earn a small commission if you purchase something through our site. Learn more
Our Verdict
MasterClass is an entertaining and relaxing way to educate yourself with an online education from not only some of the brightest minds, but some of the most entertaining people in the world.
MasterClass Review
Learn from the Best
PROS
Affordable pricing
User-friendly platform
Features celebrity instructors
Easily refundable
High quality content
Bonus materials
CONS
No free trials
No reviews within the platform
Heavily geared towards creatives
Click the links below to head straight to the section which interests you most:
What is MasterClass?
MasterClass is a platform that hosts a variety of online classes for students to take at their own pace.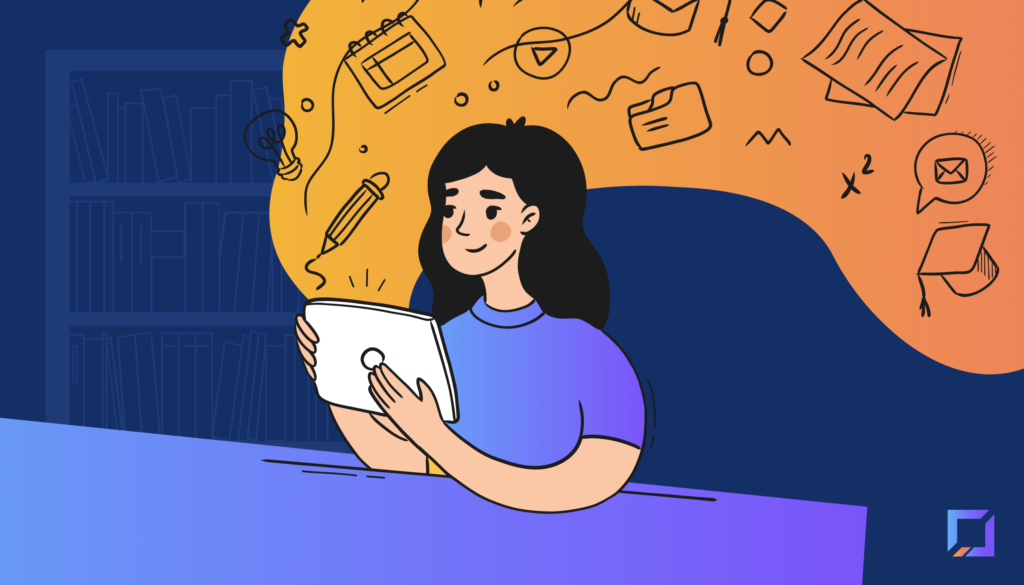 MasterClass's mission is to serve lifelong learners by connecting them with their pre-recorded video class content and learning materials within online courses, taught by instructors that are well-known masters of their craft.
You can consume MasterClass classes at the speed that works best for you, as well as in whatever order makes the most sense for your immediate needs.
The instructors are what makes MasterClass special. They're quite often famous, typically through writing, television, music, or frequent news appearances and they're well known for being the best at what they do.
This is just a sample of some of the instructors you can learn from:
Malcolm Gladwell
Samuel L. Jackson
Natalie Portman
If you're interested in being taught by the premium crew of MasterClass instructors, you'll need to sign up for a membership.
If you're not yet sure if it's for you, check out our full MasterClass review.
How do you find MasterClass courses?
You can search for MasterClass courses to take on their website before you become a member.
Every course they offer has a publicly available web page with a link to a trailer and a class sample.
You'll also be able to briefly browse the lesson plan, see related courses, and get answers to frequently asked questions (FAQs) about the course.
Once you become a member, you'll be able to view the full MasterClass class details on every page and unlock the "Discover" dashboard within the platform.
The dashboard hosts personalized recommendations for not just courses, but also online class lessons that MasterClass thinks you'll enjoy.
Here's what the "Discover" dashboard looks like:
MasterClass includes a list of lessons that are the most popular on the platform that day and is a great resource for sampling courses that you might be interested in.
MasterClass isn't very transparent about what makes a lesson the most "popular," but it's safe to guess that the lesson is gaining a lot of traffic or completed video views amongst the MasterClass audience.
If you're curious whether or not someone you admire has created a MasterClass, or you're interested in a specific topic and want to know whether there is a course available, like a writing class, for instance, you can search for specific items within the search library.
The search library is also the simplest way to browse MasterClass courses by category, and it allows you to add the courses you like to a master list that you can refer back to later.
The search dashboard also surfaces screenshots and clips from MasterClass lessons within each course, which you can see below: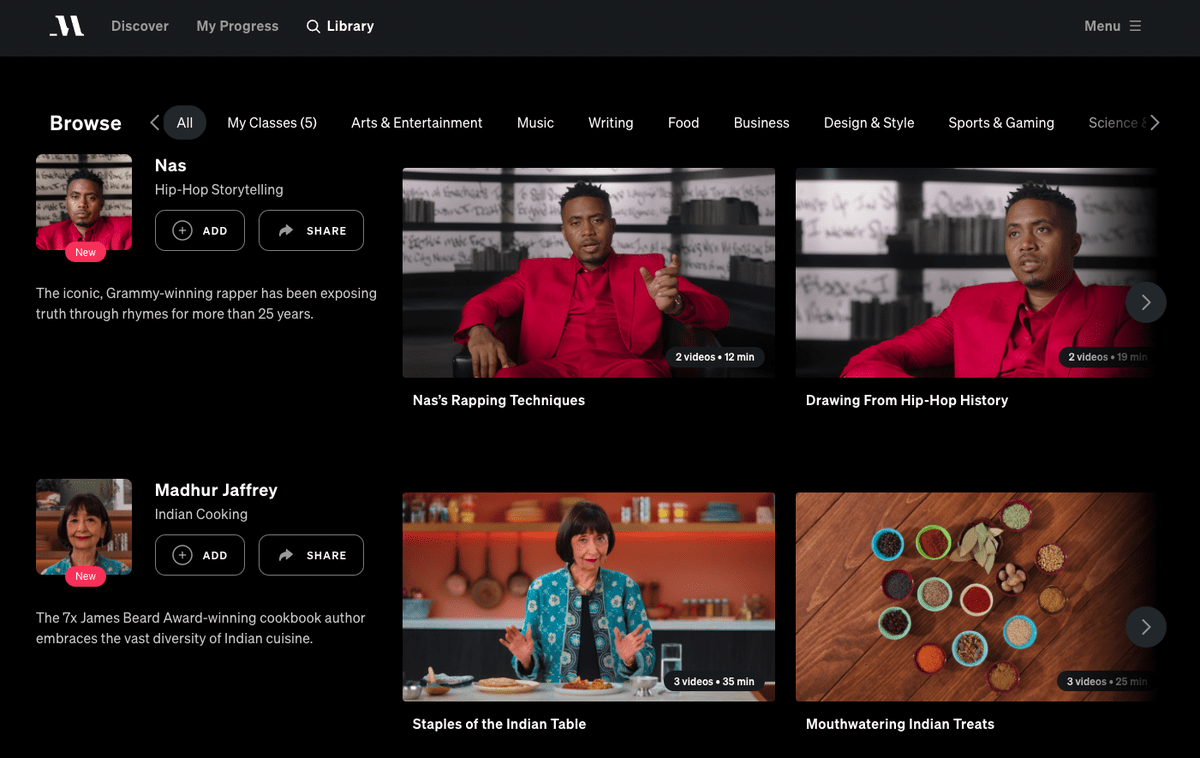 After selecting a class that interests you, you'll be directed to the class page, where you'll see a full course curriculum and be able to access all of the materials pertaining to that course.
Let's look at an example from Sara Blakely, an American businesswoman, and philanthropist who founded Spanx, and who teaches self-made entrepreneurship for MasterClass. Her course includes 14 video lessons and clocks in at 211 minutes or roughly 3.5 hours.
When you're taken to her page, you'll see a very short description of the class and prompt to get started, like so: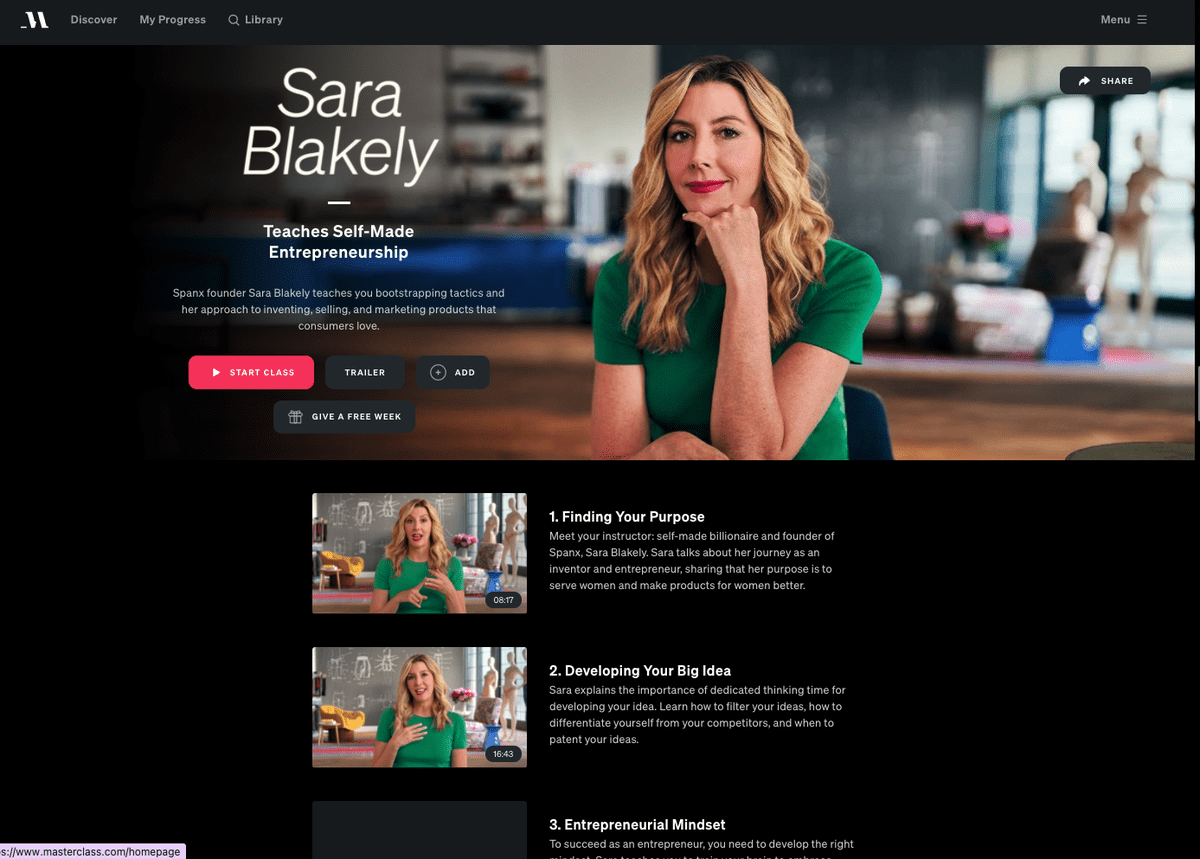 How do you watch MasterClasses?
In our humble opinion, an underrated feature that makes MasterClass feel like such a high-quality experience — beyond the course instructors and the high-production video quality — is the fact that you can consume the course material in so many different ways.
The pre-recorded video lessons are the meat of the course, but whether you like to watch, listen or read, or whether you like to skip ahead or stick with the instructor's organized timeline, MasterClass has a solution for you.
Let's take Sara Blakely's course as an example.
When you first get started, MasterClass asks for a bit of information about you. (You can easily skip this by just clicking off the survey if you're not interested in sharing that information.)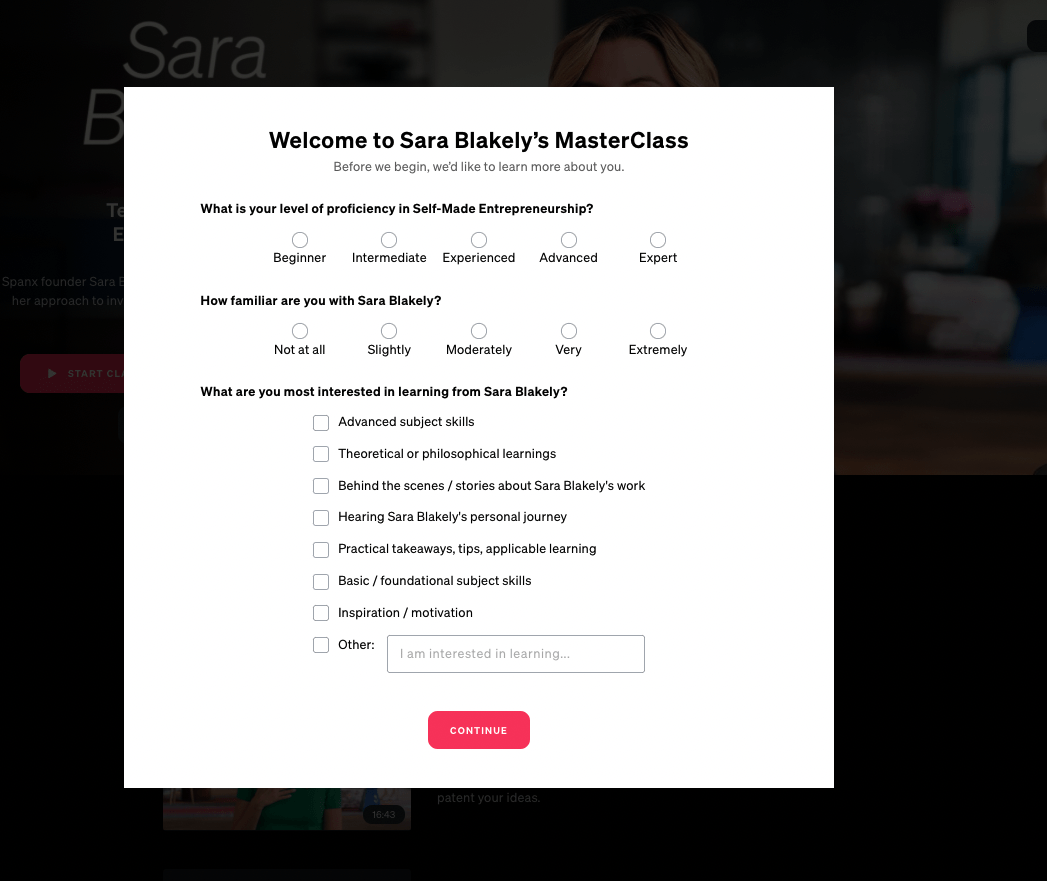 From there, you're taken right to the course page, where your first lesson starts to play automatically. Here's an example of what that experience looks like on a desktop or laptop web browser.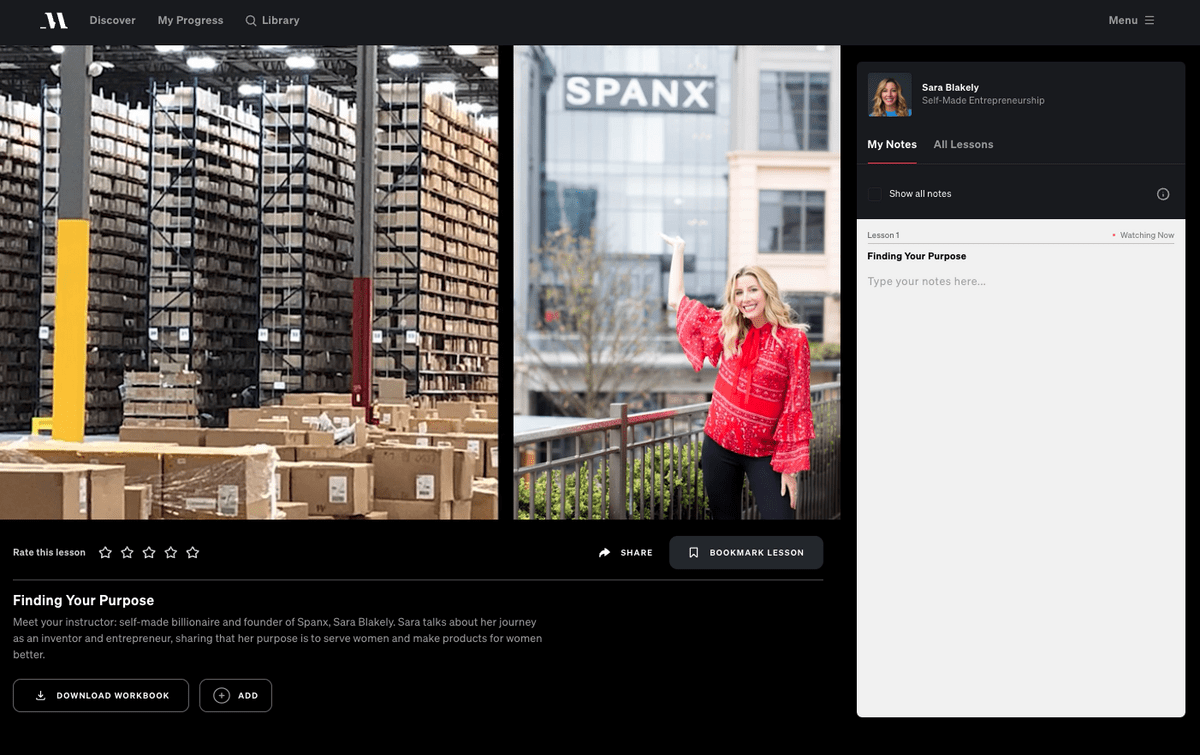 When you consume course content on a desktop web browser, you have access to every MasterClass feature — video courses, notes, workbooks, and discussion forums. It's certainly the most thorough way to get the most out of MasterClass courses.
But, you won't always be able to (or want to) watch MasterClasses sitting down at the computer.
For those times, you can also access courses through the MasterClass app, which allows you to access certain features like the video lessons and downloadable workbooks.
The app doesn't provide access to your notes or the community forum (which we'll discuss more in-depth later on in this post).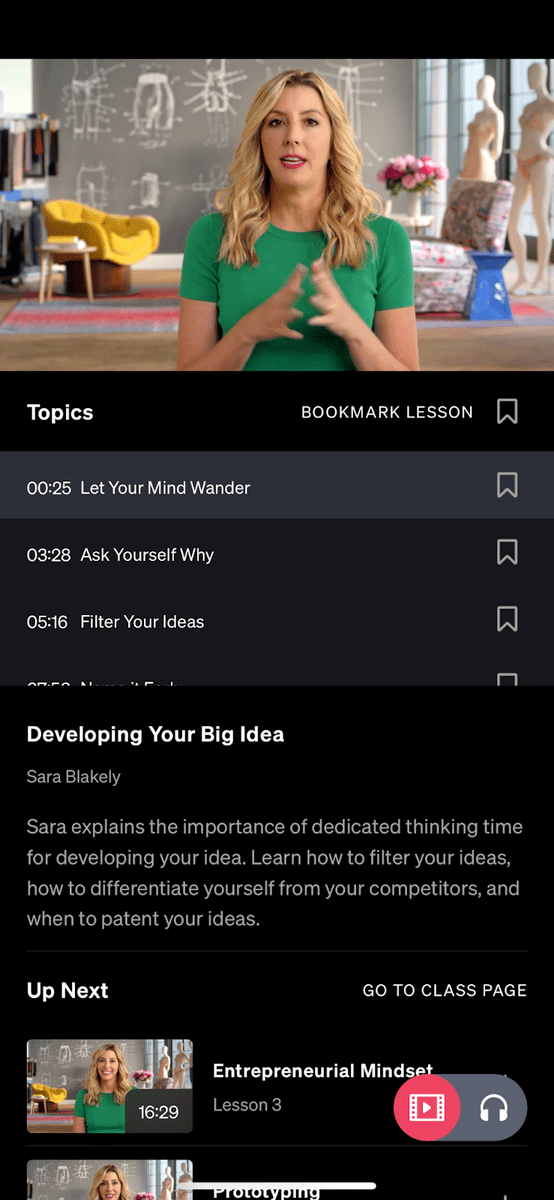 For those who prefer audio content over video, you're in luck.
On the bottom right-hand side of the MasterClass app screen, you'll notice a button that allows you to toggle between a video play button and a pair of headphones. Toggle the button towards the pair of headphones, and you'll be redirected to the audio version of the course.
The best part — you don't even have to use this feature to start the audio track. Just lock the screen on your mobile device after you've started to play the video lesson, and the audio will automatically keep playing.
This tiny but mighty feature makes the user experience of the MasterClass app feel high quality and makes the lessons all that much more enjoyable to consume.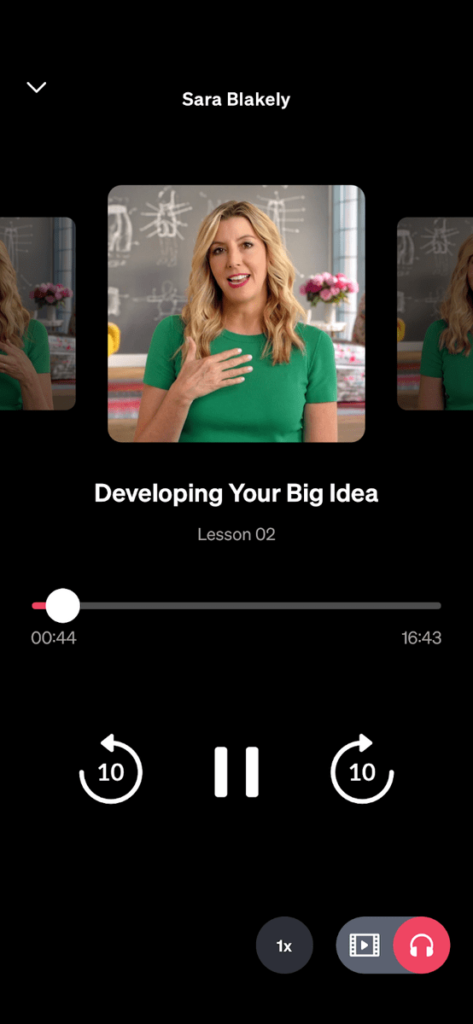 Last, but certainly not least, MasterClass is also consumable on the big screen (or really, screens of any size).
You can cast MasterClass courses to your television or any device of choice with Airplay, Roku, Amazon Fire Stick, or Chromecast from your laptop or mobile device with the MasterClass app.
One tap on the screen as your MasterClass lesson starts to play, and you'll see casting options appear in the upper righthand corner of your screen.
The casting options that you see will depend on the device you use.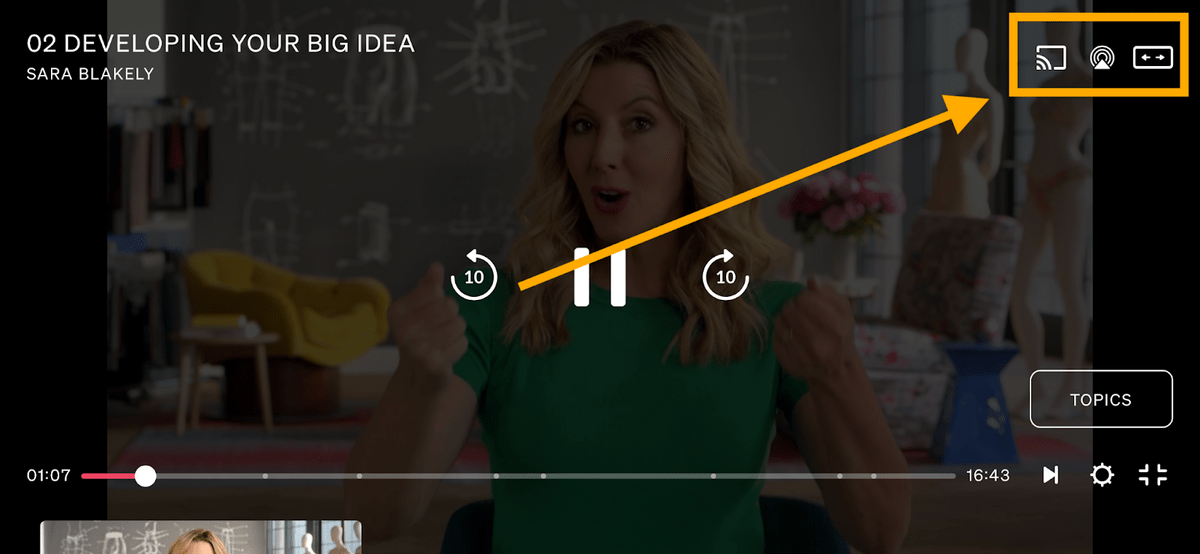 Select your device of choice, and your MasterClass course will be cast there. You'll know you're connected when you see the below MasterClass loading screen: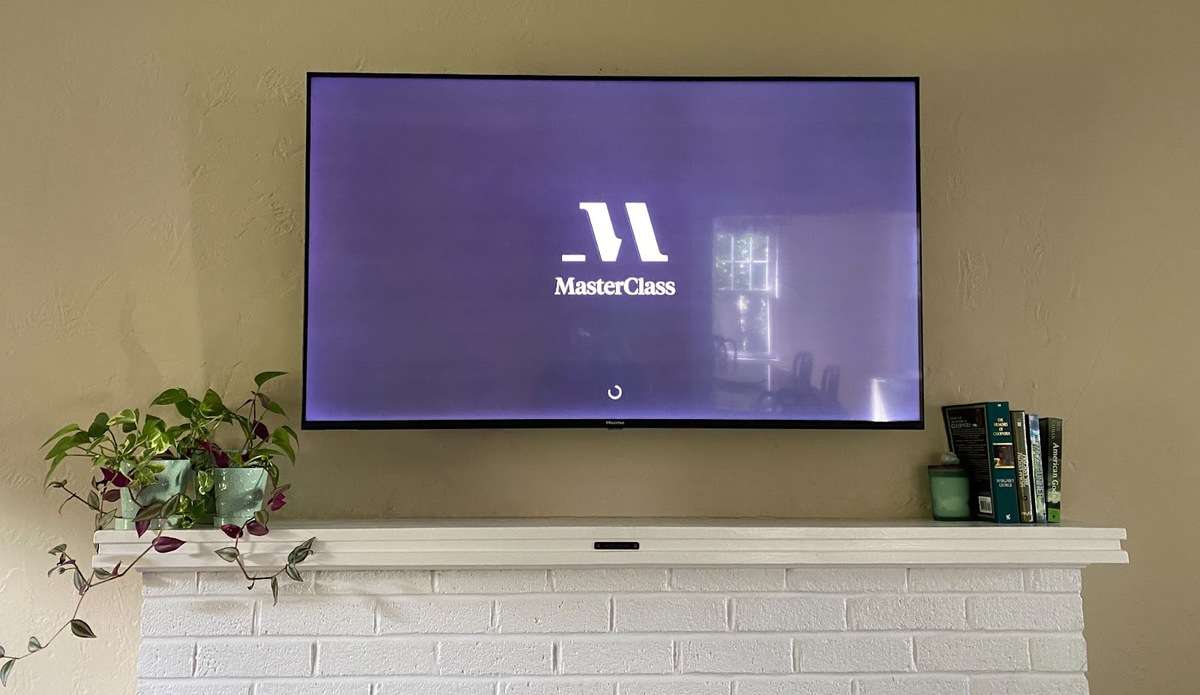 Once your lesson has started to play, you'll be able to start, stop, fast-forward or scrub the video using your mobile device as a remote control.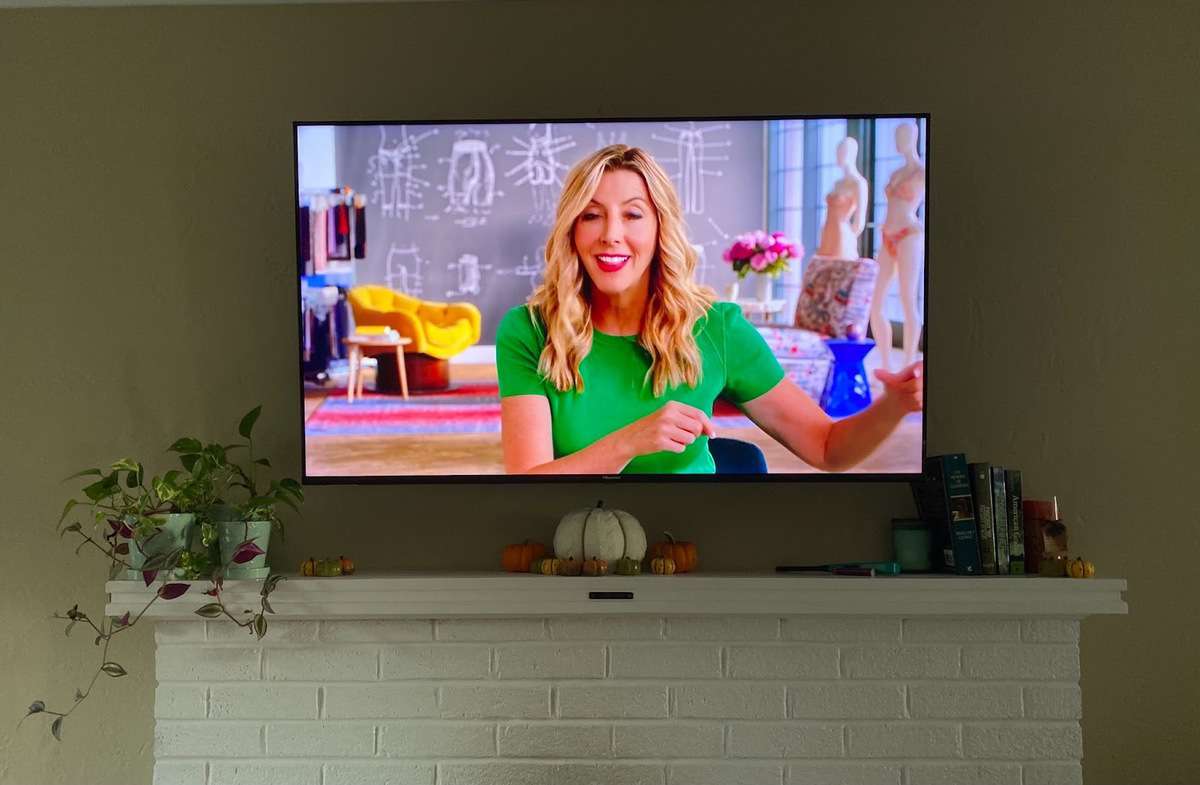 MasterClass's versatility makes it so much easier to fit into a busy schedule.
Whether you're taking a five-minute break between work meetings on your laptop, filling time on a commute, or kicking back to do a bit of learning after a long day, you can interact with course content in a way that fits your lifestyle.
Don't worry — MasterClass hasn't forgotten about the readers.
Let's dive into some of the course materials you get with MasterClass, one of which includes a workbook with written materials to follow along with your video lessons.
What do you get with MasterClass?
MasterClass students don't just unlock access to video lessons with their MasterClass subscription. There are three other major takeaways from each course:
A workbook with supplementary materials and lessons
Access to other MasterClass students
The ability to record and save notes right in the platform
We'll walk you through each of them:
1. Workbooks
At the bottom of each course web page, there's a downloadable workbook for MasterClass students to use as a complement to pre-recorded video lessons.
Each workbook is organized with chapters that mirror the video lessons and always include lesson summaries or exercises to help you practice what the instructors have preached.
Each workbook is quite unique and is tailored closely to the needs of the course's students.
Sara Blakely's course workbook, for example, included summaries of her MasterClass video lessons, along with visual aids, like this flow chart of how her product, Spanx, evolved as she brought it from ideation to fruition.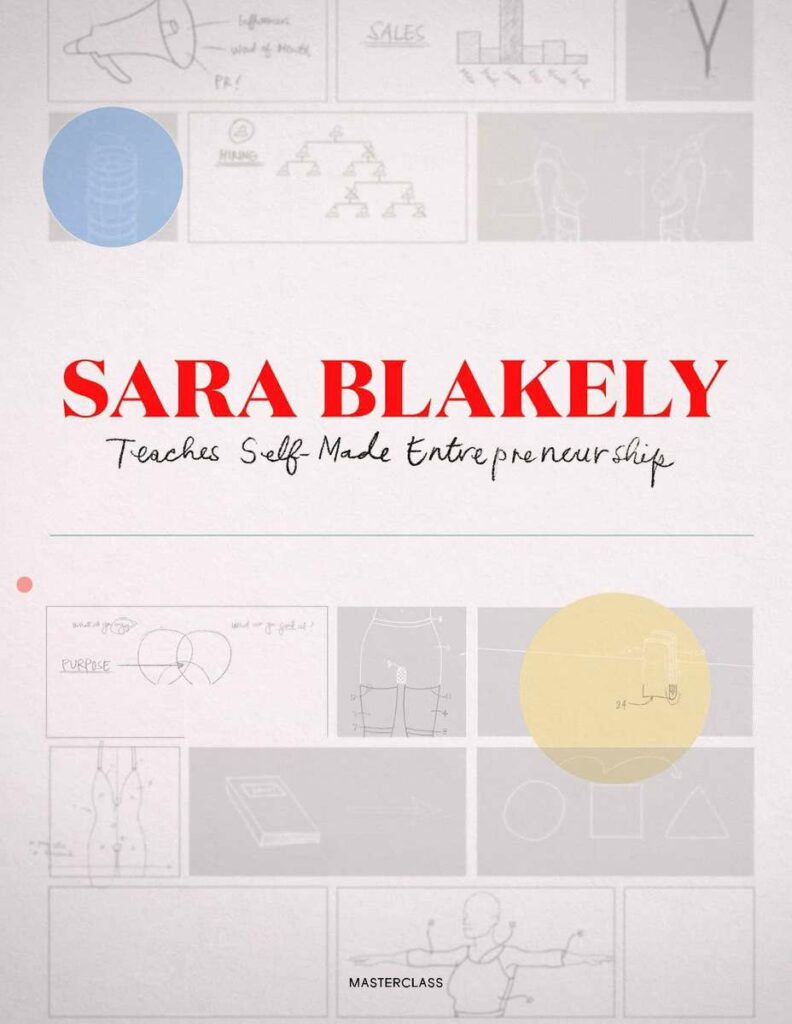 The following workbook from Madhur Jaffrey, an Indian actress and television personality known for bringing Indian cuisine to the west with her cookbook, An Invitation to Indian Cooking, is much different.
Jaffrey teaches Indian cooking for MasterClass, so her workbook is packed full of 30 authentic Indian recipes and cooking tips for students to try at home. Here's a peek inside her workbook: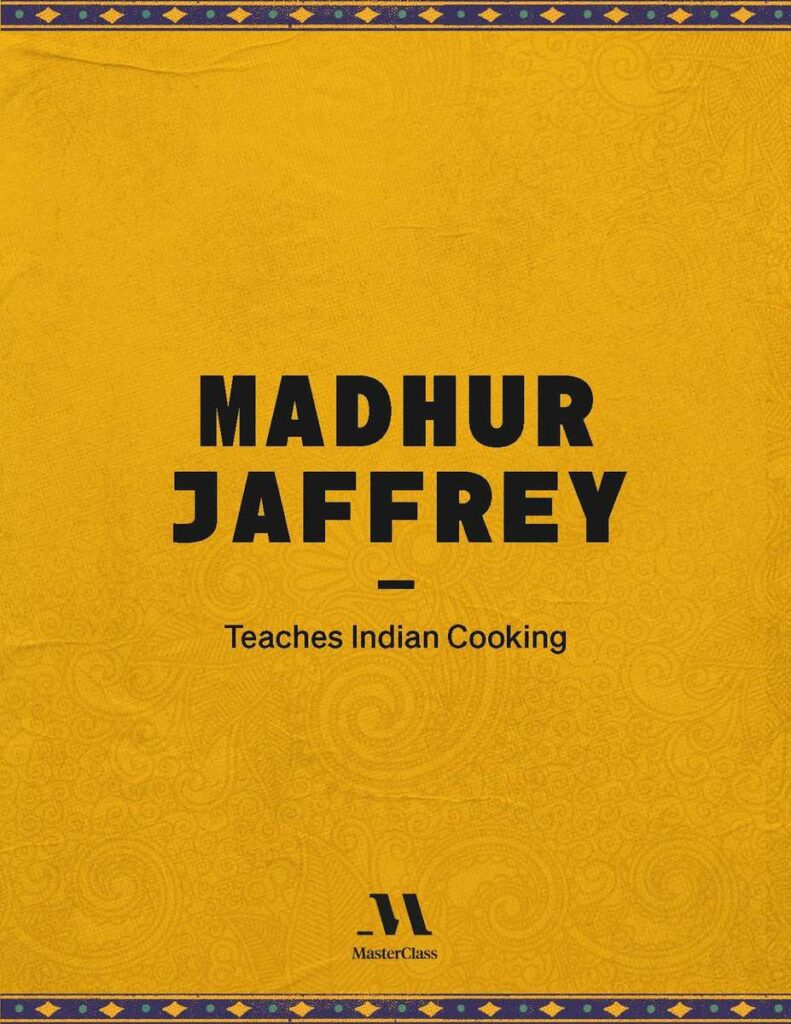 Finally, here's an example from Chris Hadfield, former commander of the International Space Station (ISS), who teaches the science of space exploration for MasterClass.
His supplementary workbook is more of a textbook with written summaries of his video lessons on things like what it means to be an astronaut, how he helped to explore mars from afar, and much more.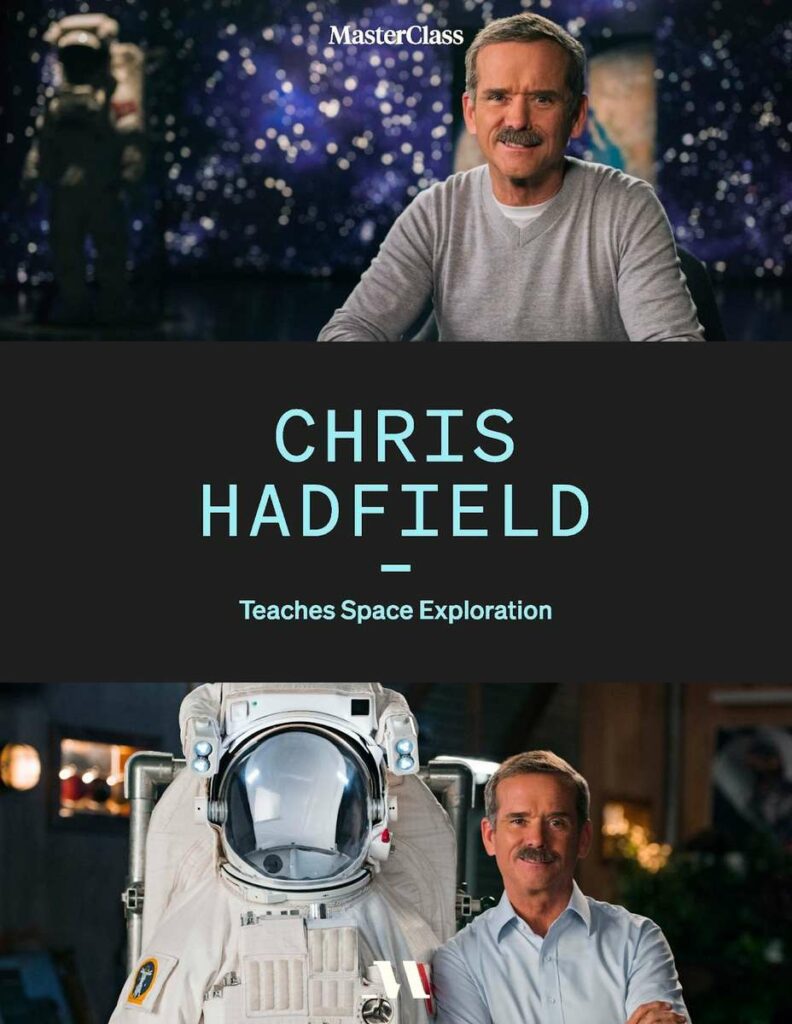 No matter which course you're taking, the MasterClass workbooks are tools to aid your practice of the lessons learned in each video lesson. You can either use them to follow along with teachers in each video lesson or browse them separately.
2. Discussion forum
You'll also have access to other MasterClass students through the discussion forum available for each course. You'll be able to participate in forum discussion threads that are related to the course material, as well as ask questions or pose topics of your own.
Sara Blakely's forum discusses topics related to her course, like growing a social media following, staying organized as a business owner, apparel design, and much more: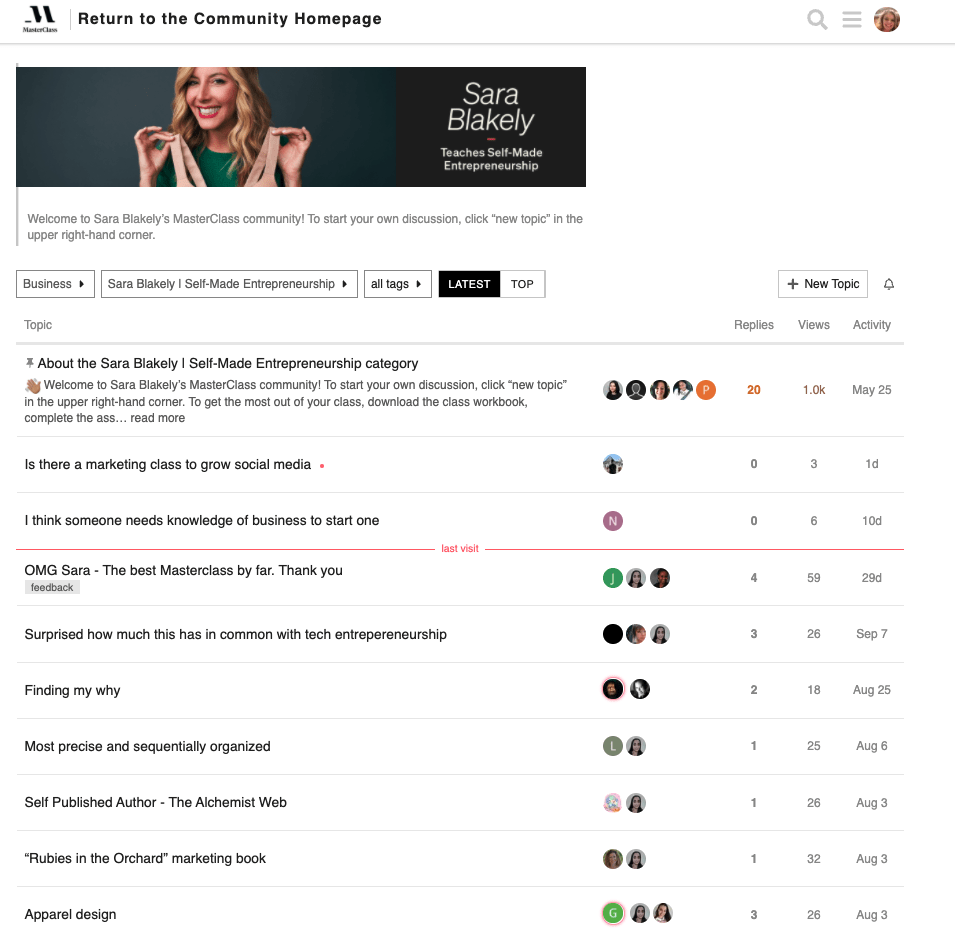 Clicking into any of the available discussion threads takes you to what looks like a familiar forum found on Reddit or other popular platforms.
You can organize threads or responses by date or relevance to the topic you want to discuss, and even save conversations or threads to refer back to later.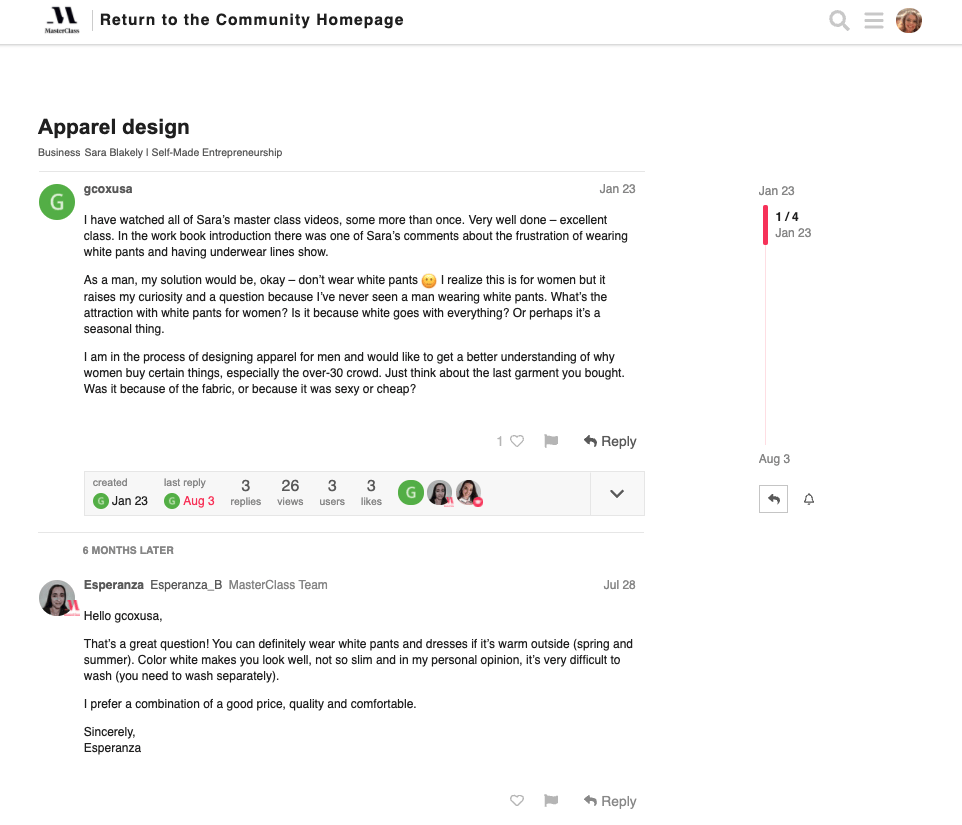 3. Note-taking
If you're watching your MasterClass courses on a desktop browser or laptop, you can take notes directly on the platform itself.
To the right of the video feed, you'll see a white text box where you can take notes related to the course lesson — in this case, Sara Blakely's lesson on prototyping. This feature isn't accessible on the mobile app though — you'll need to be in front of a computer to take advantage of it.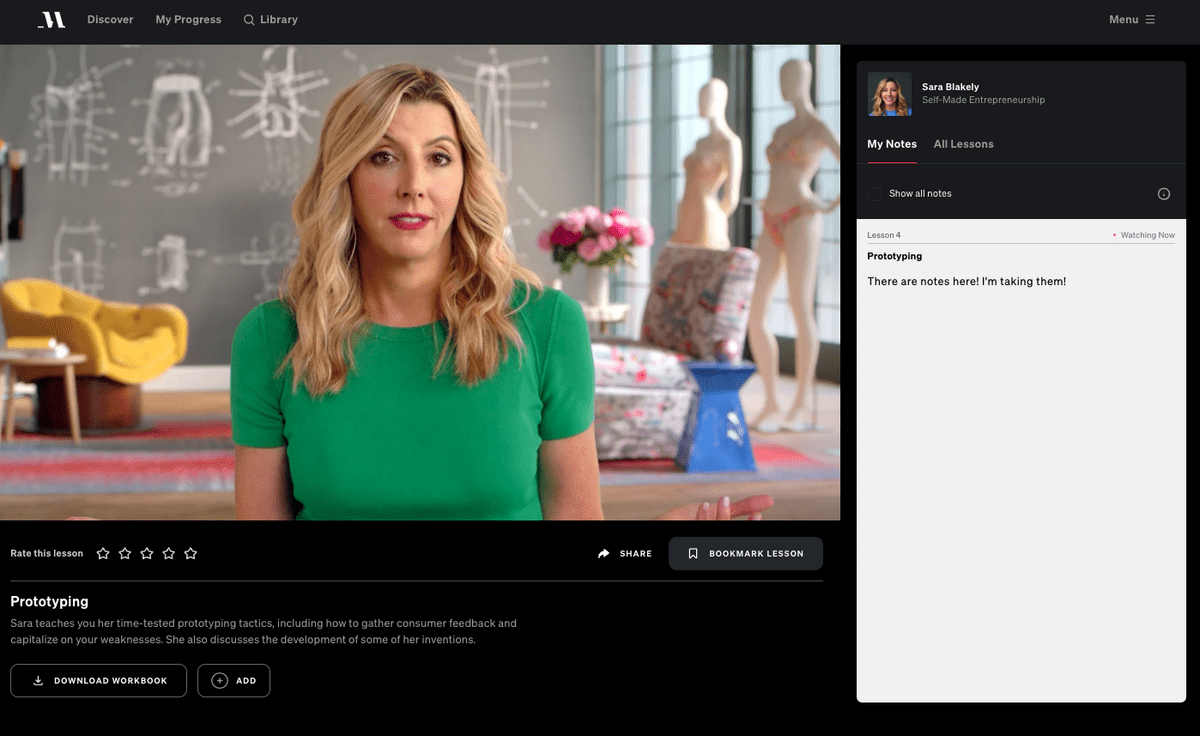 You also might notice a bookmark feature to the left of the note-taking text box.
This feature is different from the "+ADD" button on the course homepage, which adds the entire course to a saved list for you to refer back to later. The bookmark feature saves the individual lesson to a separate list.
Your class progress, notes, and bookmarked lessons are all saved in the "My Progress" tab of the MasterClass dashboard: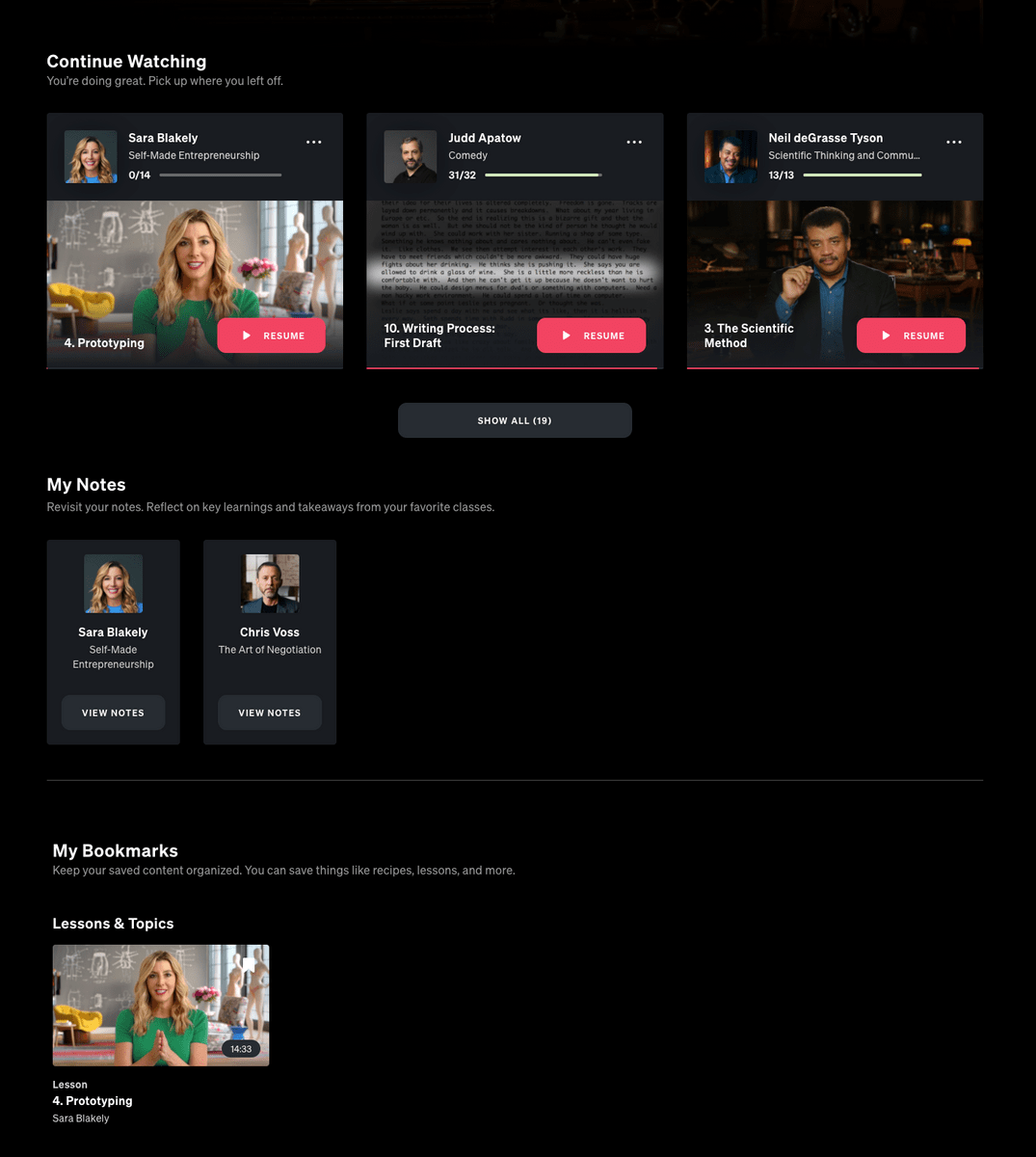 That same "My Progress" screen will also show you the list of full courses you've saved using the "+ADD" button, a list of lessons you've completed, and a list of courses that you've watched to completion: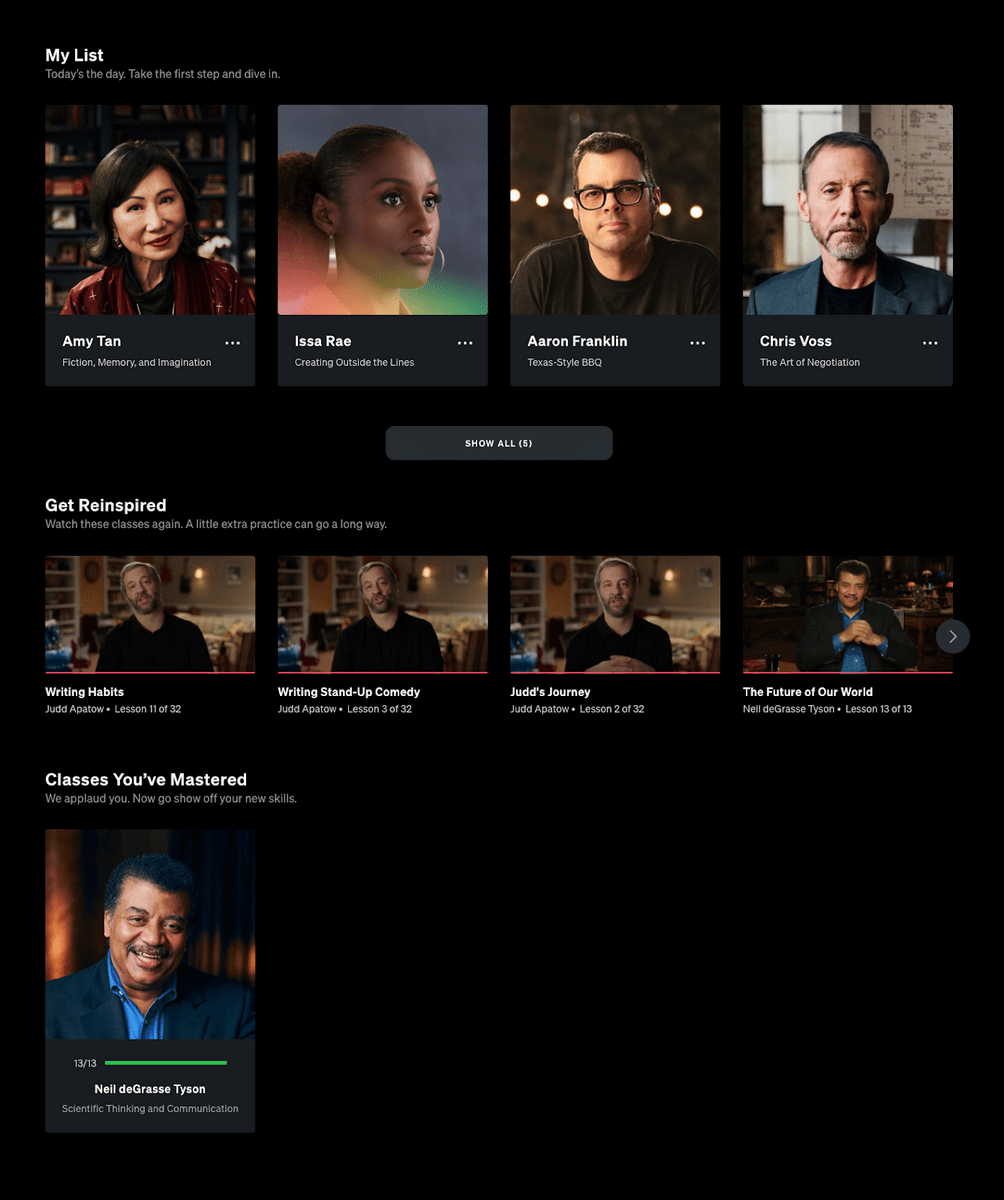 How much does MasterClass cost?
MasterClass's annual membership starts at $180 a year for their Standard plan.
Our full MasterClass review covers MasterClass pricing and the fact that subscribing gets you an all-access pass to content from their celebrity instructors.
While it looks like there's an option to pay a $15 monthly fee, there's not — you have to pay for the full year upfront.
They also offer a Plus plan at $240 per year and a Premium plan at $276 per year.
These plans allow you to increase the number of devices that you can stream from at once and give you the option to download video lessons for offline viewing.
There is no MasterClass free trial, but there is a 30-day money-back guarantee if you're not happy with your purchase.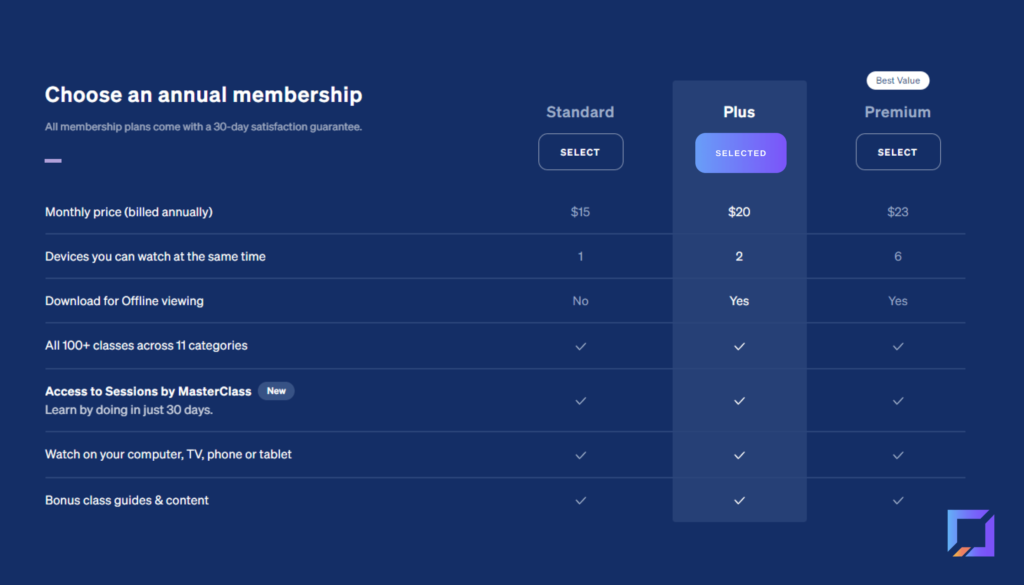 It's important to note that there is no difference in access — each one allows you access to all of the courses, unlike other learning platforms like Skillshare.
But, if you go for a Plus or Premium plan, you'll be able to share your account more easily with friends and family.
Take into consideration that you don't get profiles like you would on Netflix.
Sharing your MasterClass subscriptions also means sharing notes, course lists, favorite lessons, and more.
MasterClass Plus is worth it for those who spend a significant portion of their time in areas without a strong internet connection — like on a daily commute — and want to watch or listen while offline.
Upgrade your life with MasterClass learning
When you think about the value you're adding to your life for the cost, MasterClass is a no-brainer.
It's an entertaining and relaxing way to educate yourself with online education from not only some of the brightest minds but some of the most entertaining people in the world.
Get your MasterClass subscription today to unlock courses from great minds like Sara Blakely, Madhur Jaffrey, and Chris Hadfield, and further enrich your journey of lifelong learning. For more, read our extensive MasterClass review.