Christina Aguilera MasterClass review synopsis
What you'll learn: Learn professional singing techniques from world-famous pop star Christina Aguilera
How long does the Christina Aguilera MasterClass take?: The Christina Aguilera MasterClass will take 3 hours and 43 minutes to complete.
Similar courses: Alicia Keys, Deadmau5, Questlove. Danny Elfman. Timbaland
Do I recommend Christina Aguilera's MasterClass?: Yes, Aguilera's MasterClass is a great asset for anyone who wants to improve as a singer.
Start belting some high notes with the Christina Aguilera MasterClass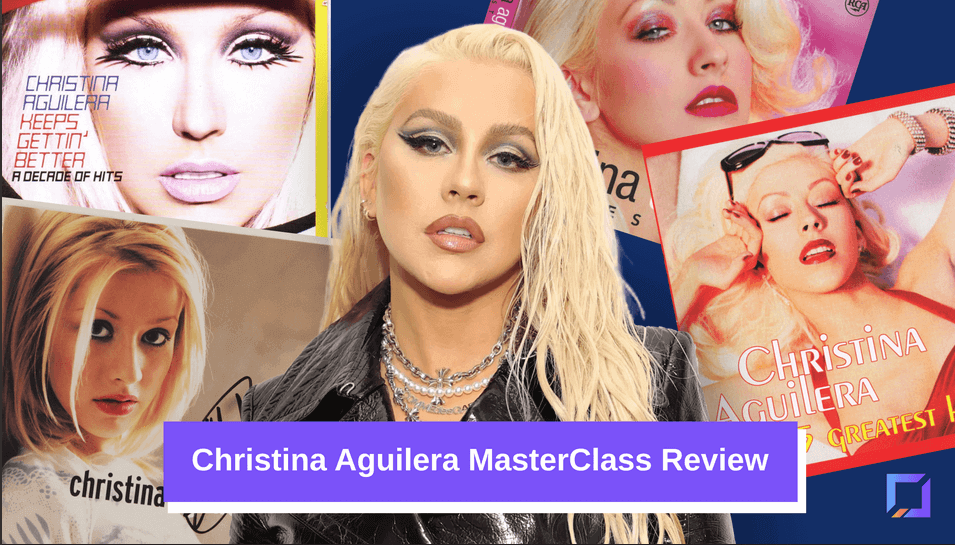 Sometimes talent just isn't enough.
When it comes to something like singing, natural talent can go a long way. But just because you can sing, doesn't mean that you know how to sing. And if you try to sing on a higher level than you're ready for, you risk injuring your vocal cords and cutting any music career short.
That's why you need a teacher.
I can think of no one better to teach the art of singing correctly than Christina Aguilera.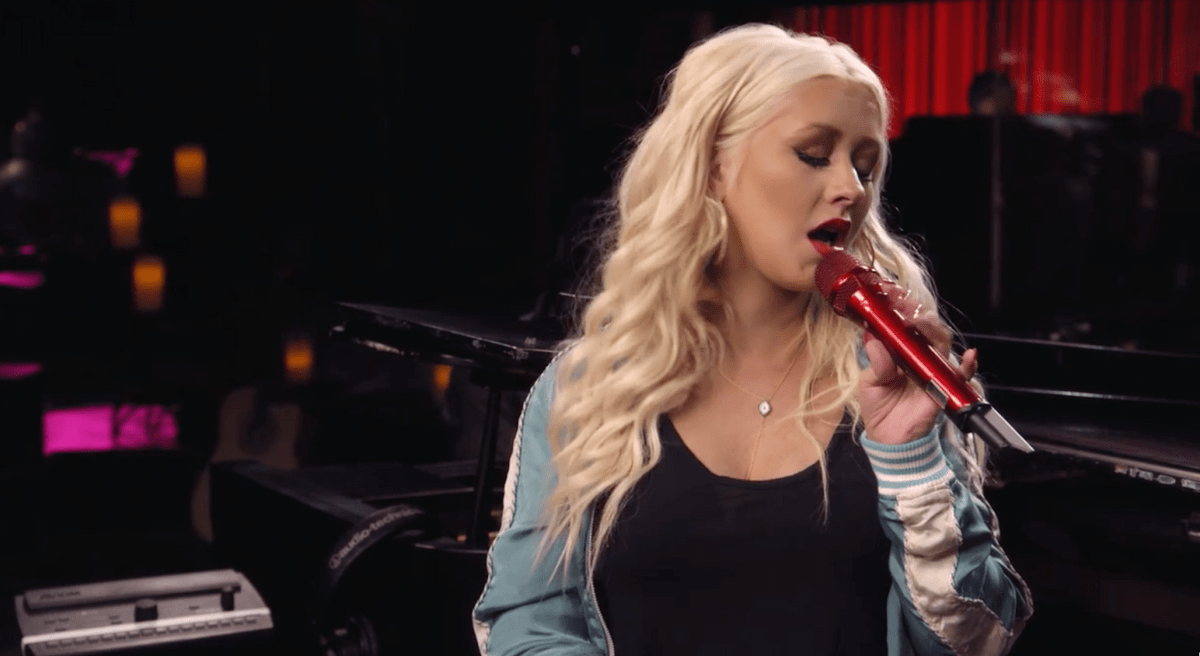 This pop sensation is known for her incredibly soulful and powerful voice. You can't regularly hit the notes that Aguilera is known for without knowing a lot about proper vocal technique.
But are her lessons effective?
That's what we're going to get to the bottom of in this Christina Aguilera MasterClass review.
I'm going to break this class down for you, analyzing the curriculum, materials, memorable quotes, takeaways, and more to give you a better idea of whether this class is worth your time and money.
Disclosure: In the interest of full transparency, Codeless uses affiliate links in our MasterClass reviews to cover our site's costs.
Our Verdict
I think that if you enjoy singing in any way, whether in a church choir, community theater, or fronting a band, you can get a lot out of the Christina Aguilera MasterClass.
Christina Aguilera MasterClass
Become a Pro at singing
PROS
She sings a lot throughout the class
Walks you through the warm-up process
Student spotlight segments
Teaches technical information like microphone volumes
Uses her own songs for case studies
CONS
She has a tendency to ramble when she speaks
Almost nothing on her songwriting process
MasterClass Hub was fairly dead
In this MasterClass review, you'll learn:
A few frequently-asked questions…
Before we go further, let's cover some of the most common questions about Christina's MasterClass.
Do I need a subscription to access this course?
Yes, if you want to take the Christina Aguilera MasterClass, you have to purchase a MasterClass subscription.
By signing up, you'll get access to the 180+ courses MasterClass offers in several categories, ranging from cooking, baking, interior design, photography, music, writing, makeup, poker and even negotiation.
How long is the MasterClass?
Aguilera's MasterClass includes 23 individual video lessons that last for a total of 3 hours and 43 minutes.
Does MasterClass have a cancellation policy?
Yes, MasterClass offers a 30-day money-back guarantee for all memberships.
Is the Christina Aguilera MasterClass worth it?
Aguilera spends a lot of time taking you through all aspects of singing, from warming up to sound checks, techniques, and how to keep your voice healthy and strong. It's definitely worth the cost of a MasterClass membership if you're serious about singing.
Become a singer today with the Christina Aguilera MasterClass
About Christina Aguilera
Christina Aguilera is credited as one of the iconic voices that resurrected teen pop music in the 1990s.
A member of the Mickey Mouse Club in the early 90s, Aguilera went on to sign a recording contract with RCA Records, where she debuted her first self-titled album. Her singles Genie in a Bottle and What a Girl Wants could be heard everywhere throughout the late 90s and remain influential today.
Aguilera is known as an artist who reinvents herself regularly. In the early 2000s, with her fourth album, Stripped, she began to embrace her sexuality and sparked a ton of controversy in the media. However, singles from that album, including Beautiful and Fighter, became major hits.
Aguilera has sold more than 75 million albums, making her one of the most successful musical artists in the world. She has received five Grammy Awards, one Latin Grammy, two MTV Video Music Awards, and more. She was even named a Disney Legend.
How much does Christina Aguilera's MasterClass cost?
You can take Christina Aguilera's MasterClass with any of the three MasterClass subscriptions.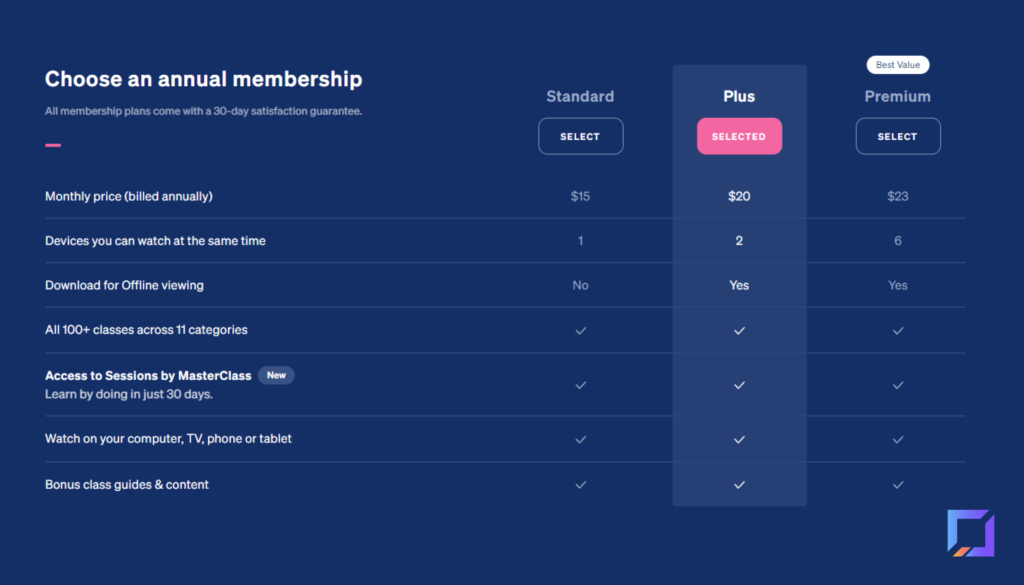 There's the Standard Plan, the Plus Plan, and the Premium Plan — in North America, they're only available as annual subscriptions.
Standard costs $15 per month and includes access to every MasterClass online course, and every class comes with a bonus workbook and access to a dedicated online community. You can access these classes on one device at a time.
Plus comes in at $20 per month. When subscribing to this plan, you get everything offered on Standard, along with the ability to take classes on two devices simultaneously. You can also download course videos on an iOS device.
Premium is the most expensive plan, at $23 per month. It includes everything from the Plus Plan, with the option to watch classes on six simultaneous devices.
It might sound expensive, but remember that one membership gives you unlimited access to the courses of other singers and artists, including Alicia Keys and Usher.
Find the MasterClass subscription that best suits your needs
What is included in the Christina Aguilera MasterClass?
Runtime: 3 hours and 43 minutes
Course Value: 4/5
Lessons: 23
Supplementary materials: Workbook and MasterClass Hub forum
Supplementary workbook
Aguilera's MasterClass comes with a supplementary workbook, which is something that all MasterClasses include.
However, Aguilera's workbook succeeds where many others fail. There are many highlighted quotes and altered formats throughout, breaking up the monotony of the dreaded wall of text.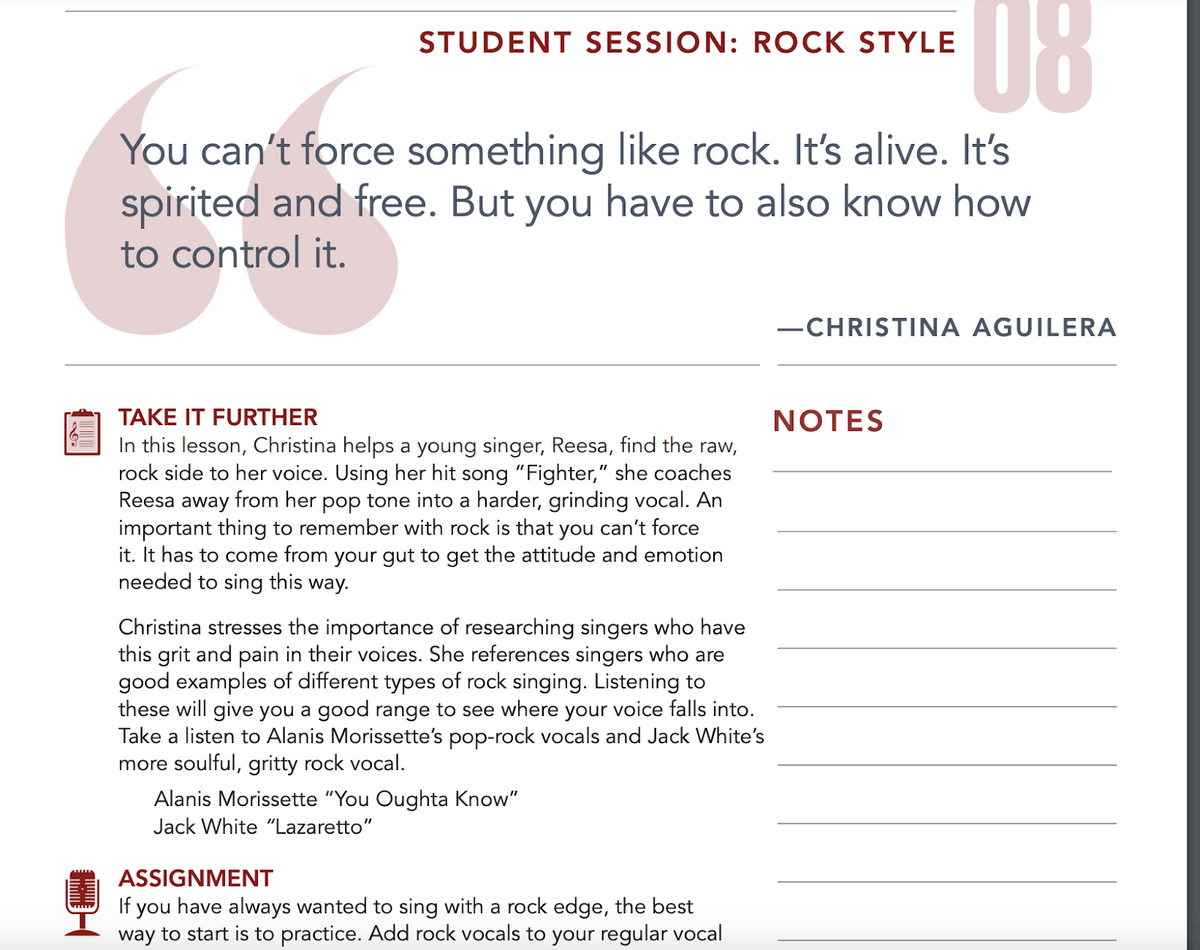 There's even a notes section on just about every page and assignment for students to complete.
The MasterClass Hub
Students of Christina's MasterClass also get access to the MasterClass Hub community forum.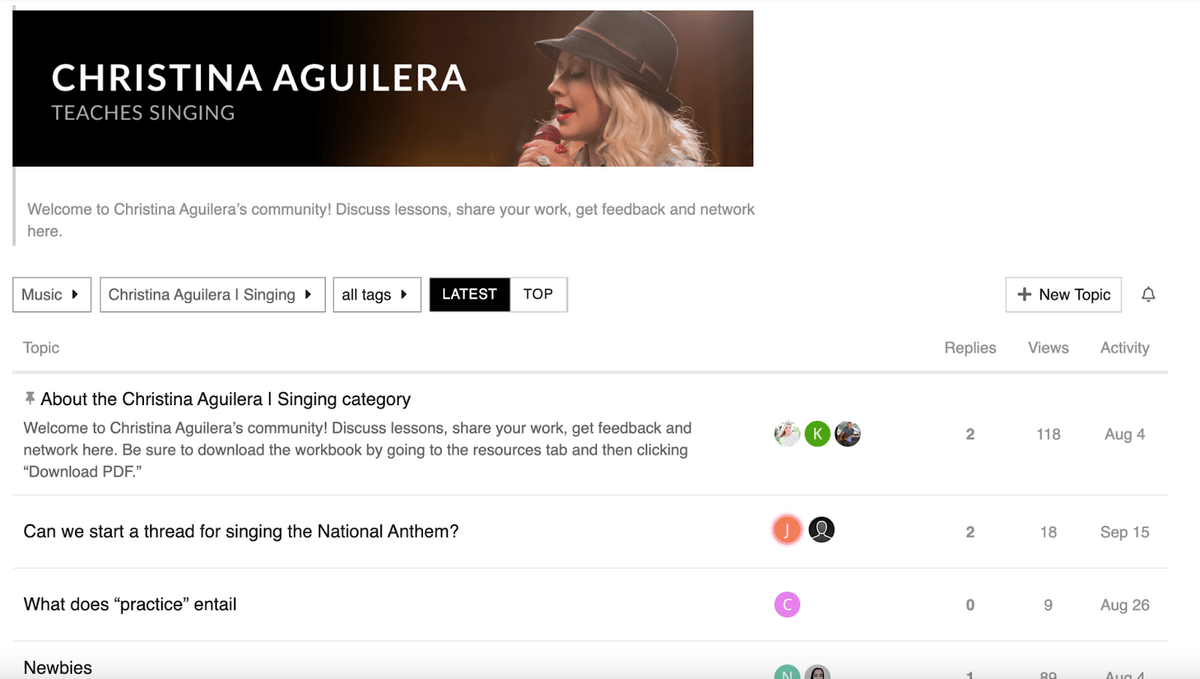 Unfortunately, there's not a lot going on in this MasterClass Hub. There aren't many threads, and most have only one or two replies.
A complete breakdown of the Christina Aguilera MasterClass curriculum
Aguilera's MasterClass covers a lot of ground in 3 hours and 43 minutes. She discusses how to warm up, different vocal techniques, and more. It even features several student spotlights that showcase how to take her teachings into practice.
Let's take a look at how this course breaks down chapter by chapter.
Curriculum:
Introduction
Christina's Inspiration
Warming Up
Protecting Your Voice
Range
Student Sessions: Pop Style
Student Sessions: Simplify
Student Sessions: Rock Style
Diction
Mastering Vocal Technique
Playing With Textures and Tones
Duets Part 1: Rehearsal Prep
Duets Part 2: Perfecting the Performance
The Beat
Live Microphones
Studio Microphones
Performance Anxiety
Singing It Live
Overcoming Mistakes
Advice for Artists
Self-Expression
Christina's Journey
Closing
Course summary:
Many aspiring singers would hurt themselves and blow their voices out trying to sing like Christina Aguilera.
She has such a powerful booming voice, not to mention a gritty signature growl. But many people believe that you can just muscle your way up to those notes without any formal training.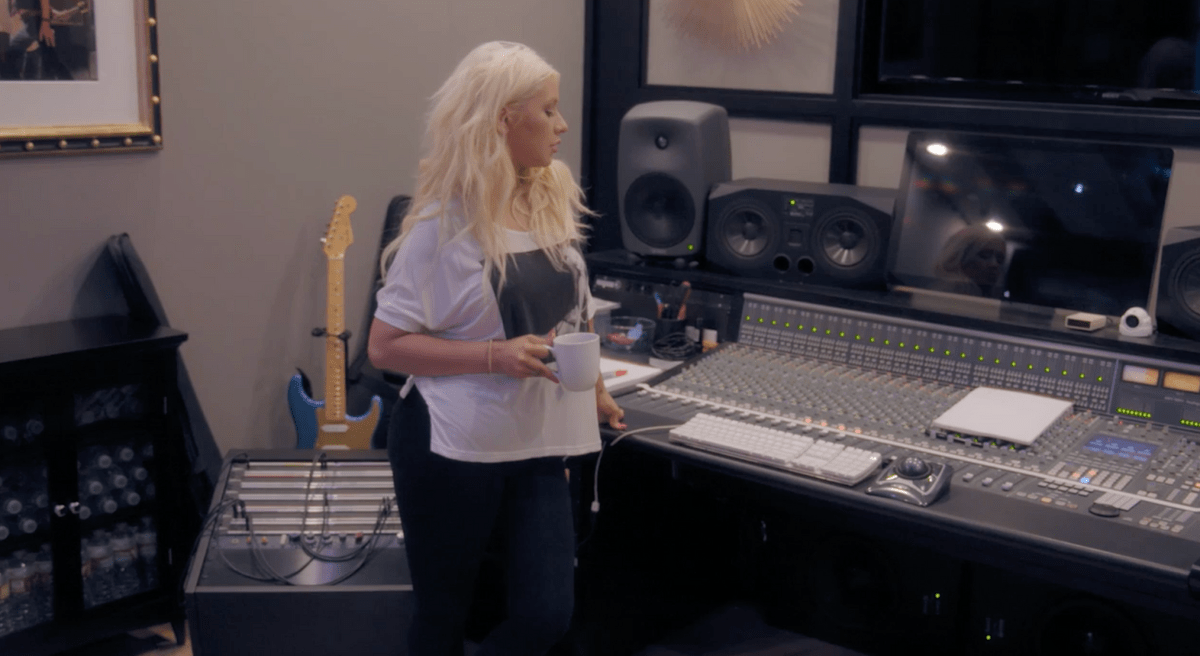 Christina Aguilera is very upfront about what a bad idea this is.
In the early stages of this MasterClass, she talks a lot about the importance of warm-ups and getting your throat ready to sing. She also goes into great detail about the various ways you can protect your vocal cords.
She then goes into a series of student feedback sessions, where she works with three aspiring singers and critiques them. Any aspiring singer can get a lot from this interactive exercise.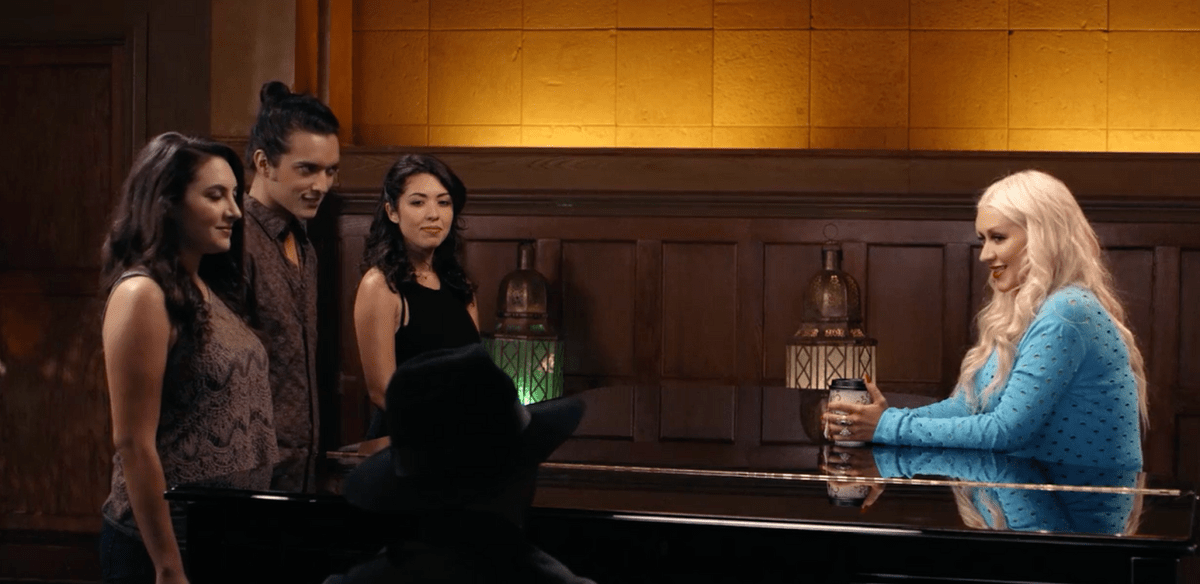 Christina moves on to a series of in-depth vocal lessons, covering a variety of topics. These lessons include chapters on diction, breath control, vocal range, vibrato, belting, and more.
The pop singer then talks about live microphones and studio microphones and the various ways you can use both. It's a fascinating exploration of the art of singing from top to bottom.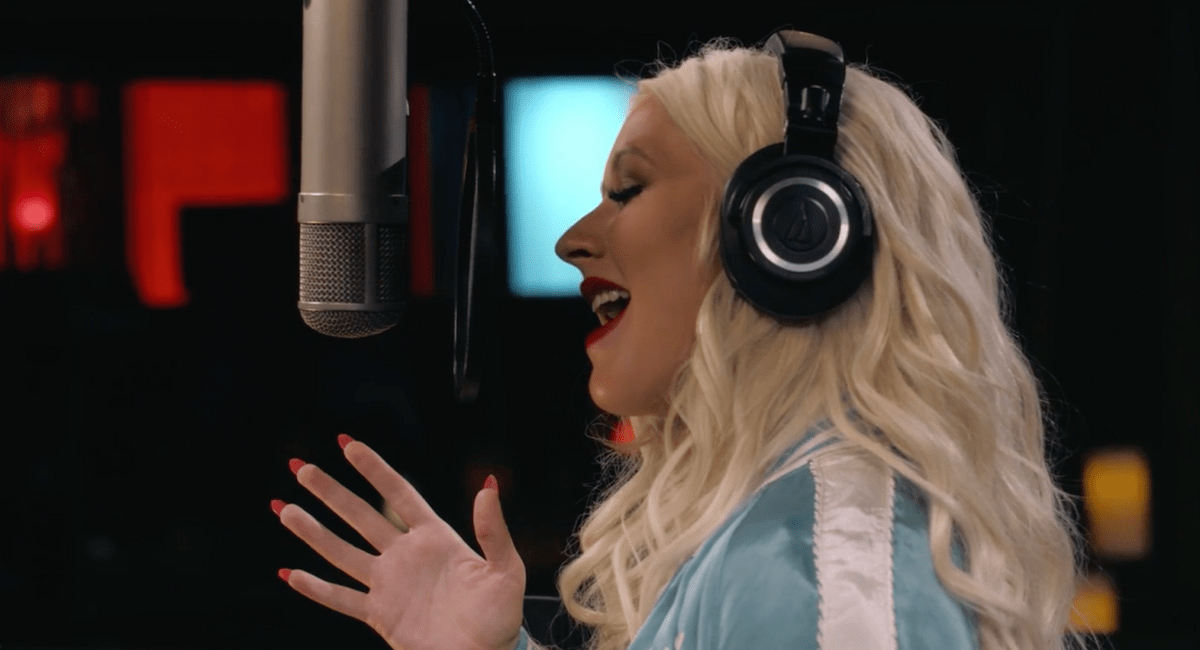 There are even sections on duets, coping with performance anxiety, and so much more.
If I could nitpick a bit, I would have liked to hear more about her songwriting process and approach to landing gigs as a professional artist. That's something Reba McEntire covers extensively in her MasterClass, though it's an entirely different genre.
What I learned
I've learned the hard way that singing can be grueling. I'm a trained singer who has performed twice in New York City's Carnegie Hall. When I was in high school trying to belt out every high note in existence, I wish I could have had a resource like the Christina Aguilera MasterClass.
It would have saved me a lot of sore throats.
But aspiring singers today can take advantage of this memorable course and use it to catapult their music careers.
Here are some takeaways that I was able to pull from this MasterClass.
8 takeaways from this MasterClass
1. Emotion powers music:
Christina believes that without the hardships she suffered in her upbringing, she wouldn't be the singer that she is today. Events that make you feel deeply and even painfully give you the gut-ridden soulful place where powerful music is born.
2. Your vocal cords work like any other muscle in your body:
You can train your vocal cords to get stronger. You can work them out and make them powerful. However, you can also overtrain them and injure them, so you have to find the delicate balance and not overdo it. Overstraining can lead to overexertion and weakness.
3. You can warm up without singing:
Keeping with the analogy of your vocal cords being like a muscle, you have to warm them up before strenuous use like a runner has to stretch before a marathon. Warming up doesn't always have to be scales and singing. You can exercise the muscles of your throat to duplicate how they react when you sing in order to warm up silently.
4. It's easy to blow out your voice before a performance:
When you're vibing with the band or the sound crew, it's easy to blow out your voice just by doing a soundcheck. It's important to mark it in these moments so that you don't deplete yourself before it's time to go on stage. When you've saved up your stamina and energy for the show, it will pay off in the end.
5. Record while you rehearse:
It's important to record while you're rehearsing because what something sounds like to you sounds totally different to other people. By listening back to your rehearsals, you might realize something you thought was amazing was actually mediocre — and something you hated was actually genius.
6. You need to have a relationship with rhythm:
Rhythm is a natural sensibility. It all comes down to timing. One of the best ways to develop a strong sense of rhythm is to work with a drummer. Rhythm boils down to a feeling and a gut reaction. It's all internal.
7. You have to figure out your microphone:
The way that you hold your mic will dictate how you sound to an audience. The way a singer holds the mic is very personal to them. You have to listen to the differences in how you sound when working a microphone. If you're singing softly, then hold it close. If you're going to belt, then pull it away.
8. You have to feel comfortable in your studio:
Put things in your studio space that can make you feel comfortable, warm, and reflective. It's your creative space and should reflect you in that way. Christina once wore red lipstick for every recording session for a specific album because it helped her get into the right headspace.
See what you can learn from the Christina Aguilera MasterClass
Memorable quotes from this MasterClass
"I don't believe in a rulebook. I don't believe in a rulebook for anything in life. I think that everything is based on your instinct and your guy."

– Introduction
"Had I not gone through a rough background, I'm not sure I'd be the singer I am today."

– Christina's Inspiration
"A singer's relationship with rhythm is like a dance. There are so many different styles of rhythms and tempos."

– The Beat
"As soon as I hit the stage and I begin to sing and connect with that audience, the nerves definitely dissipate, and I just become one with what I'm doing."

– Performance Anxiety
"Putting a lot of pressure on yourself can be a real disadvantage."

– Advice for Artists
"A moment is a moment. Don't get stuck in a moment. Move on, keep trudging on, and do your thing. Own your moment."

– Closing
Christina Aguilera MasterClass pros and cons
Before you drop money on a MasterClass membership, let's examine some of the pros and cons of the Christina Aguilera MasterClass.
Pros
I liked many aspects of this course a lot, like how she shows you how her techniques work in action by working with students.
She sings a lot throughout the class
Walks you through the warm-up process
Student spotlight segments
Teaches technical information like microphone volumes
Uses her own songs for case studies
Cons
It wasn't all sunshine and roses, however. I did notice a few downsides as well:
She has a tendency to ramble when she speaks
Almost nothing on her songwriting process
MasterClass Hub was fairly dead
Do I recommend this MasterClass?
I would recommend this MasterClass to anyone who has an interest in becoming a better singer.
Aguilera brings passion, experience, and compassion to the teaching process and really breaks healthy singing down into an easy-to-understand online course.
I think that if you enjoy singing in any way, whether in a church choir, community theater, or fronting a band, you can get a lot out of the Christina Aguilera MasterClass.
MasterClass has 20+ courses on singing, music production, songwriting, guitar playing, DJing, and more. With an active subscription, you can try yourself in different subjects and genres before niching down.