Have you ever wondered how one goes from being a locally known DJ to gathering stadiums of fans? Well, now you can find that out from deadmau5 or Armin Van Buuren themselves. That's right, you can learn from these and other legendary musicians, singers, producers, and DJs online, with the help of MasterClass.
If your goal is to adopt a growth mindset and pursue a career in the music industry, you'll love MasterClass music courses. The platform managed to do the impossible — they convinced over 20 top artists to reveal their professional secrets and turn their experience into snackable, intuitive lessons for beginners.
Currently, you can learn songwriting, singing, production, beat-making, guitar playing, and more on MasterClass. We've picked the ten most exciting music MasterClasses for our review.
Disclosure: These reviews are reader-supported. We might earn a small commission if you purchase something through our site. Learn more
Our Verdict
MasterClass is a fantastic choice if you're interested in pop music or other mainstream genres and want to learn from the best in the industry. We highly recommend you check out the full scope of the 20+ music courses MasterClass has to offer — you're likely to see your favorite artist among the teachers.
MasterClass Review
Learn from the Best
PROS
Affordable pricing
User-friendly platform
Features celebrity instructors
Easily refundable
High quality content
Bonus materials
CONS
No free trials
No reviews within the platform
Heavily geared towards creatives
In this MasterClass review, you'll learn:
A few frequently-asked questions…
Do I need a subscription to access this course?
You need to purchase a single MasterClass subscription to access all of the courses on the platform, regardless of the subject.
By signing up for one of these quality subscription offers, you'll get access to the 180+ courses MasterClass offers in several categories, ranging from cooking, baking, interior design, photography, writing, makeup, poker, and even negotiation.
How long is the MasterClass?
MasterClasses are somewhere between two and eight hours long, divided into short lessons for better comprehension. On the other hand, MasterClass Sessions are for a more hands-on learning experience — they include 30 days worth of content, but you can also complete them at your own pace.
Does MasterClass have a cancellation policy?
You can get your money back within 30 days if you're unhappy with the course.
Which online course is best for music making?
MasterClass contains 20+ courses on singing, music production, songwriting, guitar playing, DJing, and more. With an active subscription, you can try yourself in different subjects and genres before niching down.
What are the advantages of learning music making on MasterClass?
The platform is heavily geared towards creatives, and the Music section is especially full, with over 20 absolute stars presenting their exclusive online classes. This is as close as it comes to having Metallica over for a personal workshop.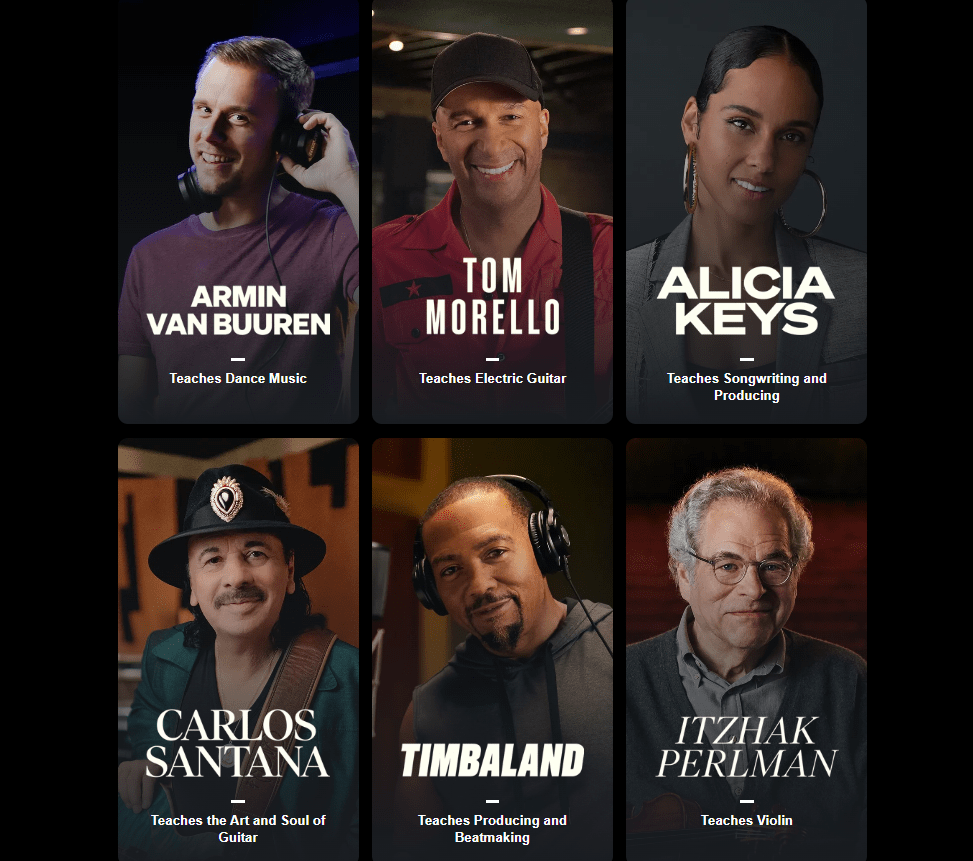 But emotions aside, let's focus on the practical advantages of the platform. Here's why MasterClass is worth a try:
Unique experience. You get to learn from famous performing musicians and accomplished artists with real audiences, not from random YouTube creators with little stage experience.
Unbeatable content. MasterClass invests a lot of effort and money into its production, and as a result, you can enjoy visually superb and absurdly intuitive content.
Sense of community. You won't feel isolated when learning from home — connect with other MasterClass users and exchange your projects, thoughts, and ideas.
Theory and practice. Use downloadable materials for practicing in your free time.
Reasonable pricing. If you look around, you'll find out that many other eLearning platforms charge similar prices, but are nowhere near MasterClass in terms of their content.
To sum up, the platform has a lot to offer, and there's something for everyone, as you'll see in the following sections.
1. Alicia Keys Teaches Songwriting and Producing
Runtime: 3 hours 22 minutes
Course value: 5/5
Lessons: 19
Supplementary materials: Downloadable workbook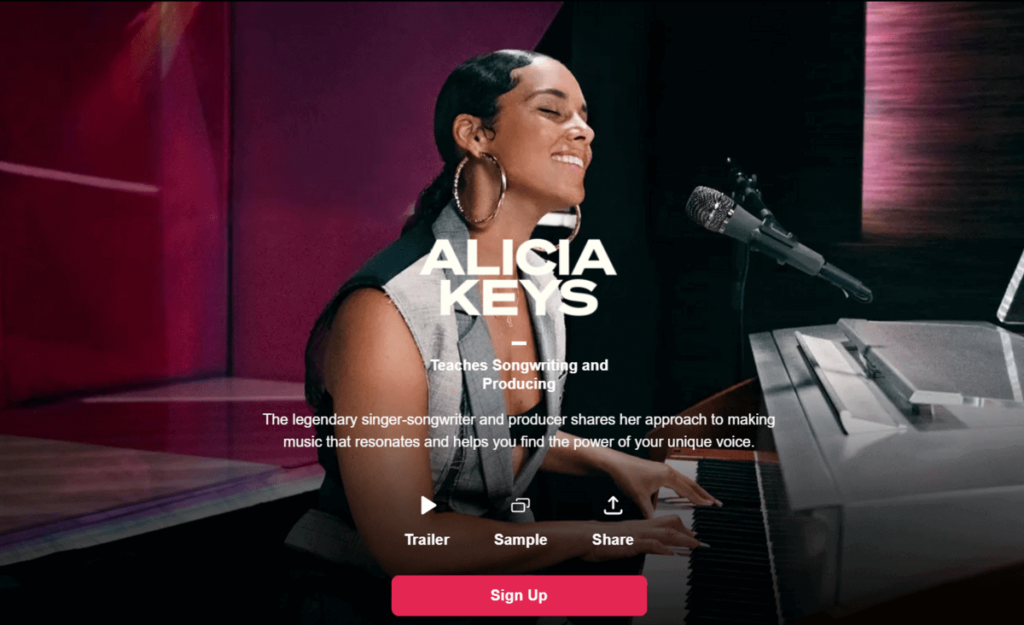 Alicia Keys is a legendary singer, songwriter, pianist, and producer who has won 15 Grammys. Her MasterClass offers a unique look behind the scenes — you'll see Alicia Keys in a studio, warming up, creating, recording, and explaining how her iconic sound comes to life.
In this course, Keys teaches you how to tap into your emotions while creating music and what it means to write songs with empathy. She shares her sources of inspiration and reveals her methods of developing lyrics and music production.
You'll learn how journaling can help you write moving, personal songs and how to develop your own signature sound. This course is best suited for people who've had some vocal training and are familiar with basic music terminology.
2. Timbaland Teaches Producing and Beatmaking
Runtime: 3 hours 2 minutes
Course value: 5/5
Lessons: 15
Supplementary materials: Downloadable workbook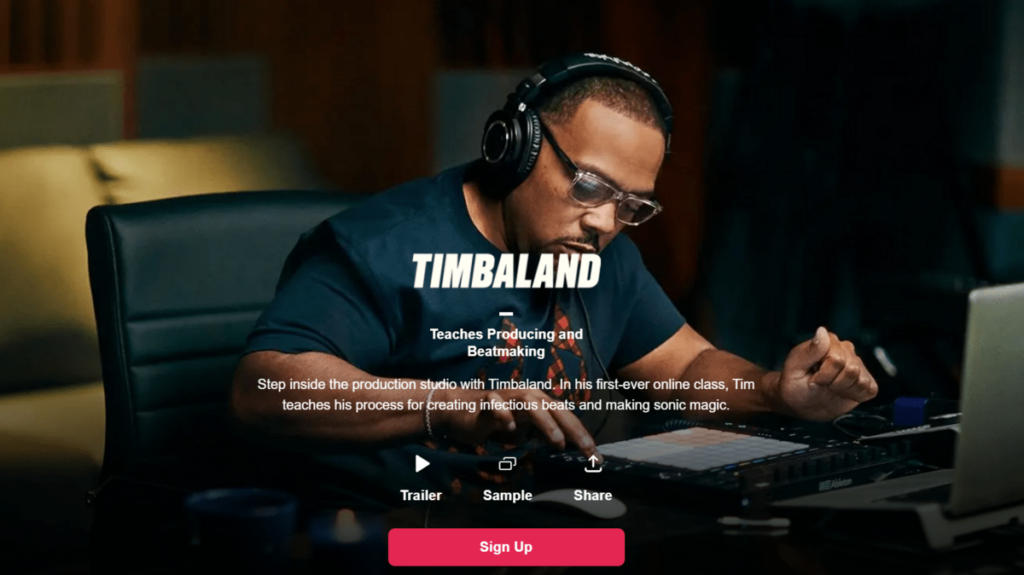 Timbaland Teaches Producing and Beatmaking is for those who dream about writing catchy tracks and sick beats but struggle to get creative juices flowing. You'll see how Timbaland creates his contagious, fantastically danceable beats out of thin air, using a basic setup.
The legendary producer from the Y2K era, Timbaland single-handedly changed the rules of R&B music by coming up with his signature "stuttering" sound, which brought him 4 Grammy awards.
This course can help you step into Timbaland's studio and better understand how to:
Start with a simple loop and add harmony, melody, and texture to it
Establish your own production workflow
Collaborate with producers and engineers
Play around with vocal samples
Add contrast to your tracks to keep them interesting
Write a "sticky" vocal melody
The MasterClass is targeted at bedroom producers who have at least a basic recording setup at home, but professional musicians are also likely to enjoy it.
3. Herbie Hancock Teaches Jazz
Runtime: 4 hours 23 minutes
Course value: 5/5
Lessons: 25
Supplementary materials: Downloadable workbook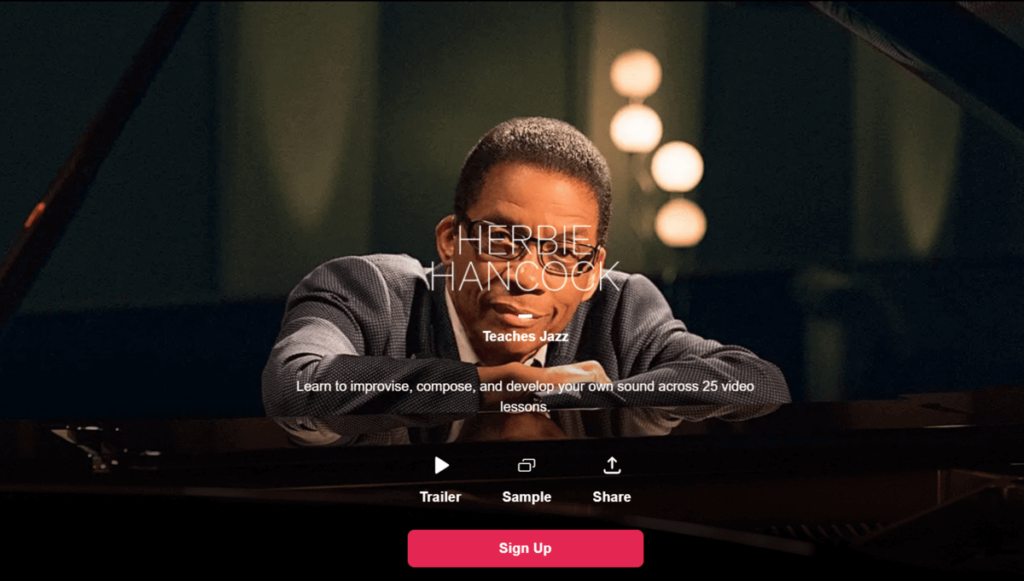 Herbie Hancock Teaches Jazz gives you a chance to learn jazz piano from Herbie Hancock, one of the most celebrated jazz pianists and composers, who was once part of the legendary Miles Davis Quintet. He helped reimagine the role of a jazz rhythm section and create the post-bop sound.
Here's what you can take away from the course:
The philosophy of jazz and why it's important to be present in the moment when playing
Hancock's approach to jazz improvisation and his favorite techniques
How to get better at jazz piano by playing along to the records you love
Piano fundamentals and warm-up exercises
Hancock's approach to composing and turning personal experiences into musical pieces
How to expand your harmonic vocabulary and play in unconventional and complex rhythms
This MasterClass isn't suitable for absolute beginners — ideally, you need to be somewhat proficient, be able to practice piano at home, and understand jazz terminology.
4. Hans Zimmer Teaches Film Scoring
Runtime: 5 hours 40 minutes
Course value: 5/5
Lessons: 31
Supplementary materials: Downloadable workbook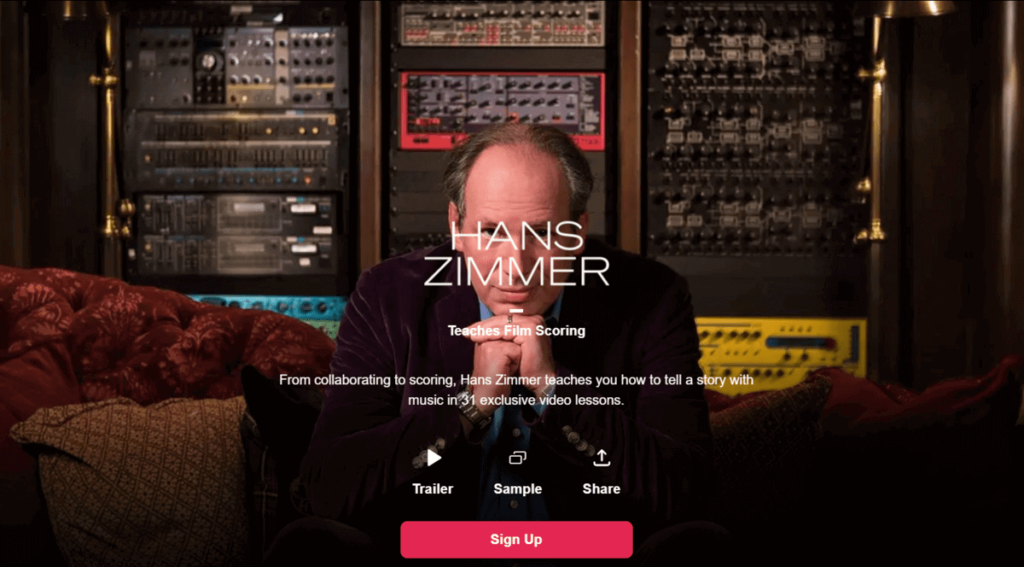 Hans Zimmer has scored over 150 films, including Inception and Dune. His MasterClass is a unique opportunity to learn how to tell mesmerizing stories with your music and create thrilling character themes.
In this MasterClass, Hans Zimmer describes his composing rules and shows how simplicity can be your friend when it comes to creating a theme. You'll learn how to use music to illuminate certain aspects of the film's story or add another dimension to it.
Hans Zimmer teaches you how to use synths to create captivating, otherworldly sound palettes and find the right tone for a complex character. If you're just getting into film scoring, you'll draw endless inspiration from this course.
5. Tom Morello Teaches Electric Guitar
Runtime: 5 hours 34 minutes
Course value: 5/5
Lessons: 26
Supplementary materials: Downloadable workbook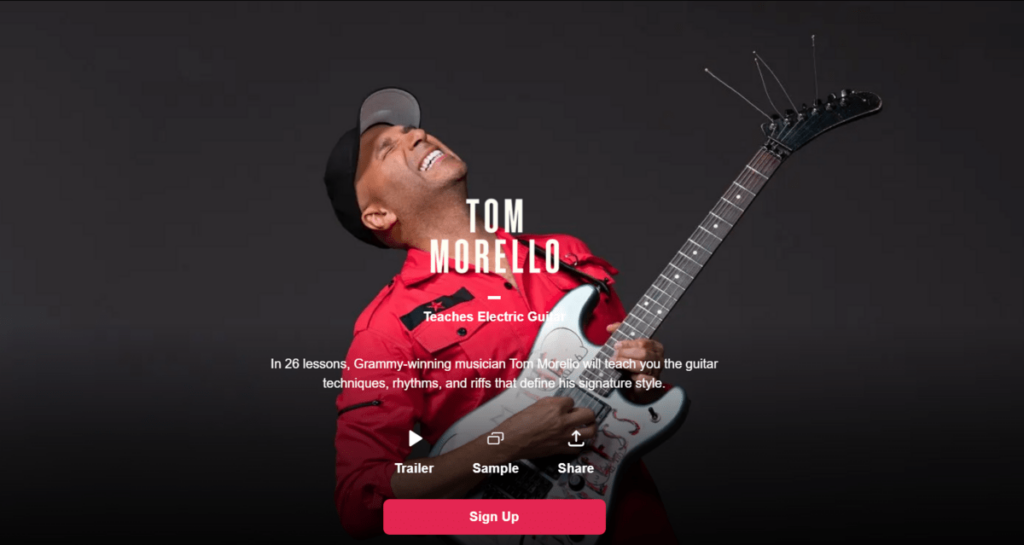 Tom Morello is a Grammy-winning guitarist, whom you may know from the bands Rage Against the Machine or Audioslave. In his MasterClass, he teaches you the guitar techniques, rhythms, and heavy riffs that make up his iconic style.
In the course, Tom explains the pentatonic scale and the blues scale and shares his improvisation techniques. The MasterClass will help you understand how to create a diverse collection of sounds and effects using pedals and organize guitar noises you come up with. You'll also dive into songwriting and learn more about guitar gear.
The course is intended for beginner players.
6. deadmau5 Teaches Electronic Music Production
Runtime: 5 hours 24 minutes
Course value: 5/5
Lessons: 23
Supplementary materials: Downloadable workbook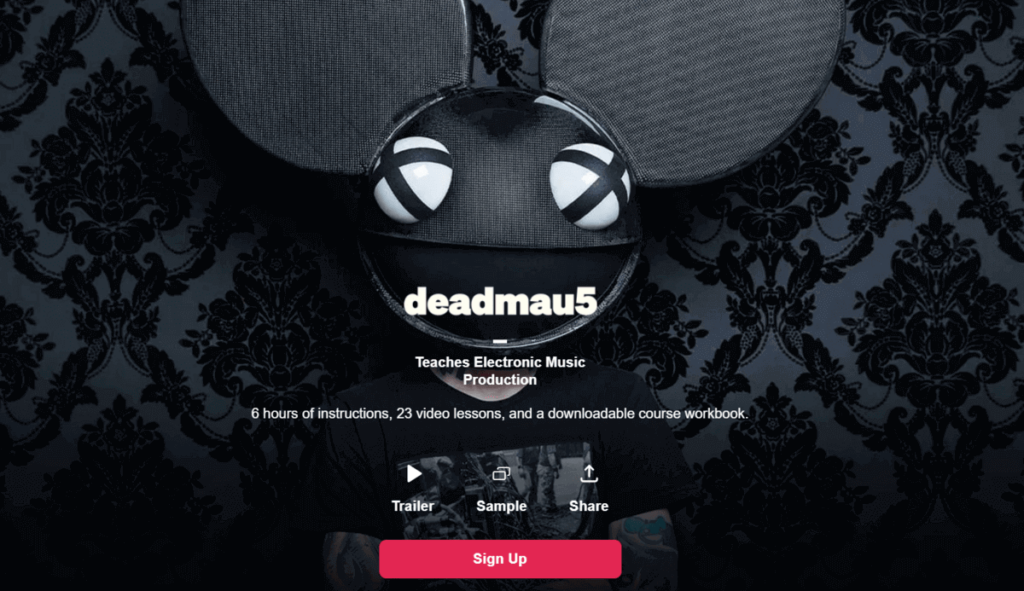 deadmau5, aka Joel Zimmerman, is a progressive house/trance artist known for his unique mixing style. deadmau5 Teaches Electronic Music Production will help you get to grips with electronic dance music (EDM) production and find your own style.
In it, deadmau5 shows you how to break away from generic sample packs and create unique sounds without relying on exorbitantly expensive gear.
The course is packed-full of information on how to:
Build your home studio from scratch
Allow yourself to goof around in the studio and get experimental things done
"Remove" yourself from your music to develop more abstract sounds
Make powerful tracks out of chaotic drafts and pieces
Develop melodic structures and turn them into full arrangements
Synthesize sounds and work with modular synths
Layer kick drum samples to produce irresistibly danceable tracks
Approach remixing someone else's music
Use effects and plugins and mix and master like a pro
This course is beginner-friendly — you can get away with Ableton and the most basic equipment.
7. Itzhak Perlman Teaches Violin
Runtime: 4 hours 13 minutes
Course value: 4/5
Lessons: 19
Supplementary materials: downloadable workbook
Itzhak Perlman is a virtuoso violin player. He performed at a State Dinner honoring Queen Elizabeth II and at President Barack Obama's inauguration. Now, you can learn from him directly by taking his MasterClass.
This class serves as a beautiful introduction to the violin and the intricate complexities of its sound. By the end of the course, you'll know more about:
The bow and its mechanics
Advanced bowing techniques
How to train your ear to identify notes
Vibrato and how it can enrich your playing
How to stay comfortable while playing
Different violin-playing styles
Practicing methods and warm-up exercises
Communicating with a conductor
For this course, you need to have the instrument as well as a space to practice.
8. Armin van Buuren Teaches Dance Music
Runtime: 6 hours 50 minutes
Course value: 5/5
Lessons: 33
Supplementary materials: Downloadable workbook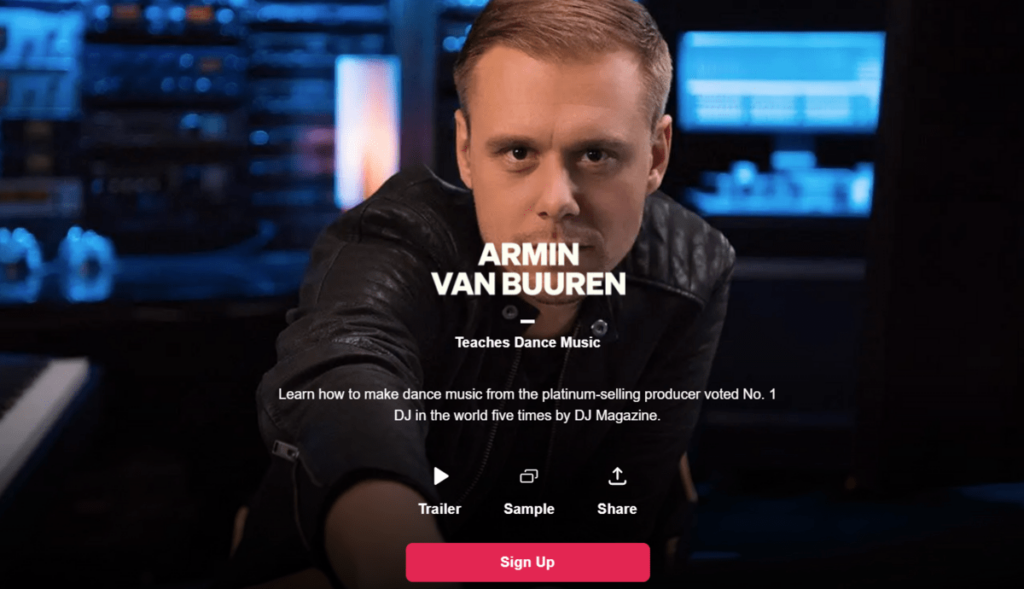 Is it your dream to make large crowds go crazy on the dancefloor? One way to get there is to learn from Armin van Buuren. He's one of the best DJs in the world, according to DJ Mag, and his name is now synonymous with trance, although he's also producing other EDM genres.
Here is what he teaches you in his MasterClass:
Songwriting and ideation
Recording vocals
Creating build-ups and powerful drops
Mixing and mastering
Editing and mashups
Preparing killer DJ sets
Reading and empathizing with the crowd
During the MasterClass, Van Buuren describes his DJ career path and explains how to keep pushing when it feels like no one is interested in your music. For this class, you will need a DAW, a MIDI keyboard, and speakers.
9. Carlos Santana Teaches the Art and Soul of Guitar
Runtime: 3 hours 14 minutes
Course value: 5/5
Lessons: 16
Supplementary materials: Downloadable workbook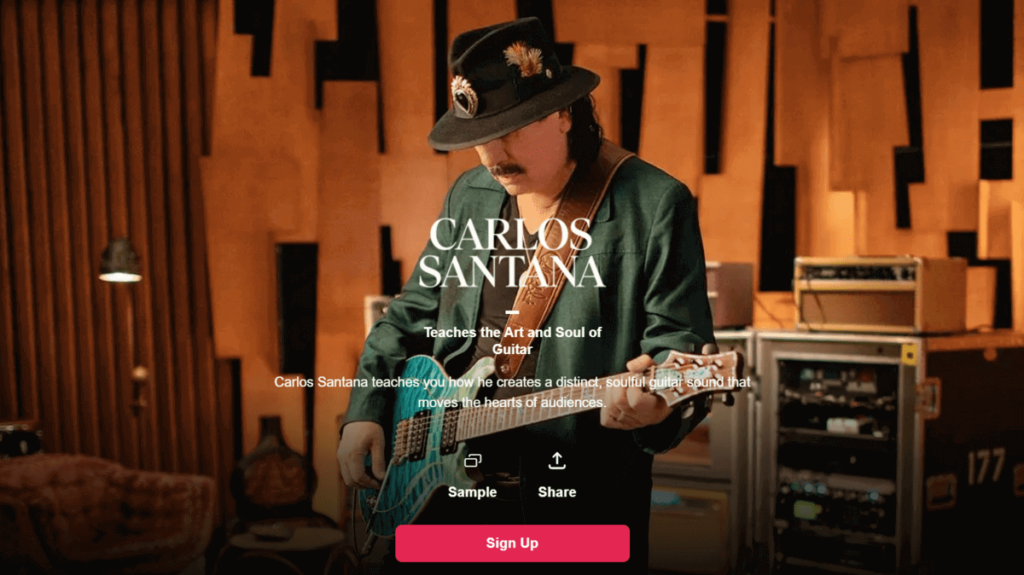 Carlos Santana is a guitar virtuoso whose rich, passionate playing style with long, sustained notes has influenced generations of other musicians. In this MasterClass, he shows how his unique sound is born.
The core idea of the course is to encourage musicians to think beyond the Western notion of classical music. You'll learn blues guitar playing and songwriting techniques for creating moving, hypnotic pieces. Carlos Santana also teaches you how to incorporate less conventional rhythmic traditions into your music and draw inspiration from your surroundings.
You'll enjoy this MasterClass if you already have some experience playing guitar and can navigate between various playing styles.
10. Metallica Teaches Being a Band
Runtime: 2 hours 45 minutes
Course value: 4/5
Lessons: 15
Supplementary materials: Downloadable workbook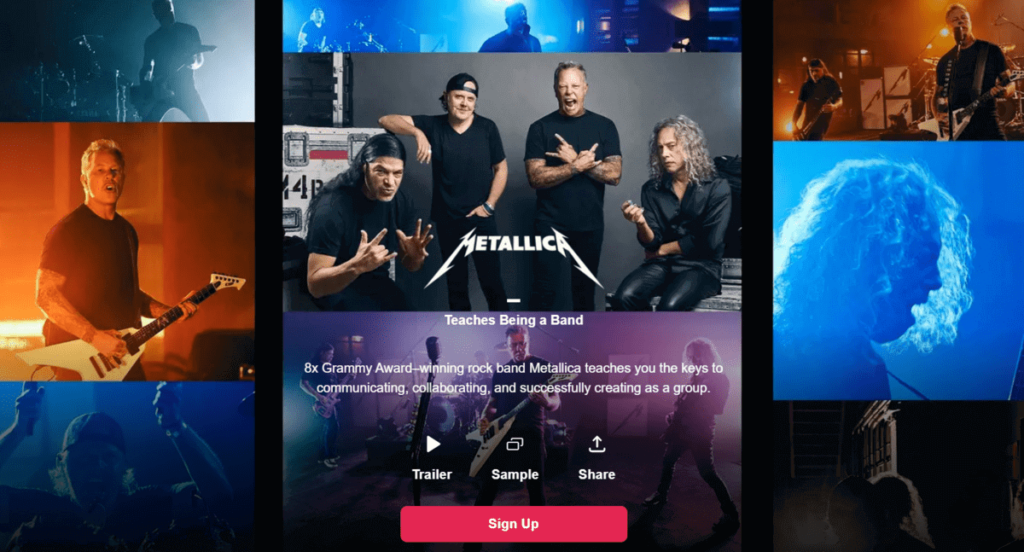 Metallica Teaches Being a Band is of a different kind.
In it, the Grammy-winning rock band Metallica teaches you how to create, communicate, take risks, and grow together as a band. The course will give you clarity on how to shape your creative journey and build a solid basis for success. That said, you'll also pick up new performance techniques and improvisation tricks.
Here's a quick overview of what you'll learn:
How to approach songwriting in a professional but fun way
What makes certain songs successful and how to recognize if your new piece has potential
How to deal with egos, navigate conflicts, and give criticism
Why you need to build long-lasting relationships with your fans early on
How to find your place within the song as a bass player
How to create a balanced, complete album together
Why you shouldn't give your work away for free
If you're planning on creating your own project or already have a band, this course is for you.
Wrapping up
MasterClass is a fantastic choice if you're interested in pop music or other mainstream genres and want to learn from the best in the industry. We highly recommend you check out the full scope of the 20+ music courses MasterClass has to offer — you're likely to see your favorite artist among the teachers.
Start your membership today and see it for yourself! The subscription is risk-free since the platform offers a 30-day money-back guarantee.