I'm no music pro, but I've been dabbling in various instruments and writing songs for fun since I was a kid, so taking a class about composing film music intrigued me.
But I have to admit that I went into this MasterClass without realizing just how big Hans Zimmer really is.
I soon realized that I'd heard many of his compositions before. And if you've seen any movies between the 1980s and today, you probably have, too.
Just a few highlights of his film scoring career include Thelma & Louise, Interstellar, The Dark Knight, Gladiator, and The Lion King — likely candidates for anyone's top-10 movie list.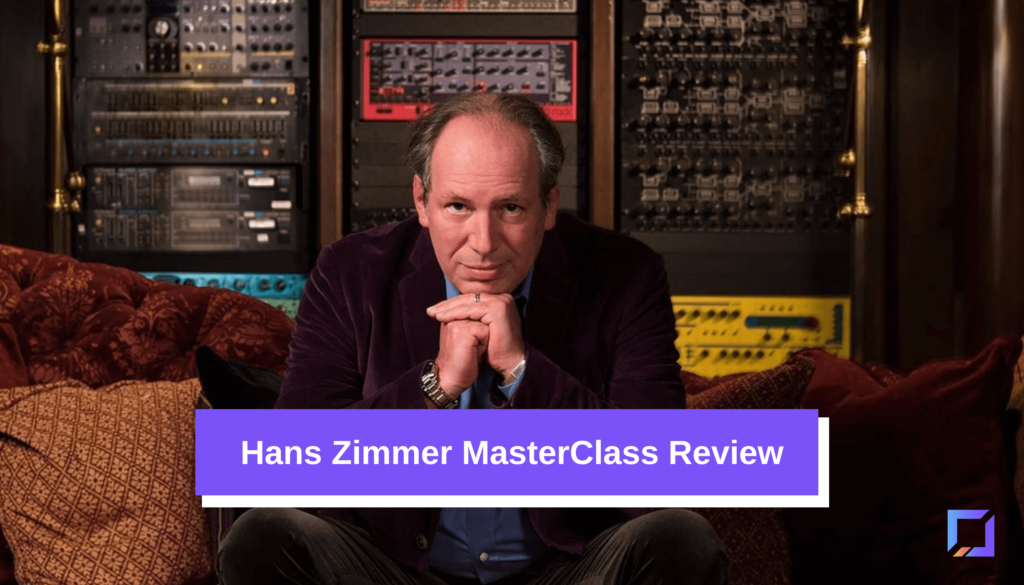 It's exciting that someone at Hans Zimmer's level teaches a MasterClass that anyone can take. But film composing is a complex topic. Can you actually learn anything valuable in under six hours?
And who should take the class — established composers or newbies?
Keep reading to find out.
In this review, I'll break down exactly what Hans Zimmer's MasterClass has to offer, including the cost, curriculum, and major takeaways.
Disclosure: In the interest of full transparency, Codeless uses affiliate links in our MasterClass reviews to cover our site's costs.
Our Verdict
Yes, I recommend Hans Zimmer's MasterClass! Hans Zimmer is a true master of his craft, and this course gives you insight into how his mind works.
Hans Zimmer's MasterClass
Learn how to compose music for films
PROS
A chance to learn from one of the most successful film composers of all time
Includes real case studies from famous films
Hans Zimmer's passion for music is evident and contagiousclips from training sessions
CONS
The course is more about concepts than practical tips
Not enough examples outside of the case studies sections
In this MasterClass review, you'll learn:
A few frequently-asked questions (FAQs)
Before we dive into the MasterClass review, here are a few answers to the most frequently asked questions about Hans Zimmer's MasterClass.
Do I need a subscription to access this course?
Yes, a MasterClass subscription is required to take the course. The subscription also gives you access to over 180+ other classes taught by experts in several categories, ranging from cooking, baking, interior design, photography, music, writing, makeup, poker and even negotiation.
Does MasterClass have a cancellation policy?
Yes, you can cancel the auto-renewal of your MasterClass subscription at any time. If you cancel within 30 days of signing up for MasterClass, you can get a full refund.
Is the Hans Zimmer MasterClass worth it?
Absolutely. Hans Zimmer is one of the most accomplished film music composers of all time, and this course gives you a unique look into how he works. Beginners and experts alike can learn something from this MasterClass.
Learn how Hans Zimmer composed the Jack Sparrow theme music.
About Hans Zimmer
Hans Florian Zimmer is a German composer who has written music for over 150 films.
He's won many awards, including an Academy Award for The Lion King, two Golden Globes, four Grammys, and a Lifetime Achievement Award from the National Board of Review.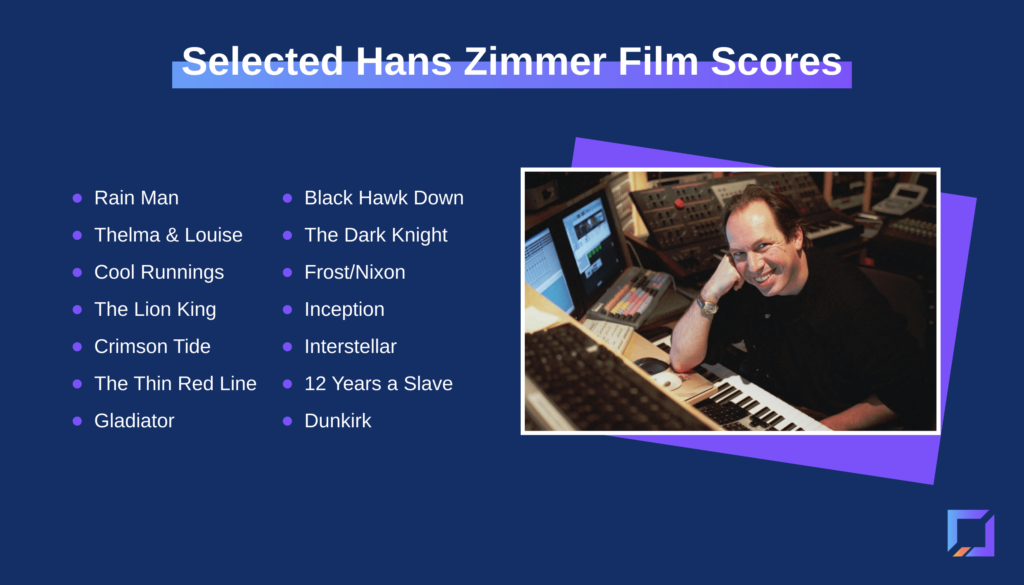 He also has a star on the Hollywood Walk of Fame and an asteroid named after him (Hanszimmer).
Zimmer started making music with computers in the 70s and is known for integrating electronic sounds with traditional orchestral music.
Before his film career took off, Hans Zimmer played with a few bands, including The Buggles. Look closely, and you can see him in the music video for their biggest hit, Video Killed the Radio Star.
How much does Hans Zimmer's MasterClass cost?
To take the Hans Zimmer MasterClass, you need a MasterClass membership, which costs $180 a year for the Standard plan.
The price tag offers more than just this class — it gives you access to over 180+ courses taught by experts in their fields. For example, you can learn from Alicia Keys, Herbie Hancock, or Werner Herzog with the same membership.
For the ability to download the courses or watch them on multiple devices simultaneously, you need a Plus or Premium plan.
Plus lets you use two devices for $240 per year, and Premium allows up to six devices for $273 per year.
Unlock the Hans Zimmer MasterClass with a membership.
What is included in the Hans Zimmer masterclass?
Runtime: 5 hours 40 minutes
Course Value: 4.3/5
Lessons: 31
Supplementary materials: Student workbook and discussion forum
Supplementary workbook
The Hans Zimmer MasterClass comes with a 55-page downloadable PDF workbook. The workbook includes summaries of each lesson, recommendations for further reading, listening, or watching, and various assignments.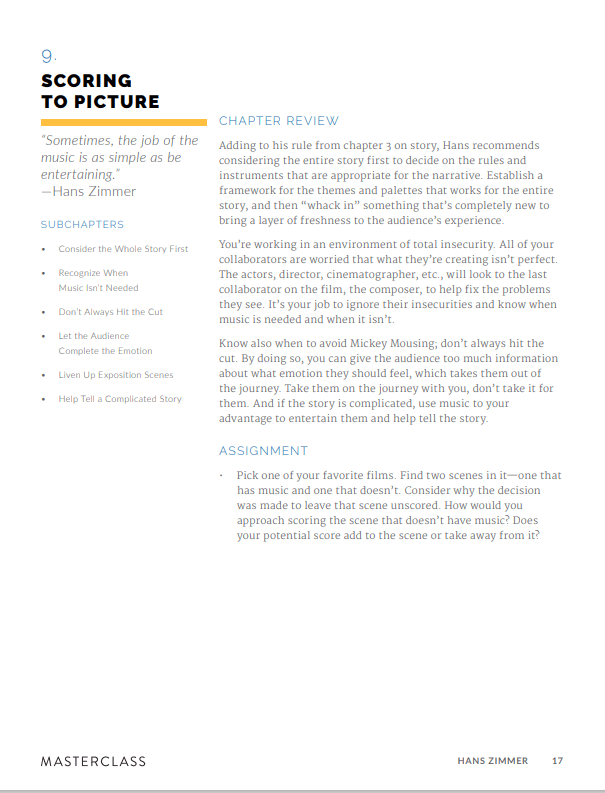 While the video lessons are suitable for all experience levels, the workbook expects a little more from students.
For example, the assignment for lesson 8 is to "Pull out your synthesizer and prep your palette. Pick your favorite synth and create a cue based on a patch you produce from scratch. Compose a three-minute-long track."
Nothing in the MasterClass prepares you to do this. However, if you're an ambitious beginner, the workbook does share a link to a guide to using a synthesizer.
The MasterClass Hub
Every MasterClass has a community discussion forum for students to discuss the course and related topics.
In the Hans Zimmer forum, students discuss Zimmer's advice and their own experiences. Several have shared compositions they wrote based on the assignments in the course workbook.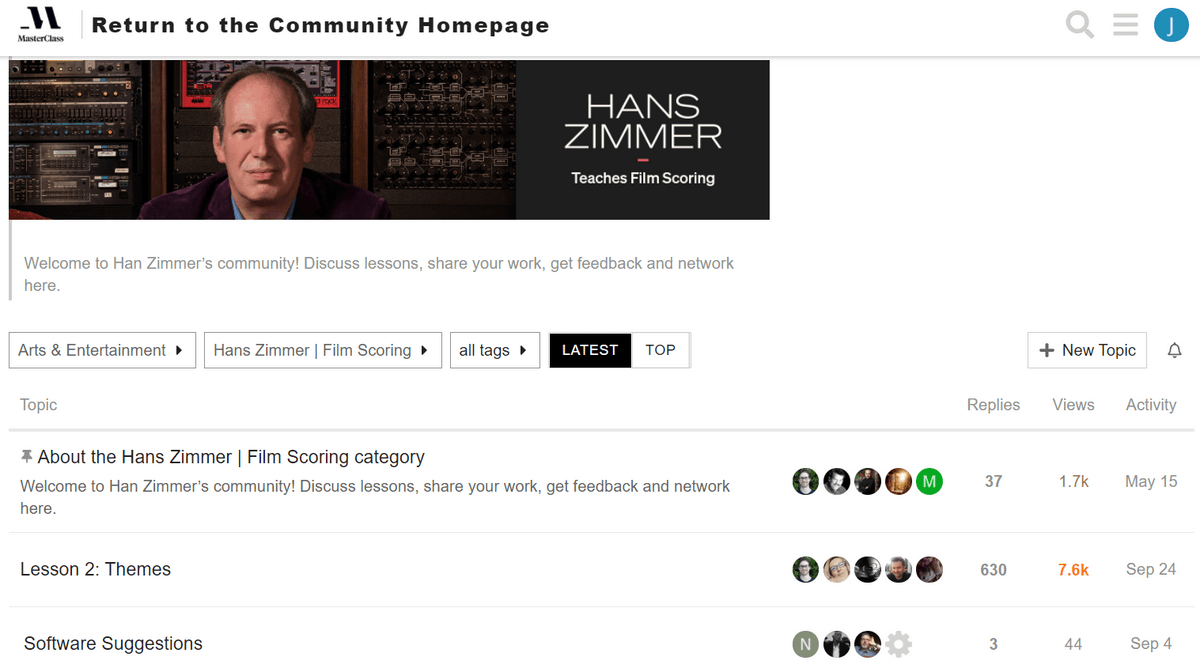 As you can see, it's not brimming with activity, but the threads are worth reading.
A complete breakdown of the Hans Zimmer MasterClass curriculum
Hans Zimmer's MasterClass consists of 31 lessons that range from two to twenty-four minutes long.
The complete list of lessons is as follows.
Curriculum:
Introduction
Themes
Story
Directors: Part 1
Directors: Part 2
Directors: Part 3
Sound Palettes
Creating with Synths
Scoring to Picture
Scoring Under Dialogue
Tempo
Tempo: Sherlock Holmes Scene
Music Diary: Sherlock Holmes
Character
Character Theme: Batman
Character Theme: The Joker
Character Theme: Jack Sparrow
Case Study: Frost/Nixon
Case Study: The Dark Knight
Working with Musicians
Working with Musicians: The Orchestra – Part 1
Working with Musicians: The Orchestra – Part 2
Feedback & Revisions
Audience Feedback
Writing Tips: Part 1
Writing Tips: Part 2
Hans' Journey
Learning by Listening
Life of a Composer: Part 1
Life of a Composer: Part 2
Closing
Course summary:
Before I started this course, I wondered who the intended audience was — experienced film composers? Total novices?
As someone with a strong knowledge of music but no clue about filmmaking, would I get anything out of the class?
I'm still not entirely sure who the target audience for the Hans Zimmer MasterClass is. However, I think there's something in it for all of us.
Here's what the course is not: a film scoring how-to. Zimmer does not talk in-depth about music theory or the technical aspects of composing. When he shows us entries in his 'music diary' for a film, he doesn't explain precisely how he created each snippet of music.
It's also not a guidebook for launching a career as a composer. When Zimmer discusses how to get into film scoring, he talks about being passionate and working hard, not tactics for actually getting your first gig.
Instead, this Masterclass is all about Hans Zimmer's creative process. For example, he talks about which character traits he wanted to emphasize when he composed the theme music for the Joker.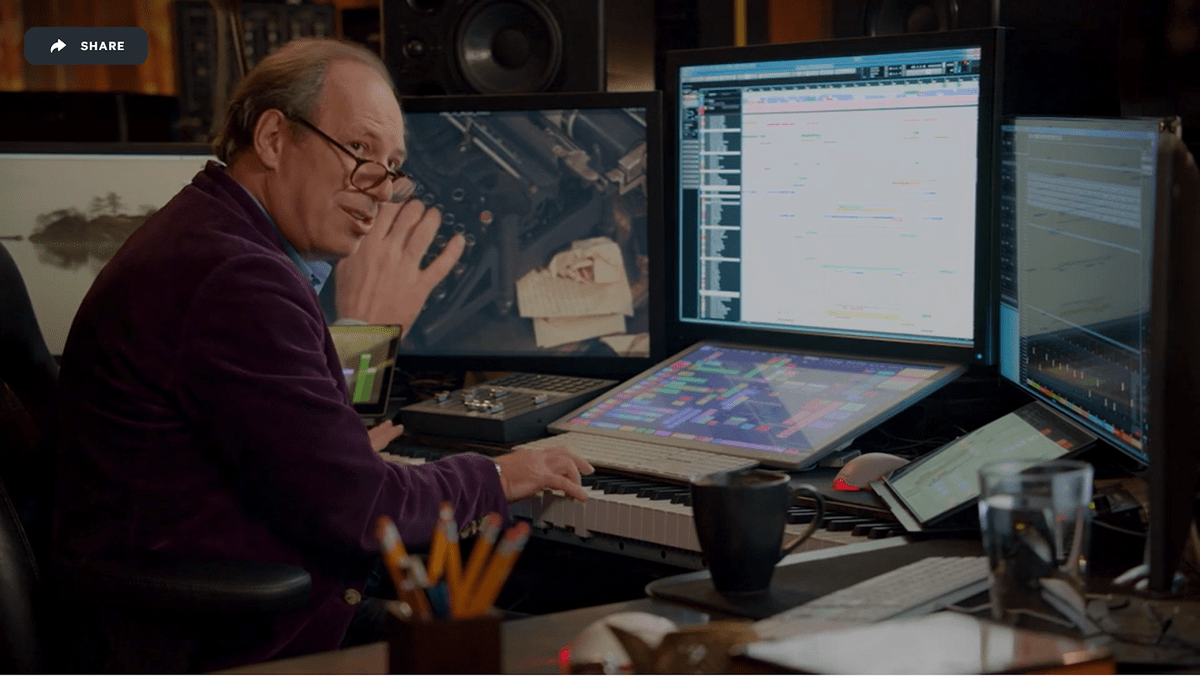 If you don't know much about music, there might be a few comments you don't understand. For instance, Hans briefly discusses why D major is his favorite key to compose in. But these moments are few and far between and not essential to the class.
You get the feeling Hans focuses on high-level concepts rather than specific instructions because he wants his students to find their own sound, instead of copying his.
The process of film scoring
The course takes you through the process of composing music for film.
Zimmer teaches us how he thinks about things like theme, story, and character. He shares insights on working with directors and musicians and creating unique sounds.
This class was enjoyable not just as an insider look into film music composition, but Hans Zimmer's deep love of the subject really shone through.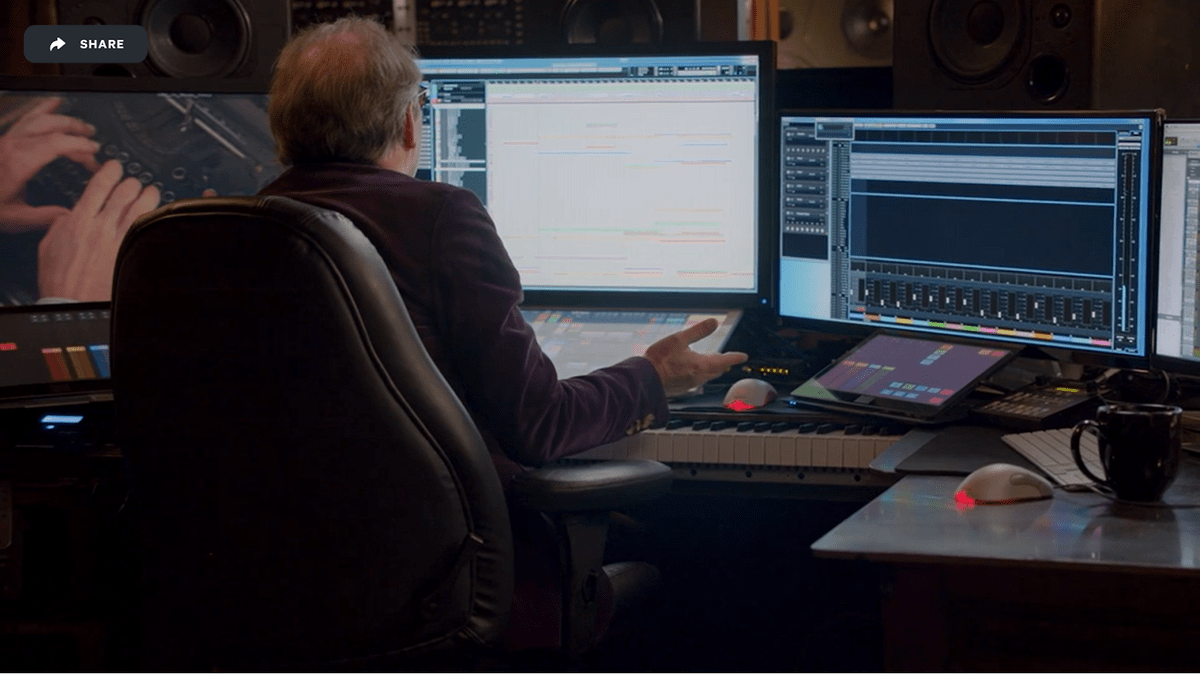 Case studies
For me, the most exciting part of this class was the case studies.
In these sections, Zimmer looked back at past films that he scored and talked about his thought process when he created the music.
For example, he discusses why he aimed to give his music for Frost/Nixon a breathless quality and why he chose to make Jack Sparrow's theme music both romantic and heroic.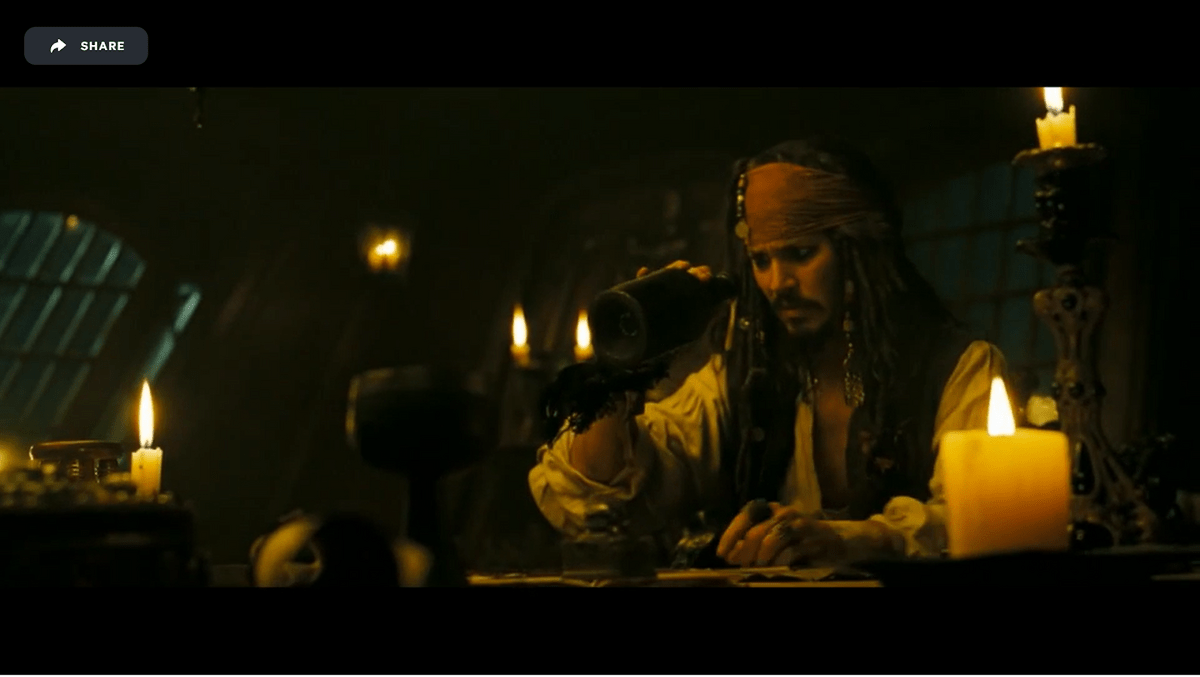 Overall the case studies were fantastic, but some may have been more impactful if interspersed throughout the course rather than a standalone lesson. A few times in the early videos, Zimmer described scenes and decisions he made without a clip to demonstrate.
What I learned
This course taught me a lot about the work of a film composer and how film scoring fits into the filmmaking process.
Here are my four main takeaways from Hans Zimmer's MasterClass
4 takeaways from this MasterClass
1. Film scoring is a collaborative process
Hans Zimmer talks about working with directors, individual musicians, orchestras, and film and music editors.
While I already understood that film scoring isn't a solo business, there were some things I hadn't thought through.
For example, Zimmer calls film editors the drummer of the film because their edits often determine the tempo the music should follow.
Also, before I watched the MasterClass, I imagined that film scoring worked something like this: the director finishes shooting the film and hands it over to the composer, who comes up with music for the background.
According to Zimmer, that's close to how it used to work. But the digital era changed everything. Now anything can change at any moment in time.
That means more cycles of feedback and collaboration before the film is complete.
2. Tech and classical music can co-exist
Mixing electronic and traditional music is a hallmark of Hans Zimmer's style.
In the class, he calls himself a synth geek and talks a lot about using electronic sounds in his compositions. He finds it exciting that you can use a synthesizer to create "truly wacky things."
But he's also passionate about working with live musicians.
He's not just interested in finding the most proficient musicians out there — he looks for individuals with a unique sound. For example, he tells a story about traveling to Slovakia to work with Roma violinists for Sherlock Holmes.
3. It's all about the story
Zimmer emphasizes that he's not composing a symphony or concert music. His music composition is there to help tell a story.
We all know that music can affect the mood of a film. But when Hans Zimmer composes a film score, he's thinking about a lot more than whether the scene is happy or sad.
For example, in the Batman case study, he talks about how part of his job is helping the audience suspend disbelief that a grown man would dress up in a Batman outfit. That's one reason Zimmer chose a theme with just two notes — it represents that Batman is stuck in one moment of his past and can't move forward.
4. Do the unexpected
That's a lesson for anyone doing creative work, not just composers.
Hans Zimmer consistently looks for a sound that's unique and adventurous. He's careful not to rehash old ideas — even his own.
When he sits at the keyboard, he doesn't allow himself to play until he has a new idea. Otherwise, muscle memory will take over, and he'll create something similar to his past work.
Learn how Hans Zimmer invented Gotham City's signature sound.
Memorable quotes from this MasterClass
"When we run out of words, and when we run out of beautiful pictures, we have to resort to this other language called music."

— Lesson 2, Themes
"At the end of the day, I can tell you everything you need to know in one word: story."

— Lesson 3, Story
"There are many, many horrible things you can say about Hollywood, and they're all true. But the amazing thing about film is that we're sort of the last place on Earth that, on a daily basis, commissions orchestral music."

— Lesson 7, Sound Palettes
"You try never to tell people what to think. You just try to make it possible for them to feel something."

— Lesson 24, Audience Feedback
Hans Zimmer Masterclass pros and cons
Even though I enjoyed the Hans Zimmer MasterClass, it does have some downsides.
You might be looking for a more technical class than this, so I've put that on the cons list. But of course, that might be a pro for other students.
I believe that people with any level of experience and interest in film composing can get something out of learning about Hans Zimmer's creative process.
Pros
A chance to learn from one of the most successful film composers of all time
Includes real case studies from famous films
Hans Zimmer's passion for music is evident and contagious
Cons
The course is more about concepts than practical tips
Not enough examples outside of the case studies sections
Do I recommend this MasterClass?
Yes, I recommend Hans Zimmer's MasterClass.
Hans Zimmer is a true master of his craft, and this course gives you insight into how his mind works.
If you have experience composing for film, you may not learn any new techniques from this class. But it's always valuable to see how someone at the top of your industry approaches the process.
If you're an aspiring composer, the course will give you some great ideas about how to work on scoring a film.
And if you're not a composer at all, I guarantee you'll listen a little more closely to the next movie you watch after taking the Hans Zimmer MasterClass.
MasterClass has 20+ courses on singing, music production, songwriting, guitar playing, DJing, and more. With an active subscription, you can try yourself in different subjects and genres before niching down.