What do you do when you need to refill your creative tank? You probably go to a museum or open a new book.
However, enjoying great works of art doesn't necessarily help you create your own. For that, you'll need to learn from the artists themselves. Luckily, MasterClass gives you such an opportunity.
If you want to develop and polish your writing skills, this platform might be your best choice. It contains over 20 courses taught by famous fiction authors, novelists, screenwriters, and poets. And when we say famous, we mean it. Can you imagine learning more about the craft of writing from Dan Brown himself?
Read on to find out everything about MasterClass writing classes: who they're for, the value they offer, and the writing genre explored. We've reviewed the 10 most prominent MasterClasses on writing to help you make an informed decision.
Disclosure: These reviews are reader-supported. We might earn a small commission if you purchase something through our site. Learn more
MasterClass Review
Learn from the Best
PROS
Affordable pricing
User-friendly platform
Features celebrity instructors
Easily refundable
High quality content
Bonus materials
CONS
No free trials
No reviews within the platform
Heavily geared towards creatives
In this MasterClass review, you'll learn:
A few frequently-asked questions…
Do I need a subscription to access this course?
Yes, you need to purchase a single MasterClass subscription to get access to all of their courses. The platform is growing, with new MasterClasses added every month, so you won't run out of fresh learning material.
By signing up for one of these quality subscription offers, you'll get access to the 180+ courses MasterClass offers in several categories, ranging from cooking, baking, interior design, photography, music, makeup, poker, and even negotiation.
How long is the MasterClass?
All MasterClasses are typically two to eight hours long, split into bite-sized lessons for better retention. If you're looking for more in-depth lessons, check out MasterClass Sessions — these are intensive 30-day online sprints, and they require a bit more practice and dedication than regular MasterClasses.
Does MasterClass have a cancellation policy?
You can get your money back within 30 days if you aren't satisfied with the courses, thanks to the 30-day satisfaction guarantee MasterClass provides.
Which MasterClass is best for writing?
There are over 20 powerful writing MasterClasses to choose from. Thankfully, with an active subscription, you can access all of them and learn at your own pace. With MasterClass, you can learn the art of storytelling through writing lessons on fiction, novels, thrillers, poetry, screenwriting, short-stories and more.
What are the advantages of learning writing on MasterClass?
To an inexperienced user, MasterClass may seem intimidating. All those professionals talking about their craft — how could you possibly relate to them or even understand them when they're obviously so advanced?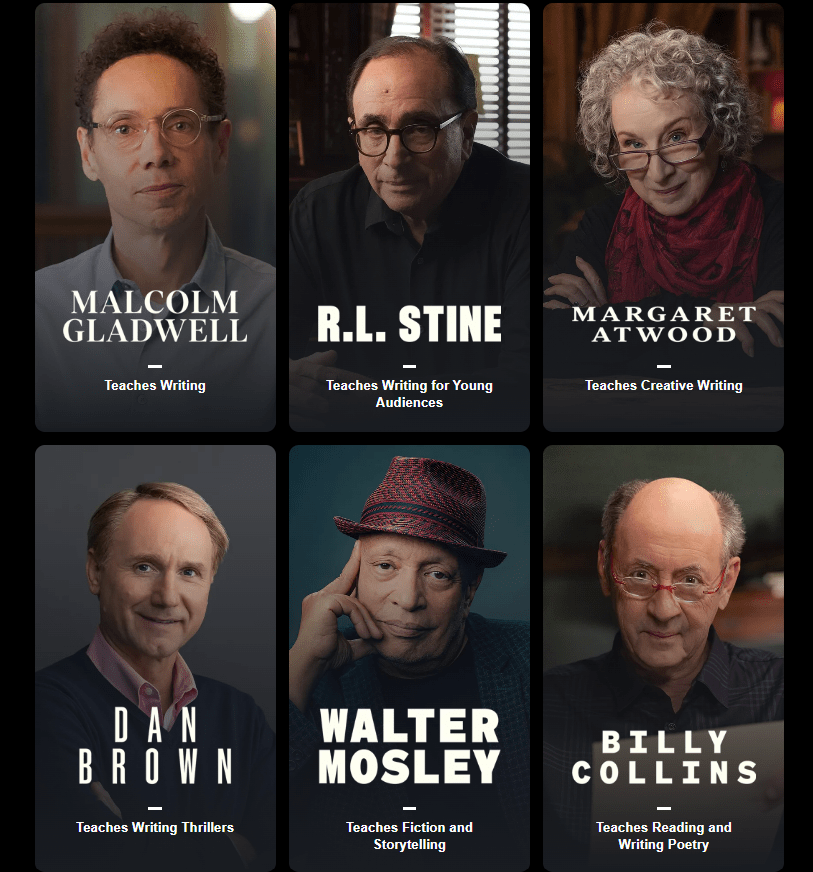 Not to worry, MasterClass is perfectly suited for writers of all levels. Here's why:
It's beginner-friendly. The bestselling authors and prominent thinkers of our time have turned their knowledge into digestible lessons even a 12-year-old can understand and enjoy.
It's fun to use. The premium-quality content on the platform is easily accessible and organized in the most intuitive way.
It's interactive. You can chat with other MasterClass users and track each other's progress.
It's practical. Each class comes with an in-depth downloadable workbook to help you practice what you've learned.
Now, let's take a look at some of the most impressive writing MasterClasses to find out what they teach and how they're structured.
1. David Sedaris Teaches Storytelling and Humor
Runtime: 3 hours 23 minutes
Course value: 5/5
Lessons: 14
Supplementary materials: Workbook with excerpts from David's diaries, writing tips and prompts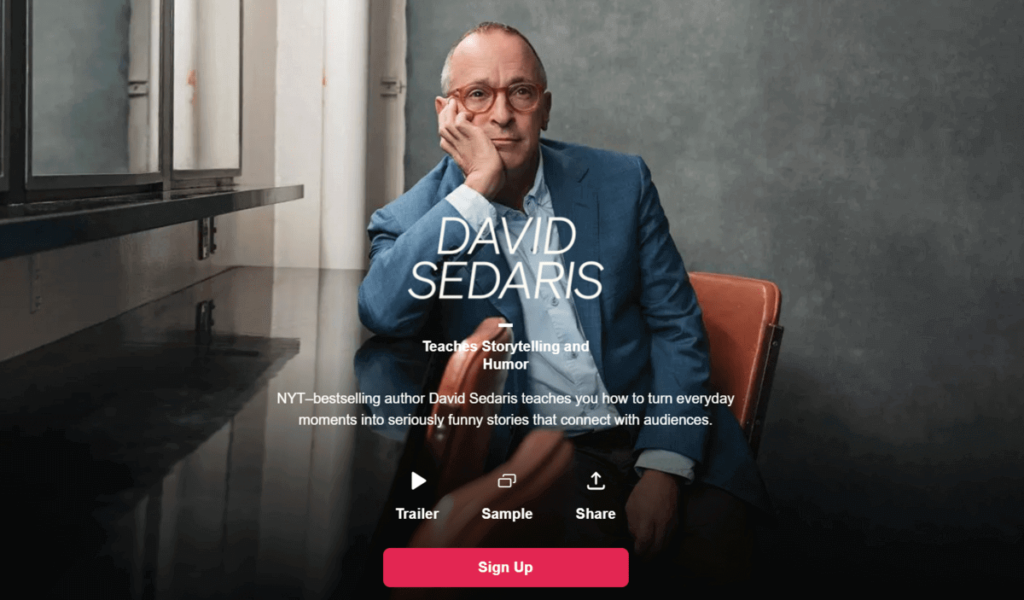 David Sedaris Teaches Storytelling and Humor is for those learning to write about people and everyday life with humor and light absurdity. David Sedaris is an American humorist, comedian, NYT–bestselling author, and radio contributor. His language is that of irony, clever observations, and brutal honesty.
With David Sedaris, you'll learn how to uncover depth even in the most mundane things and describe quotidian events in a captivating way. You'll better understand how to turn everyday observations into engaging stories that resonate with your reader. In addition, this MasterClass will teach you how to write about friends and family without making them feel uncomfortable or overexposed.
In this MasterClass, David explains how to write attention-grabbing openings, cohesive stories, and satisfying endings with his usual wit and charisma. The beauty of this course is that it teaches you essential writing skills applicable to any genre.
2. Malcolm Gladwell Teaches Writing
Runtime: 4 hours 54 minutes
Course value: 5/5
Lessons: 24
Supplementary materials: Workbook with lesson recaps, assignments, and supplemental materials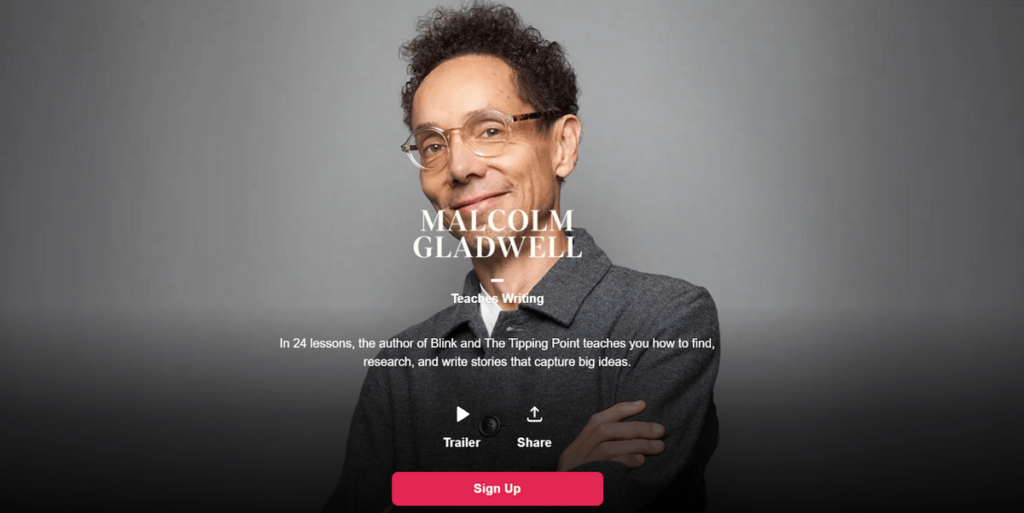 Malcolm Gladwell's MasterClass teaches you the crucial skills you need to become a more conscious and thorough non-fiction writer or journalist. The class will help you grasp the anatomy behind every successful piece and understand how the smallest details can affect the outcome.
Malcolm Gladwell is a journalist, bestselling author, and longtime New Yorker staff writer, which makes him a top expert when it comes to non-fiction. He's well-known for his intellectual provocations and courage, which help him examine complex topics in the fields of psychology and behavioral economics.
In this course, Malcolm Gladwell shows you how to:
Structure and develop your narrative
Surprise the reader and keep them curious
Research challenging topics
Conduct insightful interviews
Bring new characters to life
Calibrate your tone based on your audience
Tap into your reader's emotional side
Turn a messy draft into a smooth story ready for publishing
Critically read pieces written by others
In short, this MasterClass contains everything you may need to write more confidently and professionally.
3. Neil Gaiman Teaches the Art of Storytelling
Runtime: 4 hours 49 minutes
Course value: 4/5
Lessons: 19
Supplementary materials: Workbook full of creative writing exercises and printable interactive resources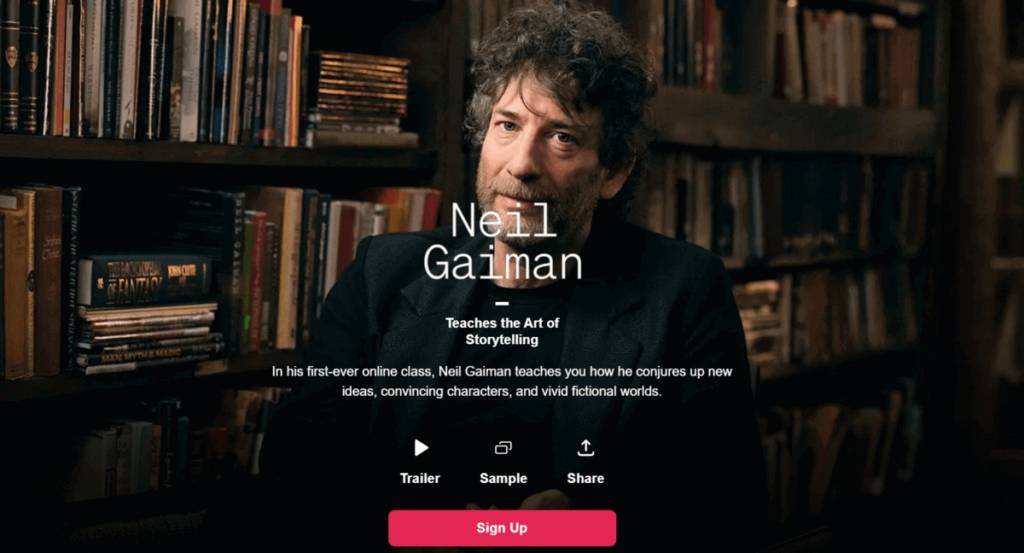 Neil Gaiman's MasterClass is focused on the art of fiction writing. Neil Gaiman is an author of short fiction, novels, comics, nonfiction, audio theater, and films. Being a versatile writer, he possesses phenomenal storytelling skills, and that's exactly what he teaches in his MasterClass.
This class is about fictional world building but also about different formats, tools, and techniques a writer can use. You'll learn how to build realistic characters and turn big ideas into compelling essays or comics.
In his MasterClass, Neil Gaiman teaches you how to make fictional worlds and dialogues feel real and where to find inspiration when you feel stuck. He also gives tips on how to develop your writer's voice and travel between genres.
4. Joyce Carol Oates Teaches the Art of the Short Story
Runtime: 3 hours 21 minutes
Course value: 5/5
Lessons: 14
Supplementary materials: Workbook with short story exercises, real examples of Joyce's revisions, and reading recommendations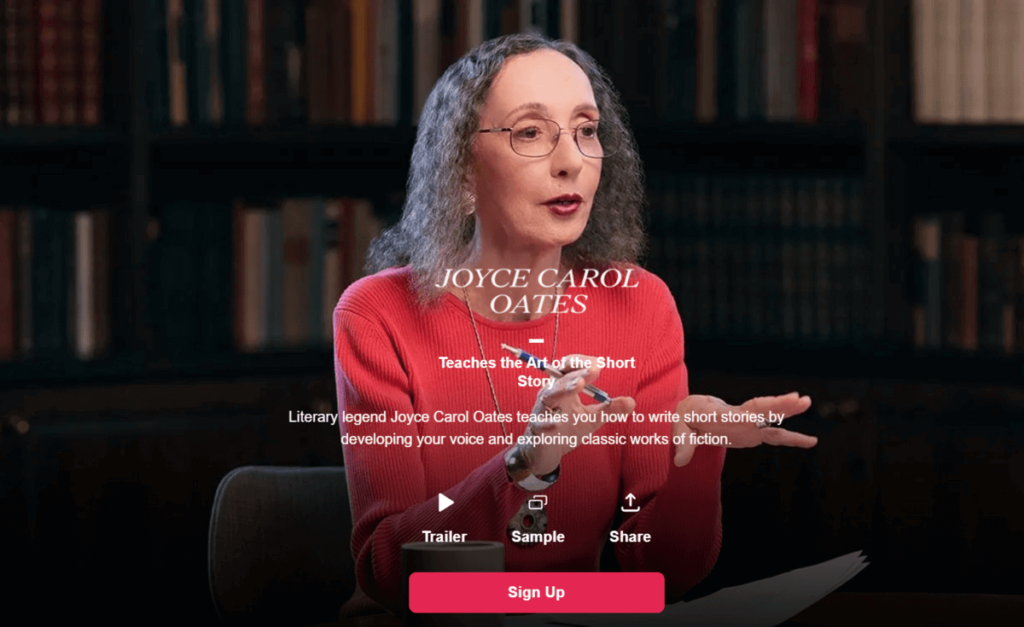 Joyce Carol Oates Teaches the Art of the Short Story will be interesting for beginners and actively writing essayists looking for new techniques to enrich and liven up their stories. Joyce Carol Oates is a literary legend who's written 58 novels and thousands of short stories, and this class gives learners a unique glimpse of her creative process.
This class clarifies the most common issues short story writers often face. You'll learn how to:
Draft, revise, and show your work to others
Draw inspiration from daily observations and journaling
Explore dark and highly personal topics to give your story more depth
Shape and structure your story
Read more attentively
Give and receive critique as you grow
Although this course is focused mostly on short stories, it may be helpful for any budding and active fiction writers out there trying to develop and perfect their style.
5. Margaret Atwood Teaches Creative Writing
Runtime: 3 hours 43 minutes
Course value: 5/5
Lessons: 23
Supplementary materials: Workbook with lesson recaps, assignments, and supplemental materials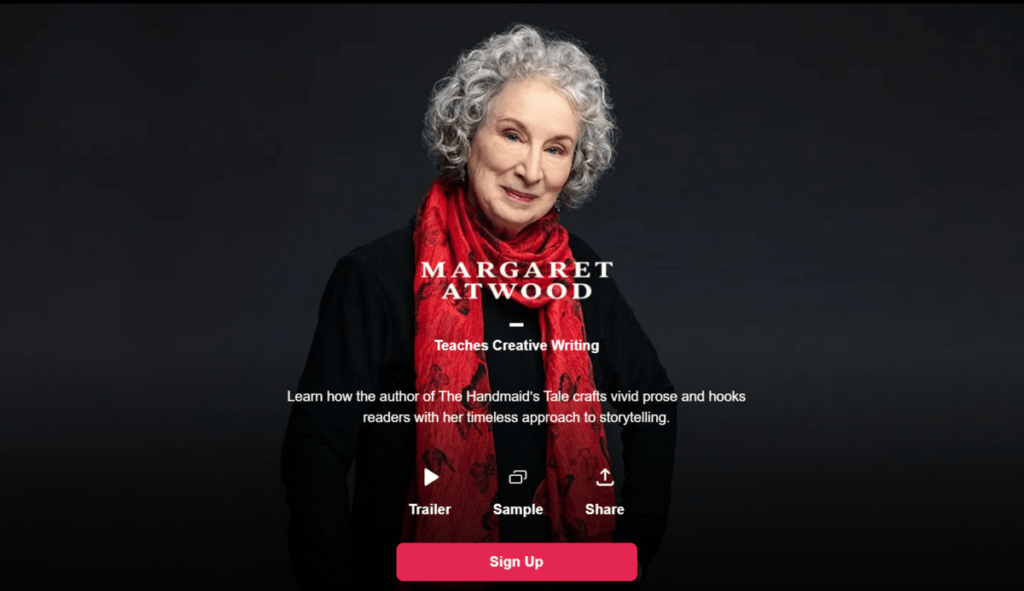 If you're dreaming of writing magnificent novels, this MasterClass might be perfect for you. In it, Margaret Atwood teaches you timeless writing techniques and walks you through the whole process of writing a book.
Margaret Atwood wears many hats — she's a fiction writer, poet, literary critic, essayist, teacher, environmental activist, and inventor. She'ss the author of The Handmaid's Tale, a futuristic dystopian novel that was recently turned into a TV series.
There's a lot you can learn from her course, even if you aren't an amateur writer. In the course, Atwood discloses her approach to storytelling and gives you valuable tips on how to write strong and meaningful prose. She explains how to structure novels, explore different points of view, craft life-like dialogues, and create compelling, relatable characters.
6. Aaron Sorkin Teaches Screenwriting
Runtime: 8 hours 1 minute
Course value: 4/5
Lessons: 35
Supplementary materials: Workbook with lesson recaps and supplemental materials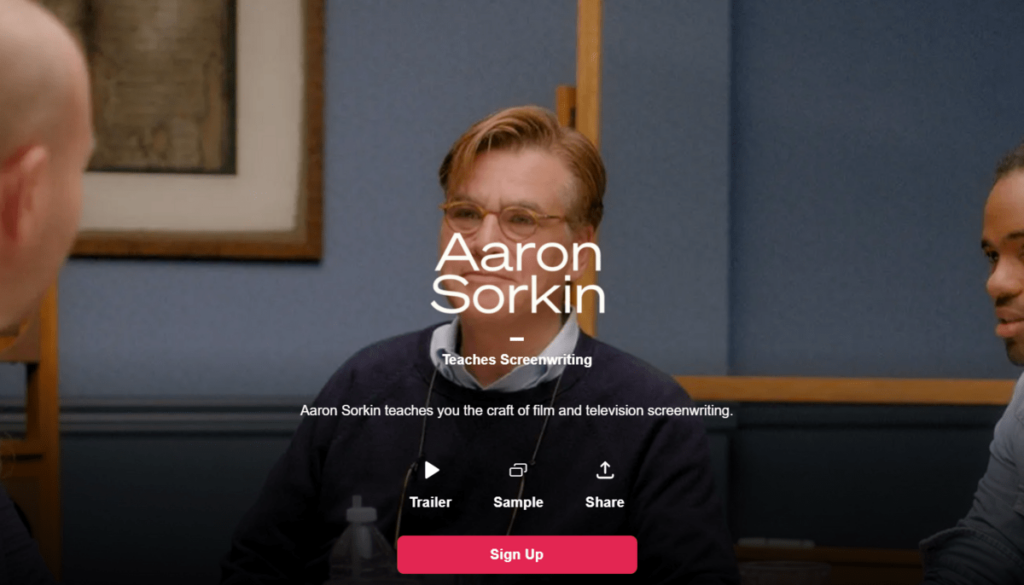 Aaron Sorkin Teaches Screenwriting offers a deep dive into film and television screenwriting. Aaron Sorkin is a successful playwright, screenwriter, film director, and Oscar winner. You may know his name from the popular TV shows The West Wing and The Social Network.
In his class, he reveals what makes a great script and how to write powerful, moving scenes. In addition, you'll take a look into The West Wing writers' room and see how Sorkin and his students discuss, develop, and tweak the plot.
The MasterClass will show you how to:
Test ideas and find the right format for them
Develop unforgettable characters
Do proper research prior to writing
Make your audience empathize with your characters
Track the structure and pacing of your story
Develop writing habits that stick
Collaborate with other writers
That said, you won't regret taking this class even if you are mostly interested in fiction writing. Research, character development, and the other skills taught are useful in any writing genre.
7. Dan Brown Teaches Writing Thrillers
Runtime: 3 hours 32 minutes
Course value: 5/5
Lessons: 19
Supplementary materials: Workbook with lesson recaps and supplemental materials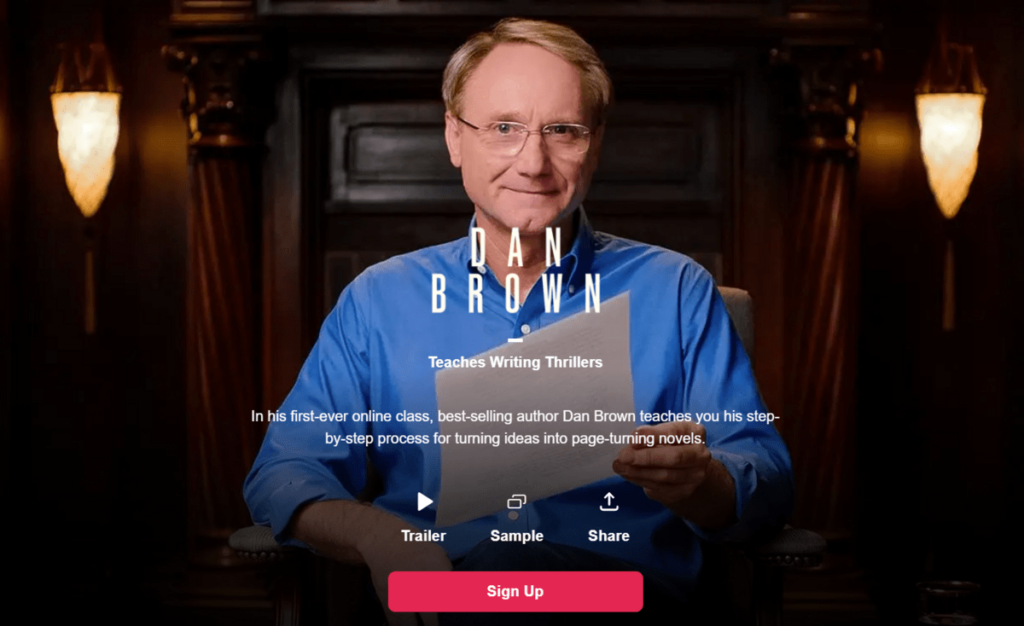 Dan Brown's course is undoubtedly one of the jewels in the crown of MasterClass. If you've ever dreamt about writing an epic thriller, you must check out this class. In it, Dan Brown outlines his writing process and shares tips on how to create suspense.
Famous for The Da Vinci Code, Dan Brown is known for his award-winning thrillers, mostly treasure hunts. His novels often amalgamate mystery, science, and religion and always spark intellectual debates.
What feels like some sort of wizardry, is, in fact, a meticulous and quite specific process, as you'll find out from this course. Dan Brown not only teaches you the anatomy of the thriller but also helps you nail the technical details for creating a multi-layered story that is also believable and partially fact-based.
You'll learn how to discover strong ideas, use locations to increase suspense, craft heroes and villains, and do deep research for writing mind-bending stories. In the class, Brown also explains how to develop writing habits for prolific creative output.
8. Billy Collins Teaches Reading and Writing Poetry
Runtime: 3 hours 34 minutes
Course value: 4/5
Lessons: 20
Supplementary materials: Workbook with lesson recaps and supplemental materials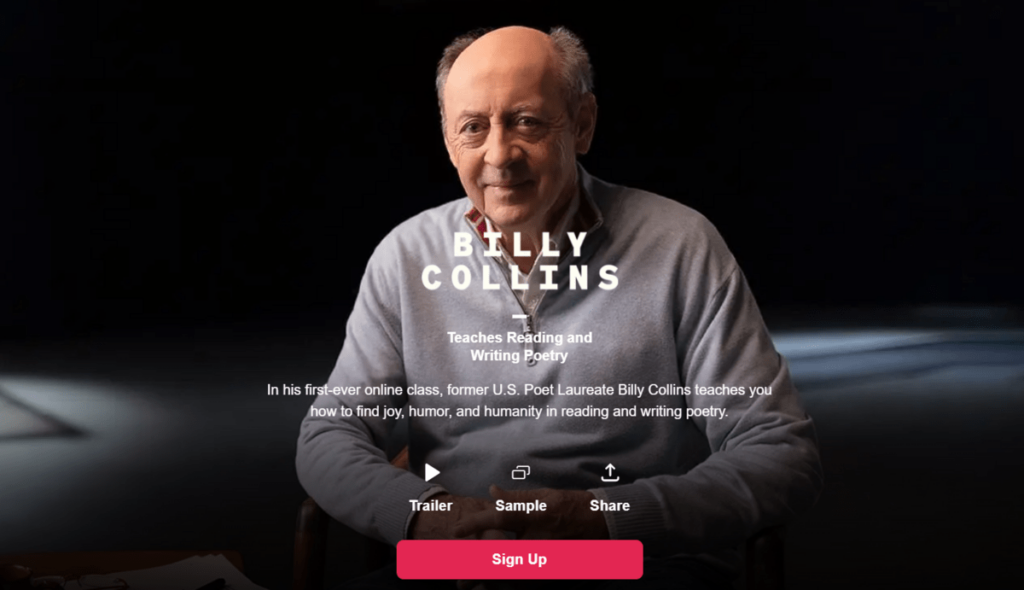 Is your goal to write conversational, witty poems? Then, make sure to take Billy Collins' MasterClass on reading and writing poetry.
Billy Collins is the most popular poet in America, according to The New York Times. His works bridge the gap between prose and poetry, and can help you access both creative worlds.
His class includes delightful conversations about the pleasures of poetry as well as practical exercises — you'll learn how to add musicality to your verses and write subtle, nuanced poetry. After this course, you'll understand how to create smooth poems that aren't conventionally rhymed.
9. Salman Rushdie Teaches Storytelling and Writing
Runtime: 4 hours 17 minutes
Course value: 5/5
Lessons: 19
Supplementary materials: Guide that dives deep into the themes of Salman's work, his must-read list, and outlining and editing tips
Salman Rushdie Teaches Storytelling and Writing isn't heavily geared toward one narrow genre and is therefore perfect for writers of all kinds. It can teach you key storytelling techniques you may need for writing an essay, a novel, or even a comic book.
Salman Rushdie is an influential American-British author of Indian-Pakistani descent. In his challenging and often controversial works, magic realism meets historical fiction. This MasterClass is especially valuable now, considering the recent attack, which left the writer seriously injured.
In this class, Salman explains his philosophy and shares helpful examples from literature and his own work. He teaches you how to write captivating openings, create complex characters, and translate your unique worldview into a mesmerizing story.
10. Shonda Rhimes Teaches Writing for Television
Runtime: 6 hours 25 minutes
Course value: 4/5
Lessons: 30
Supplementary materials: Workbook with lesson recaps and supplemental materials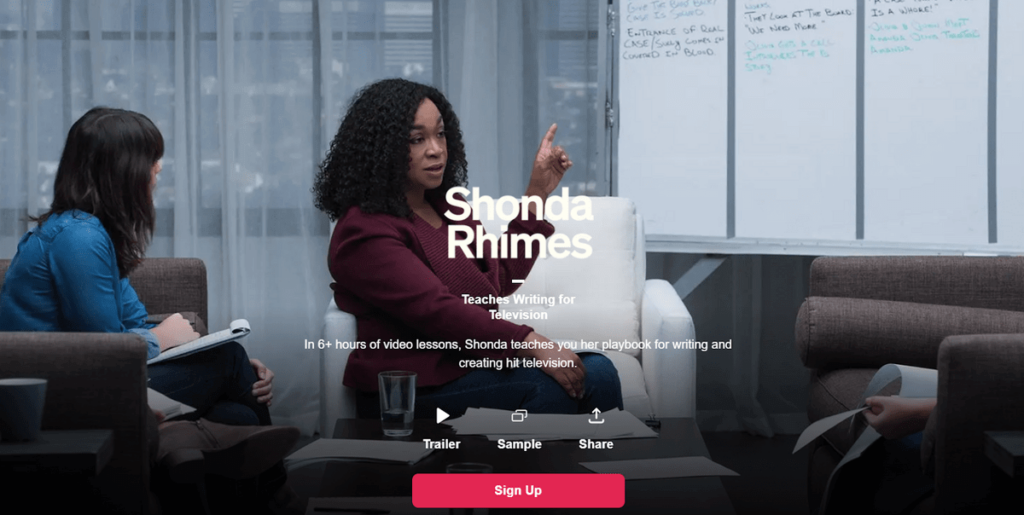 Shonda Rhimes is a TV screenwriter who's behind many iconic shows like Grey's Anatomy and Inventing Anna. Her MasterClass is focused on the fundamentals of TV storytelling and is targeted at beginners as well as competent writers.
In her course, Shonda teaches you how to find and assess ideas, develop complete concepts, create lifelike characters, write a script, break into the industry, and pitch your show like a pro. You'll also learn how TV production works and how to become an effective showrunner.
Summing up
MasterClass has an exquisite collection of 20+ writing courses taught by famous and prolific writers, poets, and thinkers, and it's absolutely worth the price.
The best thing about it is that you can expand your horizons by learning to write in various formats and genres. Each course is memorable, insightful, and one-of-a-kind. Start your membership today to unlock your creative potential.