Dan Brown MasterClass review synopsis
What you'll learn: In this class, Dan Brown takes you through writing your own heart-pounding thriller. He shares his process for finding ideas, developing characters and a story, maintaining suspense, and more.
How long does the Dan Brown MasterClass take?: 3 hours and 32 minutes
Similar courses: James Patterson Teaches Writing, Neil Gaiman Teaches the Art of Storytelling, Margaret Atwood Teaches Creative Writing, N. K. Jemisin Teaches Fantasy and Science Fiction Writing, Shonda Rhimes Teaches Writing for Television
Do I recommend Dan Brown MasterClass? Yes, I wholeheartedly recommend it for aspiring and professional writers, even if you don't like thrillers.
What if I told you that you could learn the intimate process behind some of the world's best-selling thriller novels, including The Da Vinci Code? Would you be interested?
That's essentially the pitch of Dan Brown's MasterClass. You'll get an in-depth, behind-the-scenes look at the process and techniques behind the best-selling Robert Langdon series.
Dan even sweetens the pot by offering to share a never-heard-before secret with students of the course.
"At the end of this MasterClass, I'm going to admit something to you that I've never admitted to anyone on earth. I'm also going to show you an artifact that nobody else has seen.

And that, is your first lesson in suspense."

— Lesson 1, Introduction
But the real question is, will this course help you write the next great blood-pumping, sweat-inducing thriller? Is it worth your time and money?
That's what we'll cover in this review — the actual contents of the lessons, the pros and cons of the course, the price, and whether it's worth it for an aspiring writer — thriller-focused or not.
Disclosure: These reviews are reader-supported. We might earn a small commission if you purchase something through our site. Learn more
Our Verdict
Learning how a master of his craft builds suspense and creates a compelling story will make you a better writer, no matter the genre. Even if you write non-fiction, you can learn important lessons from this MasterClass.
Dan Brown MasterClass
Become a Pro at writing thrillers.
PROS
Dan is a charismatic teacher
Clear advice on how to write a good thriller
Master suspense and pace
Improve your dialogue
Includes real examples from his books to back up points
CONS
Covers a lot of different concepts — can feel overwhelming
Skims over some important points
In this MasterClass review, you'll learn:
A few frequently-asked questions…
Let's start by exploring some of the most common questions about this MasterClass.
Do I need a subscription to access this course?
Yes, you need an annual MasterClass subscription to access the Dan Brown MasterClass. When you subscribe, you'll also get access to the entire MasterClass library of 180+ courses, not just this class.
You'll get access to courses in several categories, ranging from cooking, baking, interior design, photography, music, makeup, poker, and even negotiation.
How long is the MasterClass?
The Dan Brown MasterClass runs for 3 hours and 32 minutes across 19 videos.
Does MasterClass have a cancellation policy?
You can cancel your annual MasterClass subscription at any point. When you cancel, you'll still be able to access your MasterClass courses until the end of your subscription period.
If you're unhappy with your MasterClass subscription, you can get a full refund if you cancel within 30 days of your first subscription payment.
Is the Dan Brown MasterClass good?
The short answer is yes; the Dan Brown MasterClass is excellent for aspiring thriller writers of all experience levels. He shares his overall philosophy for writing a compelling story by introducing suspense plus the nuts and bolts of actually completing a novel.
Start learning to write thrillers in the Dan Brown MasterClass
About Dan Brown
You could say that Dan Brown held a J.K. Rowling-Esque status for the adult readers of the mid-2000s.
While teens around the globe clamored for Harry Potter and the Order of the Phoenix in 2003, adults flocked to bookstores to get their hands on a copy of Dan Brown's The Da Vinci Code.
The second in his Robert Langdon series, The Da Vinci Code, sparked an international interest in stories that combined historical knowledge with exciting and suspenseful storylines. The series now includes five books, all of which touch on religious history and ideas. To date, they've sold more than 120 million copies.
The Da Vinci Code eventually became a Hollywood blockbuster starring Tom Hanks, ending up as the second-highest-grossing film worldwide in 2006.
Brown has also written two other thrillers and released several CDs of his musical compositions. His latest project, Wild Symphony, is a symphonic work accompanied by a picture book and was released in 2020.
How much does the Dan Brown MasterClass cost?
To access the Dan Brown MasterClass, you'll need an annual MasterClass subscription in any of three tiers.
The Standard Plan comes out to $15 per month. On this plan, you can watch all MasterClasses. You'll also get downloadable workbooks and other supplemental materials for any course you take.
If you want to watch MasterClass simultaneously on multiple devices, you can upgrade to the Plus or Premium plans. These plans also let you watch MasterClass offline, specifically on iOS devices.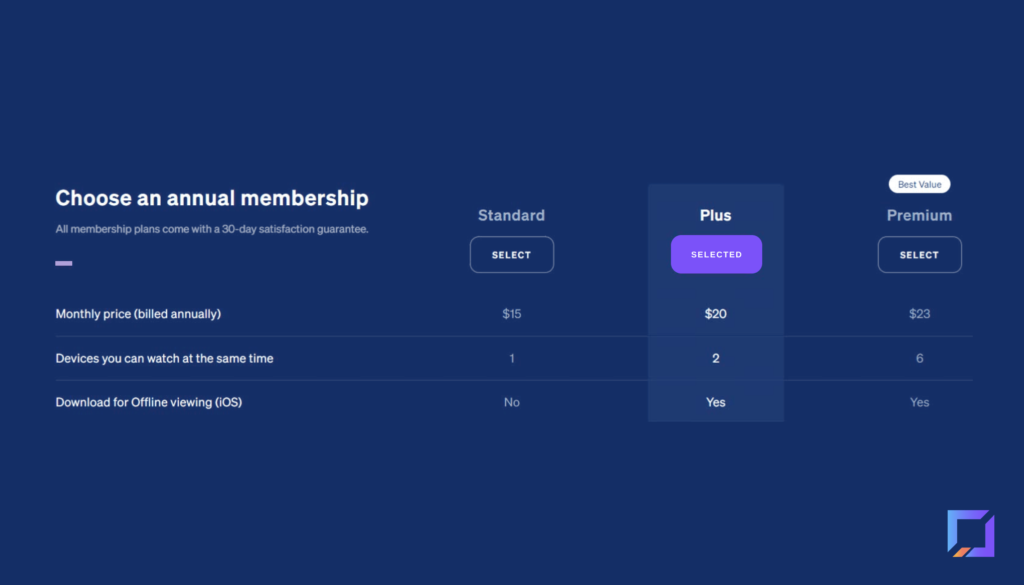 Any MasterClass plan gives you access to all MasterClass courses — so you can also learn from other famous writers like James Patterson or Margaret Atwood with just one membership.
Explore Dan Brown's MasterClass and other courses.
What is included in the Dan Brown MasterClass?
Runtime: 3 hours and 32 minutes
Course Value: 4.5/5
Lessons: 19
Supplementary materials: Downloadable workbook, MasterClass hub
Supplementary workbook
The supplemental workbook serves as a sort of textbook for the class. It summarizes each video lesson — one per chapter — and includes excerpts from Brown's novels to demonstrate certain writing techniques or other hands-on advice.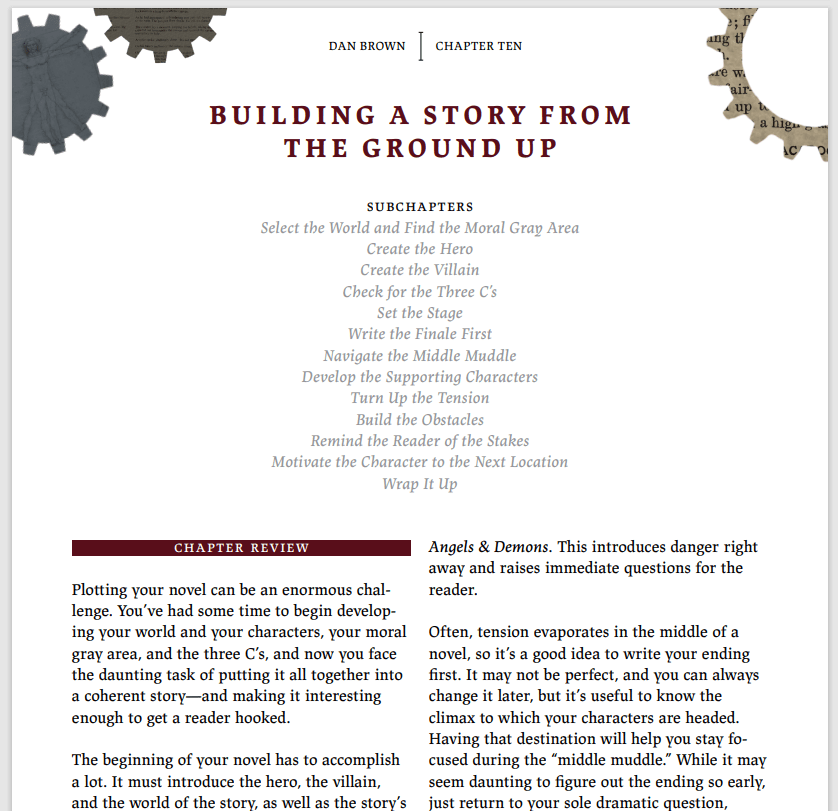 You'll also find related writing exercises at the end of each chapter.
The workbook also includes links to additional resources throughout it. Some chapters, like "Life as a Writer," include dozens of links to tools and posts to help you manage your writing.
The MasterClass Hub
Every MasterClass you take, whether it's from Neil Gaiman or Helen Mirren, comes with a dedicated forum where students can discuss the class or related topics.
Unfortunately, many are pretty quiet — including Dan's MasterClass. There are a few interesting threads with helpful advice for students but little ongoing activity.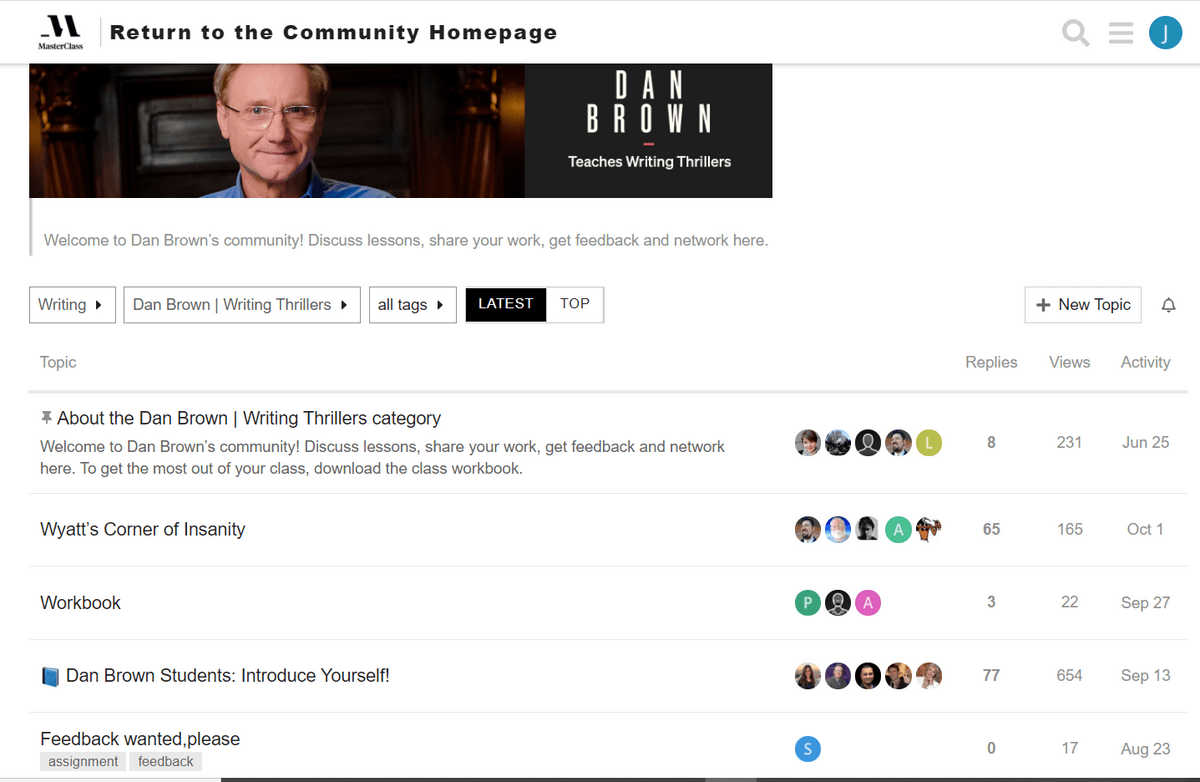 A complete breakdown of the Dan Brown MasterClass curriculum
The curriculum of Dan Brown's MasterClass is extensive, but the lesson titles are straightforward and showcase exactly what they'll teach you.
Curriculum:
Introduction
The Anatomy of a Thriller
Finding the Idea
Choosing Locations
Creating Heroes and Villains
Universal Character Tools
Character Case Study: The Da Vinci Code
Research Part 1
Research Part 2
Building a Story from the Ground Up
Creating Suspense, Part 1
Creating Suspense, Part 2
Writing Chapters and Scenes
Selecting and Utilizing Point of View
Exposition and Dialogue
Editing and Rewriting
Protecting Your Process
Life as a Writer
The Secret of Secrets
Course summary:
Dan Brown starts things off with a bang — he follows his own advice and builds suspense by promising us a juicy secret at the end of the course.
He also dismisses ethereal and vague writing advice like "write every day" or "write what you know."
He keeps the intro short and gets straight to it.
What makes a thriller a thriller
In the first real lesson, he breaks down the essence of his approach to writing fast-paced thrillers.
Dan explains his concept of the three Cs:
The Contract: the promise you make to your readers — if there's ever a pressing question about the story or character, you'll answer it before the book is over.
The Crucible: something that holds your characters together and doesn't let them escape. For example, how the protagonists are stuck on the sinking boat in Jaws.
The Clock: the time pressure, the ticking clock in the background of every single thriller.
He also explains that what singles out thrillers is not the high stakes. Every story has high stakes, even the classics. In the Odyssey, Odysseus makes a perilous journey back to his wife, friends, and family.
What makes a thriller a thriller is, the pace. New questions jump out at the reader all the time. Who's this gal? Will she be able to escape? What does this clue mean? On every page, there's something new that keeps the reader going.
Dan recommends front-loading these types of questions in your thriller but answering them as you go, so the reader is never confused.
Finding your idea, choosing a location, and creating your characters
Dan's process is to explore an interest until he finds a compelling idea. First, you take an industry or topic of study that interests you, like marine salvage. Then, start watching documentaries and talking to people involved in that world.
You can even ask questions like, "what's the worst or most challenging thing that's happened to you?"
Your goal when exploring this world is to arrive at one core question. For example, "will the main character find the lost treasure of The Santa Maria?"
He recommends thinking of the location as a character and choosing something that will add flavor to the story.
After location, he recommends finding your villain before creating your hero — specifically one that works in a moral grey area, motivated by something personal. And when you do make your heroes, include flaws that make them human and relatable.
Finally, to populate the story with characters, he recommends letting the plot guide you. Figure out points in the plot that require a certain type of character, and then introduce them.
He finishes up by making a case study of the characters in The Da Vinci Code.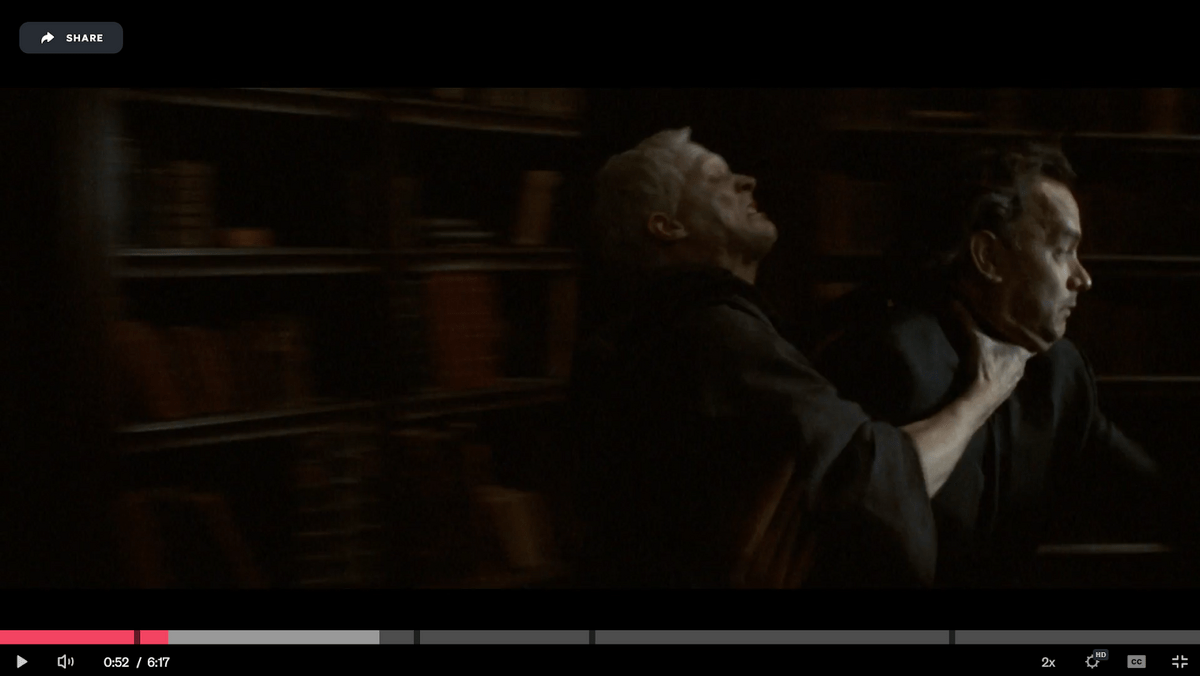 Research, creating your story, and building suspense
In two lessons, Dan expands on how he uses research to find ideas and build out worlds. Then he explores how to create your story and build natural suspense.
Beyond the three Cs, he recommends writing your ending as soon as you've got a basic setting for your story and the main hero and villain. From there, develop the middle of the story, supporting characters, and obstacles that make sense along the way.
To build suspense, Dan recommends building and developing multiple parallel plotlines for different characters.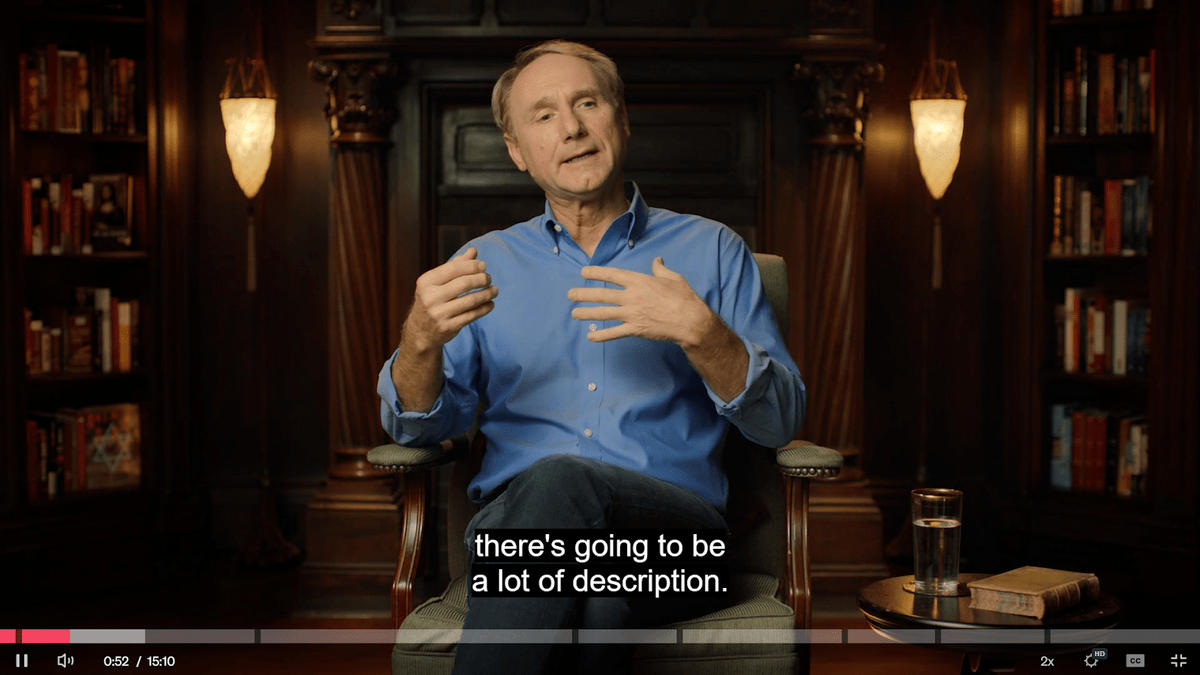 He then explores two of his own prologues as examples of building suspense at the start of a thriller novel.
Finally, he wraps up the course by tackling various topics like chapters, dialogue, editing, and life as a writer.
(If you're wondering what his well-kept secret is, I won't spoil it for you in this review. Take the class for yourself and find out.)
What I learned
While I'm not specifically writing a thriller, I found a lot of relevant, hands-on tips to make my writing more compelling in this MasterClass. Dan Brown has a unique framework that virtually forces him to build suspense into the story and keep his readers on the hook.
You could also improve your writing by using Grammarly.
He breaks down many different techniques and concepts throughout the MasterClass, so I've highlighted five of my top takeaways below.
5 takeaways from this MasterClass
1. The four elements of any good story:
The way Dan sees it, any good story must have four key elements to make it inherently satisfying for readers:
A hero: the main character of the story who's working towards something.
A goal: what the hero is trying to achieve.
Obstacles: what's stopping the hero from immediately achieving her goals.
A climax: when the hero finally overcomes adversity and reaches the finish line.
2. Believable obstacles are what makes a hero's journey interesting:
Without something to overcome, a story is static and boring. How interesting would The Da Vinci Code be if Robert Langdon immediately surmised where every clue would be and was ten steps ahead of the Illuminati without ever being in danger? Not very. It wouldn't even classify as a thriller.
Believable obstacles, like a time crunch or a face-off with the antagonist, are what make the hero's engaging, thrilling, even.
3. Write what you want to know:
Don't try to write about what you know. Write about things that interest you.
You don't need to force a thriller setting out of your job as a middle-school teacher. You can let your interest in archaeology or history— like Dan — or something else guide your path as a writer.
4. Moral ambiguity adds necessary texture to your story:
There are very few issues that are 100% black and white in the real world. Even working to reverse climate change would — in the short term — eliminate thousands of jobs.
Being able to honestly argue both sides of the problem gives you more believable villains and a more relatable hero.
5. It's not about a big idea, it's about the journey:
What makes a thriller great is not a big unique idea — every idea has already been covered in a million different ways — it's about the journey.
What the hero has to overcome, who helps them, and how close they come to failure — the twists and turns are what make a thriller interesting.
Write your thriller with Dan Brown on MasterClass
Memorable quotes from this MasterClass
"Written language is how our species has progressed. It's how we remember what we've accomplished, and pass it on to the next generation."

— Lesson 1, Introduction
"You should never write for someone else's tastes. I write the book that I want to read."

— Lesson 2, Finding the Idea
"I must give you a word of warning regarding research, only because I've fallen into this trap myself. There is a point where research becomes procrastination."

— Lesson 9, Research, Part 2
"You can't be striking out saying if I don't sell X number of books, I've failed. You need to love the process of writing a novel."

— Lesson 18, Life As A Writer
Dan Brown MasterClass pros and cons
While I thoroughly enjoyed this class, it wasn't without a few issues. In this section, I'll explore the pros and cons of Dan Brown's MasterClass.
Pros
Unlike many writers, Dan has natural charisma and is a great speaker and teacher — maybe because he was one for 31 years. And the course isn't just enjoyable; it's packed with actionable advice and real examples.
Dan is a charismatic teacher
Clear advice on how to write a good thriller
Master suspense and pace
Improve your dialogue
Includes real examples from his books to back up points
Cons
Because he basically gives out his entire process for writing a thriller, the course covers a lot and can feel a bit overwhelming.
Covers a lot of different concepts — can feel overwhelming
Skims over some important points
Do I recommend this MasterClass?
Yes, I wholeheartedly recommend Dan Brown's MasterClass for anyone who writes fiction, even if they don't particularly love thrillers.
Learning how a master of his craft builds suspense and creates a compelling story will make you a better writer, no matter the genre.
Even if you write non-fiction, you can learn important lessons on pace and keeping a reader interested.
The best thing about it is that you can expand your horizons by learning to write in various formats and genres. Each course is memorable, insightful, and one-of-a-kind. Start your membership today to unlock your creative potential.