What you'll learn
In this 19 chapter course, world renowned author Neil Gaiman will walk you through how you can become a professional fiction writer. He covers everything from finding your inspiration and literary voice to worldbuilding, characterization, coping with writer's block, editing, and dealing with inevitable rejection.
How long does the Neil Gaiman MasterClass take?
If you're going through all 19 modules, it should take you around six and a half hours.
Similar courses:
If you're interested in similar courses to the Neil Gaiman MasterClass, check out:
Do I recommend Neil Gaiman MasterClass?
Yes, I enthusiastically recommend the Neil Gaiman MasterClass for many reasons, which I will go into below.
Take the Neil Gaiman MasterClass and write your masterpiece today
They say that when the student is ready, the master appears. But if you're an aspiring writer with a credit card and a solid internet connection, you can make your teacher appear with just a few clicks.
Neil Gaiman undoubtedly fits the role of a "master." The man is famous the world over for timeless works of storytelling like Coraline, American Gods, Norse Mythology, Good Omens, and the classic comic book series The Sandman.
Truly, to an aspiring novelist, learning from Neil Gaiman is like being trained in the Jedi arts by Yoda himself. So the existence of a Neil Gaiman online storytelling MasterClass should be enough to make every young writer fly to their laptop eager to learn the great secrets of literary success.
But does Neil deliver? That's the real question here. Let's get into it.
In this article, we're going to break down the Neil Gaiman MasterClass, reviewing what kind of knowledge Gaiman offers, what the course costs, and whether it could be beneficial for you.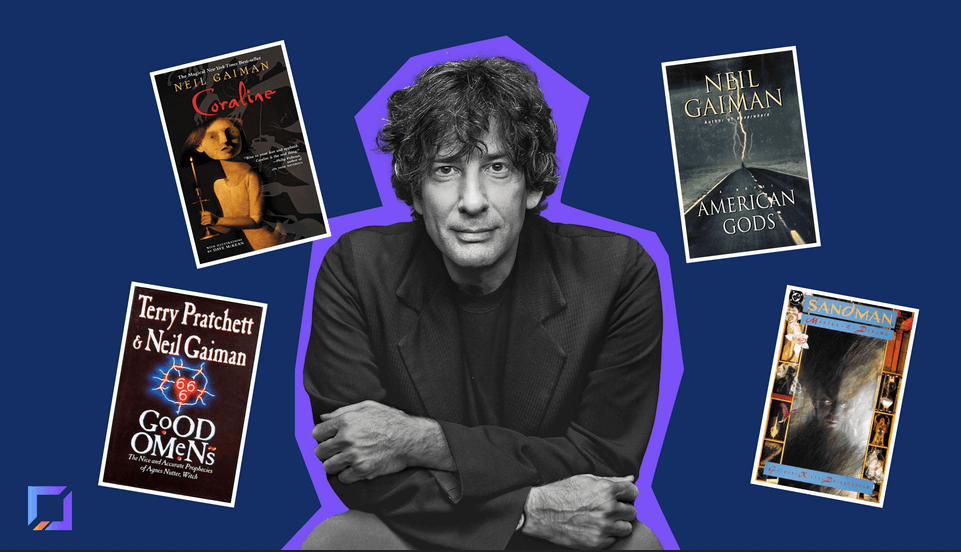 Disclosure: These reviews are reader-supported. We might earn a small commission if you purchase something through our site. Learn more
Our Verdict
As far as MasterClasses go, Gaiman's MasterClass is one of the best you'll come across. For any aspiring writer, I can think of no better modern author to give a definitive guide to becoming a success in the publishing world than Neil Gaiman.
Neil Gaiman MasterClass
Learn from the Best
PROS
Passionate lectures
Easy to understand anecdotes
Relatable content
Speed up lessons
Closed captioning available
CONS
Stories ramble in the beginning
Lack of scenic variety
Slow speaker
In this MasterClass review, you'll get:
A few frequently-asked questions…
Do I need a subscription to access this course?
Yes, you need a subscription to MasterClass in order to take the Neil Gaiman MasterClass. These subscriptions start as low as $15 per month, and get you access to every course (not just this one).
By signing up you'll get access to the 180+ courses MasterClass offers in several categories, ranging from cooking, baking, interior design, photography, music, makeup, poker, and even negotiation.
How long is the MasterClass?
The Neil Gaiman MasterClass is composed of 19 lessons, all of which together should take around six and a half hours to complete.
Does MasterClass have a cancellation policy?
All MasterClass memberships have a 30-day money-back guarantee.
Is the Neil Gaiman MasterClass worth it?
If you're a young writer who dreams of authoring the world's next big novel, this class is a must-do for you. Gaiman goes in-depth on all facets of writing, using anecdotes from his own world-famous works to drive his points home.
Try the Neil Gaiman MasterClass for yourself
About Neil Gaiman
Neil Gaiman is an English author specializing in novels, short stories, screenplays, graphic novels, and audio theater.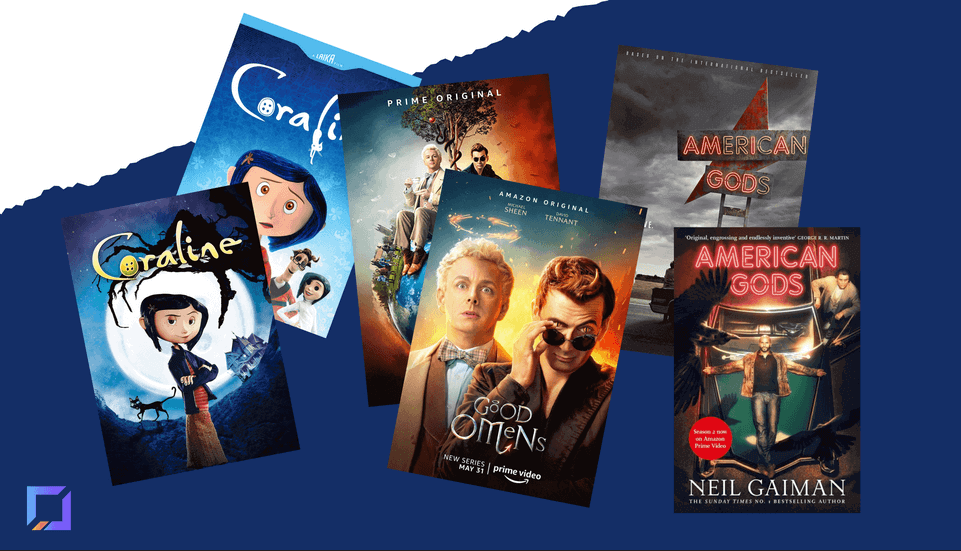 His novella Coraline was made into an animated film, and his novels American Gods and Good Omens have both been adapted into critically-acclaimed television series.
Gaiman's comic book series The Sandman stands tall in a crowded medium and has been running since 1989.
He is also an award-winning writer, netting the Bram Stoker, Hugo, and Nebula awards. Gaiman holds the distinction of being the first author ever to win both the Carnegie and Newberry medals for the same work (2008's The Graveyard Book).
A short breakdown of the Neil Gaiman Masterclass course
Gaiman's MasterClass is broken into 19 different lessons. Each of these includes a few different sections, which can be bookmarked.
Most lessons run somewhere in the neighborhood of 20 minutes, though some are shorter at around eight minutes.
Some of the topics included in the MasterClass are:
Finding your inspiration
Finding your voice as a writer
Worldbuilding
Characterization and dialogue
Story development
Dealing with writer's block
Handling rejection
Writing descriptions
Using humor effectively
Case studies from his works
And more
Below, you can check out the video trailer for this class.
How much does the Neil Gaiman MasterClass cost?
The Neil Gaiman MasterClass is included with a MasterClass membership.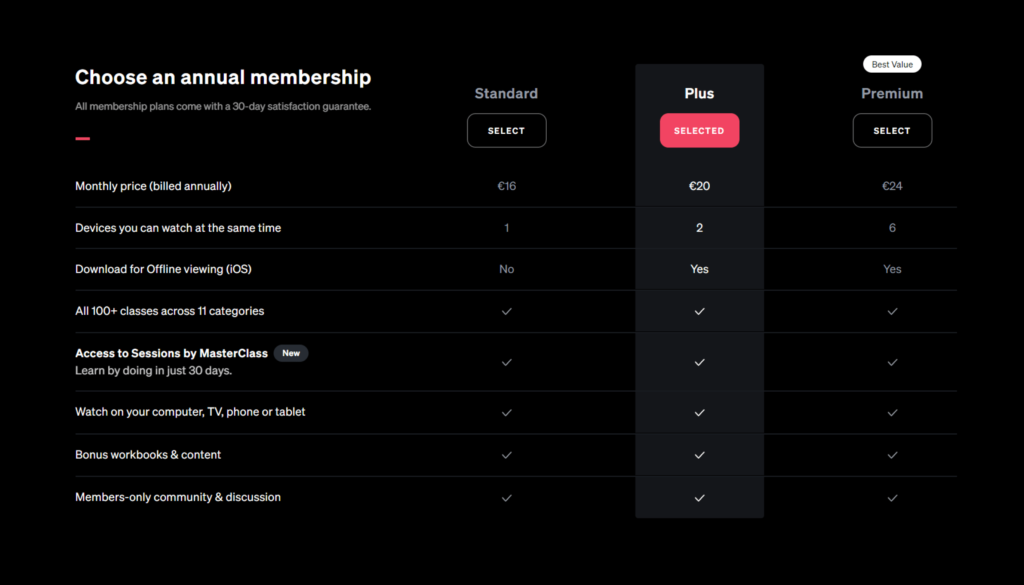 The Standard Plan costs $15 per month billed on an annual basis. You're able to watch classes on one device at a time using a computer, TV, phone, or tablet. It includes a workbook and bonus content along with access to a members-only community forum.
The Plus Plan costs $20 per month billed annually. This level includes everything from Standard, plus accessing classes on two devices at the same time. You can also download videos for offline viewing on an iOS device.
Then you have the Premium Plan, which costs $23 per month billed annually. It includes everything from the Plus Plan, with the option to watch classes on six simultaneous devices.
Start learning with a MasterClass membership now
What is included in the Neil Gaiman MasterClass?
Runtime: Approximately six and a half hours
Course Value: 5/5
Lessons: 19
Supplementary materials: Bonus workbook and discussion forum
Supplementary workbook
A supplemental workbook is included along with the class. It can be downloaded directly onto your device as a PDF file.
This workbook is highly useful as a companion to the actual lessons, though relying solely on it and ignoring the videos would not be a great idea. Gaiman's voice conveys a lot of emotion and passion for the work, and you'd miss out on that if you just went by the workbook.
Each chapter of the course is laid out in the workbook, giving you a series of quotes from the video and summarizing its main points. There is also a "For Your Novel" section in each chapter, where Gaiman gives you a practical way to use this lesson for your current work in progress.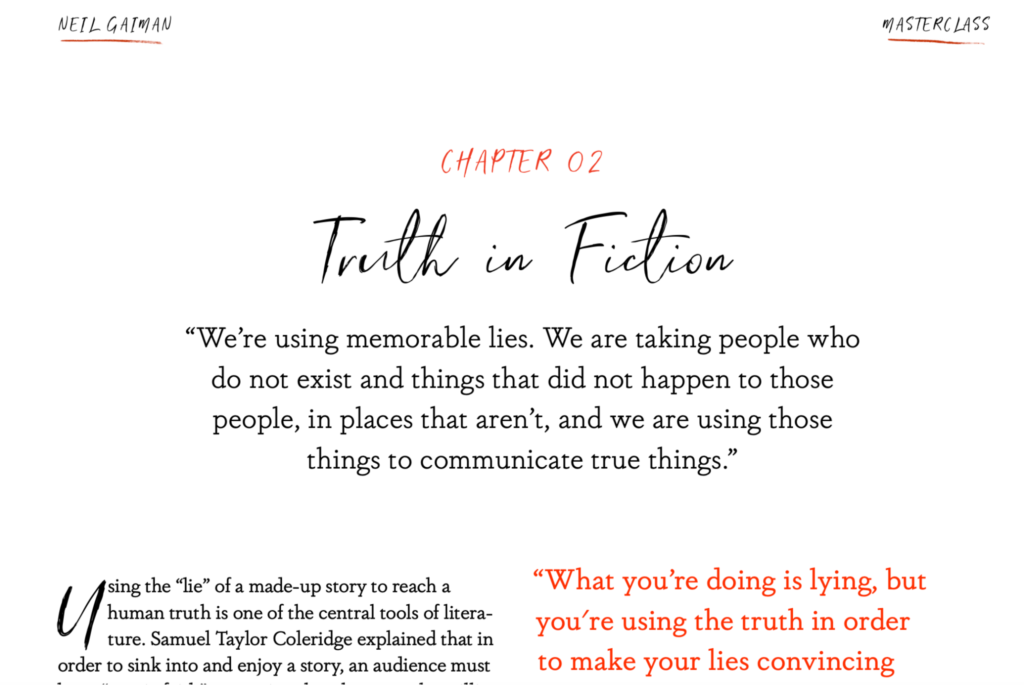 The MasterClass Hub
The MasterClass Hub for this course is laid out well. It's simple and easy to follow and never distracts from the lesson on the screen.
On the right side, you have a notepad where you can jot down any notes. You can also toggle between the notepad and a table of contents, which will allow you to jump to the lesson of your choice.
On the video player, you have options to slow the speed of the lesson down to 0.5 or speed it up two times. Gaiman tends to talk rather slowly, and I found that speeding things up was effective for people (like me) with a short attention span.
You also have options to bookmark the lesson and download the workbook.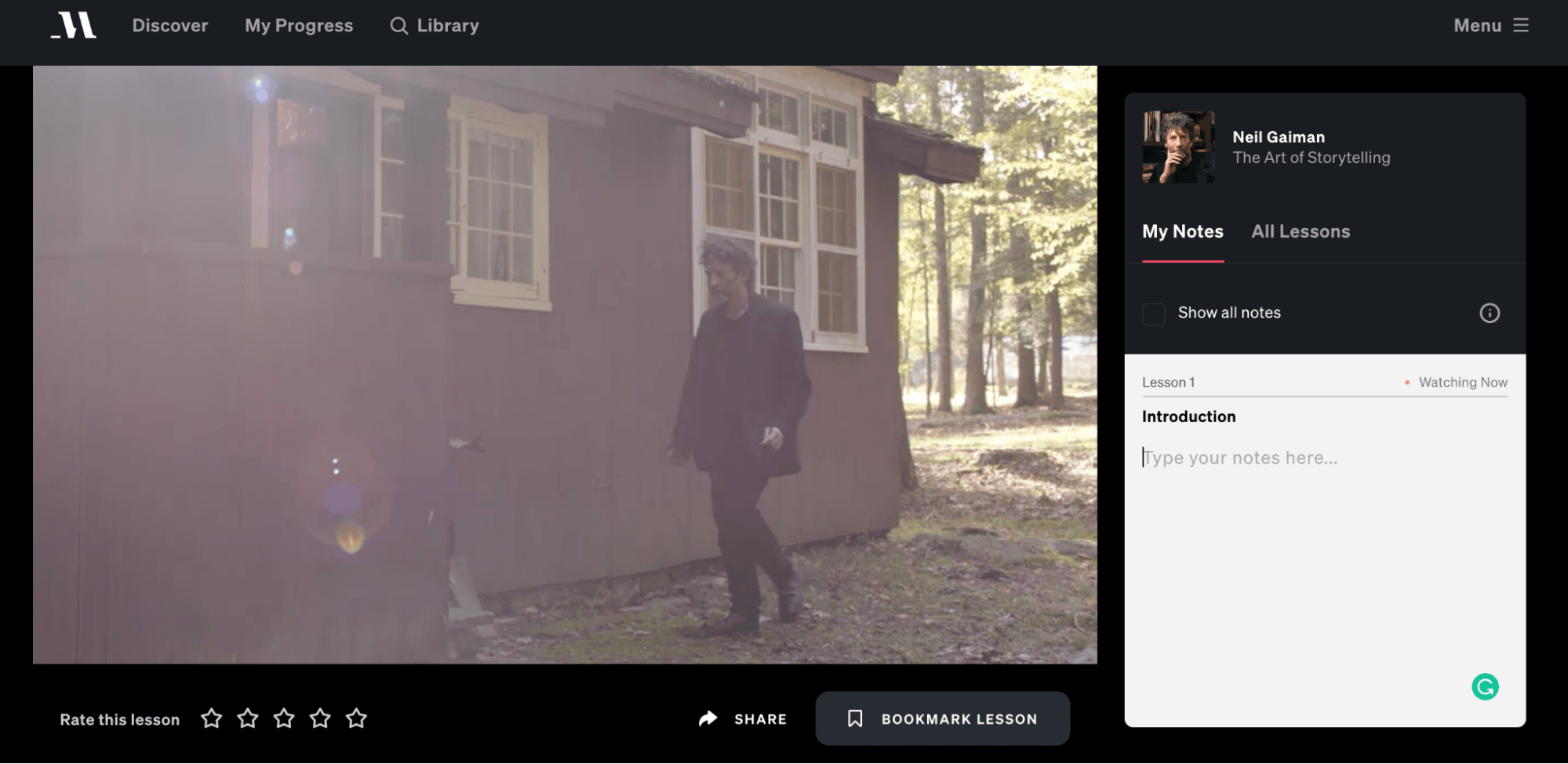 A complete breakdown of the Neil Gaiman MasterClass curriculum
Neil Gaiman's class is broken into 19 easily digestible chapters. We've outlined the entire curriculum below.
Curriculum:
Introduction
Truth in Fiction
Sources of Inspiration
Finding Your Voice
Developing the Story
Story Case Study: The Graveyard Book
Short Fiction
Short Fiction Case Study: March Tale
Dialogue and Character
Character Case Study: October Tale
Worldbuilding
Descriptions
Humor
Genre
Comics
Dealing With Writer's Block
Editing
Rules for Writers
The Writer's Responsibilities
Course summary:
Gaiman's course looks daunting the first time you open it.
A 19 video lesson class of a guy sitting in a chair talking at you? That was everything I hated about telecourses in college. However, within the first few minutes of Gaiman's introduction chapter, I was riveted.
He has a way with words (obviously) and really takes you on a roller coaster ride through his lectures.
In the beginning, many of these chapters deal with what I came to call "writing theory." By that I mean he focused on fundamental things that you discover or use through writing.
Writing theory lessons
What I've dubbed writing theory can be broken down into a few different chapters, all at the beginning of the course.
First, you have the Truth in Fiction chapter, where Gaiman breaks down how even the most fantastical story has elements of truth buried within. To write a work that resonates with an audience, you must find those truths in your prose and remember them.
He then goes on to talk about where writers get inspiration from. After all, you can't write a great novel if you're not inspired.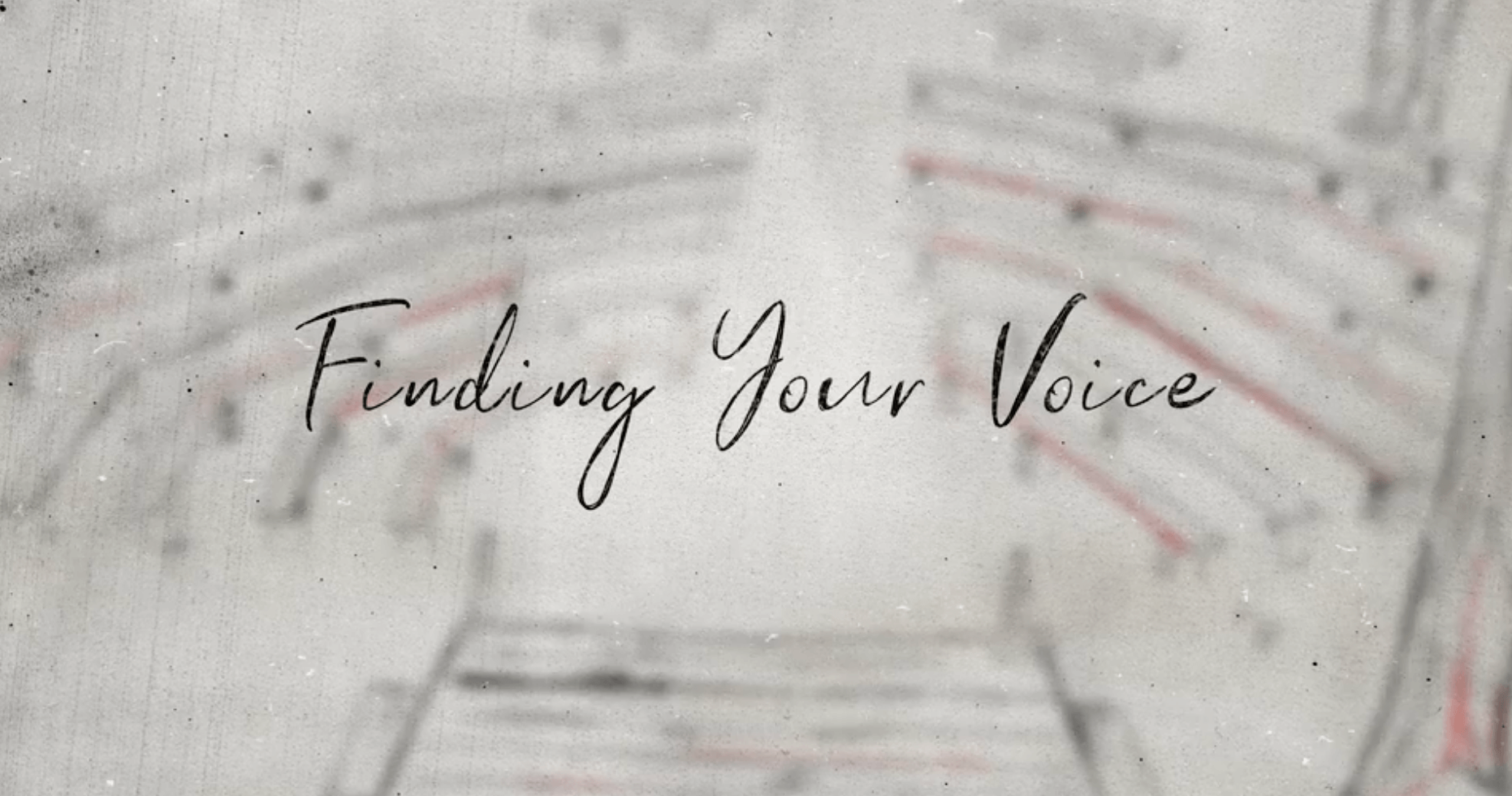 Finding your voice is the next theory-based chapter. Gaiman talks about how as writers, we at first copy what's familiar to us. However, you begin to refine your writing over time, removing your mistakes and weaknesses as a storyteller until you're just left with your specific voice.
Start Writing
Once he's done with the theory chapters, Gaiman starts walking you through the actual writing process, starting with story development.

If you struggle with writing or are concerned about accidentally plagiarising someone else's work, we've reviewed the best writing apps and plagiarism checkers for you.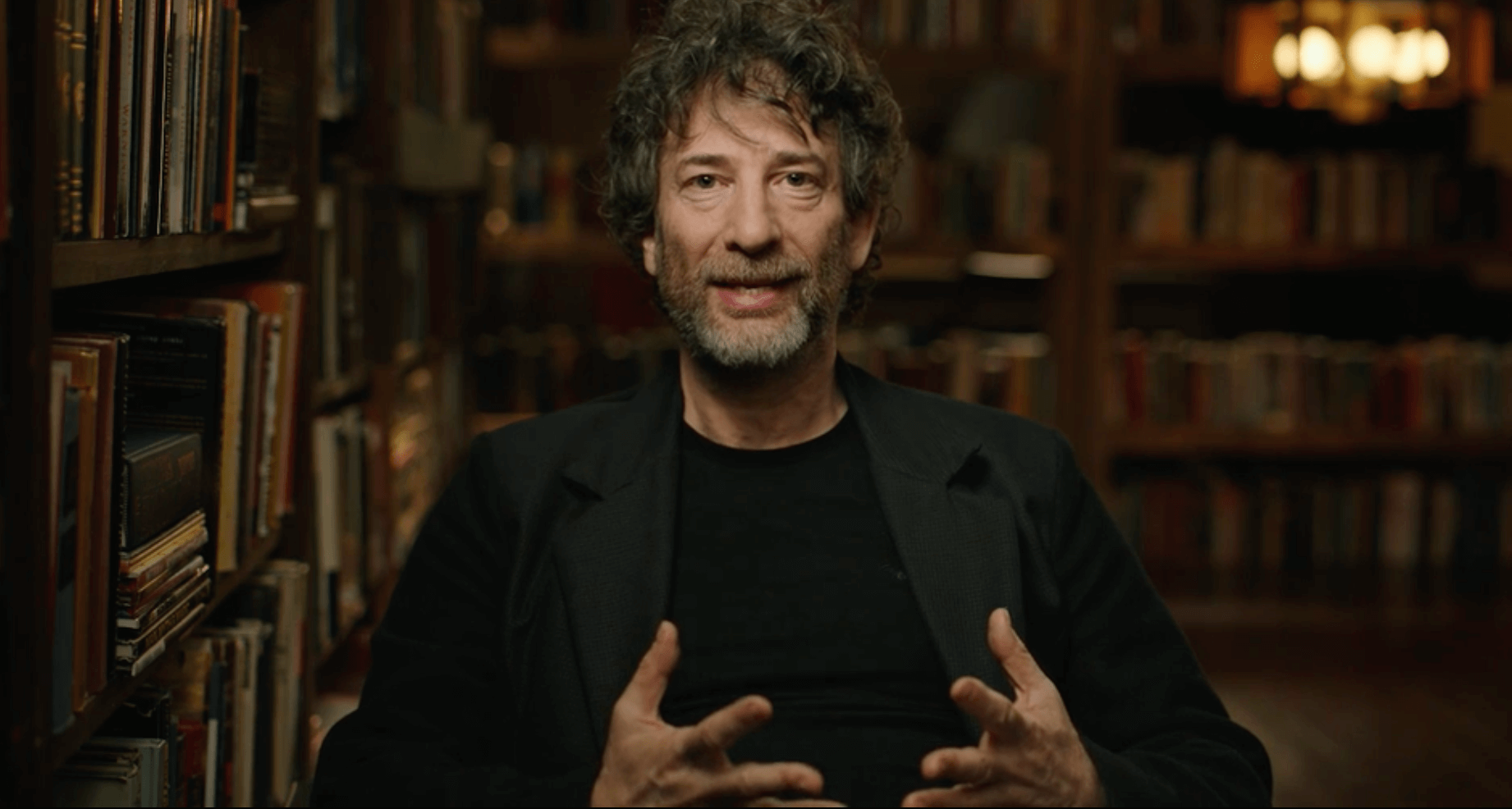 He punctuates many of these lessons with a case study, using his own work as an example. After talking about story, for instance, he breaks down examples from his 2008 masterpiece The Graveyard Book.
Gaiman also discusses how to write a short story, create three-dimensional characters through dialogue, and create fantastical settings with Worldbuilding. Other important elements of a well-rounded novel are touched on, like writing descriptions, injecting humor, writing for your genre, and even writing a comic book or graphic novel.

Bad grammar is a huge turn off in the writing world, so we suggest using Grammarly to make the best impression!
Dealing with issues
The last section of this MasterClass deals with a lot of inner strife that writers suffer through. After all, what good is a writer if they're not tortured internally, am I right?
Excuse me while I go laugh and cry at the same time in the corner…
Anyway, Gaiman talks his students through writer's block, fairly editing your own work, various rules writers should follow, and then closes out with what he feels a writer's responsibilities are.
What I learned
I am a published author of three full-length novels and two novellas, but there's always more to learn. So, the opportunity to learn from someone like Neil Gaiman was something I jumped at.
Gaiman's take on the writing process was captivating from the first minute, and I found myself completely enthralled with a lot of what he said.
Writing down everything I learned from Gaiman's class would take up a lot more room than I have and a lot more time than you have, so I've broken it down into my 11 major takeaways.
11 takeaways from the Neil Gaiman MasterClass
1. All fiction must be as honest as you can make it:
People respond to the truth, even when reading a work of fiction. As such, you have to inject truth into your work.
Writing function is the art of "telling the truth through lies," as Gaiman expertly puts it.
2. You have to understand the world:
Gaiman says that learning more about the world helped him deal with the inevitable rejection that we all receive as writers.
He became a journalist because it gave him a license to ask questions. By asking these questions he learned more about the world around him, which gave him the inspiration to write quality stories.
3. Every writer needs "a compost heap":
When talking about creating inspiration, Gaiman likened it to a compost heap.
If you take everything in your life — every story, every connection, every experience — and pile it up, you can leave it all there until it rots down and creates fertile compost that you can use to grow something beautiful.
4. Finding your voice starts with imitation:
You imitate what you know in order to find who you are. We structure our early writing off of those we admire.
Many probably structure their prose after Gaiman himself.
However, eventually, the more you write, you start to discover who you are as a creator, and your unique voice emerges.
5. The key to writing three-dimensional characters is determining how they talk:
Dialogue drives the plot of a story. You can learn how to show who your characters are by figuring out what they say and how they say it.
According to Gaiman, good dialogue comes from listening. You have to listen to your characters because sometimes what you think a character sounds like doesn't actually work in execution. Characters are alive from the moment you put them on a page, and sometimes they rebel against what you've set down for them in your outline.
6. Smuggle in details from your own life when world building.
Take what you know and make it bigger or smaller to create your own world.
Ask yourself questions. You have to know everything about your world, even if you don't use it in the book. Eventually, someone will ask you how characters in your fantasy world use the bathroom, and you need to have an answer for them.
Gaiman also said that moments of reality could create credibility in a totally fictional world. Relatable things and actions make your world relatable to readers.
7. Allow your characters to discover the rules of your world.
No one tells us the rules when we enter this world. We learn by making mistakes.
Gaiman uses an example of this, stating that you learn that fire is hot by touching it and getting burned.
The characters discover these things along with your readers. That's how you avoid exposition dumps and introduce elements of your world subtly.
8. Writing for comics
As a lifelong comic book fan, I've always wanted to learn how to write a comic book.
Gaiman discusses the whole process, detailing how to write a comic book script, deal with artists, and work with other collaborators like editors, colorists, and more.
9. When something doesn't work for someone, that person is not wrong.
When someone doesn't like something, that's their opinion, and it isn't wrong. Often, the problem they're finding actually occurs earlier in the story.
While you should take notes from your editors and beta readers, Gaiman recommends that you don't just fix it in the way that they recommend. If you do that, you're writing their story and not yours.
When editing, Gaiman stresses that perfection doesn't exist. Don't get crippled by seeking it.
10. You have to write, finish, and send your work out.
Be brave. Send out your finished work and don't change it. When it comes back, send it out again to someone else.
When you finish, and you start sending something out, start on the next thing. Keep writing always.
11. You are the writer, and you're also the first reader.
You created it, but you're also that magical first reader. Struggling will happen. It's a part of the process.
When you go back and read, there will be some areas that you remember writing on a hard day where every word was a struggle. There will be others where every word flowed from the universe itself, and you were a conduit for the muses.
But they all sound like you. They all are you.
Find your own writer revelations with the Neil Gaiman MasterClass
Memorable quotes from this MasterClass
"After you've written 10,000 words, 30,000 words, 60,000 words, 150,000 words, a million words, you will have your voice because your voice is the stuff you can't help doing."

– Lesson 4 Finding Your Voice
"You learn more from finishing a failure than from writing a success."

– Lesson 4 Finding Your Voice
"You always have to remember that when someone says that something doesn't work for them, they're right."

– Lesson 17: Editing
"I know that if I'm going to write something, somethings are going to be better than other things, and I won't necessarily know why. But I do know that I need to have faith in the process. If I don't write the story, there is no chance that it's gonna be one of the good ones."

– Lesson 17: Editing
"Experience is good. Reading is fantastic. Read everything you can, write everything you can. But do a lot of living, because everything that happens in the living is going to wind up in the fiction."

– Lesson 19: The Writer's Responsibilities
Neil Gaiman MasterClass pros and cons
I know this has been a pretty glowing review thus far, but as Gaiman himself says in this course, perfection does not exist.
As such, we've laid out some pros and cons of the Neil Gaiman MasterClass
Pros
There's clearly a lot to love with this writing class. Gaiman explains the creative writing process with a lot of passion and makes his points by referencing his well-known works.
Here is a list of all the good you can find in the Neil Gaiman MasterClass:
Explains complicated concepts in easy to understand anecdotes
Makes his points using stories from his books
Can speed up the lessons for a faster experience
Closed captioning available
An entire section on comic book writing
Deals with writer's block and editing
Passionate and compassionate lectures
Cons
While Neil Gaiman does an amazing job with this MasterClass, there are a few areas in which I felt this experience fell a little flat.
Here is a (short) list of cons for Neil Gaiman's MasterClass:
Stories kind of ramble in the beginning
Not a lot of scenic variety. Mostly stays in the same set, switching between two camera angles.
He speaks very slowly (Best to turn it up to two times the speed)
Do I recommend the Neil Gaiman MasterClass?
If you are a writer or even just a person who thinks they might want to write a book someday, then I highly recommend Gaiman's MasterClass.
I can think of no better modern author to give a definitive guide to becoming a success in the publishing world than Neil Gaiman. His writing advice is invaluable. While he has all the money he could ever need and many pressing things he could be spending his time on, he never once phones this in.
Gaiman is engaged and passionate throughout all 19 lessons in this writing course. As far as MasterClasses go, this is one of the best. Applying these lessons to your work in progress can be a great writing exercise.
The best thing about a MasterClass subscription is that you can expand your horizons by learning to write in various formats and genres. Each course is memorable, insightful, and one-of-a-kind. Start your membership today to unlock your creative potential.