Not everyone is a writer.
And the English language isn't exactly simple.
That's where a service like Grammarly comes in.
Is Grammarly Worth it?
Is it really the ultimate grammar, spelling, and plagiarism checker tool?
Or is it just another overhyped, expensive premium tool?
We've been a paying premium user for over three years, using it on a daily basis. So that's what we'll answer in this hands-on, in-depth Grammarly review.
Disclosure: These reviews are reader-supported. We might earn a small commission if you purchase something through our site. Learn more
Our Verdict
Grammarly is the clear winner across both categories after reviewing over 20 different grammar and plagiarism tools. It's on the pricey side, but you can save 20% with our link.
Grammarly
Best All-Around
$11.66
/mo – before discount
PROS
86% out of 86% accuracy
16+ billion database
150k+ word limit
5 devlice limit
Includes plagiarism
1-hour response
CONS
Only supports English
Expensive without our link
Grammarly Review: Video Overview
Table of Contents
You've probably seen the ads. You might have heard your peers or coworkers mention it. It seems like over the past few years that Grammarly has exploded in popularity.
Although the Grammar checking tool has been around for over ten years, the constant improvements have made it an incredibly useful writing aid.
There is a lot of confusion about what Grammarly can do and how it helps to improve your writing. For anyone who writes content for a multi-language website, for work, for school, or even shares posts on social media, Grammarly can teach you to be better.
Yes, you should read more. Yes, you should improve your skills by learning from teachers or mentors like MasterClass offers.
But ultimately, to become a better writer, you need to write more. And Grammarly can help provide the feedback you need to course correct as you go.
In-Depth Grammarly Review
In this Grammarly review, we will take a look at some of the benefits of Grammarly and how it stacks up against other writing tools. We'll also look at the benefits of Grammarly Premium versus the free version, and whether it's worth upgrading.
What is Grammarly?
Grammarly is a grammar checking, proofreading, spell checking, and plagiarism checking tool all rolled into one. Most people will probably gain value from using it as a grammar checker, but there are a ton of extra features that can improve your writing. The writers in our very own content marketing agency use it on a daily basis.
The desktop app and browser extensions offer unique ways to use the Grammarly software with all your writing.
If you are a blog writer, content writer, student, or author, you will benefit from using Grammarly. It will help you better understand a lot of those confusing grammar rules. The easy to use tool will catch spelling mistakes, grammar errors, punctuation mistakes, plagiarism issues, and more.
Better than just spotting mistakes, the Grammarly software (and online Grammar Handbook) provide detailed explanations of your grammatical errors, so you slowly become a better writer while using it.
With both a free and paid version, it's a no brainer to Grammarly for free, and once you understand the extra benefits to potentially upgrade to Grammarly Premium version.
What Does Grammarly Do?
Grammarly is a freemium software product (meaning you can upgrade to a paid version for more features). The tool can help you check for several types of writing errors:
Spelling errors
Grammatical errors
Readability issues
Plagiarism problems
Writing Tone
Similar to a spell check in Microsoft Word or Google Docs, Grammarly is a correct-as-you-go tool. If you like to edit as you work, the browser extension app can be useful. If you prefer to do all your editing at the end, you can copy and paste your document into the Grammarly online editor.
Let's look at a few of these Grammarly features in a bit more detail.
Grammar and Punctuation Checker
As the name suggests, Grammarly is best known for detecting grammar and punctuation mistakes. The feedback offered ranges from basic to advanced. Grammarly corrects over 150 grammar errors, including:
spelling and punctuation errors
poor sentence structure
run-on sentences
passive voice errors
wordy sentences
Better than just finding mistakes, it also provides real-time improvement suggestions and teaches you why these changes matter.
Spell Checker
As well as focusing on Grammar mistakes, it doubles as a spell checker. While this is a feature in most writing tools (Microsoft Word, Scrivener, etc.), it's much easier to check your spelling errors alongside grammar, especially as you make more changes.
Plagiarism Checker
If you upgrade to the Grammarly Premium version, the tool also detects plagiarism. The plagiarism tool is incredibly thorough, comparing your writing to billions of web pages.
Writing Style Coach
Perhaps the best feature of Grammarly is that it will also help you self-edit your work. It provides examples of why something is a grammatical mistake, and how you can improve it. As you begin to make changes, the tool will give you words of encouragement and increase your overall score (more about score later).
The benefit is that over time your writing will naturally improve, just like having a real-life writing coach.
How Much Does Grammarly cost?
Grammarly is a freemium software tool, which means you can use the free version forever, and gain some benefits. The browser extension tool, the desktop app, and the web browser tool work only require a Grammarly account.
Of course, like most free tools, whenever you use the tool, Grammarly will encourage you to upgrade to gain full benefit.
Grammarly Premium ranges in cost from $12 a month (if you purchase an annual plan) up to $29 a month (if you choose to pay month to month). There are also occasional discounts that Grammarly offers if you opt-in for their email newsletter when you sign up.
Grammarly Business is an edition meant to help companies that employ several writers. It follows a similar payment schematic as Premium, but is slightly more expensive ($12.5/mo. for an annual subscription), and is calculated per user. However, a single Business subscription can account for 150 team members.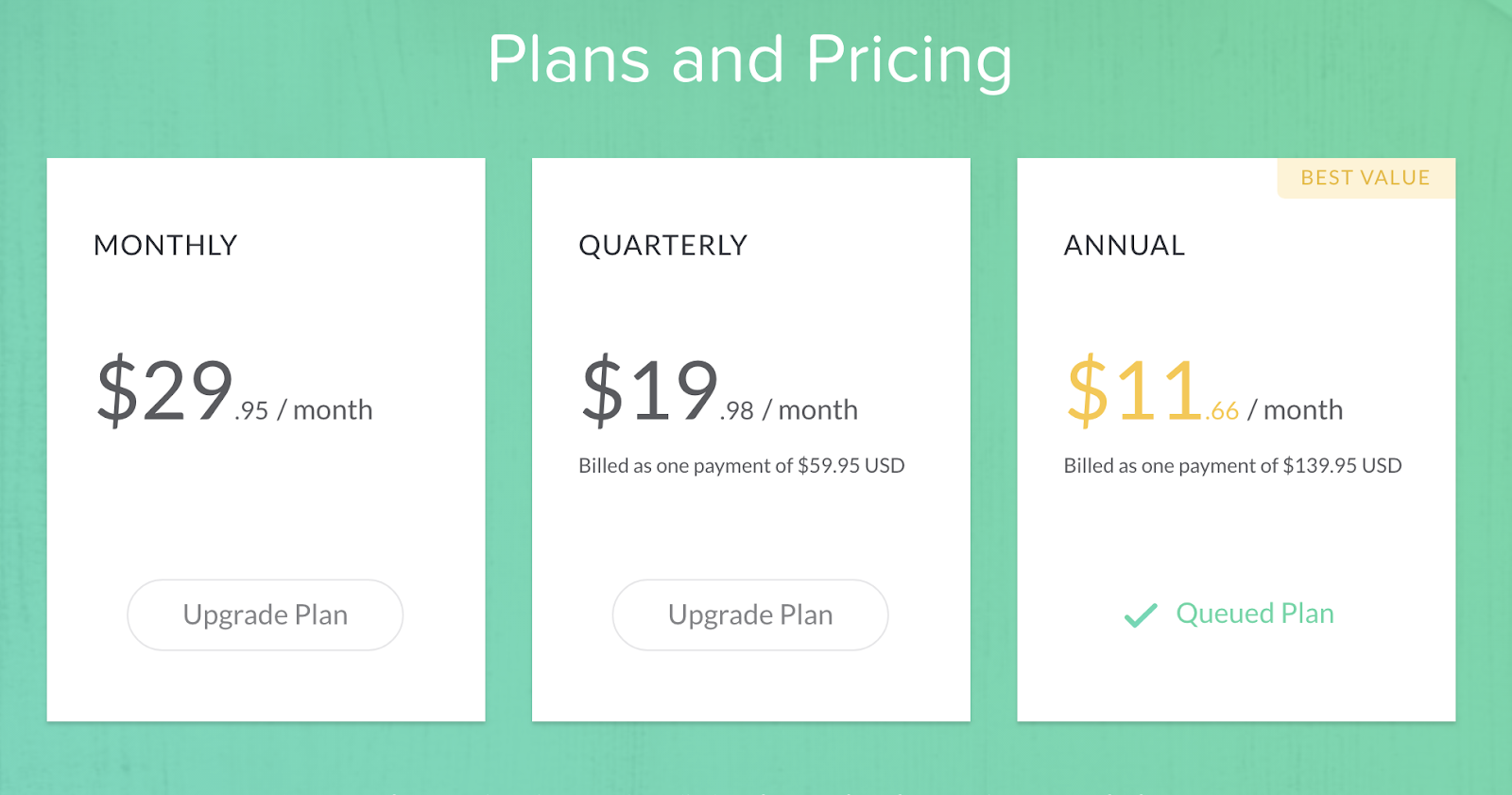 A great feature of Grammarly is that it can be used in many ways:
On Grammarly online editor by uploading or pasting your files into the web browser dashboard
As an Outlook app for Microsoft Office
By downloading the Grammarly desktop app for Mac
As a Grammarly extension for Google Docs that works well with Wordable to instantly export Google Docs to WordPress after proofing your content
Is Grammarly Worth It?
There are a ton of grammar checking tools on the market today. Some are entirely free, and some cost money. But each has its pros and cons.
Grammarly is rated as one of the best grammar software tools for a good reason. The Grammarly extension and the desktop app are both invaluable tools to have as a writer. Let's take a closer look at some of the main benefits of Grammarly.
1) Setting Writing Goals
Both the web-based and desktop app from Grammarly is simple to use.
By visiting www.grammarly.com, you can sign up and sign in. Within a few minutes, you can try Grammarly for free. After confirming your email, you are all set up, and Grammarly takes you to the dashboard.
Once inside, you will see the option to upload a new document.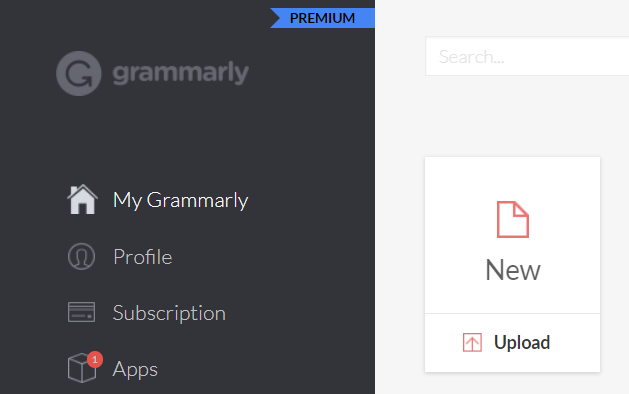 For a new document, you can paste in copied text or upload a file to be checked.

As soon as you upload or copy and paste your document into Grammarly, it will give you a list of goals to choose from. These goals give Grammarly a better sense of what kind of writing you are doing, and who the audience is.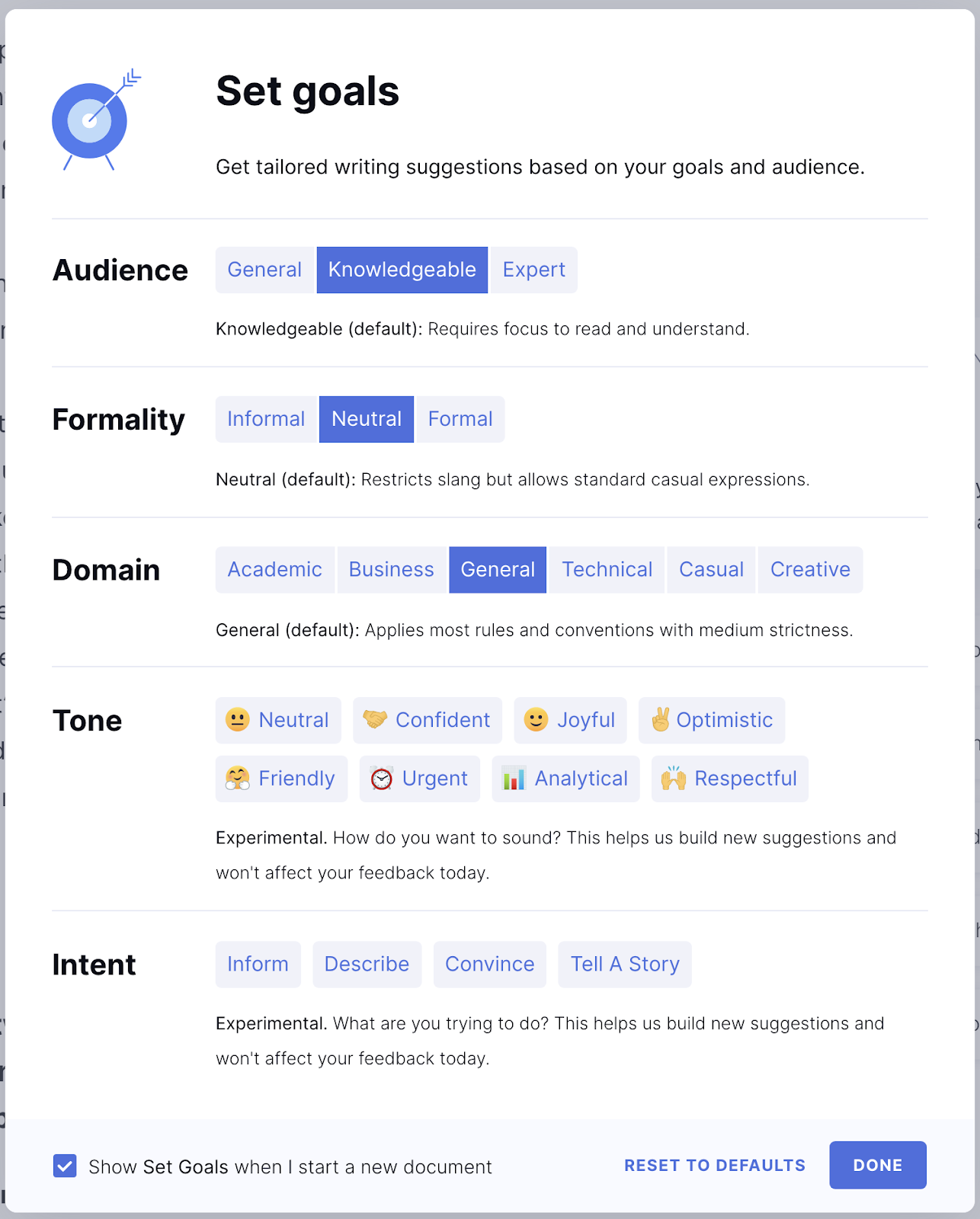 Your intent helps Grammarly decide which mistakes Grammarly will flag or ignore. The tone helps the tool to change certain words to make a piece more friendly or formal.
You can also tell Grammarly who this content is for:
General
Business
Creative
Casual
Academic
Technical
After you've chosen your writing goals, Grammarly will then scan the document for improvements. The software is impressively fast. In around ten seconds, you will begin seeing results.
2) In-Depth Recommendations
One of the best features of Grammarly is the detailed explanations for changes. Most grammar checkers simply tell you what to change. Grammarly tells you why it should be changed.
Even small errors such as spelling mistakes have an explanation that helps you understand.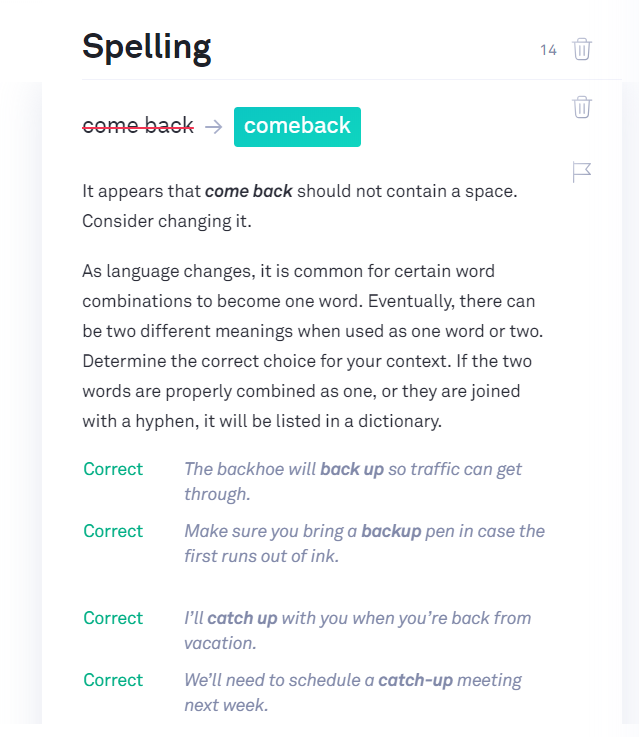 In this example, the software flagged the words "come back" and suggested they should be one word based on the context. It not only explained why it gave this suggestion, but it gave many examples of similar words to understand better.
The Grammarly Handbook online also delves into more detail to help you understand how to catch them yourself.
3) Clear Explanations Tailored to You
Grammarly's proofreading highlights several problematic sections and gives reasons as to why each is a problem.
It breaks down the feedback into four categories:
Correctness – spelling, grammar, and punctuation
Clarity – makes writing easier to understand
Engagement – makes writing more exciting and effective
Delivery – helps to make the right impression on your reader
Each issue is always presented in an easy to understand format.
The explanation screen also features a scoring system that takes into account how many errors Grammarly has spotted in your work.
This is a great way to introduce new members to the app, as it provides them with a game-like experience, where they try to achieve full marks for their content and improve their writing skills while doing it.
However, not everything needs to be 100% to be perfectly readable, and Grammarly can make a mistake from time to time too. However, it takes a skilled author to know when to ignore a suggestion and trust their instinct instead. For everything else, a professional editor will pick up the slack.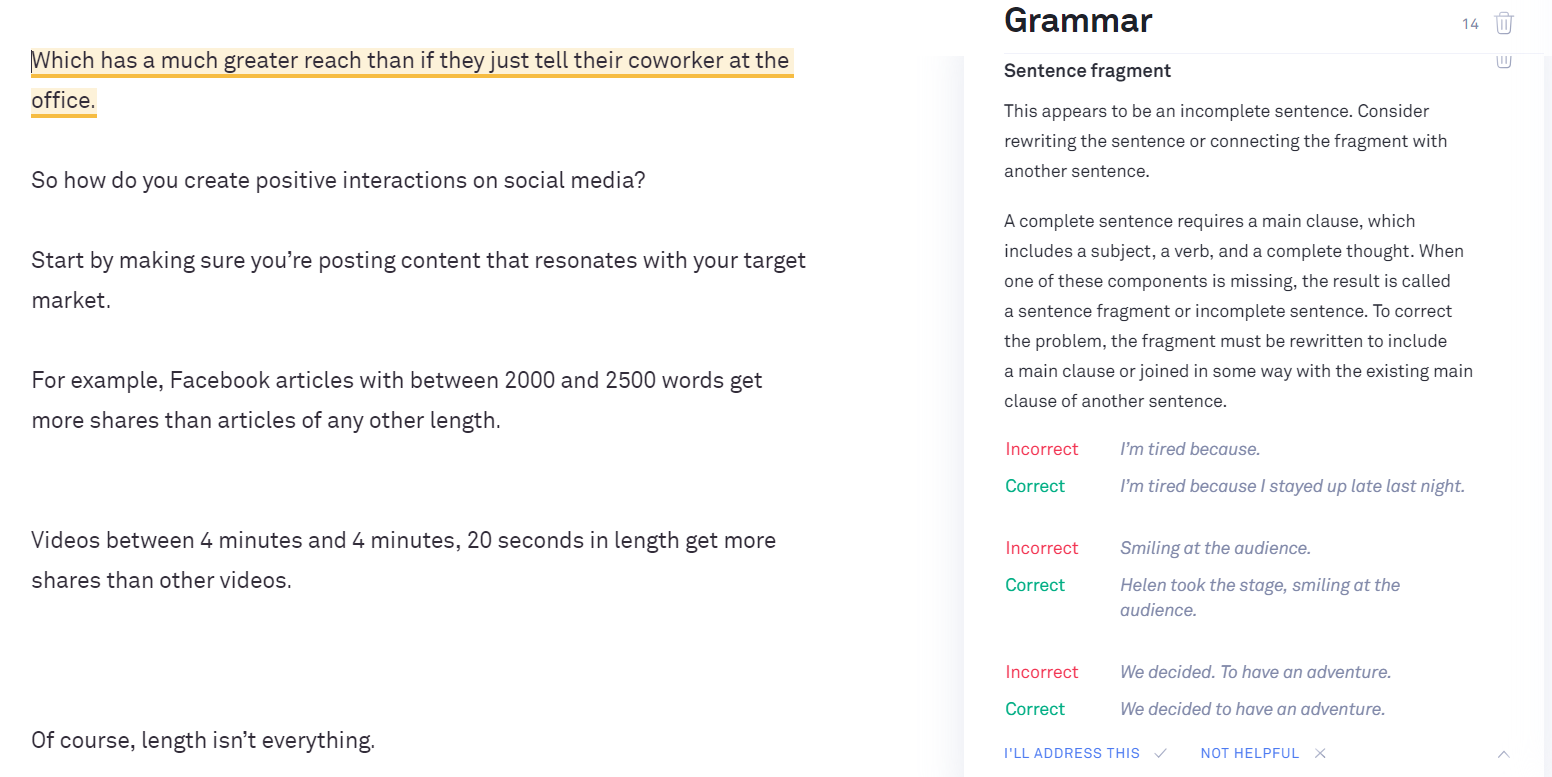 The issue is always highlighted on the left. Grammarly then explains the right of the screen.
Each correction will have an example showing both correct and incorrect grammar. On the bottom of each correction, you can let Grammarly know that you'll address this issue, or that it is not relevant or helpful. On the top right, you can choose to ignore it by simply deleting the suggestion.
If Grammarly's suggestion has been ignored, it will appear later in the document if a similar error occurs again. If you're using words that are not common to the English language, consider expanding the dictionary with them, so they don't cause Grammarly to go nuts with incessant alerts.
4) Word Suggestions
Finding the best word choice can be confusing, especially as a less experienced writer. Grammarly is a lifesaver in this regard. It offers suggestions for better vocabulary, clarity, and correctness.

This is where Grammarly sets itself apart from the simple spellcheck tools in writing programs like Microsoft Word or other writing apps. The more you use Grammarly, the more you will find your word choice expanding and improving.
5) Conventions
Most good writers understand conventions. They write in a certain way so the reader can figure out what we're trying to say. Conventions can include spelling, punctuation, capitalization, grammar, and sentence structure.
In the past, writers and editors had to rely on style guides. Grammarly now offers all of these grammar rules built-in.
Here's a perfect example: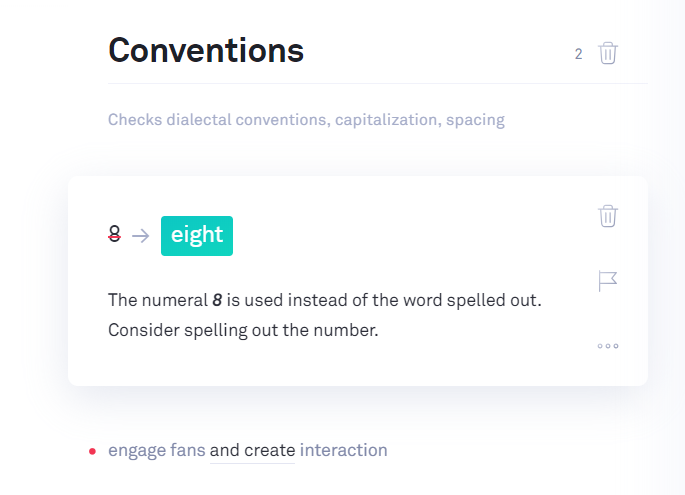 The Grammarly Chrome extension will also help these issues in emails and social media posts.
6) Formality
Formality goes beyond a formal or informal tone. It has to do with some of the unwritten rules that exist within the English language. Many of these 'rules' are learned in school or apply only to business or academic writing. Yet, if they are left unchecked, some people will get distracted by them in your writing.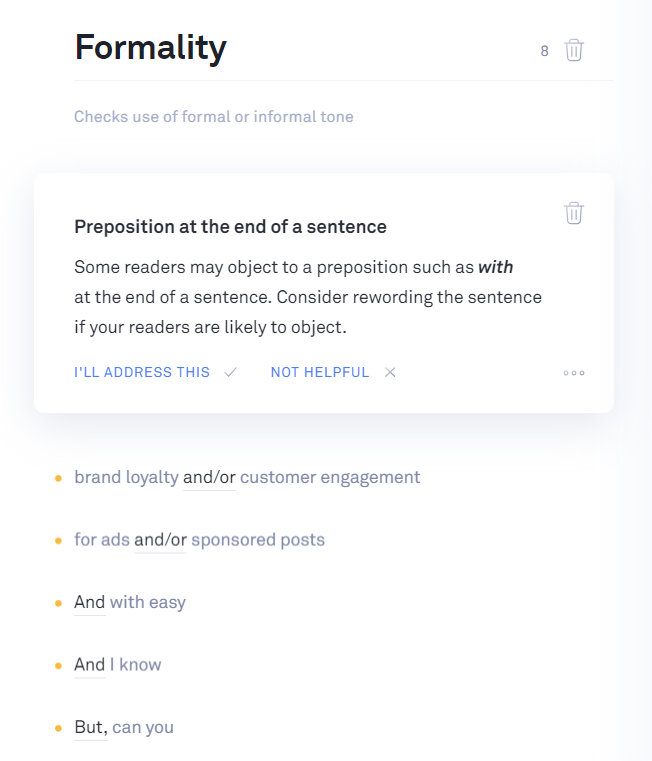 An example that Grammarly catches is ending a sentence with a proposition like "with." Other examples are not using "and/or" in a formal writing piece, or starting sentences with a coordinating conjunction like "and" or "but."
While these formality rules may not matter for all types of writing, it's great that Grammarly catches them and suggest changes.
7) Writing Clarity
Just like with the spoken word, your writing has an underlying tone. Especially in business writing, conciseness and clarity help to show it. Weak and or unclear language can soften a message or display uncertainty.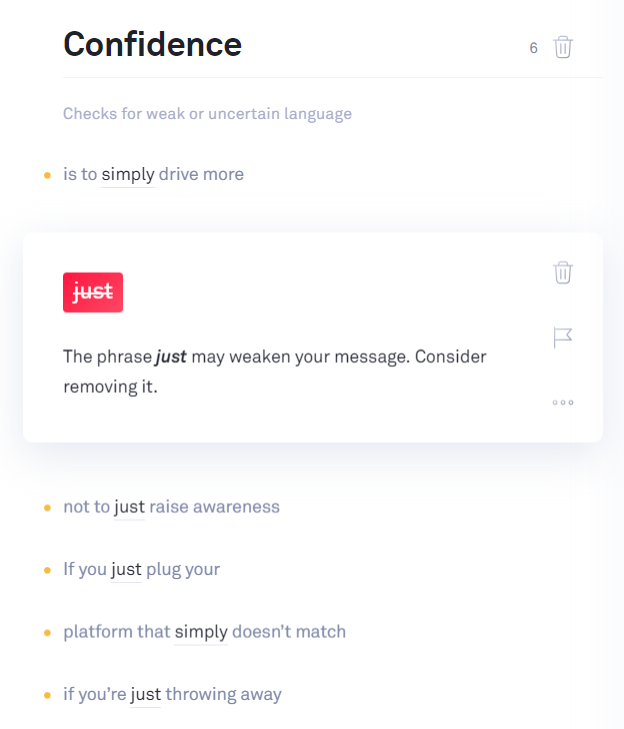 Removing words like 'just' or 'really' help to make writing more precise and definite.
Overusing certain words can become obvious to a reader and appears repetitive and lazy. Grammarly identifies overused terms and giving you suggestions on how to change them up.
With this feature, Grammarly helps both novice and professional writers sharpen their craft.
8) Passive Voice
A passive voice in your writing lowers the clarity. It makes sentences feel weaker and more confusing. Unfortunately, most spellchecking tools will not notice passive voice mistakes.
Grammarly is advanced enough to detect passive voice in writing. Any time it is detected, it shows an alternative and explains how you can improve your sentence structure.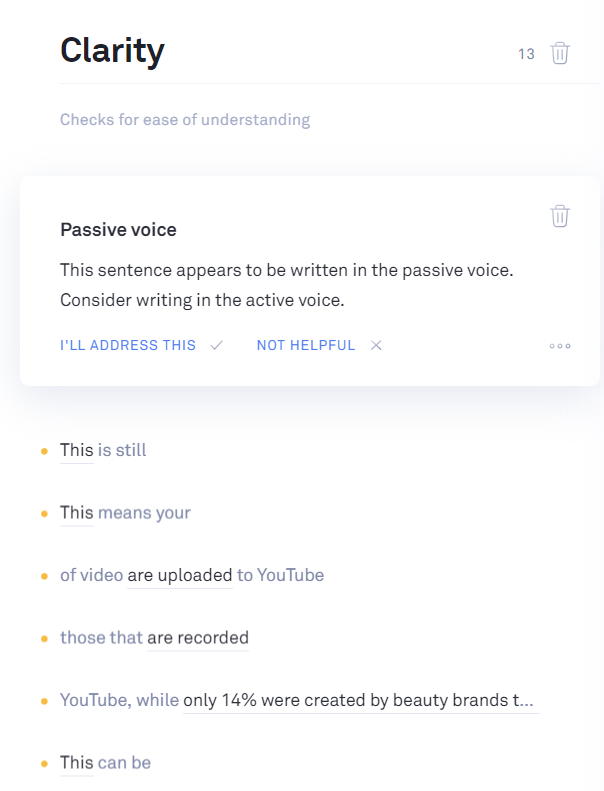 Grammarly doesn't automatically fix a sentence that contains passive voice, as it is a nuanced English writing style that doesn't have an easy fix, and sometimes doesn't need to be fixed at all.
The writing assistant (included in the Grammarly Premium and Grammarly Business editions) will provide more advice about what passive voice is and how it affects your article's readability.
However, some writing techniques, such as academic and scientific writing, specifically call for the use of passive voice to maintain objectivity. Grammarly's suggestion for passive voice remains only that.
Therefore, not all passive voice instances in your text should be removed if Grammarly notices them, but that you should take the time and see if the writing flows well with passive voice to keep it in.
To access the passive voice checker does require Grammarly Premium, but it is a valuable tool to have working for you.
9) Human Proofreading
If you are still not feeling confident about your piece after using Grammarly, there is an extra step that is offered (for an additional cost).
Rather than only using AI, Grammarly human proofreading. Grammarly alternative has a professional editor review your writing. Depending on how quickly you need the piece reviewed, Grammarly will give you an estimate directly in the same document you are reviewing.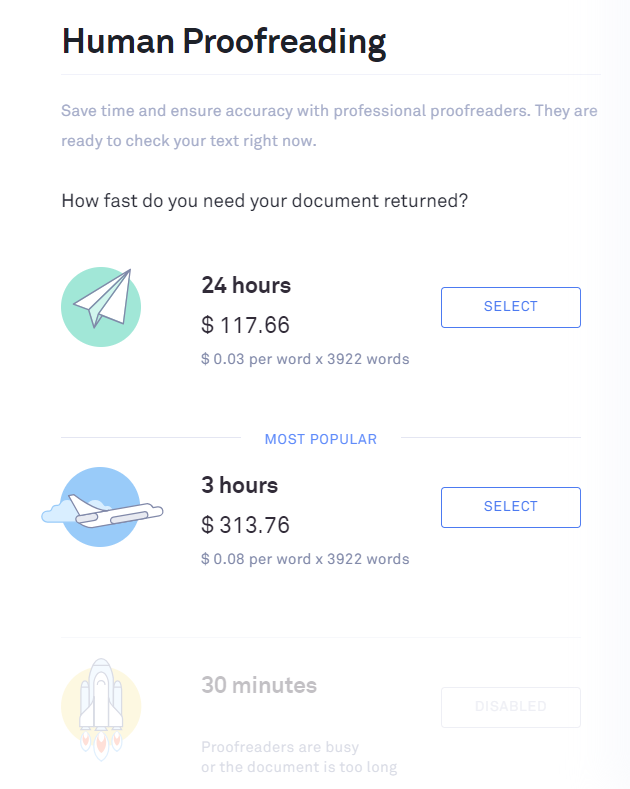 Note that proofreading services are different from editorial ones. A proofreader adds the final touches after an editor has gone over your work completely with a fine comb to ensure proper style and story engagement. Grammarly's human proofreading services won't provide advice or teach you more about the English language.
10) Writing Style Improvements
Grammarly's editor will offer stylistic advice, which is meant to advance your English capabilities and improve your education and career. If you're a professional writer, this feature is doubly helpful, as Grammarly's vocabulary enhancement has practical stylistic advice that are the baseline of the professional writing world.
If your team uses Grammarly Business, the style feature is expanded to be customizable based on your brand's needs and identity. This can change anything from ignoring a particular grammatical error (such as using a name that is not found in the standard dictionary) to including acronyms that only members of a specific industry would use. The style changes will work on all versions of the app, so the writers will have access to expert grammar checking irrespective of their writing platform.
Who Should Use Grammarly?
When thinking about using a grammar checking tool, it can be hard to decide if you should buy a premium tool. It seems like it is a tool only for professional writers, authors, or content creators.
However, thanks to the excellent free Grammarly tool, it is well worth trying for most people who write blog posts, emails, proposals, essays, reports, and even social media posts.
Should everyone use Grammarly? The short answer is yes. It is fighting the good fight against grammatical mistakes and weak writing. The Grammarly browser extension helps you as you write your daily emails and social posts, and makes you into a better writer.
How can professional writers use Grammarly? The benefits of the Premium version of Grammarly are clear for anyone who writes for a living.
If you're in a team of writers that needs a cohesive writing assistant to unify your styles to be immediately noticeable, Grammarly's Business plan is one that I would thoroughly recommend to a competent brand.
For students, the plagiarism tool alone is a lifesaver and reduces the risk of accidentally copying someone else's work.
While you're already using Grammarly Premium for proofreading, the style and clarity options will also make your essays flow better and have more depth. Just note that academic writing allows the use of passive voice, so set the app goals, accordingly, depending on the task at hand.
Is Grammarly hard to use if you aren't a writer? Not at all. If you can copy and paste text into a word document, then you can use Grammarly. The explanations for improving writing mistakes are easy to understand and help you become a better writer.
Grammarly Vs. Online Writing Tools
If you are willing to invest in grammar software, then you are spoilt for choice. On the market today, there are many competitors, including ProWritingAid, Whitesmoke, and Ginger, to name a few.
Each has its strengths and weaknesses, but all do the same job of checking grammar.
How does the Grammarly premium compare to other online writing tools?
When comparing ProWritingAid to Grammarly, the advantages of the paid version are that it will allow you to connect all the devices you own. In comparison, Grammarly only provides 5 for paid customers. The ProWritingAid Premium version doesn't have limitations or word count restrictions, where Grammarly caps to 100 documents or 50,000 words in 24 hours. ProWritingAid also allows you to purchase a lifetime license, which can prove to better value over the long-term.
If you are considering WhiteSmoke, the most significant advantage over Grammarly is the availability in 55 languages. This feature makes WhiteSmoke perfect for international users or second language students. WhiteSmoke also offers video training tutorials and is slightly less expensive than Grammarly.
Writer is a newcomer to the writing assistant field, with a focus on brand identity and company efficiency. It has very similar features to Grammarly, but businesses may prefer it due to its expansive integration options and style setting devices compared to the Grammarly app.
If you're looking at Ginger instead of Grammarly, the pricing is affordable, and it also offers language support for over 60 languages. However, the biggest drawback is no plagiarism detector, which puts it behind Grammarly if you need to check originality.
Not all grammar tools have the marketing power that Grammarly has, so they may fly under the radar. But thankfully, most of them offer a free version to test, and that means you can see which works best for you.
How does the free Grammarly tool compare to other free online writing tools?
Any free version of a grammar tool will have limited functionality. When compared to writing free tools such as ProWritingAid, Whitesmoke, Ginger, Citation Machine, and Scribens, Grammarly stands tall.
Based on extensive reviews, ProWritingAid and WhiteSmoke are the best Grammarly alternatives and provide comparative style corrections.
Where Grammarly excels is in the ease of use, and the instructional aspect. It is simple enough to change a grammar mistake, but Grammarly helps you to understand why.
Whatever you decide to do, we'd recommend using some type of grammar checker that works better than MS Word or Google Doc.
While these are fine text editors, their capabilities in areas Grammarly specializes in are severely lacking (and are a significant reason why Grammarly integrates well with them). Even the Grammarly free app will do a better job, as we experienced in our tests.
What types of devices and programs is Grammarly compatible with?
Grammarly is compatible with all modern web browsers: Google Chrome, Apple's Safari, Mozilla's Firefox, and Microsoft Edge. The browser extension works with most modern browsers as well.

The Grammarly desktop app is also available for Mac or PC, and it's compatible with: Windows 7, Windows, 8, Windows 8.1, and Windows 10. It also works with macOS 10.9 (Mavericks) and higher.
Grammarly has also introduced support for mobile devices. Both Android and iOS users can now correct their writing on the go with a Grammarly keyboard. This has all the features of the PC version, so Premium users can now compose evocative business emails while the app's writing assistant takes care of vocabulary enhancement or style checks.
Don't worry, though. Grammarly doesn't collect data from any fields that are marked sensitive, such as profile and password information or credit card forms. The developers have made every precaution to ensure a seamless Grammarly keyboard experience.

Try Writer now
Writing Well with Grammarly
It's easy to ignore grammar mistakes and think they don't matter in your daily work. But strong written skills show confidence, intelligence, and help to persuade effectively.
If you install Grammarly, you will see results within a few weeks, even with the free version. If you decided to upgrade to the Grammarly Premium version, you are gaining access to some of the best grammar checking software available today.
Over ten years, the Grammarly tool has kept improving and enhancing the experience for its users. The Grammarly extension and desktop app now give different ways to strengthen your writing and grow your writing skills.