Before the magic of spell check graced us with its presence people didn't really give a crap about writing correctly.
Sure, the professional writers, English teachers, and self-proclaimed grammar nerds did. But the rest of the world? The rest of the world just shrugged along as it shared yet another grammatically incorrect post on Myspace.
But that doesn't fly anymore.
These days, missing a comma or swapping 'their' for 'there' on your Facebook post will get you the side-eye at best.
And sending an email littered with grammar mistakes? You may as well kiss that new job opportunity goodbye.
Okay, that last part might be a bit much, but you get what we're saying.
The good news is, we've got spell checkers on steroids these days. Even better, we've got Grammarly Premium in our back pockets.
If you're curious to hear more about Grammarly Premium, stick around.
In this article, we'll cover the differences between Grammarly Free vs Grammarly Premium. We'll also answer some of your most frequently asked questions about both.
Let's get to it.
Disclosure: These reviews are reader-supported. We might earn a small commission if you purchase something through our site. Learn more
Grammarly
Best All-Around
$11.66
/mo – before discount
PROS
86% out of 86% accuracy
16+ billion database
150k+ word limit
5 devlice limit
Includes plagiarism
1-hour response
CONS
Only supports English
Expensive without our link
Grammarly Premium Walkthrough Video
TABLE OF CONTENTS
What is Grammarly, and how does it work?
Grammarly is a writing tool that helps you catch spelling errors, punctuation errors, and grammar errors.
Once you sign up for an account, you can access The Grammarly Editor on its home page, which looks like this: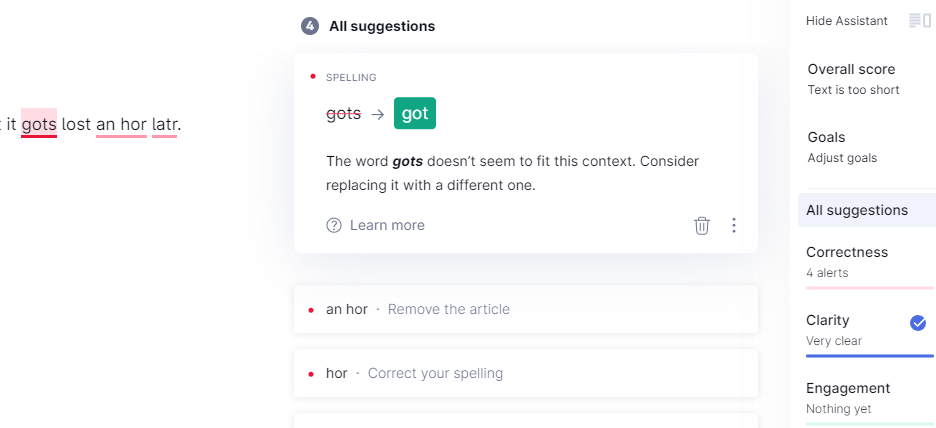 Or, you can access Grammarly through its:
Browser extension for Firefox, Safari, and Edge
Chrome extension (works in Google Docs)
Microsoft word and Outlook add-on
Desktop app
iPad app
Mobile app, called Grammarly keyboard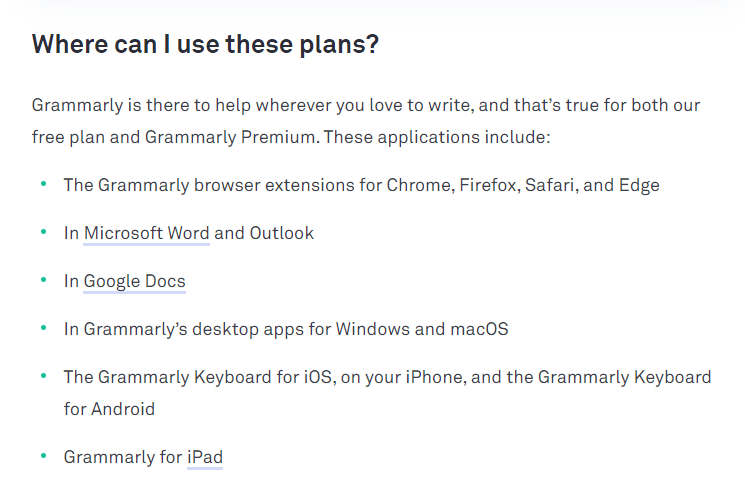 After you're signed up, you can check your text by pasting it into the editor or by typing directly inside it.
The types of features you have access to depend on which plan you choose. When you sign up for an account with Grammarly, you can opt for the free version or the premium version.
In the next section, we'll take a look at what you can get with both.
What is the difference between the free and premium versions of Grammarly?
Both versions of Grammarly offer basic spelling, grammar, punctuation, clarity, and tone features.
The free plan will catch things like:
Poor spelling in common words
Punctuation mistakes
Wordiness or run-ons
Sentence fragments
Poor subject-verb agreement
Poor grammar
How engaging your writing is
Incorrect punctuation
Incorrect word use
Formality in tone
Consistency in tone
Basic errors when you access the app in other formats
And while that may sound like a lot, the truth is it just catches basic writing mistakes. Which is okay if you're just writing an Instagram post for personal use or texting your mom. But if you need a grammar checker for work, school, or marketing purposes, the free version won't cut it.
To see what we mean, here's what you'll get with a Grammarly Premium account:
Everything that's included in the free version
A plagiarism checker that checks against 16 billion web pages
Enhanced vocabulary suggestions
Insight into grammar rules
Clarity-focused sentence rewrites
Inclusive language suggestions
Advanced grammar check
Word choice suggestions
Fluency checker and natural language detector
Punctuation, formatting, and spelling consistency checker
Lively sentence rewrite suggestions to replace repetitive, monotonous passages
Confident language suggestions to replace hedging language
Politeness detector and language suggestions
Advanced tone suggestions
Basic and advanced suggestions no matter which way you access the Grammarly app
Premium users also have access to expert writing suggestions from Grammarly's professional writing team.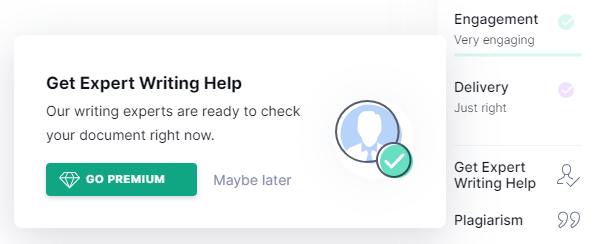 In other words, with Grammarly Premium you have access to an entire suite of professional writing features. Features that can help you impress your teacher, please your boss, or attract a new client on social media.
So whether you need to write a killer essay for your creative writing class or publish a blog post that converts, Grammarly Premium can help.
What are the benefits of Grammarly Premium?
Having access to Grammarly Premium is like hiring a writing assistant that follows you wherever you go.
But not in an annoying, nagging way.
In a helpful, thank-you-for-saving-my-butt kinda way.
Here are some of our favorite benefits of using Grammarly Premium: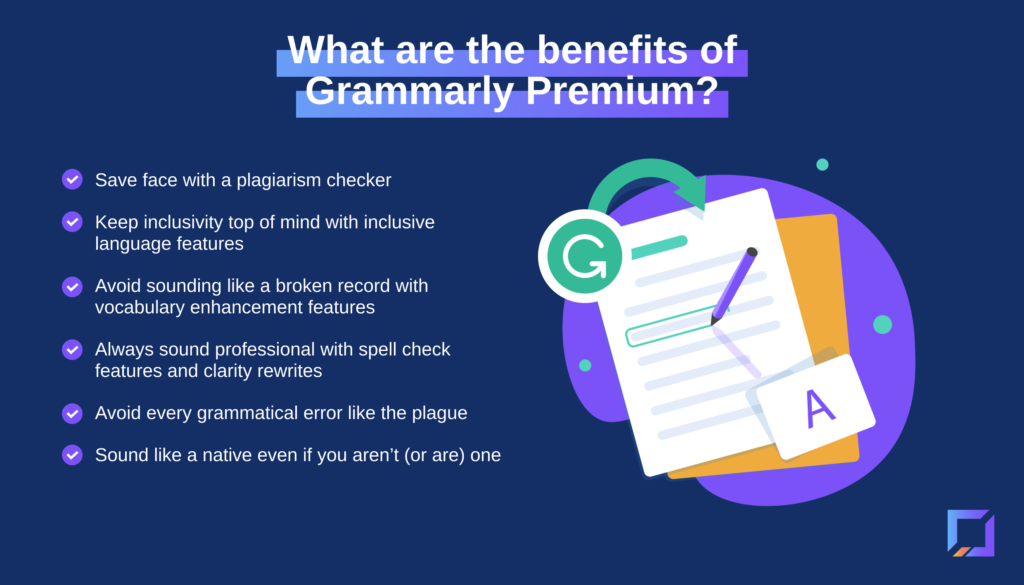 Save face with a plagiarism checker
Turning in an essay at school?
Publishing an article on your blog?
Writing an ebook for work?
Without a plagiarism checker, you're approaching dangerous territory.
Because with billions of pages on the world wide web, there's no telling how many texts sound similar to yours. And the only way you could ever know is by running a plagiarism check.
That's why our favorite reason to use Grammarly Premium is having access to an effective plagiarism checker.
If you're a student, a creative, a marketer, or you get paid to write, you need access to a plagiarism checker.
Keep inclusivity top of mind with inclusive language features
Gone are the days where you could say whatever you wanted without giving it a second thought.
And that's a good thing.
In a world with people of all shapes, sizes, colors, genders, and backgrounds, inclusive language is finally making its mark.
That means words like 'salesmen' are swapped for 'sales reps'. And terms like 'blue collar' are swapped for 'laborers'.
And nowadays, you'll get a huge sucker punch in the face if you slip out the wrong term.
But if you don't know, you don't know.
Luckily, with Grammarly Premium's inclusive language detector, you'll know exactly where you went wrong — and what word to use instead.
Avoid sounding like a broken record with vocabulary enhancement features
We've all done it. We've used the same word repeatedly because we couldn't think of a better alternative. It's easy to do.
But when it comes to writing, overusing a term can wreak havoc on readability and engagement. People don't want to read the word 'shiny' three times. They'd rather read 'glistening, sparkling, and twinkling.' Or 'glowing, shimmering, and gleaming.'
Your teacher, boss, mom, friends, clients — whoever — they want to read something that inspires them, catches their attention and provides value. They want vibrancy.
Whether you have a native, advanced, or beginner English level, we can't say enough about Grammarly Premium's advanced vocabulary suggestions.
Always sound professional with spell check features and clarity rewrites
One spelling mistake can change the entire meaning of a sentence.
'Have you checked the male' and 'Have you checked the mail' mean two different things.
'Would you like a pair?' and 'Would you like a pear?' also, mean two different things.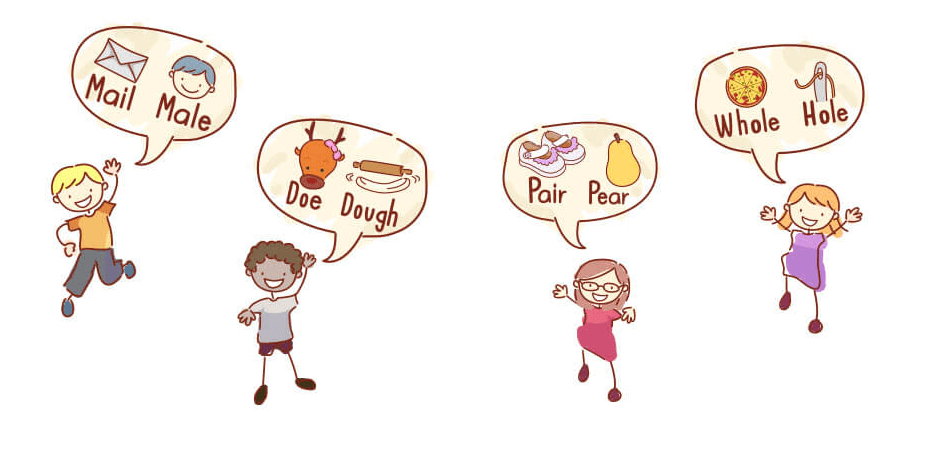 But without a writing tool, errors like these are easy to miss. In fact, we're betting these kinds of errors show up a lot in your writing if you don't have a trusted writing assistant.
That means that the email blast you're planning on sending later could easily get misconstrued. And that text you just sent your boss could come back to haunt you at work tomorrow.
But with Grammarly's spell check and clarity features, you can ensure your writing comes across as clearly as possible, every time.
Avoid every grammatical error like the plague
What good would the premium version be if it didn't come with advanced grammar checking?
And the best part is, you'll get grammar insights that'll help you understand where you went wrong. In other words, instead of merely correcting your grammar, you'll also learn how to avoid grammar mistakes going forward.
Sound like a native even if you aren't (or are) one
Is English your second language? Are you a native English speaker that struggles with vocabulary?
Grammarly Premium's fluency features can help you make sure your word choices sound natural and fluent, every time.
Should you get Grammarly Premium or Free?
By now, we think we've made it clear that Grammarly Premium is the bee's knees. But in this section, we'll explore which option might be better for you.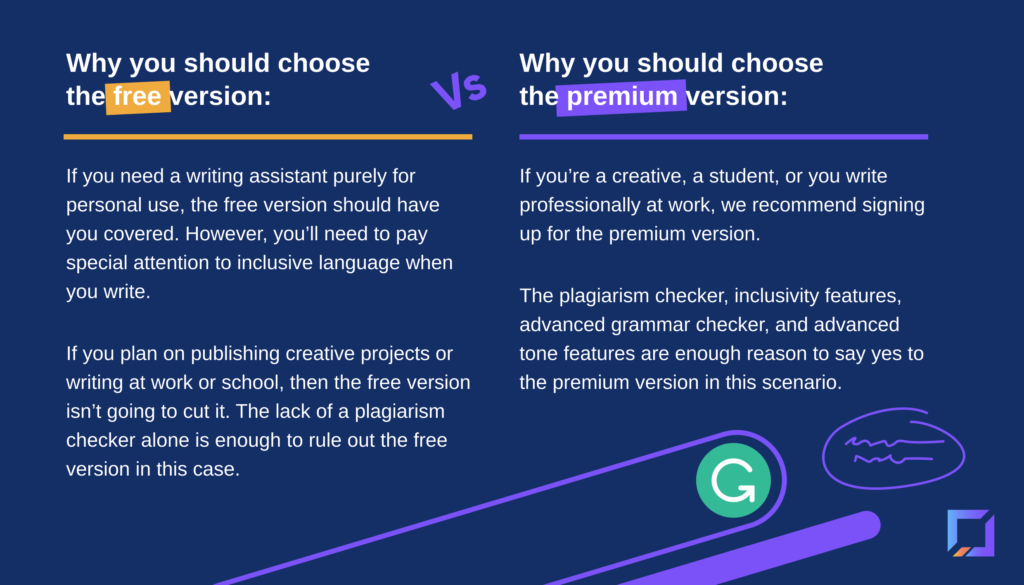 Why you should choose the free version:
If you need a writing assistant purely for personal use, the free version should have you covered. However, you'll need to pay special attention to inclusive language when you write.
If you plan on publishing creative projects or writing at work or school, then the free version isn't going to cut it. The lack of a plagiarism checker alone is enough to rule out the free plan in this case.
Why you should choose the premium version:
If you're a creative, a student, or you write professionally at work, we recommend signing up for the premium version.
The plagiarism checker, inclusivity features, advanced grammar checker, and advanced tone features are enough reasons to say yes to the premium version in this case.
More scenarios to help you choose between the premium and free versions
Still unsure which plan to pick? Take a look at the following scenarios for insight.
Scenario A:
You've got a promotion at work that entails more blog writing, copyediting, and marketing projects. You're a boss at marketing, but you suck at grammar.
At first, you get by sending all copywriting tasks to your editors. After noticing your editors are taking longer than usual, you decide to step in to help out. But, you're at a loss. You don't know much about correct comma usage and your spelling is awful.
The best plan for you? Grammarly Premium.
Scenario B:
You're so loyal to your Harry Potter fandom group, that you find yourself writing in forums twice a day. The rest of your time consists of binging on Netflix shows, tending to your micro garden, and trading cryptocurrency.
Other than your fandom group, you don't write much at all. You avoid email like you do tarantulas, and you're anti-social media.
The best plan for you? Grammarly Free.
Scenario C:
You're a grad student with a knack for grammar and writing. You get straight A's in school and you've never used a grammar checker. The only problem? You consume so much information, that sometimes you wonder if your work is derivative.
You've never gotten flagged for plagiarism, but you're starting to worry if you should be proactive anyway.
The best plan for you? Grammarly Premium.
Scenario D:
You're a math teacher that spends your time either at school, at math club or grading papers at home.
Your students never write you're not on the curriculum committee, and your assistant designs your lesson plans.
In your personal time, you spend your mornings reading and your evenings going for walks in the forest.
You're on Facebook and Instagram, but you're more of a lurker than a poster.
The best plan for you? Grammarly Free.
Scenario E:
You're an influencer, affiliate marketer, and avid crocheter. You spend most of your time crafting social media campaigns, writing blog posts, and selling knitted goods on Etsy.
You're well versed in grammar and inclusivity, but sometimes you struggle to find the right tone when you're writing. Since you run a blog and sell goods, you're getting worried about plagiarism, too.
The best plan for you? Grammarly Premium.
Scenario F:
You're a restaurant owner who loves sharing your love of IPAs and meat marinades on YouTube. Other than your YouTube show, your assistant handles most of your marketing for you.
On Fridays, you travel to LA and NYC to get inspiration for new recipes. In your spare time, you like to go fishing with your kids, watch sports, and practice your steak grilling skills, naturally.
The best plan for you? Grammarly Free.
Wrap up
We hope you enjoyed this week's rendition of why Grammarly Premium Rocks. Or wait, this was a comparison article, yeah? Right.
Anyway …
Think Premium's for you, but you'd like to do more digging, first?
Check out our article Is Grammarly Worth It? We Bought Premium To Find Out for a closer look.
Or if you're convinced that a Grammarly Premium plan is for you, then surprise! We've got a 20% discount for you.

No thanks are necessary.