Is Grammarly worth it?
Short answer:
Yes.
We've paid for Grammarly Premium for the past three years. Our content marketing agency produces over 300 articles per month, so we use Grammarly Premium daily.
But don't just take my word for it.

Let's review Grammarly to see if the Premium features are worth the cost (or not). We'll also look at the features of Grammarly Business to see if it's a better fit for your needs.
Disclosure: These reviews are reader-supported. We might earn a small commission if you purchase something through our site. Learn more
Grammarly
Best All-Around
$11.66
/mo – before discount
PROS
86% out of 86% accuracy
16+ billion database
150k+ word limit
5 devlice limit
Includes plagiarism
1-hour response
CONS
Only supports English
Expensive without our link
Grammarly Premium Walkthrough Video
TABLE OF CONTENTS
What is Grammarly?
Grammarly is one of the best online grammar checker tools available for writers today.
Grammarly users can use Grammarly in a variety of ways, but its most basic function is to be an efficient spell checker and writing assistant.
It's vital to put your best foot forward when writing articles and creative pieces. Even minor grammatical mistakes can cause an overwhelmingly negative reaction from readers.
While Microsoft Word and similar rich text processors have some features included, Grammarly goes above and beyond to improve your writing flow and make fewer mistakes. If you're still on the fence about it, read on with our comprehensive Grammarly review.
What are the benefits of Grammarly Premium and Grammarly Business?
While the free Grammarly version has some nice spell-checking features, it pales in comparison to what the Premium and Business versions have to offer.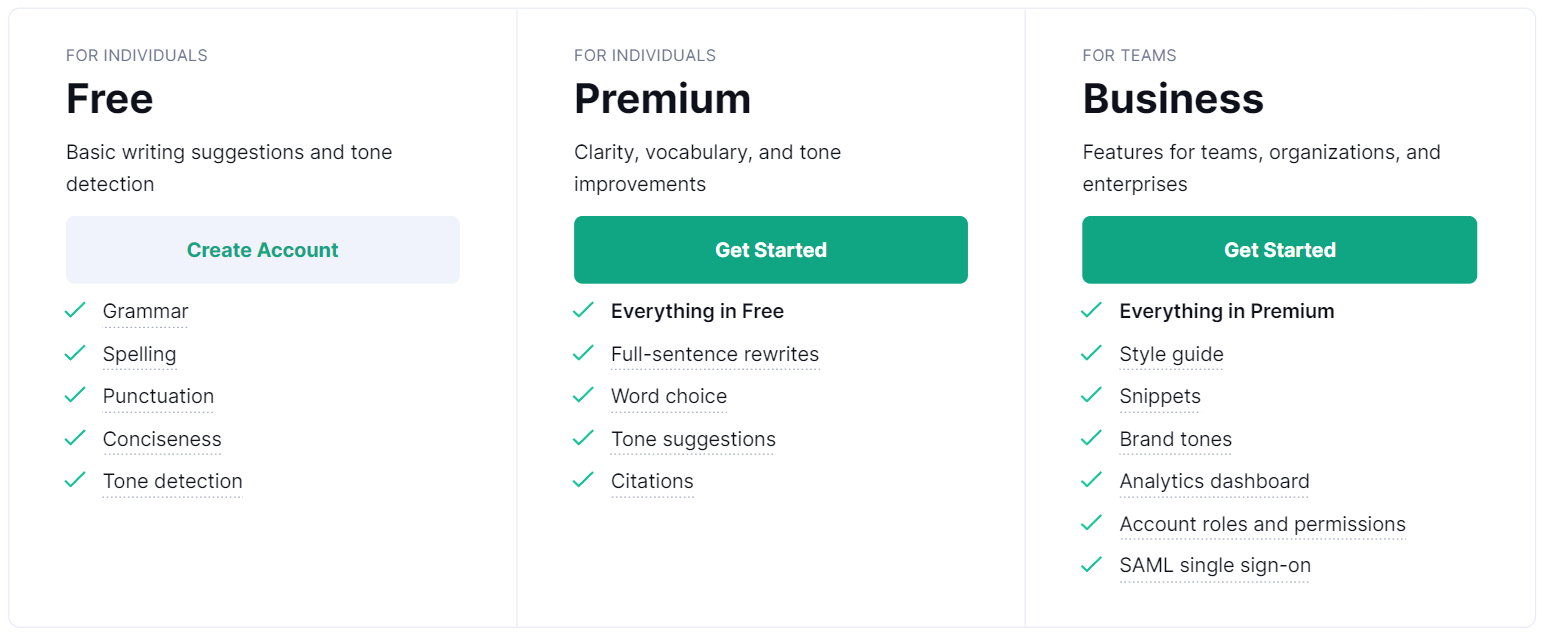 Grammarly Premium has all the bells and whistles you'd expect from a comprehensive writing assistant, which puts Microsoft Word to shame with its bevy of features.
For example, one of the best inclusions is the clarity and engagement corrector, which gauges your current vocabulary and suggests ways to improve. These include removing repetitive words or phrases and improving your writing tone by using more active verbs with a direct meaning.
Premium also includes a plagiarism checker, which verifies that your writing is original. This is vital due to unintentional or accidental plagiarizing being more common than you might think.
Even if you don't intend to copy work, unintentional plagiarism has severe consequences for academics and students.
Grammarly Business includes all the features of the Premium version, plus additional features that are perfect for a business with multiple players.
For example, Grammarly Business lets you set style guidelines and brand tones to help your team write consistently and on-brand for your business (and your clients' businesses).
The Business version also allows you to create account roles and permissions, so you can manage which team members have access to different functions.
Is it worth paying for Grammarly?
If you're looking for a grammar checker to make your writing life easier, look no further than Grammarly.
There's so much to like about this service, from its ability to correct grammar mistakes, spelling checks, and punctuation to its incredibly accurate plagiarism checker, which compares your work to over 16 billion different sources on the Web. (Read our full Grammarly review here.)
Grammarly offers a free grammar checker that provides access to features like the Grammarly Chrome extension.

But to unlock extra stuff like Grammarly plagiarism, you'll have to upgrade to the Premium or Business version.
But is this paid service worth it in the long run? Is Grammarly's cost justified to catch every single last spelling mistake?
The short answer is: Yes.
Just like MasterClass which, despite being on the more expensive side of the spectrum, is worth the quality and value you get for that money.
Here's a full Premium and Business review to try and answer that question once and for all.
Is Grammarly good for authors? What about business people?
Grammarly Premium and Business can be used in many ways:
On their website by uploading or pasting your files into a dashboard
Grammarly plugin as a Chrome browser extension
As an Microsoft Word, Powerpoint, and OneNote extension
An Outlook app for Microsoft Office
Grammarly desktop app on Macs
Grammarly extension for Google Docs
As an app for your iPhone, iOS tablet or Android device
Grammarly plagiarism checker will save you from improper citations
You can also use it in combination with other tools like Wordable to automatically export Google Docs to WordPress after checking grammar & plagiarism
With so many ways to use Grammarly, there's no mystery why it's one of the most popular grammar, punctuation, and spell-check systems in the world.
Grammarly is a good fit for everyone from high school and college students looking for ways to improve their writing assignments to educators searching for errors and plagiarism in their students' work.
Grammarly for business people is huge, too.
While writers and editors will get great insight into their work, non-writers will also benefit from Grammarly's services.
This is because it helps them create more effective emails, social media posts, official reports, or any other written correspondence they might have with a superior or client.
And then there's Grammarly Business that's excellent for companies with multiple writers or team members that are expected to write often.
But while all of these different demographics have a use for Grammarly's grammar checking, do they all need Grammarly Premium or Business? Can any of them just get by with a free Grammarly account?
Let's find out.
Is Grammarly the best? (And what's included in Grammarly Premium and Business?)
Here's a screenshot directly from the Grammarly website that highlights all of the extra features that come with a Grammarly Premium account: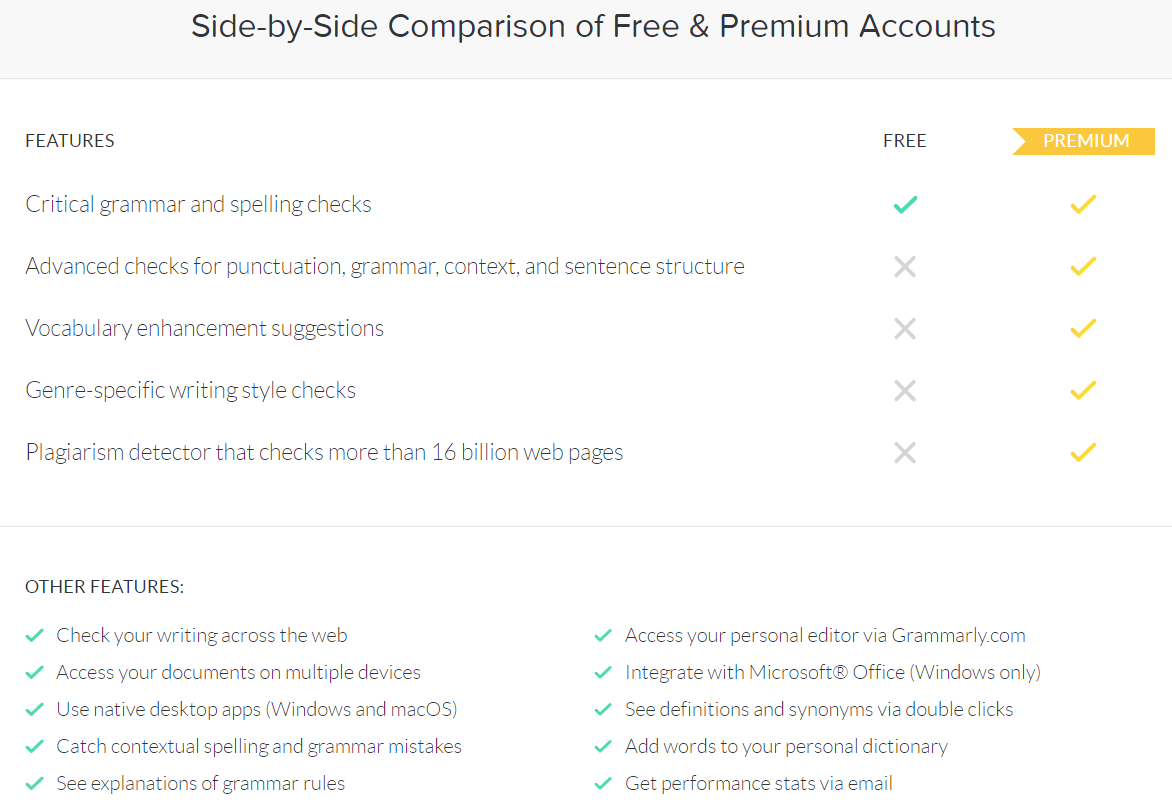 According to this image, the only service offered in Grammarly's free plan is critical spelling and grammar checks.
This is great for more casual writers. Someone like a high school student or a non-writing employee could make great use of this.
But you'll need Grammarly Premium to unlock everything.
By activating the Grammarly Chrome browser add-ons, you can communicate effectively through email. It's always embarrassing when you go back and forth with a colleague or client and realize afterward that your copy is full of missed typos.
Grammarly Chrome and mobile app add-ons (like the Grammarly Keyboard) can police everything from your text message conversations to Facebook messages and tweets. This ensures you're not sending off some humiliating auto-corrected mess to a special someone.

Grammarly acts like any old spell checker, highlighting your mistakes in red. If you hover your cursor over the mistake, it'll offer you a correction. You can click on the suggestion to correct it instantly.
This example was pulled from my computer using the Gmail app. You'll note that while it caught the spelling mistakes, it completely missed some grammatical mistakes. That's one of the drawbacks to using this free service; it's not as thorough.
But, as the image at the beginning of this section showed, there are many more features that Grammarly Premium offers.
These features include:
Advanced checks for punctuation, grammar, context, and sentence structure
Vocabulary enhancement suggestions
Genre-specific writing style suggestions
And of course, the Grammarly plagiarism checker
As for Grammarly Business, this plan offers even more features that can level up your entire team's writing and ensure consistency throughout your brand.
Here's a screenshot of the extra features that come with a Grammarly Business account: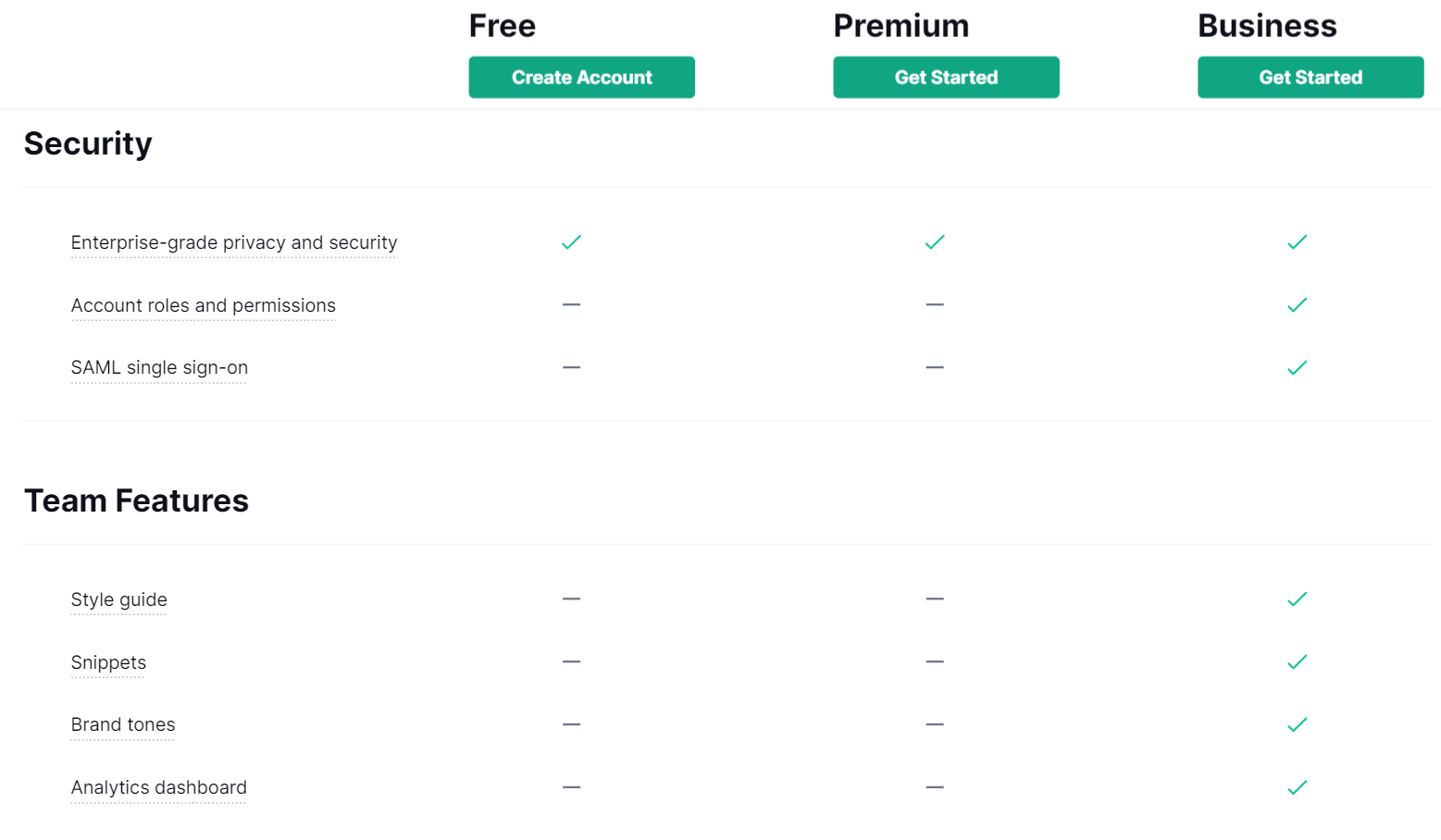 The most notable features include:
Account roles and permissions
Customizable style guides
Snippets and brand tones
Perhaps you think that you can live without some or most of them? That might be because you haven't truly thought about how useful these could be for your writing life.
Let's look at Premium and Business' features one at a time and pinpoint who'd benefit the most from each of them.
Benefits of using Grammarly Premium
Here's a list of some of the main benefits you can expect when using Grammarly Premium.
1. Advanced Punctuation, Grammar, Context, and Sentence Structure
Grammarly's free grammar punctuation and spell check services work extremely well for your everyday correspondence. But when you want to shine through your words, you sometimes need more insight into how you communicate.
Let's take a student, for instance.
You're working on your big final project for English 101 and need some proofreading, STAT.
It's worth a large chunk of your grade, so it's hugely important to your academic success. You're going to want to make sure that this paper is as close to flawless as you can get it.
Or maybe you're a businessperson who has to write a big pitch for a client. Your whole deal rests on this, so you want the content to exude confidence and expert knowledge. It should be easy to understand while also being informative and inspirational. Simple grammar and spelling mistakes would completely undermine this.
Both of these individuals are in different places in their lives. Both of them have different goals.
The Grammarly online editor solves all of this. It goes above and beyond fixing your mistakes for you. It teaches you how to improve in the process, like spotting subject-verb agreement issues and more.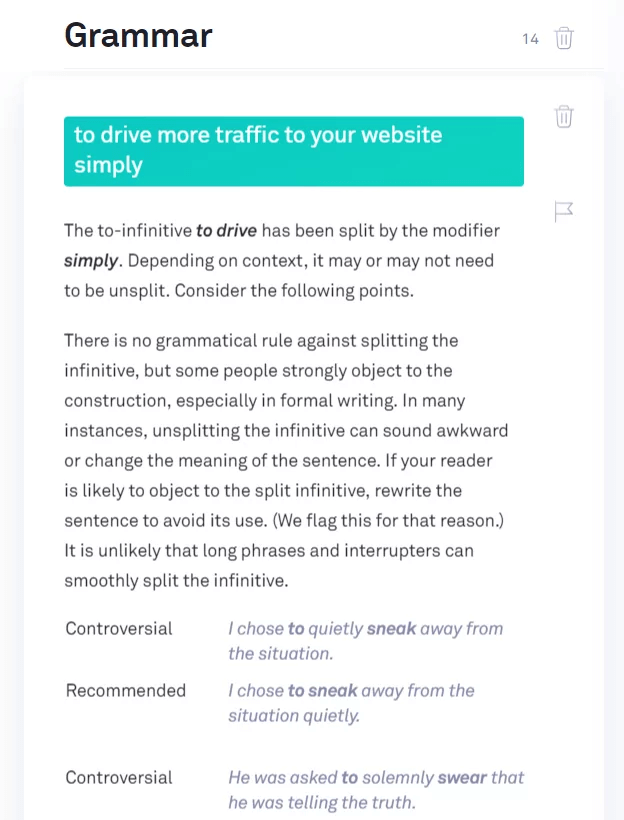 That's an extremely thorough explanation. And they do this for all grammatical errors within your document to boost your writing skills.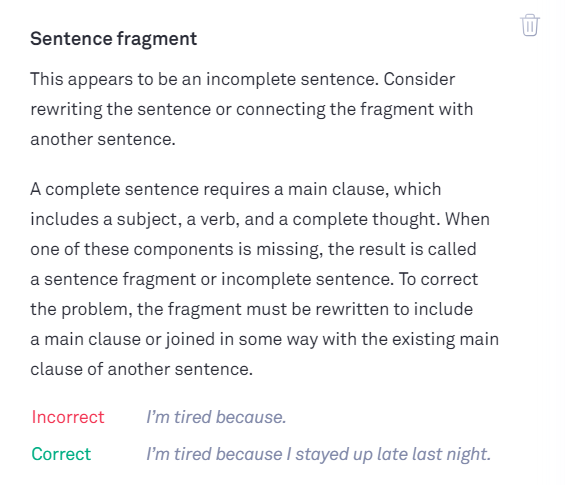 Remember the adage — "give a man a fish, feed him for a day. Teach a man to fish, feed him for a lifetime." Grammarly Premium isn't just correcting your mistakes — it's teaching you how to write more effectively.
2. Vocabulary enhancement
No one likes to read the same words over and over again.
Grammarly Premium comes with a vocabulary enhancement feature, which identifies overused terms throughout your document and makes suggestions for changing them.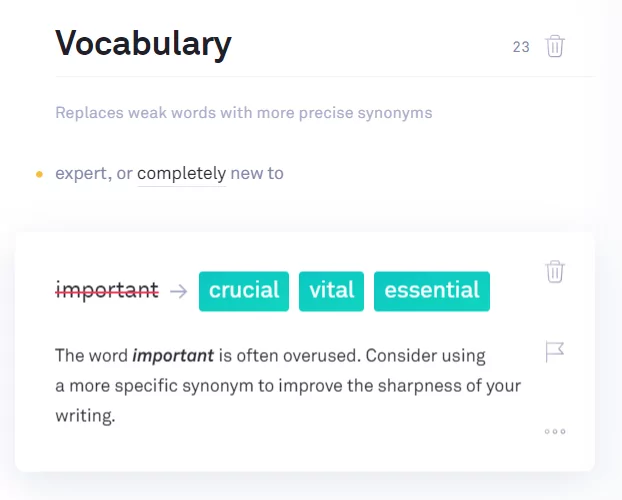 The key to good writing is proper engagement.
You want to know that your readers are with you from the beginning of your piece all the way to the end. The only way to do that is to ensure that their minds never glaze over.
That only comes from a deep vocabulary. Varying up your verbiage throws a curveball at your readers. It wakes their brains up and ensures they'll want to keep reading.
The Grammarly editor will point out common terms that you're using a lot in the piece you're reviewing, as well as some generally overused words that appear throughout the world.
That's an invaluable service for professional writers seeking to spice up their work. It can also prove useful for non-writers who need a special boost to make their content pop.
3. Genre-specific style recommendations with the "goals" feature
All writing has to be catered to a specific audience. You don't write a business proposal in the same way you'd write a high school English paper. You don't write an instructional guide in the same way you'd write a fantasy fiction tale, and so on.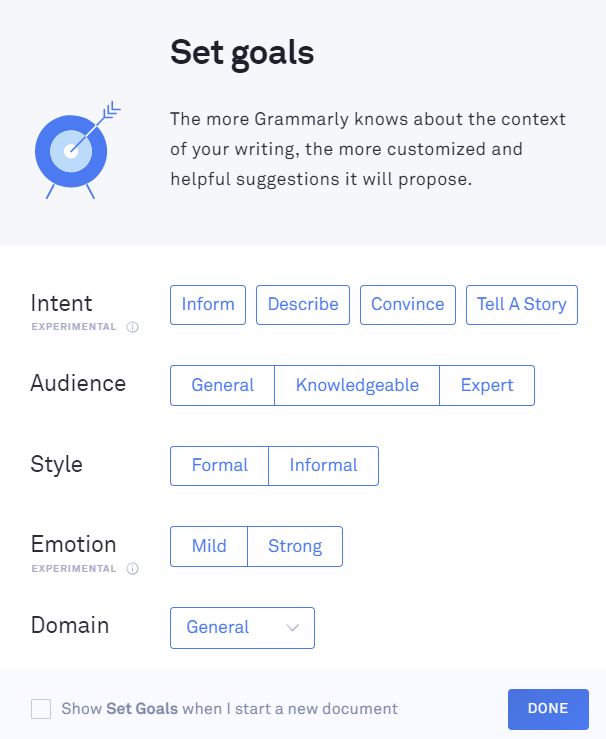 Grammarly Premium tailors its suggestions based on a set of goals that you've pre-selected. These goals are broken down into intent, audience, style, emotion, and domain.
When it comes to intent (currently an experimental goal Grammarly is trying out) you're letting the system know whether you're trying to inform the audience, describe something, convince a person of something, or tell a story.
For instance, a novel is trying to tell a story, a term paper is trying to inform, and a sales pitch is trying to convince the potential client to sign on.
When it comes to the audience, you can specify whether you're speaking to someone who knows nothing about what you're writing about, someone who's knowledgeable, or expert in the field.
If you're writing to a general audience, you'll want to keep things more simplistic and avoid jargon. If your audience is made up of experts, you can assume they don't need any background information.
Stylistically, the Grammarly editor lets you decide whether you want to be formal or informal. This varies based on what you're writing. A blog post could be more casual and relaxed (like this one!). But if you're creating a presentation, term paper, or sales pitch, those are generally more formal and professional.
Emotion is another experimental field. You can decide whether you want your language to carry strong or mild emotions. Conveying the proper emotion is essential to reaching your audience and will likely vary your wording choices.
When it comes to what domain you're writing for, there are a few different options:
Academic
Business
Technical
Creative
Casual
Understanding your domain is the first step toward understanding your audience.
The ability to set these goals is one of Grammarly Premium's most impressive features. It sets the paid version of Grammarly far apart from its free counterpart.
4. Grammarly Plagiarism Checker
Upgrading to Premium gets you access to Grammarly's plagiarism checker. It's not available when using the free version, but it's available when you pay, unlike competitors like Ginger.
Plagiarism is a serious issue affecting both the educational and business sectors. Students have been expelled from programs due to plagiarized copy. Businesses have lost thousands of dollars in lawsuits for plagiarizing copyrighted content.
But a lot of plagiarism is done by accident. A person might not understand how to cite sources properly, and, in their moment of misunderstanding, they make a mistake that can cost them big. That means a powerful plagiarism checker is worth its weight in gold.
Make no mistake — the Grammarly editor uses a very powerful plagiarism detector. Their database pulls from more than 16 billion Web sources, identifying chunks of content that are either copied directly from another source or are too close for comfort.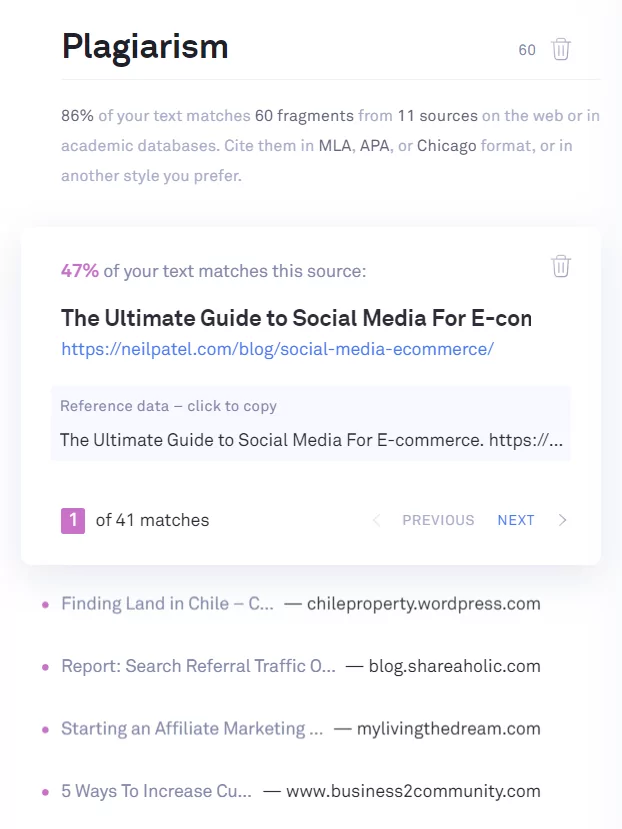 The Grammarly app provides you with a very detailed report. It shows you exactly what content is problematic, where it was pulled from, and how you can properly cite it without getting in trouble.
In the sample above, Grammarly flagged 86% of this article, finding 60 different fragments from 11 sources.
Benefits of using Grammarly Business
Here's a list of some of the main benefits you can expect when using Grammarly Business.
1. Account roles and permissions
Grammarly Business allows you to set account roles for members of your team. The three main roles are — Users, Contributors, and Owners. These roles will determine what each team member can access.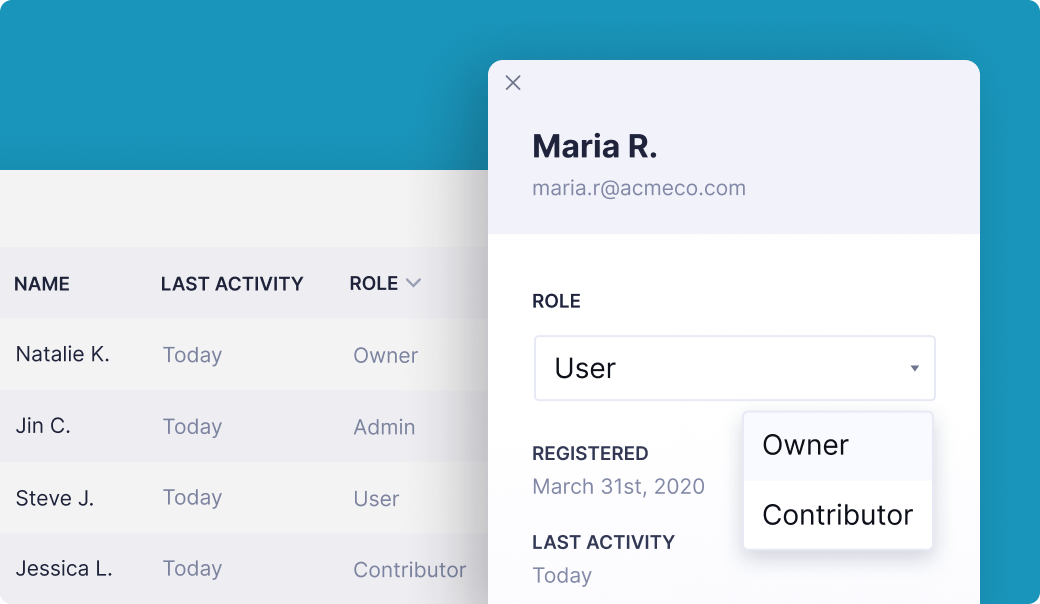 For example, people in the "User" role will have access to Grammarly's full range of writing suggestions and all the features that come with Grammarly Premium.
On the other hand, people in the "Contributor" role will also have access to these features, plus the ability to manage style guides, set brand tones, and more.
2. Customizable style guides
Ensuring consistent spelling and writing styles throughout all communication channels will help your business appear more professional.
With Grammarly Business, you can ensure that your team remains consistent and on-brand at all times with customizable style guides. This feature allows you to set certain rules, such as the correct spelling of company names, capitalization, abbreviations, and more.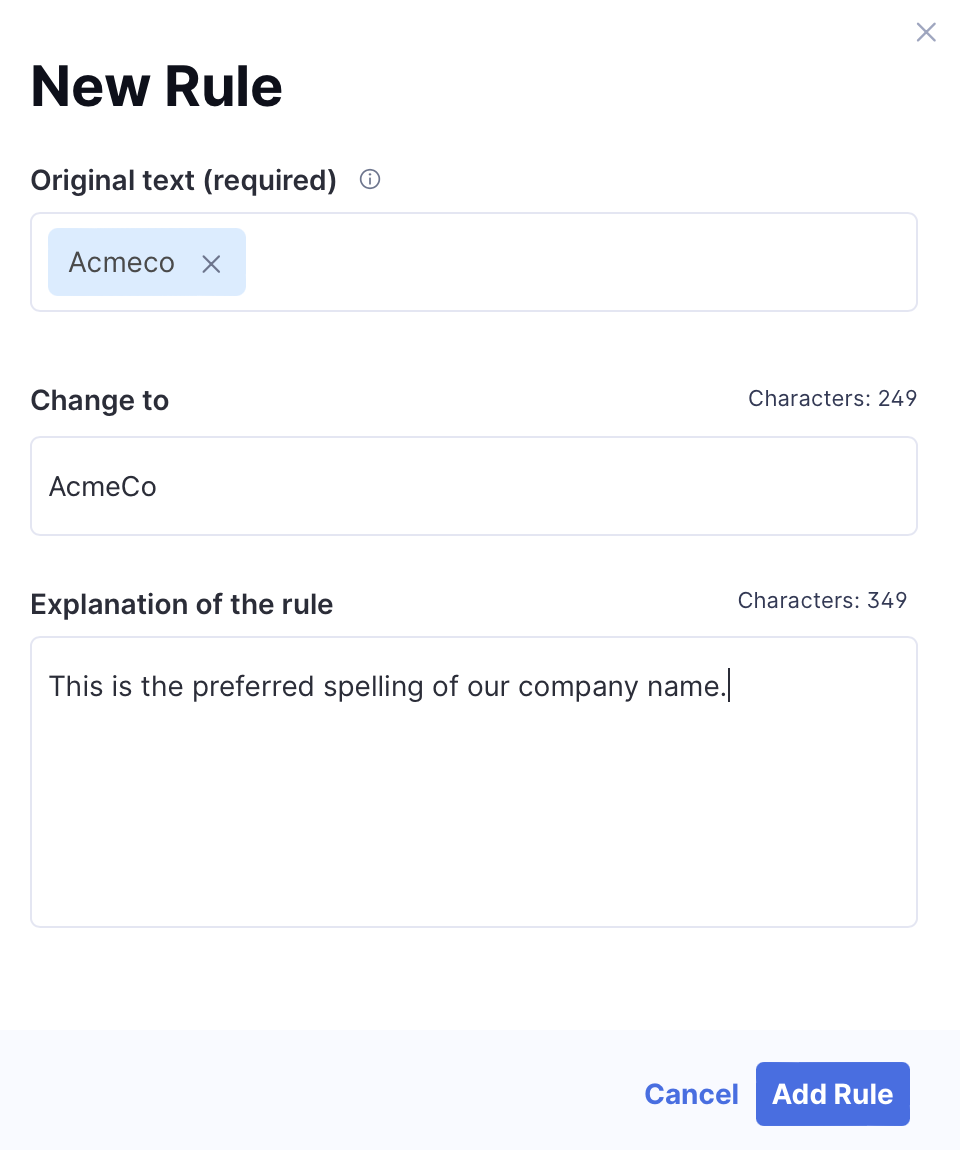 You'll even be able to explain each rule so your team has more context and understands the rule better.
3. Snippets and brand tones
The Business plan also allows you to create snippets, which are reusable phrases, sentences, and paragraphs that can easily be inserted into the text. This way, your team saves time when they're typing emails, blog posts, or even social media posts.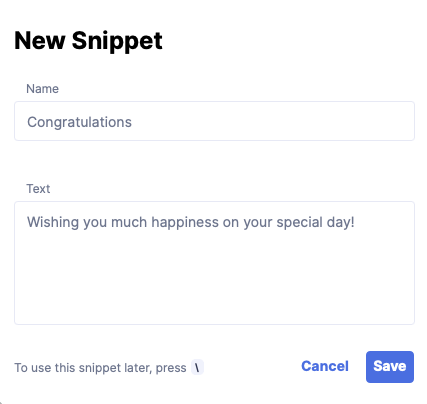 Furthermore, you'll also be able to set tone profiles that ensure your team incorporates your unique brand voice into all communications. The tool will specify when the tone is "on-brand" and when it's "off-brand".
As a result, your team will get familiar with your brand voice and will automatically start writing better with time.
Grammarly subscription: How much does Grammarly cost?
Grammarly offers a service for everyone.
If all you want to do is identify basic grammar and spelling mistakes in non-professional correspondence like email and personal social media accounts, then the free version is probably all you'll need.
But if you're working on a specific writing project that has any level of importance, the advanced Grammarly Premium service could be a potential lifesaver.
A Grammarly Premium account won't only polish your work but forge you into a better writer.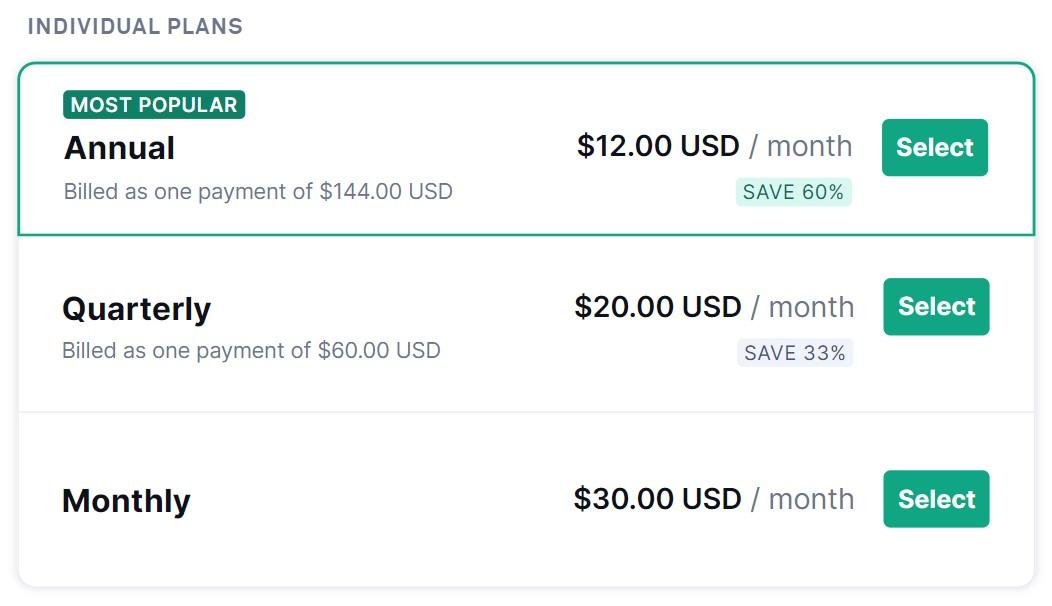 If you're on the fence about the price, I'd recommend doing the monthly version for a month or two. That way you can use the editor to find and fix common mistakes and see for yourself if Grammarly is worth it or not.
Grammarly offers an annual discount, though. So switch over to that to bring the monthly cost down to $12 per month. You can read our in-depth review of Grammarly if you're still deciding whether the Grammarly Premium cost is worth it.
But we're happy paying customers. We have been for three years and will continue to check hundreds of articles every month on it.
As for Grammarly Business, you can get this plan for $15 per member per month if you choose an annual subscription.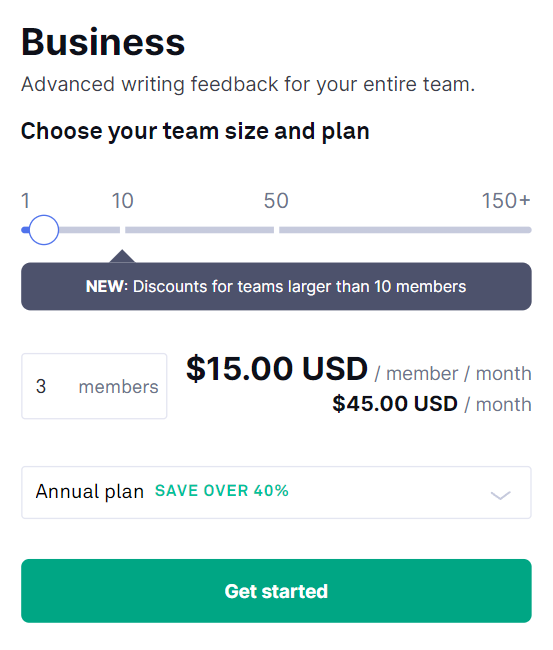 This plan is ideal if you have a team of writers that must stay in line with style guidelines and brand voices. Alternatively, you can choose the monthly subscription. But that comes out at $25 per member, per month — which can get really expensive after a while.
Grammarly alternative: Writer
Another editing tool that can match Grammarly is Writer.
First, the interface is similar to Grammarly, making Writer a recognizable Grammarly alternative. So if you've used Grammarly in the past, managing this writing tool won't be an issue.
Secondly, the paid Writer plan has similar functions. This app is a great grammar-checking tool because its intelligent system recognizes various kinds of grammatical errors.
Perhaps you've used the wrong tense or included a passive voice instead of an active voice. All these mistakes can impair your writing's readability. Writer can detect them and offer suggestions to improve your writing.
Furthermore, Writer has two plans, both of which contain plagiarism checks. This feature is especially useful if you plagiarize something by accident. The editing tool will help you fix these kinds of mistakes, which can turn into a serious issue affecting your credibility.
Finally, just like Grammarly, Writer offers suggestions that improve the style and the tone of your writing. With this option, your text will surely, reach the target audience.
So, if you're looking for a tool to improve your writing goals, Writer is worth considering.
Final verdict: Is Grammarly worth it?
Grammarly Premium is more than worth it for content creators of all writing styles seeking to polish their skills by extending their editing beyond identifying simple grammar errors.
Grammarly Business is also an excellent choice if you have multiple team members that need to stay on brand. The professionalism and consistency that come with the plan are definitely worth the cost.
Save 20% on Grammarly when you use our link.
If you're in the market for an app that allows you to export from Google Docs to WordPress in a single click, then we recommend checking out Wordable. It'll clean and properly format your HTML, compress images, open links in new tabs, automatically set featured images, and much more.