Writing top-quality content that is error-free, suits the target audience's tone, and keeps them engaged isn't easy. Writers aren't machines that can always produce flawless articles.
However, they can take advantage of tools that use artificial intelligence techniques to improve their text and spot critical grammatical mistakes.
Tons of online editing websites and apps offer useful features, so choosing the one that meets your needs the best isn't easy. But why are these tools so helpful for writers? And which are the top options? I'll delve into that in this article.
Disclosure: These reviews are reader-supported. We might earn a small commission if you purchase something through our site. Learn more
Grammarly
Best All-Around
$11.66
/mo – before discount
PROS
86% out of 86% accuracy
16+ billion database
150k+ word limit
5 devlice limit
Includes plagiarism
1-hour support response
CONS
Only supports English
Expensive without our link
Writer
Best for Collaboration
PROS
Designed for content teams
Inclusive language options
Memorizes Style Guides
CONS
Poor Plagiarism Function
Inconsistent Spell Checker
No writing goal setting
Grammarly Premium Walkthrough Video
TABLE OF CONTENTS
What Is a Grammar Checker?
Academic writing, content writing, and copywriting are challenging. The content you produce should be flawless: error-free and with correct spelling. Moreover, your vocabulary choices should suit your target audience. But even if you've got many articles under your belt, mistakes can happen.
That's why it's essential to use editing apps to pinpoint errors and offer suggestions to improve your writing.
A grammar checker is software writers can use to check their text, to ensure the punctuation doesn't change the meaning, and their word choice conveys precisely what they mean.
It's a tool that can identify improper sentence structure and word usage (for example, 'then' and 'than'), and other grammatical mistakes, such as dangling modifiers.
Furthermore, a grammar checker can spot the improper use of apostrophes. For instance, if you've written 'I have two cat's' the app will point out that you should have written, 'I have two cats' instead.
Such specialized tools can also detect plagiarized content, which can seriously hurt your credibility as a writer. They can compare your text against multiple internet sources, including websites, published books, and articles, to detect similarities.
If you've copied parts of other online content, even unintentionally, these apps will catch it. They'll notify you of the extent of the plagiarized content (sometimes in percentages) so that you can act quickly to rectify the situation.
There are numerous online grammar checkers available. Some of the most popular are WhiteSmoke, Ginger, ProWritingAid, Hemingway App, etc. However, two options that stand out are Grammarly and Writer. In this guide, I'll compare those two grammar checkers based on the following categories:
Spelling
Intended users
Advanced functions (style guide, inclusive language)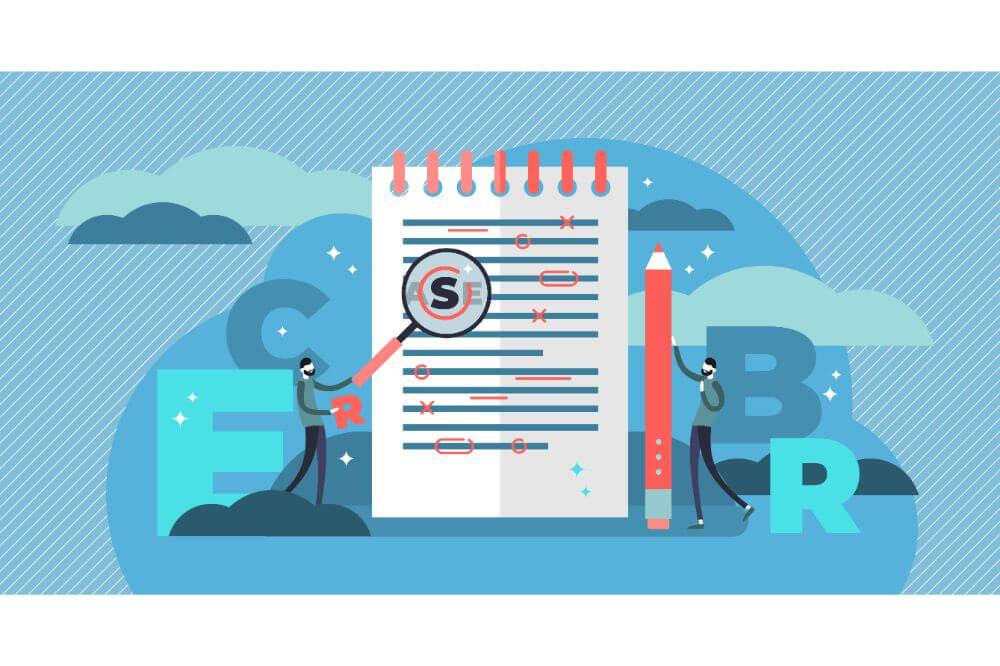 Grammarly Review: Pros and Cons
Grammarly is one of the most renowned grammar checkers available. And for a good reason. Here's a list of the pros of this fantastic grammar checking tool.
Pros
Fantastic Plagiarism Function
Grammarly is one of the most reliable and accurate plagiarism checkers available. If you get the Premium package, it'll compare your text against journal articles, various internet sources, books, and ProQuest's database to find similarities.
To show you how detailed and accurate Grammarly is, just know that it has an approximately 16-billion web page database that checks for plagiarism sources.
While you may not intentionally plagiarize the content, it's possible to copy something accidentally. Grammarly comes in handy in these situations.
Spelling Error Detection
Besides spotting common grammatical errors, Grammarly can also identify some more subtle mistakes. If you change the language preference to something other than American English, Grammarly will detect a spelling mistake in your selected language.
For example, if you write 'color' and your language preference is set to British English. Grammarly will pinpoint the spelling error.
With this option, you'll be able to write articles that suit different audiences based on their location.
Goal Setting
Not every kind of text suits all audiences or levels of formality. To ensure the tone, the domain, formality level, and the audience are aligned for your article, use Grammarly Writing Goals.
Suppose one day you want to use Grammarly to check your novel and the next day to manage your emails? Well, Grammarly can check six document types, ranging from the least to most formal: creative, casual, emails, general, business, and academic.
Choosing any of these will help Grammarly determine whether it should pay attention to particular details. For example, if you're writing an academic piece, it'll suggest avoiding first-person narrative.
If you write different articles, this feature enables you to produce the best content for particular needs. It allows you to seamlessly navigate between different writing styles, thus crafting writing suitable for specific purposes.
However, Grammarly isn't flawless. It does have some cons, which I'll explore in the next section: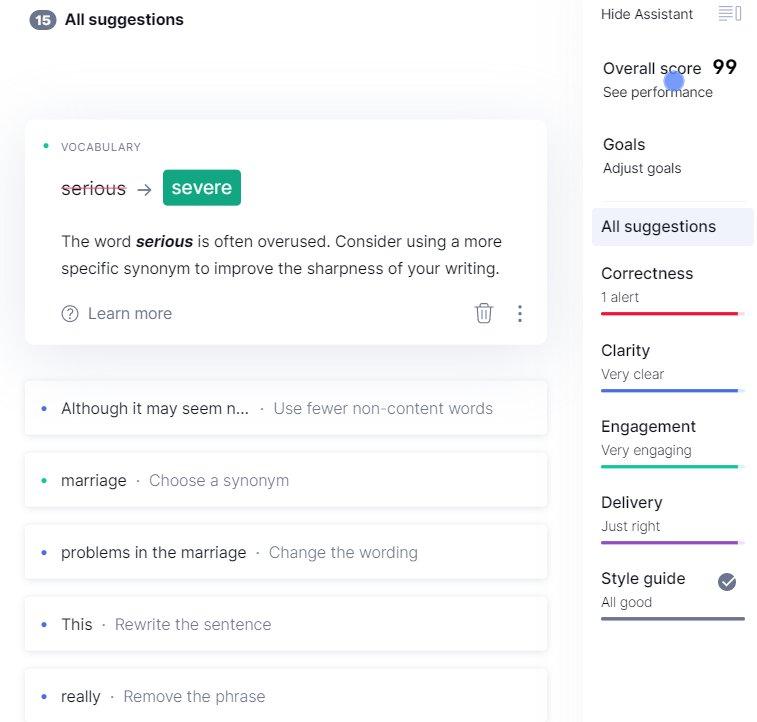 Cons
Limited Inclusive Language
While the Grammarly team says that the app can detect disrespectful language, outdated terminology, and insensitive vocabulary, I've had issues with this function. It didn't identify such language if the grammar, spelling, and punctuation were correct.
And if it did detect something strange about the vocabulary, Grammarly would point that such a word doesn't exist in its database. Both of these situations could be problematic if you use insensitive or archaic language in your writing.
No Style Storing
Although users can choose their writing style, Grammarly doesn't offer an option to save these styles as guides. This means it can be bothersome when you need to continually select every article's style options, especially if some follow the same guidelines.
Grammarly Free vs. Premium vs. Business
Grammarly has three options: Free, Premium, and Business. While Business is better for teams, the free and Premium packages are suitable for individuals.
Grammarly Free is a good choice if you need a grammar checker to identify incorrect spelling or a wrong tense. However, if you want your tool to detect plagiarism and offer in-depth suggestions about style, then opt for a Premium plan.
Writer Review: Pros and Cons
Writer is another fantastic grammar checker that matches Grammarly with most of its functions. Like Grammarly, it has its advantages and disadvantages.
Pros
Designed for a Content Team
Writer was designed to cater to the needs of a content team. It's an excellent tool for businesses with multiple writers as it helps them all produce content that aligns with their brand's voice. Moreover, it ensures all articles the team runs through Writer stay within the same style.
With such an option, brands can rest assured that everything they craft will be uniformed. The clients won't be able to tell that multiple writers produced the content. It'll be as if one writer prepared all articles.
More Inclusive Language Options
Writer enables its users to manage the Inclusive Language option. Writer flags terms that are offensive, insensitive to particular groups, or outdated, and then offers a better solution.
For example, if your text contains 'the handicapped' and you've checked the box next to the Disability tab, Writer will notify you of this mistake. It'll also suggest you change it to 'people with disabilities,' thus helping your writing be more sensitive to different groups.
Memorizes Style Guides
As Writer is designed to be an app suitable for teams, it lets users memorize different style guides and terminology. This option enables writers to monitor their writing and make sure it contains vocabulary that aligns with terms their brand uses.
For example, one of your clients could prefer the term 'e-business.' Another client might want you to use 'Electronic Business.' Writer lets you save both these terms so that your writers are in the loop about which one they should use, for whom, and when.
But, just like Grammarly, this writing tool also has some flaws.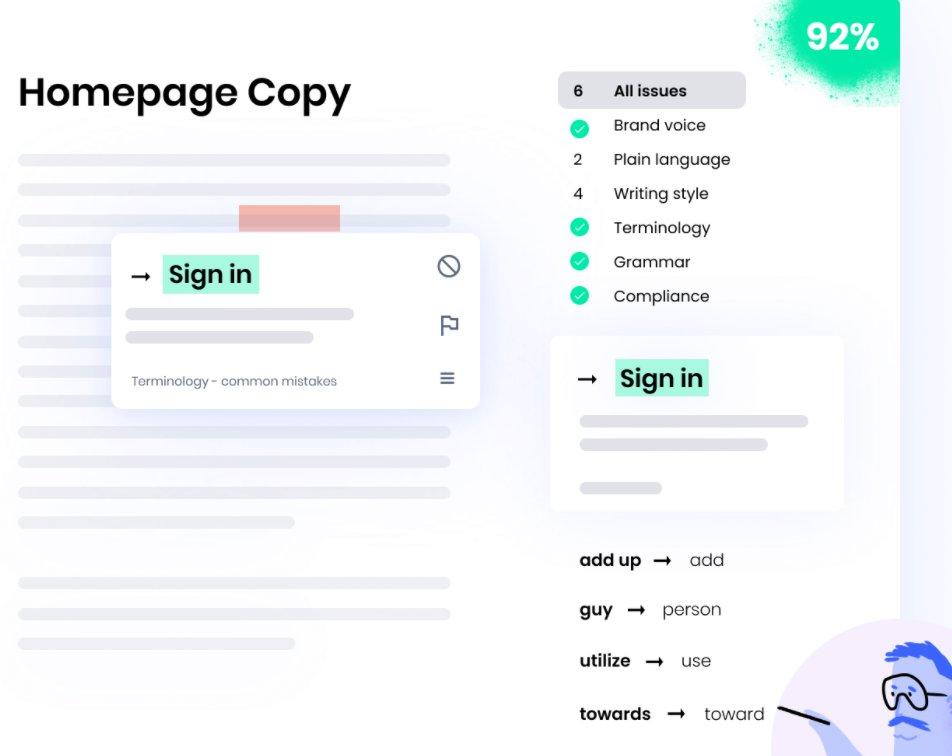 Cons
Poor Plagiarism Function
Unfortunately, Writer doesn't excel when it comes to checking plagiarism. First, this option isn't available in the trial period. So forget about Writer identifying plagiarized content if you don't pay for this service.
But even if you choose the Starter or the Enterprise package, the issue then becomes the lack of a usable database.
Writer doesn't have a sufficient database to which it can compare your article. It might not be able to detect something that's been plagiarized.
With that in mind, if you accidentally (or even intentionally) copy a part of the competitor's article, you risk losing your credibility. Not to mention being accused of copyright infringement and possibly paying a hefty for in legal penalties.
Spelling Error Detection Inconsistency
Unfortunately, Writer can't always detect a spelling error. It'll show basic spelling mistakes, but not the nuances. Are you writing for the American audience? Or perhaps the British?
Writer doesn't have an option that'll allow you to change the spelling preference for each audience, which means it won't notify you of a word that may be a misspelling in that particular country.
Without this option, your text might not sound natural to a native reader. And Writer may occasionally glitch and flag a correct spelling.
No Writing Goal Setting
As with Grammarly, Writer users can select the features they need from this app. However, the options aren't as robust as with Grammarly. For example, while you can choose the type of writing, you can't choose the audience or the formality level.
Grammarly vs. Writer Cost
While Grammarly has a free package, Writer only offers a 14-day trial period. Grammarly has two different options: Grammarly Premium and Business.
Grammarly Premium costs $11.66 a month and offers its users spelling, grammar, punctuation corrections, tone and style adjustments, different formality levels, and other advanced suggestions.
Grammarly Business includes everything that Grammarly Premium offers for $12.50 per member per month. It can manage teams of up to 146 people.
Furthermore, it provides a style guide so that the writing is consistent within the team and reflects the brand's voice. On top of that, this plan offers excellent email support, login authentication, and much more.

Writer has two packages: Starter and Enterprise. The Starter plan costs $11 per month. Users with this plan can use Writer to check grammar and spelling in their text, add Chrome, Word, and Google Docs plugins, and save up to 200 custom terms. On top of that, they can check the text for plagiarism and clarity.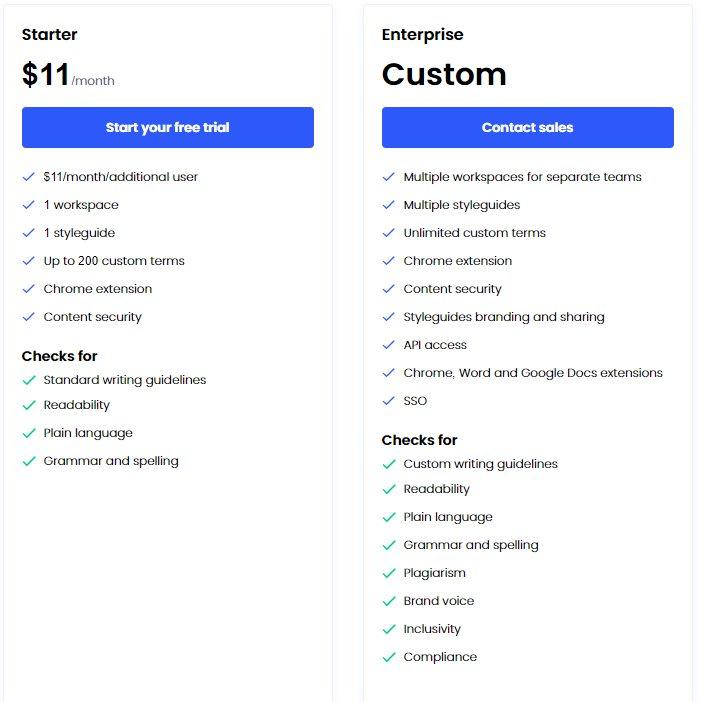 The Enterprise plan is suitable for teams and has everything the Starter plan boasts, plus inclusive language options, API access, multiple dictionaries and style guides, and much more. The pricing for this plan is customizable and will depend on the team's needs. You can check it with Writer customer support.
Grammarly vs. Writer: Which One Is Better?
So, we get to the final question – which of these two apps wins the best grammar checker competition? If you're looking for a decisive winner, I hate to disappoint you – both are equally good for their reasons. Price-wise, they are similar.
However, if you're an individual and need an app to check your articles or academic writing, then Grammarly might be a better option for you. It helps detect plagiarism by comparing your article with millions of other sources. That way, you can rest assured your content is authentic and that your credibility will be intact.
Furthermore, Grammarly has a great spell checker, enabling its users to switch between American, British, Australian, or Canadian English. It also lets users customize their writing goals so that the app pays particular attention to specific points of concern, such as the level of formality or the target audience.
On the other hand, Writer is a better solution if you're looking for a grammar checker for the team. It provides options that ensure the writing reflects the brand's voice, no matter how many different writers produce the content. Such a function enables better team communication and helps create standards.
Moreover, the app offers more inclusive language options. Writer users can customize this feature to suit their needs. This is great because the phrases that are considered insensitive, outdated, or even rude to particular groups can continuously change. You can finally say goodbye to articles that contain such language.
Finally, Writer allows users to create and store style guides, making it easier to produce uniformed content for different clients.
To sum up, both apps offer some fantastic features worth checking out if you're a content producer of any kind. Now that you know what each of them provides, what are you waiting for? Try them and improve your writing skills.