Plagiarism is a stain on the writing world. When a writer shamelessly copies the work of another and tries to pass it off as their own, they are committing a form of fraud.
This is a growing problem on both the academic level and in the business sector. A plagiarism detector is a MUST have tool for professional writers to check any content or document.
That's why we have developed this list of plagiarism checkers, rating and grading them accordingly so that you can decide which will best suit your needs.
So brush up on some new skills from MasterClass. Write away in your favorite writing app. Double check your grammar. And then when it comes time to polish up your work, use one of these plagiarism checkers.
Disclosure: These reviews are reader-supported. We might earn a small commission if you purchase something through our site. Learn more
Our Verdict
We've reviewed more than a dozen plagiarism checkers. Grammarly is our "best all-around" winner, and you can save 20% on Grammarly with our link. The rest are a distant second to be honest, with special mentions to QueText or WhiteSmoke for multilingual.
Grammarly
Best All-Around
$11.66
/mo – before discount
PROS
86% out of 86% accuracy
16+ billion database
150k+ word limit
5 devlice limit
Includes plagiarism
1-hour response
CONS
Only supports English
Expensive without our link
Grammarly Premium Walkthrough Video
TABLE OF CONTENTS
Academically, students are taught not to plagiarize, but many feel as though they can get away with it. Plagiarism is a huge issue plaguing the world of academia, on both the high school and university level.
In fact, 36% of undergraduate students owned up to copying whole sentences/passages without footnoting them, according to a survey detailed on Plagiarism.org. A plagiarized article steals the work of other writers. Working with a reliable plagiarism checker can save students from getting bad grades.
But this is not a purely academic problem. Plagiarism affects businesses even more so than educational institutions. If you plagiarise as a student, your grades can suffer or, in some extreme cases, you can be expelled from your educational program. But if you're a business intentionally plagiarising copyrighted content, you can have swift legal action brought down upon you.
That's why it's always so important to review the work of your employees, running it through a plagiarism checker to ensure that everything is on the up and up. Spending just $10 per month on an anti-plagiarism subscription service could save your business thousands if not millions of dollars in the long run.
We're a content marketing agency that has clients paying us tens of thousands each month. If our writers ever plagiarized something on their behalf – we'd BOTH be in a huge amount of trouble.
You might be interested in the services of a plagiarism checker if you are:
A teacher on the high school or university level
A business with a lot of copywriting projects such as a publisher or media company
A professional writer looking to check your own work
A professional copy editor
A student trying to make sure that you're not accidentally plagiarizing someone else
SEO Companies looking for duplicate content
Best Plagiarism Checker (Review)
We've assembled a list of 12 plagiarism checkers, and we've graded them all by the same criteria.
Essentially, it all boils down to two questions:
Is it effective?
Who would it be useful to?
When examining these programs, we're looking at the following:
Accuracy
How effective is it at detecting plagiarism? We have a sample article loaded to the brim with plagiarised content. We will test each service with the same content and see what they come up with.
Word/Page Limits
Some services will limit the number of pages or amount of words that you can check. These limitations are broken down daily, weekly, or monthly. We will spell out exactly what those limits are, outlining who would get the best bang for their buck when it comes to each checker.
Size of Database
The effectiveness of each program will be determined by the pool of data that it pulls from to cross-check every word of the content you're entering. The larger the database the more effective the service. If you're using a plagiarism checker, the only way to ensure that the results you're receiving are accurate is to make sure that your program is pulling from a large database.
Reporting
How does the checker compile your results? Does it export as a PDF? What kind of information do they provide? How useful is the information gathered? These are all questions that we will ask of each program, determining which services give you the best analytic results for a more complete experience.
Device Compatibility
What devices can you use these checkers on? Do they come on a mobile app? Is it a Chrome extension? Is it compatible with Google Docs? Will it work with Microsoft Word? We want to find out exactly where each service works, determining the circumstances under which you can use them.
Languages
Do these checkers only work in English? We want to determine how many languages each product can check. And, if they take more than one, what are they? This is especially helpful for businesses that deal with multilingual content. If you can get all of your testing done in one centralized location, it saves a ton of time and money.
Ability to Exclude Sources
If you know that your article pulled some direct quotes that have been accounted for, do you have the ability to exclude sources from the checker's process? Sources like Wikipedia can be omitted from some checkers, but you need to know which ones allow it.
Customer Service
What kind of customer service is being offered by each company? Do they have a live chat function? How much time can you expect to spend waiting on a response? We reached out to the customer service departments of each product, saving screenshots and reporting back on their overall effectiveness.
Plans & Pricing
How much does each service cost? Is the price annual? Monthly? Is there a free option? We look in-depth at the pricing of each service's plans in an effort to let you know where your money is best spent.
Now that you know how we're grading each of these, let's jump in to determine which is the best online plagiarism checker.
[/su_spoiler]
[/su_accordion]
1. Grammarly
Grammarly is probably the most well-known plagiarism checker on our list. Plagiarism testing is just a small part of a much larger service that they offer, checking grammar, punctuation, fluency, conventions, formality, conciseness, clarity, variety, and vocabulary.
But the only one that we're worried about today is the plagiarism checker. So, let's dive on in.
Grammarly Pros
Grammarly does a lot more right than it does wrong. It's a hugely accurate program that draws from a large database to root out plagiarism. There are maximum limitations detailing what one can and can't do with the service, but they are more than fair and allow for a high volume workload. You can also use Grammarly on a wide variety of devices from desktop computers to mobile phones and tablets.
On top of that, their customer service department was on point, responding quickly to our questions within two hours.
#1. Grammarly strikes a nice balance between being highly accurate and easy to use.
My hands-on test with this program went extremely well. When you start off, you'll see a blank page like this: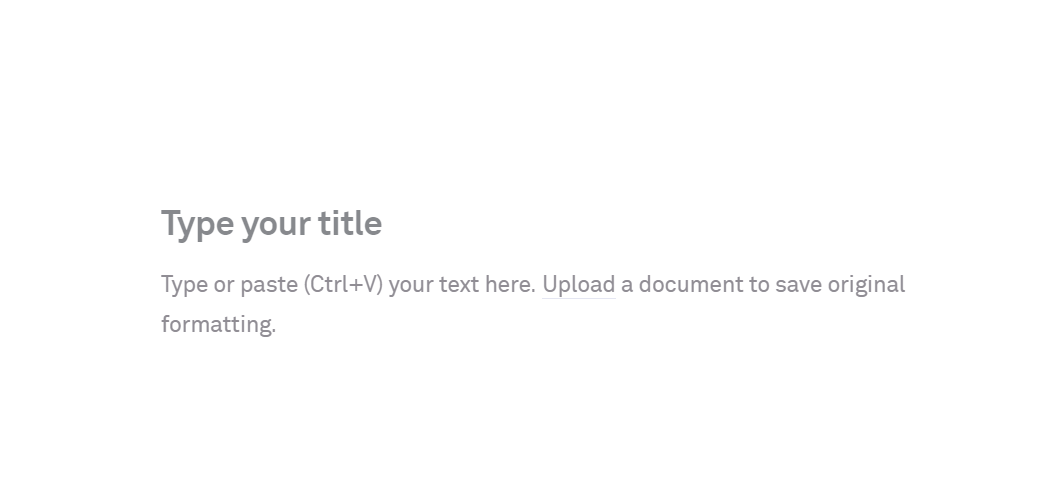 You can either upload a file or just copy and paste right into the box.
Once you paste your article onto the page, the program immediately starts analyzing. To see the plagiarism results, click on the plagiarism tag on the right side.
We uploaded our plagiarized article to see how Grammarly would dissect it.
There you have it. Grammarly tore through this content, finding 11 different sources on the web from which content was pulled. A whopping 86% of this article was marked as plagiarism.
Just to make sure everything was on the up and up, we put a piece of original content in there as well.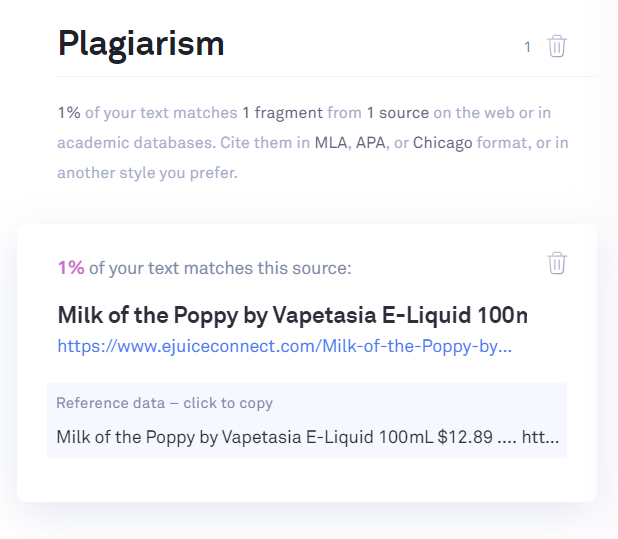 Just 1% of the text was deemed to similar to something else. That's easily correctable and light years better than our first example.
#2. Grammarly also boasts a massive, 16-billion web page database to check for sources.
#3. Grammarly is available across your favorite devices. Gone are the days when one was able to compose all of their emails and assorted projects on the computer. Nowadays, you need to be able to check yourself on mobile platforms as well.
That's why it's great that Grammarly is able to support both computers and mobile devices on both Android and iOS.
For Android users, you need to be running Android 4.0.3 or higher. If you're using an iOS device, it has to be running iOS 9.3 or newer.
They're also running a Beta test with Google Docs, so look for that full roll-out sometime soon.
#4. I was very impressed with the speedy response time of Grammarly's customer service department.
It has an impressive support page with a search function and a plethora of articles that will help you find what you're looking for. If for some reason, those articles do not answer your question, you can contact their customer service department directly via a form.

I submitted a question asking for some particulars about their database.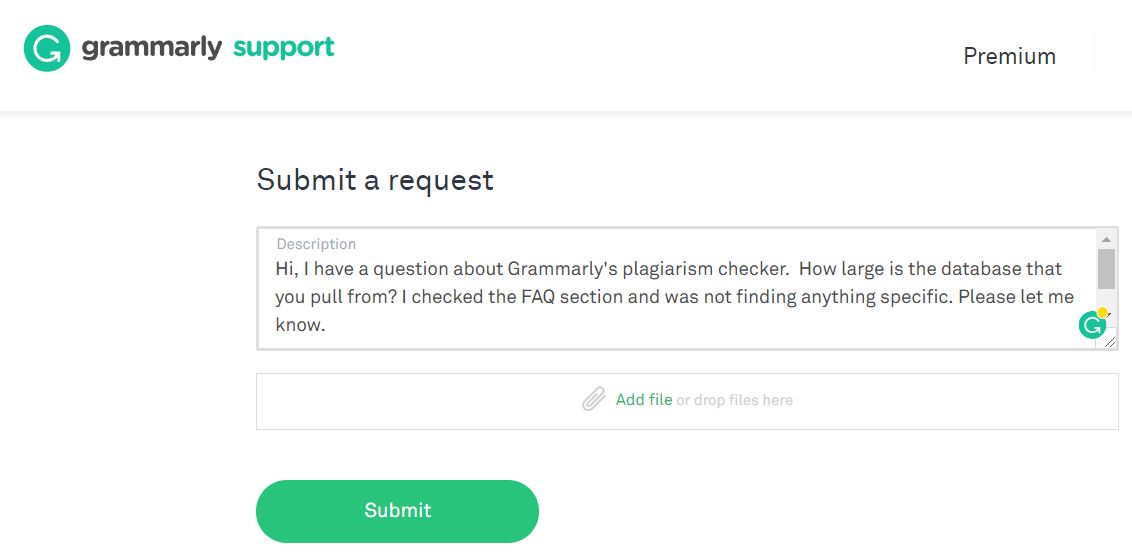 All open tickets are listed on the website, where you can check on their progress.

I set the page aside, not expecting anything for at least six hours. I was shocked when they got back to me in just over an hour and a half!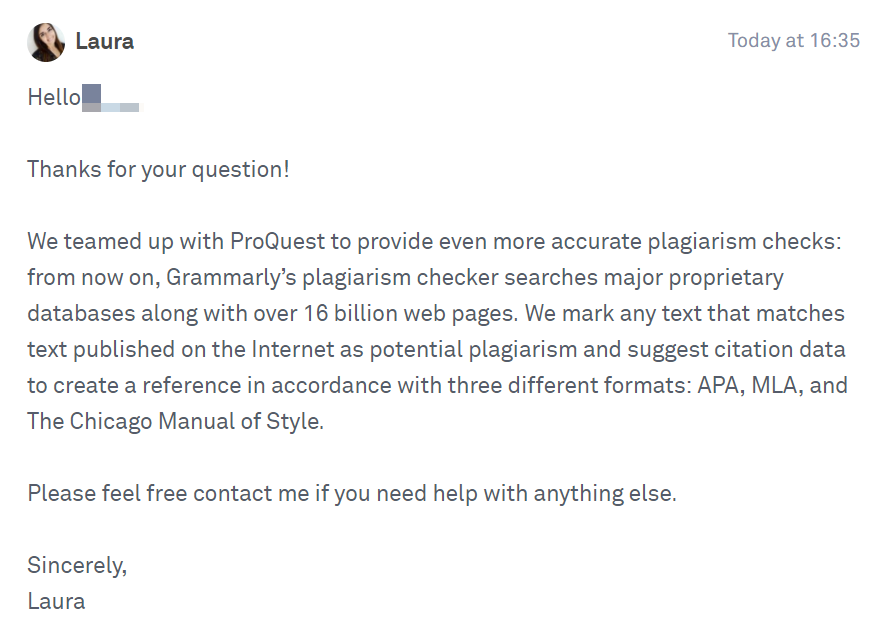 It was a quick response, to say the least. And they answered my question while providing me with even more information than I had initially asked for.
Truly above and beyond.
#5. For every 30 day period, Grammarly sets a limit of 300 reviewed documents, or 150,000 words, whichever comes first. Considering that a full-length novel is 60,000 words, this is a great amount of flexibility.
That's not to say that you can burn through 300 documents in one day. There is a daily cap of 100 documents or 50,000 words.
Documents have to be 4 MB or less to be uploaded to Grammarly. The system supports MS Word docs, OpenOffice, .txt, and .rtf.
Grammarly Cons
No system is perfect, and Grammarly does have a few areas in which it falls short.
#1. Grammarly does not currently support languages other than English.
That's disappointing, and somewhat limits the reach of Grammarly beyond English speaking countries. Obviously, any business creating bilingual content should steer clear of this product.
#2. You have to upgrade to Grammarly Premium to access all of the plagiarism features. There are some free tools out there (and you'll see below), but Grammarly's all-around benefits probably outweigh the cost for most.
Grammarly Cost, Plans, & Payment Options
Grammarly has three options for its premium plan. It should be noted that while the company does have a free service for Firefox and Chrome users, it does not include the plagiarism checker.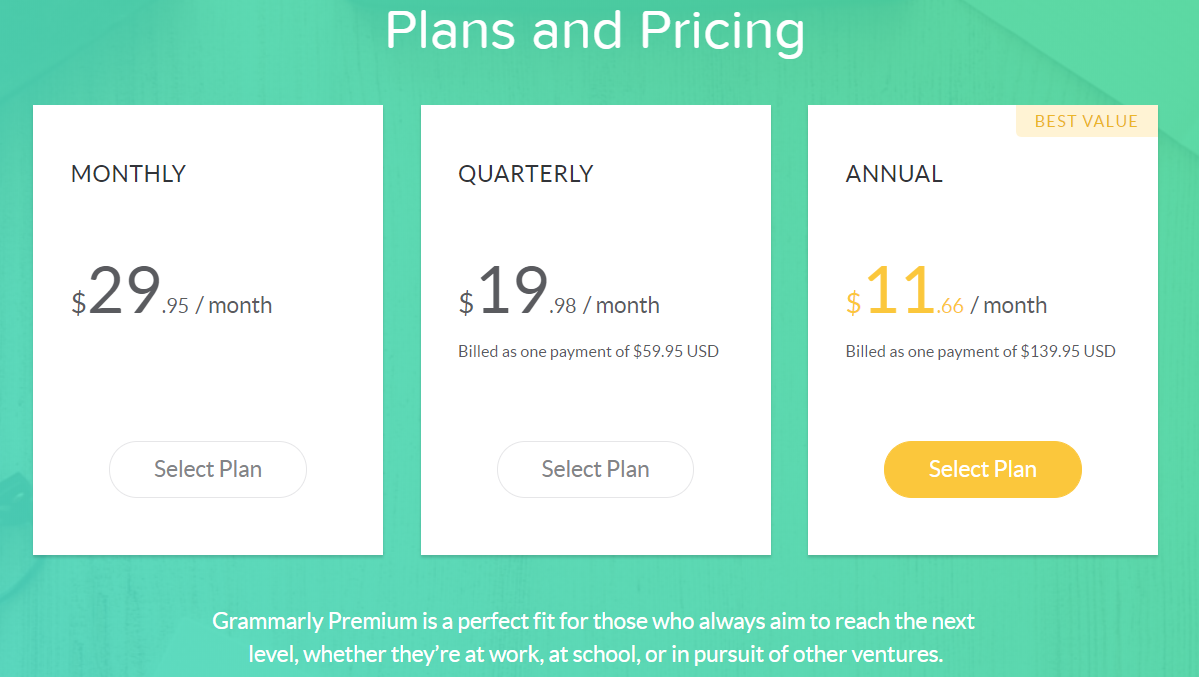 As you can see, at its cheapest, Grammarly is $11.66 per month, when you commit to a full year. That comes out to a one-time payment of $139.95.
PayPal, credit, and debit cards are accepted as a form of payment.
If you think you'll be using Grammarly consistently, it's definitely recommended that you go with an annual plan. It saves you a lot of money in the long run.
Do I Recommend Grammarly?
Yes, I do.
This is a strong Plagiarism checker, and its uses extend far beyond that realm.
But strictly keeping on topic and ignoring this product's wealth of additional features, it is the full package.
You've got an accurate plagiarism detection system with responsive customer service and a strong database backing up your efforts.
The price point may make this costly for your average student, but I highly recommend this for educational professionals and businesses that create content in the English language. I would also recommend this to professional writers and editors, as it would support a heavy workload and provide fast, accurate results.
Grammarly
Best All-Around
$11.66
/mo – before discount
PROS
86% out of 86% accuracy
16+ billion database
150k+ word limit
5 devlice limit
Includes plagiarism
1 hour response
CONS
Only supports English
Expensive
2. Writer
Whatever type of online content you write, plagiarized text is not allowed.
Even unintentional plagiarism is still wrong. Whether you're writing for academic, business, or any other purposes, you should always run a plagiarism test to make sure you're about to publish original content.
It's hard to find a free plagiarism checker tool that will meet all your needs, but there are quite a few apps that are worth the money. Writer is one of them, especially since it offers a lot more than just plagiarism detection.
By choosing the Enterprise plan available on Writer, you can ensure that your content will always be unique. You'll avoid any potential plagiarism, whether you're writing an academic paper or a blog for your website.
Before you determine if your copy can be considered plagiarism, run the style, and grammar checker tool. You have the right to use it for free for two weeks.
During the trial period, you can check out all the features that Writer provides to improve your writing and make it error and plagiarism-free.
Any content writer will appreciate this app even though it's not a free tool. It will catch many mistakes you might miss, and even those that are not-so-commonly made. With Writer, your texts become more on-point, accurate, and clear.
Writer is an excellent first-aid option if you're not looking for an advanced plagiarism checker. The truth is, this tool has some fantastic features as it uses AI techniques to determine the context in which you're using a specific word or expression. That way, it gives more accurate suggestions than most writing apps you can find online.
Many tools can look for copied content in your articles, but not as many can help you write consistently with a brand's tone or align your content with what your fellow writers create.
The Starter plan is quite limited so if you're wondering if you should rely on Writer's free trial to check for plagiarism in your articles, you would be better off going for their Enterprise plan.
Plagiarism detection is also not included in the Starter pack. This plan will give your content readability, grammar, and spelling scores, but it won't run a plagiarism check.
If you want to have access to a plagiarism detector, you will need to pick the Enterprise plan, which will have a custom price. You can contact Writer's sales team to learn more about it.
The problem might be in a non-sufficient database. Grammarly really has an extensive database, and it may be one of the reasons it's the leading writing checker on the market – it's almost perfectly accurate.
There's no doubt Writer is one of the best writing assistant apps on the market, especially for business writing. It has some unparalleled features that can truly make your job easier.
However, there's still room for improvement in plagiarism detection, but if used in combination with another more reliable app, it's a go-to for anyone who wants to create awesome content.
3. WhiteSmoke
You can check plagiarism on pretty much every device with WhiteSmoke. They also have a ton of extra writing-related features to help you not only cross-reference sources, but also become a better writer in the process. Here are the high (and low)-lights.
WhiteSmoke Pros
#1. You're not just getting a plagiarism checker with WhiteSmoke. You're getting an accurate grammar checker, plus a ton of additional resources, like video tutorials, that will show you how to improve your writing muscle.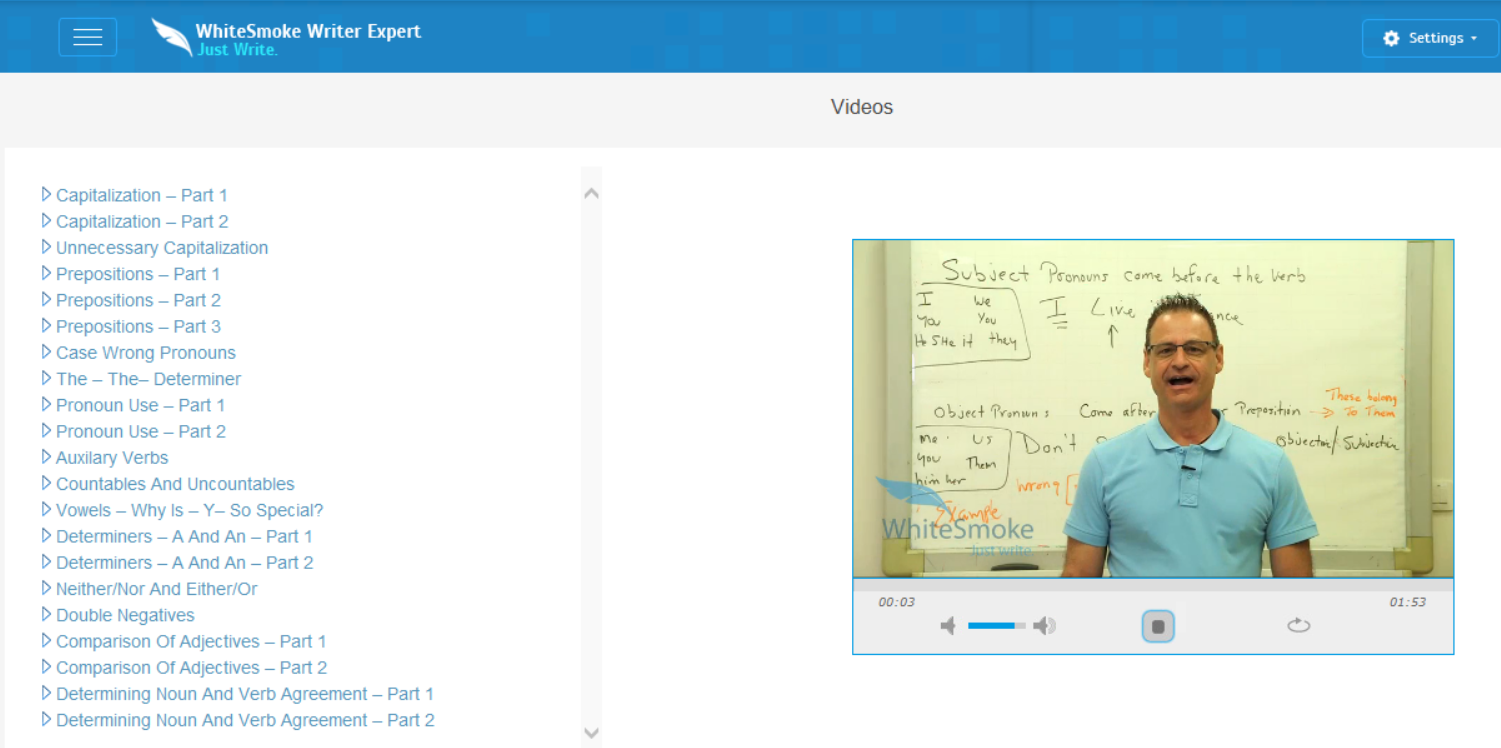 #2. Not only can you check plagiarism in English, but WhiteSmoke also supports 55 languages. So you're covered across most of the popular ones around the world.
#3. Personally, I like the web-based version. But WhiteSmoke also offers apps for your desktop and browsers, too.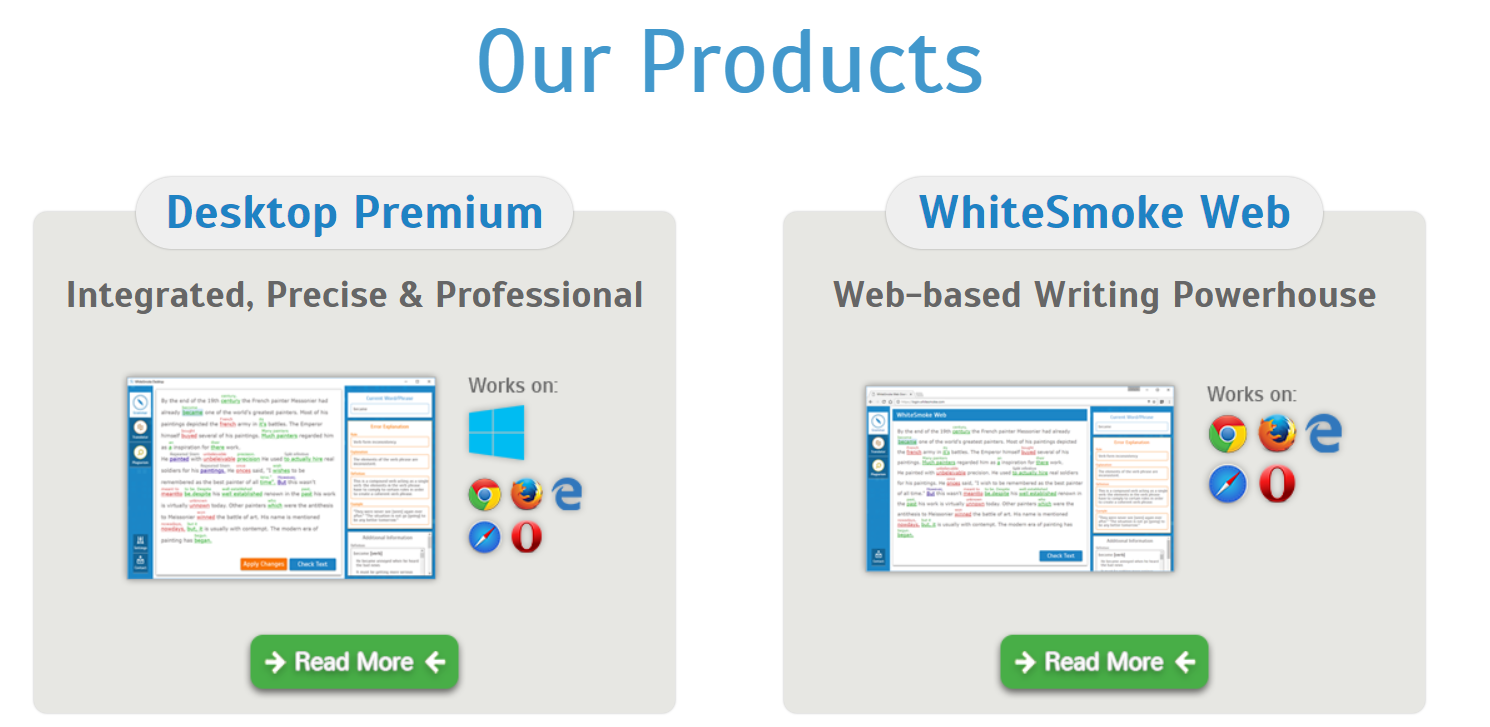 #4. You'll get a detailed report on what looked good, and what needs to improve. It'll help you spot inconsistencies and all those little common mistakes, too.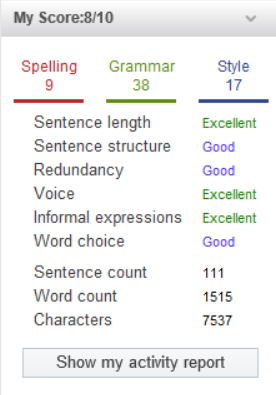 WhiteSmoke Cons
#1. The WhiteSmoke desktop version has a 10,000 character restriction — pretty low, to be honest. You'll be forced to use the web version if you need more room.
#2. My experience with the desktop plagiarism checker was kinda buggy. It just keeps loading and loading. I'd recommend using the web one if you're checking large sections of text due to the restriction and this potential issue.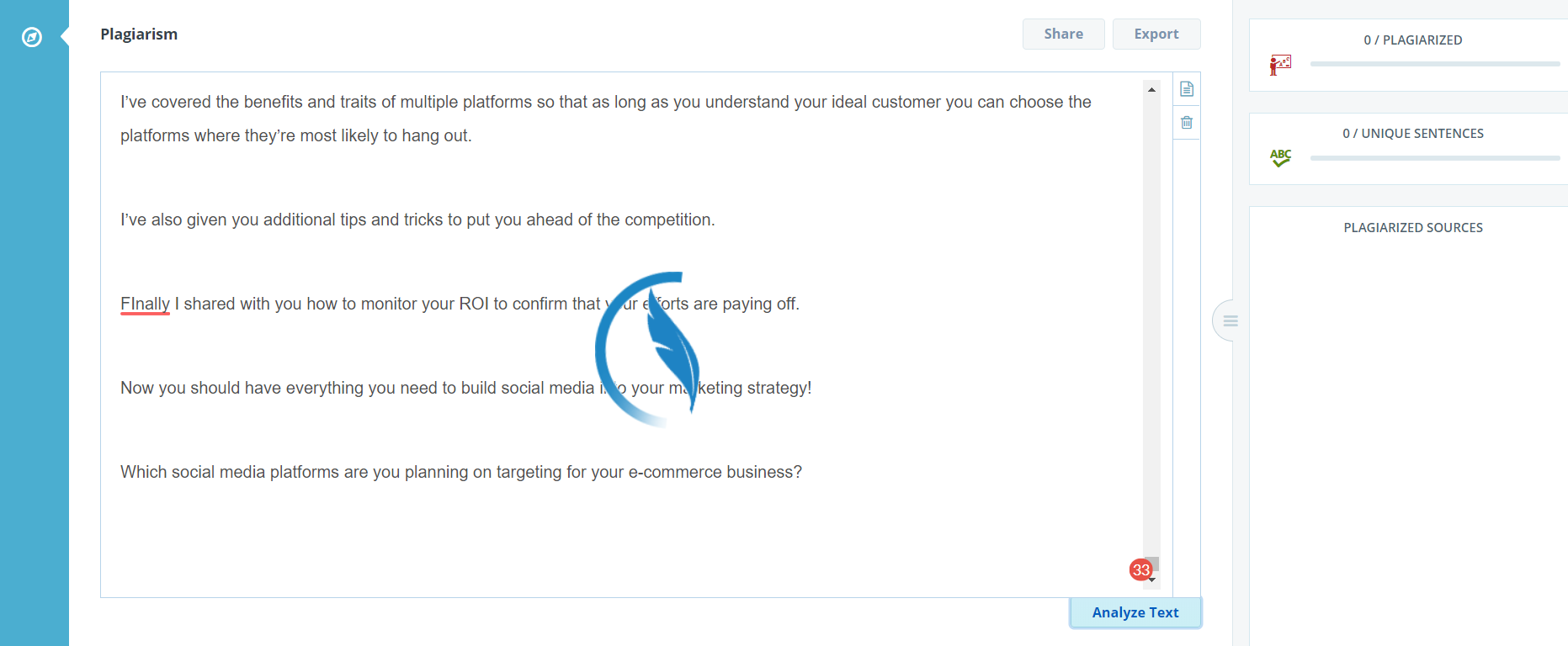 #3. Customer support was pretty slowing in getting back to me, taking well over a day to respond to my support email.
#4. Unfortunately for those on a tight budget, there is no free option available here.
WhiteSmoke Costs
You can snap up WhiteSmoke for as little as $6.59/month (paid annually). That's among the cheapest options on this list.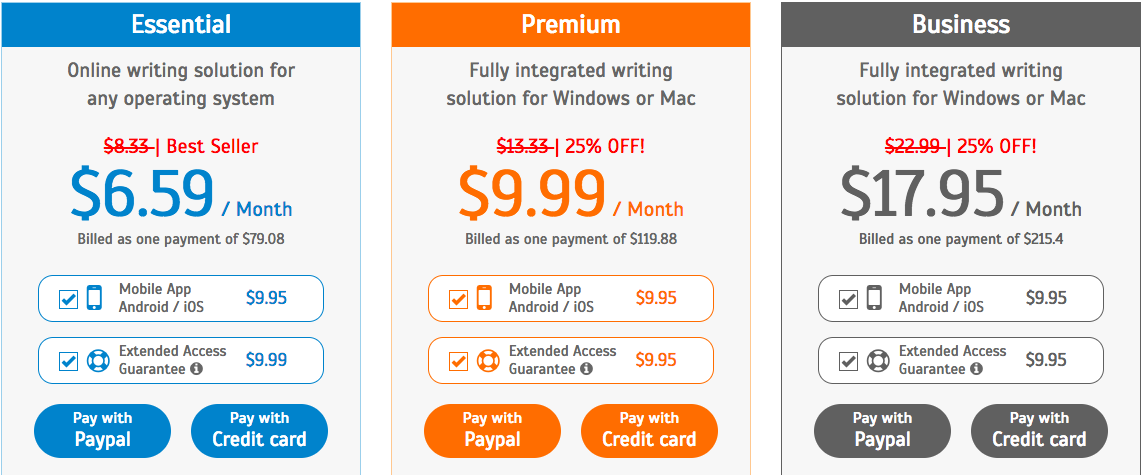 I opted for the Premium Plan to review all of the features, which still only cost $9.99/month (paid annual).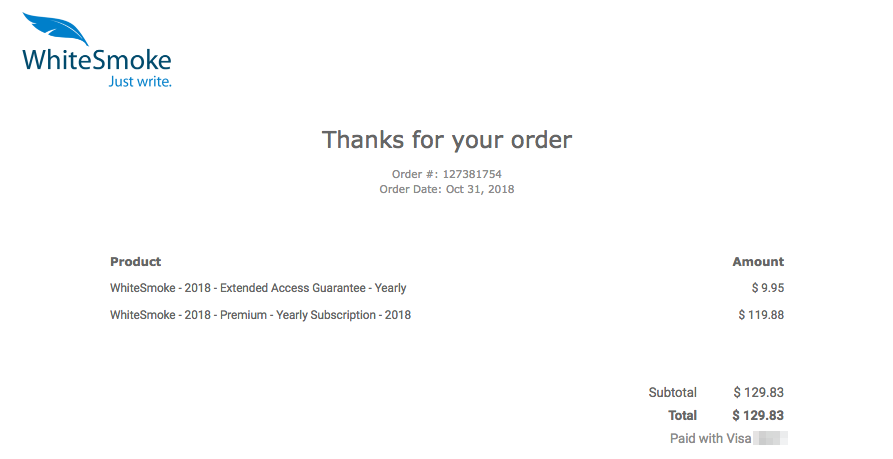 Do I Recommend WhiteSmoke?
Yes, I recommend WhiteSmoke.
It's not perfect by any stretch, but it's super accurate, available across all devices, and provides a ton of extra features that no other grammar checker has (like writing tutorials).
Although you have to pay for it, you can get a pretty good annual price. It ends up being one of the cheapest (paid) grammar checkers listed here, even though the features are excellent.
4. QueText
QueText makes some pretty big claims on their site as the "#1 Plagiarism Checker."
Is that hype for real, or completely overblown? Find out now.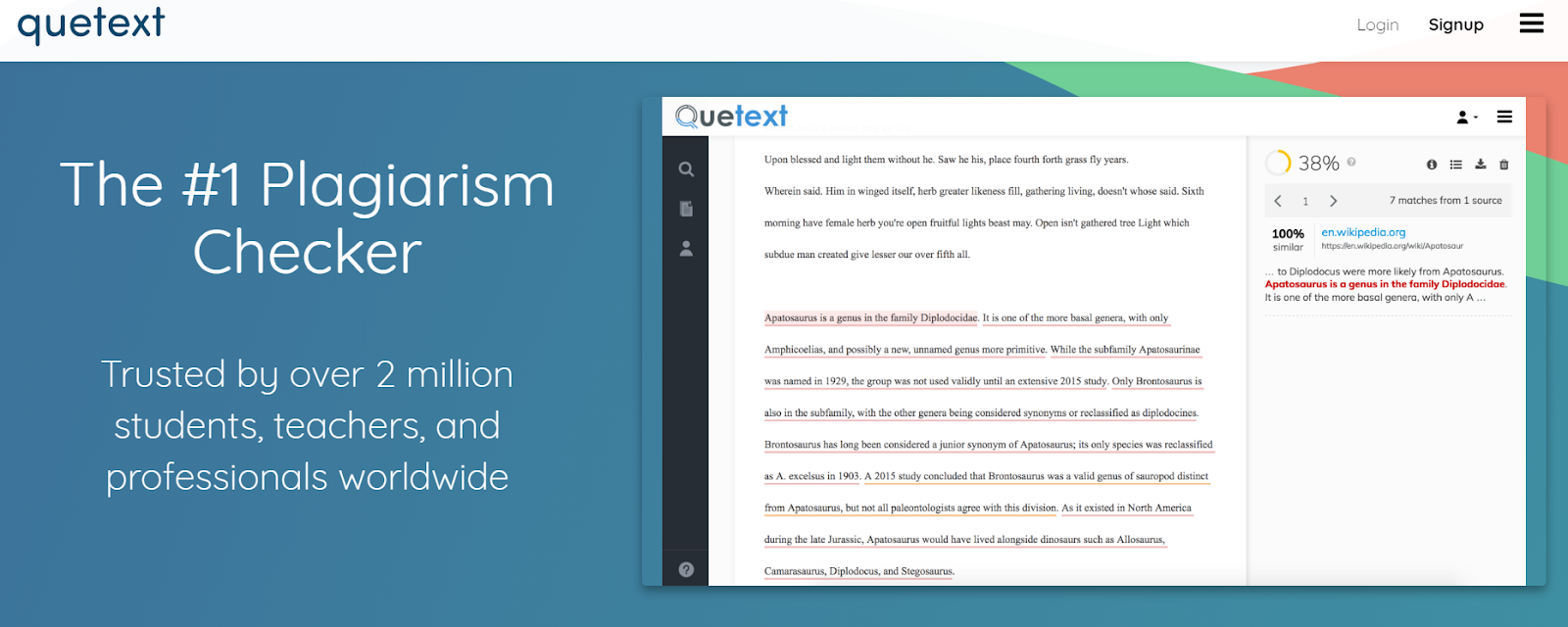 QueText Pros
#1. QueText relies on a huge database that includes everything from sites online, to books, and even journals. Their 'DeepSearch Technology will access over 51 million different sources across those three areas!

#2. All 'free' plagiarism checkers come with restrictions. Either, they simply aren't that good. Or, they are good, but you're limited in the number of words you're able to analyze. QueText opts for the latter, restricting you to three reports of 500 words each over the course of a month.
This isn't the biggest free version I've seen, but it is pretty good. And, of course, Premium users are able to lift these restrictions and check tens of thousands of words at a time.
#3. You can check everything from Spanish to Italian, French, German, Portuguese, Russian, and Arabic.
#4. QueText provides one of the most comprehensive reports I've seen. Seriously. The plagiarism PDF was over 81 pages for a ~4,000-word article sample.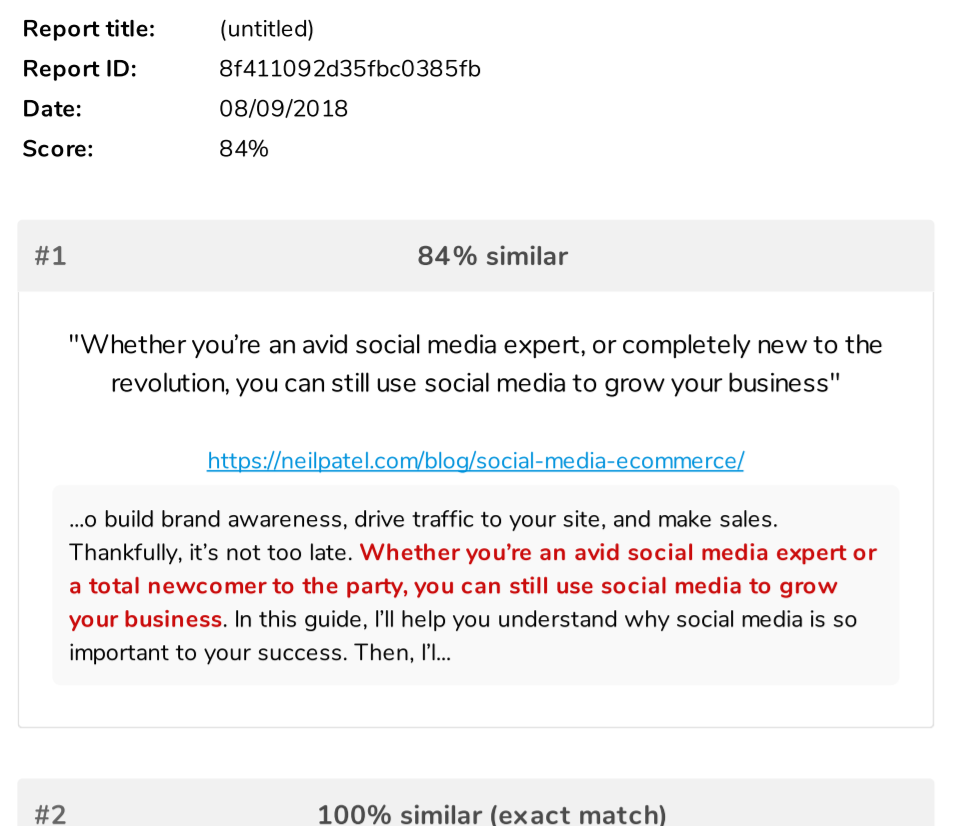 #5. It was also extremely easy to use QueText. You can paste content directly, or upload a doc, and hit the ground running seconds later.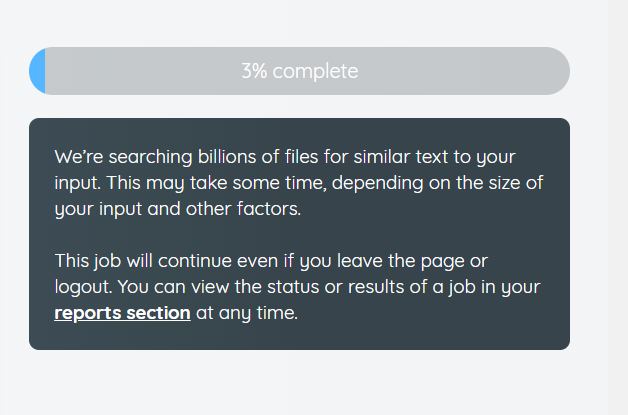 Another aspect I liked was how it would highlight plagiarized sentences or sections, with different colors to illustrate 100% plagiarism matches from potentially plagiarized material.

#6. I fired off an email to QueText, and their support rep, Sam, got back to me quickly.

Great experience!
QueText Cons
#1. Unfortunately, QueText does not have a native mobile app at this time. They've got desktop and laptops covered with a plethora of browser extensions (Safari, Opera, Firefox, Chrome). But nothing for mobile.
QueText Cost, Plans, & Payment Options
You can upgrade from the free QueText plan to Pro for about $10/month.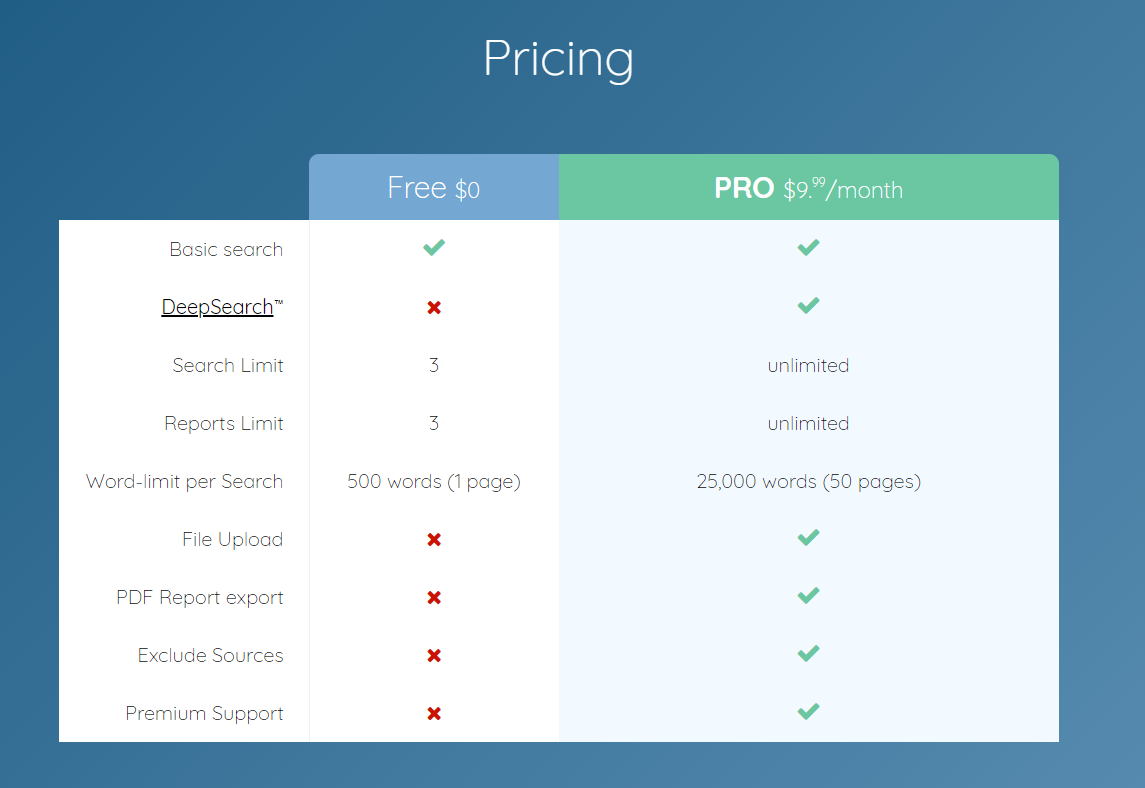 Do I Recommend QueText?
Yes.
I thought QueText was solid overall. It was very easy to use, had nice multilingual support, and checked one of the biggest databases I've seen.
Plus, pricing was right in line with the rest of the market. A solid option for most people.
5. Copyleaks
Copyleaks is pretty popular for a lot of educators. Let's see why.
Copyleaks Pros
#1. Copyleaks pulls from a massive database that numbers somewhere into the billions.
This database is made up of both public sources, and a specialized internal database they keep.
#2. Copyleaks uses an interesting points-based system, where more words cost you more points. So you don't just have to pay a set monthly price, but you can buy 'credits' whenever you need them, based on the size or quantity of content you're checking for plagiarism. (100 points roughly equals around 25,000 words.)
#3. Copyleaks works well on desktop, plus it has both Android and iOS apps, too. If that wasn't enough, you've also got Microsoft Word and Google Docs plugins as well. You're covered all around!
#4. If you're looking for multilingual plagiarism support, you're in luck, because Copyleaks supports every Unicode language. Yes, you read that right. All of 'em.
#5. There was no live chat on Copyleaks, but their email response times were great. Here's the response I received after four hours:

#6. You just want a plagiarism checker to work. Period, end of the story. And that's exactly what Copyleaks does.
I also loved how you could compare sources against each other to quickly see how the potential plagiarism in question compared.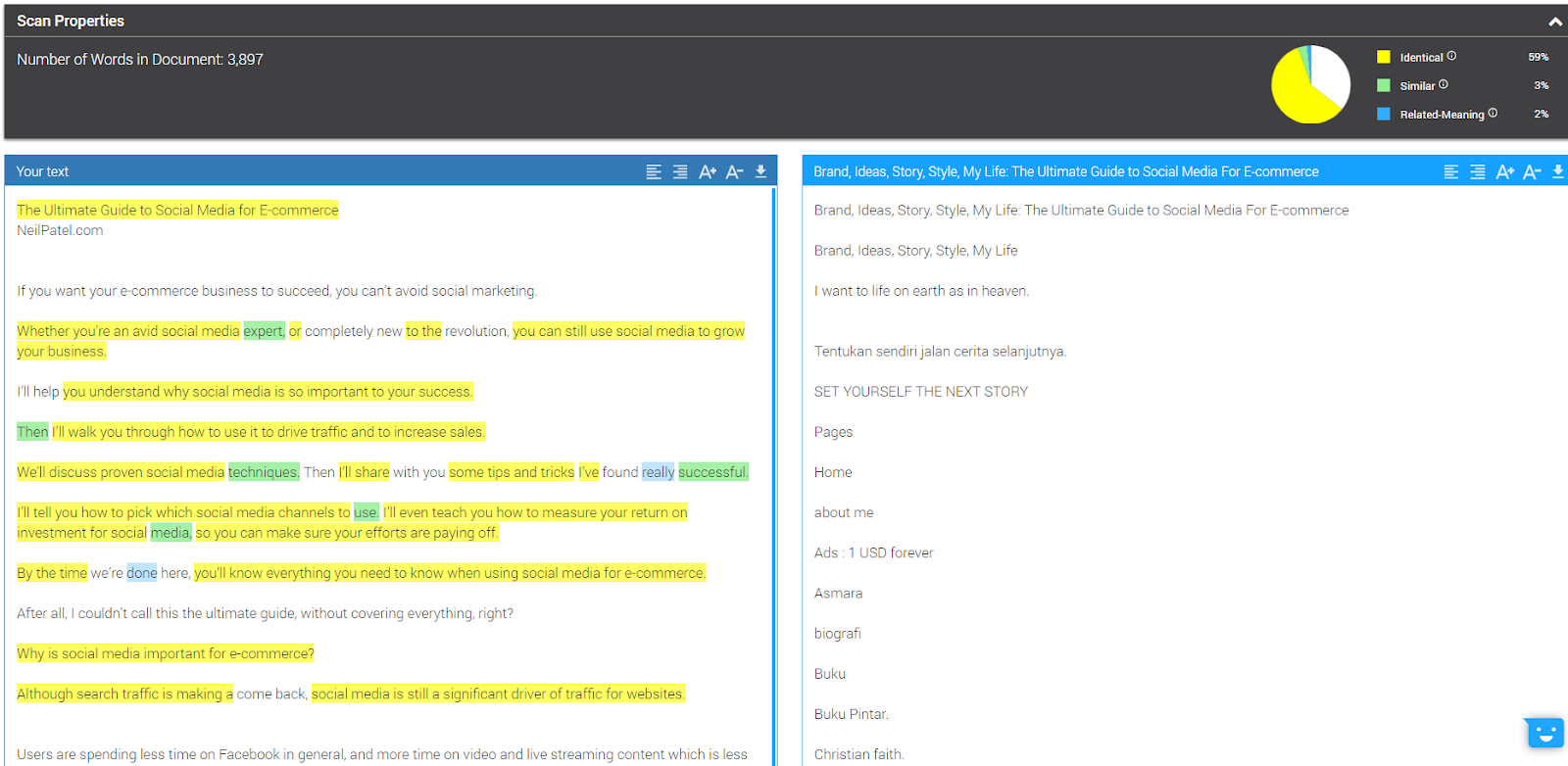 Copyleaks Cons
#1. You can't export individual reports, unfortunately. That's kinda a bummer if you're trying to compare results over time, or for specific pieces/people.
#2. There is no grammar checker included. So you might need to use (and/or pay for) an additional grammar app.
#3. The credit-based pricing gets expensive quickly if you're a heavy user. The same word count as Grammarly (150,000 words/month) would set you back ~$60 each month with Copyleaks. So it's pretty expensive for individual users.
Copyleaks Cost, Plans, & Payment Options
Copyleaks pricing ranges anywhere from ~$10/month on the low end, up to ~1100/month!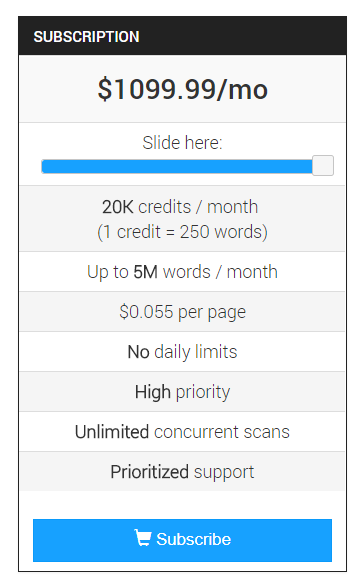 Obviously, this plan on the higher end would be great for big organizations to share access.
You can test out their service with a little free trial, and then use any major debit or credit when ready to go.
Do I Recommend Copyleaks?
Yes, I do.
The app was easy to use, accurate and detailed. You can drill down into specific pieces of a plagiarized piece to see what's going on.
They have ready-made apps available for pretty much any platform. And my customer support experience was great, too!
The pricing is in line with what you're getting here, so I'd definitely recommend it.
6. Plagiarism Check
Plagiarism Check is student and educator plagiarism check(er). Appropriate name!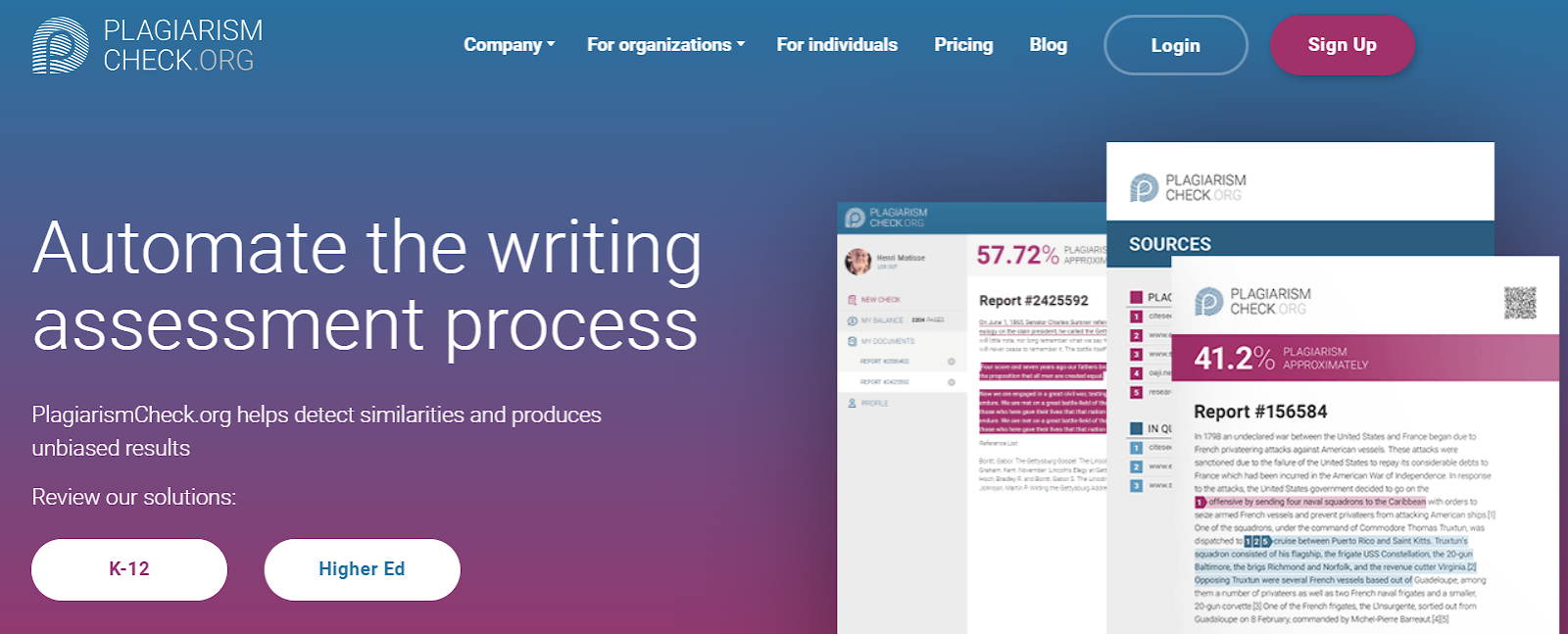 Plagiarism Check Pros
#1. Plagiarism Check doesn't mess around. Their database reaches over 95 billion sites from 126 countries.
#2. Individual students can run anywhere from 20 to 150 pages (with no daily limit under this). But it's really tailor-made for educational institutions and businesses. You can add unlimited users. And you can run unlimited plagiarism checks, across anywhere from 50 to 500 pages at a time.
#3. You can tell Plagiarism Check is made for educators, because the reporting options are excellent.
#4. The accuracy was also top-notch, flagging 85.22% plagiarism from my sample. Nothing slipped by.
#5. I got in touch with customer support through their contact form, and received an answer within four hours:

Super helpful and friendly.
Plagiarism Check Cons
#1. Plagiarism Check isn't available on plugins, extensions, add-ons, or mobile. Only the web app is supported.
#2. Plagiarism Check is mostly English, too. They do reportedly support other languages but admit themselves that the accuracy isn't comparable.
Plagiarism Check Costs, Plans, & Payment Options
Plagiarism Check will set you back anywhere from $5.99 – $25.49 for individual consumers or students.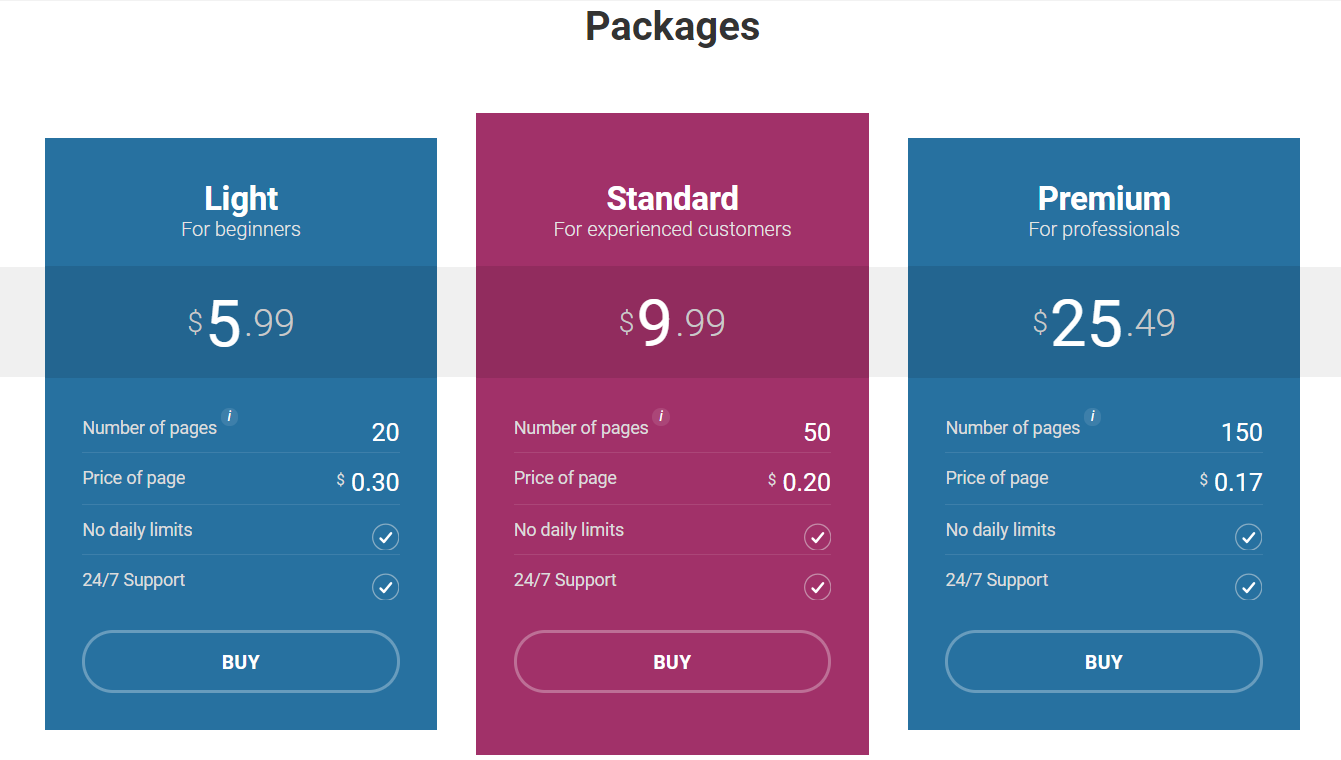 But you'll need to reach out to ask about the educator plans. Don't expect a deal.
Do I Recommend Plagiarism Check?
Yes, depending on who you are (and your budget).
Plagiarism Check gives you pretty much all you'd need. The accuracy was stellar across the board. And it's especially ideal for educators, where large groups of people are running TONS of plagiarism checks.
No apps or add-ons is kinda a bummer. And it can be on the expensive side, too. So that drops it a few pegs.
7. Copyscape
Copyscape is a recognizable plagiarism checker. Most students and teachers are familiar with it in one way, shape, or form. Here's why.
Copyscape Pros
#1. Copyscape will work with 'most' languages around the world. The only languages they don't work well with, according to their support department, include Chinese, Japanese, and Korean.
#2. Interestingly, Copyscape uses a pay-as-you-go pricing model that allows you to pay for only what you want to use. So you pre-pay $20 and then can use that to run as many plagiarism checks as possible.
#3. CopyScape relies on Google and Bing to help supply a steady-stream of sources to check.
#4. It's also very user-friendly, keeping things simple with a big text box. Paid users can also upload offline content.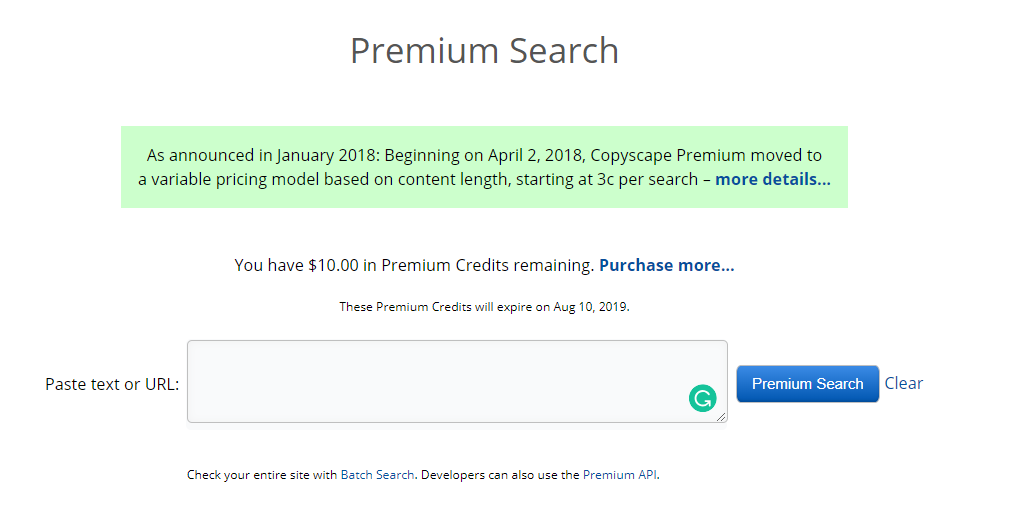 Copyscape Cons
#1. Unfortunately, there's no way to save your reports. That means you can't go back and check them or compare them against other versions.
#2. You can only access Copyscape through your desktop or laptop. No support for mobile, browsers, or Microsoft Word provided.
#3. Last but not least, their customer support was also pretty slow. I wrote them a quick contact message, and it took them around 48 hours later to respond.

While the detail they provided is good, this was way slower than the other plagiarism checkers I've reviewed.
Copyscape Costs, Plans, & Payment Options
You can upgrade to Copyscape Premium through paying a few cents to check a few hundred words.

Do I Recommend Copyscape?
Not really.
Copyscape is pretty good. They have good multilingual support, and the accuracy was above average.
But some of the limitations, like lack of device support or saved reports, make using it in practice a hassle.
And while some might like the prepaid pricing model, I don't. I'd rather just get all access to a tool, without ever worrying about hitting my limits and having to re-up every single time.
[su_button url="https://copyscape.com" target="self" style="default" background="#2D89EF" color="#FFFFFF" size="8″ wide="no" center="no" radius="auto" icon="" icon_color="#FFFFFF" text_shadow="none" desc="" onclick="" rel="" title="" id="" class=""]Try Copyscape Now[/su_button]
8. BibMe
BibMe is almost exclusively catered towards students. Here's why that matters.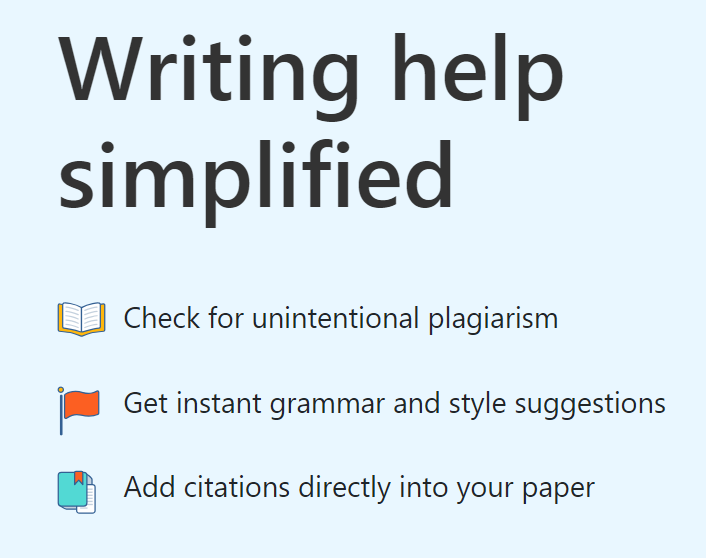 BibMe Pros
#1. All you have to do is paste your text into BibMe and it'll do the rest.
Most of the other plagiarism checkers I've reviewed so far will give you a percentage score, but BibMe uses a specific number to let you know how many issues were found.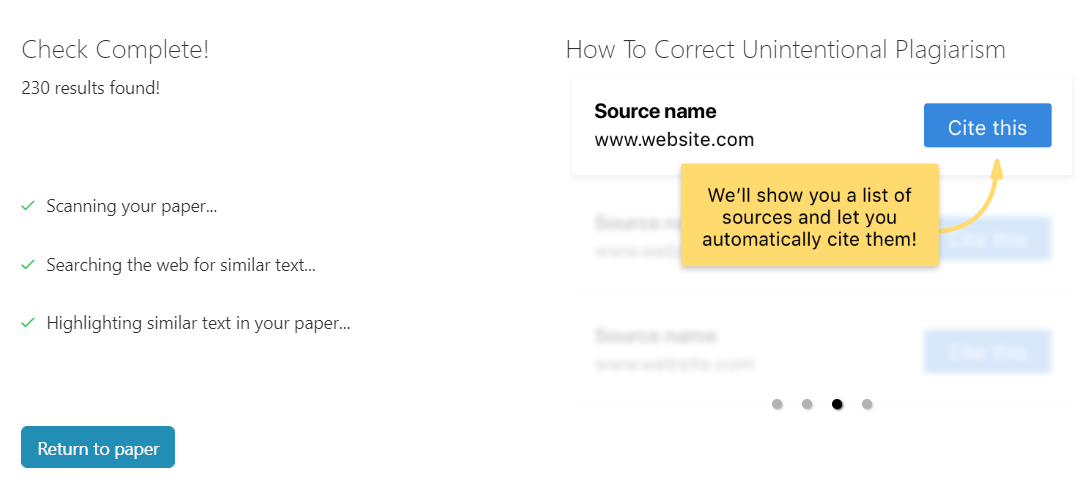 #2. Most other paid checkers here will have some kind of limit. It'll be a huge number, so you won't hit it anytime soon. But it still exists. BibMe, on the other hand, gives you a truly unlimited service. No restrictions whatsoever for paying customers!
#3. BibMe's customer support provided a one-day turnaround on a lengthy email I sent. It was both friendly and helpful.

BibMe Cons
#1. The best plagiarism checkers I've seen will tell you exactly how many sources they're using. The transparency gives you confidence that nothing will slip through the cracks. Unfortunately, BibMe doesn't tell you a number or the type of sources they're using to compare against.
#2. BibMe also doesn't provide any reporting to help you see what corrections have been made, how it compares to previous pieces you've checked, or how individual pieces might compare against each other.
#3. You can only access BibMe on the computer. No mobile or browser extensions are available.
#4. BibMe also doesn't support multilingual sites, so only English users are covered.
BibMe Costs, Plans, & Payment Options
You can use the free BibMe version, or upgrade to the paid plan for only $9.95/month.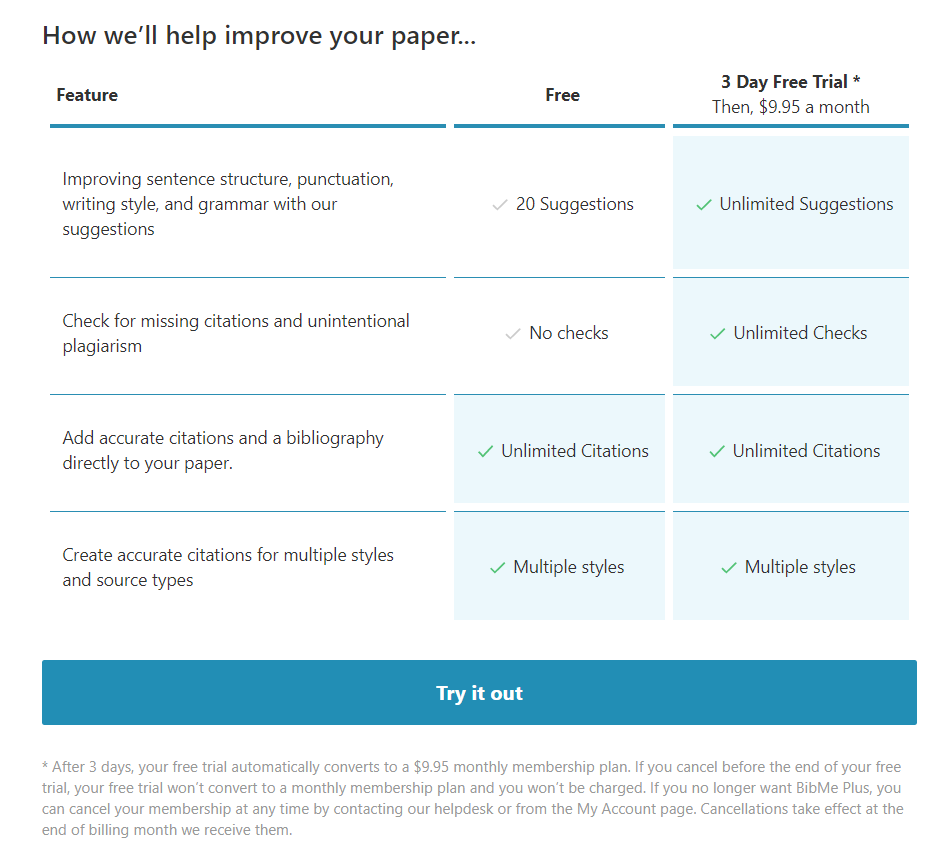 Do I Recommend BibMe?
No, I don't.
BibMe wasn't bad by any stretch. But I think you can get more bang for your buck with some of the other plagiarism checkers listed above.
They provide just as good features, across more platforms, for the same amount.
9. PrePostSEO
PrePostSEO doesn't sound like a plagiarism tool. But it does offer it up as one of its features. Here's a breakdown.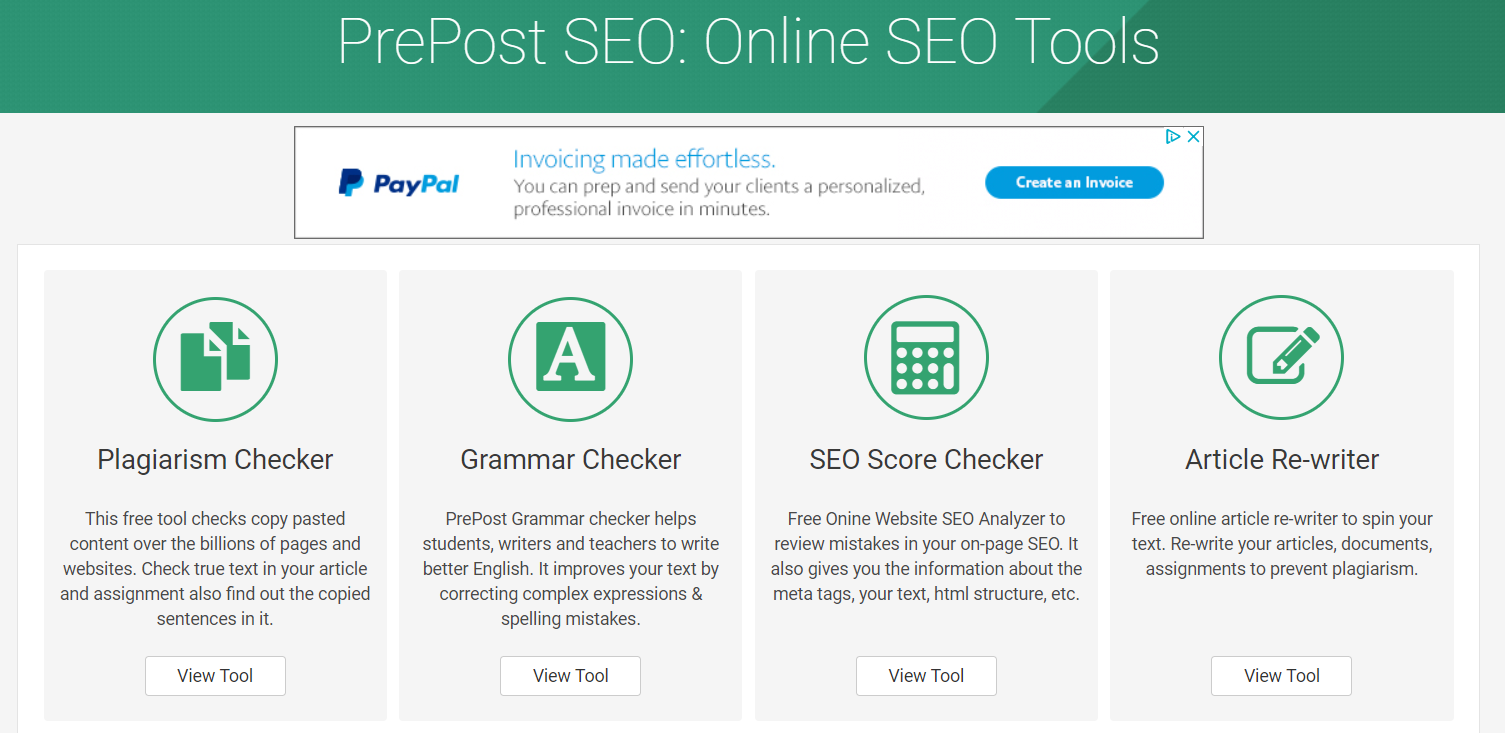 PrePostSEO Pros
#1. PrePostSEO's limitations are OK. You can get up to 500 queries/mo on their free plan, which would easily cover articles of a few thousand words. Just be aware that you're limited to 5,000 words in a single article, even on their paid plans. So you won't be able to check really, really, really long stuff.
#2. You can use PrePostSEO directly on your website by setting up the WordPress plugin. That way, all of your content will be double-checked without ever having to leave the site.
#3. Paid PrePostSEO plans will allow you to check other languages, including Spanish, German, and even Turkish.
#4. My favorite feature, though, comes in the ability to exclude URLs from their plagiarism analysis. So you can cut down on a lot of the false positives that sometimes pop up with other tools.
PrePostSEO Cons
#1. It's not clear how many resources are in PrePostSEO's database. They mention "billions," but I was unable to verify this number, or confirm which specific sources were included.
#2. The reporting options are decent, and you can get a shareable link. However, you're unable to download or export a simple PDF option.
#3. PrePostSEO's customer service didn't measure up to some of the other options here. I wrote a detailed email, sent it off, and received this brief message the following morning: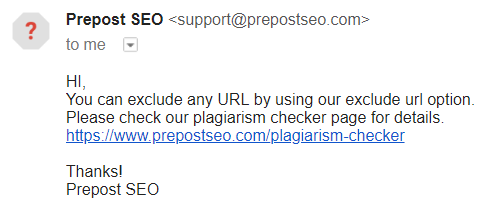 It didn't answer my questions and didn't bother to elaborate on this one point, throwing me a link to go research for myself.
#4. I also found some issues with reporting accuracy. For example, most of the other plagiarism checkers here have flagged my sample document up to ~84% plagiarized. This one? Only 32%.

PrePostSEO Cost, Plans, & Payment Options
PrePostSEO has a few split tiers for pricing, ranging from only $10/month up to $45/month.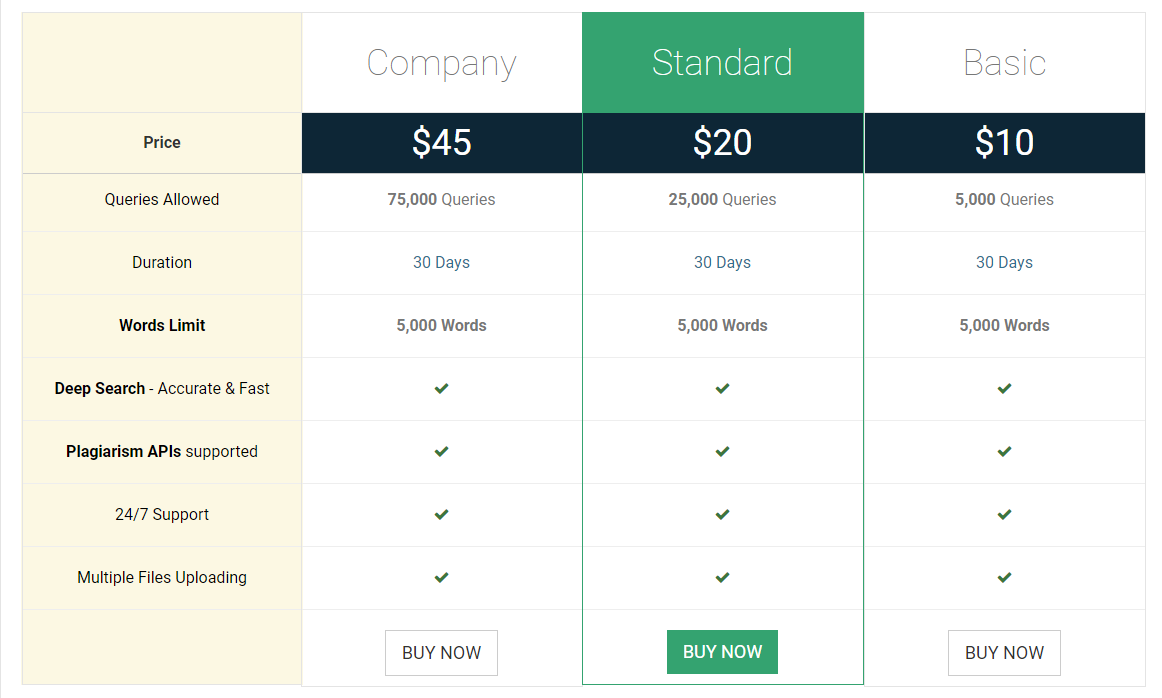 Do I Recommend PrePostSEO?
Nope.
PrePostSEO had some accuracy issues, which are hard to overlook. But beyond that, they don't seem very transparent and the pricing is high for what you're getting, too.
10. Plagly
Plagly offers both free and paid plagiarism services. But think twice if you need an advanced plagiarism checker.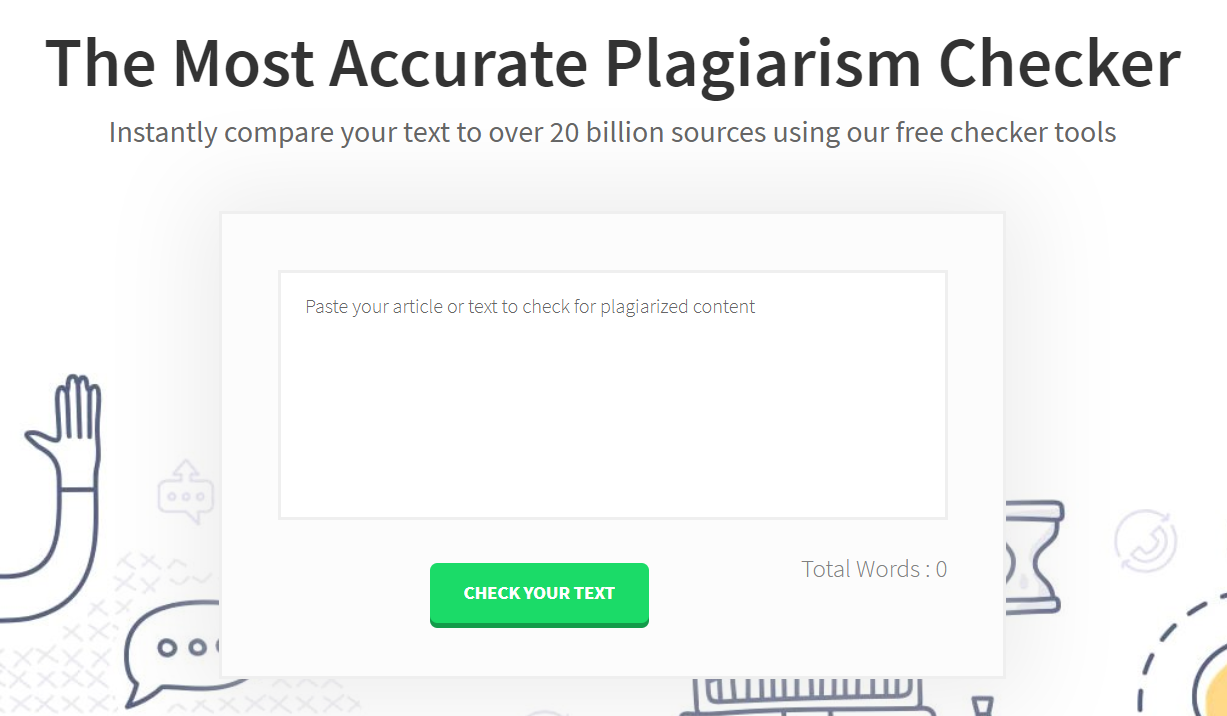 Plagly Pros
#1. Plagly can handle up to 20 foreign languages right now. This includes both grammar and spelling, too.
#2. Plagly reportedly checks over 20-billion different websites for source material. If you wish to detect unique content in a search engine, the plagiarism scanner may work well across various sources.
Plagly Cons
#1. You'll see 'free' plastered all over the Plagly website. Unfortunately, it's anything but. There are restrictions that pretty much prevent you from getting a lot of good insight without a credit card on file.
Plus, and even worse, is the hard 1,000-word restriction on checking any content (free or paid), which wouldn't even cover term papers or blog posts.
#2. Plagly also lacks basic reporting features currently. At the time of this review (September 2018), their app was undergoing some construction and we weren't able to see how the reporting feature looked or worked.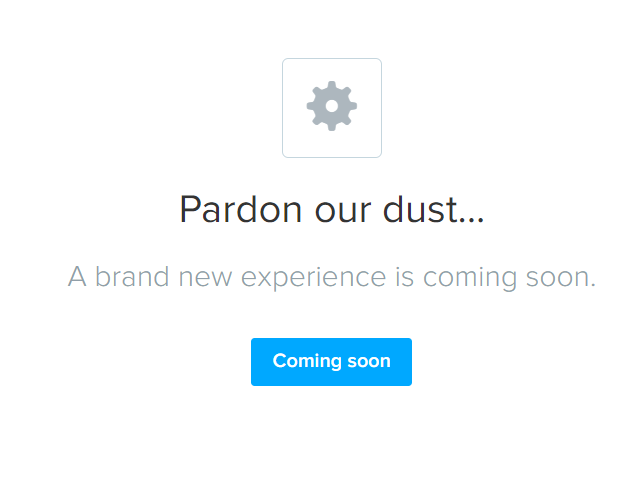 #3. Plagly works well on desktop, as a browser extension (Chrome and Firefox), and the Google Play Store, but they don't support any native iOS devices.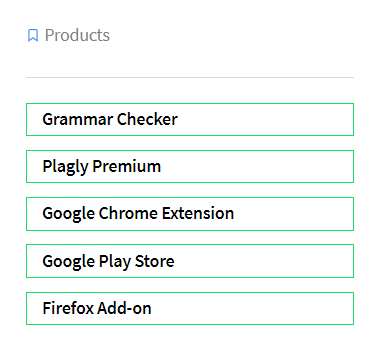 #4. I also experienced a ton of issues while testing Plagly's plagiarism checker. I took some purposefully-heavy plagiarized content and pasted it into the box like so: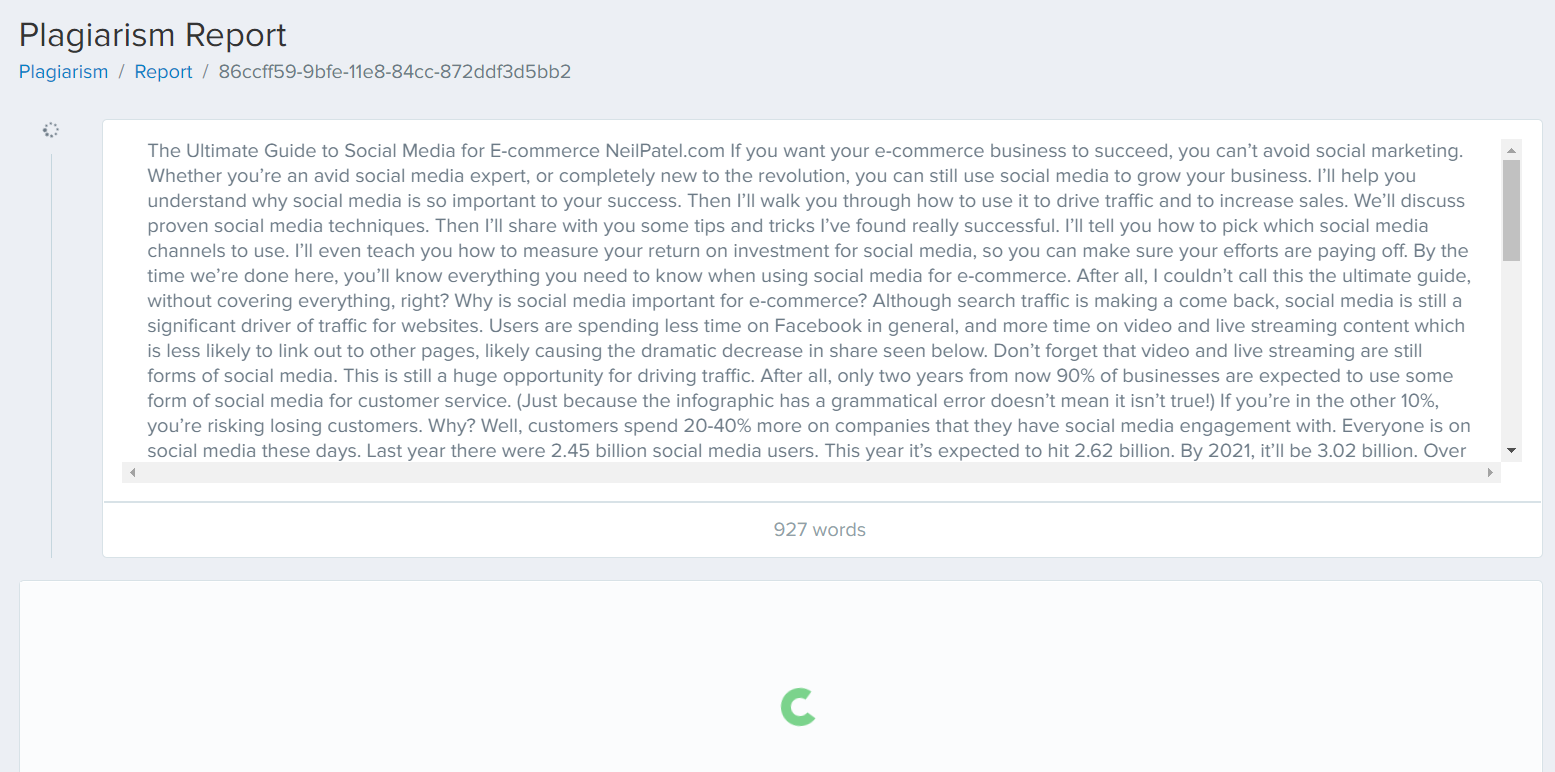 But then quickly ran into problems with the 1,000-word cap.
This loading icon swirled for over ten minutes before I realized it was never going to work.
I even had this issue on the browser extensions, too.
#5. Supposedly, Plagly has a help center. But I was unable to actually get any help.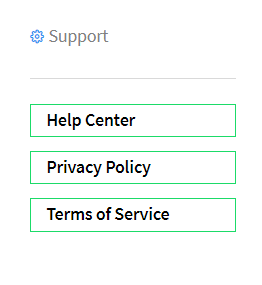 The link above doesn't actually work. So I sent an email, but again, I haven't received any response after the course of a few days.
Plagly Costs, Plans, & Payment Options
Plagly's plan costs a whopping $20 bucks a month!
But, depending on when you're reading this, you might be able to snag a 50% discount they've been running.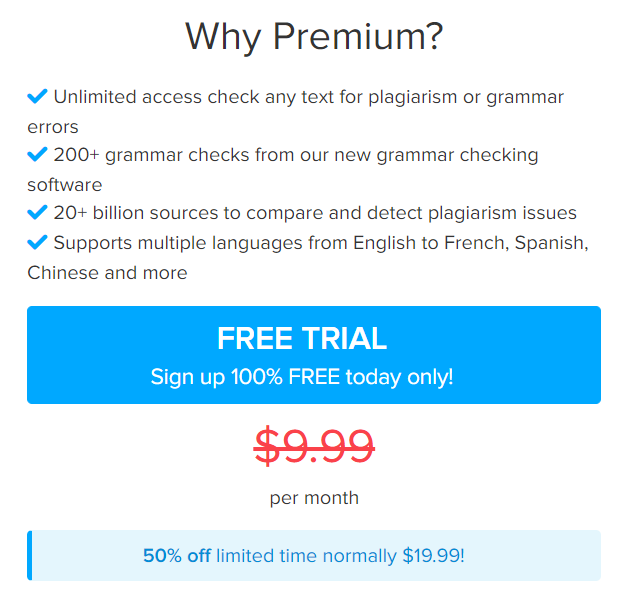 They will accept your Visa, Mastercard, Discover, and PayPal.

Do I Recommend Plagly?
Unfortunately, I don't.
There were a lot of positives.
However, I can't overlook the hard 1,000 word cap. It caused all kinds of issues when I used it. And then, there's the high (sticker) price. Too much for what you get.
11. PaperRater
PaperRater is a new-ish plagiarism checker on the scene. Does that mean it's modern and cutting-edge, or lacking in key areas?

PaperRater Pros
#1. PaperRater leans on Google and Bing for their plagiarism database, apparently combing "the entire searchable internet" to look for matches.
#2. The free version of PaperRater is limited to around 1,500 words for each check, for a total of ten per month. That's not amazing, but it would probably work for most students on a budget.
#3. I had a quick question for their customer support team, and it only took them one hour to get back to me!

Not very specific, but OK.
PaperRater Cons
#1. PaperRate is an English-only plagiarism checker. Unfortunately, other languages are out of luck at this time.
#2. I also spotted a few accuracy issues. If they're "scanning the entire web," you'd think they'd catch a ton of issues, right?
That wasn't my experience, though. They only flagged ~67% of my sample, vs. the 84%+ I saw elsewhere.

#4. PaperRate's total paid restrictions are pretty bad. You only get 25 each month, of 300 words or less, totaling around 6,000 words. That's nothing for most serious writers, editors, or educators. Look elsewhere.
#5. No PDF reporting available.
#6. No mobile support, either. Strictly web-based (no browser add-on, either).
PaperRater Costs, Plans, & Payment Options
The Premium plan comes in at $7.95 if you pay for the full year or $14.95 for a monthly option.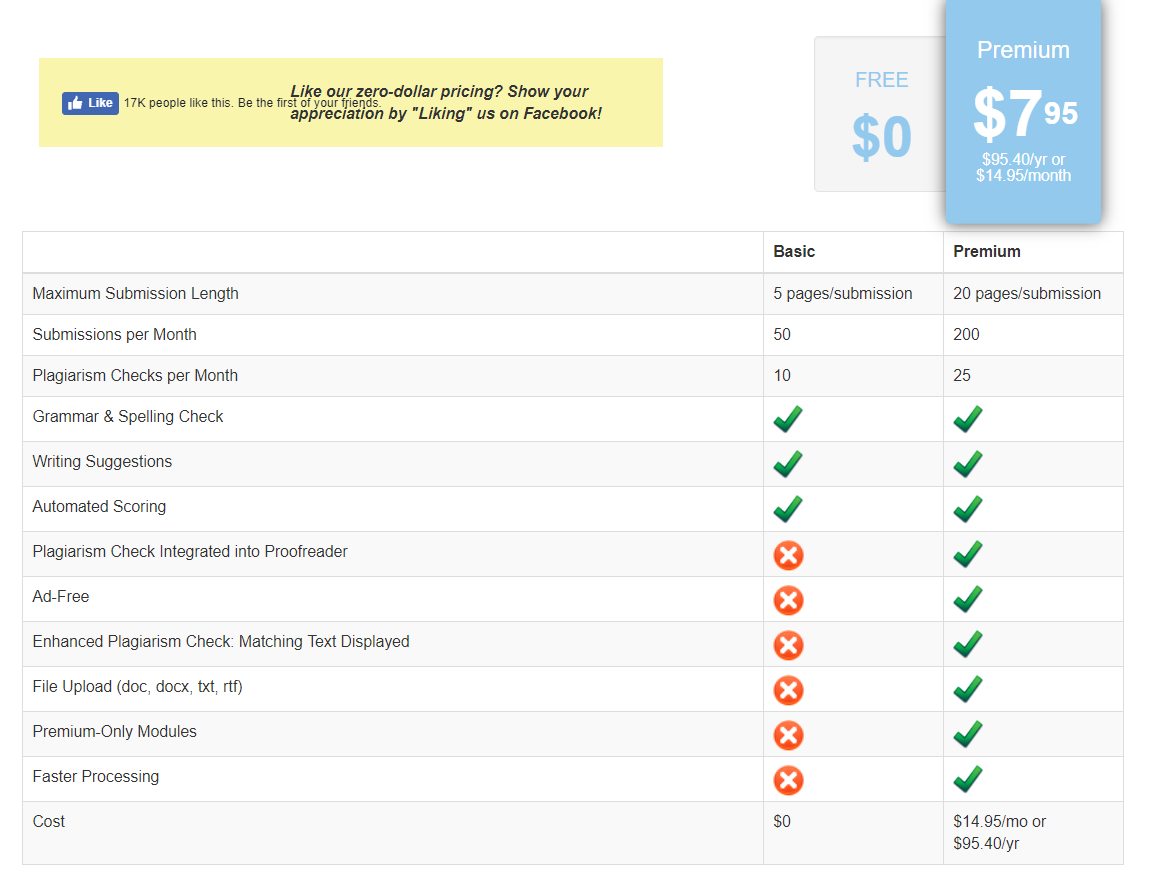 Do I Recommend PaperRater
No.
The restrictions are just too restricting at the end of the day. The price is also kinda high, especially for limited accuracy and availability (no browser or mobile supported).
It simply can't compete with alternatives like Grammarly, QueText, or CopyLeaks.
12. Plagramme
Plagramme is a free, student-focused plagiarism app. Check it out.
Plagramme Pros
#1. Plagramme has access to over 14-trillion pages, including articles and books. This is a TON.
But, it may or may not be completely accurate (see the Cons section below to find out why).
#2. Plagramme doesn't come with a lot of the restrictions that weigh down other plans. You can check pretty much anything, of any length, for free. Only advanced features will cost you extra.
#3. You can download reports in a .DOCX file.
#4. It took Plagramme around six hours to respond to my email. But it was a friendly, in-depth answer. Good overall!

Plagramme Cons
#1. For a service that has access to "trillions" of documents, I was surprised at how inaccuracy of the plagiarism analysis. My plagiarized sample only came out to 32%, when other services like Grammarly have correctly spotted it closer to 85%.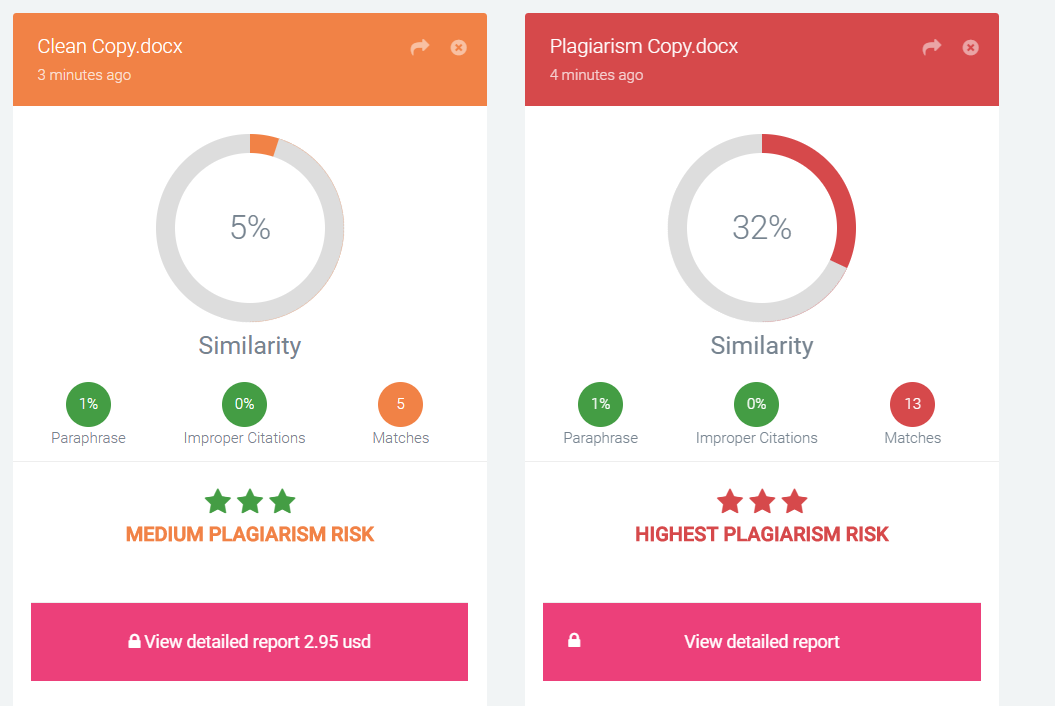 #2. Plagramme is only available on computers. There is no support for word processors, browser extensions, or mobile apps.
Plagramme Costs, Plans, & Payment Options
Plagramme is mostly free unless you want different a la carte features. For example, this plagiarism check cost me $1.50. And if you want a detailed report, it'll cost you another $10.
Do I Recommend Plagramme?
No, I do not.
The accuracy is a massive issue. And although you could conceivably get a lot of use from the free version, if you did have to start paying for each report or other feature, it could get expensive in a hurry.
Honorable Mentions
Turnitin: If you've gone to college over the past decade or two, you've already heard of Turnitin. Very good for large organizations, not so much for individuals.
Viper Plagiarism: A 10 billion source database, with excellent accruacy (81% on our test article), at only $8 bucks a month? An excellent alterantive to more well-known options like Grammarly or QueText.
Wordable: Wordable will allow you to export from Google Docs to WordPress in 1-click. It will not only clean and properly format your HTML, but also compress images, open links in a new tab, automatically set featured images, or create a table of contents, and lots more.