Copyscape is a free plagiarism checker that allows you to enter your website's URL to determine if anyone out there is copying you.
It's an excellent tool for all freelancers or professional writers who take plagiarism seriously. And checking for plagiarism with Copyscape is simple.
We're a content marketing agency that has clients paying us tens of thousands each month. If our writers ever plagiarized something on their behalf – we'd BOTH be in a huge amount of trouble.
Their premium plagiarism checker service allows users to enter offline content like blog articles or text that have not been posted and check them for plagiarism on the web
Now let's deep dive into Copyscape plagiarism detection software.
Disclosure: These reviews are reader-supported. We might earn a small commission if you purchase something through our site. Learn more
Our Verdict
It's perfect for website owners who need a plagiarism detection software, and a great checker tool for bloggers or writers who want a free plagiarism software. For an advanced grammar and plagiarism checker, you could also check Grammarly. While it might be on the pricey side, you can save 20% with our link. 
Grammarly
Best All-Around
$11.66
/mo – before discount
PROS
86/86% accuracy
16+ billion database
150k+ word limit
5 device limit
1-hour response
CONS
Only English
Expensive without our link
Copyscape
Limited Features
$19.95
/month for 10 pages
PROS
Many languages supported
Search engine database
Easy to use
CONS
Cannot save reports
Lack of device support
Slow customer support
Grammarly Premium Walkthrough Video
TABLE OF CONTENTS
Copyscape Pros
Copyscape is easy to use and draws upon a powerful search engine-based database for its results. Its premium limitations are determined by how much money you put in, so you're never paying for more than you're actually using. It also has a diverse listing of languages to pull from.
1. Many Languages Supported
Copyscape supports almost all common world alphabets and languages, meaning that no matter what language your content is in, Copyscape can read it and find out if there's plagiarism. According to their customer support department, they do not support Chinese, Japanese, and Korean.
2. Pre-Pay
This service allows you to pre-pay and it won't charge you again until you've used the equivalent amount of premium service.
So, for instance, if you've got $20 in your account, you have to perform $20 worth of premium plagiarism checks before you would have to pay again.
3. Search Engine Database
Copyscape uses Google and Bing to look through the internet in search of plagiarism. They have the full might of these two powerful search engines behind them, opening up the vast majority of the internet. Copy-paste your text — and check for plagiarism online — is easy.
4. Easy to Use
Copyscape's premium service is very simple. You just copy and paste your offline content into the box, and let the program work its magic. It's a great tool to check original content.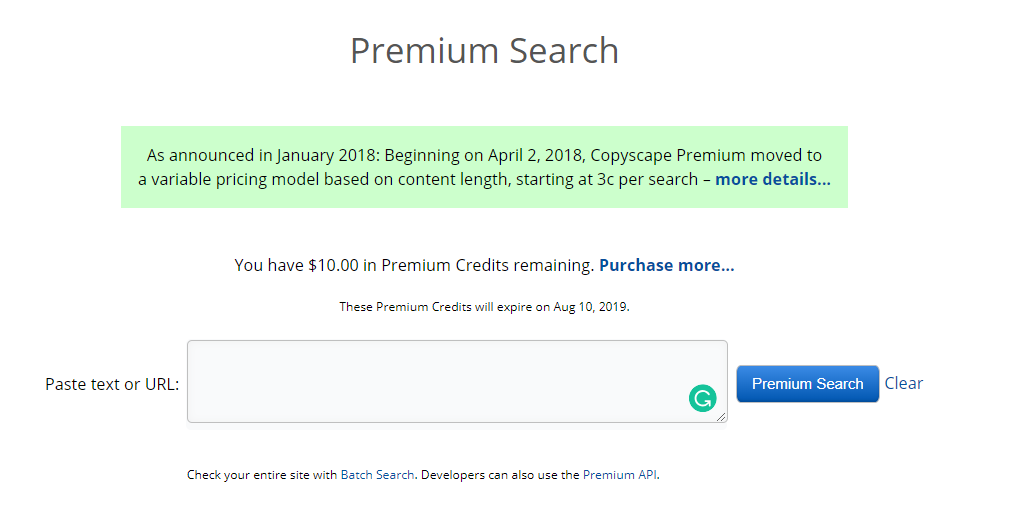 It immediately got to work, identifying a large number of sites that our plagiarism sample copy drew from.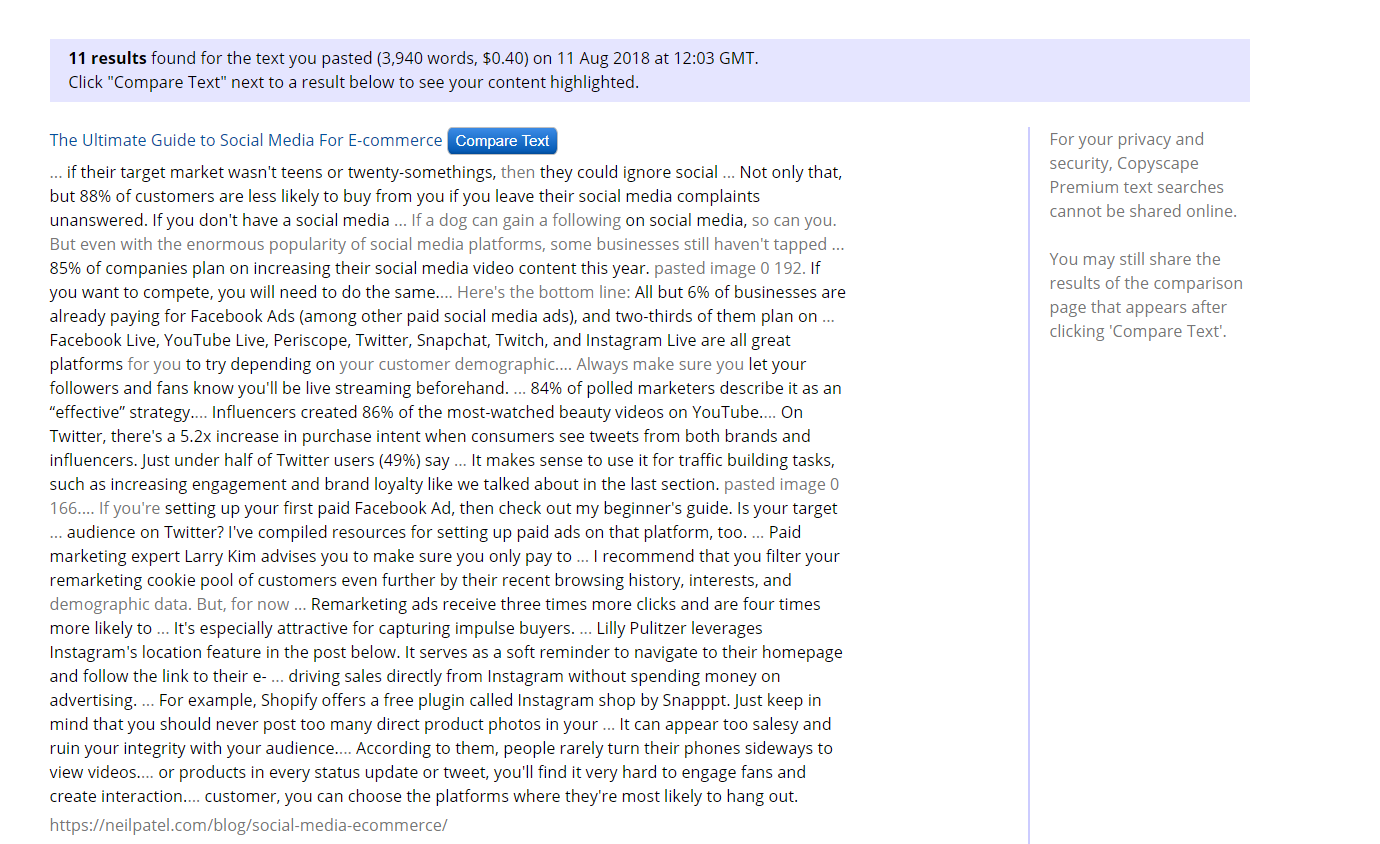 It also worked on our clean copy, pulling far less and finishing in a shorter amount of time.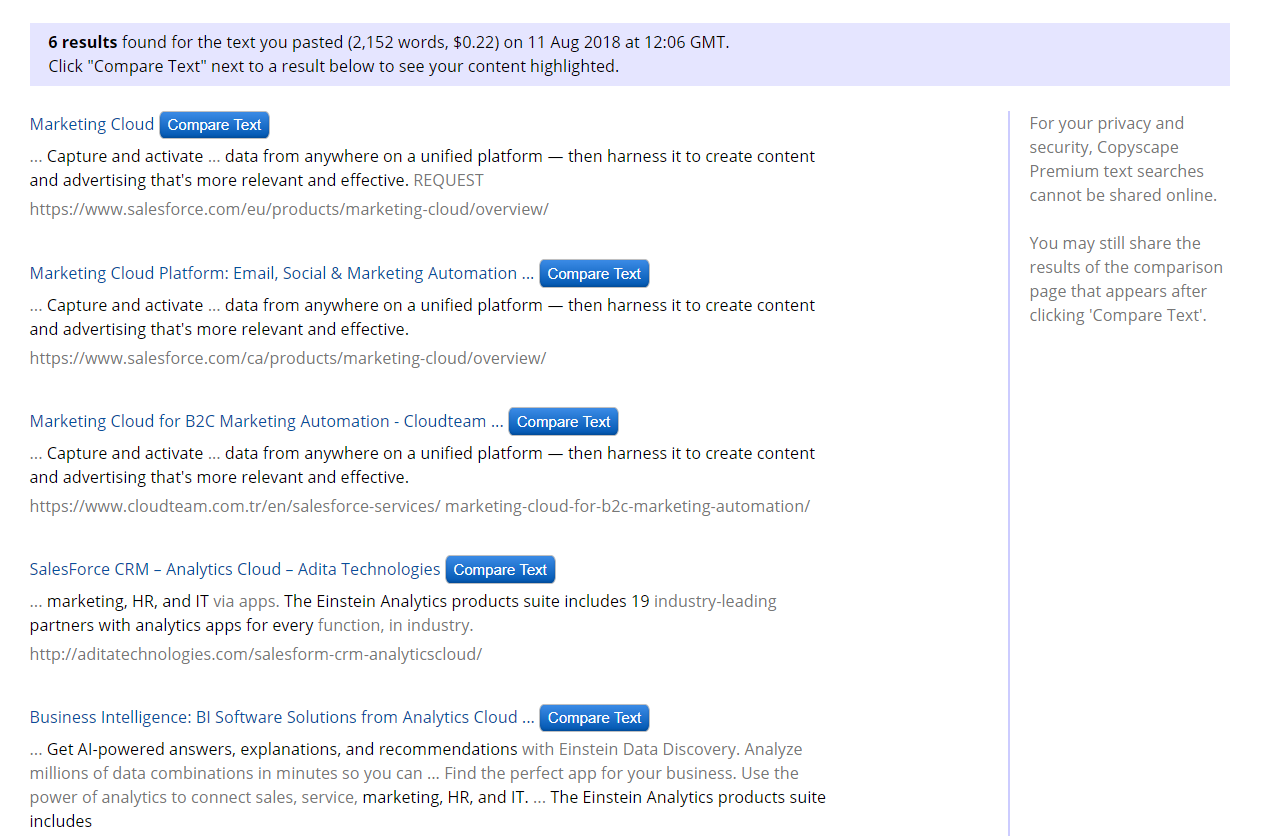 You can click on the blue button next to each selection to see a copy of the website it's pulling from, with similar sections highlighted.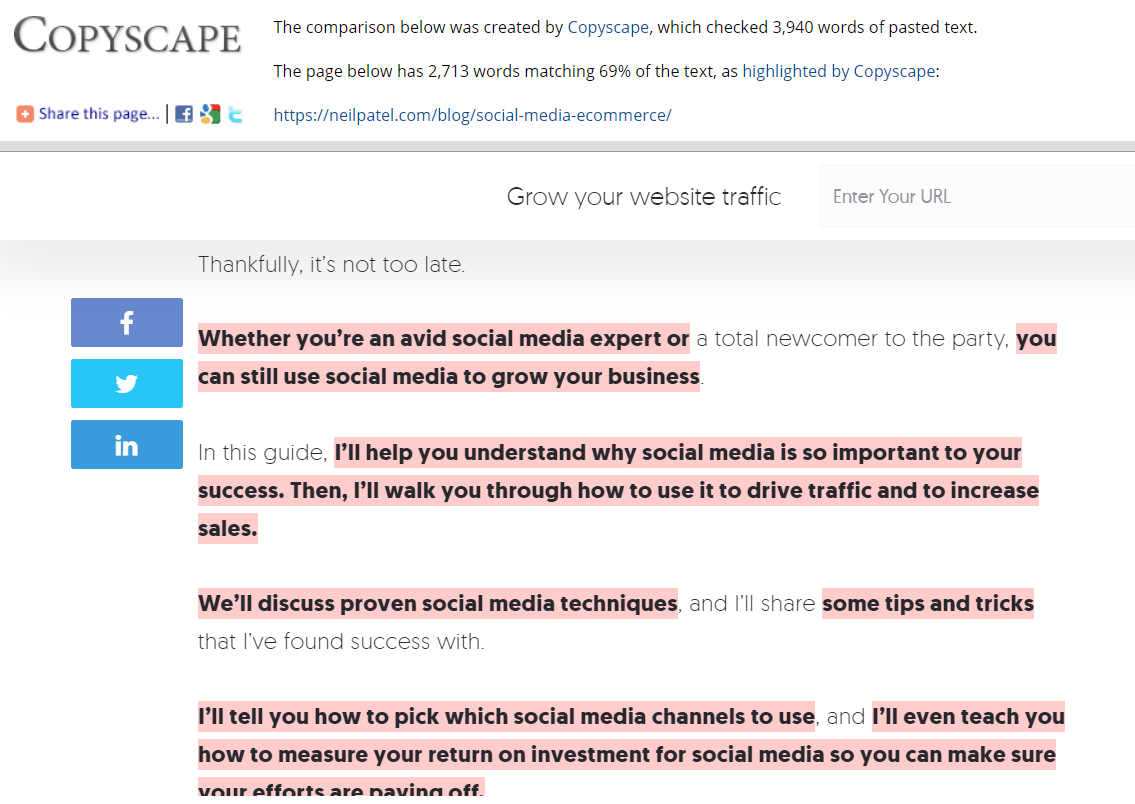 Copyscape Cons
Copyscape does have some issues, including a lack of mobile options, non-responsive customer service, and no ability to export status results.
1. Cannot Save Reports
Copyscape does not have a function that will allow you to backup and save your reports. So, if you have gone through a plagiarism check on a specific piece of content, you would have to either leave it open or run it again to show someone else.
This might be a dealbreaker for some. As the experts from our MasterClass can attest, it's the details that make all the difference!
2. Lack of Device Support
Users of Copyscape have no alternative platform to use the service on. It is only available via a computer, with no mobile support whatsoever.
3. Slow Customer Support
Copyscape does not have a live chat function, but I can't hold that against them because none of the services on our list have had one thus far.
I reached out to Copyscape via their contact form, and asked about their database.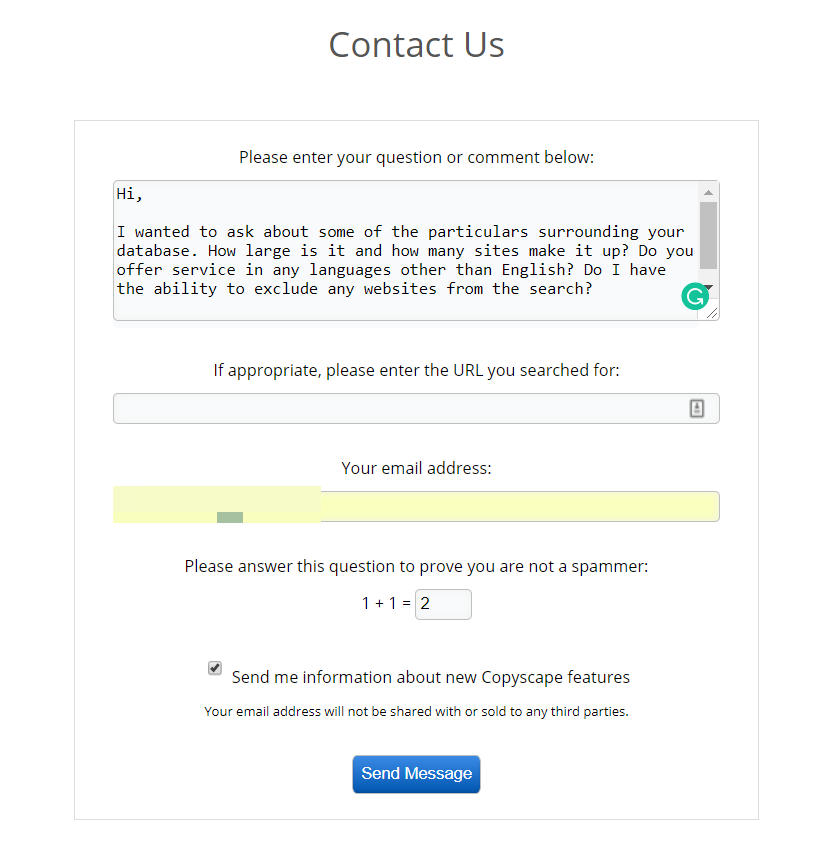 I received an answer almost 48 hours later, a truly disappointing response time.

Don't get me wrong, this answer is great. It responds to all of my questions in a complete manner, but the response time was just a bit too long.
Copyscape Costs, Plans, & Payment Options
Copyscape's premium service does not have a traditional monthly subscription. You make a payment on the site, and you keep that money sitting in your account. When you need to use the premium service you pull from that money based on the number of words you are checking.

As you can see above, Copyscape Premium accepts PayPal and credit cards.
Do I Recommend Copyscape?
Yes and no.
It depends.
Copyscape is OK as an online plagiarism checker that focuses on unique text content.
I recommend it for businesses to check for plagiarized content. But you'll probably want to upgrade to their premium plagiarism checker regardless.
It's perfect for website owners who need a plagiarism detection software. It's also a great checker tool for bloggers or writers who want a free plagiarism software.
It's not really a tool designed for the educational sector, as there is far more effort put into the checking of websites, as opposed to educational term papers.
It also lacks a grammar or spell checker, so you won't really be able to improve writing (or you'll have to use another tool in addition to it).
For advanced grammar and plagiarism checker, check out Grammarly.