Grammarly is a simple writing tool to help aspiring writers improve their grammar. A cloud-based writing assistant, the tool reviews your spelling, grammar, punctuation, and more to help you produce clear written material. Grammarly is particularly useful for college students writing dissertations and college essays.
Grammarly uses AI to find and suggest the most appropriate replacement words in a piece of writing, although students should follow their own judgement when using it. When you first start using Grammarly you can use the free version until you become familiar with the platform and what it offers.
This article will walk you through the key features of Grammarly and how to make the most of your student subscription package — as well as consider the advantages and disadvantages of the platform.
Disclosure: These reviews are reader-supported. We might earn a small commission if you purchase something through our site. Learn more
Grammarly
Best All-Around
$11.66
/mo – before discount
PROS
86% out of 86% accuracy
16+ billion database
150k+ word limit
5 devlice limit
Includes plagiarism
1-hour response
CONS
Only supports English
Expensive without our link
Grammarly Premium Walkthrough Video
TABLE OF CONTENTS
What is Grammarly and what does it do?
Grammarly is an AI cloud-based spelling and grammar checker. The free version will check your spelling, grammar and punctuation. The Premium and Business subscriptions offer a higher level of support and complexity.
You can sign up for a free trial to experience the premium features of Grammarly before you decide to subscribe to its Student Premium account.
A Student Premium account costs around $144 per annum or $12 a month. Registered institutions can set up their own account based on the amount of users.
Note that the free version only works in Firefox, Chrome, Opera and Safari browsers and you can add the Grammarly extension to your browser to improve the usability of the software. Note that there may be times that you don't want Grammarly working in the background – and you can disable the extension and re-enable it later if you need to.
It is worth exploring all the free features on Grammarly for a few weeks before you decide to subscribe.
Difference between free version and Premium – the premium version will check an additional 150 grammar points and provides plagiarism detection, vocabulary enhancement suggestions as well as a contextual spelling feature. It also gives a more detailed explanation of each grammar issue giving examples of both correct and incorrect usages. The Premium version will ask the user to choose a type of writing: such as essay, presentation or blog post – to improve the accuracy of their feedback.
Grammarly like all technology does have limitations – it is an automated language software tool and there will be times that it doesn't accurately match the context of the writing with the intended meaning. There may be times when you don't agree with Grammarly's suggestions and you can decide to accept or reject each grammatical suggestion if necessary.
Grammarly also doesn't provide comprehensive feedback on your writing such as structure, logic and flow or thought leadership. It won't give you feedback on referencing either. This is where you have to take responsibility for your writing and make Grammarly work for you – by adopting their suggestions only when they make sense and add value to your work.
Grammarly offers a free version, a premium version and a business version. Grammarly Premium for students will cost around $12 per month using the annual plan. Students can also apply for a 20% Grammarly student discount using a partner link to save 20% off their final pricing.
The Grammarly subscription page gives a snapshot of the difference between the free version and the premium version:
You can also customize your Grammarly experience by using the Apps they offer linking the software to Microsoft Office, Windows, Chromebooks, Chrome, and even your Android mobile phone or your iPad.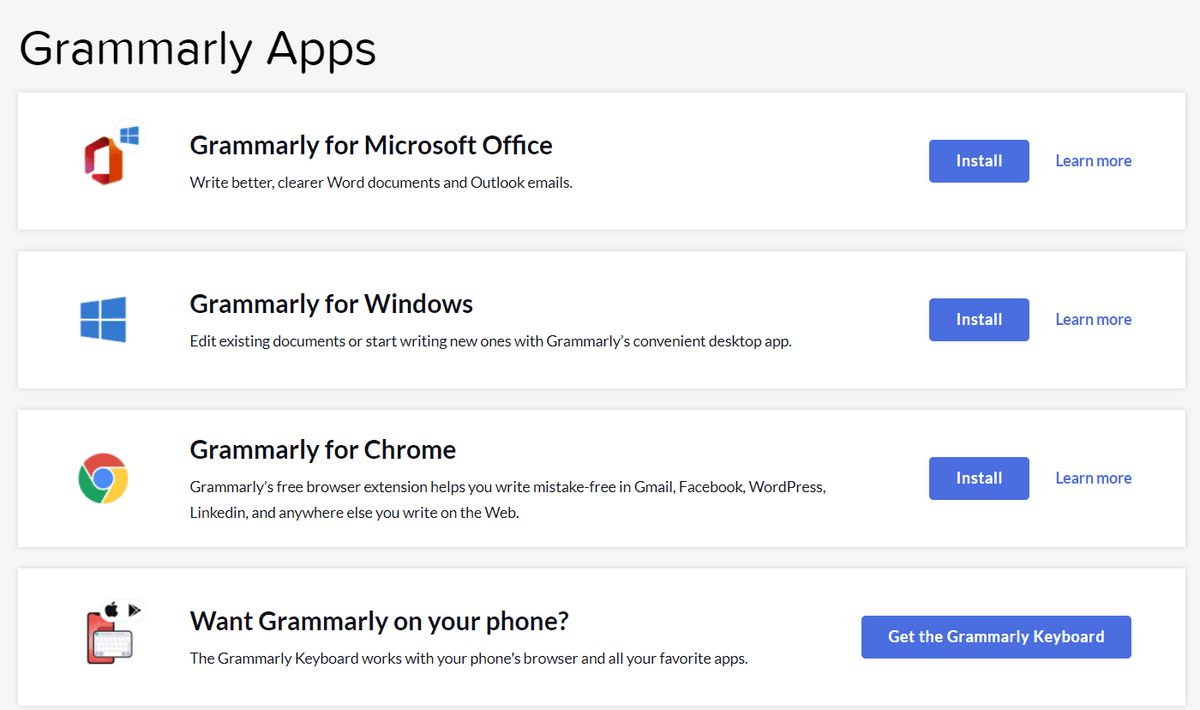 If you add the Grammarly App to Chrome, then Grammarly will work in the background of all the web pages you are using on Chrome including social media sites such as Facebook and Twitter. So Grammarly can correct your tweets or your Facebook posts while you type.
How does Grammarly work for students?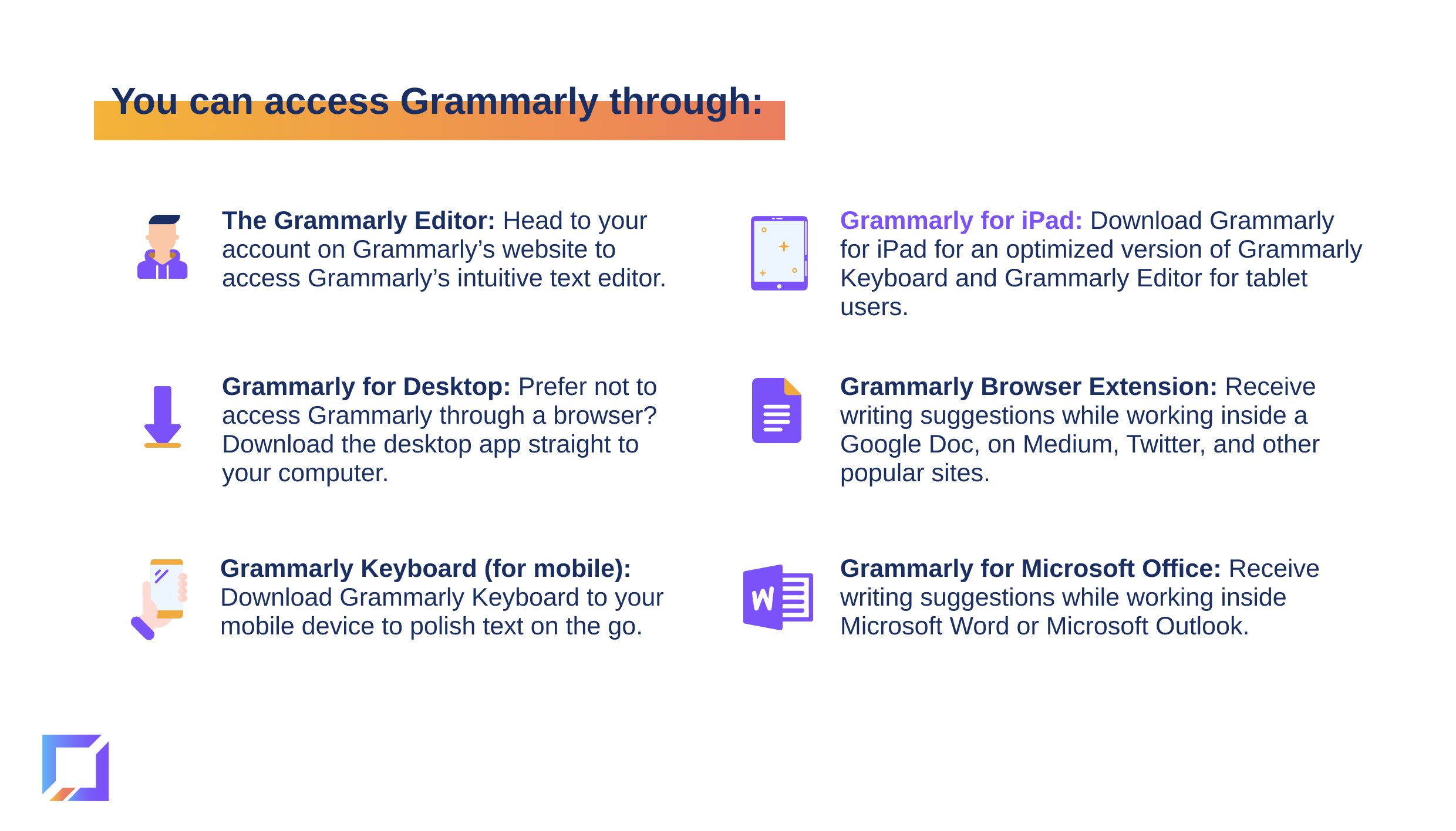 The fundamental difference between Grammarly and other spell-checking software options in the marketplace is that Grammarly works by using context rather than just word reference to improve your written expression. Grammarly's AI-enabled algorithm is designed to make your writing more cohesive with greater fluency and an improved vocabulary (by suggesting the most relevant word choices) for your academic essays.
Students will mostly use Grammarly for school-related writing tasks, such as course papers, research papers, reports, presentations, and dissertations. Grammarly can be used across a range of academic disciplines ranging from Theology and Philosophy to Engineering, Medicine, Law, Physics, Art, or Music. Students also use Grammarly for non-academic purposes, such as writing emails, resumes, and cover letters.
Most students will find Grammarly very easy to use – regardless of whether you choose to enable the Chrome or Windows extension. Grammarly's AI system will automatically analyze your writing, flagging any words or phrases which need correction, clarification, or improvement. It shows areas for improvement using red and yellow underlining which marks the words or phrases that are either incorrect or need improvement. (Yellow underlining shows issues that require an advanced Premium or Business subscription).
The Grammarly assistant sits at the right-hand side of your page of text, providing a summary and suggestions. The Premium suggestions are highlighted in yellow and you need to pay for this subscription to get full access.

An example of how the free version works is set out below:

Here, Grammarly identifies that the word "seem" should be replaced by "seems" so that the verb agrees with the subject ("digitalization and the Internet" – which has two components) which requires that the word "seem" becomes the plural "seems" – to convey the correct meaning.
Grammarly also suggests better word choice and sentence construction.
You can customize your Grammarly dashboard along the following lines: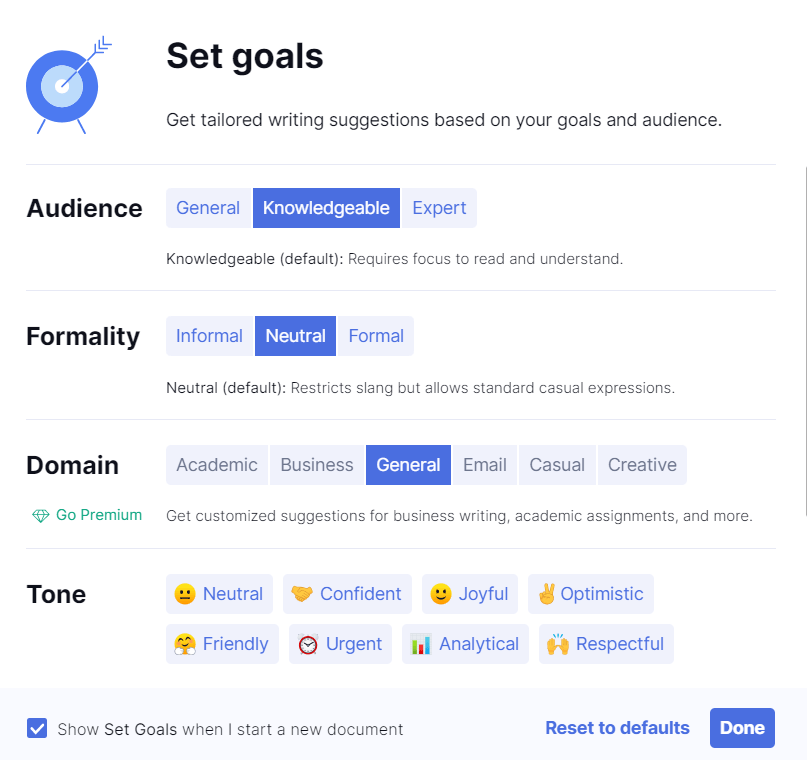 Students with the Premium package may want to select "Academic" as their domain to more effectively customize their writing experience.
Use Grammarly to personalize your account according to your writing skills and your intended audience.
How to get started using Grammarly?
Sign up for Grammarly@edu at www.grammarly.com/edu/students using your authorization data and the access code provided.
After logging in, copy your text (your piece of writing) and paste it into Grammarly. Select "start review" (Note: the start review won't be activated until you have text pasted in).
Select the analysis genre (for example "academic essay" – is an optimal review genre).
After Grammarly analyzes the text, it will show your text with different types of alerts which are highlighted. The report summarizing identified errors will be shown on the upper right-hand corner of your page. You can click on individual error explanations and suggestions to either apply or reject the identified changes.
Then you apply the changes.
After you have reviewed the text, you can either run the Grammarly check an additional time or simply paste the final corrected version back into your original document.
The Grammarly Student Premium package includes the following features:
400+ Points of Grammar Checking – saving time for both students and faculty.
Built-In Plagiarism Checker – across over 16 billion websites and ProQuest's proprietary databases.
Learning Management System (LMS) Integration – where Grammarly integrates with your browser and MS Office. Polish your writing in real time on the web, in MS Word, and on major learning management systems.
SAML Single Sign-On* – which provides students and faculty with a simple onboarding and sign-in experience that supports your identity-related security controls. (This feature is available for qualifying accounts).
What are the benefits of Grammarly for Students?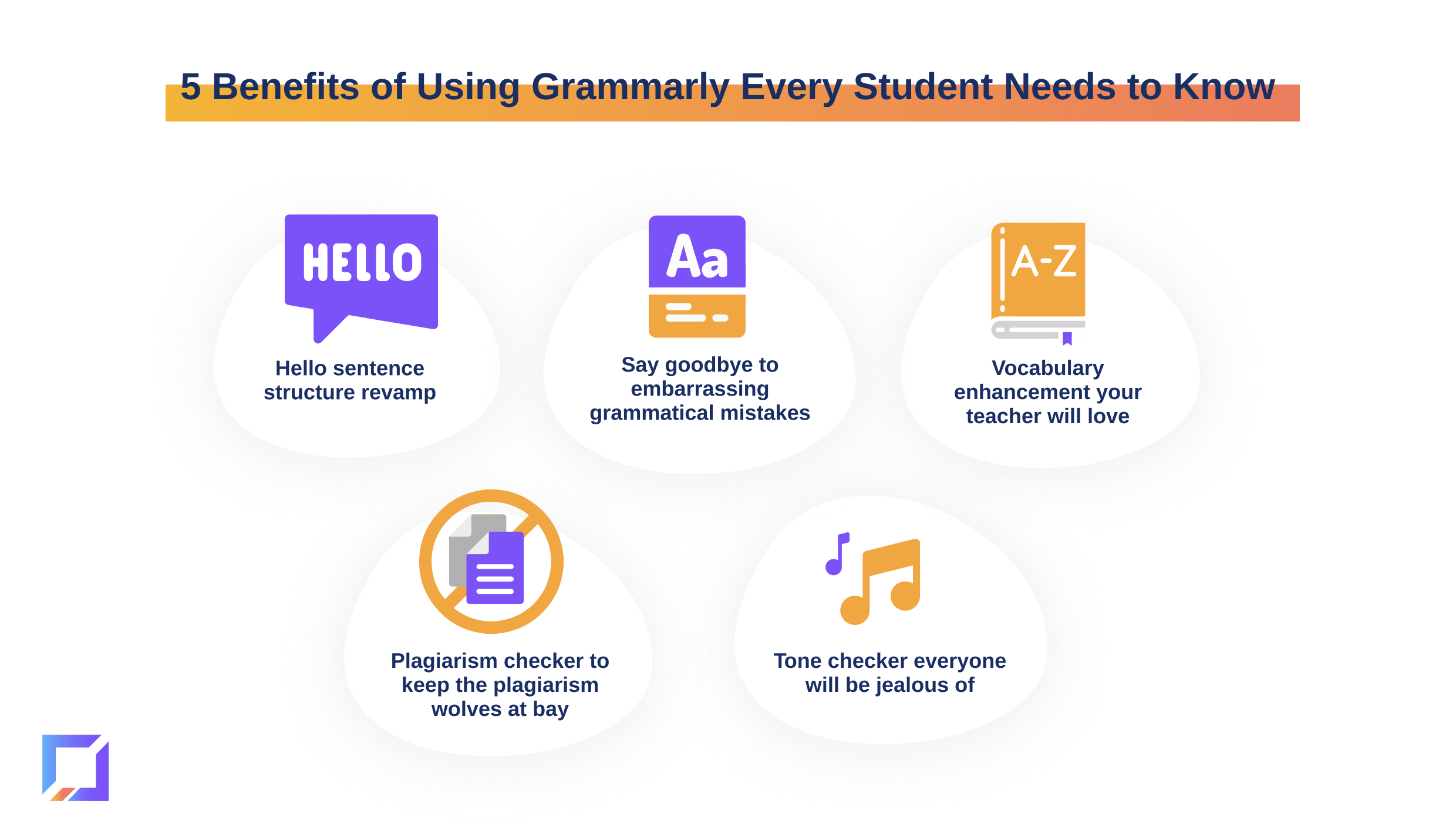 Grammarly conducted a student survey that demonstrated the following:

70% reported an increased level of writing confidence
99% reported improved writing grades
84% reported improved grades in general.
Grammarly is especially effective in boosting writing confidence for students. Seventy percent of students reported an increase in confidence in their writing skills. (Source: Grammarly home page).
A student premium Grammarly subscription works not only as a spell checker and grammar checker but also as a thesaurus. It also identifies over-used words and recommends more concise language. Grammarly will also warn you about excessive use of passive voice which can make your writing appear sluggish or dictatorial.
Grammarly can speed up your writing by offering better word choice and sentence structure. This can help with writer's block as well.
Grammarly can speed up your proofreading time by polishing your grammar and word choice and preventing you from mistaking common homophones such as "there" and "their". Grammarly will pick up mistakes you might otherwise miss in a proofread.
Grammarly also has excellent security and privacy features (using SOC 2 – enterprise grade system and organizational controls around security, privacy, document availability and confidentiality.
Grammarly has also recently coordinated with Google Docs – for Google Chrome users who are using the Grammarly browser extension.
Grammarly can help improve your writing by pointing out unnecessary filler words, flagging passive voice and tidying up clumsy expression. It can also help you rewrite a sentence in passive voice into active voice, if appropriate.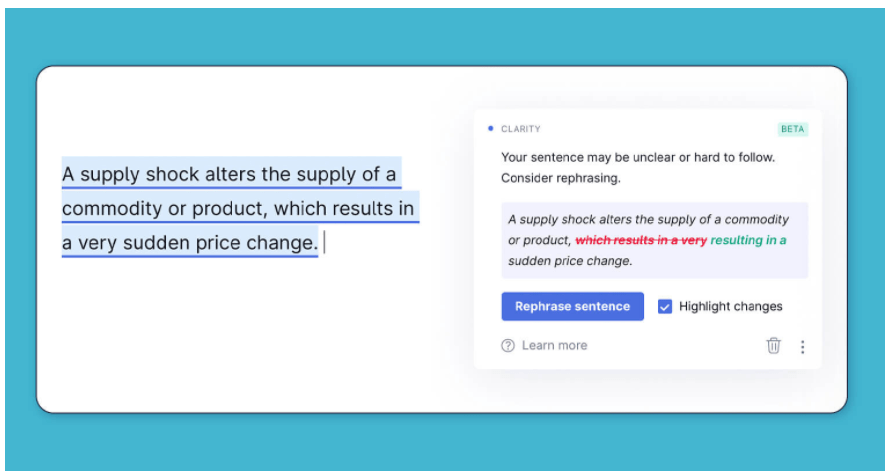 Grammarly also has a plagiarism checker – this is really important for students. Academic dishonesty can result in severe penalties. Grammarly's plagiarism checker solves this problem. Grammarly's plagiarism checker will run your content through academic databases and more than 16 million web pages to make sure that what you are writing is 100% original. Only available for Premium and Business accounts.
Grammarly also offers feedback on style, formality and tone to help you craft well-written, concise and engaging academic essays and articles.
Benefits of Grammarly's extensive thesaurus function – you can double-click any word to see a full list of potential replacement words (synonyms).
Grammarly's Premium package offers a higher level of complexity than the free version, for example, the tone adjustment suggestions appear as purple underlining and this can help you soften the message of your writing, if necessary. Grammarly covers all the bases in terms of grammatical and writing conventions such as punctuation, tense, spelling and better word usage. Grammarly Premium also offers engagement suggestions so that you are not over-using certain words and that your sentence structure is variable enough to engage the reader.
Grammarly Premium also has formatting suggestions and it may recommend that a paragraph with a lot of dense material could be better formatted as a list with bullet points.
Financesonline reviewed 15 other grammar checking AI programs and ranked Grammarly as the best for 2021: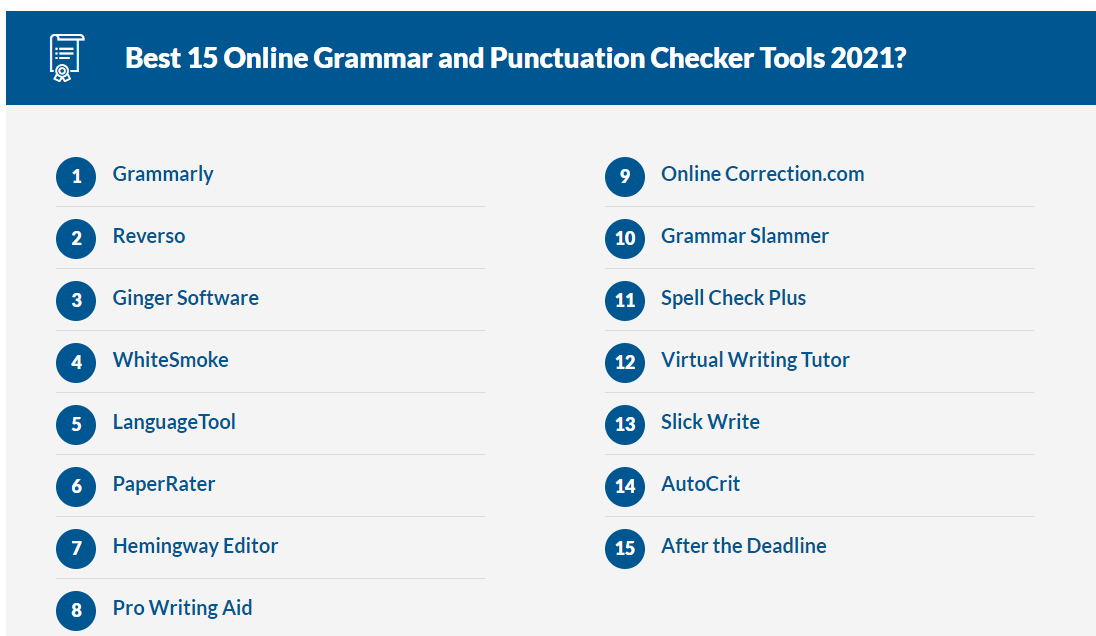 What do students have to say about Grammarly?
An Indonesian study which reviewed students' experiences using Grammarly, found that students' perception of Grammarly was overwhelmingly positive. This study focused on the experiences of Indonesian students writing college papers in English and it reported positive benefits to its use. The biggest drawback reported by students was that Grammarly relies upon a stable Internet connection and if this is interrupted then access to Grammarly is lost. The study also found that sometimes suggested word choices and grammar was sometimes inappropriate.
Improved writing confidence for students.
Other reviews found online by both teachers and students of Grammarly were generally positive:

Grammarly's Personal Assistant feature assigns a performance score on a document based on goals, word count and readability – although this feature doesn't consider organization or coherence of ideas. This means that you can have technically correct writing but Grammarly could score a piece of writing well – even if it lacked a logical flow. This is where the skill of the student has to counter-balance the AI provided by Grammarly. Grammarly has solid features – but it is an AI program designed to focus on spelling and grammar – it won't look at thought leadership or how persuasive your college essay is. Although it will point out that the last sentence just ended with a preposition.
Grammarly Editor – feature – just click on the Grammarly icon on your browser extension and click "New Document" to launch this feature. You can also import your content to Grammarly Editor from other file formats, such as MS Word
Grammarly Personal Dictionary – double-click on any word and Grammarly will give you a list of definitions and synonyms (with no need to open a new tab or window). This dictionary is also customizable – where you can add words that you don't want flagged as errors – this could be useful to add brand names or unusual or technical words which might be otherwise flagged as misspelt or incorrectly placed.
Grammarly's Human Proofreader option – Grammarly offers professional proofreaders (actual humans) who will review your work for a fee.
Grammarly's Handbook also sets out basics of sentence construction and some rules around writing and is a good reference document.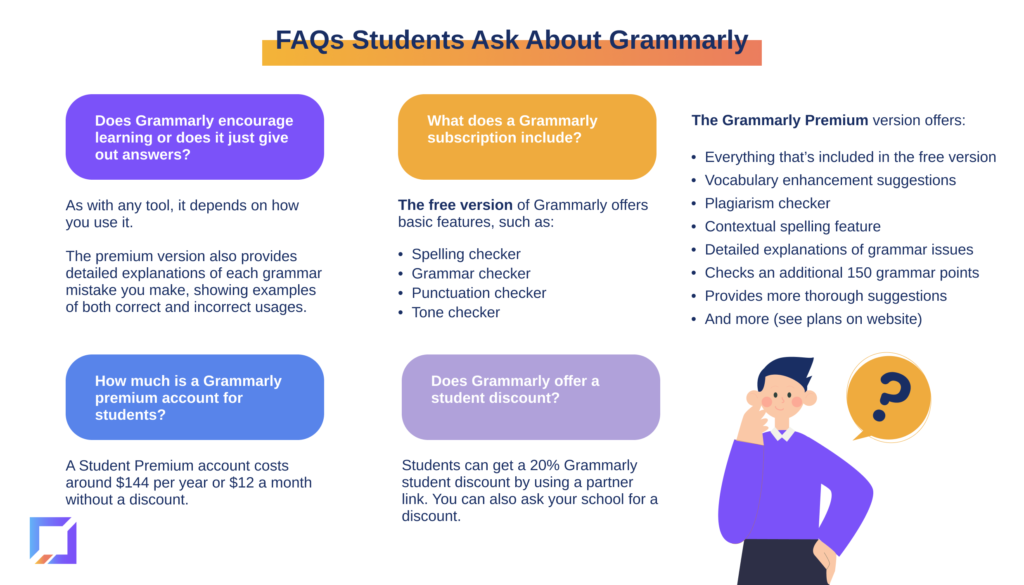 Conclusion
Grammarly is an easy-to-use grammar and spell-checking AI program suitable for use by writers as well as teachers and students. Grammarly's robust AI algorithm is effective at critically scanning your documents for spelling and grammatical errors and can help you fine-tune your writing. It is particularly useful for time-poor college students and it is best to start with the free version to get a feel for the product.
Like any AI tool, Grammarly is not without some minor flaws. It won't help you become a better thought leader but it will ensure that your student essay is submitted free of spelling and grammatical errors with generally better word choices.
Sign up now to get exclusive access to Wordable, along with and find out how to upload, format, and optimize content in seconds, not hours.